The domain backorder process is the right way to ensure you get the domain you want. Most of the time, it's less expensive than buying it outright. It can even help you save money on renewing your hosting contract with your registrar.
However, some things may occur if you choose to backorder your domain name—and there are also some steps you should take before hand-picking your new URL.
This guide will show you everything from what it takes to backorder a domain to what happens after it's been ordered by one of your favorite services.
You may also be interested in reading: Best Domain Appraisal Services
What is domain backorder?
Domain backorder is purchasing an expired domain name before it becomes available for general registration. You can do this from various registrars and even the registry itself if you're interested in buying it through them.
A registrar must be contacted to place the backorder, which often has a fixed cost per domain name. This charge is a placeholder if the domain you're after becomes available.
You get the first opportunity to buy a domain name if your backorder is the only one on it. The domain goes to an open auction if there are no backorders before being listed.
A private auction is held with only the people who have placed backorders on domain names, with several of them. No other bidders are allowed to place a bid.
Placing a backorder is advised for individuals who sincerely desire a particular domain name and are confident that it is the right one for them. Backordering a domain name enables one to keep track of its progress.
Why should you consider backorder a domain?
Backordering a domain is the best way to get your hands on the domain you want. It's less expensive than buying a new domain or request buying registered domain.
You can backorder your favorite domain names from major registrars like GoDaddy or Namecheap, so there's no need to go through any additional steps.
How to check if a domain is backorderable?
Check the availability of the domain name. If it's available, then you can proceed with purchasing it.
There are two main ways to check if a domain is available for backorder or not:
1. Contacting the Domain Registrar
The first way is contacting your preferred registrar (or their partner). You should ask them if they have any available domains you could buy immediately to prevent others from grabbing them.
This method may be ideal if there are few other options available. Still, it also means waiting longer than necessary if your preferred registrar has space available or has already sold out of its data.
2. Getting a backorder service
You need to have a backorder service. You can use the backorder service to check if a domain is backorderable. The backorder service will keep you updated on your backorder status.
They will notify you when it's done with the transfer process so that all of this can be done online from one place.
How to backorder a domain?
This is a simple process, and here's what you need to do in this:
1. Purchasing Domain Backorder Credits
In this example, I'm using GoDaddy. Setting up your domain backorder with GoDaddy is straightforward. Here's what you need to do:
Step 1: Access your GoDaddy Domain Control Center by logging in.
Step 2: Select Backorders and Monitoring from the Buy & Sell option.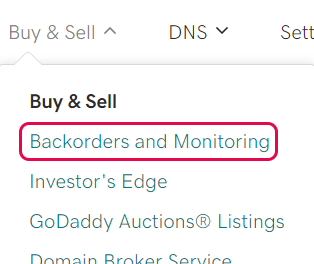 Step 3: When choosing a backorder type, select Public.
Step 4: Check mark the terms and conditions and then click Next.
Step 5: Now enter the domain or domains (if you're applying for more than one) you want to backorder (one per line) and choose Next.
Step 6: Type in your email address and then go to the Next option. It would be best to write in the email you frequently use because GoDaddy sends updates to your email address.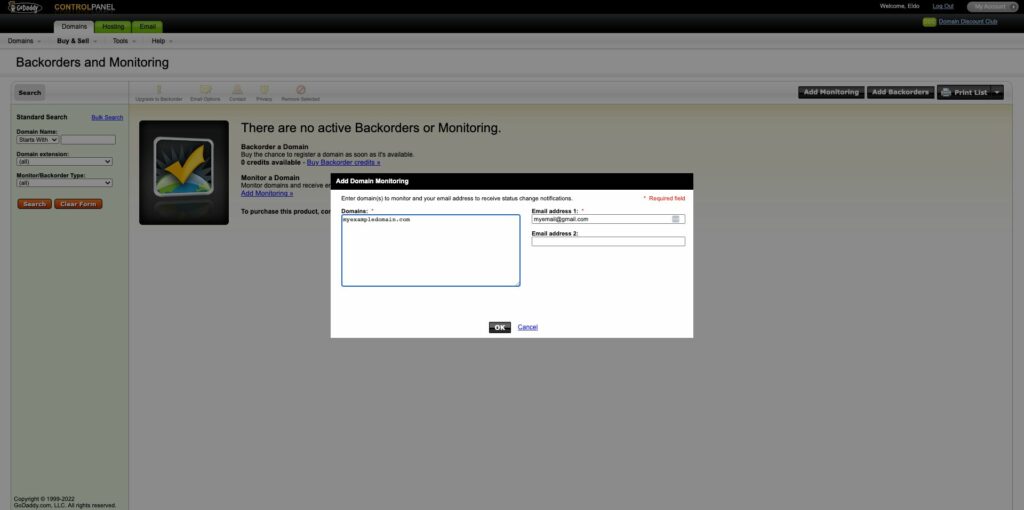 Step 7: Select Next after making any required changes to your contact information.
Step 8: The next step is buying a backorder credit after your domain name search and learning that the domain name you want still needs to be registered.
Choose the desired amount of credits from the list under "Number of credits to use," then click "Next."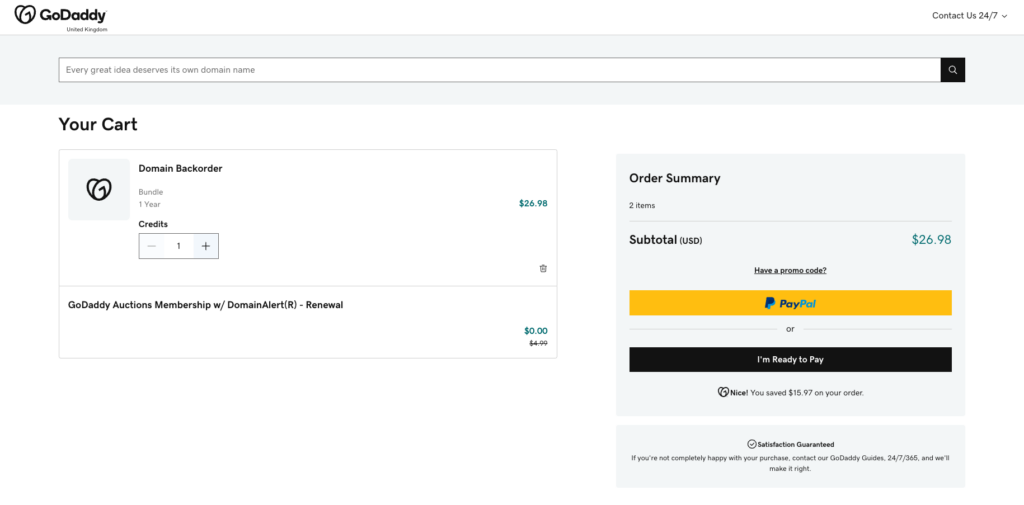 2. Set up domain monitoring
It is advised to add domain monitoring to your domain after your credit has been successfully applied to your domain name to receive notifications of status updates.
This notifies you of any significant alterations to the domain's status, which may help you predict when it might become available.
From your domain control center, choose Backorders and Monitoring, then click Add Monitoring to finish this step. After this, complete the brief promoted steps that come next.
You receive an email when specific domain settings are modified if you activate domain monitoring, which keeps track of these changes. You can set up two more contacts in addition to the administrative contact, who is the default recipient of all monitoring notifications.
The monitoring is set up to last for an entire year. You must renew the monitoring to keep watching the domain. The following domain extensions are usually supported for monitoring: .com, .us, .biz, .net, .org, .info, .me, .mobi, or .co.
These domain are the most used and you can also learn more about their differences: .COM vs .NET vs .ORG: Differences and Which Domain to Choose?
3. Own your new domain name
After you've done everything, you will be first in the queue to purchase the desired domain name before it becomes available to everyone. The domain name will become registered to you if you are the only person to have placed a backorder on it.
The 5 Best Domain Backorder Services
If you've decided to backorder a domain, here are my top 5 picks for you.
1. GoDaddy Auctions
One of the most well-liked backorder services is offered by GoDaddy. Free domain monitoring and a one-year membership to GoDaddy Auctions are provided with this service. You also get a year of free domain registration if you successfully obtain a domain name.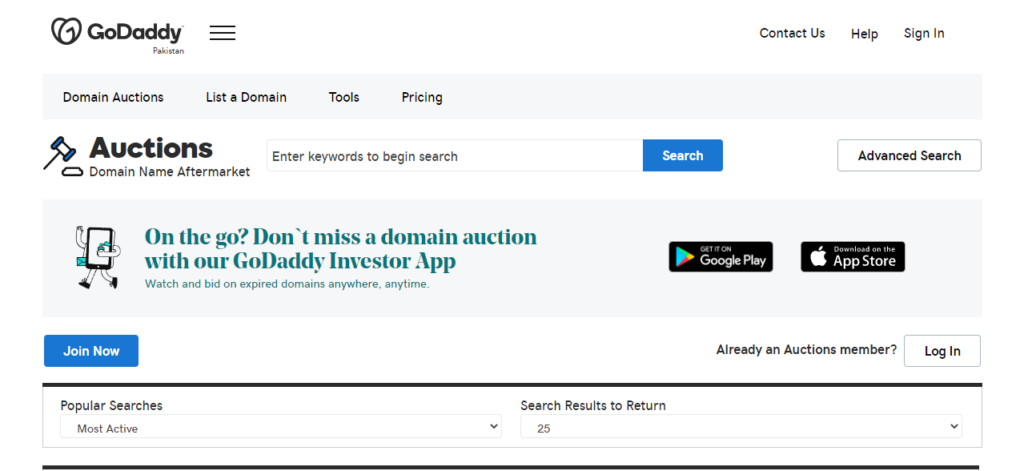 You can purchase backorder credit after creating a GoDaddy account. After buying credits, you can search for domains and apply your credits to your desired domain name. Backorders for domains begin at $22 – $25 a piece.
You will get automatic notifications after placing a backorder each time the status of the domain name changes. You can also use the monitoring tools provided by GoDaddy to keep track of changes.
When several persons place backorders for the same domain name, and it becomes available, an auction takes place. The opening bid will be given to the first backorder.
If your backorder is unsuccessful, you can try again by submitting a different backorder. Additionally, you are free to transfer your credits to another domain name.
2. SnapNames
One of the top-performing and renowned web domain registrars is SnapNames. SnapNames offers lists of the most sought-after expired domain names on the market. Daily domain name bargains and lists of exclusive domain names are available only on their website.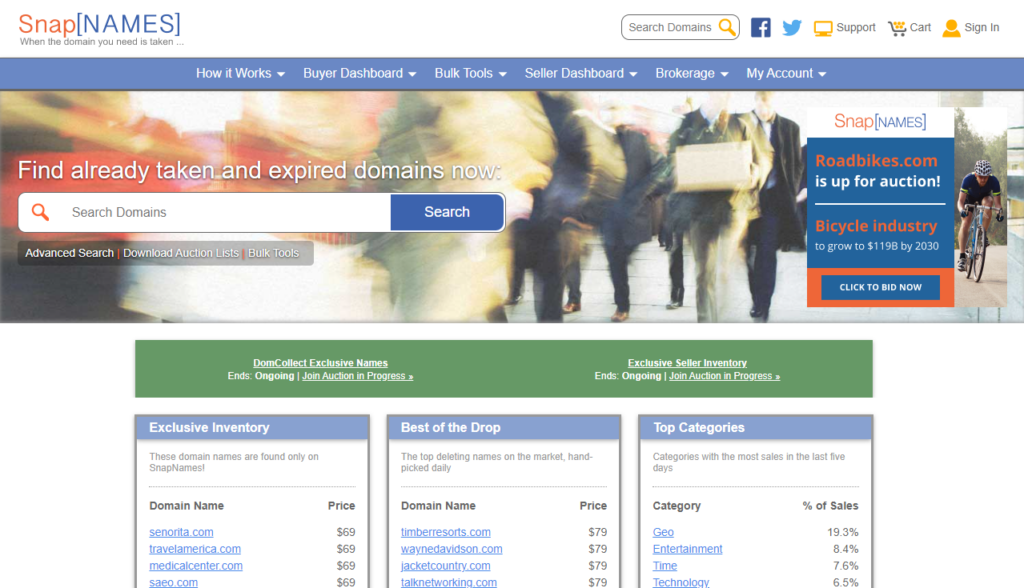 Additionally, it includes search capabilities that let users see which domain names are already registered or are available. There are even categories for various domain names, which makes it simpler and more effective to select the ideal domain for a company's website.
SnapNames makes domain monitoring simple with its extensive search features and alerts. Users are also informed if the desired domain name is anticipated to expire and become available within the next 30 days.
Customers only have to pay if their backorder domain name was successfully registered. For backorder domains, customers can also access premium domain name auctions.
3. DropCatch
DropCatch only concerns free backorders for auctions and names about expiring. You will be charged only if the backordered domain has been successfully secured.
DropCatch also offers daily listings of domain names currently expiring, downloadable reports, and search capabilities for consumers to find valuable domains and check on their status.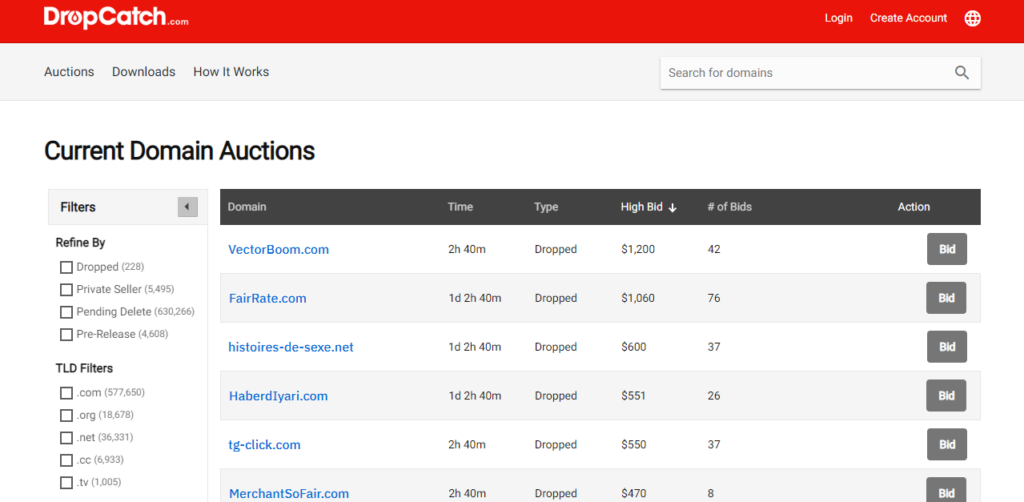 There are two possible outcomes when you place a backorder for a domain on DropCatch. If you are the only one to submit a backorder, you pay the required fees and receive the domain name.
However, if many backorders exist on the same domain, the domain is auctioned. The winning bidder will be determined after a three-day auction.
4. NameJet
With NameJet, you can keep an eye on as many domains as you like and get alerts when one becomes available if you're interested in more than one.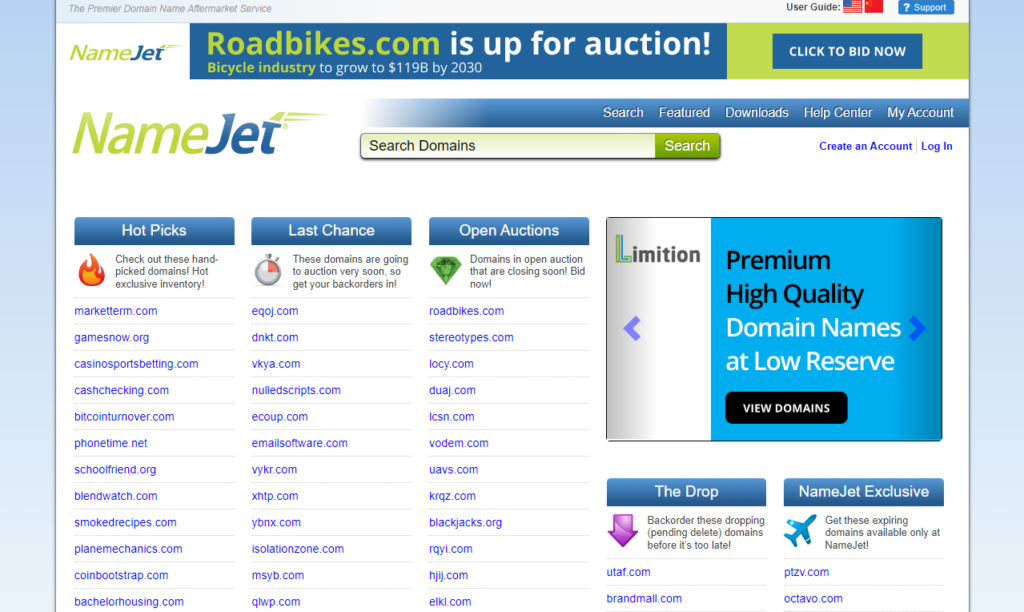 Even better, you may create keyword and category-based alerts for related domains.
Visit NameJet to access a collection of unique, pre-released assets that aren't offered anywhere.
Although all backorder domain name providers theoretically have an equal chance of catching a dropped name, this website is renowned for having the best win rate.
5. 123 Reg
123 Reg is the backorder service provider that you can rely on. It is the biggest domain name company in the UK, and its offerings have garnered numerous accolades.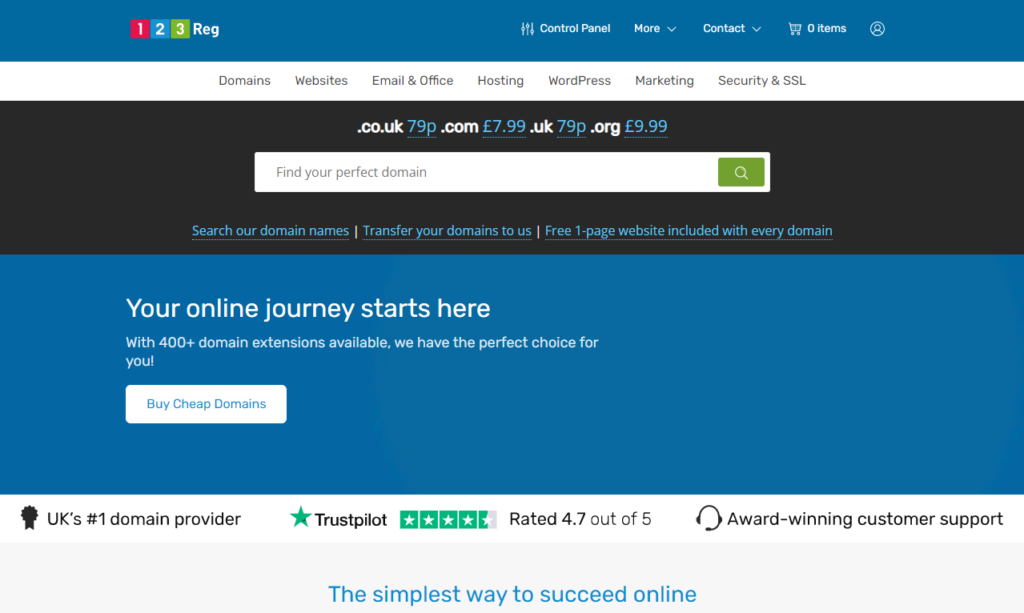 The backorder process at 123 Reg is easy. Start by looking for the domain name you want. Place a backorder after that, and 123 Reg will keep an eye on the domain name until it becomes free. 123 Reg will try to register it for you once it is available.
The fact that you don't have to pay the price unless you win the domain name is an advantage of 123 Reg's backorder service. Depending on the domain extension, the current fees may range between £49.99 and £59.99.
What will happen after the domain is back ordered?
If the domain is backordered, you'll be notified. You can either accept the new price, cancel your order, and re-back order it for another fee.
To keep up with the domain(s) you are interested in, you may also want to set up domain monitoring after domain backordering.
The contact information for the domains you have back ordered should then be added or updated. Doing this can ensure you get update notifications where you want them.
Some domain names are unavailable for backorder because another person has registered the domain name.
This can be due to several reasons, including:
Someone else has registered the domain name as their own.
A trademark owner has registered the domain name as their own.
A Service Provider has registered the domain name as their own.
The legal status of the domain name is unknown or uncertain.
Other times, though, the registrar's system may malfunction or be unable to process your request due to technical issues at their end (e.g., server overloads). This can happen even when everything is fine with your account.
Sometimes, things take longer than expected because the systems are busy during peak times like the holiday shopping season!
If this happens, please get in touch with your registrar's support so they can troubleshoot.
Takeaway
Domain backorder is an excellent way to get the domain you want. It can be a good investment if you can sell it later. It also helps you test if you're going to start your own business or build an online store.
Suppose you need more clarification about the domain market. In that case, it's best to start with something small and inexpensive so that when things go wrong (or right), they will take less of a hit on your bank account.
If you've been looking for a new domain name, it's time to backorder one. I've covered the basics of the backorder and how to do it. Suppose you're interested in buying a new domain; in that case, you can choose your favorite one from the best domain registrars available.
Want to create a website without any hassle? Try Codeless to kick-start your stellar website without coding.

As one of the co-founders of Codeless, I bring to the table expertise in developing WordPress and web applications, as well as a track record of effectively managing hosting and servers. My passion for acquiring knowledge and my enthusiasm for constructing and testing novel technologies drive me to constantly innovate and improve.
Expertise:
Web Development,
Web Design,
Linux System Administration,
SEO
Experience:
15 years of experience in Web Development by developing and designing some of the most popular WordPress Themes like Specular, Tower, and Folie.
Education:
I have a degree in Engineering Physics and MSC in Material Science and Opto Electronics.