Do you want to run a cold email campaign? The biggest fear or target of email campaigns is to hit the receiver's email account directly. Usually, Gmail shows emails in spam folders due to specific reasons.
However, the email warm-up tools are a great help to deal with email deliverability. Cold email campaigns are the way of marketing, and it plays a significant role in earning more leads in your business.
So the email warm-up tools are great in fixing the Gmail routes, and your email directly lands in the receiver's inbox. It will save your cold email campaign, ensure that email does not end up in the spam folders, and deliver the provider's message.
Every provider wants to be in the Gmail inbox instead of a spam folder. So if you are also in the same situation, this article is for you. We will talk about the email warm-up and its tools for cold email campaigns.
Keep reading and find everything about email warm-up tools and how to outreach your targeted email account.
What Is An Email Warm-Up?
Starting and planning an email campaign isn't challenging but running a campaign has some essential factors to consider. Right? If you have the relevant experience of running email campaigns, you have a clear idea.
If you are a beginner, consider that some factors work between the sender of an email and the receiver of that mail. One of the main factors is the mail reputation and email sending limit you face while running the campaigns. So here comes the function of email warm-up tools that play a significant role.
Email warmth is the way to build the reputation of a new account and increase the mail sending limit.
When you create a new email account, you can send a limit of mail per day. Even Gmail or Google Workspace have limits for daily sending. The Google Workspace has 2000 max emails per day, but the limit is minor if you want a simple email account.
So the email warm-up is the preparatory step before launching the email campaign. It helps build the credibility of a new email account, and you will have more email deliverability limits.
Moreover, if you want to hit the maximum limit, it is advisable to do the warm-up process for 8 to 12 weeks.
Keep in mind that the chance of hitting the max sending limit also depends on the recipient's reaction.
The Top 7 Best Email Domain Warm-up Software
Here are the best email warm-up tools that you can use for your cold email campaigns. You can compare their features, pricing, and other aspects to choose your suitable tool.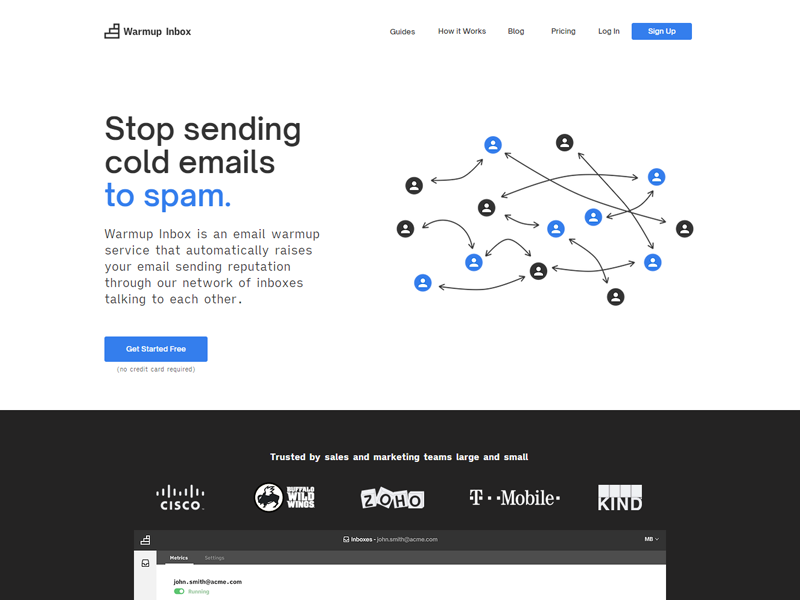 Warm-up Inbox is one of the best email warming tools. It helps build the sender reputation faster by making a network with more than the 4500 inboxes of their network. Once you sign in at the warm-up inbox, you have a big network to increase your daily engagement.
By using a warm-up inbox, you can send more than 1500 emails per month per inbox. It works best for email service providers, including Gmail and outlook 365. Moreover, you can also use it for other providers like Yahoo Mail, custom inboxes, and Amazon SES. Experts recommend that beginners use this service for 45 to 90 days to warm up their inbox completely.
Features:
It provides a detailed analytics report to analyze your email account performance.
It helps in email blacklist monitoring and works best for email marketers.
Pricing:
It costs $9 per month. That may be expensive for beginners, but it's worth the money.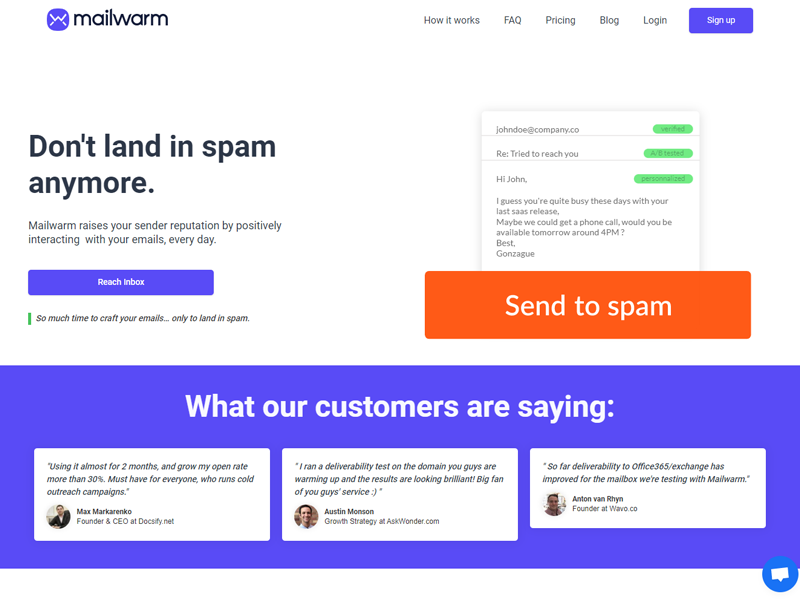 Mailwarm is also one of the greatest and most effective email warm-up tools. The Mailwarm services are incredible with its support team. According to your schedule, it has a team of more than a thousand email accounts that directly interact with your new email account.
Once you log in at Mailwarm and connect with your email account, then you can set the warm-up schedule. Mailwarm will start sending the emails and reply to you through automation. It will warm up your email account over time and show significant results.
Now you have the set schedule that helps you build an email account reputation with high email deliverability. You will set your sending and replying schedule as an email provider and engage with Mailwarm networks through your addresses.
If you notice the lack of space in your inbox due to the mail warm-up process, then you can create your rules for storage.
So it is a great tool that prevents the sender's cold email from landing in a spam folder.
Pricing:
Mailwarm costs $79 per inbox.
Features:
Offer a quick boost in your email reputation.
Set your sending and replying schedule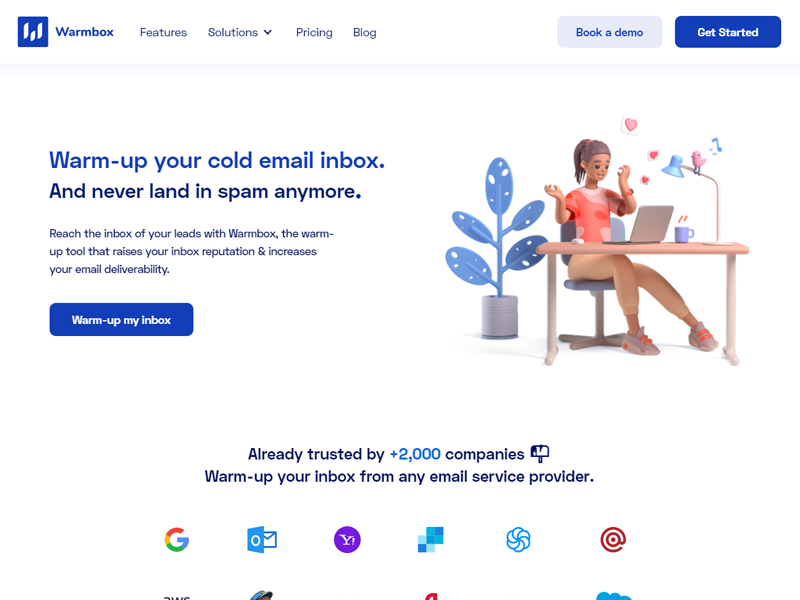 Warmbox is one of the standalone email warm-up tools based on UX and UI automation design. It contains all the primary features that one can require in a good warm-up tool.
The main feature of Warmbox is that it provides quick integration with main email service providers and access to large email networks. Moreover, you have a clear report to analyze the success and email land results.
Warm Box allows the users to use their different warm-up services and customize the sending schedules that help to boost the email reputation over time. You can add more inboxes and templates according to your choice, but it will increase the pricing plan of Warmbox. So if you want to send emails through different emails, then choose some collaborative warm-up team options like Auto Warmer is best.
Warmbox is the best mid-range option that helps providers ensure emails land directly in the inbox.
Pricing:
These amazing offers have different pricing plans that start from $15 per month for one inbox.
Features
It helps in regular outreach of cold email campaigns, ongoing monitoring of spam scores.
Work with various inboxes and email sending schedules.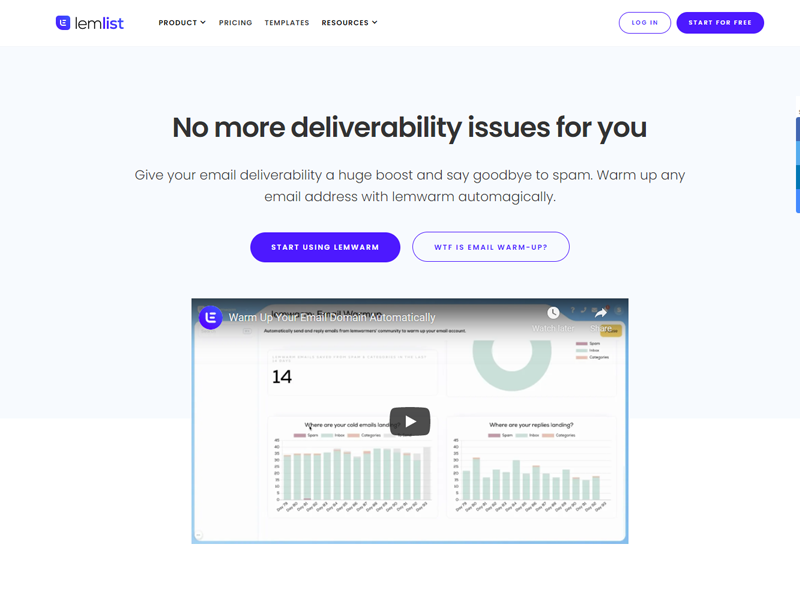 Lemwarm is one of the great tools from lemlist. It provides excellent warm-up methods that help grow the new emails with fast built-in features. Lemwarm has the potential to support small emails and increase their email deliverability.
Lemwarm or lemlist have more than 20,000 emails in their network who use the services and make it the number one market tool. It has an entirely oversized design that helps land and rejections with all information.
The dashboard of Lemwarm has a well-developed dashboard that allows the users to get maximum control with minor issues. lemlist claims that the Lemwarm has a faster and effective warming process that boosts the algorithms of your new email account.
More than 20,000 active users use their real emails and warn them from getting enough benefits. It helps to continue the conversation threads and keep the reputation high.
If we talk about pricing, then the Lemwarm services have different plans with their features. Pricing:
The warm-up email services of Lemwarm begin at $29 per month. The top basic plan of Lemwarm offers outreach and engagement services for $99 per month.
Features:
It helps remove every email from spam, increase open rate, and mark as necessary.
Respond to them according to schedule.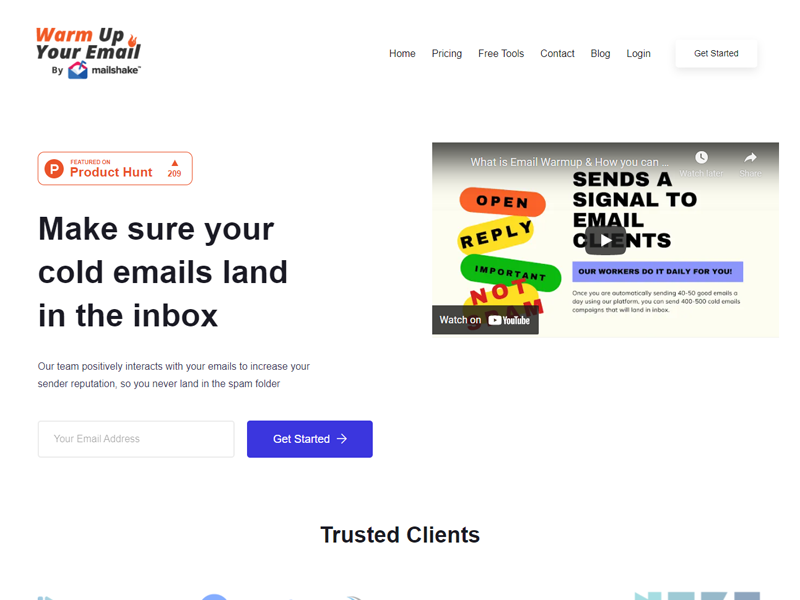 WarmUpYourEmail is another excellent cold email inbox warming service that helps users increase their account engagement. The WarmUpYourEmail has a real email team that allows the new accounts to build their reputation and grow more.
The team of WarmUpYourEmail engages with your email receivers and senders by opening them, replying to them, and marking them essential. So it helps to remove the email from the spam folder in case of the email lands in it.
There are no precise algorithm details of WarmUpYourEmail that clear the team management and recommend users of WarmUpYourEmail to engage more with the system. But it is a valuable tool for warming up the inbox and following the email activity.
However, the WarmUpYourEmail is a paid tool that charges per inbox service.
Pricing:
The introductory plan price is $29 per inbox.
Features:
A review of SPF, DMARC, SMTP, real people opening and engaging with your emails.
Remove email from spam folder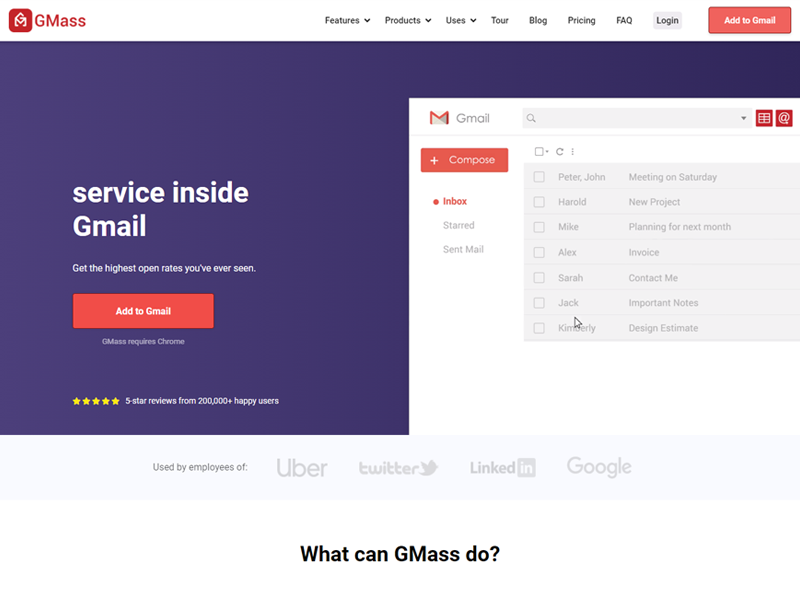 GMass is a conglomerate-based email warm-up tool that provides incredible features at competitive market rates. You may find it as the varied selection according to this list. But the GMass provides quick management and high-efficiency control of email campaigns. It offers eight unique products that help to standalone among all other tools.
The primary focus of GMass is on Gmail services and making it worthy for google workspace service providers. All the eight benefits of GMass have direct integration with Gmail.
It helps to focus on customization and providing information. Moreover, you can build your email reputation quickly with GMass. When you sign in at GMass, you will have them all in one warm-up service.
Pricing:
It has two plans with different price tags. The starting plan is worth $12.95 per month, and the other cost is $19.94 per month.
Features:
You can check your domain reputation, email activity, cold email outreach, detailed reports, email reputation, follow-ups, and many more with GMass.
Build the email reputation quickly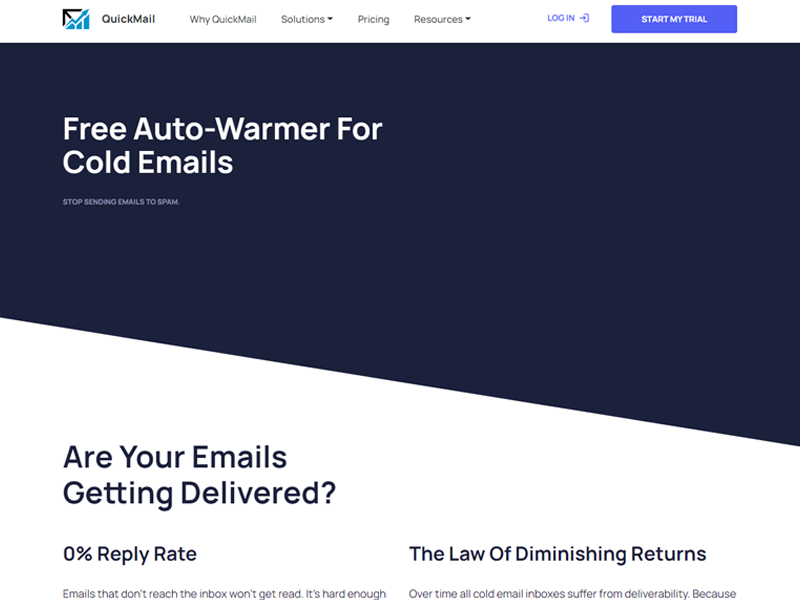 QuickMail is a powerful platform for warm-up email services. It has the full integration for your cold email automation campaigns. Initially, it helps users increase their email deliverability rate in free access.
So it's the best alternative to all other paid warm-up tools. Signing it at QuickMail helps generate real engagement with your new email account.
Once you link with QuickMail Auto Warmer, it automatically sends and receives real people's emails. So when it sends the mail from your address, it will open and reply automatically in the same way.
So you will be able to increase the email reputation with complete automation.QuickMail is a completely free tool that is specifically designed for cold emailers. In addition, you can also add more inboxes for free and analyze the deliverability reports.
Pricing: It is a free tool
Features:
Increase the email reputation
Will open and reply automatically to emails
Why You Should Use an Email Warm Up Tool
If you are an email user, then you understand its working principle. Moreover, the actual goal of email warm-up tools is to build the reputation of a new email address and increase email deliverability.
So when you want to launch a cold email campaign, warm-up tools are a great assistant. It will ensure that your email recipients get the email properly in the inbox.
The purpose of email campaigns is to land at the recipient's inbox, especially before launching the cold campaign. So the warm-up helps increase the conversion rate before sending the cold emails. It helps prevent the emails from remaining in spam folders and being directly delivered to the inbox. So you can reach the higher open rate in less time and earn more profit.
When you have high open rates, you will also get the attention of more recipients. The email warm-ups are also possible through manual ways, but it's not easy for beginners to do manual warm-ups.
Moreover, the standard warm-up process is based on automation that helps to send a few messages per day. The number gradually increases, but if you do it manually, you can release more than a hundred thousand emails per day. The warm-up process through automation is easier for beginners than manual ways.
It helps the cold campaigns to push the provider luck and achieve the goals quickly. However, email warm-up tools provide many benefits that include consistency, no time-outs or mistakes, high open rate, high engagement rate, and many more.
Moreover, the benefit of using email warm-ups is that you can theoretically take care of the provider's mail end. It helps respond to hundreds of potential emails and build a reputation with high engagement per day. So it's worth it to use the warm-up tools and provide more worth to providers' time, efforts and lower the risk of potential mistakes.
How to Warm-Up Your Email?
Now, if you have the amazing tools for warm-up services. But still, many want to know how to warm-up email. So here is the step-by-step guidance that will help you in this process.
Step 1: Prepare your account
Your email's authentication is an essential step in the email warm-up process. It will help your email land in the inbox instead of the spam folder that is the primary purpose behind cold email campaigns.
To prepare your account, you must list all the servers for sending emails through your domain. You can use SPF, DNS, and MX toolbox. It helps to add a digital signature to your environment and prevent your account from email spoofing.
You can also use domain-based message authentication or DMARC to convince the receiver with your SPF record. Moreover, consider using the custom domain for your email address to get more authenticity and confidence.
Step 2: Sending Email in an Authentic Way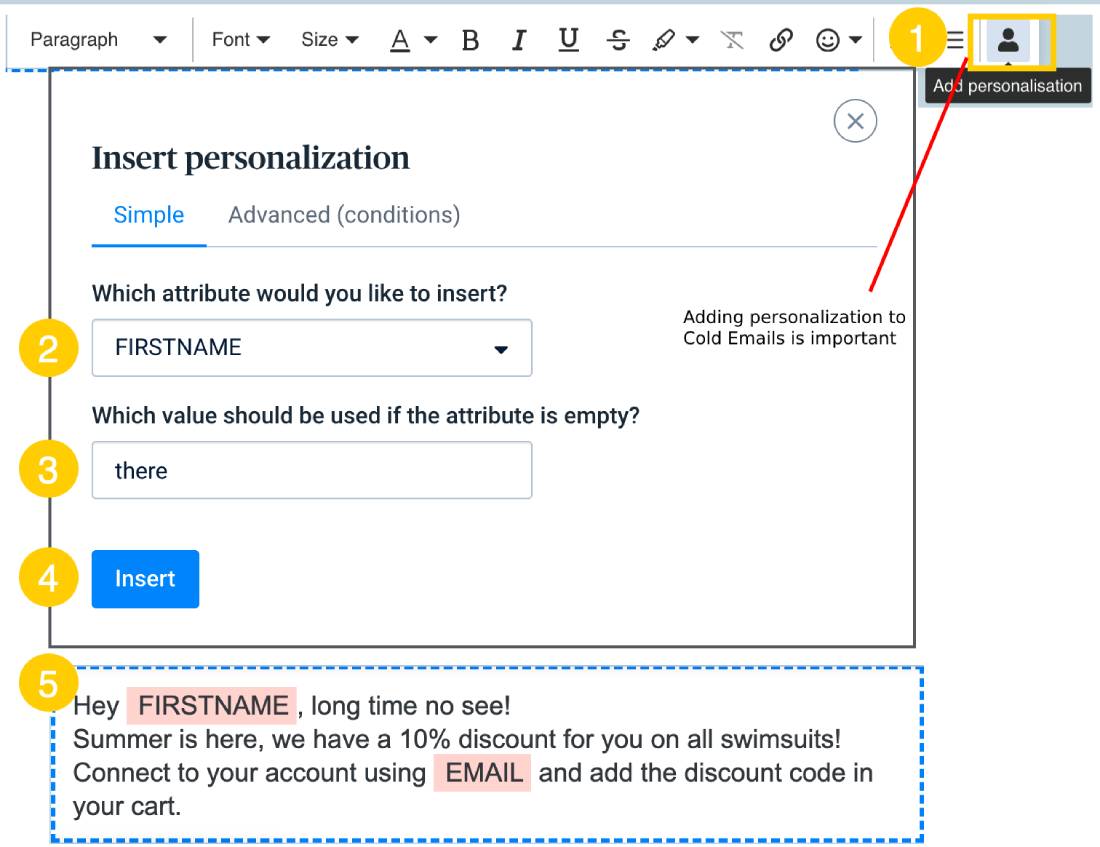 Start sending emails to your links. Ensure that you have the conversation with all the receivers that help increase the open rate with 10 to 20 individuals at the start.
The conversation between you and them should be consistent as it helps to get the authenticity of your email address. Send a small number of emails per day and then increase the number day by day. It helps to keep you consistent and keep the tone authentic.
Moreover, try to spend most of your emails to service providers to build the reputation from email across the services and make it easier for the audience to believe. It helps bounce off from spam folders and directly land in the email inbox.
Step 3: Keep Up the Conversations
Sending an email is not just enough. Email is a way to start a conversation, so the best way is through the conversation threads. Remember that it is one of the essential steps that you should acknowledge for getting enough deliverability and engagement.
The conversation may be boring, but it is the only way to maximize the email numbers you can send per day. The process shows the email service provider that now they have an authentic source and don't need a position in the spam folder. So if you want to achieve the goal of your cold email campaigns, then keep up conversations.
FAQs
How Long Does The Email Warm-Up Process Take?
If you know the process and understand how it works. But if you ask how long it takes, it depends on your email deliverability rate per day. Usually, it takes 8 to 12 weeks to warm up the new email account. However, the longer email warm-up process helps achieve more reputation as a sender.

How Do Spam Filters Work?
Spam filters have algorithms by the service providers who detect the email and categorize them. Every service provider has different spam filters that review the content and determine it. Moreover, it also has header filters, which check the email header for checking the falsified information. The general block list filter blocks emails from known spammers, and rule-based filters detect the spam mails.
Conclusion
Now you have enough information that helps to run the cold email campaigns with effective email warm up. It's essential to warm up the email as a prerequisite step and work accordingly to achieve the best results.

Ludjon, who co-founded Codeless, possesses a deep passion for technology and the web. With over a decade of experience in constructing websites and developing widely-used WordPress themes, Ludjon has established himself as an accomplished expert in the field.