Sendinblue is an email marketing platform designed for SMBs. The unique selling point the company offers to its client base is affordable email marketing services without compromising on quality and efficiency. This Sendinblue review looks at this SaaS for email marketing and what it offers to businesses and professionals.
The significance of email marketing cannot be underestimated. According to Statista, the number of global email users in 2020 was 4 billion, and the number is projected to increase to 4.6 billion by 2025.
In this article we will explain in detail the pros and cons and if it is or not for you. Keep reading …
SendInBlue Review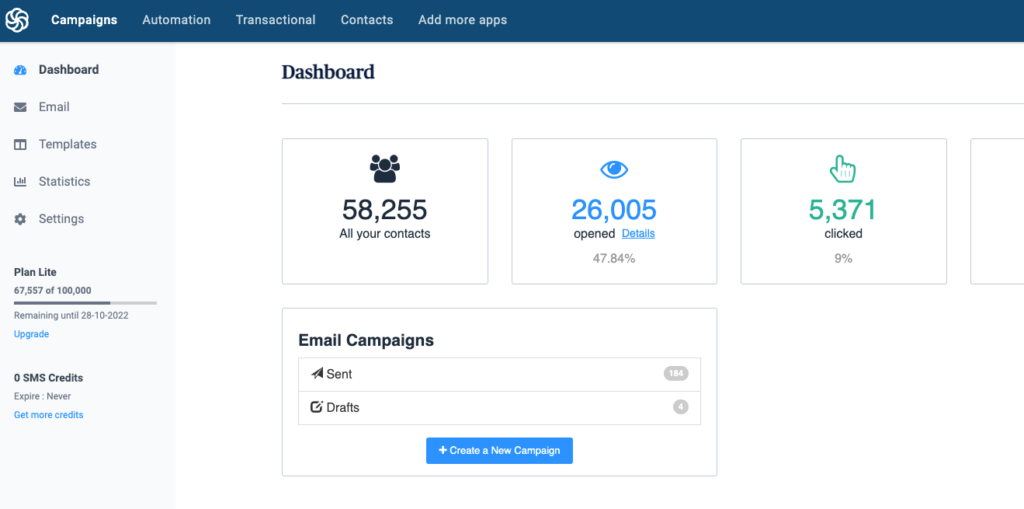 SendinBlue is best for
Small businesses are looking for a cheap solution that has all the tools and capability to send a weekly newsletter with a high deliverability rate and the necessary tools. The platform has an easy way of configuring email sequences for client email courses. Also, they have all the tools an eCommerce requires for their email marketing.
Pros
Affordable Email Marketing
Integration with WordPress, Magento, and Joomla
Free Unlimited Contacts
Transactional Emails
SMS Marketing Tools
Live Chat
Customer Personalization Journey
Cons
The Rich text editor needs to be improved
They have removed the Advanced Statistics for lite packages
Not so many emails templates
Sendinblue Rating
SendinBlue is affordable and good email marketing software
Deliverability Rate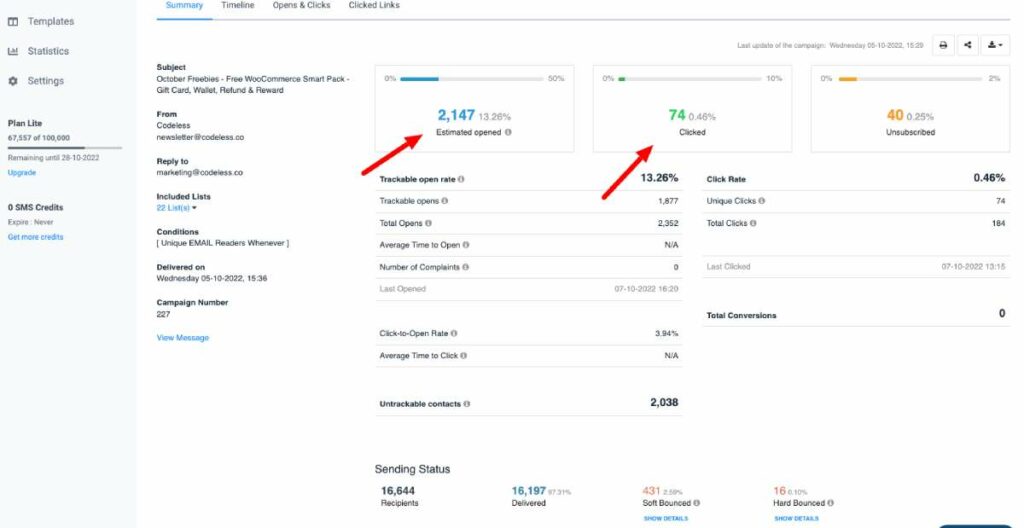 It is not enough to have a well-designed and written email. If it doesn't reach your target, your efforts will not bear the results you're looking for. You need to ensure the emails arrive at your subscribers' mailboxes.
Email services like Gmail are designed to prevent spam from getting in. Therefore, an email marketing platform like Sendinblue must take various measures to ensure the emails sent are not treated as Spam. Otherwise, clients will experience low deliverability rates and this negatively affects their marketing efforts.
Sendinblue claims to be built for deliverability, and it's good to assume that they have all the features required to guarantee high rates of deliverability. One of the core features is the management of SMTP servers.
Their staff manages email servers to ensure it maintains a positive sender reputation. Yahoo and Gmail have aggressive filters that treat emails from servers or domains with a negative reputations as spam. When sending large volumes of emails, it's easy for them to be considered as spam. This is what Sendinblue helps you achieve – increase the deliverability rate of bulk emails. 
They also automatically blacklist any message that triggers a hard bounce from the customer. This will prevent you from sending similar messages and ultimately reduce the spam rate. In addition, you're able to sort contacts based on whether or not they have engaged with a message in the last six to twelve months.
The company also allows you to access dedicated IP addresses. This feature, however, is only automatically available to holders of Sendinblue's Enterprise account. If you're in the other packages, you'll have to buy a separate IP address at yearly fees.
Like many email marketing services, Sendinblue is not in a position to guarantee high inbox rates. This is because there are many factors in an email campaign that can affect deliverability. What Sendinblue does is give you all the tools you need to improve deliverability as much as possible. The company also gives its clients documentation and guides on how to improve email deliverability.
The average deliverability rate tends to be between 83% and 89%. Anything above 89% can be considered good deliverability, while above 95% is excellent deliverability. When compared with other email services, Sendinblue performs comparatively well with a score of 90% as demonstrated in the table below:
Table Comparison
| | | |
| --- | --- | --- |
| | Deliverability Rate | Rate |
| MailerLite | 98% | Excellent |
| CleverReach | 96.5% | Excellent |
| Constant Contact | 90.9% | Good |
| ActiveCampaign | 90.2% | Good |
| Sendinblue | 90% | Good |
| ConvertKit | 88.7% | Average |
| Mailjet | 86.1% | Average |
| Mailchimp | 85.9% | Average |
| GetResponse | 82.9% | Average |
| Moosend | 80.3% | Below Average |
| Drip | 77.5% | Below Average |
| Aweber | 71.8% | Below Average |
| Hubspot | 68.4% | Below Average |
| Omnisend | 67.6% | Below Average |
| Benchmark | 40.3% | Poor |
Pricing
Pricing plans: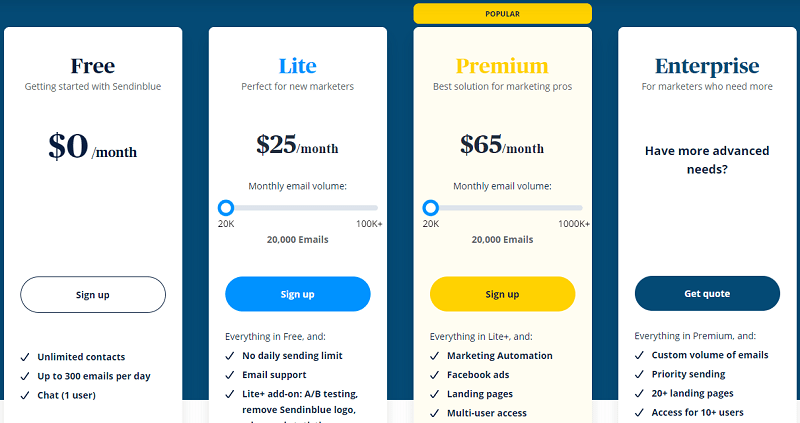 Free – $0 per month
Lite – $25 per month
Premium – $65 per month
Enterprise – customized pricing
Pricing comparison table
As demonstrated on the pricing plans and the table above, Sendinblue charges based on the number of emails sent. Whether your list has 100 or a million subscribers, you will not be charged extra.
The free account allows you to send up to 300 emails per day, translating to 9000 emails per month. Furthermore, the free plan gives you email automation services for up to 2,000 contacts. For small businesses starting up with a list of fewer than 500 people, the free plan is sufficient.
The Lite Plan gives you everything in the Free plan plus email support and a monthly limit of 20,000 emails. You can unlock this limit and send up to 100K emails per month at an additional cost of $65 per month. The Lite+ option, which you have to pay an additional $12 per month to access, allows you to remove the Sendinblue Logo.
The Premium Plan gives you everything in Lite and Lite+ and adds multi-user access for up to three users. In addition, the plan adds Facebook Ads, automation tools, and phone support. At an additional cost of $599 per month, you can increase the monthly email limit from 20,000 to 1 million emails.
The Enterprise plan is available for large businesses looking for customized services. You can send more than 1 million emails per month on these plans. In addition, enterprise clients can access priority support, a customer success manager, grant access to 10 or more users, single sign-on, and more advanced features.
Overall, Sendinblue is a cheap email marketing service compared to many email platforms in the market. In addition, it is one of the few email service companies that have a free plan.
Ease of Use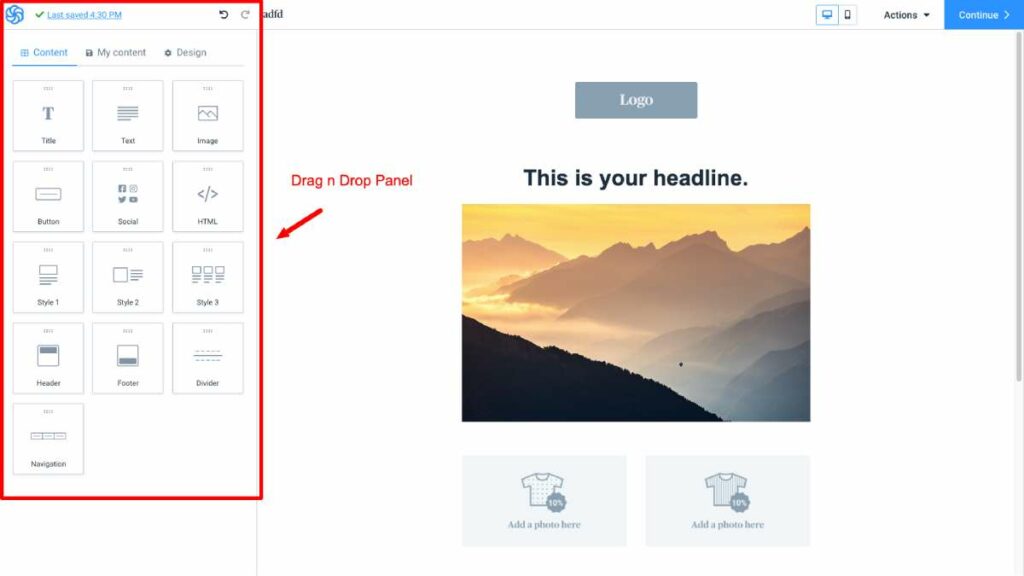 The user experience on any online platform starts with the interface. Sendinblue's user interface makes it easy for you to identify all key areas of the service quickly. The main menu is at the top. The menu directs you to your transactional emails, campaigns, contact management, and automation. The sidebar menu allows you to quickly switch to Facebook, statistics, SMS, emails, settings, and templates.
Starting a campaign on the platform is easy. Sendinblue will take you through all the steps of creating the campaign. The first requirement is to set the main details such as the name of the campaign and the subject line of the email.
The next steps you take have to do with how you want the email design to look. With the help of the email design tool, you can customize the design to your preference. The last step is to set the recipients of the email. You can test by first sending yourself the email before sending it to the list of contacts. The WordPress widget allows you to add contacts automatically.
To further boost ease of use, the email editor at Sendinblue needs improvement. And although the drag-and-drop feature makes email creation easy, it is slow.
Email Templates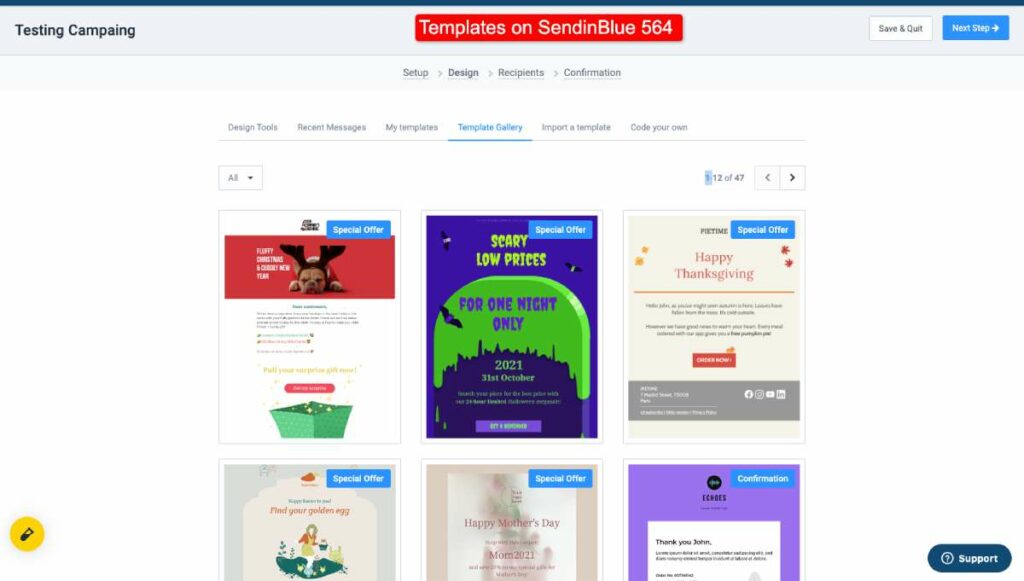 Sendinblue has a whole template library that you can use for your email campaigns – 564 in total for different categories. These are free templates available to all plans on the platform.
Some of the categories include the following:
E-commerce
Events
Contests
Sale emails
Lead generation
Newsletters
Holiday greetings
The templates look nice but most of these templates have an old design
Email templates are a great way of quickly designing your emails. The templates are optimized for both mobile and desktop users. In addition, every element in the templates is customizable. For example, you can change the email footer, add your own CTA buttons, and edit text. You can also add a branded header with your color scheme and logo.
Sendinblue lets you save your own customized templates using the drag-and-drop editor. These are reusable templates and you won't have to restart the customization process when you need to use them for another campaign. These customized and saved templates will stay under the 'My Templates' tab. 
Web designers have the option to code their own templates and add them to the list.
Overall I think that their templates are mostly ok but some of them as I said before need to be refreshed and also a major number of items and categories should be added.
Customer Support Rating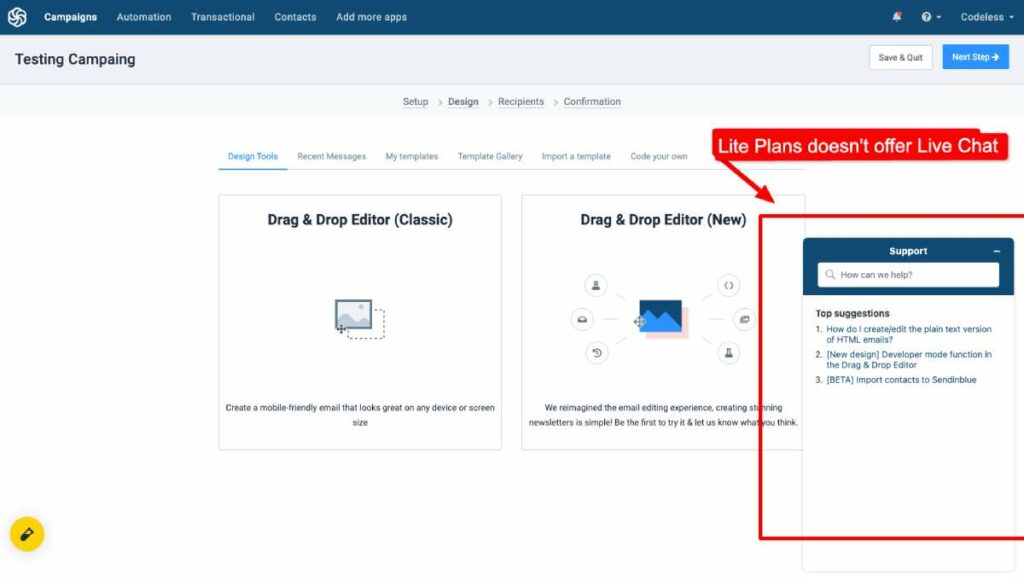 The type of customer support services you get at Sendinblue depends on your subscription. Lite subscribers can access email support services. Live chat and phone support are available for Premium and Enterprise plan subscribers.
Users with plans that do not have dedicated access to customer support may experience slow response time. The support team can take about 4 hours to give a response during the opening hours. It is not easy to contact them directly.
Both free and paid users can access the help page and get detailed answers to numerous questions. This is a great place to start if you encounter any issues when using Sendinblue email marketing services.
Security

Sendinblue is a GDPR-compliant solution. The company abides by data protection and privacy regulations. An upgrade to Sendinblue's Enterprise plans enables single sign-on. Incoming connections are enabled through SMTP on port 465. Sendinblue also uses TLS protocol for outgoing connections when it is available.
Although other basic security measures are covered, Sendinblue does not have crucial security features like two-factor authentication. It also lacks user activity tracking for team accounts.
Main Features
Sendinblue originally started with specific email marketing features but has grown to include other features that make it a complete digital marketing platform.
Sendinblue Email Editor
The email editor is one of the most important features to scrutinize in an email marketing service. Sendinblue gives you three email editor options:
Drag and drop editor
Rich text editor
Paste your own HTML code
As would be expected, a majority of Sendinblue customers use the drag-and-drop editor. The drag-and-drop editor is easy to use and also makes it possible to create emails quickly. In addition, this feature provides more options to customize your emails and make them look perfect on any email client service.
You start using the editor by picking it on the platform. The feature comes with ready-made blocks that you can use on your email by dragging them. You can add all types of content like images, buttons, text, and more. All the blocks are mobile-friendly. The auto-save function also ensures you do not lose the content as you're creating it.
Text editing on the platform is inline. As you edit and make changes, you can see how it will turn out later. You can set design settings for your content such as link color, font, and more.
What I dislike is the impossibility to add media or images without entering an HTML code into the Rich Text Editor mode. This editor is used only for simple text emails so you will not encounter this issue on editing Templates with the drag-n-drop visual editing mode.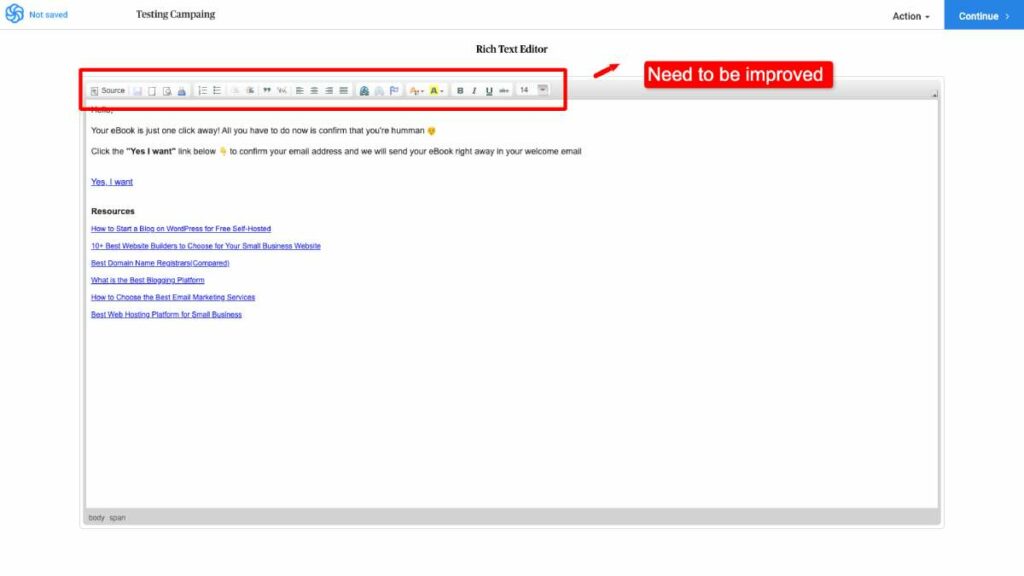 Your campaigns are auto-saved when working on them. By clicking the last saved date, you can access the version history and check on backups of your email campaigns. It is possible to restore a version if needed.
There are several useful options available in the Actions tab or function of the drag-and-drop editor.
Here is what you can do through the Actions tab:
Preview: Clicking on preview takes you to the Preview & Test function. This is where you can validate the personalizations in your email either by using one of your contacts or through dynamic transactional parameters, or both. This will allow you to see how your email will look like in different email clients.
Version History: This is where to go if you want to view automatic and manual backups of your campaigns. In addition, you can see a preview of all versions. Select and restore a version. Continue editing the version.
Send Test Email: This option directs you to the Preview & Test function. You can send test emails to single or several contacts. This feature also allows you to review your campaign and make changes to suit your preference. 
Developer Mode: This is the function that allows you to code your templates. However, you can not directly type HTML in developer mode. You can only use YAML. As you type the code, you'll see the email template design change. Every change is saved automatically.
Automation
The company offers users plenty of email automation functionality. The automation tool features basic workflow templates that can be redesigned and edited for specific tasks. You'll find a birthday message, welcome message, page visit, abandoned carts, product purchase, website visit, and activity-based templates. These are great additions for drip campaigns and commerce-focused emails.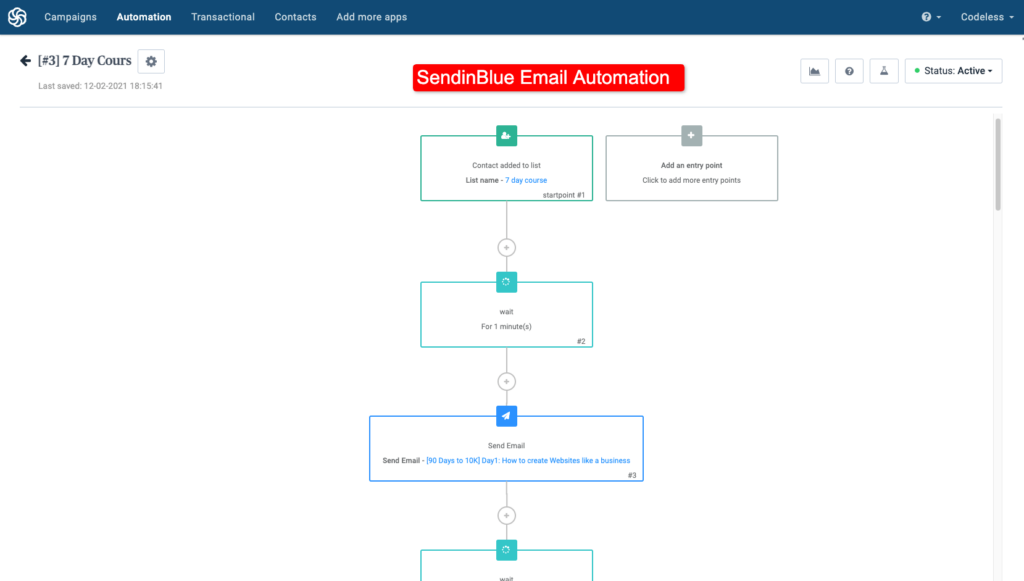 It is possible to start a basic workflow with the following file types:
A basic contact file
A contact who has submitted form data
A contact who has completed an email or website activity
A contact who was tagged while visiting your website
Once you have added the specific contacts of interest, you'll use the "if/then" conditions to determine what to send in your next communication. There are no limits on the number of interactions you can create. However, your account is restricted based on the number of emails you can send.
Sendinblue also has a simple way of creating contact filters for different demographics. This means that you can automatically add someone to a workflow. For example, if a person spends a specific amount of time on your site or turns a certain age, he/she is added to a workflow that aims to capitalize on that interaction. 
Overall, Sendinblue has over 350,000 options to automate sales and marketing processes. These options include sending SMS and email messages, updating information in your contact database, and organizing contacts in different lists.
SMS Campaigns

SMS marketing at Sendinblue is available on all plans. However, users in the free account have to purchase credits to enjoy the service. The price paid depends on the country you're sending the messages to.
SMS marketing allows you to send time-sensitive and special events, updates, and alerts to a contact list in your database. Simply write your message, choose a list of contacts you want to send to, and schedule it to be sent on a specific date and/or time when you want.
You can personalize the messages by segmenting them and dynamically adding individual contact attributes such as company name, first name, last name, or any other information of interest available for the contact.
It is possible to monitor the performance of your SMS campaigns based on various metrics. These metrics allow you to identify areas that need improvements in your SMS marketing efforts. You can identify problems in real-time using real-time deliverability reporting and engagement statistics.
A/B Testing
A/B testing is crucial for any email marketing campaign. It helps you learn what works best for your contacts, and what does not work.
An A/B test tests how two different variations of the same email perform with a selection of your contact list. A/B testing allows you to present the most successful variation to the rest of the audience and ultimately improve results.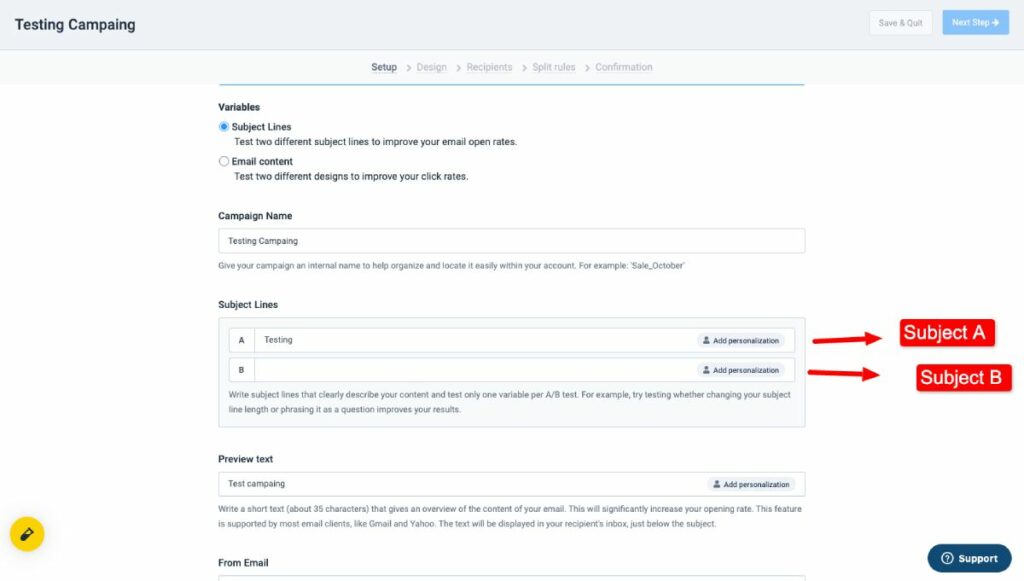 Some essentials of creating an A/B test include:
Choosing one element to test. An example is the subject line
Choose a sample size of recipients. Each variation should be sent to exactly half the size of the sample.
Select a method for determining the winner. An example is the best to click rate
Set the test duration – the duration the test should run
Each recipient in the sample you select will receive only one variation of the two versions – Version A or version B. Some of the email elements you can A/B test at Sendinblue include subject lines, section titles, call-to-action buttons, images, article length, and more.
To start an email A/B test at Sendinblue, visit the email campaign page and click on 'create email campaign button'. On the Setup page, click on the 'A/B Test' tab. You can choose the variables you want to test. For statistically significant results, the test should include at least 20,000 recipients.
Recently they have removed this feature for Lite plans so you will be able to use it only on Premium plans.
CRM
The CRM at Sendinblue is also available in all plans. Having this feature for free is a great add-on because most email marketing services do not make it available on their free plans. The deal pipeline is well-designed and easy to use.
The CRM allows you to track all your deals in one place. This lets you immediately understand which opportunities need attention to get maximum revenue. You can create and track opportunities at all stages of the pipeline.
The main benefits derived from using this CRM include controlled contact management, a sharper focus on high-level tasks, time-saving with automation, measuring results and growth, insights into precise targeting, personalized customer satisfaction, and invaluable data feedback.
Launching Sendinblue's CRM system takes only a few clicks. Everything is hosted on the company's servers to make things easy for the users. To begin, Sign in to your Sendinblue account and click on the 'CRM' tab on the dashboard.
The next step is to click the 'Try Sendinblue CRM' button. This will create a new CRM folder for you. Give your CRM a name and you're good to go. To effectively start using the CRM, you should add contacts, manage CRM tasks, and set up notifications.
Other Features
Landing Pages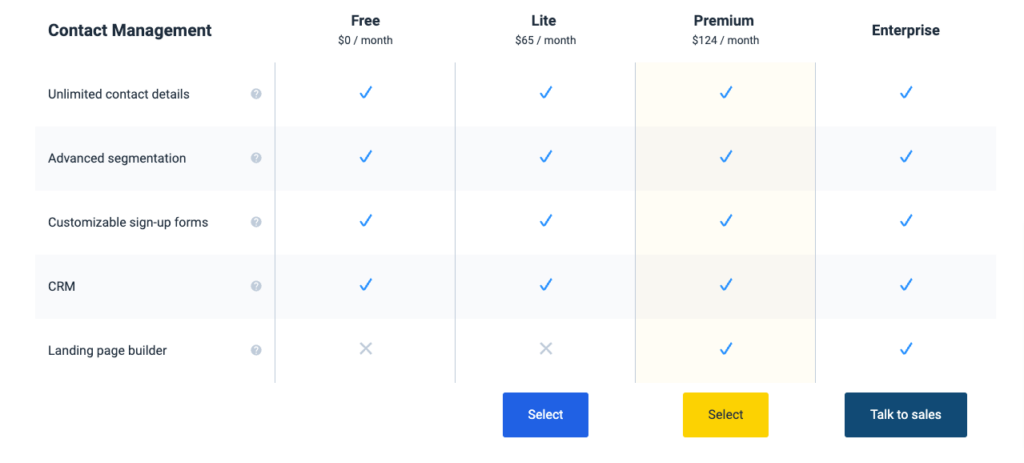 This feature is only available in the premium and enterprise plans. The feature enables users to create landing pages, either from scratch or by using the templates.
Bounce Management
Sendinblue gives you access to a log of hard and soft email bounces. The feature automatically removes hard bounces.
Opt-in Forms
You can customize Sendinblue's opt-in forms to fit your brand. Sophisticated features include automatic data population and captcha verification.
Email Segmentation
It is possible to segment your subscribers based on their demographics, lead scores, and actions taken.
Transactional Emails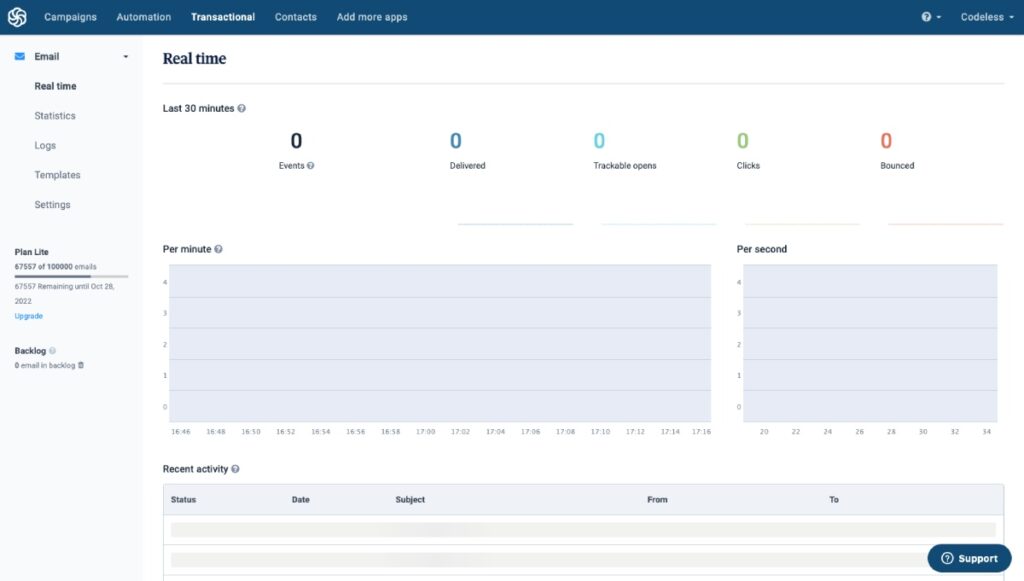 This feature enables you to directly send transactional emails like order confirmations, receipts, and password resets.
Facebook Ads
You create Facebook Ads right from your Sendinblue account. You should first connect your Facebook Ads account with your Sendinblue account.
Conversations App
The conversations app allows you to manage messages that come in via chatbot, live chat, Instagram, and Facebook Messenger. There is also a conversations mobile app available on Android and iOS.
Whatsapp Campaigns
Sendinblue is one of the first Meta partners for Whatsapp campaigns. This feature allows you to send targeted messages to your audience through Whatsapp. Compared to SMS campaigns, Whatsapp campaigns make it possible to customize your messages with videos, images, attachments, and CTAs.
Sendinblue Alternatives
Mailchimp
Constant Contact
AWeber
ActiveCampaign
Mailjet
Mailgun
GetResponse
Moosend
Omnisend
Klaviyo
I like Sendinblue because of its simplicity and affordability. It is a simple-to-use email marketing tool for e-commerce stores and any small to medium-sized online business. 
Conclusion
Email marketing is a significant component of overall marketing campaigns for any business. This is simply because there is no better way of contacting existing and prospective clients than through email. Sendinblue, through its various features like templates, drag and drop editor, and automation makes it easy for you to send bulk emails.
The more emails you send, the higher the chances of conversions. In addition, Sendinblue is one of the cheapest email marketing service providers. You can use the free plan to test the features and upgrade as you scale or when you need to increase the number of emails you want to send within a specified time.
FAQ
Is Sendinblue reputable?
Yes, Sendinblue is a reputable email marketing service provider. The company was founded in 2007 and is headquartered in Paris, France. 
Is Sendinblue cheaper than Mailchimp?
Yes, Sendinblue is cheaper than Mailchimp. Furthermore, Sendinblue's free plan gives you unlimited contacts while Mailchimp's free plan caps it at 2,000 contacts. 
Does Sendinblue allow affiliate marketing?
Yes. Sendinblue's affiliate program rewards every referred customer you send them, including those that sign up for a free account. 
How do I import contacts into Sendinblue?
Go to the 'Contacts' tab, click 'Import contacts', and select the 'Upload a file' option. Select the file or drag and drop it within the outlined area. Click 'Confirm your file' if the contacts and attributes are separated correctly. 
How do I delete my Sendinblue account?
Login to your account and go to your account's 'My Plan Page'. Scroll to the bottom and click on the box 'Cancel my subscription'.
Does Sendinblue integrate with Shopify?
Yes. You can add Sendinblue as an app on Shopify. The official Sendinblue plugin for Shopify is a free app.

As one of the co-founders of Codeless, I bring to the table expertise in developing WordPress and web applications, as well as a track record of effectively managing hosting and servers. My passion for acquiring knowledge and my enthusiasm for constructing and testing novel technologies drive me to constantly innovate and improve.
Expertise:
Web Development,
Web Design,
Linux System Administration,
SEO
Experience:
15 years of experience in Web Development by developing and designing some of the most popular WordPress Themes like Specular, Tower, and Folie.
Education:
I have a degree in Engineering Physics and MSC in Material Science and Opto Electronics.