Marketers must use the best video email software for their marketing campaigns because people are more inclined to watch videos than read standard texts. Although it is a highly beneficial approach, it is not always easy to record, edit, and personalize the videos, especially for beginners.
When video software comes into action, they can design such videos in less time, and other extensive features wonder for sales productivity.
The article covers 15 major video email software, features, and pricing details. Let's get started with it and see which software can best suit your business and fit your budget simultaneously.
The Best Video Email Marketing Software and Platforms
| | | | |
| --- | --- | --- | --- |
| Provider | Price | Free Version | Rating |
| Canva | It starts at $11.99 per month | Yes | 4.9/5 |
| BombBomb | It starts at $29 per month | No | 4.6/5 |
| Covideo | It starts at $49 per month | No | 4.9/5 |
| Hippo Video | It starts at $15 per month | Yes | 4.5/5 |
| GetShow.io | It starts at $23 per month | Yes | 4.6/5 |
| Quick page | It starts at $21 per month | No | 4.8/5 |
| Cloud app | It starts at $9.95 per month | Yes | 4.7/5 |
| Vadoo | It starts at $10 per month | Yes | 4.7/5 |
| Loom | It starts at $8 per month | Yes | 4.6/5 |
| Dubb | It starts at $32 per month | Yes | 4.8/5 |
| OneMob | It starts at $25 per month | No | 4.9/5 |
| Bonjoro | It starts at $15 per month | Yes | 4.7/5 |
| Screenrec | Free | Yes | 4.9/5 |
| Viewed | It starts at $39 per month | No | 4.8/5 |
| VideoForm | It starts at $49 per month | Yes | 5/5 |
| Vaam | It starts at €10 per month | Yes | 5/5 |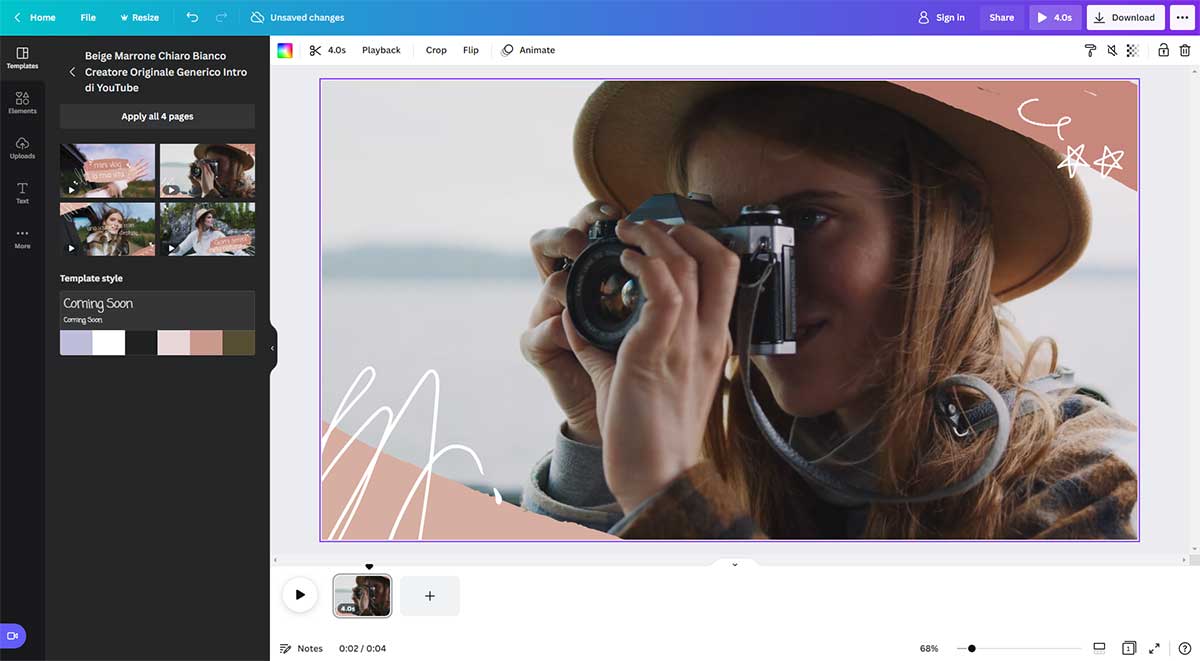 Canva is a free online design tool that allows users to create professional designs for their projects. With a simple interface and easy-to-use tools, Canva is a great option for those who want to create their own designs without having to hire a professional. With a library of pre-made templates and a wide range of tools for customizing your designs.
Now Canva has recently added a free online video editor The Canva video editor makes it easy to create professional-looking videos for your projects. With a simple interface and easy-to-use tools, the video editor is a great option for those who want to create their own videos without having to hire a professional.
With the library of pre-made templates and a wide range of tools for customizing your videos, the video editor is a great way to create professional-looking videos for your projects.
After creating the videos you can send video messages through emails. It is not a dedicated service for email video delivery but the fact they offer a free video editor and a lot of templates makes it number one on the list.
Features:
Templates
Free Transition elements and graphics
Sound effects, Voice-overs, and audio tracks
Animations
Browser-Based
Resize and edit for different platforms
Formats for any platform
Share your videos instantly
Pricing:
There are 2 main plans:
Canva Free – $0
Canva Pro – $119.99/year for one person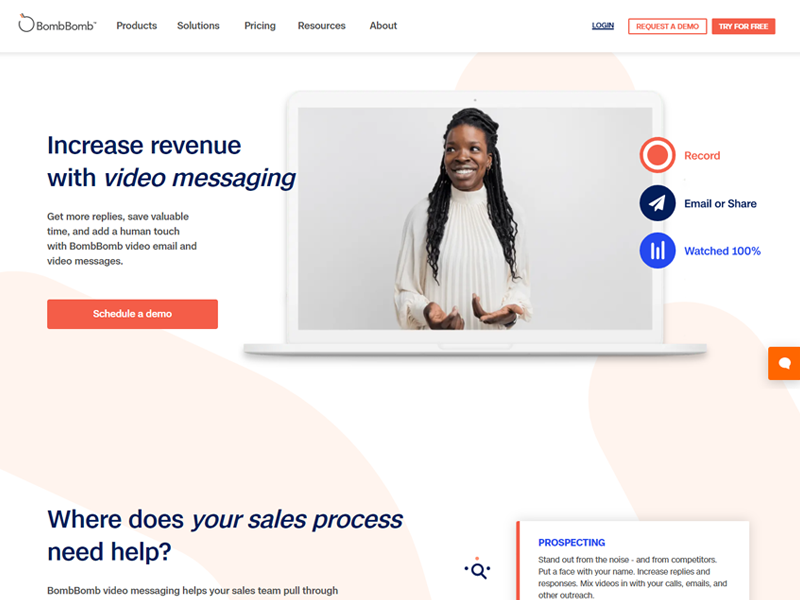 BombBomb is a video email platform for a sales and marketing manager with the ultimate goal of creating better customer reachability over digital mediums. BombBomb is rightfully the top choice as a video email provider. It is amongst one of the earliest introduced platforms for such a purpose.
It has extensive tools for every major relevant task, ranging from video recording to delivery and tracking. Besides, built-in features streamline the video's tone, emotion, clarity, and personality to impress the customers.
BombBomb is the first choice of small-sized startups and large organizations to give a human touch to digital marketing instead of proceeding with bots or dull text scripts.
Features:
You can send videos over SMS, emails, and other mediums
Automated follow-up videos
You can record screens
The live recording is supported
Direct export of videos through emails, text messages, social media platforms, and more
Real-time notifications about email open, video clicks, link clicks, etc.
Chrome extension allows video sharing via Slack, LinkedIn, email application, or customer relationship management software.
Mobile application with smooth interface
Integration with Gmail facilitates recording, editing, and delivery videos inside the inbox only.
Insert branded video pages with business logo in center and website's official link at the top of videos sent.
Incorporation of call to action buttons directly in videos
Options to like, comment, and reply directly in videos through the landing page
Animated preview generation with catchy thumbnail and video length on the cover page
Pre-written video and text blocks
Unlimited video recording and sending
Instant video delivery without application of any coding processes
Price:
You can access the pricing strategy at BombBomb below;
BombBomb Essentials – $29 per month
BombBomb Plus – $49 per month
Enterprise – custom pricings for the team of 5 or more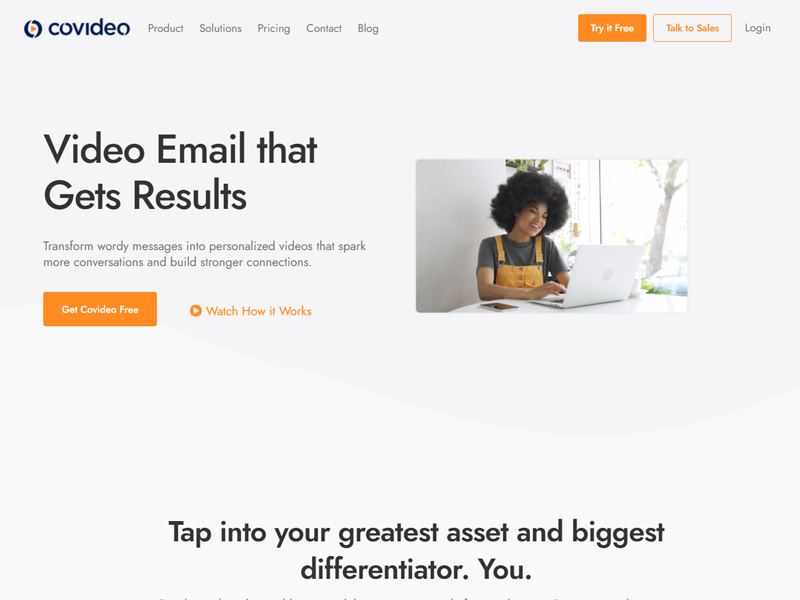 If aiming for better response rates on your digital marketing campaign through emails, Covideo can serve the best. Its highly functional tools for designing video messages for such campaigns have closed more deals resulting in a high volume increase in sales productivity.
At Covideo, you can not only create unique videos and embed them but also link them to custom landing pages, call-to-actions, and brand-specific website overlays.
It has an easy-to-use interface, making it a perfect email service provider for video email marketing. At the same time, its advanced attributes can simultaneously serve the widely spread enterprises.
Features:
Accessible through the web or mobile application
Records videos directly or can even import existing ones
Screen capturing and recording tools
Personalization of ready-made videos saves a lot of time
Customizable video landing pages
Insertion of calls to action for better engagement
Automated but custom video captions and transitions
Export videos to email, messaging, CRM, or any social media platform
Extensive integrations; Gmail, Outlook, Salesforce, Hubspot, and Zoom are a few.
Detailed reporting about views with real-time alerts
Up to date performance analysis based on clicks, opens, and shares
Administrative reporting functions
Price:
A total of 3 paid plans at Covideo are:
Covideo Annual – $49 per month
Covideo Monthly – $69 per month
Covideo Teams – Custom for enterprises with 5 or more membered teams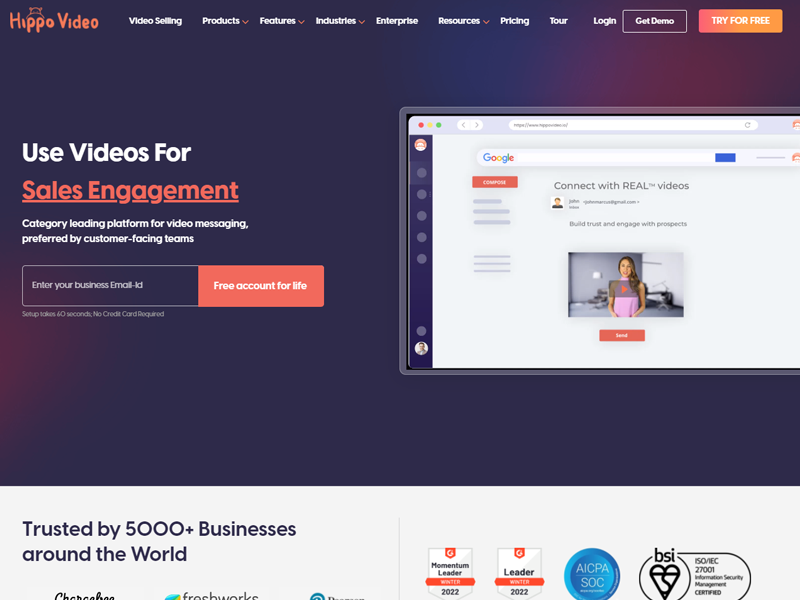 Hippo Video, an online video software, delivers highly advanced video marketing videos to customers with its automated tools. It majorly benefits the sales department by shortening the sales cycle as the customer is more inclined towards this approach.
The recording, editing, personalization of the target video takes place within this all-in-one platform based on custom numbers. It has been referred to as the next-generation video maker because of its premium visual attributes besides the primary function of video creation and its efficient delivery.
Hippo Video has been serving the purpose of several big names for many years; Freshworks, Chargebee, Essilor are a few.
Moreover, Hippo Video also allows video summarization through incorporating them in GIFs; the feature has resulted in more clicks and increased sales simultaneously.
Overall, it is widely preferred for professional businesses to create better relations with their customers with the personal goal of increased sales.
Features:
Video editing tutorials capabilities; trim, cut, crop, text insertion, etc.
Supports integration of unlimited audio tracks and visual clips in videos
Allows insertion of call outs, CTAs, greeting cards for both the beginning and end of the video
Diverse markup options; highlight, focus, erase, pause, play during the editing session
Quick video recording and editing with Chrome extension
Extensive video exporting options; YouTube, Google Ecosystem, Gmail, different social media platforms, etc.
Inbuilt reaction options in the video for customers
Customers can share their opinion right away through inbuilt comments in the video
Third-party integrations with Gmail, Slack, Trello, Jira, Zendesk, Freshdesk, and Google applications
Detailed performance reports include video views, shares, reactions, etc.
You can protect videos by putting a password on them, or you can also set an expiry date on the video's shareable link.
Price:
Starter – $15 per month
Pro – $30 per month
Growth – $48 per month
Enterprise – $79 per month
Note: You can also find a lifetime free plan at Hippo Video. Each paid plan also comes with a 7-day free trial.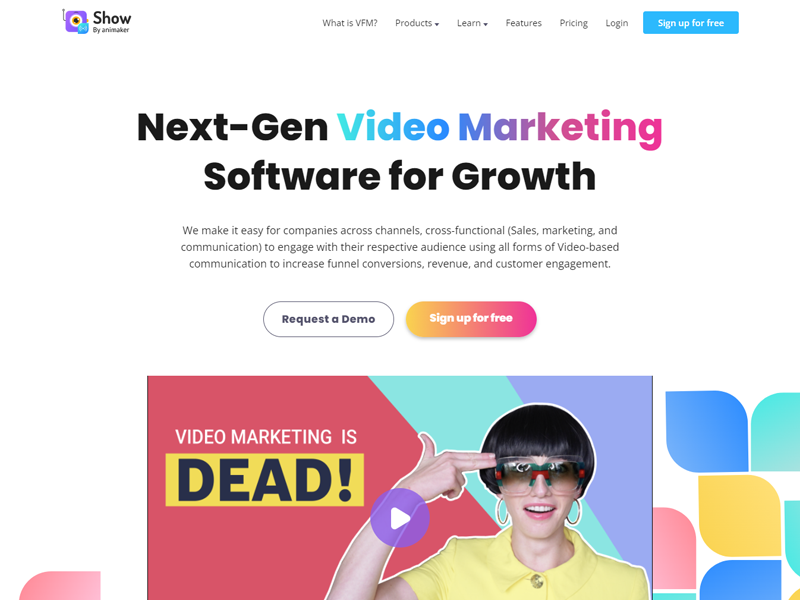 GetShow is the next-generation email video software with a free plan and is effective for improving video hosting, editing, and sharing capabilities. Moreover, the platform comes with extensive attributes that contribute significantly to the marketing and branding of those videos simultaneously.
In simpler words, GetShow does not just records videos for emails and deliver them but is also optimized to generate leads, display detailed analytical insights, and interactive video with customers on varied integrated media channels
Features:
Fastest and highly qualified video playback performance
Extensive video resolution support ranging from 480p to 5G
Sharable videos to various platforms, including CRM, email, SMS, social media platform, etc.
10+ practical growth tools for better engagement ratio
Integration of any CRM software or usage of the inbuilt mobile app for a better understanding of analytics
Lead collection and nurturing in the form of email ids or custom forms
Immediate delivery of generated leads to integrated CRM
Integration with a wide variety of sales, marketing, and productivity tools
Supports surveys, quizzes, polls, etc.
Inbuilt Animaker and Vmaker with pre-introduced functions for effective creation and editing of videos
Search engine optimized videos with fast loading time irrespective of the medium
360-degree customer profiling
Price:
There are three pricing plans available at GetShow.io, out of which one is free of cost. The other two paid plans are:
Starter Plan – $23 per month
Pro Plan – $79 per month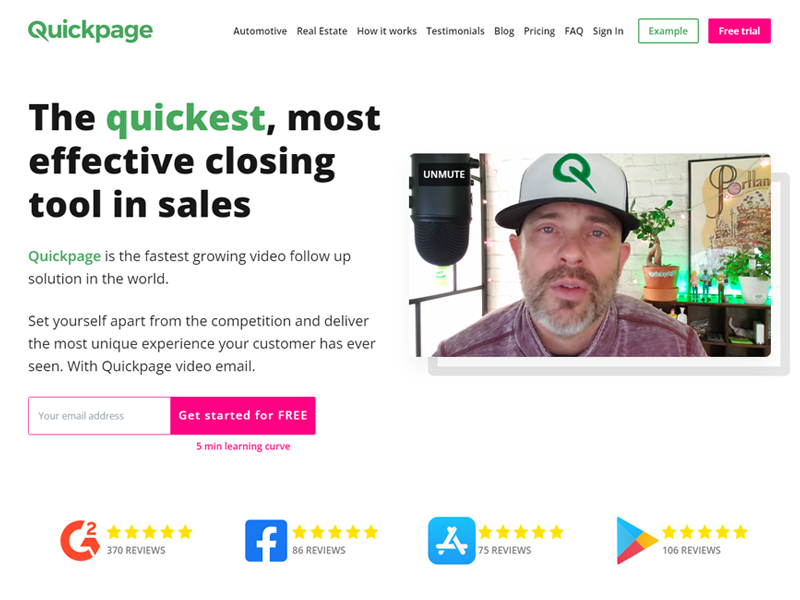 Quick page has an attractive slogan that says built by salespeople for salespeople; the line indicates that this platform is highly dedicated towards the function of increased sales and is rightfully so. It won't be wrong to regard Quick page as the speediest and most advanced sales management platform in the market that does the work through sending video-based emails to customers.
However, it is not just limited to emails; you can also test your marketing strategies by sending video messages through SMS to your customers; it is a proper way to impress them at a meager cost.
Compared to standard mails, high-resolution personalized videos have positively affected sales productivity and deals closure. Moreover, the detailed performance reports of the campaigns can further guide entrepreneurs on areas of improvement.
So there is nothing to wait about; quickly get associated with Quick page and earn the trust of your customers to get more leads and eventually maximum digital traffic for your business.
Features:
Direct video recording from a mobile application
Trimming, cropping, adjustment of videos at fingertips
Personalization capabilities
One-click video export to social channels like Facebook, YouTube, etc.
Straightforward interface with the quickest learning curve
Highly responsive customer support services
Password-protected videos
Video chat bubbles for integration into websites
Unlimited video storage and sharing
Price:
There are only 3 plans at Quickpage.io. Let's have a look at them:
Basic – $21 per month
Pro – $44 per month
Pro + team – custom pricings depending on the relevant industry like automotive, real estate, marketing, etc.
Note: Both plans have a 30-days money-back guarantee and 7 days free trial.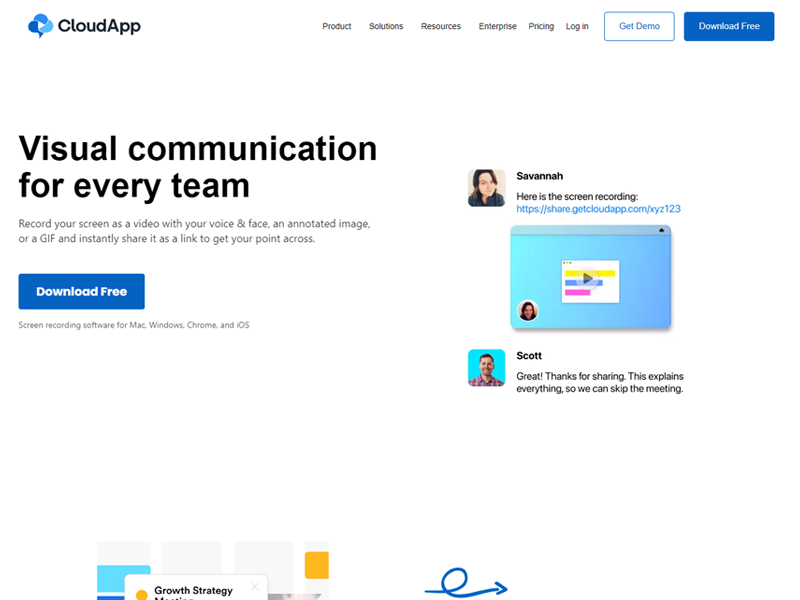 Professionals highly trust cloud apps for their instant video and image-building capabilities. The platform is quickest of all for recording and embedding videos in email, incorporating GIFs, screencasts and images, and other similar resources for improved sales through the tested method of video email delivery.
It has provided hundred percent results for business software development and designing, customer satisfaction and support, and finally, effective sales and marketing campaigns.
Moreover, the software's speedy video export approach is palpable and can be shared through secured short links to various mediums. It doesn't matter for what purpose you are using this application; it is suitable for every business runner, freelancer, web designer, software developer, and even professional enterpriser.
Features:
Direct visual and audio recording
You can create videos through annotated images, GIFs, etc.
Immediate sharable link generation protected with a password
Adobe, Zendesk, Salesforce, etc. integrations
Advanced analytics
Resolution support ranging from 720p to 4K
Unrestricted video recording length
Unlimited total captures
Custom branding capabilities
Works extensively for Apple MAC, iOS, Chrome, and Windows PC
Price:
Cloud app offers 4 pricing plans. These are:
Free of cost plan
Individual plan starting at $9.95
Team plan supports up to 3 users costs $8 per user
Enterprise plan – contact the platform's sales team to get a custom quote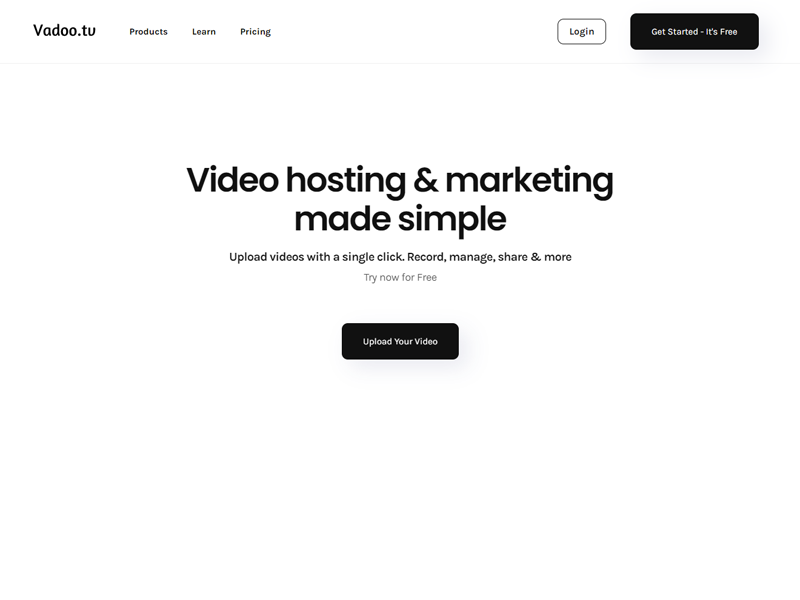 Vadoo is one such platform that has eased up the marketing procedure through video email campaigns. The videos for this purpose are created with a single click with all critical tools in action to upload, embed, market, and share it on relevant sites, emails, and varied social platforms.
Besides efficient video hosting tools for email, Vadoo also incorporates video landing pages, chat bubbles, testimonials, and podcast creation as the perfect marketing strategy for your digital business.
This all-in-one business video solution securely does everything. It is highly recommended for its advanced attributes, which you can find below.
Features:
HTTP live streaming encryption of shared media
Development of custom domains
Visual target tracking tools
Exporting of videos over Gmail, Outlook, MailChimp, and other similar platforms
Efficient tracking of email views, clicks, opens; similar for videos inside it, etc. The feature is highly trusted for developing advanced sales funnels.
High-resolution video creation tool
Unlimited video hosting
Up to 10 terra bytes storage to save courses, email videos, social ads, etc.
Streamlining of video format and size depending on the shared medium
Highly secured domain
Price:
Out of 4 Vadoo Tv plans for video email marketing, 1 is free of cost. However, let's have a look at paid plans of the software.
Started – $10 per month
Pro – $29 per month
Advanced – $39 per month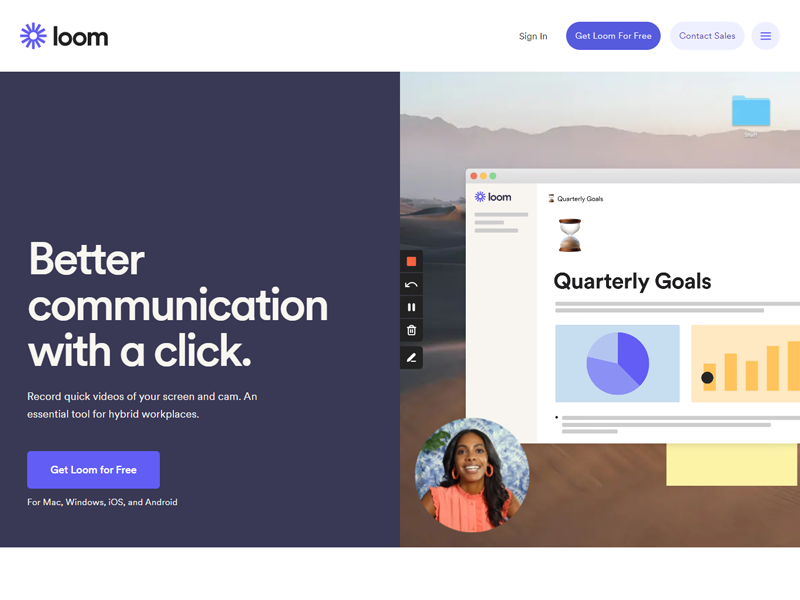 Loom is the essential tool for hybrid workplaces to instantly record live videos or screens in high-definition resolution. It is compatible with all, including MAC, Windows, iOS, and Android. Loom's capability to build instant async videos for better organization-customer engagement and enhanced selling numbers is treasured.
You can personalize each video aspect based on one's brand through the software's intuitive interface and extensive built-in tools.
Loom has been an active video email provider for many years and has served several big brands, including Netflix, Hubspot, Lacoste, Atlassian, etc. It is an excellent choice of software for its screen recording and collaboration capabilities, well suited for businesses of every range, from small startups to large organizations.
Features:
Automated workflows save a lot of time and effort for the sales and marketing departments.
Capturing of proper context, tone, and personality with detailed attention in the videos
Guaranteed confidentiality of sensitive data
GDPR, CCPA, and SOC 2 Type 2 compliance
Can develop internalized / externalized messages, presentations, updates etc.
Instantly generate a sharable link with all protective measures
Integration friendly for almost all third party applications for smooth workflow
Engagement insights through trends and graphs
Built-in software setup and configuration
Price:
You can find three different pricing plans at Loom. These are:
Starter Plan, which is free of cost
Business Plan – USD 8 per month when charged annually
Enterprise Plan with custom pricings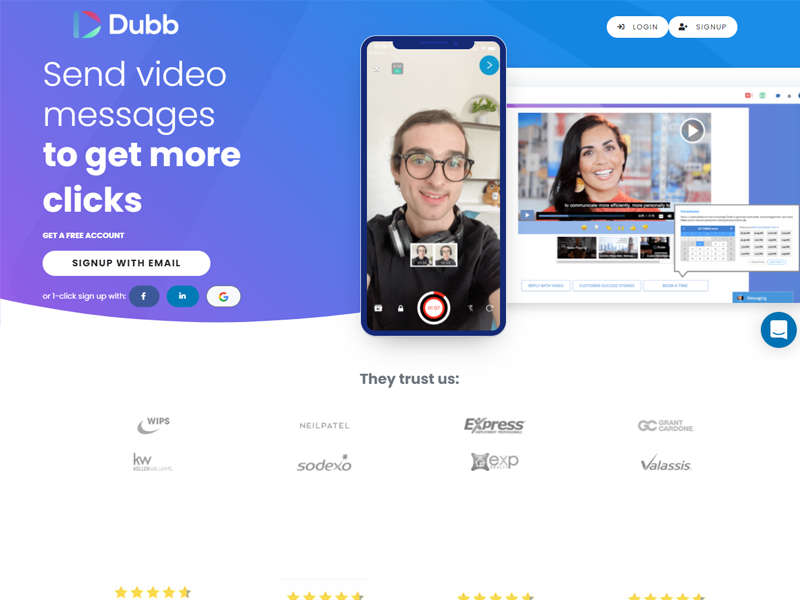 Dubb email video software was developed in 2018 to offer a complete package to entrepreneurs for achieving customer satisfaction, increased sales, and respected status in the digital market. Its specialty lies in the marketing automation tools that are powered by artificial intelligence. Moreover, Dubb.com can directly integrate the platform into essential third-party apps for advanced features; Slack, LinkedIn, and Gmail are a few.
The main objective behind the establishment of the company was to let everyone create engaging content for their email campaigns irrespective of the coding skills they possessed. They have rightfully achieved this goal and have served thousands of satisfied customers.
A few big names who trust this platform to run their e-commerce campaigns are Keller Williams, Neil Patel, Express Employment Professionals, Exp Realty. Dubb.com is a perfect business solution for novice entrepreneurs as it is elementary to use and is quite budget-friendly.
Features:
Powerful chrome extensions for recording videos through webcam or screen
Direct video sharing options on multiple mediums, including Gmail, LinkedIn, and popular CRM applications
MAC and PC supported desktop applications for smooth workflow
Streamlined mobile application
Live pause, play, and screen maximizing features
Integration with LinkedIn's messaging, comments, connection requests, sales navigator, and recruiter for enhanced business productivity
Integration with one of the best project management software Asana facilitates enhanced creation, sharing, and tracking of videos.
Auto transcript generator of videos at affordable rates
Real-time messaging feature combined within the sent videos
Direct incorporation of YouTube videos in emails
Preset options for action pages include CTAs, privacy options, playlist videos, messaging, captions, etc.
Virtual backgrounds for videos
Custom branding capabilities involve the insertion of logos, background, images, colors, etc.
Editable pre-designed email templates
Add team members, assigns roles, and track individual performances
Automated tools can send drip emails, use segmentation options based on client's activities
Add professional signatures to the video
Price:
The three Dubb.com plans are:
Free plan
Pro – $32 per month
Pro Plus – $80 per month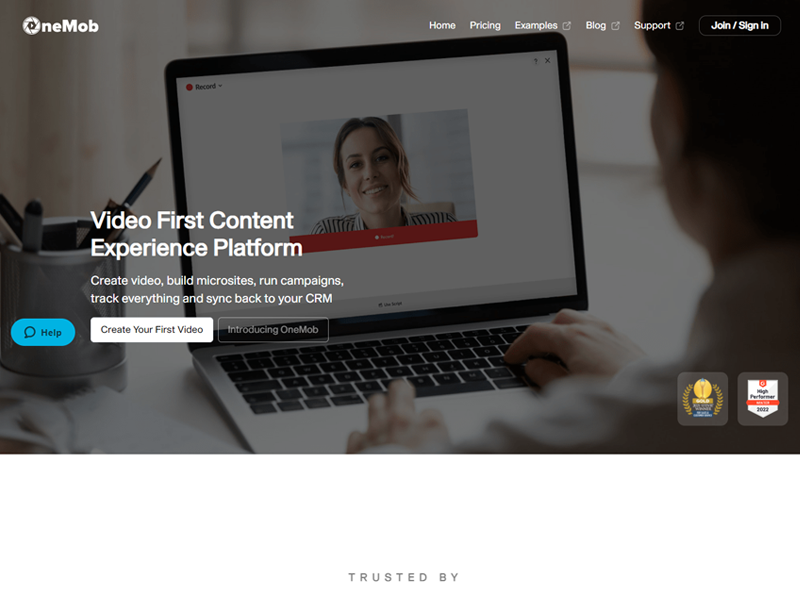 OneMob is a comprehensive platform for implicating necessary actions like video creating, micro site building, campaign running, and connecting each insight to your favorite business CRM.
The endless video personification possibilities at OneMob are remarkable. They have produced 90% positive results for inbound leads generation, deal closures, and customer satisfaction.
It is elementary to create videos at OneMob.com. It allows convenient recording from any device backed by teleprompter scripts follow-up. Moreover, the personalization of videos is more accessible than before with the tool, which can add logos and other brand details in each video through preset flows.
Professionals have trusted them for over the years; some big names are Cytiva, Zoom, Vengreso, and Cisco.
Features:
Integrated teleprompter ready to use webcam which requires no technical setup
Advanced video trimming options that can even cut unwanted clips from the middle of the recorded videos
A tool that can quickly merge several videos in one click
Add company logo conveniently at the beginning, middle, or end of the video
Automated importing of videos from Zoom application
Integrations with Office 365 and Gmail accounts for enhanced tracking of scheduled or sent emails
Automated generating of static or animated thumbnail
Intuitive administration dashboard
Client-specific virtual background applied in a few clicks
Insert text and images in videos
Price:
There are a total of 3 licensed plans at OneMob.
Team Plan – $25 per user per month
Enterprise Plan and Usage-Based plan have individual prices. They can be accessed by contacting the software sales team through their official website.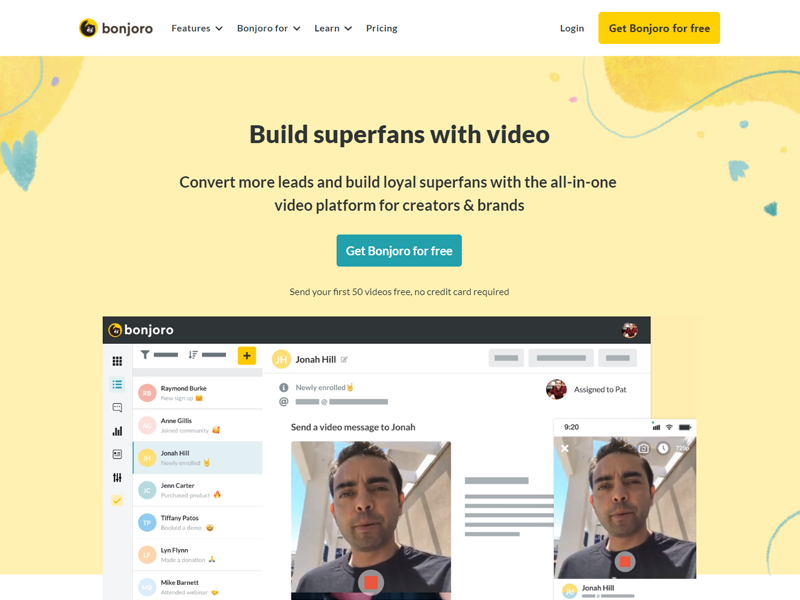 Bonjoro's intuitive and ready-to-implement video marketing tools are recommended for generating maximum leads and developing better customer relations through video email list campaigns. If you are a beginner at this task or even have the expertise to save your precious time, Bonjoro is the perfect choice of software for you.
Its streamlined video creation tools do not only perform the primary function but also allow the personalization of those videos and ensure an enhanced deliverability rate simultaneously.
Additionally, its worth mentioning attribute is a collaboration with Zapier, which allows integration of thousand third party applications. Bonjoro has been proved to provide the best open rates of sending emails hence highly trusted by likes of Click Funnels, Convert Kit, Ontra Port, Design Pickle, etc.
Features:
Record and edit videos for personification from mobile or desktop with the convenience
Up to date tracking reports of sent video emails
Add branding details and CTAs in videos
Zapier based integration; individual integrations with third-party tools also supported
Send scheduled emails through automated tools
Collection of inbuilt email templates
Creation of private workspace within the platform for employees from different departments
Price:
The pricing strategy at Bonjoro is as follows:
Free Plan – $0
Starter plan – $15 per month
Pro Plan – $33 per month
Growth Plan – $79 per month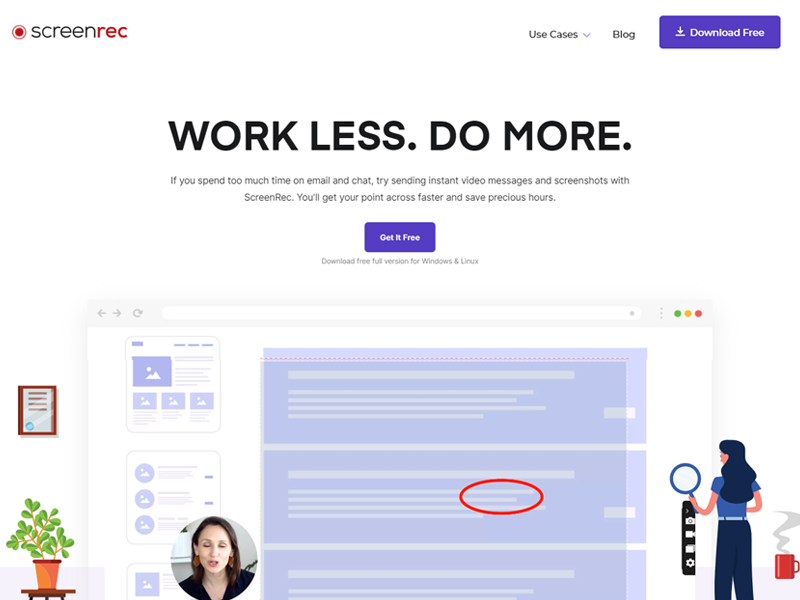 Screenrec, a comparatively modern video conversions recording tool, is based on the motto of work less, do more. It allows instant development of videos messages with their efficient set of tools that can save a lot of your time. Moreover, it can also record screens and generate sharable links for convenient export to extensive mediums.
The platform is compatible with Windows, Linux OS, and Mac OS. It is best suited for developers, customer support managers, designers, electronic learners, sales managers, business communicators, and project managers who want to create better relations with their customers and enjoy maximum sales.
Features:
Single click recording through webcam and screen or both simultaneously
Add comments in videos and highlight important parts of screenshots
Encryption of the content ensures high-level safety
Detailed report on who watched the video, how many times, and for how long
The content management system allows files segmentation; you can share these files privately or publish them on the website
Price:
Everything at Screenrec is free of cost.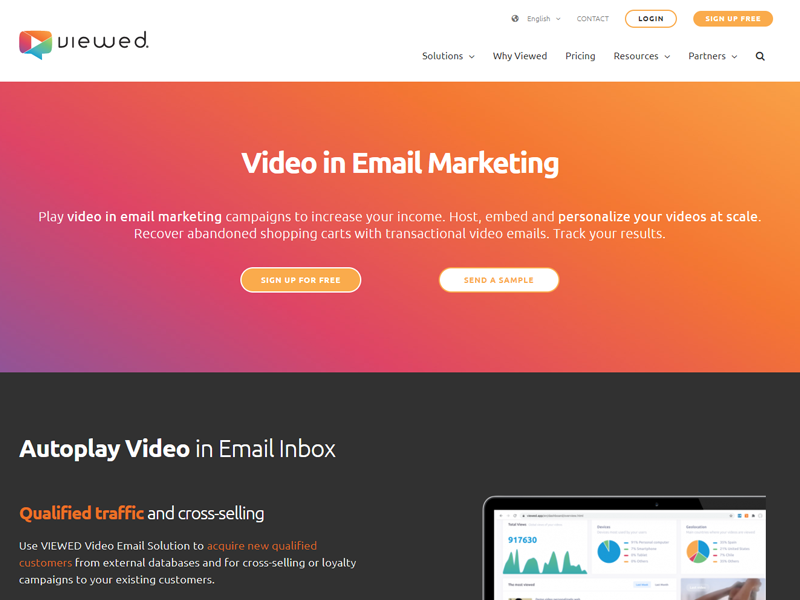 Viewed was established to increase entrepreneurs' income by applying the best marketing strategy of embedding videos in promotional emails. It has all the tools necessary to create, edit, and personalize such videos according to your brand.
Moreover, Viewed also has a unique feature that auto-plays the videos in the inbox to garner immediate attention and interest of the customer. The platform allows embedded video code inserted in the email editor to facilitate marketing or remarketing campaigns at your fingertips. Moreover, you can boost your digital sales through progress-driven data of the former campaigns for future ideas.
If you manage a sports channel, a musical concert, or any similar live event-based medium, Viewed has a unique feature. With the inbuilt tool, you can easily incorporate live streaming clips into the email, garnering more views and maximum traffic on your platform.
All in all, Viewed is one particular video email service software that has some unique attributes that make it stand out from other similar providers available in the market.
Features:
SaaS complied email marketing campaigns
Allows email delivery through your existing platform with a guaranteed improvement in viewing rate
Personalization of emails in a few clicks
API compliance
Recovery of abandoned carts through real-time video delivery
Live streaming of channels in emails
Add essential data in the video, including CTAs, time, names, etc.
Integration with IBM, Minsalt, Ogilvy, MailChimp, HubSpot, SendGrid, etc.
Price:
The Viewed pricing plans are:
Starter Plan – $39 per month
Professional plan – $79 per month
Enterprise plan- custom pricings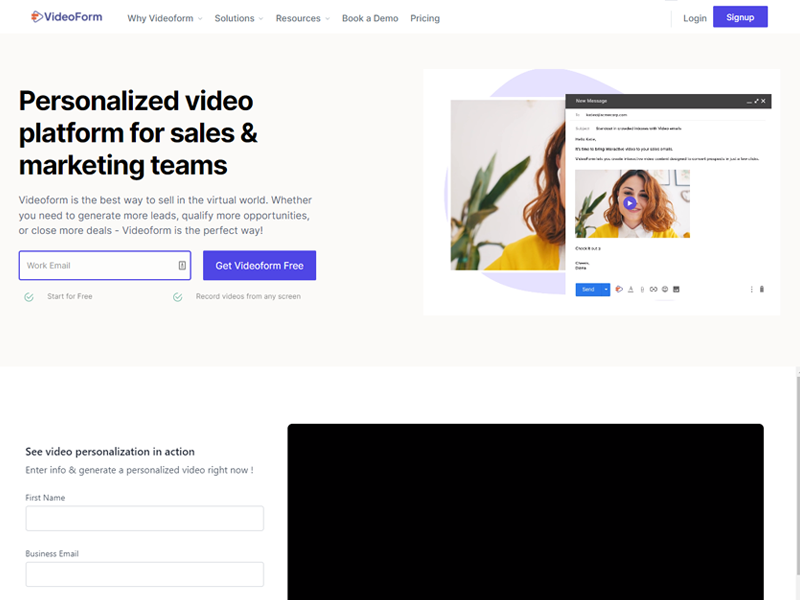 VideoForm is directed towards the growing revenue of digital businesses through its tools that allow personalized video building for sales and marketing departments. It is one of the best providers with guaranteed business lead generation and deals closure improvement.
On the official website of video form, you can see a custom live demo of its services with a single click without any payments to be made. Moreover, its relation of trust with big names like LegitFit, Studiotale, University of Pittsburgh, Fresh LMS has created a reliable reputation in the market.
Features:
Recording and sending of video emails directly from mobile application of the software
Directly integrates with CRM being currently used for your business
You can do recording of videos either through a webcam, screen, or even both simultaneously
Chrome extension eases up the recording procedure
Insert a call to action buttons like calendar links, any external URL, or inbuilt reply buttons supported for both audio and visual format
Integration with schedulers like Calendly, HubSpot, Acuity, and ScheduleOnce
Add custom images or GIFs as video thumbnail
Support 30+ CRM platforms
Highly organized team and user management capabilities
Add script on recording screen as a teleprompter
Zapier integration allows connectivity of more than 2000 third-party tools
Price:
The three VideoForm plans are:
Free plan
Team Plan – $49 per month
Enterprise Plan – custom pricings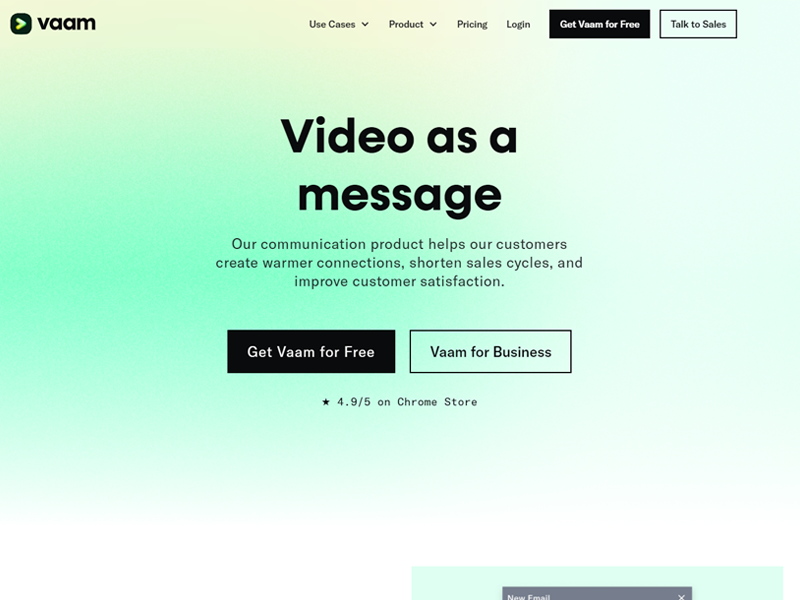 Varma, abbreviated as video as a Message, is an excellent video email marketing platform software; it is highly efficient for creating better connections with potential or current customers, improving sales productivity, and satisfying consumers simultaneously.
You can record and share videos personalized with your brand details in a few clicks. Moreover, the platform also has an academy that teaches users how to operate the software and get maximum benefits from its services.
The platform has collaborated with several big names, including Mentimeter, Guava, Stay around, Jobylon, etc. The customers of Vaam have reviewed it as one simple, easy, and fun to use platform for delivering promotional messages to customers.
Features:
You can create 15-minute-long videos
Screen and webcam recording either individual or simultaneously
Insights of delivered emails
You can send unlimited video messages
Custom branding capabilities
Call to action buttons
Merge two or more clips into a single video
Price:
The Vaam plans are:
Free plan
Vaam Pro plan – €10 per month
Vaam Business plan – $39 per month
FAQs
What is Video Email Marketing?
Video email marketing is a modern marketing technique of digital businesses for achieving increased sales and better customer reachability through emails. It uses embedded HTML Videos, GIFs, still images, and CTA buttons with incorporated video links to be sent as a part of email marketing campaigns.
What is Video Email Software?
Video Email Software is an application that allows the recording, editing, and personalization of videos intended for insertion in email campaigns. It is of great use for employees working in the marketing and sales department. They use it to develop streamlined emails comprising personalized videos for better client engagement.
Do videos increase email open rates?
We surveyed on this topic. It provided the reports that said video emails have a 65% positive effect on the click rate of the mail. Moreover, by incorporating it into the initial email campaign, the figures might increase by 96%.
Conclusion
Realizing the importance of video email marketing, we have collected the 15 best video email software serving the purpose efficiently. By understanding it in detail, you can select the right software and features for your company and enjoy improved sales, click rates, and customer engagement.

As one of the co-founders of Codeless, I bring to the table expertise in developing WordPress and web applications, as well as a track record of effectively managing hosting and servers. My passion for acquiring knowledge and my enthusiasm for constructing and testing novel technologies drive me to constantly innovate and improve.
Expertise:
Web Development,
Web Design,
Linux System Administration,
SEO
Experience:
15 years of experience in Web Development by developing and designing some of the most popular WordPress Themes like Specular, Tower, and Folie.
Education:
I have a degree in Engineering Physics and MSC in Material Science and Opto Electronics.