When you're on the hunt for "High RAM VPS Hosting," several factors come into play. You need a host that is both reliable and versatile. It's not just about having heaps of memory; it's about harnessing that power effectively for optimal website performance.
Choosing a RAM-optimized VPS host can feel like a complex task. But, fear not! We're here to provide you with a simple breakdown of the best providers available. These hosts combine high-performance hardware with flexible plans, leading to an all-around superior hosting experience.
So, whether you're a veteran webmaster seeking to level up, or a newcomer making your first foray into VPS hosting, you'll find a service here to meet your needs. Let's take a closer look at these VPS hosting providers and their standout features. It's time to set your website up for success.
The Top 5 High Ram VPS Hosting Providers

Intuitive hPanel control panel
LiteSpeed Cache for superior speed
4GB – 32GB RAM
24/7/365 support via live chat and tickets
See Pros & Cons
Pros
Fast load times
Excellent customer support
Competitive pricing
Powerful VPS solutions
Cons
No free domain on cheapest plan
No phone support
Hostinger's VPS hosting solutions, particularly those with high RAM allocations, are designed to handle high-traffic websites and resource-intensive applications. These plans offer superior performance, high-speed SSD storage, and dedicated resources, making them an excellent choice for larger websites and businesses.
The high-RAM VPS plans are a standout, equipped with up to 32 GB of RAM for only $21/month. This high memory allocation allows for the smooth operation of multiple applications and ensures that your website can handle spikes in traffic without compromising on speed or performance.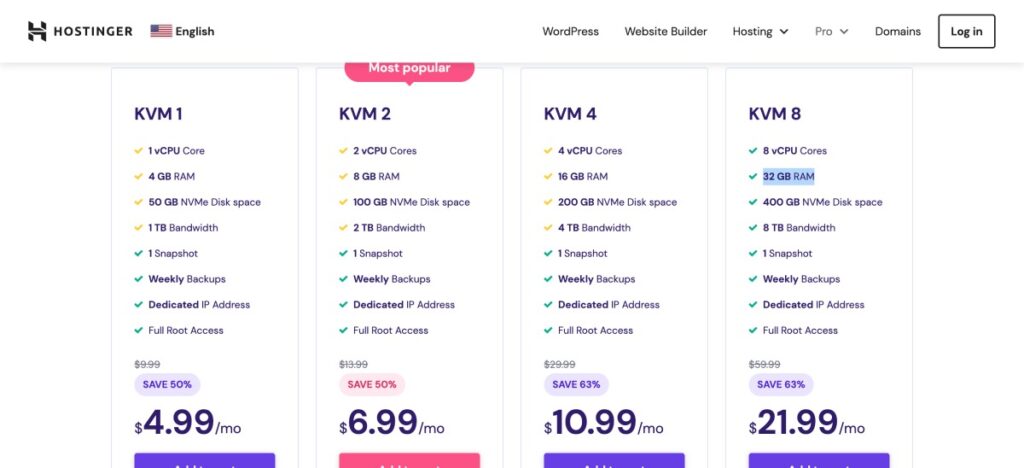 With Hostinger's VPS hosting, you also get full root access, which means you have complete control over your server environment. You can install any software you need and fully customize the server to meet your specific requirements.
Hostinger's VPS plans also include a dedicated IP, 24/7 dedicated support, and a 99.9% uptime guarantee. With these features and their competitive pricing, Hostinger offers a compelling high-RAM VPS solution for users looking for robust and reliable hosting services.

Fast SSD storage and high memory options
Advanced networking features
Scalable solutions to match growth
4GB – 250GB RAM
See Pros & Cons
Pros
Impressive performance
Flexible and scalable
Affordable pricing
Great for developers
Cons
Technical knowledge needed
Limited customer support
DigitalOcean stands out in the hosting market with its focus on developers and businesses that require flexible, scalable, and high-performance hosting solutions. Its memory-optimized droplets provide powerful and efficient services, making it a popular choice for applications that require more RAM.
DigitalOcean's response times are consistently impressive due to its fast SSD storage and high-speed networks. This ensures a smooth and fast browsing experience for end users.
The platform is known for its robust set of advanced networking features, including floating IPs, private networking, and team accounts, making it a great choice for businesses and developers with more complex requirements.
DigitalOcean offers competitive pricing, starting at just $5/month. The scalable solutions mean you can easily increase resources as your needs grow, ensuring you only pay for what you need.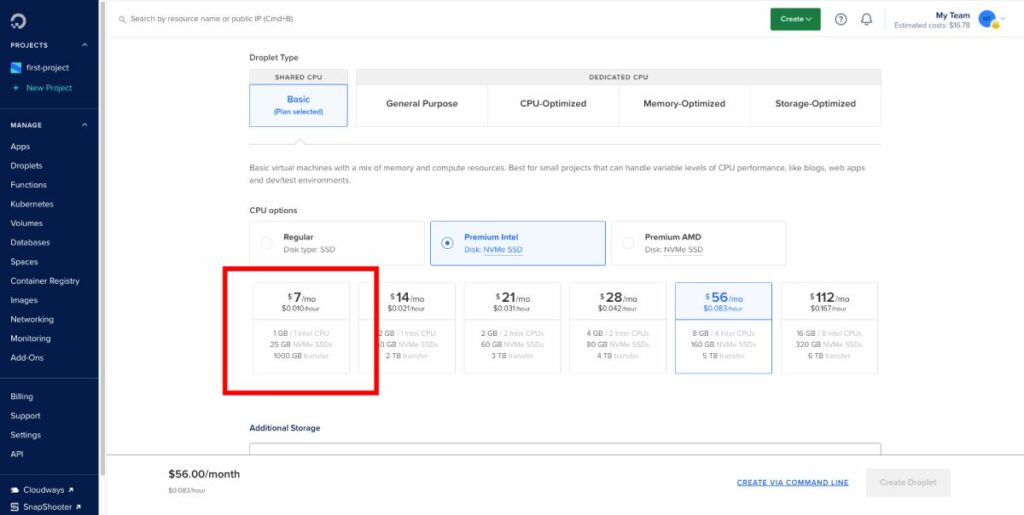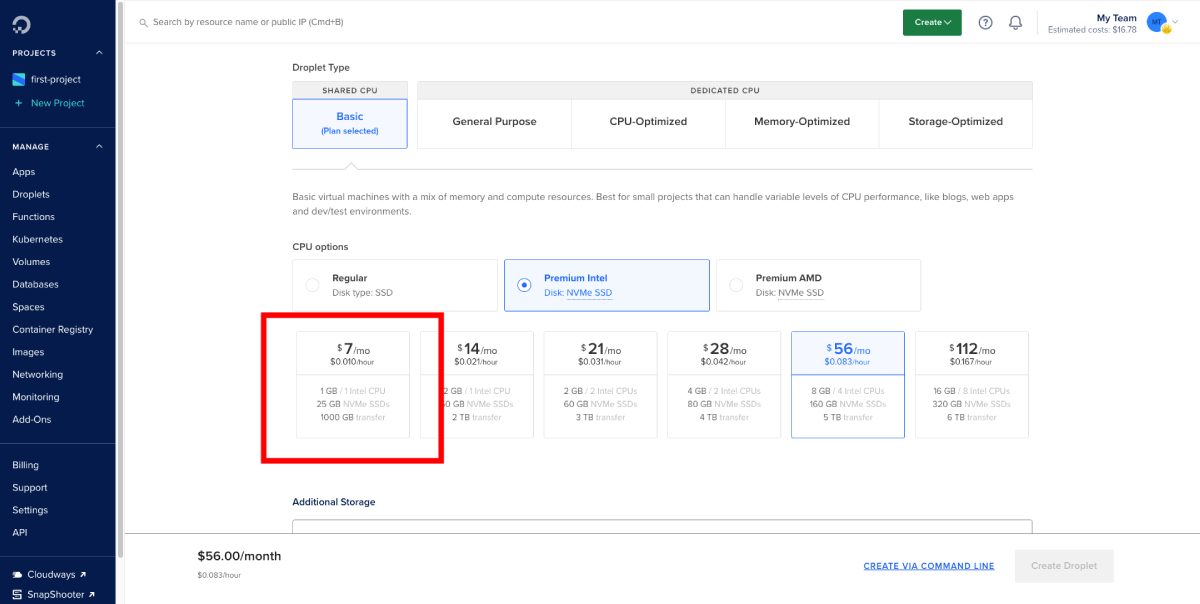 However, it's important to note that DigitalOcean's services are designed with developers in mind. As such, users with less technical knowledge may find the platform challenging to navigate, and customer support is more limited compared to some other providers.
For businesses and developers that require high-RAM hosting solutions and have the necessary technical skills, DigitalOcean offers excellent performance, scalability, and value.
Read More: Best Cloud Hosting Providers

Developer-friendly hosting
Optimized for speed
4GB -32 GB RAM
Free automatic backups and migration
See Pros & Cons
Pros
Fast and reliable hosting
Generous storage and bandwidth
Excellent customer support
Environmentally friendly
Cons
Higher renewal rates
Backups not included in the cheapest plan
A2 Hosting offers high-RAM VPS plans that are perfectly suited for heavy-duty applications and high-traffic websites. With these plans, A2 Hosting provides ample resources, including large amounts of RAM and storage, to ensure that your site can handle the most demanding tasks smoothly.
The high-RAM VPS plans are known for their impressive performance, partly due to the inclusion of SSD storage, which offers significantly faster read/write speeds than traditional hard drives. This, combined with A2 Hosting's optimized software, results in a highly responsive and fast website experience for your users.
Notably, A2 Hosting's high-RAM VPS plans offer full root access. This level of control allows you to customize your server environment to your exact needs, including the ability to install and configure any software you require. They are also one of the best cPanel-based virtual private servers to make easier the management.
With A2 Hosting, you can also expect excellent customer service. Their "Guru Crew" support team is available 24/7/365 to assist with any issues or queries you may have. Furthermore, A2 Hosting offers free automatic backups to ensure your data is safe and can be easily restored if necessary.
In terms of pricing, A2 Hosting's high-RAM VPS plans offer good value, considering the high-performance resources and features they provide. However, as with many providers, be aware that the renewal rates may be higher than the initial signup costs.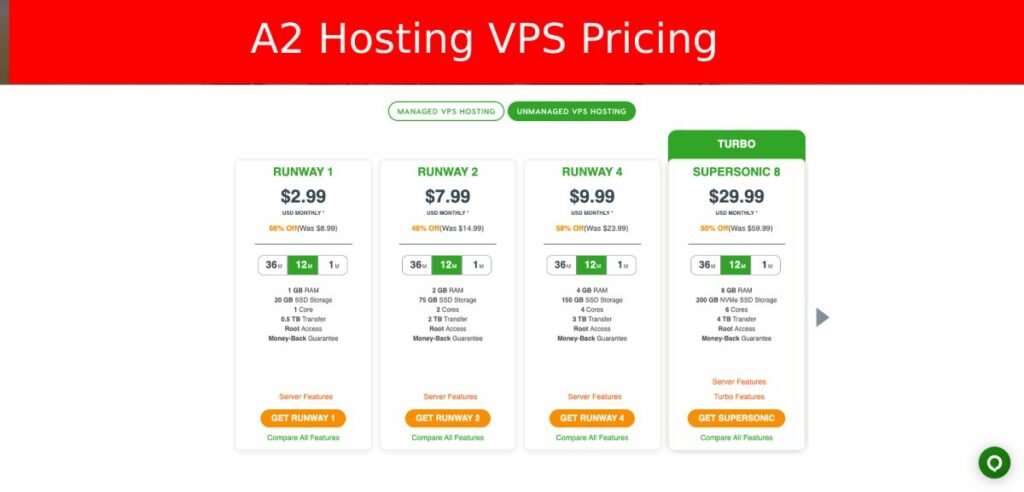 In summary, A2 Hosting's high-RAM VPS plans offer a potent combination of performance, control, and support, making them a solid choice for businesses and individuals with resource-intensive websites or applications. Their 32GB ram plans cost only $99.99/months

Wide range of customizable cloud VPS plans
High-performance RAM
Scalable resources with instant provisioning
24/7 technical support
See Pros & Cons
Pros
Highly flexible and customizable
Fast and reliable performance
Easy to scale up or down
30-day free trial
Cons
Interface might be complex for beginners
Windows server plans are more expensive
Kamatera is a global cloud services platform providing high-performance cloud infrastructure with a focus on flexibility and customization. They offer a wide variety of cloud VPS plans that can be tailored to the specific needs of your website or application.
All Kamatera plans feature SSD storage for superior performance, and resources are scalable with instant provisioning. This flexibility allows you to quickly adjust your plan to meet changing demands, whether that means scaling up during high-traffic periods or scaling back during quieter times.
Kamatera's customer service is another standout feature. Their technical support team is available 24/7 and is known for its prompt and helpful service.
Starting prices for Kamatera's cloud VPS plans are competitive, with the most basic plan starting at just $4/month. However, depending on the level of customization and the resources you require, costs can increase.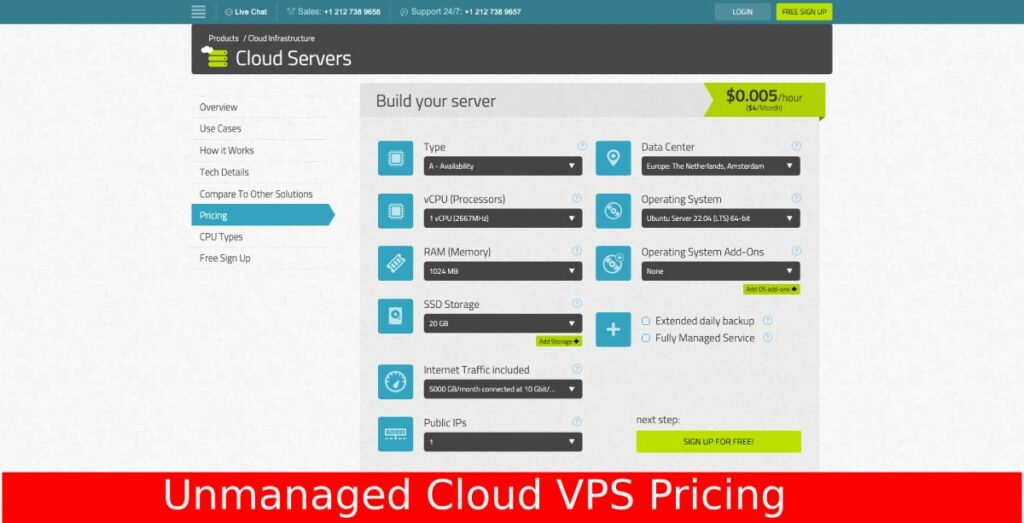 Kamatera is an excellent choice if you're looking for a high-RAM VPS hosting provider with a wide range of options and the ability to customize your plan to your exact specifications. Their commitment to flexibility, performance, and quality customer service makes them a worthy contender in the VPS hosting market.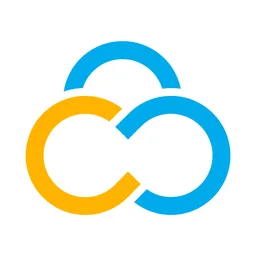 High-performance VPS with SSD boost
Diverse plans with up to 60 GB RAM
Root access for total control
Excellent customer support
See Pros & Cons
Pros
Competitive pricing
Unlimited traffic
High storage capacity
Windows and Linux options
Cons
Setup fee for monthly payments
Server locations limited to Europe
Contabo is a European web hosting provider known for its high-performance VPS hosting services. The company offers a diverse selection of VPS plans, including high-RAM options that are perfect for demanding websites and applications.
One of the standout features of Contabo's VPS plans is their SSD boost technology, which combines the speed of SSD storage with the high capacity of traditional hard drives. This technology delivers superior performance and responsiveness, making it ideal for resource-intensive tasks.
With Contabo, you get root access to your server, giving you the freedom to configure your hosting environment exactly how you want it. This level of control is a major benefit for developers and system administrators who need to customize their servers to suit their specific needs.
Contabo's VPS plans are competitively priced, starting at just $6.99 per month. However, be aware that a setup fee is charged for monthly payments. Despite this, the value for money offered by Contabo's high-RAM VPS plans is excellent, especially when considering the high-performance resources and features included.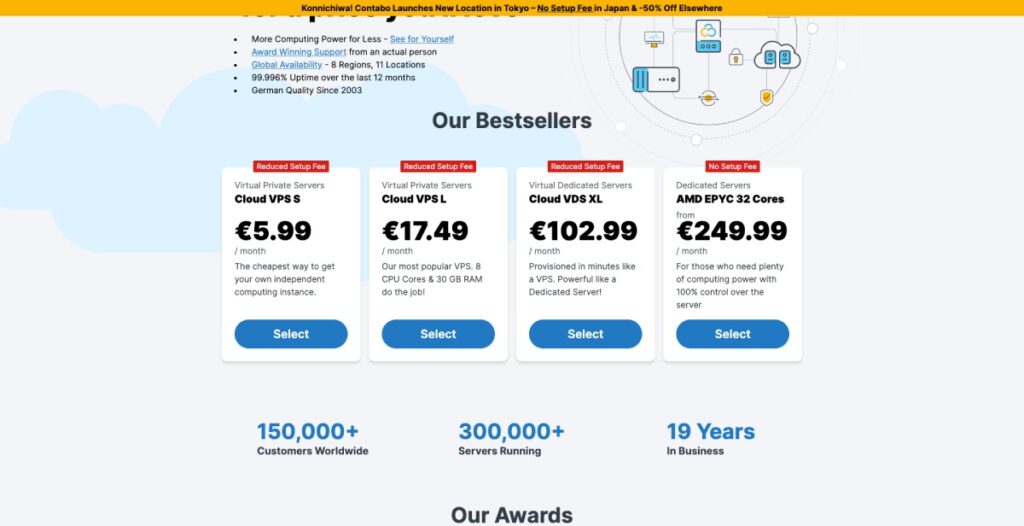 While Contabo's server locations are limited to Europe, they are known for their excellent customer support. Their support team is available 24/7 and is committed to helping you resolve any issues or answer any questions you may have.
FAQs
What is High RAM VPS Hosting?
High RAM VPS Providers refer to Virtual Private Server hosting plans that offer a high amount of Random Access Memory (RAM). This is particularly useful for websites or applications that require substantial resources to function smoothly, especially during periods of high traffic.
Why should I choose High RAM Web Servers?
High-RAM web servers are beneficial for websites or applications with high traffic or those that run resource-intensive tasks. More RAM can help improve your site's speed, responsiveness, and overall performance, leading to an enhanced user experience.
How do I choose the best VPS Hosting providers with High RAM?
Consider factors such as the amount of RAM offered, server reliability, pricing, customer support, and additional features. It's also beneficial to read user reviews and ratings to get a sense of the provider's reputation.
Is VPS Hosting with high RAM suitable for beginners?
While High RAM VPS Hosting plans often cater to advanced users due to their higher resource allocations and technical features, many providers offer intuitive interfaces and comprehensive customer support to assist beginners.
Is VPS Hosting with Optimized RAM expensive?
The cost of this VPS varies depending on the provider and the specific plan. However, with increased competition in the market, many providers offer high RAM plans at affordable rates. It's always recommended to compare plans and pricing from different providers before making a decision.
Conclusion
Choosing the right High RAM VPS Hosting service is crucial for your website's performance, scalability, and overall success. As we've seen, Hostinger, DigitalOcean, A2 Hosting, Kamatera, and Contabo each offer unique advantages, with varying plans tailored to different needs.
From exceptional speeds and rock-solid reliability to outstanding customer support and affordable pricing, each of these providers brings something unique to the table. All these hosts stand out for their high-RAM offerings, providing you with the power to handle high-traffic periods and resource-intensive applications effortlessly.
The ultimate choice will depend on your specific requirements. Consider your budget, technical expertise, and expected traffic volumes, then align these factors with what each provider offers. Remember, the best VPS hosting service for you will provide the resources you need today, along with the scalability to grow with you into the future. Choose wisely and set your website up for peak performance and long-term success.

As one of the co-founders of Codeless, I bring to the table expertise in developing WordPress and web applications, as well as a track record of effectively managing hosting and servers. My passion for acquiring knowledge and my enthusiasm for constructing and testing novel technologies drive me to constantly innovate and improve.
Expertise:
Web Development,
Web Design,
Linux System Administration,
SEO
Experience:
15 years of experience in Web Development by developing and designing some of the most popular WordPress Themes like Specular, Tower, and Folie.
Education:
I have a degree in Engineering Physics and MSC in Material Science and Opto Electronics.