In the vibrant realm of web hosting, where the digital world truly comes to life, stands Verpex Hosting. As we increasingly turn towards an online-centric world, it becomes more important than ever to find a web hosting partner that combines affordability with technological prowess.
One such partner is Verpex Hosting. This distinguished company has built a strong reputation by specializing in providing budget-friendly, yet high-quality, Dedicated Servers and Cloud hosting services. They've struck an impressive balance that has won them the trust of clients worldwide.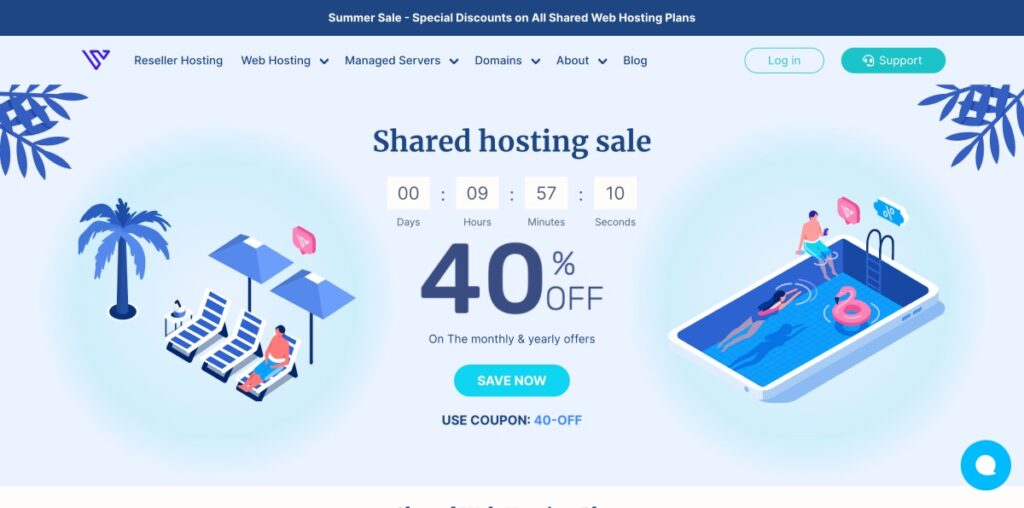 Verpex Hosting isn't just another player in the hosting field. It offers a unique blend of price and performance, making it a go-to solution for a diverse range of web needs – from personal blogs to expansive corporate digital ecosystems. They also offer a high security hosting services.
So, get ready! We're about to dive deep into the dynamic world of Verpex Hosting, exploring its cost-effective reseller hosting, dedicated servers and Cloud hosting offerings. Through this journey, we'll uncover the nuances of this provider, highlighting the humanity behind the tech.
This introduction just teases the surface of what Verpex Hosting is all about. It's our launching pad into a thorough exploration of affordable and reliable web hosting. Welcome to the journey!
Pros and Cons
Pros:
Affordable Pricing: Verpex offers competitive pricing for its hosting services, providing cost-effective solutions for businesses and individuals.
Wide Range of Services: From shared hosting to dedicated servers, Verpex provides a variety of hosting services to cater to different needs.
Customer Support: Verpex boasts a responsive and knowledgeable customer support team available 24/7.
Free Migration: Verpex provides free migration services, making it easy for clients to transition from their current hosting provider.
Money-Back Guarantee: Verpex's 45-day money-back guarantee provides reassurance for new customers.
Global Data Centers: Verpex's strategically located data centers ensure good speed and performance worldwide.
User-Friendly: With its intuitive control panel, Verpex makes managing hosting services easy for users.
Cons:
No Free Trial: Verpex doesn't offer a free trial for its services.
Limited Advanced Features: While Verpex offers a solid range of services and features, some advanced or specialized features may be limited or unavailable.
New in the Market: Compared to some other hosting providers, Verpex is relatively new in the market, which might concern some potential clients seeking an established reputation.
Services Offered by Verpex Hosting
Web Hosting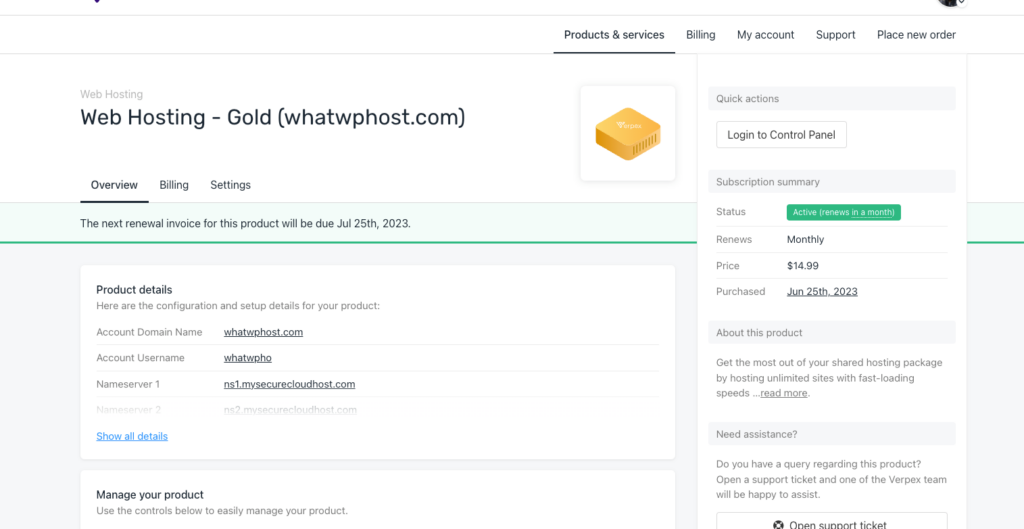 Hosting has carved a niche in the market with its affordable and reliable web hosting solutions. Their offerings are trusted by over 200,000 websites and are marked with exciting discounts of up to 90%.
For as low as $0.50 per month, customers enjoy unlimited bandwidth, free domain registration or transfer, free daily backups, and free security certificates.
Moreover, Verpex's round-the-clock technical support ensures smooth operations, and its 45-day money-back guarantee adds an extra layer of trust and confidence for its clients.
Reseller Hosting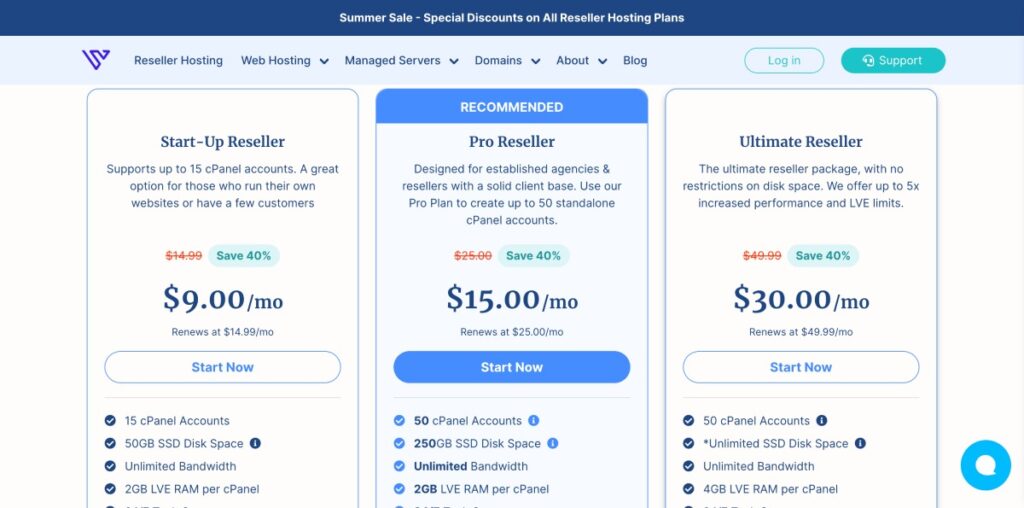 Tailored for scalability, Verpex offers Reseller Hosting services, permitting up to 300 accounts on a single account. With prices starting from a minimal $9.00 per month, resellers can leverage between 15 to 200 cPanel accounts, each with up to 4GB RAM.. As a bonus, resellers can make use of Verpex's 24/7 migrations team and avail of the free 45-day money-back guarantee.
Dedicated Servers
For customers in need of high-powered, fully managed website hosting environments, Verpex offers Dedicated Servers. At a discount of up to 50%, services start from a highly competitive rate of $39.50 per month.
These packages include all the features of web hosting and reseller hosting, along with dedicated resources and dedicated sysadmin support.
Customers can upgrade up to 64 CPUs and enjoy the flexibility of hosting unlimited websites and handling unlimited traffic. Additionally, a dedicated IP address is part of the package.
Cloud Hosting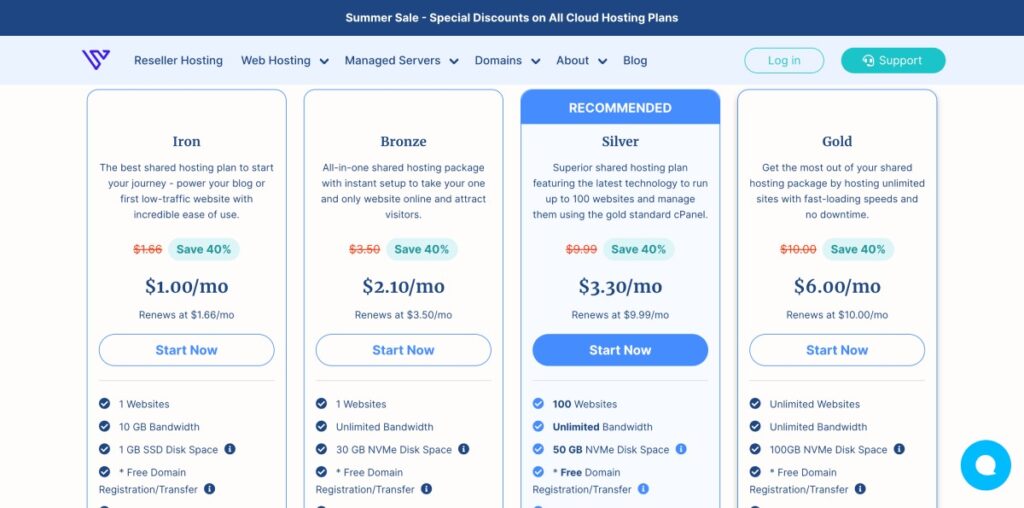 Verpex's Cloud Hosting services offer scalable and robust solutions for those seeking flexibility and high performance.
Verpex's cloud hosting plans, including Iron, Bronze, Silver, and Gold, cater to different needs and budgets.
The Iron plan, ideal for powering a low-traffic blog or website, offers 10 GB of bandwidth and 1 GB of SSD disk space at $1.00 per month.
At the higher end, the Gold plan provides unlimited websites and bandwidth, along with 100 GB of NVMe disk space, at $6.00 per month.
These plans, along with the Bronze and Silver options, all include free domain registration or transfer, free SSL certificates, free migrations, daily backups, and the user-friendly cPanel control panel. Additionally, Verpex ensures customer satisfaction with a 45-day money-back guarantee.
What I personally like is that they offer an amazing Cloud Infrastructure with the lowest prices I have ever seen.
WordPress Hosting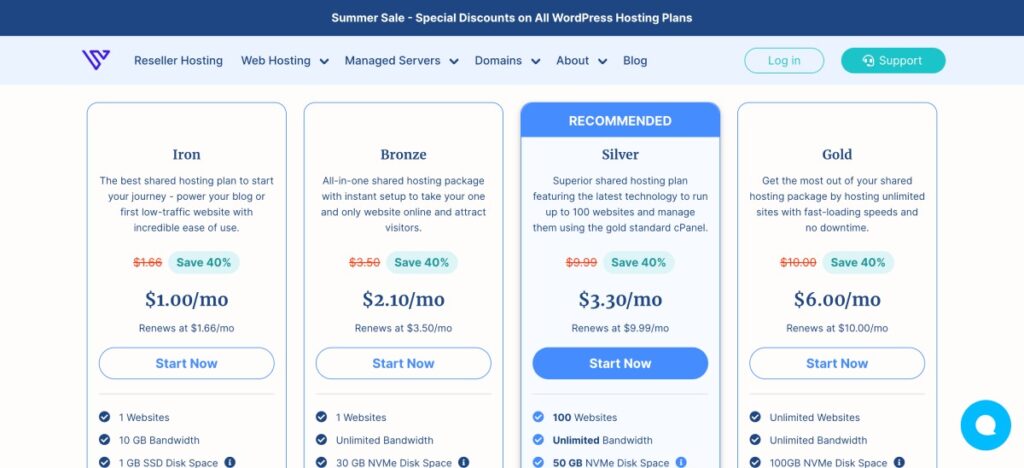 Recognizing WordPress's popularity as a content management system, Verpex offers WordPress-specific hosting solutions.
These plans are optimized for WordPress environments to provide fast load times which is made possible through NVMe SSD and also by using LiteSpeed and PHP OP Code Cache.
Managed Hosting
Verpex also offers Managed hosting for WordPress, Cloud Managed Hosting and Magento Managed Hosting. In these particular packages, they offered high performance and dedicated 24/7 support for any customer.
So in case you don't have any experience with managed hosting you can choose this service which is a little more expensive.
Domain Registration
In addition to hosting services, Verpex acts as a domain registrar, enabling clients to register and manage their domain names seamlessly.
This provides an added convenience for customers, as they can handle their hosting and domain registration all under one roof.
Technology and Infrastructure
Overview of the technology used by Verpex uses state-of-the-art technology in their hosting services to provide a superior user experience.
This includes cutting-edge server hardware, high-speed network equipment, and modern software technologies. They offer NVMe SSD on dedicated servers, cloud, and shared hosting plans. All dedicated servers are equipped with Xeon Intel CPUs.
Data Centers and Their Locations
Verpex has data centers in 9 different locations all over the world which makes it able to offer low-latency servers. Servers are located in London, US – East, Canada, India, Australia, Singapore, South America, US – West, and Central Europe.
Network Reliability and Server Uptime
One of the key strengths of Verpex's infrastructure is its network reliability and server uptime. The company prides itself on maintaining a high uptime percentage. Measurement shows about 99.9% of Uptime.
Security
Security is a top priority for Verpex. They employ several layers of security measures to protect their servers and, by extension, their clients' data.
Their Imunify360 firewall detects malware plus servers are equipped with intrusion detection systems, regular software updates, and data encryption.
The company also provides free SSL certificates as part of their hosting plans to further secure the data transmission between the hosted websites and their visitors.
Backup and Disaster
Verpex has robust backup and disaster recovery plans in place. They offer free daily backups, ensuring that client data can be quickly restored in the event of a data loss incident.
This commitment to data protection provides clients with peace of mind, knowing that their data is safe and recoverable.
Key Features of Verpex Hosting
Speed and Performance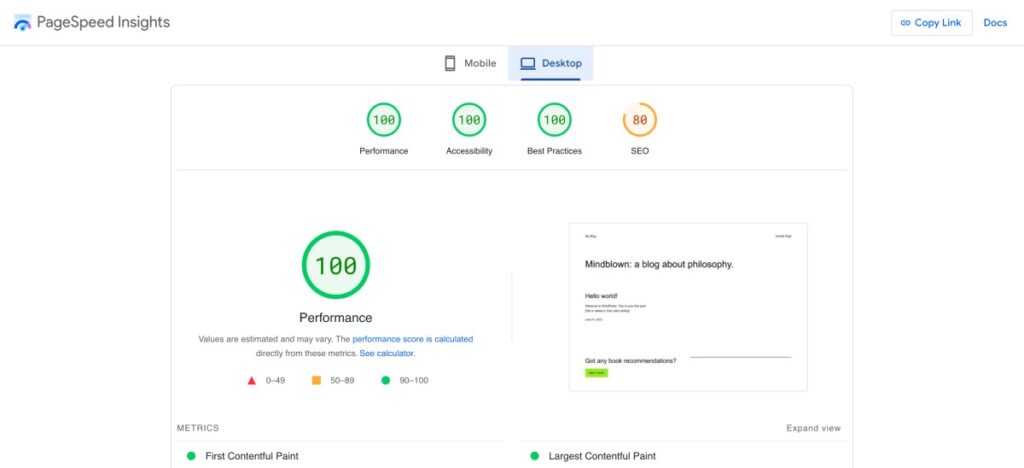 A fully loaded website needs 431ms on Verpex Shared Hosting. Also TTFB is about 108ms in EU and 464ms in USA so in general for this plan is a good performance. Also, the average uptime is about 99.9%.
Security Measures
Verpex employs robust security measures including firewalls, intrusion detection systems, and free SSL certificates. Regular software updates further strengthen security, ensuring client data is well-protected. Imunify360 makes your website more secure by scanning for malware on your website.
Customer Support
Verpex stands out with its 24/7 customer support, responding promptly to queries and issues through fast chat, phone and tickets..The support team is technically proficient, offering solutions quickly and efficiently.
Affordable Plans
Offering high-quality hosting at affordable prices, Verpex ensures there's a plan for every budget. With frequent discounts and a 45-day money-back guarantee, Verpex provides both value and peace of mind.
Free Migration Services
Verpex simplifies the transition for new customers with its free migration services. Their team handles the process, minimizing downtime and ensuring a smooth transfer.
cPanel/WHM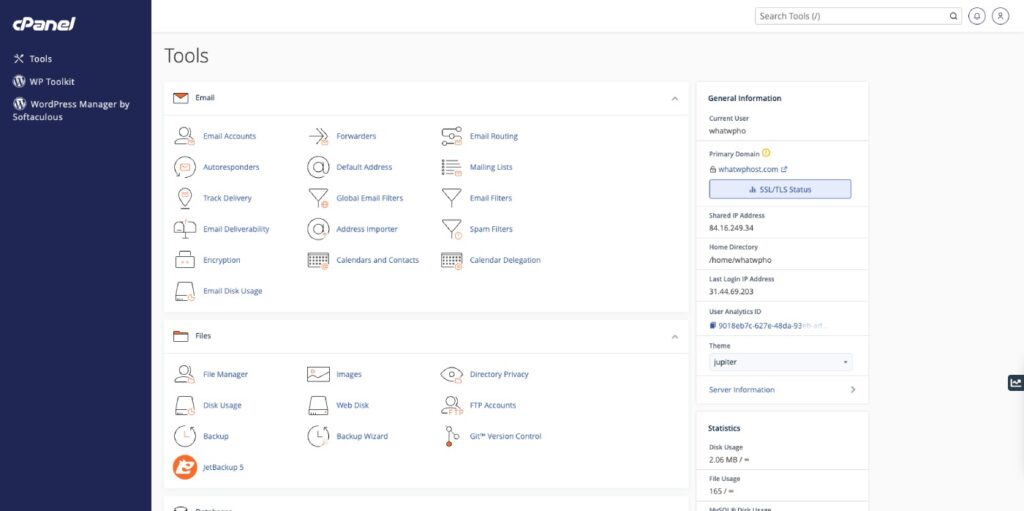 Verpex's intuitive and user-friendly cPanel allows easy management of hosting services, making it simple for users of all levels of technical expertise. With WHM you can easily manage your reseller hosting business.
These key features contribute to Verpex's reputation as a reliable, secure, and customer-friendly hosting provider.
Conclusion
In the crowded field of web hosting providers, Verpex Hosting stands out with its competitive pricing, diverse hosting solutions, responsive customer support, and user-friendly platform. Its commitment to leveraging cutting-edge technology and maintaining a robust, globally-dispersed infrastructure has been pivotal in delivering high-speed performance, security, and reliability.
While the company has certain limitations, such as the absence of a free trial and fewer advanced features compared to some competitors, its numerous strengths make it a worthy contender. It's clear that Verpex has strategically positioned itself to cater to a broad spectrum of needs, from personal blogs to complex e-commerce platforms.
As we've seen through customer testimonials, Verpex has left a positive imprint on its users, especially with its remarkable rescue stories and attentive customer support. The company's growth is a testament to its quality service and its commitment to continual improvement.
As with any service, potential users should thoroughly research and consider their specific needs when deciding on a hosting provider. Nonetheless, given Verpex's affordability, range of services, and positive customer feedback, it is undeniably a provider worth considering for anyone in need of dependable hosting services.
In the ever-evolving landscape of web hosting, Verpex continues to rise, providing quality services and striving to exceed customer expectations. As we continue to move into a more digitally-connected future, it will be exciting to see how Verpex evolves and further cements its position within the industry.

As one of the co-founders of Codeless, I bring to the table expertise in developing WordPress and web applications, as well as a track record of effectively managing hosting and servers. My passion for acquiring knowledge and my enthusiasm for constructing and testing novel technologies drive me to constantly innovate and improve.
Expertise:
Web Development,
Web Design,
Linux System Administration,
SEO
Experience:
15 years of experience in Web Development by developing and designing some of the most popular WordPress Themes like Specular, Tower, and Folie.
Education:
I have a degree in Engineering Physics and MSC in Material Science and Opto Electronics.