Hostinger Reseller hosting offers a comprehensive solution for agencies seeking a reliable, high-performance platform. This hosting solution provides centralized management through its proprietary hPanel, simplifying the process of handling multiple client websites.
With dedicated resources, secure environments, and a variety of useful tools, Hostinger hosting ensures that agencies can deliver top-notch services while maintaining scalability.
There are two types of Hostinger reseller hosting that we will review today:
Reseller Agency Hosting – with hPanel
Reseller VPS – with cPanel/WHM (if you purchase an extra license)
Hostinger Reseller for Agencies – Overview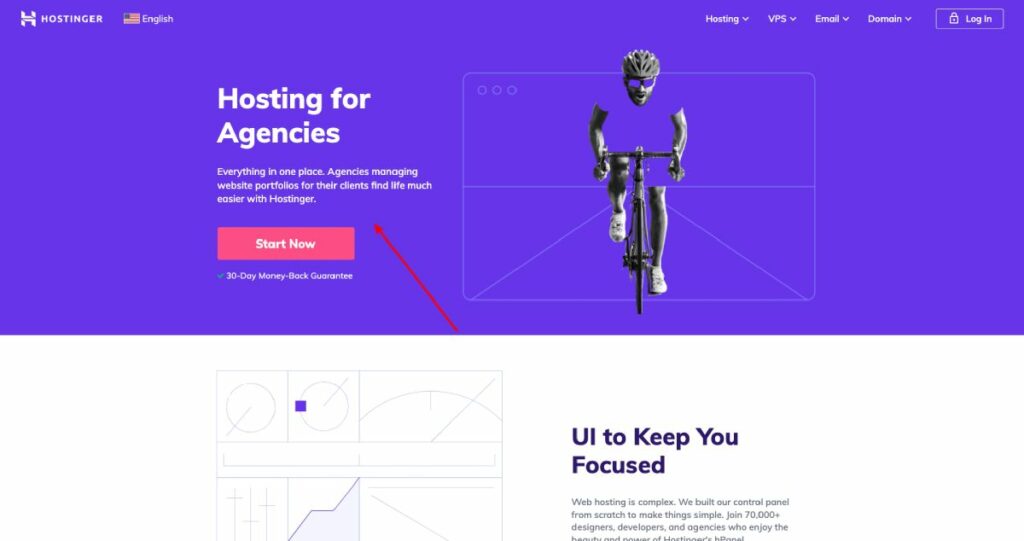 Hostinger is an all-in-one solution for agencies looking for high-performance WordPress hosting. With its intuitive hPanel, managing multiple websites from a single dashboard has never been easier. Streamlining the hosting process, Hostinger ensures optimal performance and security for your clients' websites.
One of the striking features of Hostinger hosting is its containerized environment, which provides isolated hosting environments and dedicated resource limits for each client. This ensures that the performance of each website remains stable and secure.
Moreover, Hostinger's custom stack is resilient and quickly recoverable in case of a failure, making it a reliable choice for agencies handling multiple projects.
Hostinger hosting also offers a range of tools that help agencies deliver fast, stable, and secure websites. These include free SSL certificates, DDoS protection, website backups, auto-updates, WordPress caching, and an IP blocker. By offering these tools, Hostinger ensures that agencies can focus on delivering results and scaling their businesses.
As someone who has tested this product, I can confidently recommend Hostinger as a top-tier option for agencies. Their continuous improvements and commitment to delivering a quality hosting experience make them stand out among competitors.
With a focus on user experience and a strong understanding of the unique needs of agencies, Hostinger hosting is the best choice for agencies looking to grow and scale their businesses efficiently.
What sets Hostinger apart from its competitors is the balance it strikes between affordability and performance. The low-cost plans may have limited storage and bandwidth, but the platform's reliability, speed, and security make it a top choice for agencies on a budget. Multiple data centers across Europe, Asia, and the U.S. ensure fast loading speeds and a 99.99% uptime guarantee.
Features and Benefits of Hostinger Reseller
Let's check now the best features and benefits of Hostinger when it comes to agency hosting.
1. Effortless Management with hPanel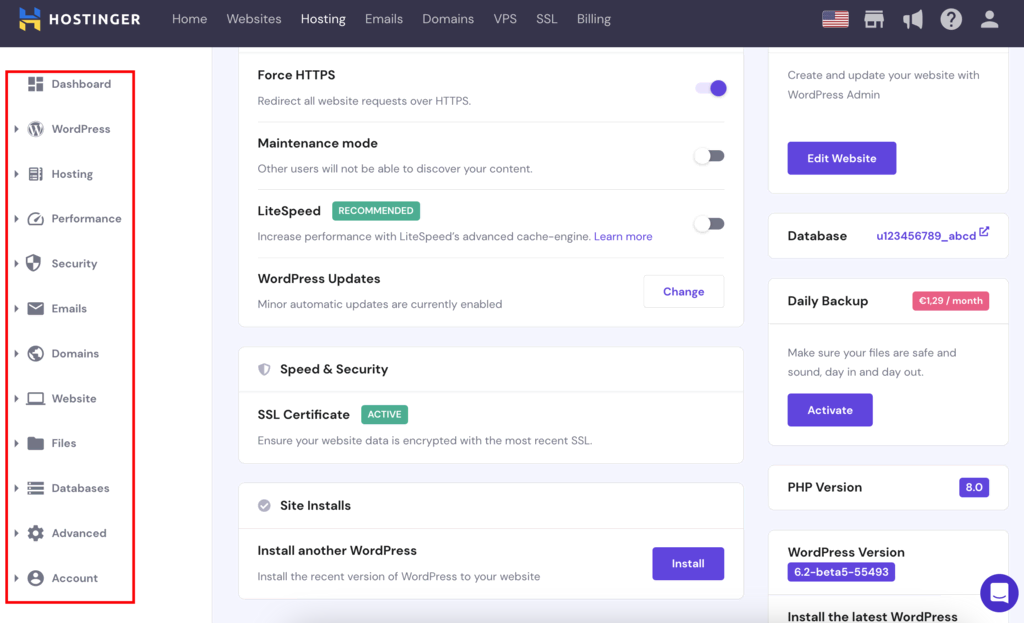 Hostinger's proprietary hPanel is a game-changer for agencies seeking a seamless WordPress hosting experience. The intuitive dashboard allows you to manage multiple sites and client accounts from one place, reducing guesswork and streamlining your workflow.
Team collaboration is also made simple with account sharing tools and access controls, ensuring a smooth operational experience for everyone involved.
2. Top-Notch Security and Performance

Hostinger has a strong focus on security and performance, offering features such as free SSL certificates, DDoS protection, automatic backups, and updates.
Additionally, the platform provides WordPress caching, IP blocking, and dedicated resources to ensure optimum site speed and stability.
Hostinger's commitment to a 99.9% uptime guarantee and support for advanced technologies like IPv6, HTTP/3, and auto-healing make it a reliable choice for agencies.
3. Scalable and Robust Hosting Packages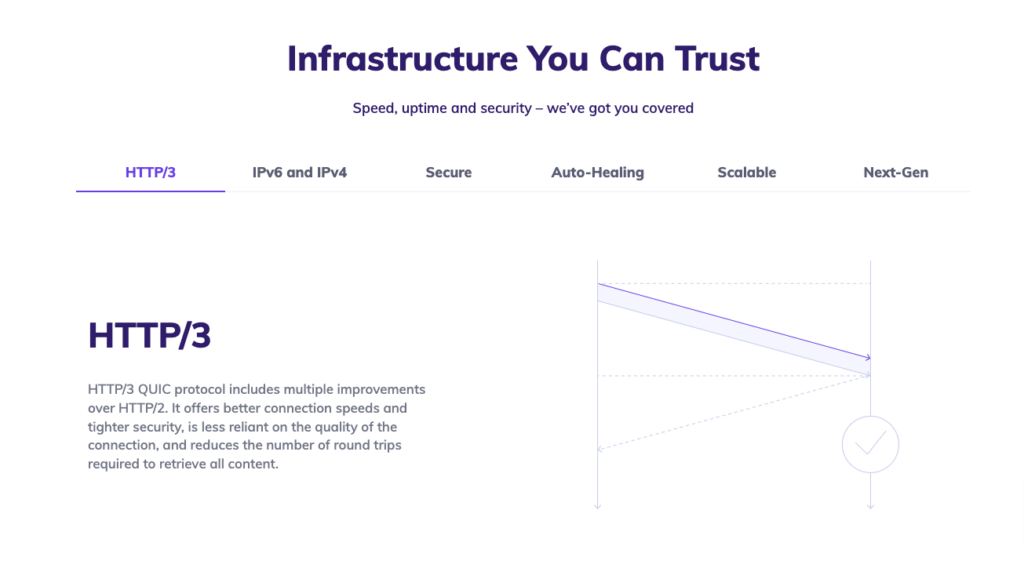 Hostinger's reseller hosting plans cater to a wide range of agency needs. Agencies can choose from four different pricing plans, starting from $3.99 per month up to $29.99 per month. Each plan offers a varying level of resources, features, and services, allowing for scalability as your agency grows.
Furthermore, Hostinger's Managed WordPress Services are available free of charge, enhancing the WordPress experience with tools like WP-CLI, WordPress acceleration, auto-updates, and a dedicated WordPress control panel.
4. Unbeatable Value for Money
Hostinger's competitive pricing makes it an attractive choice for agencies on a budget. Despite the low cost, the platform delivers excellent performance, reliability, and security.
Hostinger's reseller hosting plans boast multiple data centers across Europe, Asia, and the U.S., ensuring fast loading speeds and a 99.99% uptime guarantee.
It's worth noting that storage and bandwidth may be limited on lower-priced plans, so agencies should carefully consider their clients' needs when choosing a plan.
5. Customer Support and Migration Assistance

Hostinger's 24/7/365 customer service ensures that agencies receive prompt assistance when needed. The platform also offers free website migration for those looking to switch hosting providers.
This combination of exceptional support and easy migration makes Hostinger an ideal choice for agencies seeking a hassle-free hosting experience.
Note: Hostinger support helps only the main proprietary account. For all other clients account you are responsible for the support.
Hostinger Reseller Pricing Plans
When it comes to pricing, Hostinger offers a range of plans tailored to meet the specific needs of agencies. Each plan comes with its own set of features and resources, ensuring that you get the best value for your investment.
Let's dive into the details of each plan to help you make an informed decision.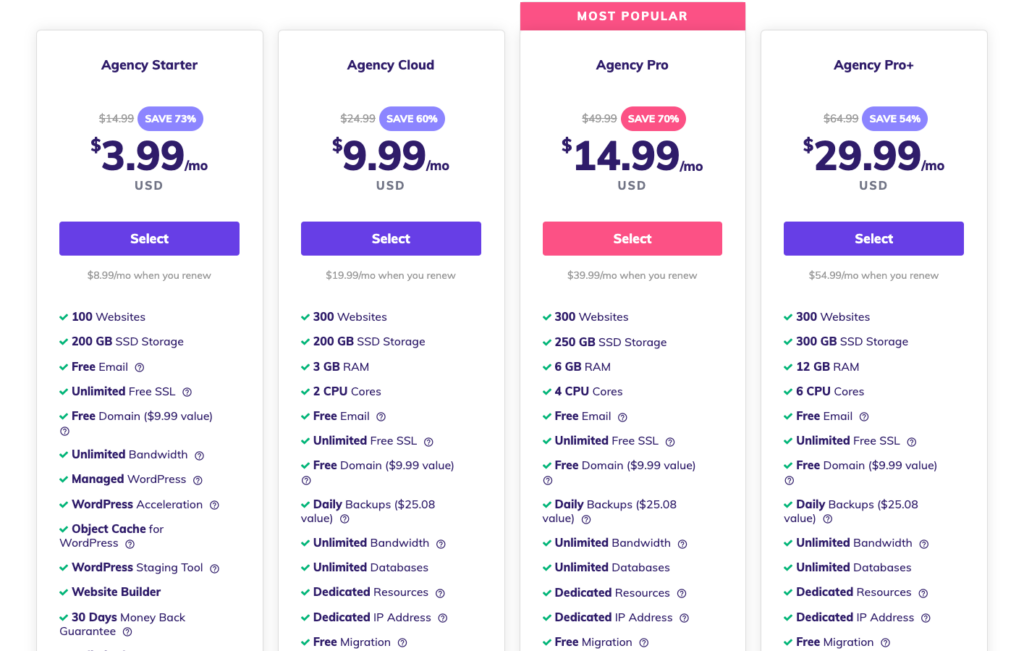 Agency Starter Plan: Starting at just $3.99 per month, the Agency Starter plan is the most affordable option for agencies. This plan offers 100 websites, 200GB of SSD storage, and a monthly visitor limit of 100,000. Additionally, you'll receive free email and SSL, a free domain, WordPress staging tools and acceleration, Cloudflare-protected nameservers, unlimited databases, and daily backups.
This plan is ideal for agencies just starting out or those with a smaller client base.
Agency Cloud Plan: At $9.99 per month, the Agency Cloud plan offers a more comprehensive solution for growing agencies. Along with all the features of the Agency Starter plan, you'll get 300 websites, 200GB of SSD storage, 3 GB RAM, 2 CPU cores, and free website migration. This plan also provides access to multiple data centers, ensuring optimal performance and reliability for your clients' websites.
Agency Pro Plan: For agencies needing more resources, the Agency Pro plan, priced at $14.99 per month, offers 250GB of SSD storage, 6GB RAM, and 4 CPU cores in addition to all the features of the Agency Cloud plan. This plan is designed to cater to larger agencies with a growing number of clients and more demanding projects.
Agency Pro+ Plan: available for $29.99 per month, is the ultimate solution for established agencies. With this plan, you'll receive all the features of the Agency Pro plan, as well as 300GB of SSD storage and 12 GB RAM. This ensures your agency has the necessary resources to manage even the most extensive and resource-intensive projects.
All of Hostinger's Reseller hosting plans come with a 30-day money-back guarantee, giving you peace of mind as you test their services. Additionally, their 24/7 customer support ensures that assistance is always available when you need it.
Expert Note: All these plans are with the hPanel instead of traditional cPanel/WHM reseller accounts. If you are looking for cPanel/WHM you should purchase a Hostinger VPS plan and purchase an extra WHM license.
Below you can find a list of pricing plan for VPS, that you can use with cPanel and WHM: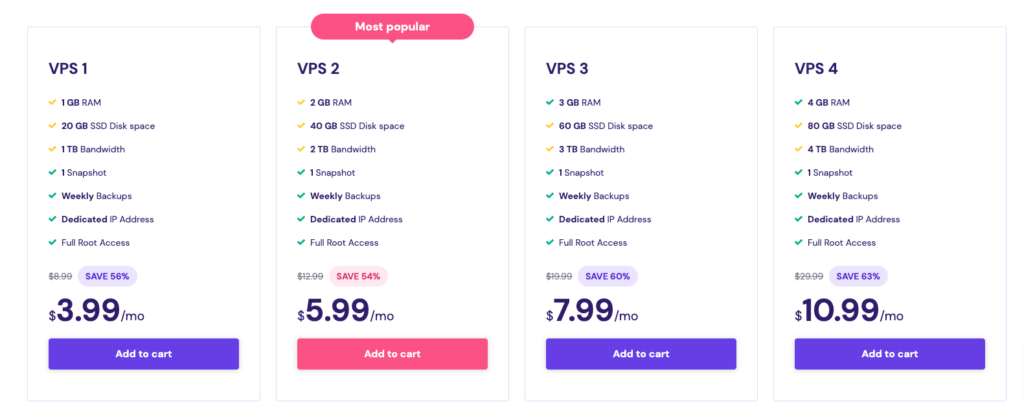 Hostinger Reseller vs Competitors
When it comes to choosing the right reseller hosting platform for your agency, it's essential to compare the top contenders in terms of pricing, main features, bandwidth, disk space, and the number of websites allowed. In this section, we'll take a closer look at how Hostinger stacks up against its competitors.
| Platform | Pricing | Main Features | Bandwidth | Disk Space | Number of Websites Allowed |
| --- | --- | --- | --- | --- | --- |
| Hostinger | $3.99 – $29.99/month | Free SSL, DDoS protection, auto-updates, caching, staging, 99.9% uptime guarantee | Unlimited | 100 GB – 300 GB SSD | 100 – 300 websites |
| Hostgator | $19.95 – $24.95/month | cPanel/WHM | 600GB-1400GB | 60 GB – 140 GB | Unlimited websites |
| Cloudways | $14 – $170/month | Cloud hosting | 1TB-6TB | 25 GB – 320 GB SSD | Unlimited websites |
Conclusion
Overall, based on my experience and expertise in the field, I believe that Hostinger reseller hosting stands out from its competitors due to its affordable pricing, comprehensive feature set, and strong performance.
If you're an agency looking for a reliable and cost-effective reseller hosting solution, Hostinger should be at the top of your list.

Ludjon, who co-founded Codeless, possesses a deep passion for technology and the web. With over a decade of experience in constructing websites and developing widely-used WordPress themes, Ludjon has established himself as an accomplished expert in the field.