Let's face it. Choosing a web host is a big decision.
You are essentially deciding where to locate your online business. You worry about uptimes, site speeds, reliability, customer service, guarantees, SEO compatibility, visibility, and so many other factors.
This brings us to our Hostinger review. Currently, there are 330,000+ registered website hosting providers in the world. Many people spend days deciding which hosting provider to go with. They jump from site to site, read incomplete patched-up ratings and contract headaches while scrolling through thousands of customer reviews. Imagine when you have to select from dozens of options.
To save you all that trouble (and preserve your mental health, of course), I have done an in-depth review of Hostinger, a popular web hosting provider. You'll learn what I like and dislike about Hostinger, plus how it compares with a few other popular web hosts. Enjoy.
Hostinger Web Hosting: Table of Comparisons
To begin, here are brief overview tables of the Hostinger website hosting service.
Hostinger Pros vs Cons
Take a quick look at Hostinger's pros and cons.
| Pros | Cons |
| --- | --- |
| Fast loading speeds | Subpar customer support |
| 99.98% uptime guarantee | cPanel is not default |
| Easy website setup and management | A free SSL certificate is limited to one year |
| Affordable pricing plans | Significant increases in renewal prices |
| Free website builder | Limited file management app |
| Free domain name registration | Simple web email management |
| In-built WordPress optimization | No monthly payment plans, only annual payments accepted. |
| A simple and efficient file management | |
| Support for Cryptocurrency | |
| Student Discount | |
| 30-day money back guarantee | |
Hostinger Features and Benefits Overview
This is a brief scan of all major Hostinger features and benefits.
| | |
| --- | --- |
| Rating | 4.6/5 on Capterra |
| Speed | 128ms initial response time |
| Uptime | 99.9% |
| Storage | 20GB to 200GB SSD |
| RAM | 1GB to 16GB |
| Bandwidth | Up to 4TB |
| Free Domain | Yes |
| Panel | hPanel, cPanel, and Cyberpanel |
| Support | Email Support, Live Chat, Knowledge Base, and Ticketing |
| Website Builder | Yes. Zyro site builder |
| Pricing | Starting from $1.99 monthly |
What I Like about Hostinger: 10 Pros
Hostinger is popular for several reasons. The European web hosting provider offers a wide range of high-value features and benefits to their clients. Here are some of them:
Fast Website Loading Speeds

We tested Hostinger's server response time to get the average site loading time. The response time was 128ms, which is well ahead of industry averages. This means that when you host your site on Hostinger, you can count on the Time to First Byte to be incredibly fast.
Plus, Hostinger has 10+ data centers located around the globe. Since you can select the one closest to your main audience, you have the chance to improve response times and therefore your website loading time.
The fast page loading times will help you retain more clients who would have left your page in a couple of seconds. According to a recent survey, 40% of website visitors abandon a website that takes more than 3 seconds to load. Hostinger tries to minimize server response time so that the first page components load in less than half a second to keep customers on the page.
Site loading speed is an important factor that determines user experience and Google rankings. First of all, 53% of mobile users leave a web page that needs more than 3 seconds to load.
Next, compare this study by Unbounce which showed that the average website takes 15 seconds to load with the stat that the average load time of Google's highest ranking results is less than 3 seconds. What does it tell you?
Slow site speeds cost you customers and SEO authority rankings. Therefore you need a host, like Hostinger, that considers fast site load speeds a top priority.
99.98% Uptime Guarantee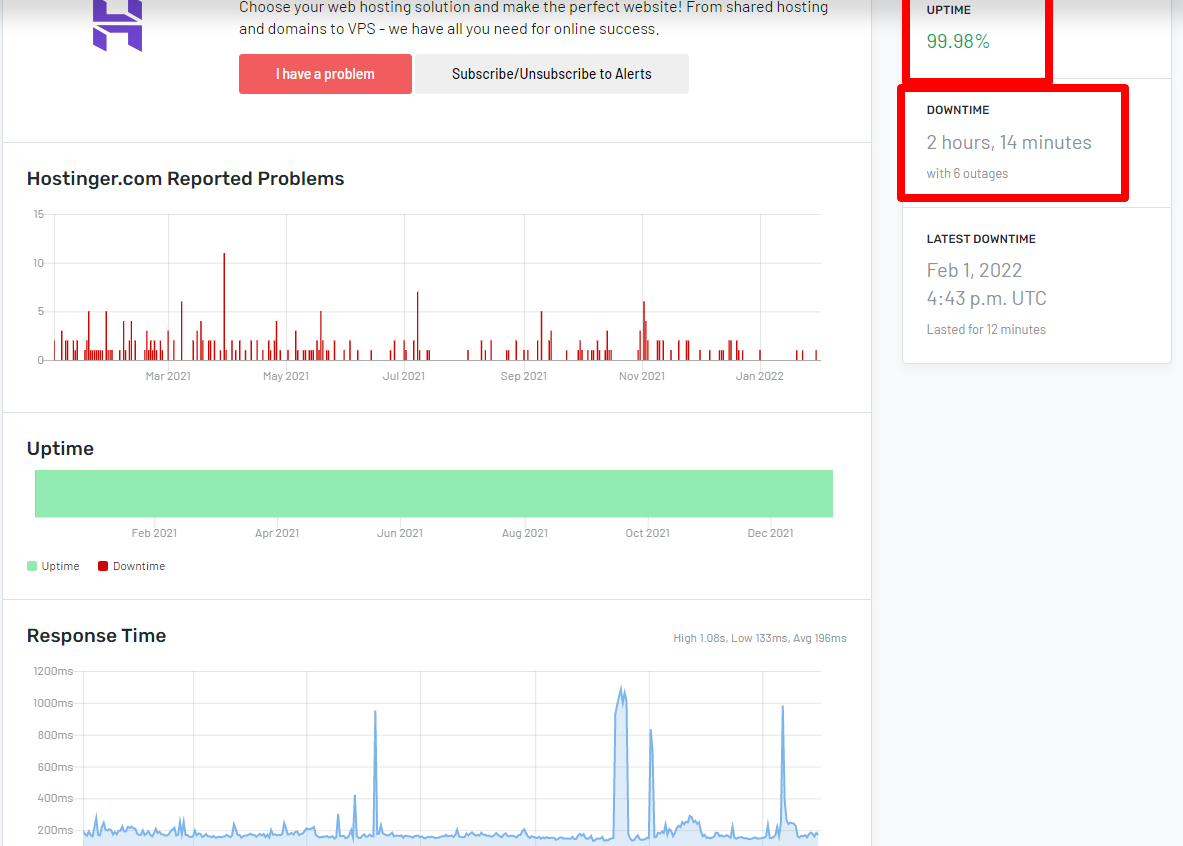 We monitored Hostinger's uptime by sending regular pings to our Hostinger server. In 2 years of constant monitoring, there have been only 2 hours and 14 minutes of downtime. That's literally 0.01%, leaving the average uptime at 99.9%.
The last downtime registered on Hostinger servers was on Feb 1, 2023, which happened for only 12 minutes. Even though I don't think that's the best you can get on the hosting market, it's pretty impressive, especially for the low entry price.
As you know, a high uptime is necessary to maintain a constant connection with your audience and to generate quality leads. High uptimes reduce revenue loss and increase the trust that customers have for your brand. For online business owners, uptime is a strong indicator of server reliability.
Over the past 30 days, Hostinger averaged an uptime of 99.97% which is way more than the recommended 99.9%. If you run an eCommerce site or a forex server, Hostinger should be able to take care of your business uptime needs. Even on the cheapest shared server plans, Hostinger's uptime is impressive.
Easy Website Setup and Management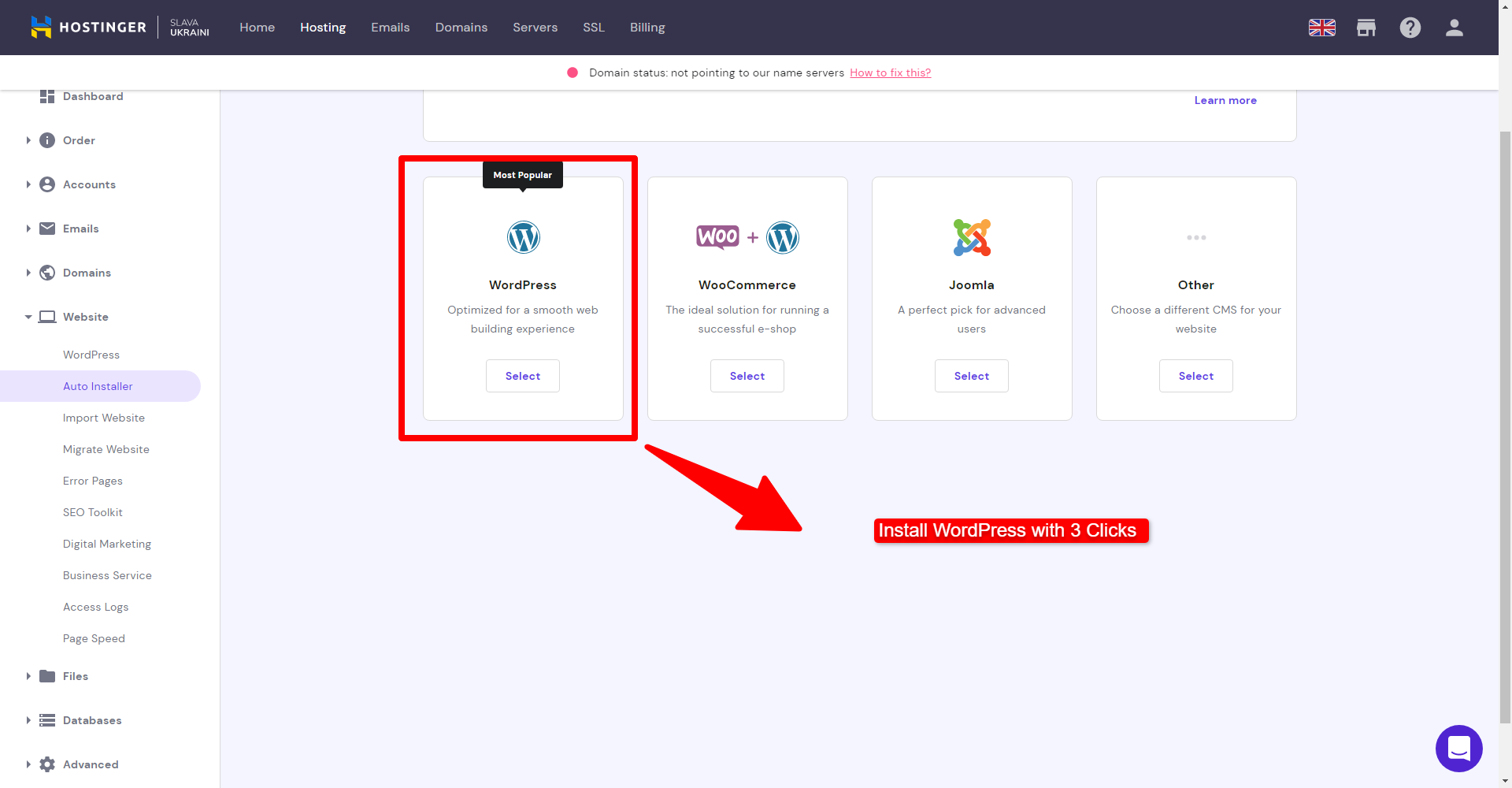 With Hostinger, you don't have to be tech savvy to get started. You won't need to spend hours learning your way around the web admin.
Hostinger developed an in-house web administrator control panel called hPanel which they made easy to navigate and use. To begin, the layout is intuitive. It's pretty easy to install WordPress and set up your private email servers.
hPanel's control panel dashboard has a neat and well-laid-out view. When you log in to your Hostinger account dashboard, you see your account details on the left – the hosting package, the data center where your server is located, and the IP address.
If you've got WordPress installed, you can click on an icon on the right to view your WordPress dashboard and available plugins. Another icon leads to Hostinger's YouTube tutorial channel and the knowledge base.
Immediately following those are links to email and domain settings. You just need to click the right button to begin the setup of a professional email and DNS.
Even though it looks surprisingly easy to get around the dashboard, don't let the simplicity fool you. hPanel is capable of facilitating complex operations to the backend including a test site setup.
The administrator is still usable for non-English speaking people because it is built in 17 different languages.
Affordable Pricing Plans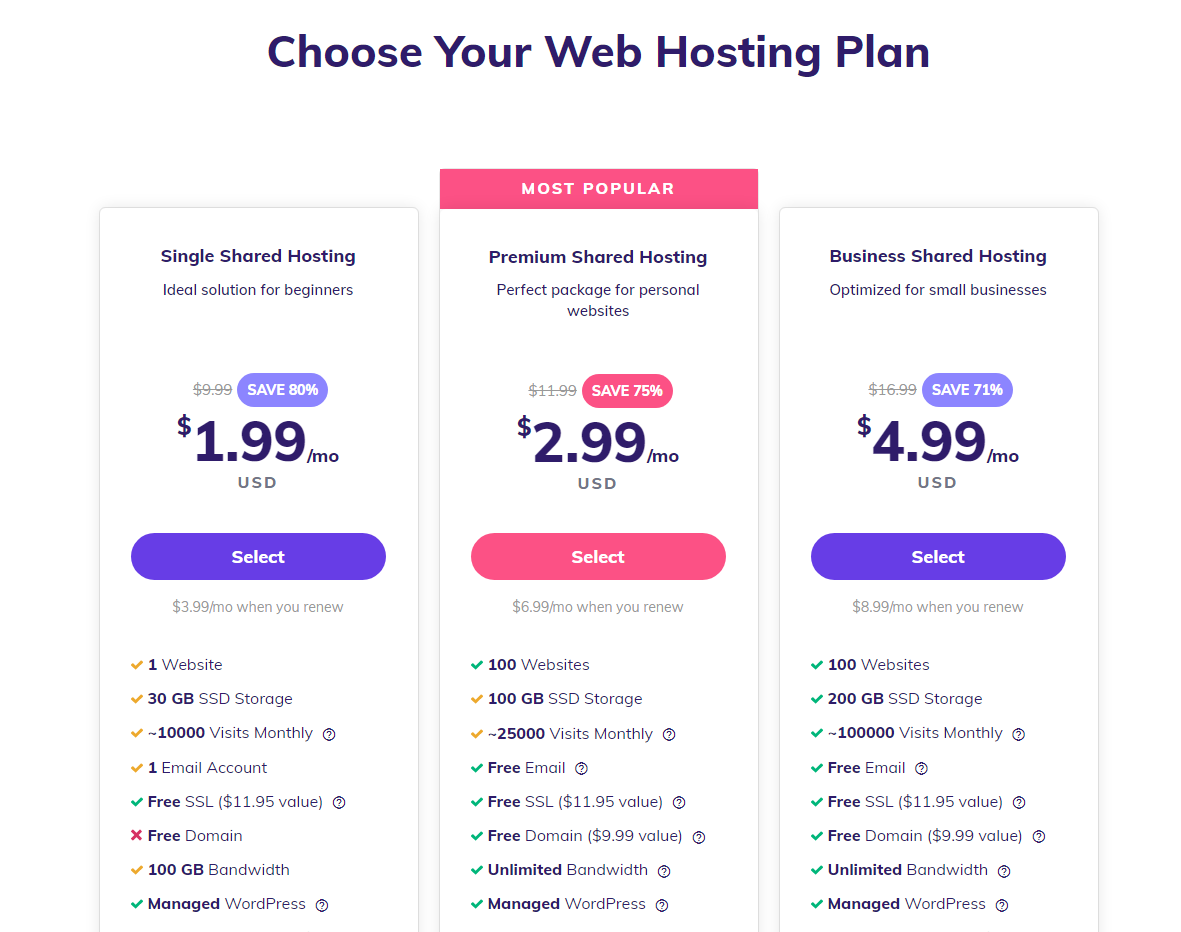 For many people looking to start their own online business and put up a website, domain cost can be a discouragement. The cost adds up quickly when you have to pay monthly and for other services like extra security and email services.
Hostinger combats this problem by providing an unbelievably low price entry point for the buyer on a budget.
The lowest web hosting package is Hostinger's Single Shared Hosting which goes for as low as $1.99 monthly when paid annually. That package includes one website, free SSL, 30GB of storage, and a free email. It supports up to 10,000 visitors per month.
If you top up your budget a bit and go for the Premium Shared Hosting plan, you'll spend $2.99 monthly and get everything in the Single Shared Hosting plus a free-of-charge domain.
A small business pressed for funds can go for Hostinger's Business Shared Hosting which supports 100 websites, 100GB of storage, and up to 100,000 monthly visitors. The best part is that it costs $4.99 per month when paid for annually.
Hostinger offers a whole lot of web hosting plans, and all of them are either moderate or affordable.
Website Builder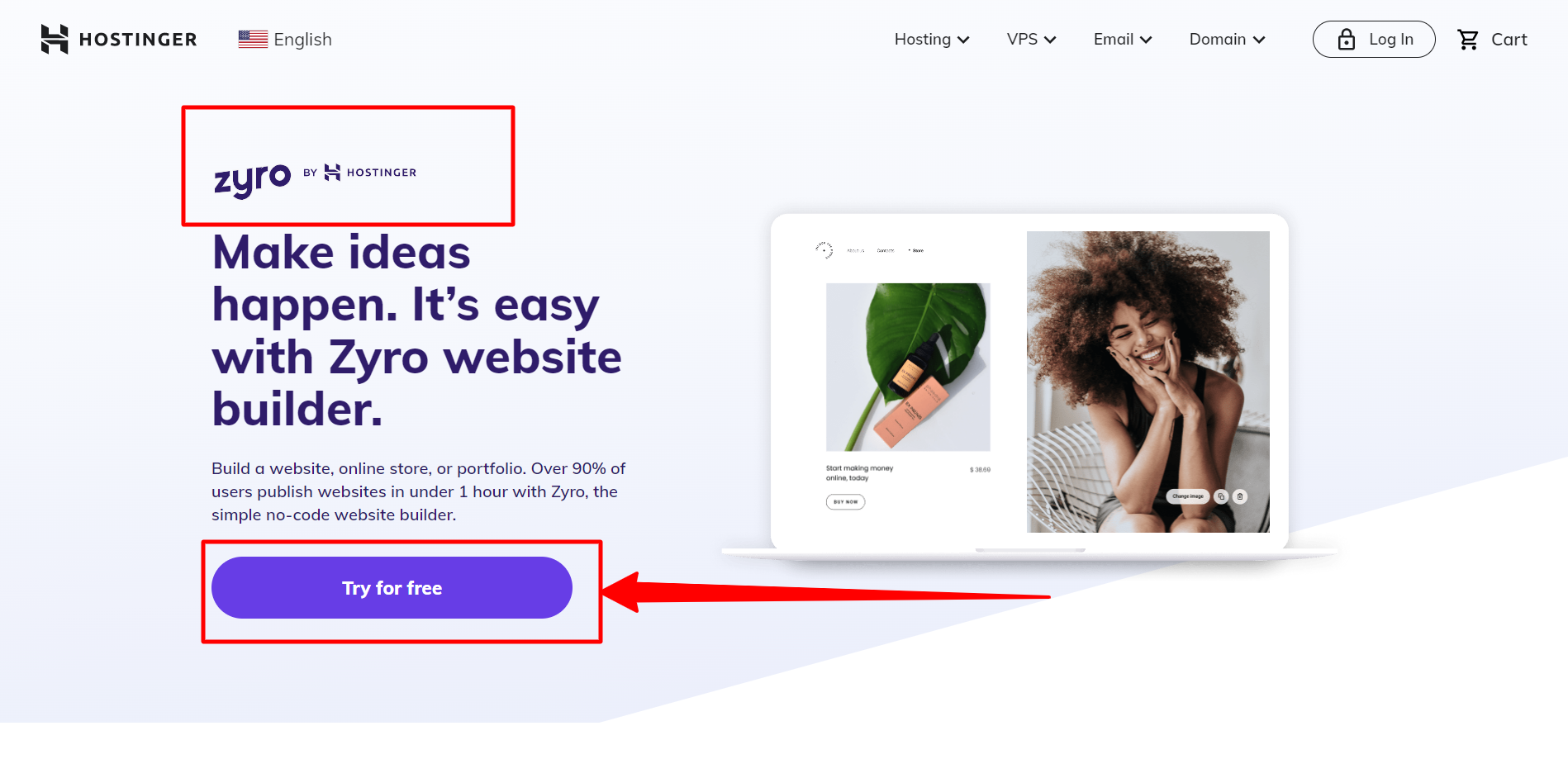 Hostinger partnered with Zyro to provide users with an app for easily building out a website. With Zyro, you don't need to know a single line of code.
Once you've set up your Hostinger plan and gained access to use Zyro, all you do is drag and drop the elements you need on your websites. If you don't know anything about design, there's no cause for alarm because Zyro has over a hundred themes for you to choose from. And every single one is very customizable.
As long as you can hold down a cursor and drag objects, you can use Zyro to build a website in a matter of minutes. In fact, 90% of the people who use Zyro build out their sites in less than an hour.
It's not just the amazing designs. Zyro has an AI that helps you optimize your web pages for SEO, from the design elements to the website copy. If you don't know anything about keywords and SEO phrases, no worries. Zyro's AI automatically generates high-ranking keywords I'm your niche based on the extensive data available on the internet.
To cap it all, you have access to a database of one million plus free stock photos to use for your site.
Hostinger is among the few hosts that offer a free site builder that optimizes for SEO and that gives you access to more than one million free images. That said, Hostinger helps you build a website optimized for SEO so that you can more easily get ahead of your competitors. Your small business won't have to budget for added costs for a web designer.
Free Domain Registration
Hostinger also offers new users access to a free domain name for one year. All you need is a Premium or Business Shared Hosting, WordPress Hosting package, or Cloud Hosting.
The domain extensions available for the free plan include popular ones like .com, .net, .tech, .xyz, and .live. You can also select from niche TLDs including .digital, .email, .uno, .in, and even .website.
Hostinger offers the domain name as a bonus for registering for a hosting package. However, this is not available for the lowest plan (Single Shared Hosting).
To get the domain, you have to create a name and check for its availability. Once you find an available one, add it to your cart. Then, select a hosting plan to go with it. And just like that, you've signed up with an affordable web host and free domain name.
Of course, you'll have to renew the domain name plan once a year is up.
In-built WordPress Optimization
hostinger supports customized hosting packages that are optimized specially for WordPress sites.
To begin, Hostinger's WordPress hosting service includes the necessary features of 99.9% uptime and the ability to select a data center. But it goes further than that. Hostinger also includes WordPress-specific services. They are:
Managed WordPress
It's a feature that makes it super easy to set up WordPress in your hosting account since the core WordPress software and important plugins are preinstalled. You also get access to the WP starter site building wizard and auto-updates
WordPress Acceleration
Acceleration is a feature that speeds up WordPress sites. It uses Open LiteSpeed Server and LiteSpeed Cache for WordPress which helps to minimize page loading times. This helps you rank higher in search engines and convert more leads.
WordPress MultiSite
WordPress MultiSite lets you manage multiple websites in one WordPress account. So you won't need to purchase more than one WordPress account.
A Simple and Efficient File Manager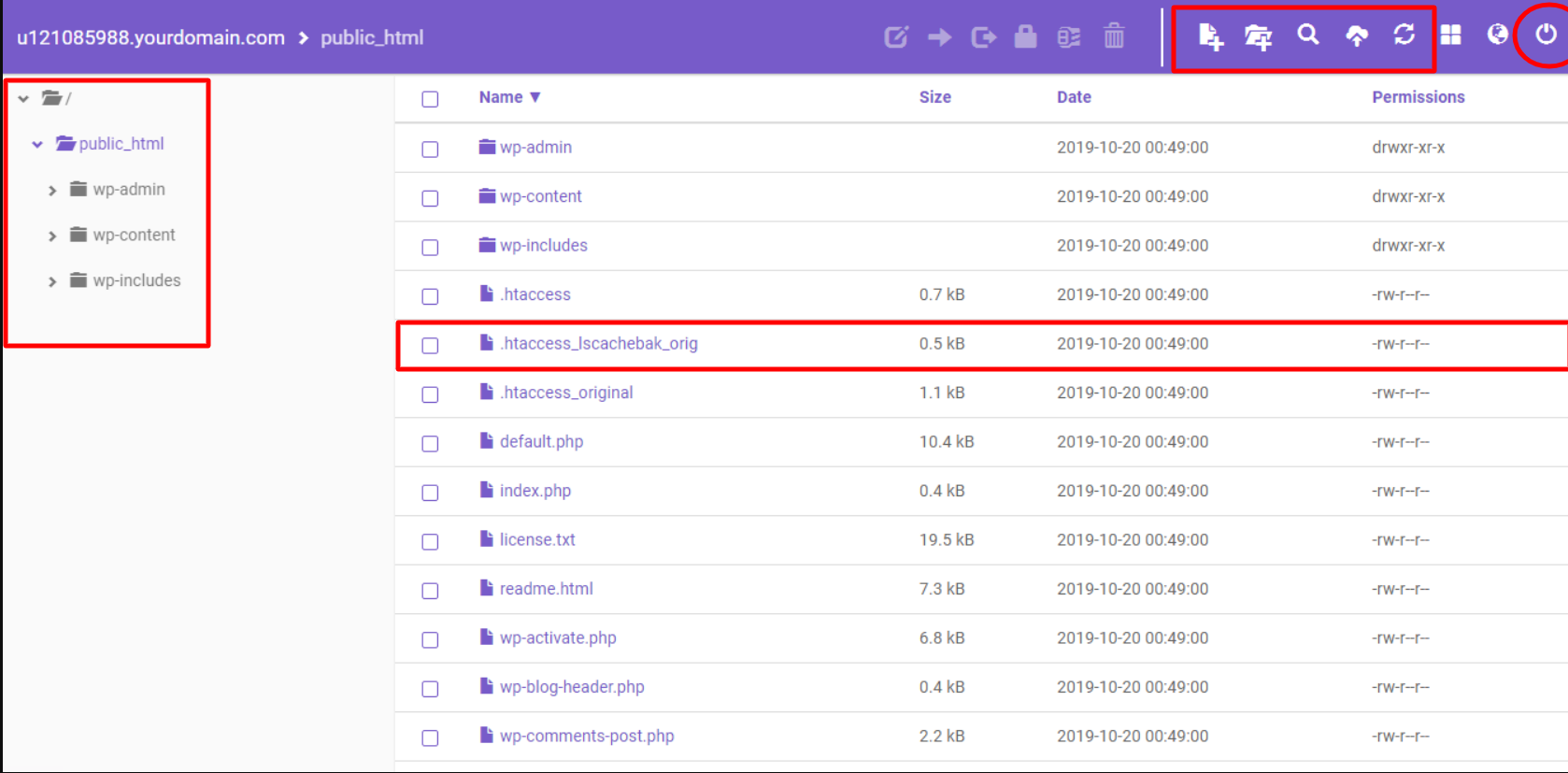 Apart from hPanel, Hostinger has file manager software that eases the process of uploading web page files to your database.
If you're a tech geek who wants to manage your files and not give permission access to third-party CMS apps, Hostinger's file manager is powerful enough to serve your content management needs. The file manager has easy-to-locate buttons for uploads, downloads, and previews.
Cryptocurrency Payment Support
When purchasing a web host, one of the main factors to consider is the available methods of payment.
Granted, most online buyers can whip out a credit card and pay online. But it's not always like this. I have had experiences where I went through every card in my name plus virtual cards and still have my payment declined. Sometimes, your cards fail you at the point of payment.
This is why it's important for hosting services to offer a wide range of payment methods.
This is something I like about Hostinger. The software collects payment from cards, eWallets, and even cryptocurrency. Cryptocurrency wallets process payments in a couple of seconds, protect your privacy and don't care about your location.
Not all the hosting providers offer the chance to purchase web hosting with crypto as Hostinger does.
Student Discount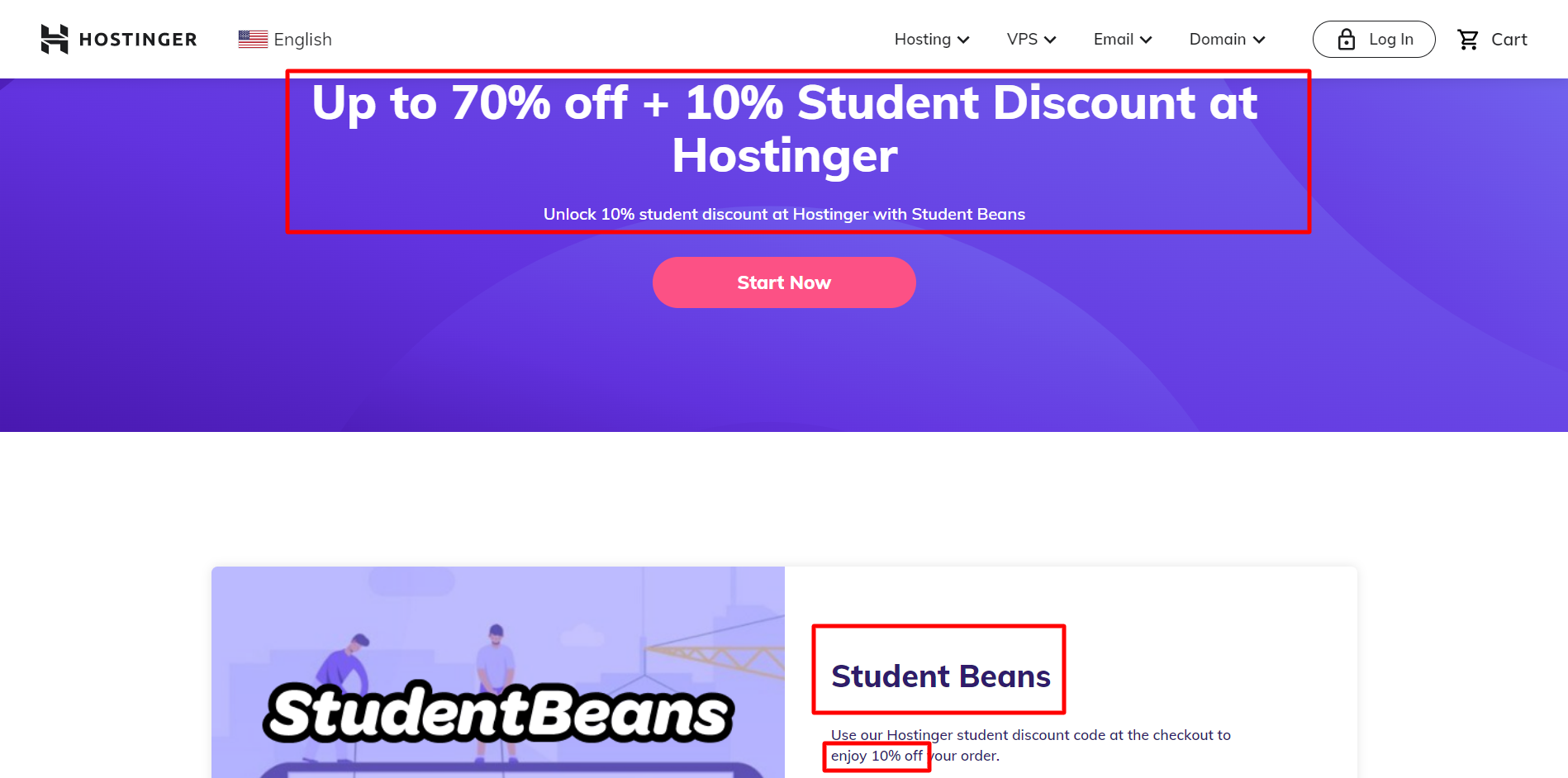 We know that not everyone can afford good web hosting services, even if they're affordable. Among them are students who usually don't have any income streams apart from parents and relatives.
Hostinger offers special discounts for students who need the extra percentages off. You only have to verify your identity through the Student Beans portal.
After creating a Student Beans account, verify your identity on the platform. Then you automatically become eligible for a 10% Hostinger discount for any plan you select.
If you're a first-time buyer, and you use the 10% student discount to pay for an annual subscription gets you a total of up to 80% off Hostinger's regular prices. Pretty awesome, right?
What I Dislike About Hostinger: 6 Cons
No web hosting service is perfect. I get it. People should be fully informed before making a buying decision.
Here are some things I dislike about Hostinger.
Subpar Customer Support
As you know, having easy access to a 24/7 support team is crucial to successfully manage a business website.
A web hosting service should have a full-time support team at hand to easily resolve customer issues. Documentation guides and a knowledge base, no matter how detailed, are never enough to properly guide users, especially for a hosting service built to be intuitive for tech newbies.
Hostinger does offer email support, live chat, and ticketing, but it lacks any phone support even for the high price tiers. I dislike the lack of a Hostinger phone support team because some issues are so urgent that only immediate phone support is the way to fix them.
Yet, the problem doesn't stop here. The live chat support team has a lot of delays in ticket responses. You may have to wait several hours for a response from the Hostinger support team.
No default cPanel
By default, Hostinger has an in-house web admin control panel called hPanel. It does not support the use of the popular cPanel unless you specifically purchase Hostinger's cPanel hosting.
When it comes to functionality, hpanel is a decent web admin. It offers all the basic features like DNS settings and email server setup. You can also easily migrate website files from another server to hPanel.
HPanel is more intuitive and friendly to the beginner than cPanel and offers most features that light web development will need.
On the other hand, cPanel is more advanced and suitable for the person comfortable with web administration.
The software is not as intuitive as hPanel, so it's more difficult to use. It features a lot of copying and pasting. But, it's open source which means that a developer can purchase a cPanel license and redevelop the software to match their website needs.
Most websites will never need this functionality. Yet, a lot of people prefer to use cPanel mostly because it offers more control over a web server.
One Free SSL Certificate for Each Plan
Hostinger provides only one SSL certificate for one account. No matter the pricing plan you buy, you get one free SSL cert.
First, it's a good thing that they offer any sort of SSL that allows your site to be certified as secure and trustworthy.
However, it gives only one that is capped at one year. This can be a problem.
If you run multiple WordPress websites on an account and want separate certificates for each site, you'll have to pay extra. If you're on a budget, extra certificates mean extra costs you may not be able to afford.
Plus, if you transfer your domain to a brand new Hostinger hosting package, you do not get any SSL.
Significant Increases in Renewal Prices
Hostinger remains one of the most affordable web hosts out there. Unfortunately, this status applied to only first-time buyers.
When the time comes to renew your plans, the prices increase dramatically. Sometimes by up to 50%.
It is kind of a bummer because if you're still trying to get your website to take off by the end of a year or you're still a student who can't afford moderate or high-priced hosting service, you may not be able to renew your hosting package.
To get a $2.99 monthly plan for the first year and have to renew at $6.99 does not sound very good. Does it?
Too Simple File Manager
Even though Hostinger's file manager is intuitive and easy for a beginner to understand it is still subpar for managing advanced issues.
Don't get me wrong. It is good that the file manager is quite simple to use and that files are arranged in an easy-to-understand manner. But, advanced functionalities like WordPress staging should be easier to run with the file manager software.
On the bright side, Hostinger just released a new beta version with a lot of new features.

Web Email Service Missing Some Features
One of the most appealing things about Hostinger is that it offers web email services for free. The cheapest plan, Single Shared Hosting, allows you access to 1 completely free email account. Some hosting packages support up to 100 free email accounts. Pretty good, huh?
The downside is that Hostinger's webmail is quite too simple. And sometimes, there's no other email hosting option. It misses some advanced features and there are not a lot of customization options and possibilities.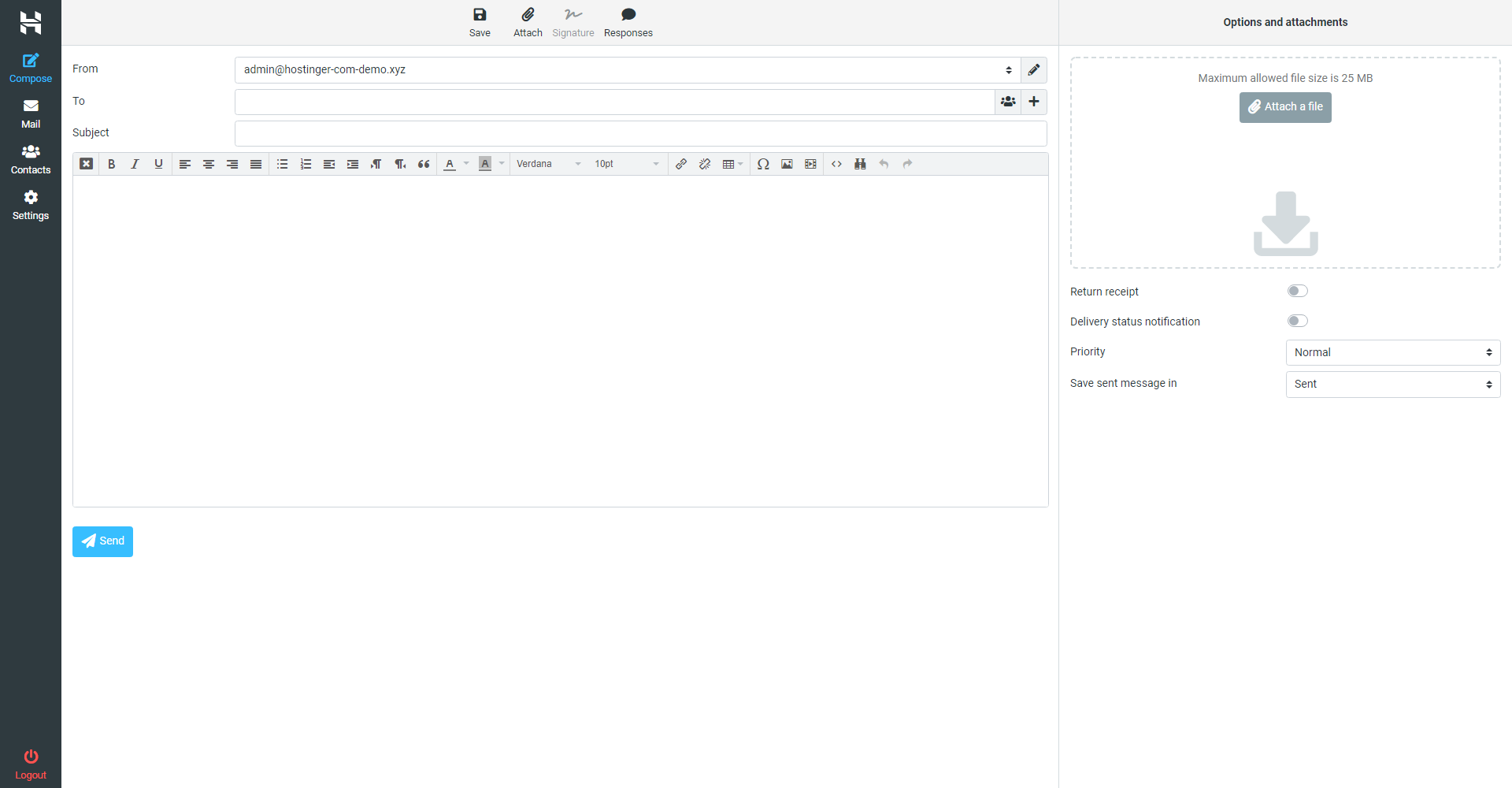 Hostinger Plans
So, we're done with everything I like and dislike about Hostinger. Now, you're wondering, "Exactly how much does it cost?"
In this section, I'll do a deep dive into all the hosting plans offered by Hostinger and what you'll get out of each one. All mentioned Hostinger pricing costs apply when you buy an annual Hostinger plan for the first time.
Shared Hosting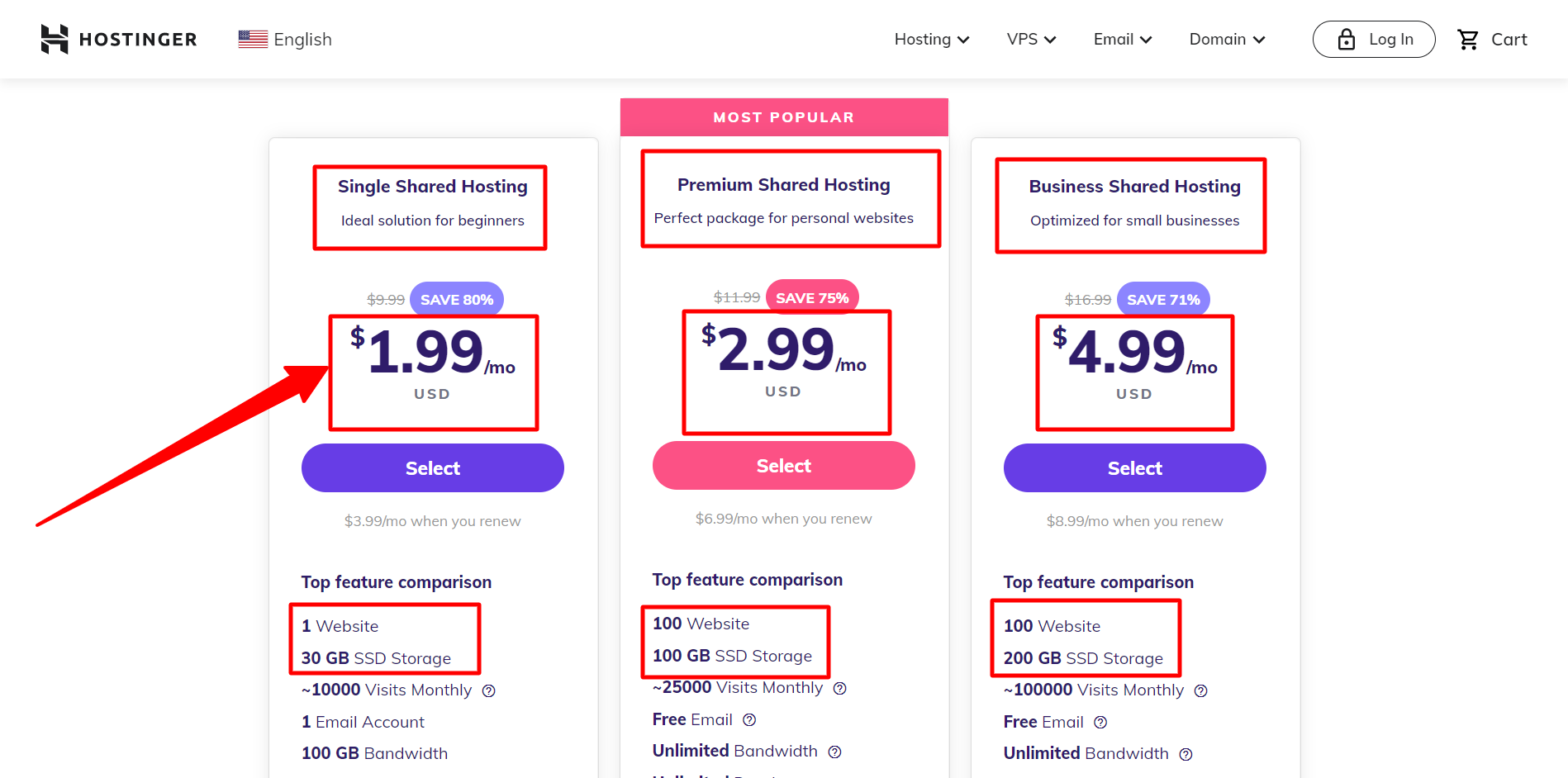 Hostinger's shared server hosting package is divided into three packages – single, premium, and business.
The Single Shared Server Hosting plan costs $1.99 monthly when paid for annually. It is the cheapest of all Hostinger plans and is very affordable even for the strictest budgets and for students.
Hostinger's Single Shared Server Hosting allows you access to one website, 30GB of storage, 2 SQL databases, one SSL cert, 1 email account, 2 subdomains, the Zyro website builder, the file manager, 99.9% uptime guarantee, and all available channels of customer support.
It is best for those on the strictest budget looking to build just one website.
The Premium Shared Hosting plan which costs $2.99 per month allows for up to 100 websites. You get 100GB of SSD storage, an unlimited number of databases, a file manager, and a site builder. The plan allows for the creation of up to 100 email accounts.
It offers the best value for money because for a low price, you still have a ton of value like 100 websites and a large website SSD storage.
The highest shared server hosting package is the Business plan which costs $4.99 monthly. It still allows 100 websites but the storage capacity is boosted to 200GB SSD. You still get 100 email accounts and access to unlimited customer support and databases. Only the premium and business plans offer the free creation of a domain.
Hostinger's shared server hosting is the cheapest of all the plans. The main idea is that you share hosting servers with other websites which reduces the price. The main pros of getting shared server hosting are affordability and easy setup and management.
However, since you're sharing servers, your site's data isn't as secure as if you were on dedicated hosting. Also, uptime and site speed may be affected by what's going on in another website that shares servers with you.
Yet, if you are looking to save money and still get a ton of value in return, check out Hostinger's Shared Hosting plan.
Cloud Hosting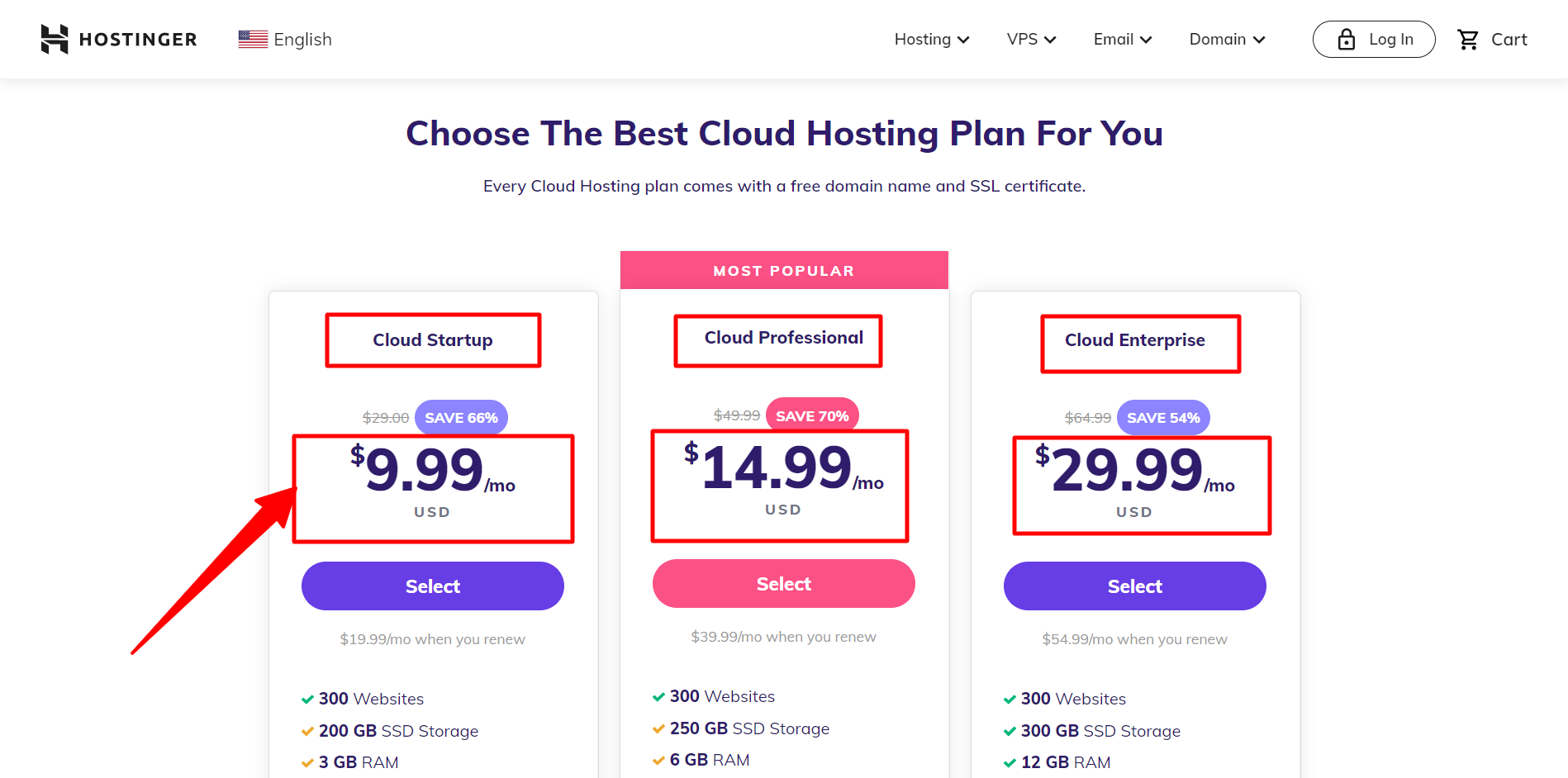 Cloud hosting is different from Shared Server Hosting in that it allows you to have full control over the servers allotted to you. You don't share disk space with any other website and so your web pages are not affected by traffic surges and security problems on other websites.
Hostinger's Cloud Hosting plan is divided into three – Startup, Professional, and Enterprise.
The Startup plan is best for startups on a budget. It costs $9.99 monthly and allows an unlimited number of databases. You can build up to 300 websites, have 200GB SSD, and up to 100 email accounts. The plan also facilities fast site speeds, unlimited bandwidth, and data processing because the RAM is bumped up to 3GB.
Professional Plan costs $14.95 per month. Here, the number of websites you can build is still limited to 300 but the SSD is increased to 250GB and the RAM is doubled to 6GB. That means super high load times and processing. Daily backups and website caching are available too.
Enterprise costs $29.99 monthly. Again the number of websites is limited to 300. The storage is increased to 300GB SSD and the RAM is doubled again to 12GB. This plan is best for agency website builders who work with lots of clients.
VPS Hosting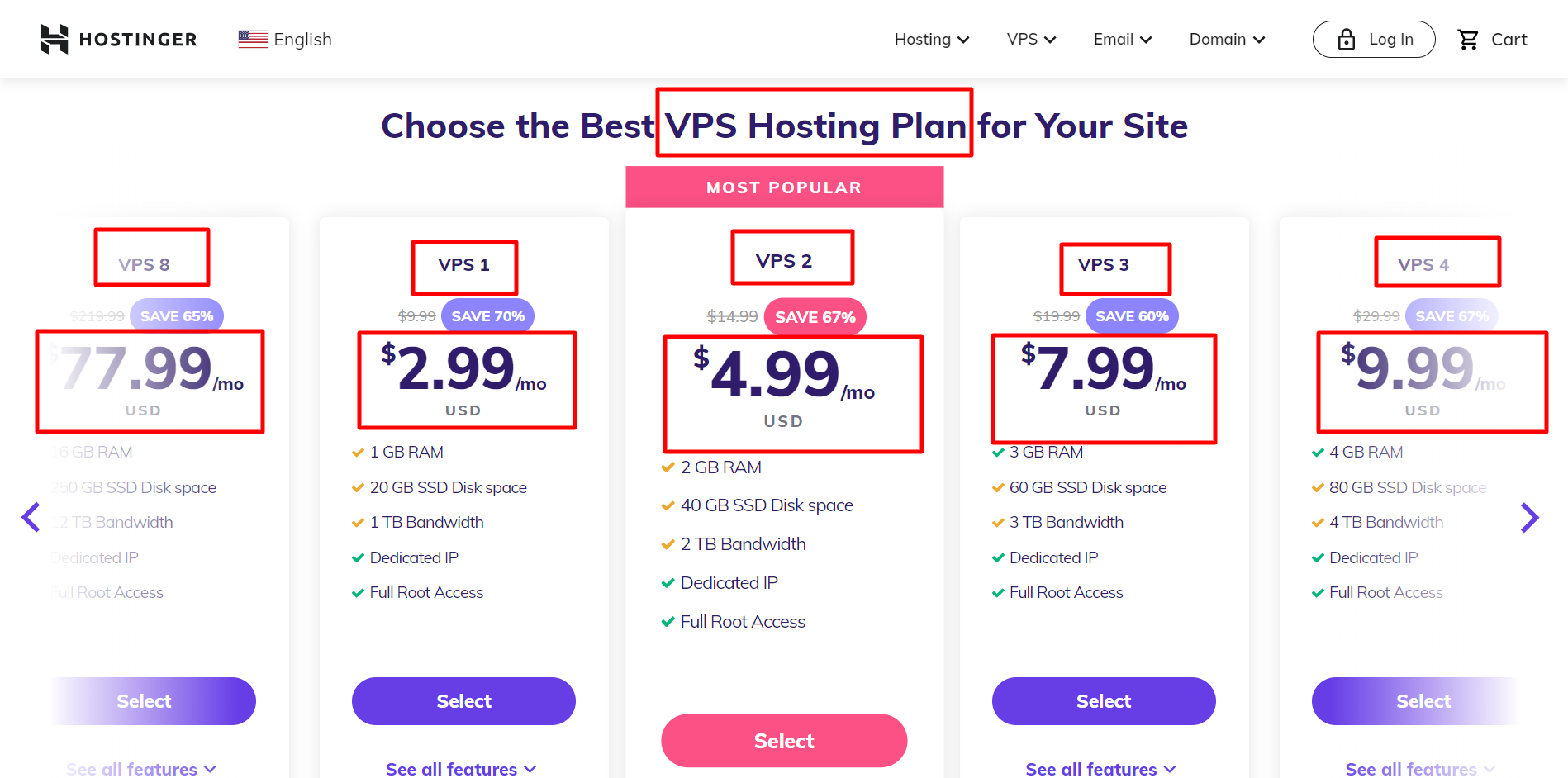 VPS hosting is a combination of shared hosting and cloud hosting. Here, you share server resources with other websites but still have more control just like in Hostinger cloud hosting.
Unlike shared server hosting where a traffic surge on a nearby website can cause your site to suffer a downtime, nothing happening on another site affects yours if you get VPS hosting. And because you're sharing servers, you still get a low price.
VPS Hosting is the best of both the Shared Server Hosting and Cloud Hosting worlds. It's a combo of affordability and control.
Hostinger's VPS hosting is divided into 8 main groups, VPS 1 to 8. The RAM storage ranges from 1GB to 64GB ram. The SSD is from 20GB to 250GB SSD. The prices are from $2.99 up to $77 monthly if you pay annually.
VPS hosting is especially right for people looking for very high speed. This is why it's perfect for gaming and forex trading, the niches where milliseconds matter. If you want an affordable VPS site for super fast speeds and unlimited bandwidth, get VPS 1 or 2. VPS 1 costs 2.99 monthly, while VPS 2 costs 4.99 per month.
Email hosting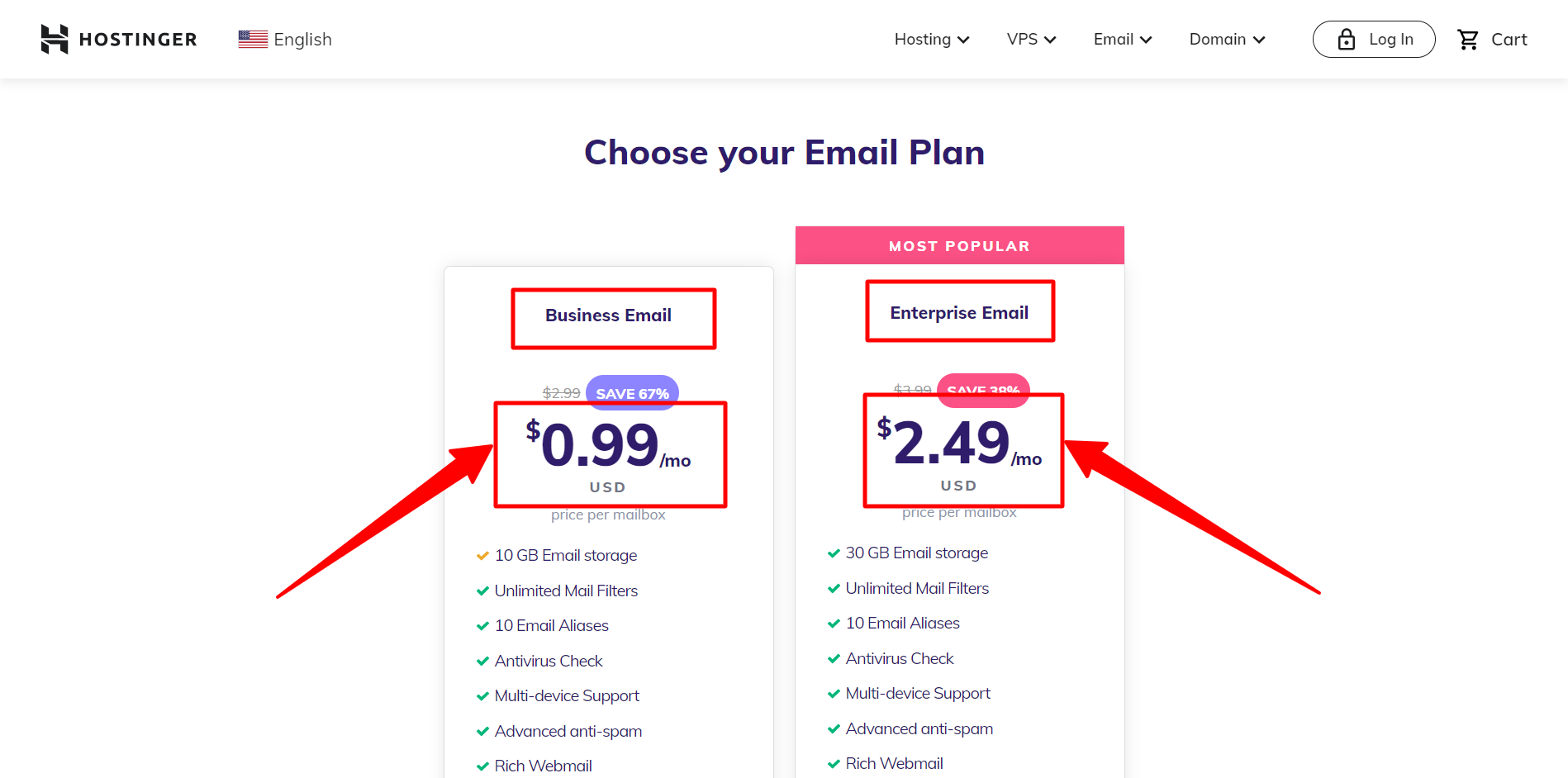 What if your website is not ready yet, or you don't even have a website set up, but you want a professional or business email address, the kind that gets clients to open emails fast?
Hostinger allows you to set up email addresses at very affordable prices. Hostinger's email hosting package is divided into business and enterprise email.
Business Email goes for $0.99 monthly. It allows you 10GB of storage, 10 email aliases, and 2 email filters to remove spam. You also get antivirus protection and access to 24-hour live chat customer support.
Enterprise Email costs $2.49 per month. You can set up an unlimited number of spam filters and have 10 email aliases. The SSD storage is bumped up to 30GB and you also have access to support.
CyberPanel Hosting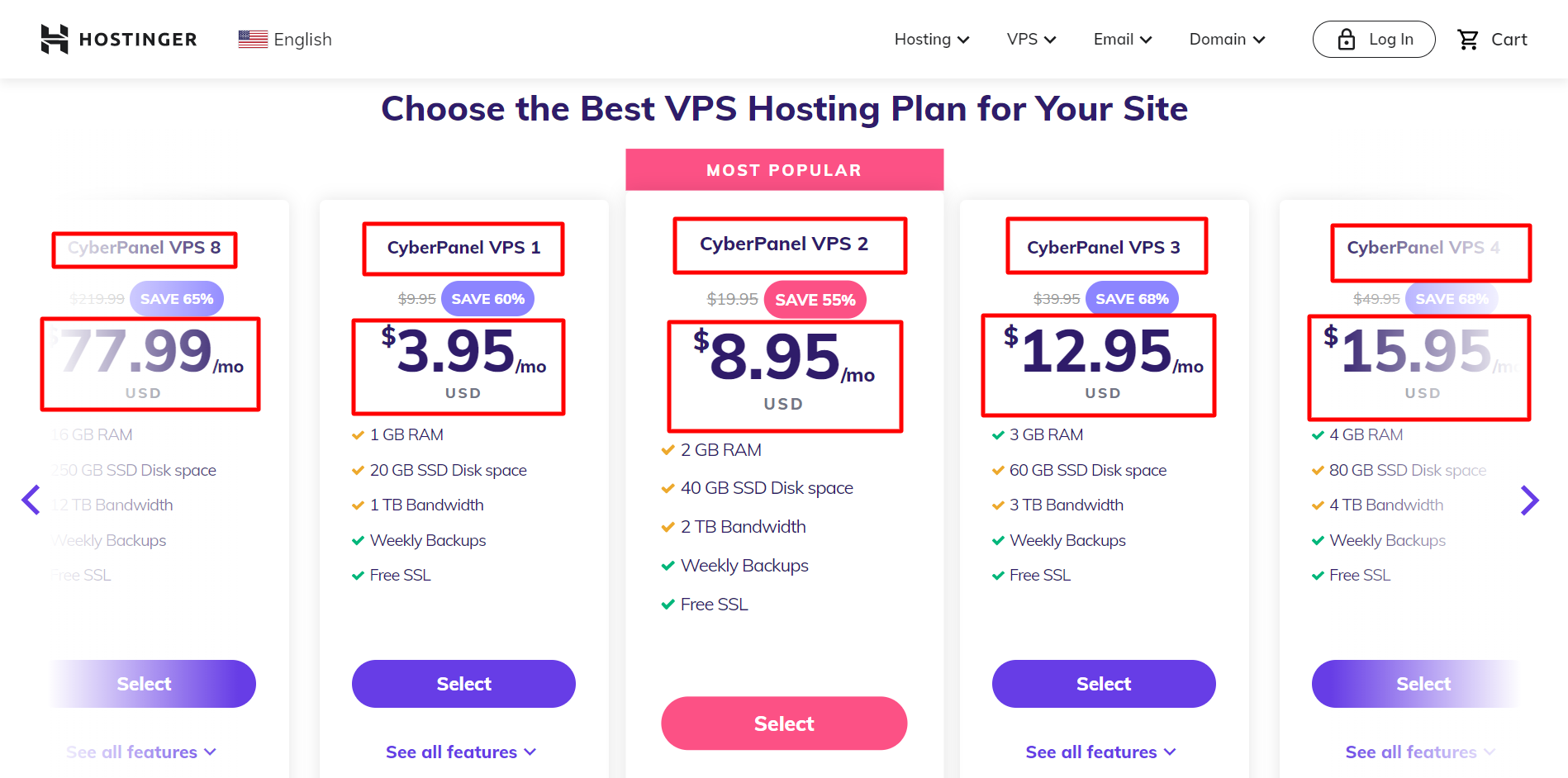 CyberPanel is a web control panel just like cPanel or hPanel. The difference is that CyberPanel works with LiteSpeed to let you host super fast websites.
So, if you want a website that loads pages rapidly and that is hosted by CyberPanel, check out Hostinger's CyberPanel panel hosting plans. The CyberPanel VPS hosting prices are similar to the main VPS hosting package.
Some stand-out Hostinger CyberPanel hosting features are:
LiteSpeed cache: This feature increases site speeds by caching common elements in the visitor's local browser. So when they visit your site again, some page elements don't have to load up from your site server.
Git deployment: This matters more to developers looking to speed up website and web application deployment. Hostinger can connect with your Git repository to facilitate a faster website setup.
WordPress support: Hostinger's CyberPanel hosting comes with WordPress pre-installed so that all you have to do is click one button and your website is set up with WordPress.
Auto installer: Hostinger's CyberPanel hosting also offers an auto installer which makes it easy to add eCommerce CMS web apps like Joomla and Magento.
Automated daily backups and easy restores: With a CyberPanel hosting package, you will get automatic daily backups and custom scheduled website backups.
Free SSL for one year: And just like in other hosting packages, you also get one free SSL certificate for one year.
WordPress Hosting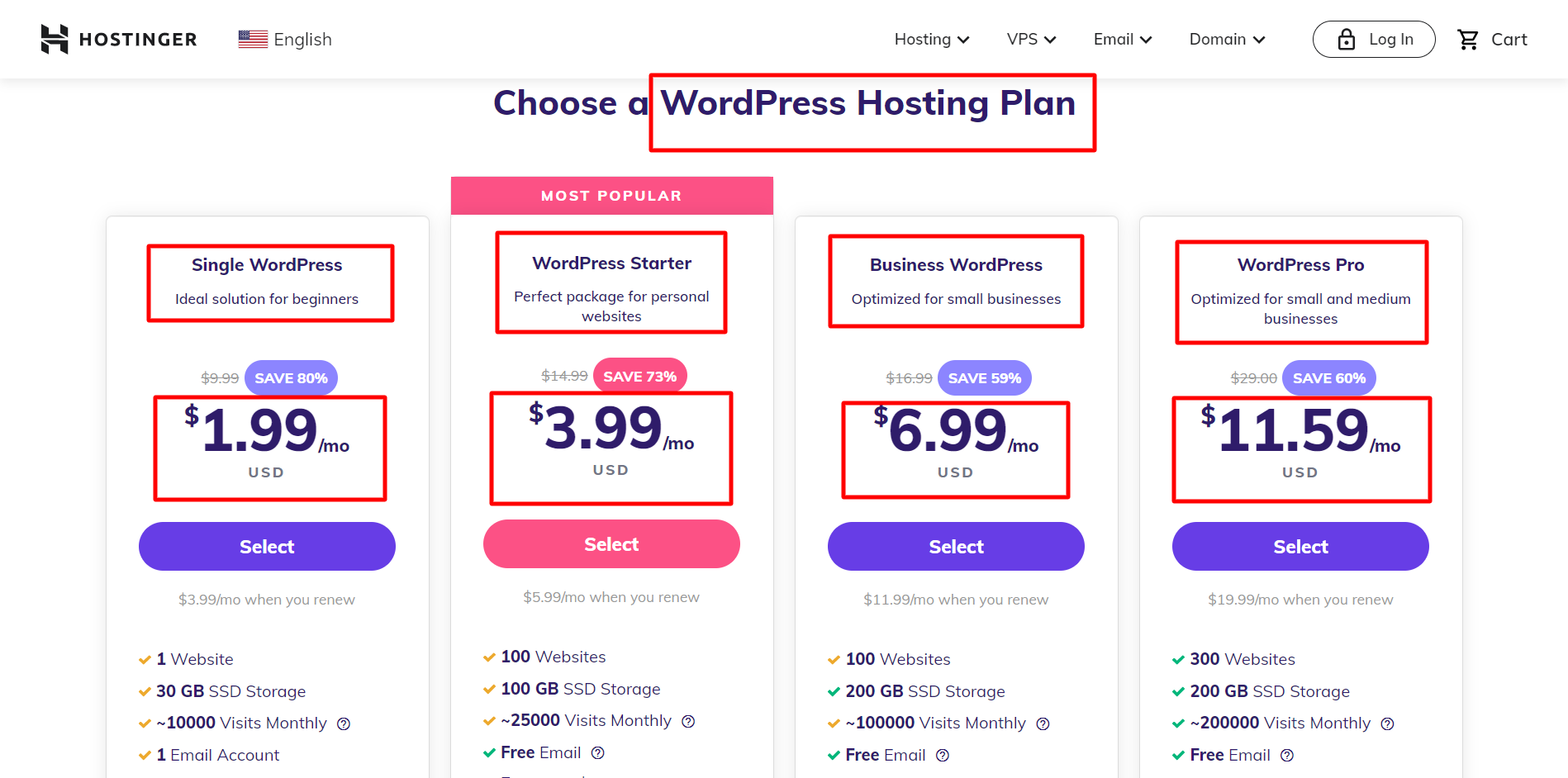 WordPress is the most popular Content Management System in the world. As a result, no good hosting service overlooks the sheer number of people who use WordPress.
Hostinger offers a special WordPress hosting package divided into four tiers – Single WordPress, WordPress Starter, Business WordPress, and WordPress Pro.
Single WordPress allows for 1 website and 30GB of storage. You get 1 free email account, 2 databases, and free SSL. However, you don't get a domain.
Starter costs $3.99 monthly. It supports up to 100 websites and 100GB of SSD storage. You get a free domain and free SSL.
The Business plan, which goes for $6.99, is best for small businesses. It has multiple WordPress optimization features pre-installed and in-built features like WordPress Acceleration and WordPress Multisite. You get 100 websites, daily backups, and up to 200GB SSD storage.
WordPress Pro is Hostinger's most expensive WordPress hosting package. It allows for up to 300 websites, 200GB of storage, and a test site setup. The server supports up to 200,000 monthly visitors. You also get 300 SSL certificates. WordPress Pro costs $11.59 per month.
CMS Hosting
CMS Hosting is when you get a hosting account preinstalled with a CMS. A Content Management System like WordPress is software for managing the content and flow of your site.
Hostinger supports three types of CMS apps – WordPress, Joomla, and Drupal.
While Hostinger has a special WordPress hosting plan, the Joomla and Drupal plans have the same prices as Hostinger's Shared Hosting.
However, if you choose a Joomla or Drupal eCommerce hosting package, you get a hosting account already installed with your chosen CMS software.
eCommerce Hosting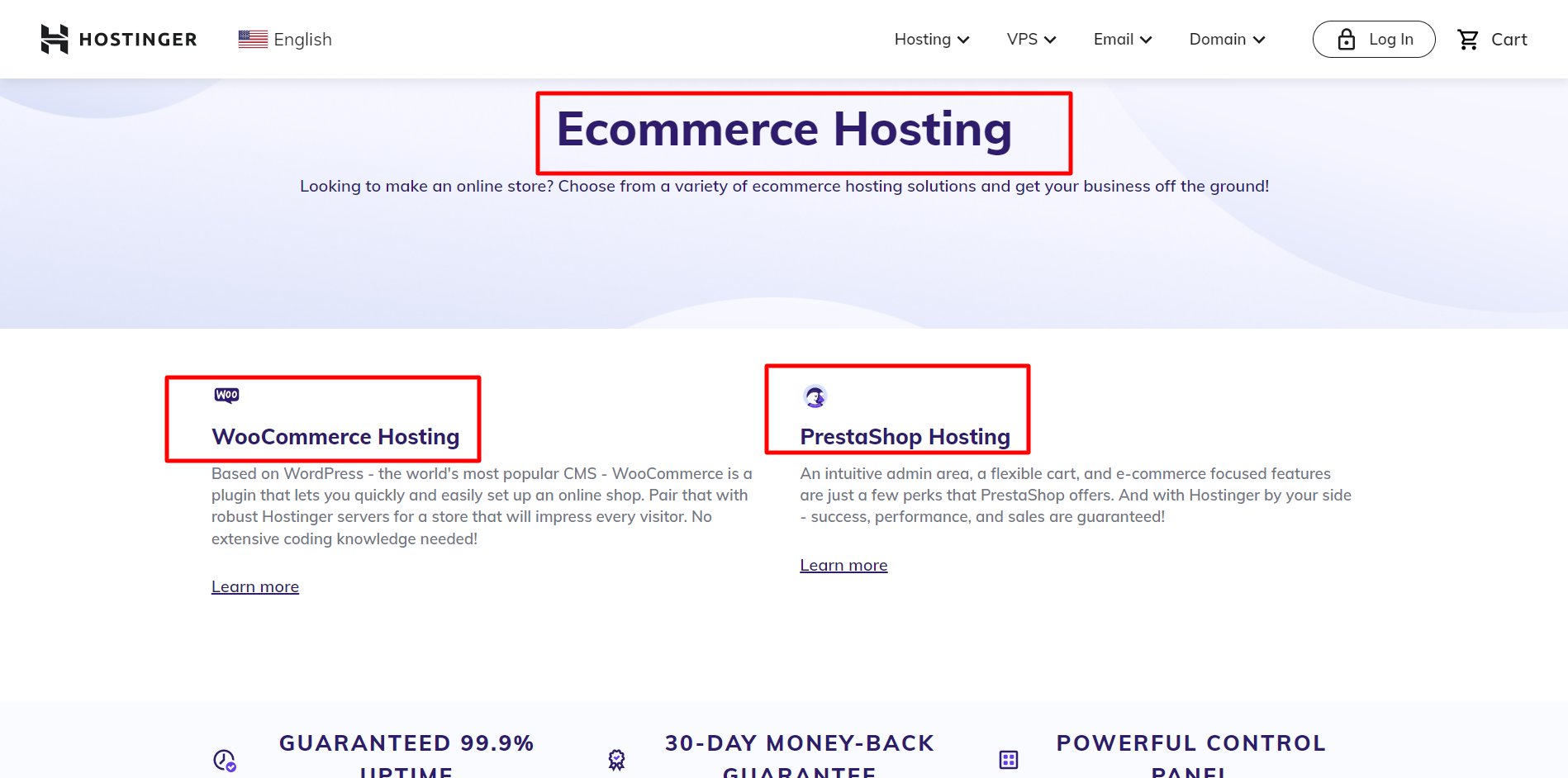 Are you thinking of creating an eCommerce store? Hostinger makes it a lot easier for you to start one.
The typical process is to get a website and then build the store into it or install store management software.
Hostinger's eCommerce Hosting makes the process easier by offering you a hosting account with the eCommerce management software already installed.
For now, there are only two options available — WooCommerce hosting and PrestaShop hosting.
WooCommerce is a WordPress eCommerce plugin that works exclusively with WordPress sites. So, the prices are the same with WordPress hosting except for the lowest tier.
PrestaShop hosting works with a wide range of websites. This hosting type also has the same price as shared server hosting excluding the lowest tier.
cPanel Hosting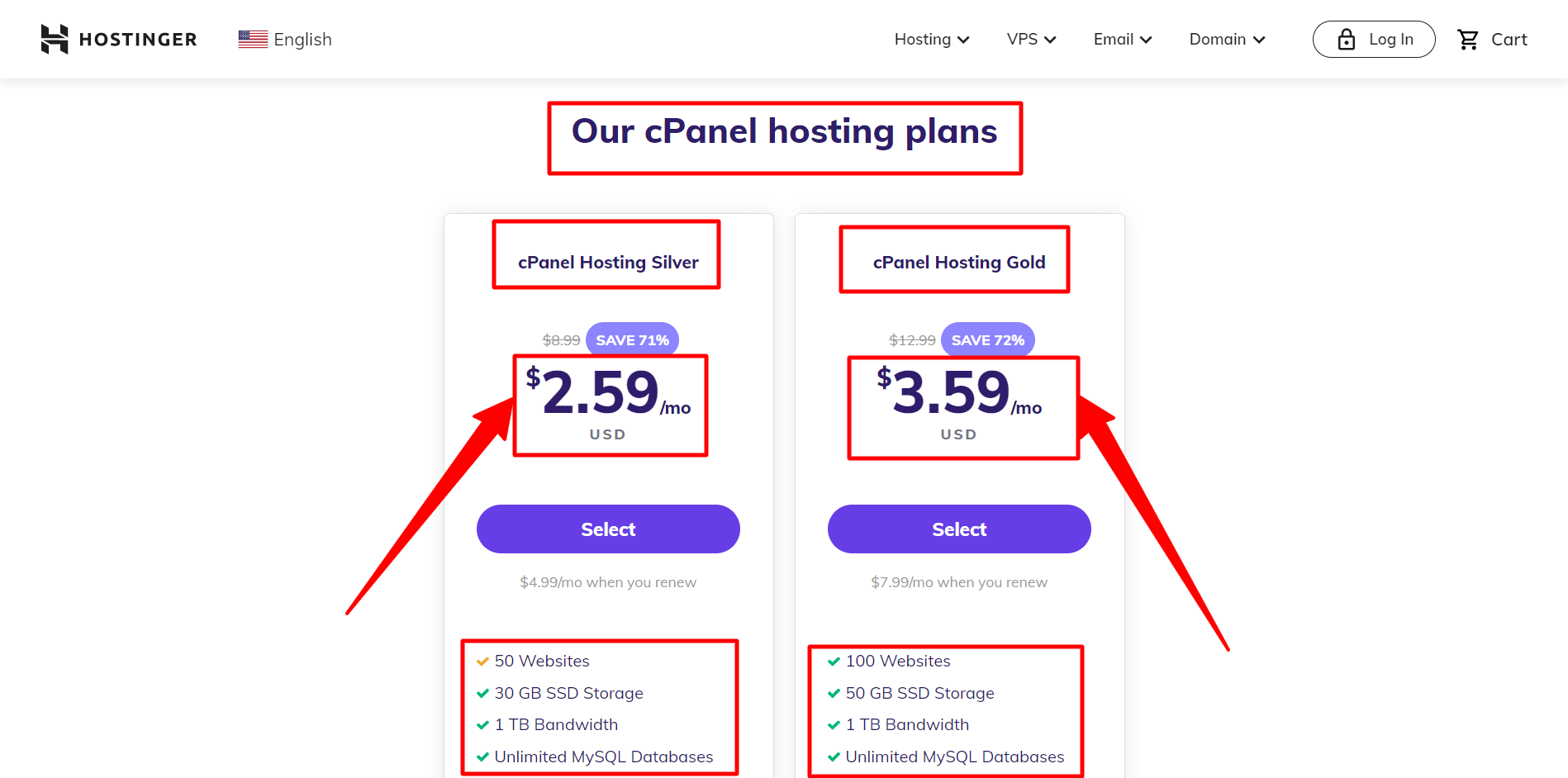 Remember I told you that Hostinger has its web admin software for managing websites? But what if you really wanted to use cPanel instead?
Hostinger has developed special cPanel hosting plans — cPanel hosting silver and cPanel hosting gold. They cost $2.59 and $3.59 monthly respectively.
cPanel hosting silver allows for up to 50 websites and 30GB of storage. cPanel gold maxes out at 100 websites and 50GB storage. Both feature automatic backups.
Unfortunately, these plans don't give you the license to run a VPS on the cPanel account. You'll have to purchase the license separately from cPanel.
Minecraft Server Hosting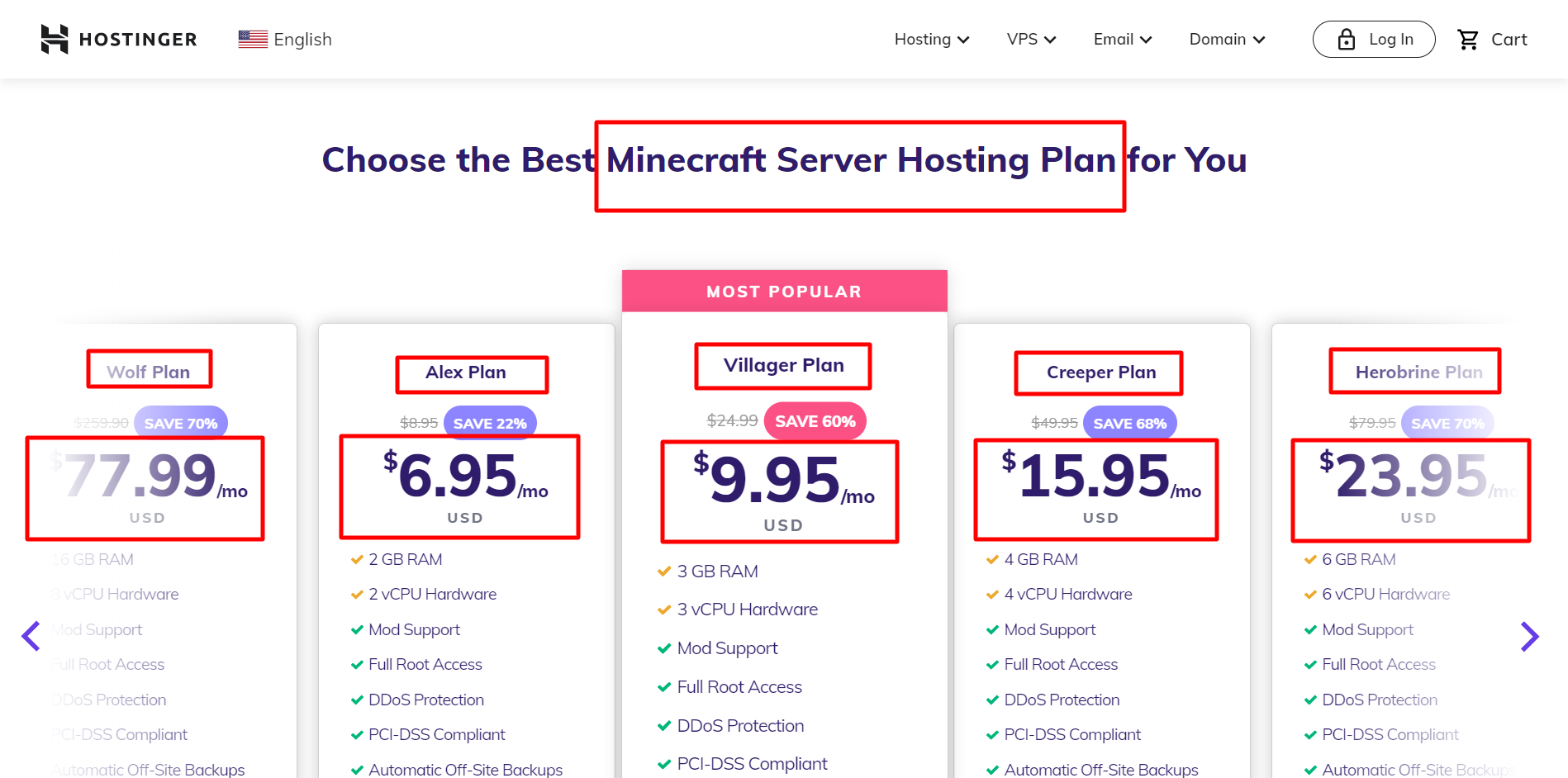 If you're a gamer, getting a server dedicated to gaming comes with several benefits.
One, you have a chance to purchase a server with a large RAM and super fast processing speeds. Two, gaming administrators and modpacks are usually pre-installed. Three, you may find a hosting service that offers several server types.
Hostinger provides affordable and premium Minecraft server hosting packages ranging from Alex Plan (for $6.95 monthly) and Village Plan ($9.95 monthly) to Evoker Plan ($57.99) and Wolf Plan ($77.99).
The RAM storage options range from 2GB to 16GB RAM and the CPU cores range from 2 to 8 cores. Hostinger's Minecraft Server hosting supports several Java versions and allows switches between a dozen server types per account.
Hostinger Vs Other Popular Hosting Providers
Let's now briefly compare Hostinger to 4 other popular hosting providers.
Hostinger Vs Bluehost
While Hostinger is basically concerned with providing you with fast web hosting at a cheap price, Bluehost is for giving you a feature-rich experience for a higher price.
Hostinger's cheapest plan starts from $1.99 per month while Bluehost's hosting packages start from $9.99 monthly.
Both hosting services offer decent response times, a 99.9% uptime guarantee, and a free site builder. However, Bluehost had more features for website building than Hostinger does. For instance, Bluehost's website builder offers landing page building, online store building, and templates to select from.
If you have a larger budget, Bluehost is the right choice. But if you want the best for the most affordable price, check out Hostinger.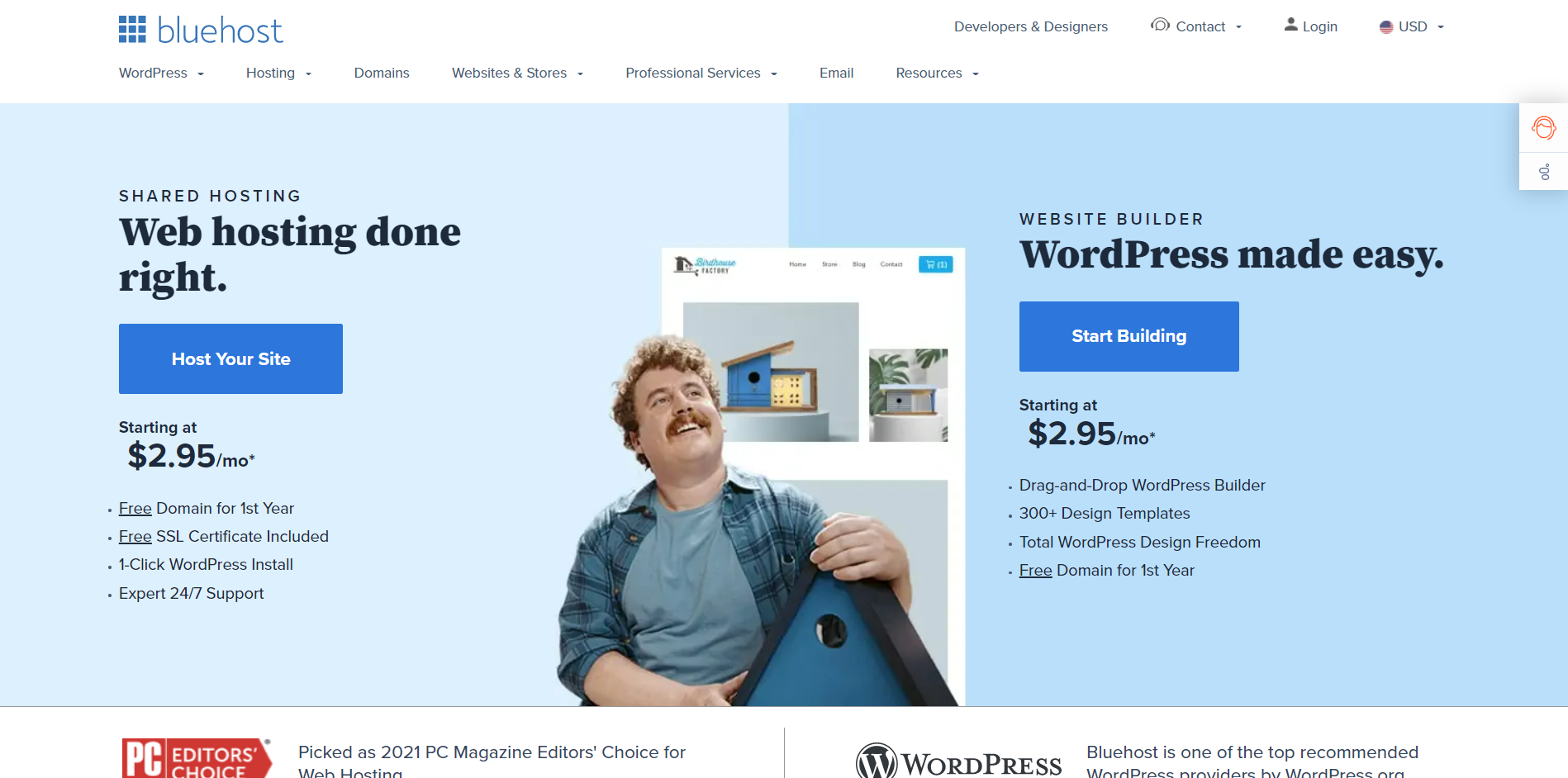 Hostinger Vs Siteground
Siteground is known for fast loading times. The web hosting service focuses entirely on creating servers that accept and process data fast. Even though Hostinger is also a very fast host, Siteground is slightly faster. Plus, Siteground has a better live chat customer success team.
However, Hostinger offers a few more features like an hPanel control panel, a file management system, drag and drop, and special CyberPanel hosting. Also, Hostinger is cheaper than Siteground. While Hostinger starts from $1.99 per month, Siteground web hosting plans begin from $3.99 monthly.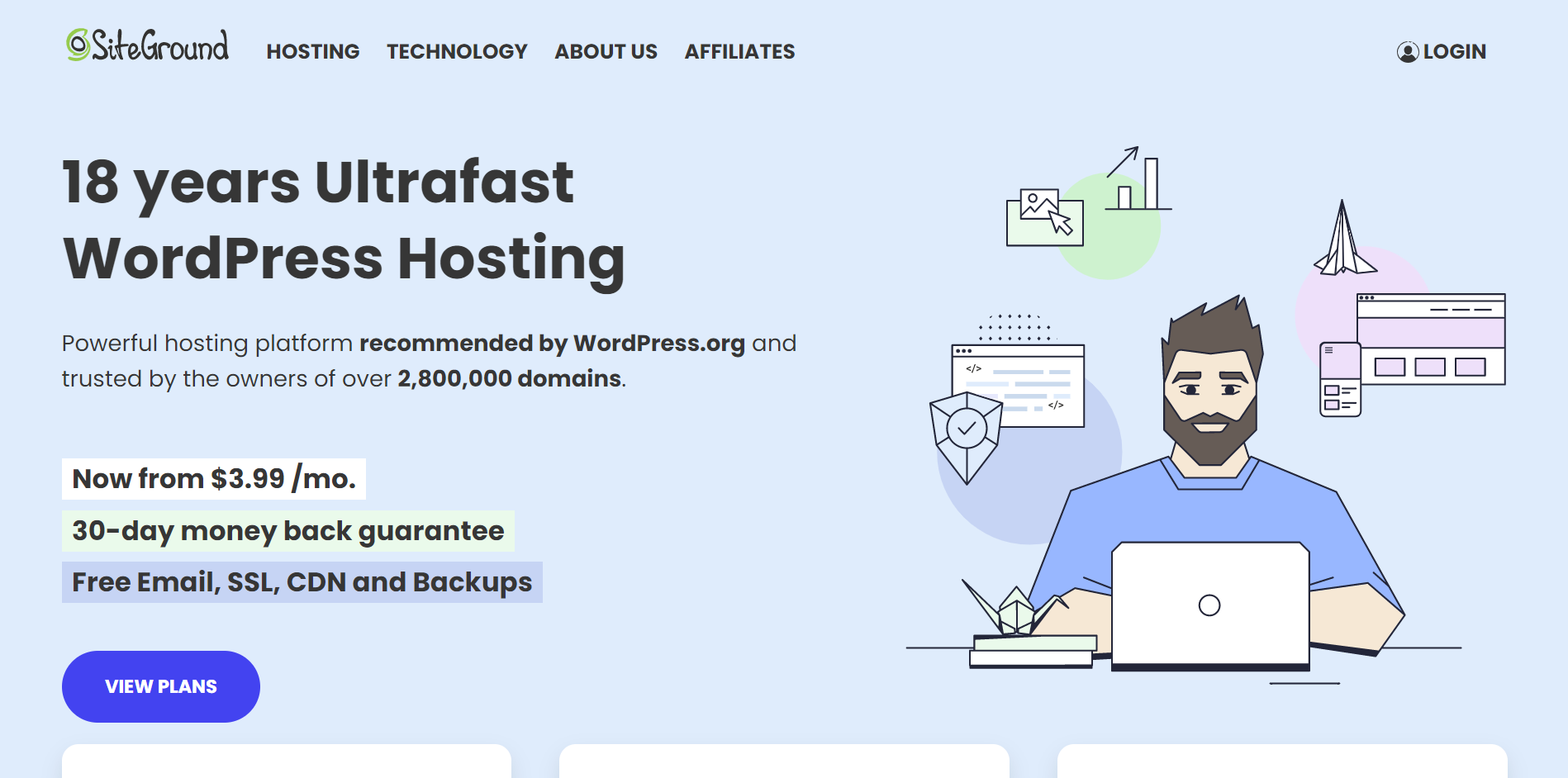 Hostinger Vs GoDaddy
GoDaddy is an established and popular web hosting service that has been around long before Hostinger. The web host offers a wide range of features including domain registration, web hosting, customer support, and website building.
Hostinger outshines GoDaddy in affordability and free domain registration. GoDaddy starts from $3.99 monthly and collects payments for first-time domain purchases. For GoDaddy users, costs add up quickly because almost every feature is paid for.
However, GoDaddy offers a more robust suite of features for eCommerce including Point of Sale systems and eCommerce payments solutions.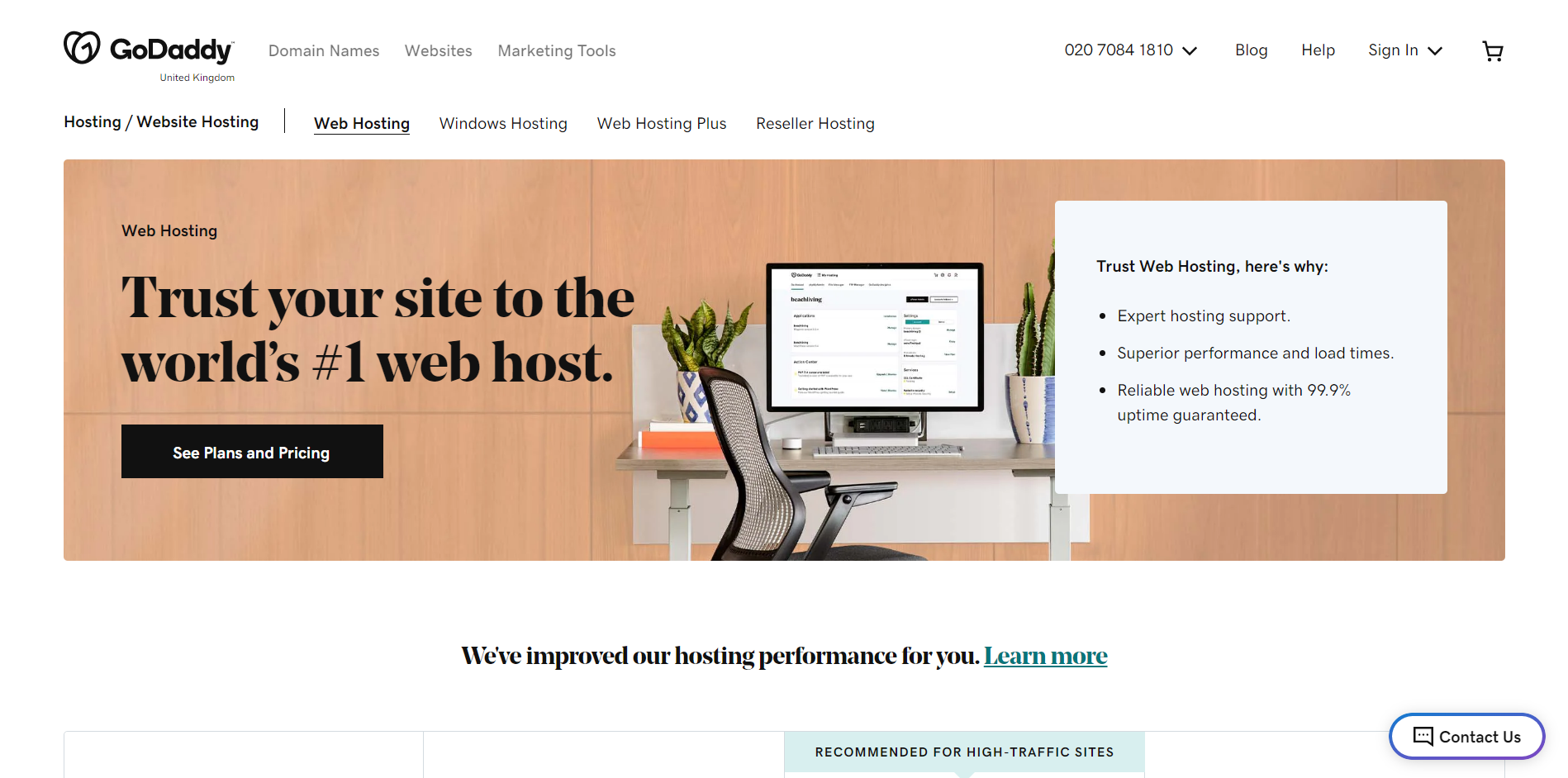 Hostinger Vs Hostgator
If you're looking for a web hosting service that makes scaling websites a breeze, check out Hostgator. You can start with a lower price web hosting package and scale your server resources as your business grows. Migrating from other hosting providers is free of charge on Hostgator.
However, Hostinger has advantages over Hostgator in two main areas – affordability and website building. Hostgator is an affordable web hosting service with prices starting from $2.75 monthly. But then, Hostinger's pricing plans start from $1.99
Also, Hostinger's website builder supports SEO management while Hostgator's doesn't. But, Hostgator offers dedicated hosting which is missing in Hostinger. Once more, in this category, Hostinger comes out on top in terms of affordability.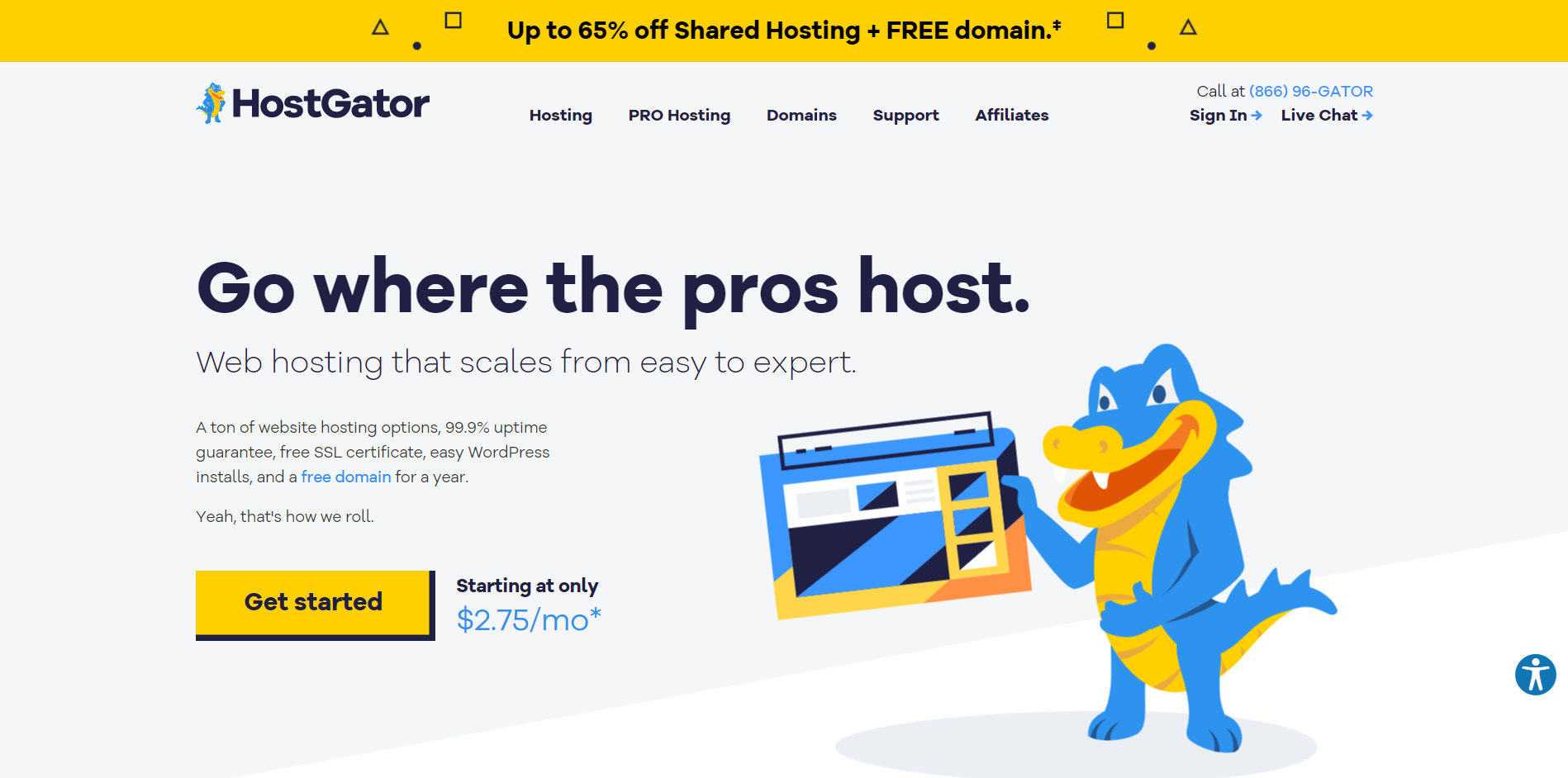 Hostinger Vs NameCheap
NameCheap is a web host that focuses on providing users with affordable hosting services. Because of this, the web host is targeted towards students, solopreneurs, and small businesses.
Even though NameCheap is affordable, Hostinger does a better job of offering cheaper prices and free features. For one thing, NameCheap does not offer any free domain registration and the hosting services start from $3 monthly.
Both hosting providers offer a free website building tool and fast page loading speeds. However, NameCheap's customer support team is slightly better than. Hostinger's.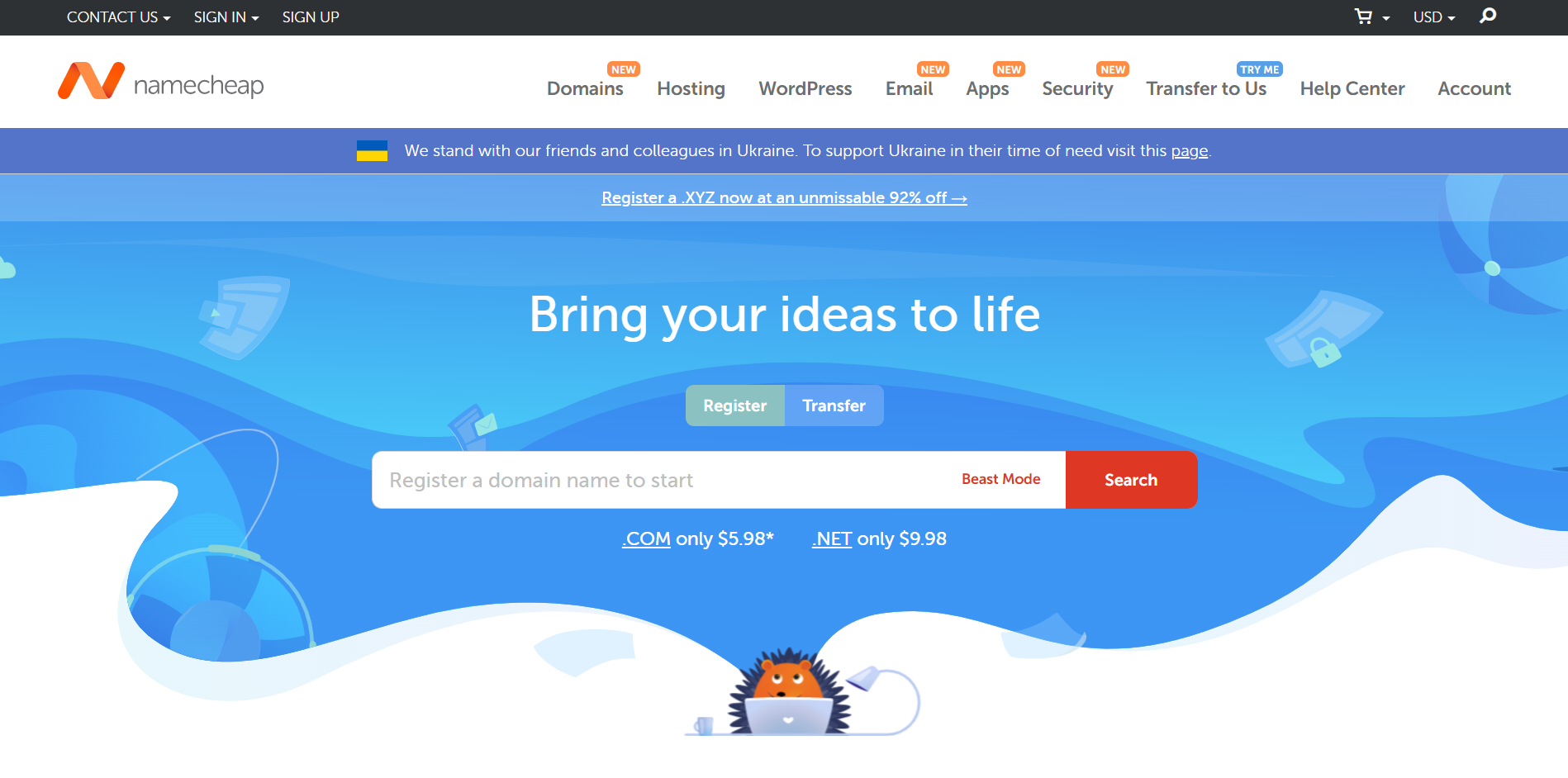 Hostinger Review FAQ
Now, here are answers to your most frequently asked questions about Hostinger hosting review.
Is Hostinger really good?
Hostinger is a really good web hosting service that offers high value for cheap prices. Several Hostinger tests have consistently revealed very good response times and uptimes. The fact that Hostinger provides its clients with 10+ data centers to choose from and a 99% uptime guarantee shows that server reliability is high. Your risk of purchasing a Hostinger plan is reduced by the 30-day money back guarantee.
Is Hostinger owned by Google?
No. Google does not own Hostinger. Hostinger hosting company is owned by Lithuanian employees based in Kauna. Hostinger's former name was HostingMedia before it was renamed Hostinger in 2011. Currently, Hostinger web hosting services include Shared Server Hosting, VPS hosting, Hostinger Cloud Hosting, Email Hosting, and domain registrations.
Which is best, GoDaddy or Hostinger?
It depends on your specific needs. If your main goal is affordability plus high value, you should go for Hostinger. But if you're interested in premium performance and better customer success service, GoDaddy will serve you better.
What is better than Hostinger?
The only hosting service better than Hostinger will be one that offers a higher value for a lower price. On those terms, I don't think I've seen any hosting service better than Hostinger.
Even though Bluehost provides a feature-rich hosting experience at affordable prices for the typical small business, the prices are still more expensive than Hostinger's plans. Not to mention that Hostinger added free benefits like domains and CDNs appeal to the strictest budgets.
Conclusion
Hostinger is best for small to medium-sized businesses looking for great server response times and uptimes, to acquire as many customers as they possibly can at affordable web hosting prices.
Hostinger also fits freelancers and solopreneurs who cannot afford big web hosting budgets and still want a hosting server that supports a decent amount of traffic at cheap prices.
If you're looking for a web host for a high-traffic blog or WordPress site, you should get one of Hostinger's higher-priced VPS or cloud hosting plans. But if you're looking for the cheapest plan, check out Hostinger Shared Hosting. Good luck.

As one of the co-founders of Codeless, I bring to the table expertise in developing WordPress and web applications, as well as a track record of effectively managing hosting and servers. My passion for acquiring knowledge and my enthusiasm for constructing and testing novel technologies drive me to constantly innovate and improve.
Expertise:
Web Development,
Web Design,
Linux System Administration,
SEO
Experience:
15 years of experience in Web Development by developing and designing some of the most popular WordPress Themes like Specular, Tower, and Folie.
Education:
I have a degree in Engineering Physics and MSC in Material Science and Opto Electronics.