Let's talk about the JPG vs JPEG Differences. These two might seem the same, but they have some small differences that matter when we deal with pictures on our computers and online.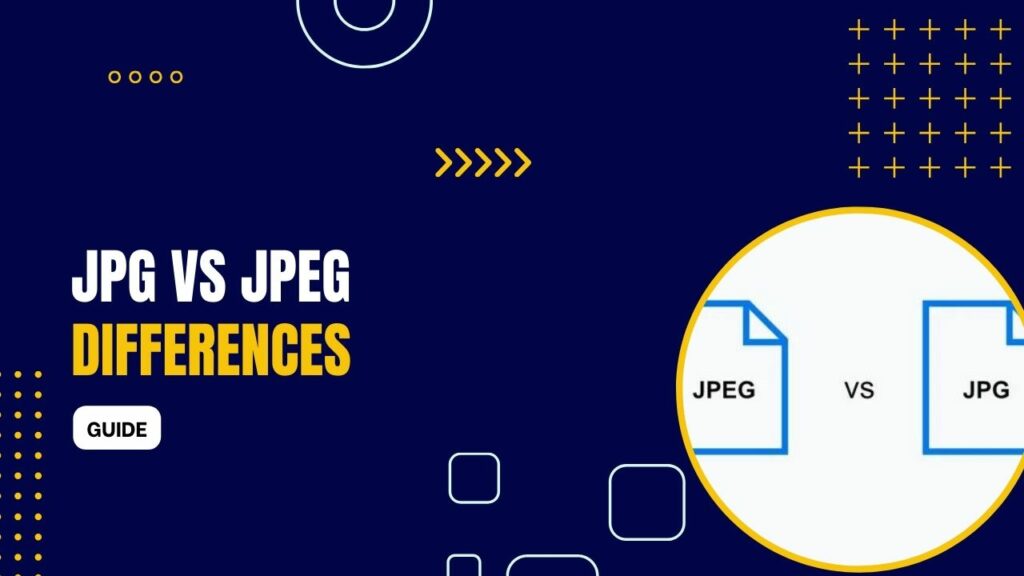 JPG and JPEG are both popular image file formats, but why do we have two names? Is one better than the other?
In this guide, we'll explore these questions, look at how JPG and JPEG came to be, and see when to use which format. Let's dive into the world of image formats together and make it easy to understand!
History of JPG and JPEG
Once upon a time, JPEG came into the digital world. It's a way to make pictures take up less space on our computers without losing too much quality. But then, we also started hearing about JPG.
Why? Well, it all goes back to the old Windows systems. They only liked file extensions (the part after the dot in file names) that were three letters long.
So, JPEG got shortened to JPG for Windows users, while Mac and Linux users stuck with JPEG. But under the hood, they're pretty much the same!
Technical Differences Between JPG and JPEG
Now, you might wonder if there's a big technical difference between JPG and JPEG.
The truth is, there isn't! Whether it ends in JPG or JPEG, the file is the same.
It's like having a nickname – some might call you by your full name, while others use a shorter version. Both names refer to the same person, just like JPG and JPEG refer to the same image format.
But, there are some things to think about, like how they compress images and how this affects the quality and size of the picture.
Usage of JPG vs JPEG?
So, when should we use JPG, and when should we go for JPEG?
Since they're almost twins, in most cases, it doesn't really matter. But, knowing a bit about when and why to use them can still be handy.
For example, if you're dealing with a system that prefers three-letter extensions, JPG is the way to go.
On the other hand, if you're working with software that likes four letters, stick with JPEG.
How to Convert JPG to JPEG
Converting images between JPG and JPEG is a breeze! Remember, they're pretty much the same, so changing from one to the other doesn't affect the picture quality.
Method 1: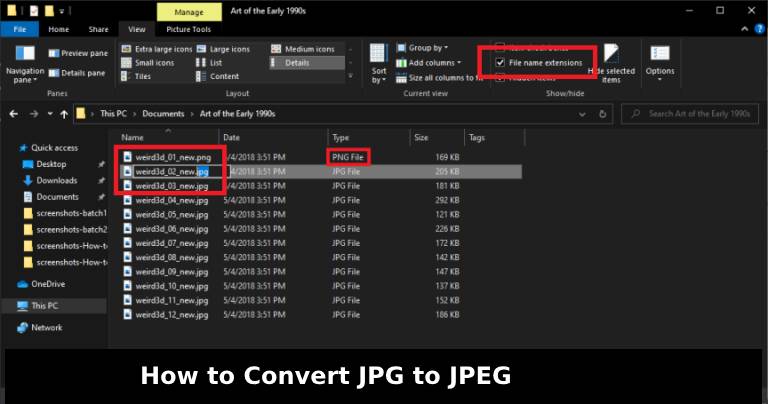 The easiest way is to do this in Windows Explorer when you click on the file > Click with the right button of the mouse > Rename. After that change JPG to JPEG or the JPEG to JPG.
Method 2: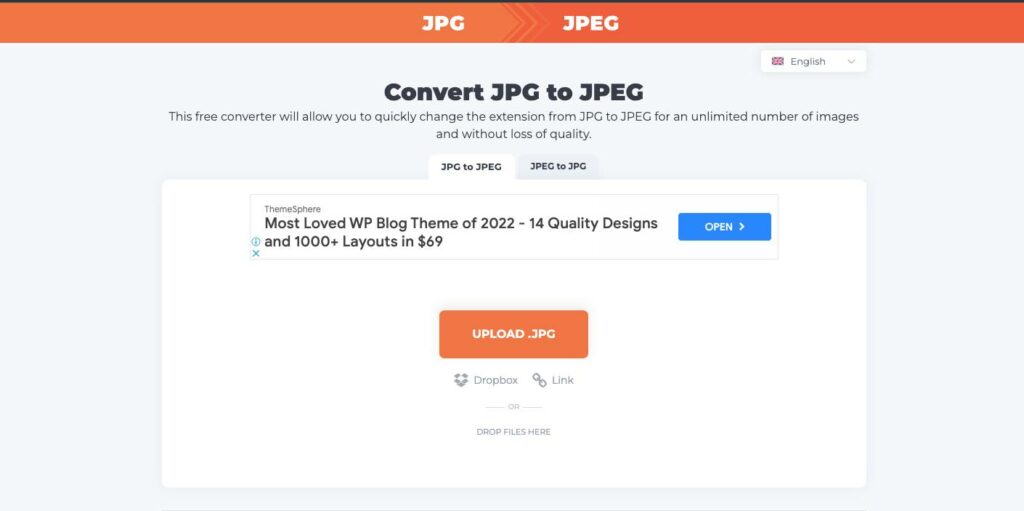 You might want to convert for different software or systems that prefer one over the other. To do this, you can use an online converter: just upload the picture, choose the format you want, and download it.
Method 3: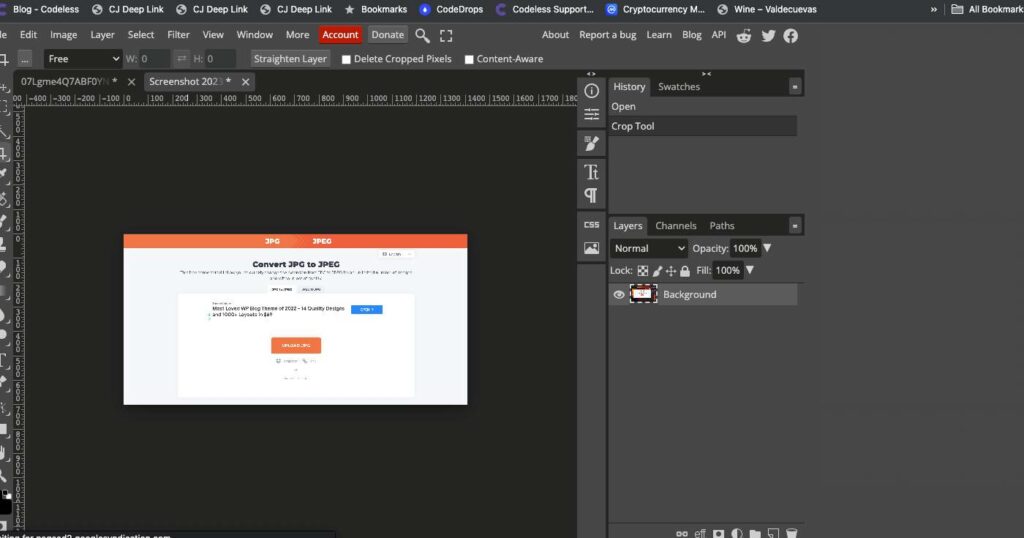 Or, if you're using a photo editor like Photoshop or Photopea, you can save your image as either JPG or JPEG, depending on what you need.
SEO and Website Performance Implications
Now, let's chat about using images on websites. Whether you choose JPG or JPEG can impact how fast your website loads. Pictures can be big files, and big files take longer to load.
So, using these formats, which compress images, can help your website speed up. But remember, it's also crucial to keep your images looking good.
A balance between quality and file size is key to keeping both your website and your visitors happy.
Resources
How to Improve Your Website Lighthouse Performance
How to Speed Up WordPress Performance by 70% (Case Study)
FAQs
Is there a quality difference between JPG and JPEG?
No, there isn't! JPG and JPEG are two names for the same image format. They compress and store images in the same way, so the quality is identical.
Why do we have both JPG and JPEG?
It's all about computer systems! Older Windows systems only allowed three letters in the file extension, so JPEG was shortened to JPG. Meanwhile, systems like Mac and Linux continued to use JPEG.
Can I convert a JPG image to JPEG and vice versa without losing quality?
Yes, you can! Since JPG and JPEG are essentially the same format, converting between the two doesn't change the image quality.
Are JPG and JPEG images suitable for professional printing?
They can be, but it depends on the quality of the original image. JPG and JPEG use a type of compression that can reduce image quality, so for high-quality professional printing, you might want to use a format like TIFF or PNG that doesn't lose quality when saved.
When should I use JPG, and when should I use JPEG?
In most cases, you can use them interchangeably. However, if you're using an older system or software that prefers one over the other, you might choose JPG for three-letter extensions and JPEG for four-letter extensions.
Can all devices and platforms read both JPG and JPEG?
Yes, most of the devices and platforms can read both JPG and JPEG formats without any issue since they are widely recognized and utilized.
Is JPEG the best format for web images?
JPEG is a popular choice for web images because it compresses well, keeping file sizes small and load times fast. However, "best" can depend on your needs. For images with transparency or simpler graphics, PNG might be a better choice.
Can I choose the level of compression for JPG and JPEG images?
Yes, when saving an image as a JPG or JPEG in photo editing software, you can often choose the quality or compression level. Lower compression (higher quality) results in larger file sizes, while higher compression (lower quality) gives you smaller files.
Why do some of my JPEG images lose quality over time?
JPEG images shouldn't lose quality over time. However, if you repeatedly open, edit, and save a JPEG image, it gets compressed each time and might lose quality. To avoid this, always keep an original copy and make edits on a duplicate.
Can I recover the lost quality of a compressed JPG or JPEG image?
Unfortunately, once an image is compressed and saved, any lost quality or detail cannot be recovered. Always keep a high-quality original safe for future use.
Conclusion
In our journey exploring JPG and JPEG, we discovered that they're like two peas in a pod – almost identical but with small differences in where and how they're used.
Whether you're saving memories, creating a website, or sharing images with friends, understanding these formats helps you navigate the digital world with ease.
So, keep snapping, sharing, and saving those moments!

Ludjon, who co-founded Codeless, possesses a deep passion for technology and the web. With over a decade of experience in constructing websites and developing widely-used WordPress themes, Ludjon has established himself as an accomplished expert in the field.