If you're someone looking to start your own eLearning website, you've come to the right place. Today, we're about to discuss two of the best online course platforms: Kajabi Vs Teachable.
Both of these platforms are the best mediums through which you can share your skills or knowledge with your audience. And considering the fact that the eLearning industry is booming, several entrepreneurs and big brands are thinking of opting for an online course selling platform.
Also, considering the fact that the eLearning industry is booming and will be worth billions of dollars in the future, it is quite apparent that you should establish your online learning platform quickly.
Here are some of the most intuitive and engaging facts about the eLearning world:
Moreover, where both Kajabi and Teachable are useful platforms, both also have their own specific differences.
So, today, we're going to discuss the differences related to the pricing, marketing, course-building, usability, features and much more. This article will help you decide which one of the two is the best for you.
Here's a detailed overview of what we're going to cover in this blog.
| | | |
| --- | --- | --- |
| Features | Teachable | Kajabi |
| Pricing | Free Plan.One-Time Purchase Plan.Subscription Plan.Monthly Payment Plan. | Free Plan.One-Time Purchase.Multiple Payment Options.Recurring Payment. |
| Comments | Gives you the option to view the comments of your students on your lectures. | Let's you view and manage the comments made by your students on your lectures. |
| Coupons | Set the name, expiry, data and quantities of single and store-wide coupons. | Set the coupon code, expiry, and date. You can choose single or bulk coupon codes. However, there's no feature of setting the usage limit. |
| Announcements | For announcements, you need to send emails to all the students about a course. | You get a set of options to create announcements for different course. |
| Cart abandonment | No option | You can send emails to those who've abandoned the cart to get feedback. |
| Course compliance | Options like enforce lecture order, video watching and graded quiz completion. | You only get the option to lock upcoming modules until the current module is completed. |
| Certification | You get numerous certificate templates and the option to create your own certificate. | Kajabi doesn't have a built-in certification feature |
| Drip content | Specific sections unlocking according to the progress of the students. | You can customize the time after which a specific section would be unlocked for the students. |
| Get now | Get Teachable | Get Kajabi |
So, without any further ado – let's start exploring the differences between Kajabi and Teachable.
What Are Kajabi and Teachable?
Both Kajabi and Teachable are content management platforms. They can also be called website builders. These platforms enable your to create and sell online courses to the audience.
If you have an eBook, guide, series of course video or any other digital product related to learning, you can instantly upload them on these online marketplaces.
Moreover, these platforms enable you to share your content, sell services (courses) and reach out to a wider audience by gaining more exposure.
Now that you know what these two platforms are all about let's start learning about their differences and by the end of this blog, you'll have better understanding of both of them.
Teachable – Main Features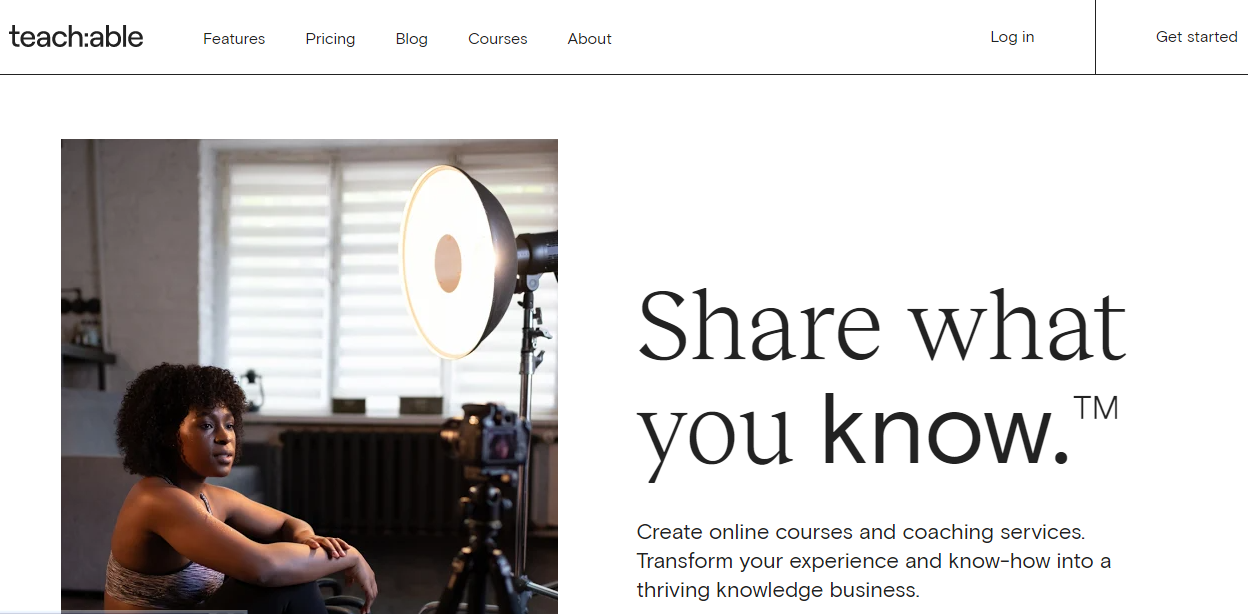 Teachable offers you unlimited courses option in all their plans and you get unlimited enrollment feature for your students.
Teachable has a free plan but you have to pay 10% transaction fees in order to avail it.
Teachable is an extremely cost-effective solution as compare to Kajabi.
Generally, Teachable is best for hosting academic courses because it has options like course compliance and certification courses.
Teachable offers you an iOS app.
For more you can read the article here: Thinkific vs Teachable
Kajabi – Main Features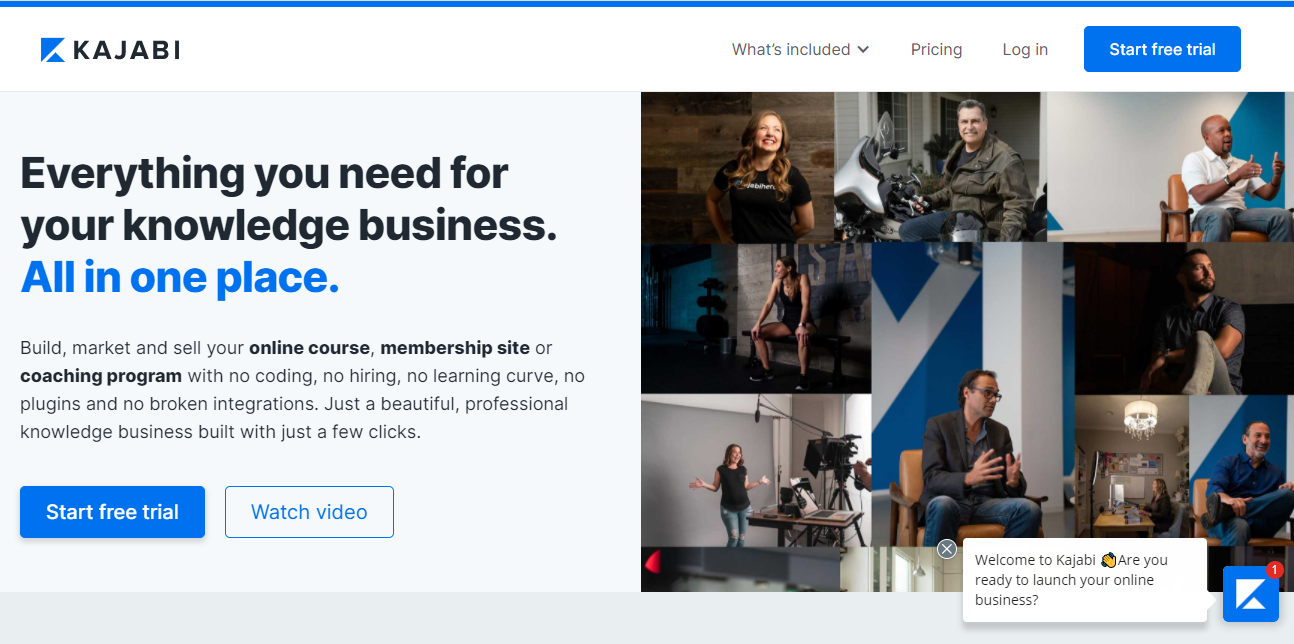 Kajabi offers a marketplace similar to Udemy, Skillshare and Coursera.
Kajabi has all the features you need to run a successful course selling business.
With engagement tools such as communities, assessments and assignments, Kajabi offers a more professional experience to the students.
No transaction fees however, the cost of Kajabi is high.
Numerous customization options along with 10+ themes give you more flexibility.
A standout lecture/module automation feature.
For more you can read the article here: Kajabi vs Learndash
Teachable Vs. Kajabi – Comparison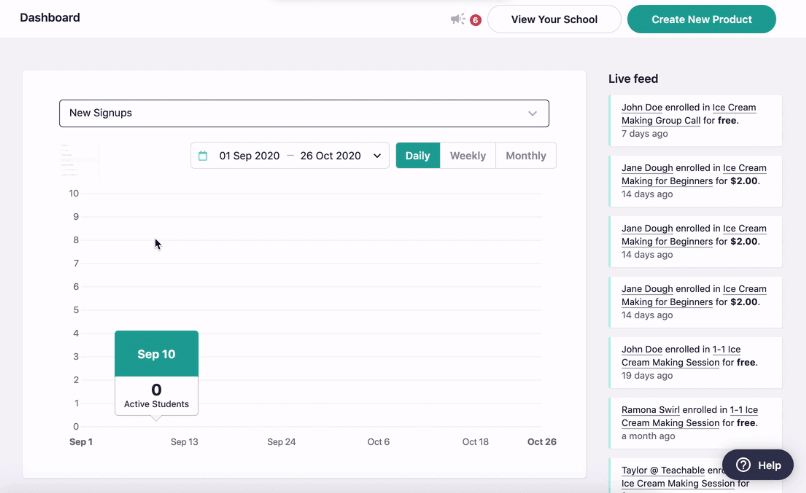 1. User Experience
Both the tools are designed to offer amazing and ground breaking user experience however, they have their respective differences. These differences are what help the user to distinguish between the two platforms.
Teachable UX
Teachable gives you several features to provide a user-friendly and engaging user experience to your customers. There's a sidebar integrated in Teachable that gives you several customization options.
Kajabi UX
Kajabi has a sidebar too that allows you to deliver a more stellar and robust customer experience to your audience.
Moreover, all the features of this platform can be easily accessed hence, there's no technical knowledge or skills required here.
Bottom Line
When it comes to user-experience, we would declare "Teachable" the winner mainly because it has all the necessary and additional features that you need to deliver a stunning experience.
? Winner: Teachable
2. Course Pages and Structure Creation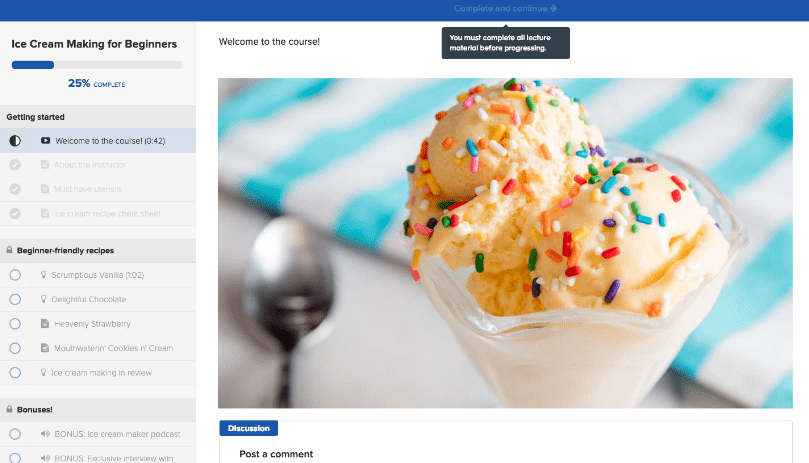 When uploading and online course, it is important to make sure that the web page is perfectly displaying every important information to the students. To accomplish this, you may need to create a structure for your online course.
Both Kajabi and Teachable offer this feature and allow you to divide your courses into different categories. However, Kajabi has the upper hand in this section. Let's explore the "why" part now!
Kajabi Course Creation
Kajabi has put a lot of emphasis on organization, they provide their users with the option of creating sub-categories that allow the user to break lengthy content.
The feature mentioned above is extremely important because through it the students are easily able to understand the course however, Teachable doesn't offer this option.
Secondly, if you're new to creating a course to sell online, the Kajabi's product Blueprint might come in handy. Kajabi offers three pre-designed product blueprints that you can use to set up your course automatically.
Teachable Course Creation
On the other hand, Teachable gives you a course builder that is simple yet powerful. The simple interface helps you build course quickly however, it doesn't offer as many options and features as Kajabi does.
Also, the builder doesn't provide the user with pre-built templates. Instead of them, the user gets a default theme that he/she can leverage to create an online course.
Bottom Line
We have to give this one to "Kajabi" purely because of its structuring and course creation options.
Kajabi is basically designed to help you provide your audience with a tailored experience and with the pre-designed template advantage, Kajabi excels in the course's creation domain.
? Winner: Kajabi
3. Marketing Tools
Just creating an online course isn't enough. You need marketing to get more traffic and spread the word about your top-notch course. You need to target the audience effectively and accurately.
Considering the competition, we have today, it is quite important to get every marketing goal met efficiently to ensure optimum results.
Hence, both the platforms Kajabi and Teachable offer affiliate marketing feature. Let's see how both of them differ from each other when it comes to marketing.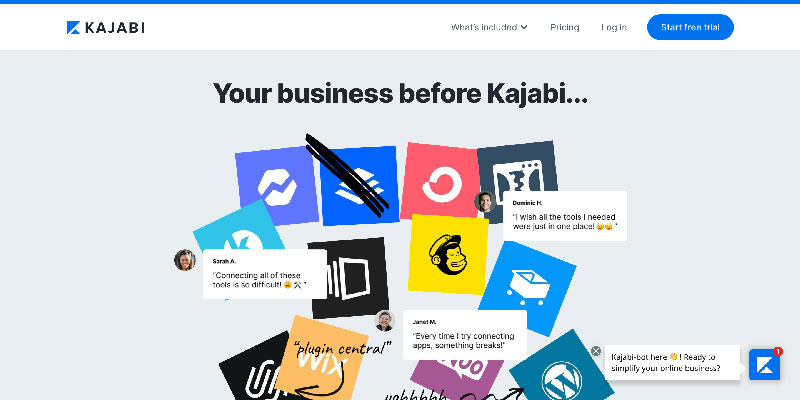 Teachable Marketing
Teachable give you the feature of its referral program that allows your students to become the affiliates.
You can also collect emails of your audience through your sales page on Teachable however, you cannot cross-sell courses.
Kajabi Marketing
On the other hand, Kajabi offers a unique feature to its users that it calls "Pipelines." These pipelines allow you to easily create marketing funnels, incorporate email drops, video content and much more.
You can even automate several marketing processes through the pipeline function of Kajabi. Kajabi also enables you to create landing pages.
Comparatively, Teachable doesn't offer a dedicated solution for your landing pages however, they have just one template for you that you can leverage if you want to create a landing page.
Bottom Line
Hence, this one goes to "Kajabi" as well because there are literally so many marketing features available as compared to "Teachable."
Kajabi is a platform that offers several more advanced tools regarding sales and marketing whereas, Teachable offer some essential features like payment accepting or selling your course.
Moreover, with features such as the Sales Pipeline Builder and automatons, Kajabi leaves no stone unturned to ensure its competitiveness and capabilities.
? Winner: Kajabi
4. Website Design and Customization
Both the platforms Kajabi and Teachable offer various website development options, features and functionalities. However, there's always an option to build your website separately.
However, if you need your website to be present at the same place where your digital product is, you can leverage both of these website builders to create a website for showcasing your digital product.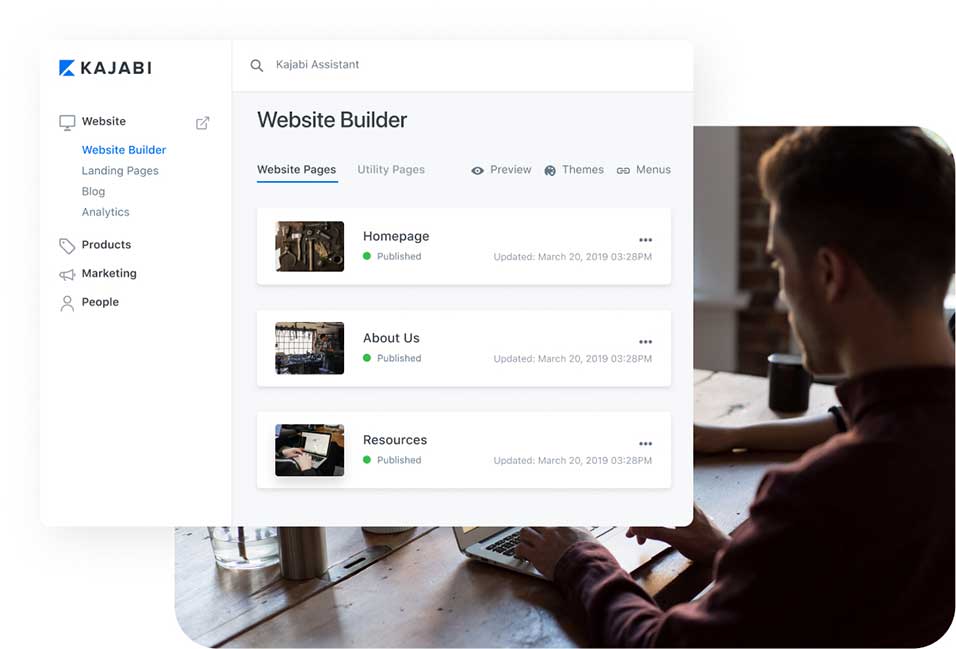 Having a website close to your digital product will increase the chances of conversion and will attract more audience. The point is, having a website closer to your product is beneficial regarding business.
So, even if you don't have any website creating experience both Kajabi and teachable have several features that allow you to create a website quickly and without the need of sophisticated coding or technical knowledge.
The features mentioned below are present in both Kajabi and Teachable:
Logo.
Fonts.
Photos.
Colors.
Navigation Panel.
Moreover, Teachable allows you to customize your home, privacy and terms & condition pages. Meanwhile, Kajabi gives you more features and functions that you can use to edit your website's appearance.
In a nutshell, Kajabi offers the following features to its users:
Store customization.
Static pages.
Blog page.
Elements.
Content addition.
Pre-built layouts.
Adding background videos.
You can also add pop-up forms on your site with the help of Kajabi. The platform even lets you capture leads while they're on you site. Also, if you want to create a stunning website, you can use the Kajabi's premier theme.
This theme is more customizable, versatile and even responsive. With it, you can leave a better impression on your audience by highlighting important aspects of your website.
Kajabi Themes
The most outstanding feature of Kajabi is that it offers the Premier Theme which is basically a super flexible framework that can be used to design robust websites.
Teachable Themes
Teachable doesn't offer any site theme options. They only have a default template that can be used to showcase your school's website.
Kajabi Page Builder
Kajabi offers a drag and drop page builder that is super easy to use. This builder offers instant customizations in real-time and allows you to edit and make changes to your page as per your requirements.
Moreover, there are 40+ pre-made sections that make the customization and page builder faster and easier.
Teachable Page Builder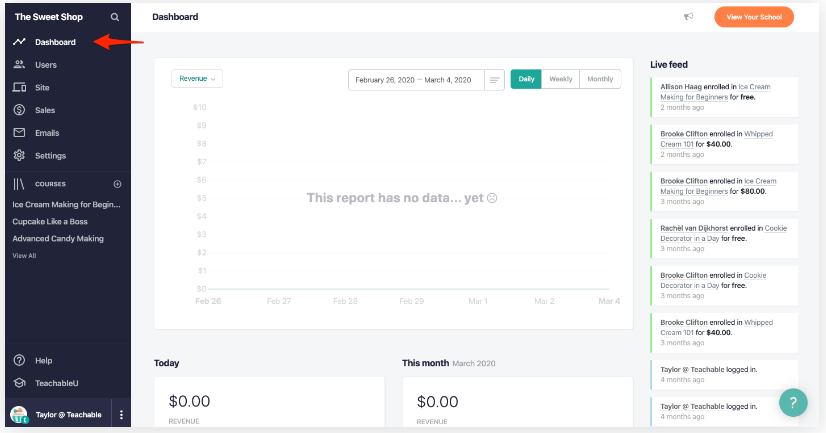 Teachable also comes with a drag and drop page builder that can be used to create pages on your website. This builder is also very easy to use however, it does not offer as many sections and options as Kajabi does.
Bottom Line
When it comes to the site building and customization, Kajabi is the winner. With powerful site building capabilities, pre-built designs, amazing customization options and several other features, Kajabi stands out.
Moreover, Kajabi also offers better blogging capabilities than Teachable hence, you've got more chances to attract and engage more traffic with Kajabi.
? Winner: Kajabi
5. Customer Support and Training
The most visible difference between both of the platforms in terms of customer support is the live chat options that Teachable offers from Monday to Friday, however, Kajabi offers 24×7 live chat and support.
Both platforms also invest into training the customers. For example, Kajabi has the Hero University and Teachable has the TeachableU. Both of these offer training programs through which you can learn course creation and marketing.
Bottom-Line
The only noticeable difference between both of the platforms is the 24×7 live chat support that Kajabi offers but Teachable doesn't. Hence, we think that Kajabi is the winner here.
? Winner: Kajabi
6. Integrations
For digital marketers and business owners, offering an omnichannel experience to their customer is critical. And this also means that marketers and entrepreneurs would need to work on their online presence.
To get marketing done the right way, there are several aspects that a website owner should ensure to get more leads and conversions. And this part is exactly where integrations come into play.
Integrations are generally third-party apps that can be installed or connected to your online courses website to add more functionality for the users hence, boosting the customer experience.
When it comes to integration, Teachable offers 5 built-in integrations to its users. The following are the integrations that Teachable offers:
MailChimp.
Segment.
Zappier.
Google Analytics.
Sumo.
However, Teachable doesn't offer any integrations related to Facebook and Sales funnels. There are some options available but I wouldn't recommend them as they're not that advanced.
When you're all out of option on Teachable, Kajabi steps in and revolutionizes the integration feature. Kajabi already has all the tools that Teachable have plus, it also has built in integrations of the following:
Drip.
Facebook Pixel.
Click-Funnels.
A-Weber.
Active-Campaign.
ConvertKit.
Moreover, it is not about the number of options that Kajabi is offering to you, we're also listing these features here because all of them a value and quality oriented.
Tools such as Click-Funnels and ConvertKit are essential for growing your audience, generating more leads and getting more conversions.
Additionally, The Facebook Pixel integration allows you to create ads that target the audience who's on a specific web-page. All you need to do, is to give your Pixel ID into your Kajabi's dashboard.
? Winner: Kajabi
7. Pricing (Cost)
Finally, the pricing part is here. The cost of both Kajabi and Teachable is the last factor in my list that will play a major role in deciding which platform is the best for entrepreneurs especially if you're a startup.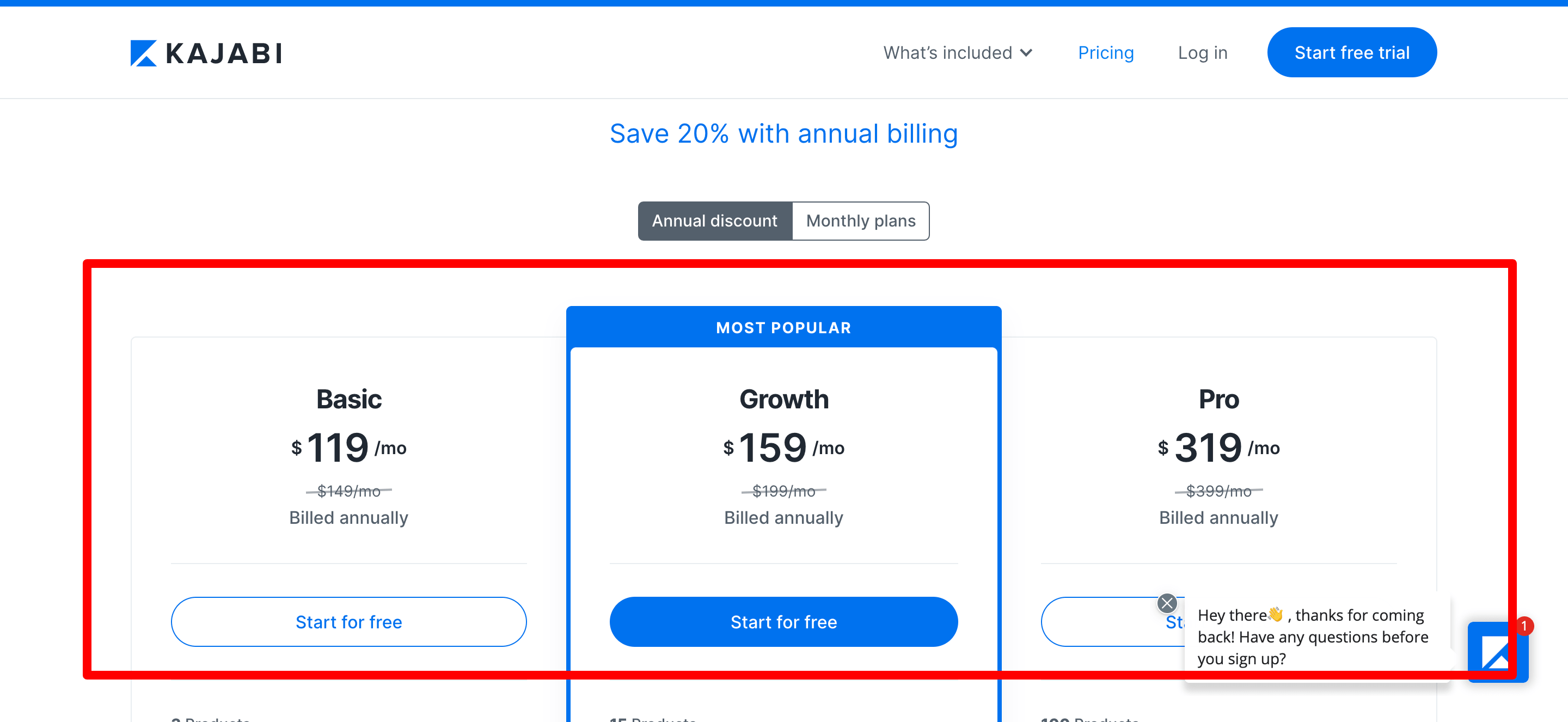 You know the specifications and features of both of the platforms and they both are useful in their own right however; the difference of price tag would enable you to decide which is the best option.
Pricing Plans Of Teachable
The Teachable platform offers three plans: Basic, Professional and Business. The Basic plans is available for $29. The Professional plan is available for $79. The Business plan is available for $399.
Pricing Plans Of Kajabi
Comparatively, Kajabi's plan are starting from $119 and they go up to $319. Of-course Kajabi is more expensive as compare to Teachable, all of the Kajabi's plan come with a 14-days free trial.
Also, Kajabi is great when it comes to value for money. It is a platform that provides your several outstanding features and takes care of several aspects i.e., publishing and email marketing.
On the other hand, with Teachable, you may have to find third-party apps for several tasks. This is a big drawback because, if you're running a business, it is going to a hassle managing all the third-party integrations and stuff.
Moreover, since every third-party vendor charges a specific amount, you may end up paying more.
Bottom Line
This one goes to Kajabi purely because it provides a great value to money offer. With integrate features, customization options, marketing features, there's literally a lot that you're getting for a low price.
So, in the pricing wars, Kajabi has the upper hand.
? Winner: Kajabi
Key Points That You Should Consider Before Choosing Between Kajabi vs Teachable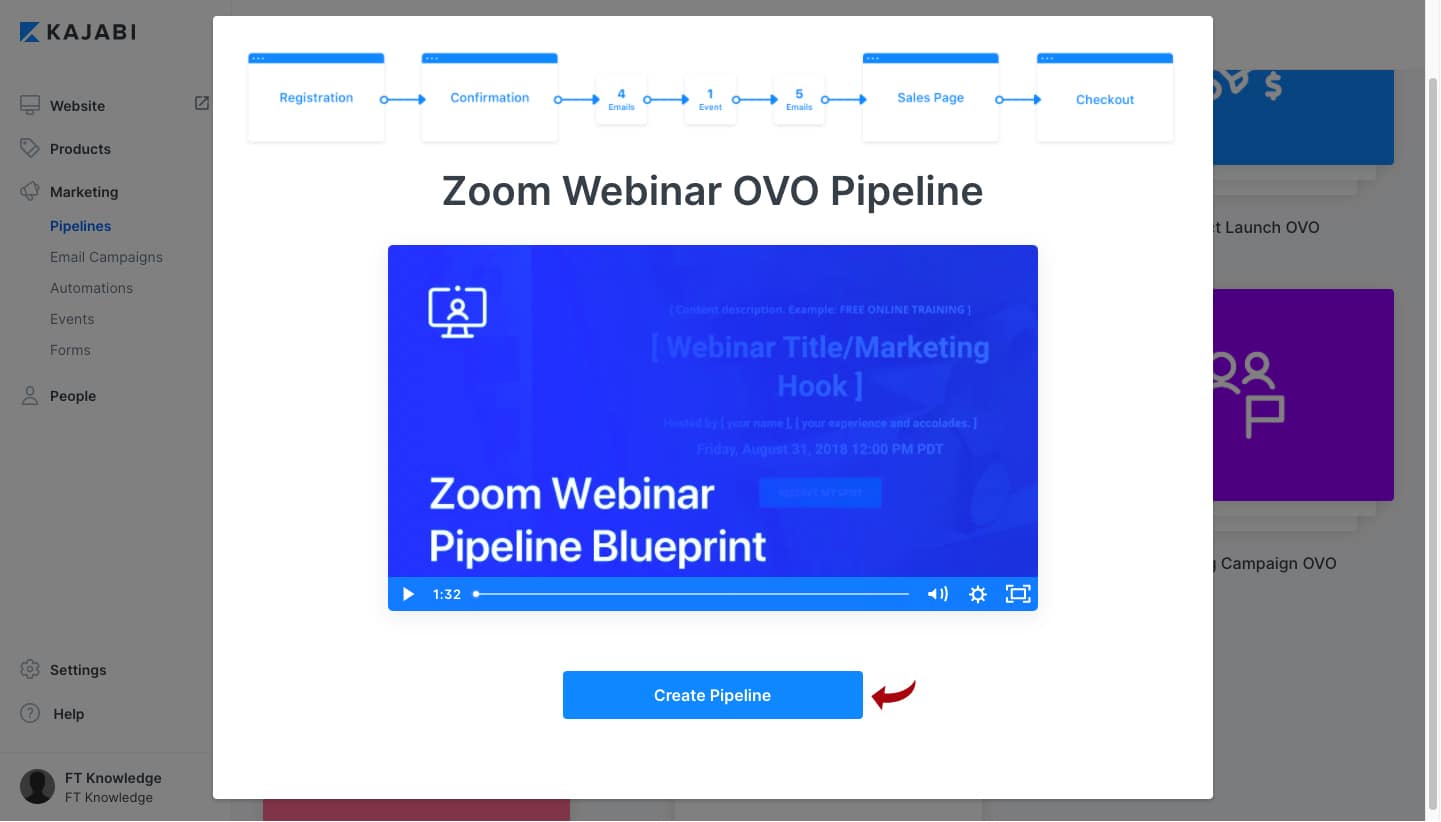 There are several questions that I could've incorporated here however, since I told you everything about both of the platforms, you may already have all the answers to your queries.
Here, I'm going to tell you about some of the most frequently asked questions regarding both of the course creating platforms.
1. How Many Students Will You Be Teaching?
Kajabi's has a different way of charging from the user when it comes to students. Kajabi has create different plans as per the number of students that you'll be teaching.
The numbers of the plans are mentioned below:
Basic: 3 courses and 1,000 active students
Growth: 15 courses and 10,000 active students
Pro: 100 courses and 20,000 active students
Comparatively, Teachable offers unlimited students and courses option. You can also avail this option on the free plan.
2. What Payment Processor Do You Prefer?
Teachable uses the following payment processors:
Stripe.
PayPal.
Mastercard.
Visa.
American Express.
Kajabi uses the following payment options:
3. Want Mobile Responsiveness?
So, you're worried about the mobile experience for your customers. Well, Teachable has a revolutionary app that is only available to iPhone users however, Kajabi doesn't have an app.
Conclusion – Who Wins, Kajabi or Teachable?
That's all folks!
Here are all of the most important facts, figures and stats that you should know before investing into any of the above-mentioned platforms.
Moreover, now that you know everything important related to Teachable and Kajabi, you'll be making a more informed and smart decision while choosing the best platform for yourself.
In our perspective, Kajabi is the winner purely due to its advance features, platforms and much more.
Kajabi offers you all the marketing and customization tools that you need to build an effective and goal-crushing business platform.
From building a full-fledged website to uploading a blog to creating marketing funnels and even automation, Kajabi covers several essential functionalities that you'll be needing.
Hence, Kajabi is declared the true winner in Kajabi Vs. Teachable.
? Winner: Kajabi

Ludjon, who co-founded Codeless, possesses a deep passion for technology and the web. With over a decade of experience in constructing websites and developing widely-used WordPress themes, Ludjon has established himself as an accomplished expert in the field.