When you are building a website you will need to have a domain for it. There are many types of domain registrars in the market. But it is hard to find a trustworthy one and for this reason, a lot of experts and web designers recommend using NameSilo.
Namesilo domain registrar is considered the best one for small businesses. It is also a reliable domain reseller if you want to gain the best results.
Most of the time when people are signing up for a domain, It comes with many hidden charges. When using NameSilo you will be stress-free from all these worries. Following is a detailed review of this domain registrar.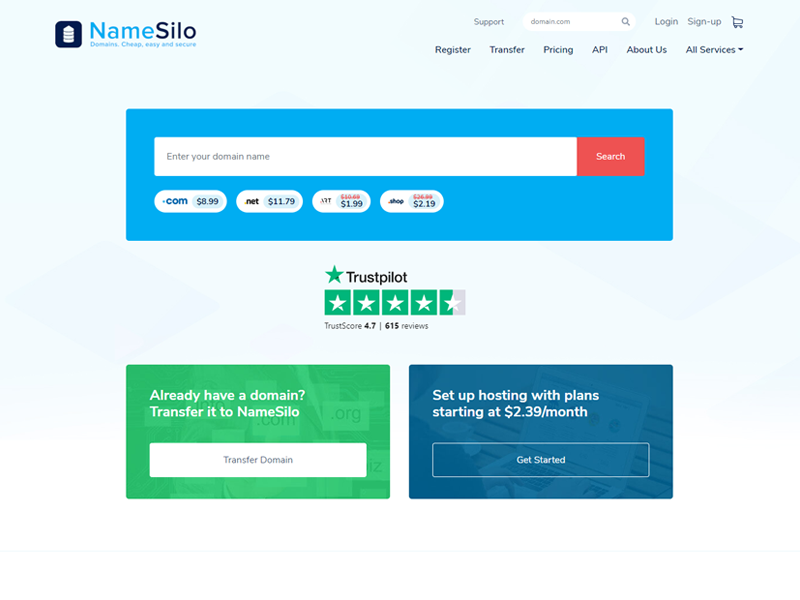 What is NameSilo?
NameSilo is an affordable domain registrar that allows you to purchase domains for your website. This domain registrar has a great reputation and professionals leave great reviews about it.
We all know the importance of domain when it comes to building an online business. It is important to have a website of your own when you are trying to make your identity these days. You can easily achieve this goal but you have to get a domain of your own. Domain registration is an important factor for websites. Domain plays an important role in maintaining the website and its features.
While you are searching for the domains and the potential registration sites you will find many options. Many people try to go to the biggest names for the domain registration to avoid any mishap. Multiple companies are famous for domain registration.
Some of the most trustworthy names include Godaddy or Domain.com but these companies spend a lot of money on their advertisements so not everyone can afford to buy on these domain registrar services. This is the reason why small businesses and startups are looking for affordable companies.
To satisfy small businesses and to provide them with what they are looking for there are some reliable names. These companies don't care about the advertisement. Their main goal is to provide quality services to their customers and affordable pricing.
The best name which is gaining popularity in the market is NameSilo. The motto of this company is that they spend the money on facilitating their customers and focusing on making their features better. If you choose them for your domain registration you can easily notice the best support and competitive pricing of the services. This company started its services in 2010 and it has provided exceptional customer support service to hundreds of customers.
History of NameSilo
You must know a little bit about the company before moving to the pricing structure and pros and cons. This company has its two main focuses including DNS management and domain registration. This company has also started providing the services of web hosting.
This company has surpassed the number of 4.5 million active domains registered. It is considered to be in the top 11 famous domain registration companies in the world.
Namesilo can accept Bitcoin and other cryptocurrencies as a form of payment through Bitpay which makes it very flexible for any kind of customer.
Features of NameSilo

There are many features that this company is providing. The main feature that the company is providing is the registration of the domains with the lowest possible prices. These prices usually start from $0.99 per month. You can also avail of additional discounts if you are buying their services in bulk.
Another amazing thing about the service provider is that their services are safe and secure. They know that customers' data safety is important and they offer effective anti-spam filters for that. You will be happy to know that this service provider has more than 400 domain extensions available on its platform.
The customer support service of this company is exceptional and they are available 24/7 throughout the year. Not many people are aware that this company also provides the services for making a logo for your business. You can easily create an amazing logo for your domain for free with the web-ready files option.
If you want to get the print-ready files along with the multiple color variations and addition of social media cats and the logo then you have to pay $30.
It also has started providing web hosting and email marketing services including the features for a delightful UI design. You can also lookup in advance search and have access to the email forwarding option. The uptime guaranteed when using the service provider is 99.9%. You will also have the key feature of integrated contacts and calendars.
When using this service you can also become NameSilo domain resellers. There are many benefits of becoming a NameSilo reseller. When you are using this service you can also resell the domains you are buying with higher profits. This means that if you are buying domains in bulk, you will get discounts and can easily make a profit. Similarly, if you want to create a customized reseller website you can also use our API. For advanced research, you can also utilize email 300+ TLDs.
Pros of using NameSilo
There are many advantages of using the services of this domain registration company. If you want to stay stress-free when choosing a domain hosting company you should choose this company. Following are some of the most important benefits of using this company.
The best thing that makes it distinctive among its other competitors in the market is the fixed-rate pricing. This means that there are no hidden charges for any kind of service. It is a common observation that many companies charge renewal taxes every year. When you have selected this company you will be paying only the fixed amount without any extra charges.
Since this company has the best reviews from many sources it is considered to be a highly reputable company and customers rely on it.
WHOIS privacy is free for all the domain transfers for purchases and you don't have to worry about your limited budget. Most of the other companies that are providing the domain transfer services are charging a lot. When this is your first choice you will not be paying for anything.
The most amazing thing about this company is that there are domain defenders. This means that you will not be worrying about security. It is a very common thing that whenever a domain is getting registered there are some security threats or misuses that can cause the leakage of data. NameSilo is above all of them and it will not let anything happen to your domain.
There are also the options of account management and DNS management available in this. You can easily add your email marketing services when using their services.
The reason why most people choose this company is because of its completely free domain parking. This opportunity also comes with 100% of sharing of the advertising revenue.
Another amazing thing about this company is that they offer to handle all kinds of TLDs and gTLDs including common and new without any restriction.
It also offers excellent API access to improve the services.
Cons of NameSilo
Nothing can be 100% perfect in this world and there are always pros and cons of using these. Following are some of the major cons of using the services of this company.
The major disadvantage when using this server is that you will have only access to chat or email. As there is no option for calling the company or professionals directly to resolve the query.
The service needs an update specifically for the web interface because it is not that much cooler or appealing to the eyes. This can also leave a negative impression on the users.
The pricing structure of NameSilo
When it comes to the review of a domain providing services the main thing that matters is the prices of the company. You will be surprised to know that even after providing high services this company has still kept its pricing structure affordable. The reason behind this is that this company cares for small businesses and startups. Another amazing thing about the pricing structure is that it is currently open for public access as well and you don't have to contact anyone to know about the services.
Once you have used the service you can also check the prices of the other service providers and do a comparison between the rates. You will be amazed to know that even with the high-end services this company is still providing the best affordable pricing.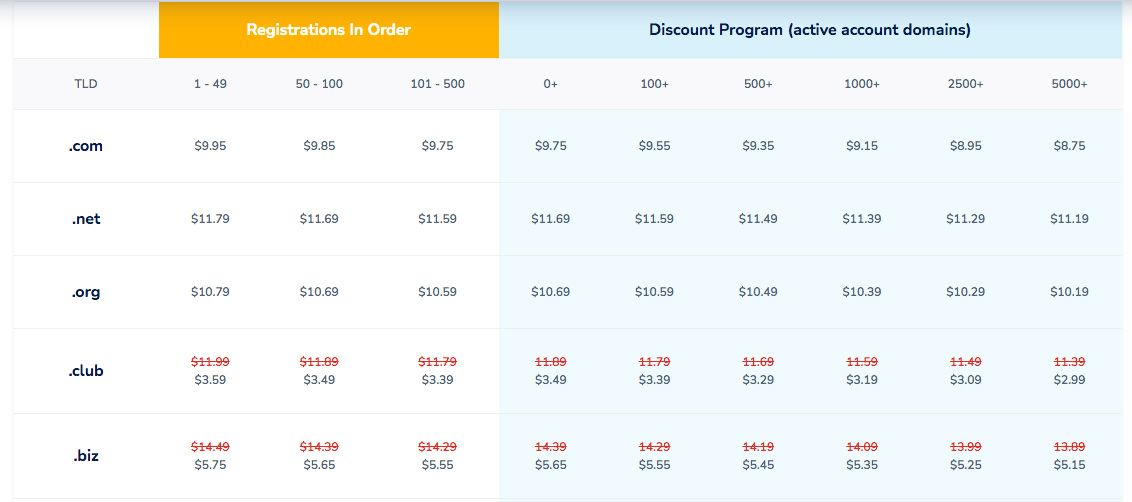 When it comes to the pricing Namesilo will give you discounts on bulk domain name registration as you can see in the above table. So for example for one order of 51 new domain registrations, you will get a promotional price of $9.85 for each new .COM domain.
Another amazing feature about this company is the privacy and protection services that are completely free and you will be saving a lot of money if you choose this service provider instead of other domain registrar companies.
When it comes to the web hosting services of NameSilo you can choose between the three plans.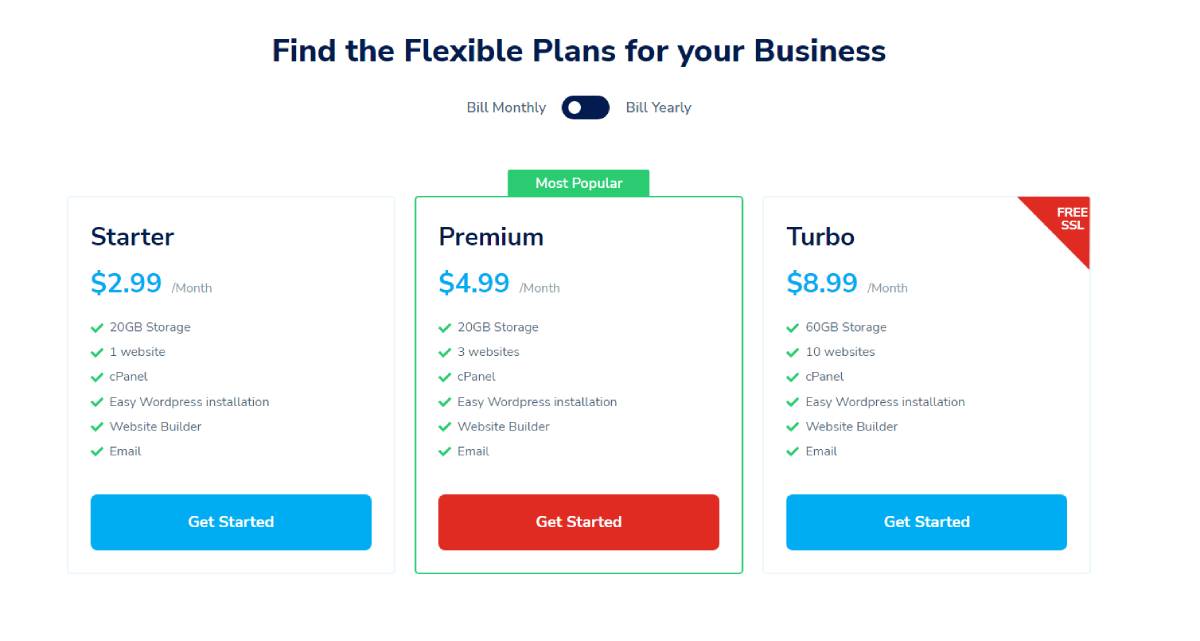 These plans include a Starter, Premium, and Turbo plan.
If you want to avail of the startup plan you will have to pay $ 2.99 per month. By choosing this plan, you will have access to 20 GB storage with one website, a free cPanel, and easy WordPress installation.
You can also avail the services of website builders and email by choosing this plan. If you want to get access to three websites with the same services then you can choose the premium plan. For a Premium plan, you will have to pay 4.99 dollars per month.
If you want to get access to 10 websites and storage of 60GB you can avail the Turbo plan.
NameSilo security services
One of the best things about the NameSilo security is the availability of SSL certificates. This secure sockets layer helps protect the domain of your website from identity theft and fraud.
There are three types of SSL certificate plans available for your business. You just need to pay 9.59 dollars per year to get the positive SSL certificate. This option is famous in the market because of its cost-effectiveness and you will also get a validated domain with it.
The certificate will be issued immediately and will be available 24/7 along with a site seal which will be free. For getting your hands on an Essential SSL certificate, you will need to pay $15/ year with the same services mentioned above.
You will also be getting a validated domain along with an unlimited server license. Daily website scanning and PCI are also available for this certification. Last but not least you can also get an Extended Validation SSL by paying $99.99 per year. This will help you in getting a green address bar along with the name of the domain and organization shown on the certificate.
Using these SSL certificates is important for creating a unique identity for your website and a better SEO ranking. Choosing these certificates is also helpful and having the best encryption for the domain of your website and protecting sensitive information. It will also help in protecting the domain from cybercrimes.
Advanced tools
Along with its domain registration, web hosting, and Email Marketing Services, there are many advanced features available for great results and functionality. Some of them are given below.
You will have the option of accessing the custom WHOIS records to manage the reseller program. This tool includes the name of the reseller, its email, and the WHOIS footer of the customer.
From the online portal of this management service, you will also have the availability of DNS management tools. These tools include CNAME, TXT, MX, SRV, and many more.
The option for WHOIS privacy is free when using this service provider however if you sign up for any other service you will be paying for it.
100 forward emails are free to send to the customers and this option is available for every domain without any restriction.
You are in charge of either running an ad on the domain or putting it on a landing page. Keep in mind that you will be getting 100 percent of the generating revenue.
There is a two-factor authentication process to improve the safety of the domain. This is not only limited to your domain but you will receive the email notification or SMS notifications for your account signing as well.
If your customers or on your domain then there is a feature of domain forwarding which means that when visiting your domain they will be automatically forwarded to another registered domain of yours. The option of domain forwarding improves your revenue.
There are options for using sub-account tools and you can avail them for accessing your account.
If you ever face any request that includes a bogus transfer request, it will be immediately blocked because of the presence of a registry lock.
User-interface, support, and functionality
NameSilo is trying its best to provide a user-friendly interface to its customers. There are still some points where they are lacking but overall it is an amazing platform. The interface overall is easy to use and because of the domain-dependent security feature, you can avoid any fraudulent changes.
If you have any queries regarding any function of the service provider you can readily contact the email and chat support. For startups and small businesses, there is an option of buying these services in bulk to reduce the charges. Overall the reviews of the users choosing this service are great.
Conclusion
NameSilo is one of the most trustworthy and reliable domain registration services. With the help of this service, you can have an amazing and functional domain for your website. The services they are providing are affordable and can be easily purchased. They also provide services for email marketing, SSL certificates, and web hosting.
There are multiple plans to choose from and you can choose the one that suits your budget. You will have the benefit of getting free protection and privacy services. With their reseller program, you can also get profit. The major disadvantage this service has is the unavailability of the call support option.

As one of the co-founders of Codeless, I bring to the table expertise in developing WordPress and web applications, as well as a track record of effectively managing hosting and servers. My passion for acquiring knowledge and my enthusiasm for constructing and testing novel technologies drive me to constantly innovate and improve.
Expertise:
Web Development,
Web Design,
Linux System Administration,
SEO
Experience:
15 years of experience in Web Development by developing and designing some of the most popular WordPress Themes like Specular, Tower, and Folie.
Education:
I have a degree in Engineering Physics and MSC in Material Science and Opto Electronics.