If you are planning starting a fitness blog, you are thinking to start the most gratifying job of all time. But, the truth is it needs hard work and if it's of your interest then definitely you will find it amazing.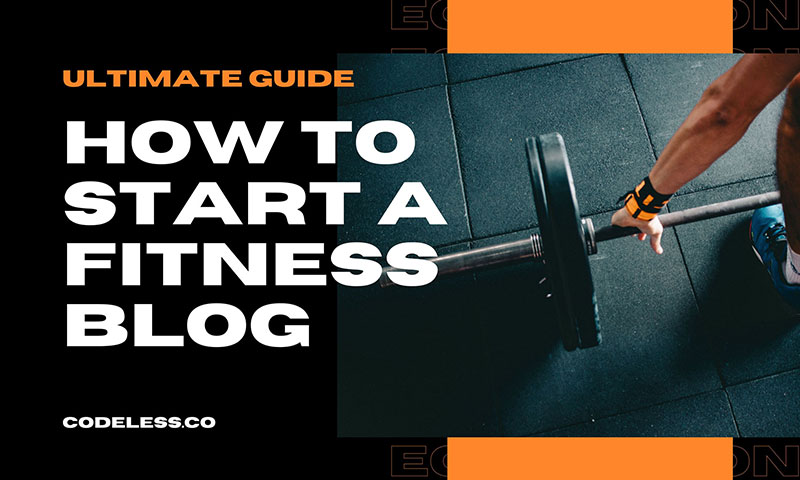 Before starting you need to pen down all the particular requirements that you need to fulfill for your blog. Such that you are not overwhelmed with the number of tasks.
A fitness blog works for you as a tool where you can share your expertise, information, and best advice with other people. 60 percent of consumers say blog posts are valuable in the early stages of the buying process.
You can include multiple items in your fitness blog ranging from training techniques to fitness news and diet tips etc.
Above all, start a fitness blog can help you build the authority of your brand for the fitness business. It's never been easier to build a website for your fitness business, including blog. Here, you have a platform where you can build trust among your audience, like, MAGICALLY!
We brought this post to make your fitness and health blogging smoother and to learn fitness blogging in 2023.
How to Start a Fitness Blog
Essential tips before starting a fitness blog & a step-by-step guide on how to create a fitness blog on WordPress:
1. Find a Fitness Niche (Fitness Blog Ideas)
First of all, before starting a fitness blog, decide the best topic you want to start with. It will be the topic around which your fitness blog will focus. Having a particular niche instead of a general blogging topic helps growing fast.
It will make you an authority of the topic. But, choosing a niche would never prohibit you to use other topics.
How to find the most searched keywords and select the niche
Use Ubersuggest specializes to provide the best and free SEO solutions for you by generating specific ideas of keywords. Select the niche with the keyword that is most searched.
Ubersuggest suggests the best keyword. Here's how you can find your required keyword with Ubersuggest:
Type the keyword in here;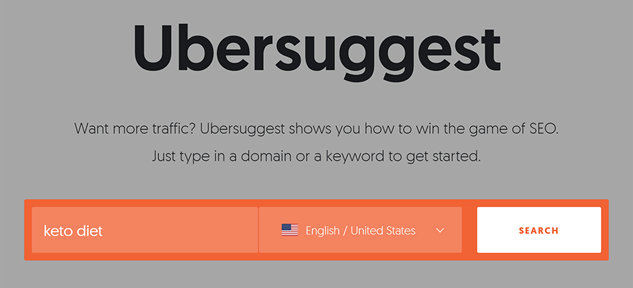 Next, Ubersuggest will search the tailed-versions of your typed terms.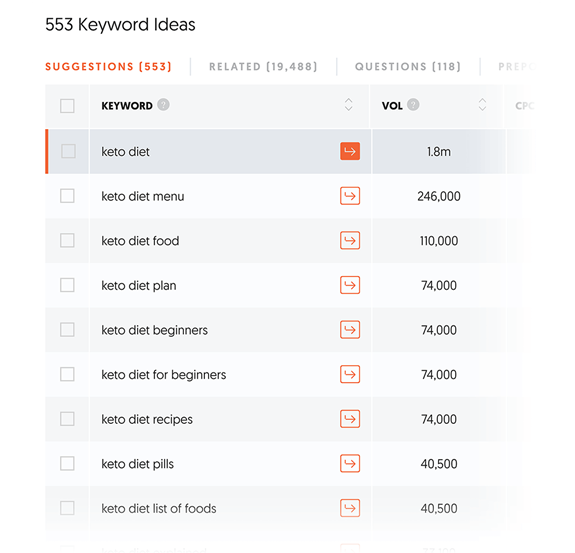 It gives the information about the SEO competition, PPC competition, average CPC, and monthly volume of search. Like this;
Assess the SERPs before selecting the term, dig deeper, and then choose the keyword. This post will show you how to do that with Ubersuggest. However, taking a high-level overview of the scan is suggested.
Use the feature of "different keyword types" inside the keyword ideas.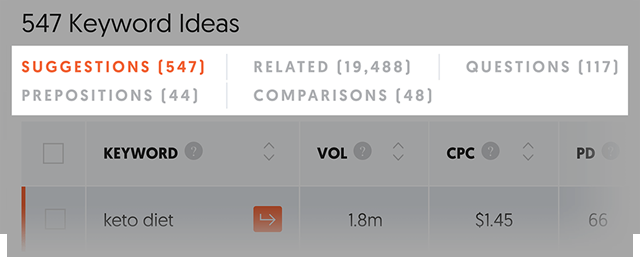 Ubersuggest displays a list of suggestions for you to select a keyword.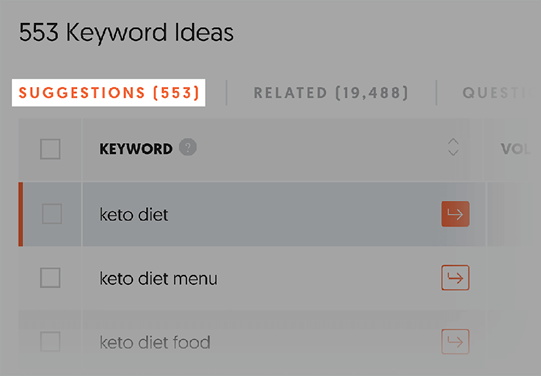 If you are certain about your topic, this list of suggestions would be a great help. But brainstorming a new content and keyword idea is simply overwhelming. This is because these suggestions are generated from the keyword that you searched for.
This is also the most wonderful feature of Ubersuggest that it is easy to generate different keywords with Ubersuggest.
It helps generating "related" keywords to the seed keyword but that may not be about the same topic. Such as, if we type word "keto diet" the following related terms may appear: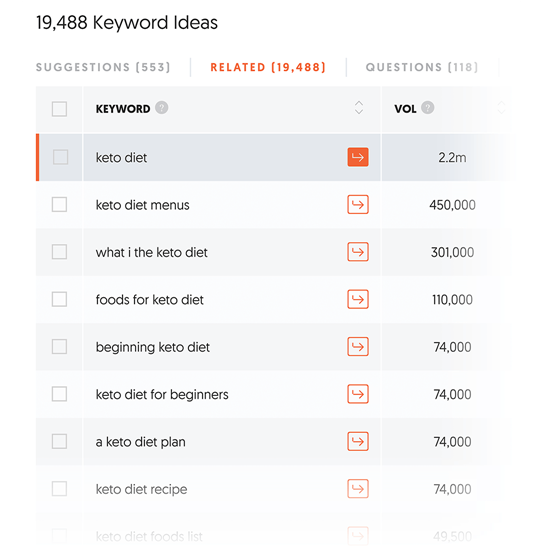 You may also find keywords in question format which is probably a rare case with other keyword searching tools. For example if the keyword "email marketing" is searched following suggestions would appear: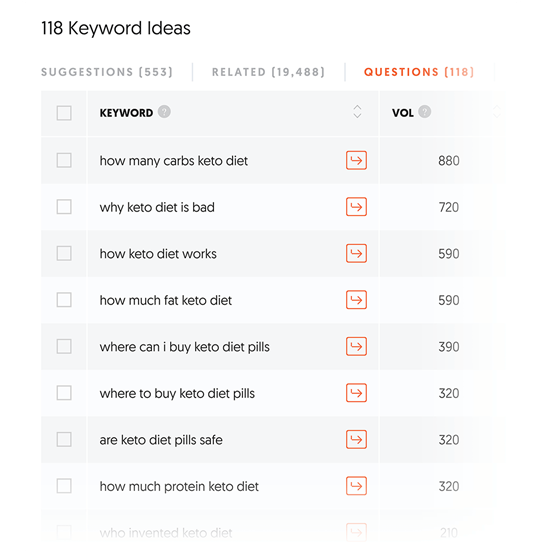 It may also give preposition keywords where the keywords suggest two concepts. Such as looking for "SEO tools for Excel" suggested "SEO tools for X."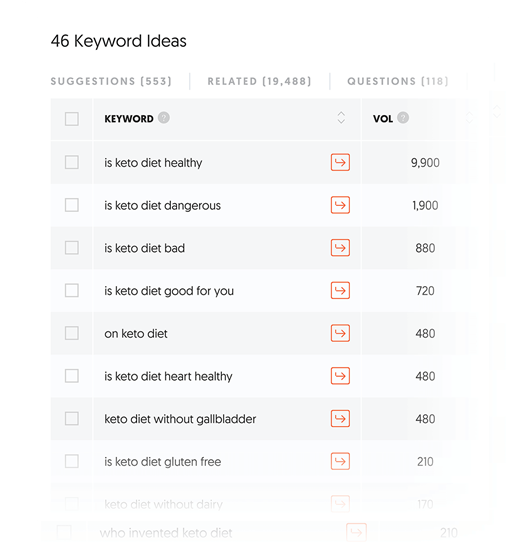 A "comparison" feature in Ubersuggest generates a list of keywords with "and", "or" or "vs" terms.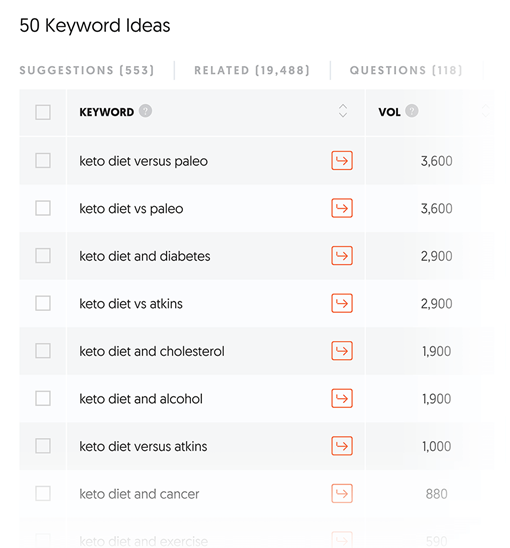 Ubersuggest gives you an overview of the data related to the type of keyword you enter.
Therefore, you may not want to enter a number of keywords. The keyword overview report gives you the following information:
Search and overview volume trend: gives you the basic information of the keyword use in the last 12 months period.
Domain scores and average backlinks: tells the exact number of backlinks that are needed on the first page.
Content ideas: for a particular topic which can get maximum social media shares, backlinks and drive traffic.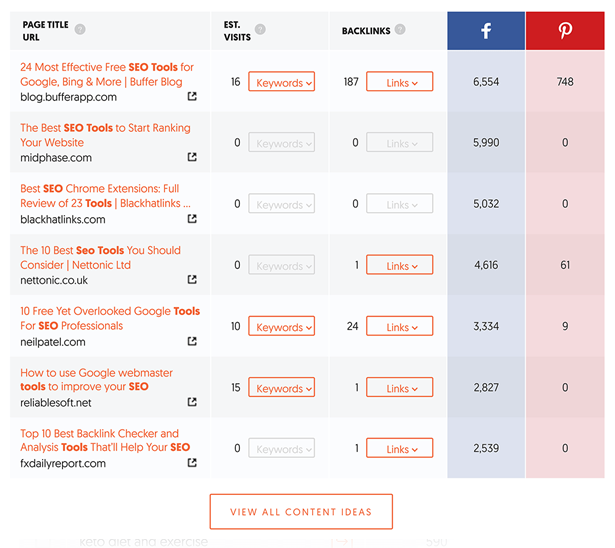 Overview of SERP: can be seen by clicking on the SEO Difficulty option where you can see the top 100 ranks of that term. It also shows the estimated traffic, social shares and information on their links.
It also gives a short overview of the traffic.
Organic keywords: it shows the total number of keywords that are ranked on this site. Just remember that a huge ranking may not generate huge traffic. A Google CTR stats shows that the top 3 ranked results in Google search get the least clicks.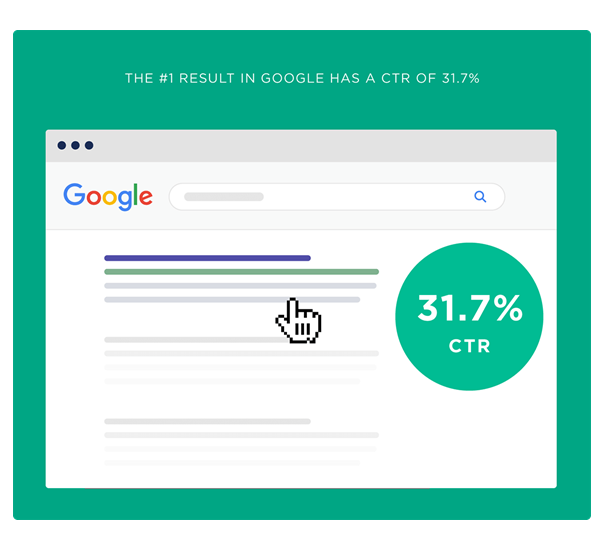 How to get more traffic to my fitness blog
Therefore, it is better to rank for numerous keywords. High organic keywords means higher ranking to generate traffic.
However, it is good to rank on the top in terms of the keywords instead of ranking at #10 for different keywords. Ubersuggest offers a breakdown of ranking distribution.
2. Choose a domain
The success of your business depends on the right domain name. If the domain name is inappropriate, it may cause hassle or harm in the later stages in creating search rankings or brand. Therefore, it is imperative to choose the best domain name.
Choosing an appealing name for a website is the foremost requirement. Here are some tips to choose a domain name.
Prior to starting a blog, choosing a correct domain name is overwhelming as there is no other option for success. Here's a frameworks which can be followed to choose the best domain.
How to choose the best domain
Choose the domain with .com
Today, there are several extensions of domain name from original to niche extensions. We suggest you choose a .com. Although, there are more relevant extensions that match with your niche, but .com is the most credible and established extension for a domain name.
Also, these domains are easy to memorize. Most of the end-users accidentally type ".com" with all the domain names, so keeping it limited to dot-com will be more practical.
Rush to get it
Hundreds of new domains are created every day and the names are registered. As long as you find a domain name of your choice, don't wait, just get it.
If you act slowly, somebody else will go ahead and register the domain.
Domain name generators
Internet has over 360 million registrations of domain names. Therefore, many people usually say that all the good domains are already gone.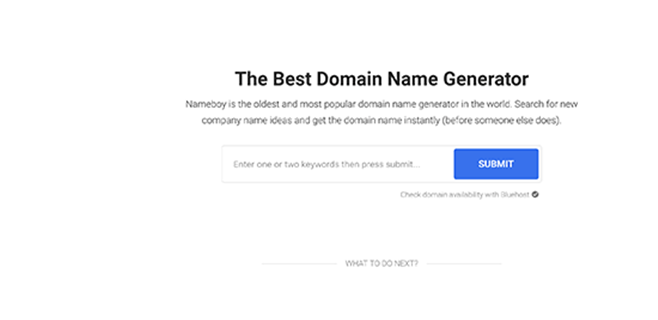 Research the best domain name
Before registering, research if the same name is in use by another business. Trademark search can help find out the exact name that is already a trademark.
Performing Google search or checking the availability of the name on other platforms may also be helpful.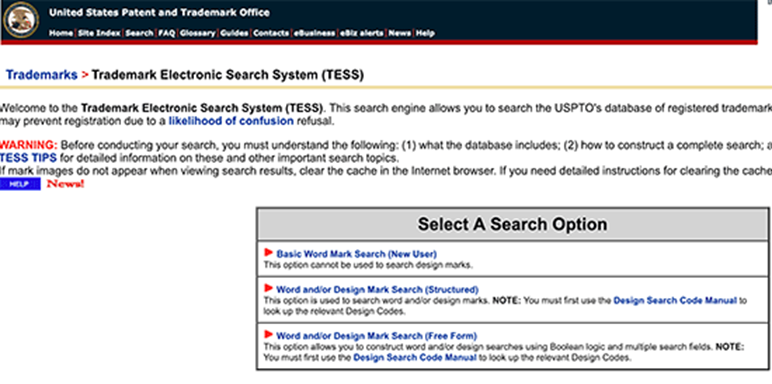 A matching or similar name can be confusing and impose legal implications.
Allow expansion
It is good to choose the most relevant domain name which suits your niche. In this way, the users will have the idea about the type of website your will present. But, for a long term benefit, it should not be restricted to include a wider topic.
Such as, a fitness expert selects a domain name like ketoperfect.com. But in future they may want to write blog about other diet plans too. The domain name will prevent to attract the target readers of any other niche.
Moving the website to another domain will be a frustrating task which can cause difficulty and failure of search rankings. So picking a flexible domain name is always advisable.
Do not use double letters
Do not choose a domain name with double letters. Having a domain name with double letters may increase the chance to loose traffic due to typos. Such as, dresssew.com may be prone to typos.
With single letters in domain name, it will be easier to remember and type the domain name.
Do not use special characters
Never choose a domain name with special characters like hyphens, colons or slash. They may represent spam domains which cannot be associated to any working domain.
Domains with special characters are also prone to typos. If you choose to use special character in your domain name because the desired name is taken then chances are that your visitors will end up landing to your competitor's site.
Keep it brandable
The domain name for your blog should be unique. In this way, you can stand out among the readers' mind. It's better to search for other blog names with the niche to get an idea of what domain names are already in use.
A research before selecting a domain name will avoid you accidentally using a copyrighted name of another blogger. Also, it is advisable to choose a brandable domain name.
Brandable domain name means the name should be memorable, catchy and unique.
Make it easy to spell and pronounce
A domain name should be easy to write and speak. Especially, if you plan to use the domain name as professional email address for business then obviously it has to be easily understandable.
Keep it short
Don't go overboard for keywords which may increase the length of a domain name. Therefore, a memorable and short domain name is better.
A good domain name should be no longer than 15 characters. Longer than this are difficult to remember for the users.
Also long domain names lead to typos and ultimately the loss of traffic from the website.
Search domain name with keywords
Using keyword in domain name tells your search engines about the niche of your website. Keywords in the domain name help in ranking on Google search along with good user experience and quality content.
Using target keywords to find a good and available domain name is very difficult. You need to make different combinations of keywords and be creative with other words too to make the name stand out.
3. Choose the blogging platform
It's the world-famous control management system. There are thousands of bloggers who are waiting to write. The platform provides over a hundred templates for free with thousands of plugins along with an interface to indicate creativity. It is SEO friendly and is easy to upgrade, edit and install.
The themes can be previewed without being purchased or activated. The account does not provide you to master the operating and editing of the posting before presentations.
It also does not provide you hosting for free. A hosting company will be contacted if you want to purchase a domain name for you.
Wix is the best website builder according to our research of the internet market. It is because it offers cheap options. Wix gives an option of using both the drag and drop tool as well as design assistance.
There is a parallax scrolling feature with front plane, and site background. A slider allows to display images in different galleries. The Wix Pro Gallery further improves the images' appearance.
There is a mobile version as well. It is an ideal website builder for small business owners, bloggers and people who have no experience in designing.
Ghost is a powerful platform that helps creating or publishing online blog. It offers an extensible editor that enables seamless experience of authoring that allows focus on one element i.e. content creation.
Ghost not only provides you with a formatting tool but also the dynamic blocks to edit videos, and image content.
It is built open standard which make it fully extensible. This platform allows robust and flexible content management with tagging functionality which help in the categorization and configuration of the content in layers. This feature is known as dynamic routing to design the website.
It's a comprehensive platform which allows users to build websites according to their will and customize it with the best analytics and marketing tools.
It offers the websites such as online portfolio, business website, ecommerce shop and a simple blog. It is easy to use with a simple click and point function to customize all the features. It is a mobile integrated website builder, impeccably integrated with social media and SEO friendly.
Weebly is one of the most popular creator in the world. It owns more than 25 million websites throughout the internet. It provides a great tool for small businesses and individuals either they are new or advanced users. The platform has certain unique features which makes it suitable for developers.
Weebly offers dozens of free themes in different categories such as Blogs, Event, Personal, Portfolio and Business. It is the easiest tool of its kind as the elements are categorized as groups of commerce, media, structure, basic and more.
Webflow is a responsive website builder which is very attractive. It is somewhat between the modern and traditional with a power and level of customization being with the host.
This is the reason why mostly web designers use it. It offers thousands of beautiful templates that are suitable for dynamic content and ecommerce. Moreover, there is much room for design customization without codes.
Choose WordPress for starting fitness blog
So far, WordPress is the most famous source for content management system (CMS) which supports over 75 million websites. WordPress is free to upgrade, deploy and install.
It offers thousands of free templates and plugins that power simple yet flexible interface. Ultimately, the overall deployment time and costs are reduced.
Here are some reasons for why we suggest WordPress as a top quality website builder.
Low maintenance and setup costs
WordPress incurs fewer maintenance costs, customization and setup as compared to any other CMS like Weebly or Wix. In addition to this, WordPress developers and designers are easy to find in case of more development or customization.
You never get stuck with proprietary CMS or static website that is costly even after initial deployment.
Anyone can use, including developers
WordPress was actually developed for the non-tech savvy bloggers. Therefore, it offers the easiest components for user interface. Moreover, there are recorded and written manuals for easy learning of the WordPress functions. The teams behind the huge CMS deal all the customization and complexities of the website.
You only have to update widgets, posts and pages to customize your website. A premium plugin offers clients with both videos and written manual of WordPress that helps in on-board CMS.
Highly flexible with great customization
WordPress fulfils the demands of several users that's why it is popular. It offers flexible framework that allows the developers and designers with modified applications and layouts. The websites are not limited by enterprise extensions in combination with the user-generated extensions.
WordPress is either self-hosted or externally hosted. Therefore, you do not have to pay a cost of upgrading, installing or downloading. Moreover, it offers more than over 50,000 plugins for free including SEO optimization, contact forms and slideshows etc.
The premium plugins deployed on the website offer free consulting licenses such as easy website backups, video manuals and restoration functions with no extra charges.
Above all, WordPress has the most popular and largest market share for CMS and powers more than quarter of all the existing websites in the world. Therefore, most of the users are already aware of the CMS while building a website.
Let's check now a step-by-step guide on how to start a fitness blog using WordPress.
4. Choose hosting and configure
Hosting regulates all the site's administration. It is the place where WordPress is installed.
Purchasing hosting
Hosting is an online place where all the data and files of a site are stores. The hosting company owns online servers that let you use this space.
A reliable hosting company is required for a blog start-up. It's the place that nourishes your blog. It is the space where all the content related files are placed. Your blog will be in a huge problem if the host is problematic. Thus, ensure outstanding customer support and services from your host.
WordPress suggests Bluehost as a hosting company. It costs only $3.49 per month. Their customer support is best with the most reliable hosting service at such an insignificant cost. You are fully authorized to cancel your subscription if you are unsatisfied with 30 days of subscription.
Configuring Bluehost with WordPress
There are a few simple steps to configure your BlueHost account. These are detailed steps with the most information for support.
Step-1: Directing to BlueHost. Click 'Get started'.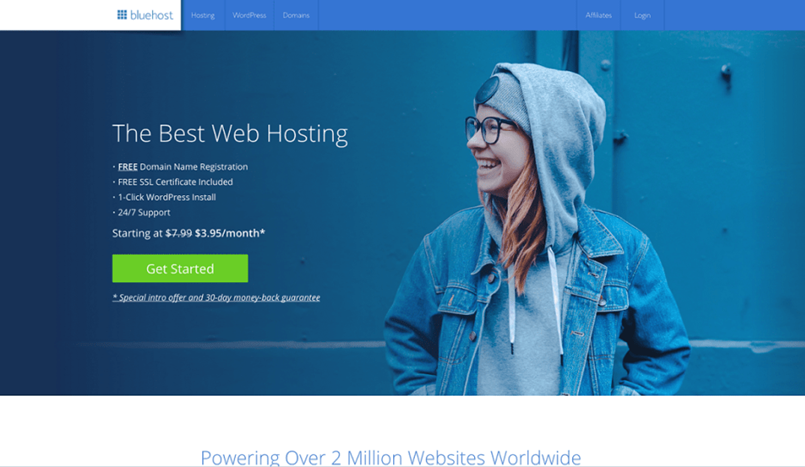 Step-2: Here's the plan that you can select. The simplest and cost effective one is the basic plan in the start. You can simply upgrade your hosting plan as your website grow instead of moving all the files to a new host.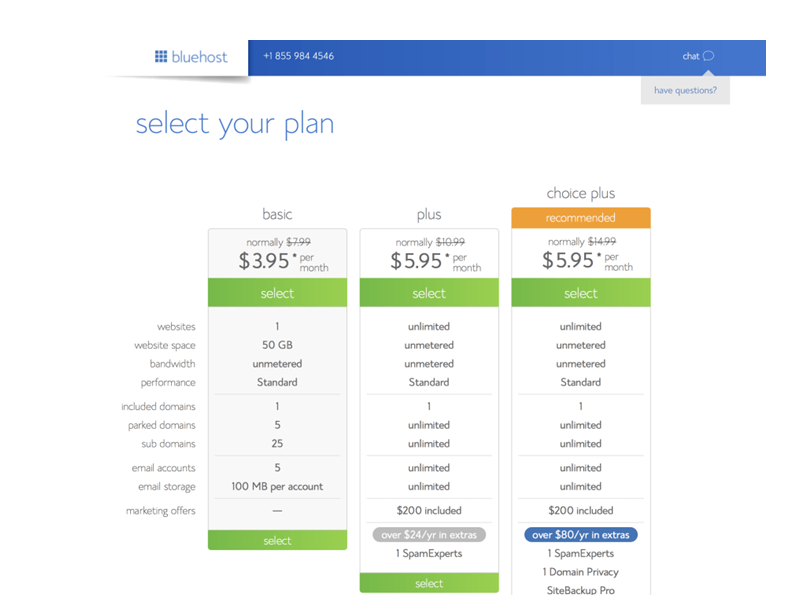 Step-3: You have already chosen a domain name. You can register a free domain name with BlueHost accounts. Select the "new domain" option to register the new domain and then select "next." Go to the "I have a domain name" option if you have already registered a domain name.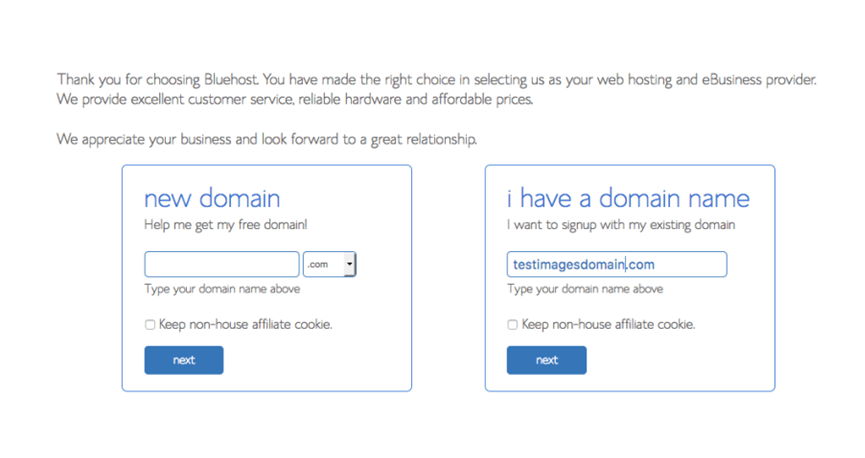 Here's a treat! If you have not selected a domain name yet, process with other steps and then come to this step later on. Move the pointer in such a way as if you are leaving the page (not in real, though). In such a way, a pop-up will appear with the notification "Can't decide on a domain name? Choose later". BlueHost will allow you choose a domain name later.
Step-4: Enter the account and contact information.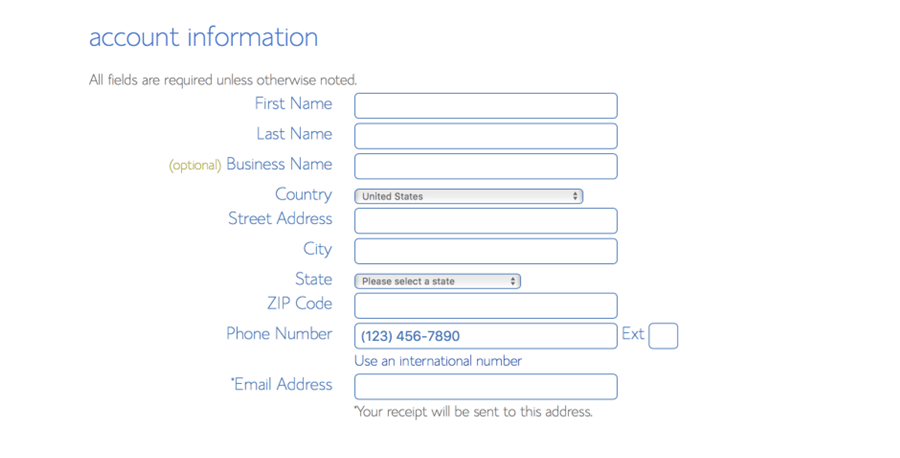 Step-5: Go tothe "package information" option. Here are some payment plans. A 36 month plan gives you cheapest rates. For this plan, you have to pay the entire amount together but you will get a significant discount on each month payment.
This is called prepayment for hosting. If you choose to unsubscribe after 30 days, this payment is refundable. You can opt for another option if the upfront price is unaffordable for you. For example, prepayment of 12 months.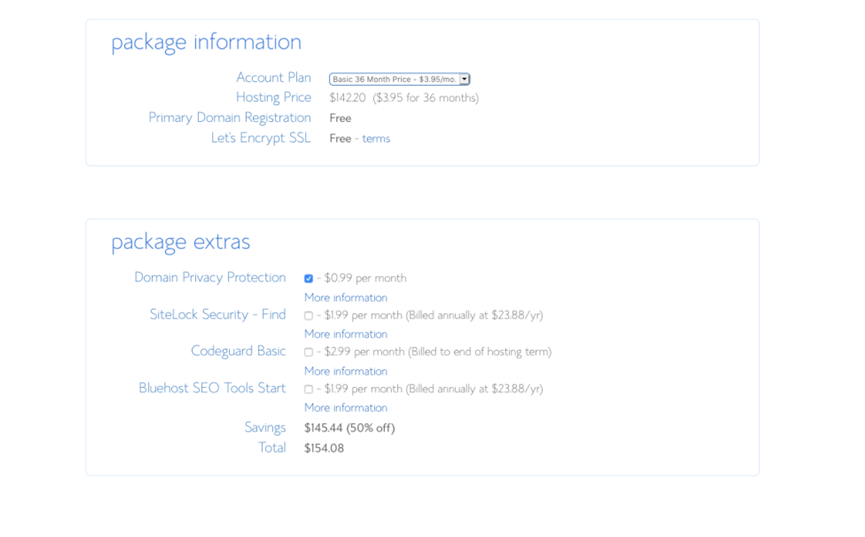 In addition to hosting space, BlueHost also provides useful services. One of the most important one is the privacy service; "Domain Privacy Protection." It secures almost all your privacy information including restricting public access to name, address and phone numbers.
You can access this list anytime during your subscription with the host.
The most recommended services are the security and backup. The backup system allows you access the content saved with your host anytime and from anywhere.
Step-6: Add the billing information and tick the box for agreeing with the "Terms and Conditions". Select "submit"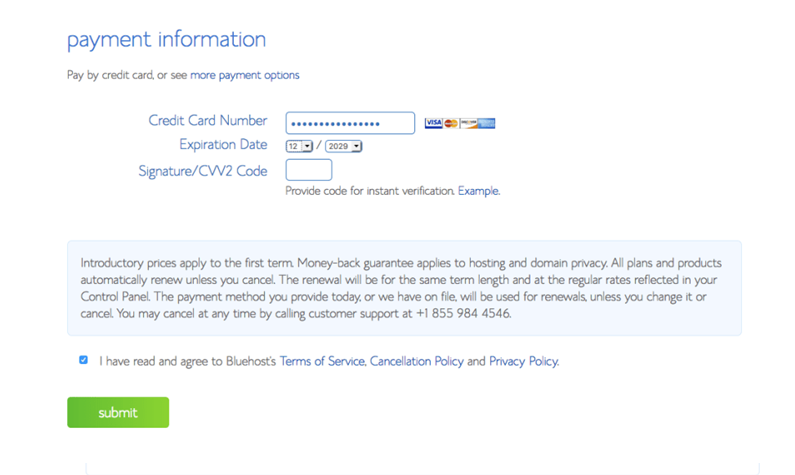 Step-7: You can select more services in this step. But they are not restricted to this step only. Instead, you can always add them later. If you do not want to add now, proceed with "No thanks"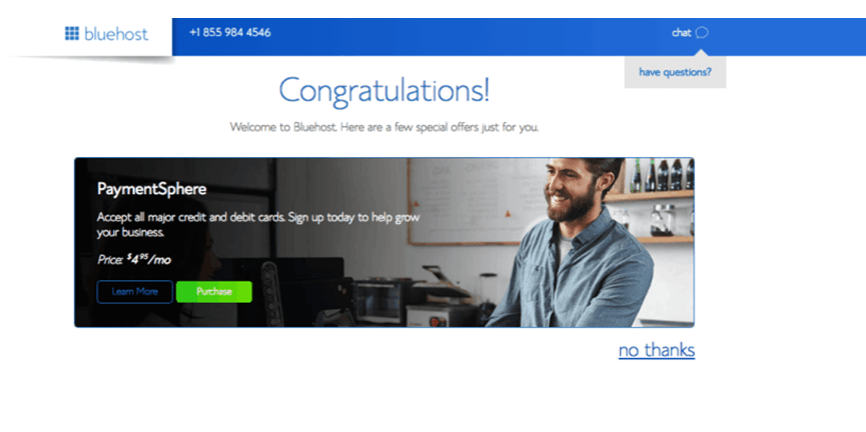 Step-8: Set a password in this step

Step-9: Set your BlueHost account password. It should be strong by including numbers, capital letter and symbols. It will make your website protected. Click Next after checking "Agree" to the Privacy policy and terms of services.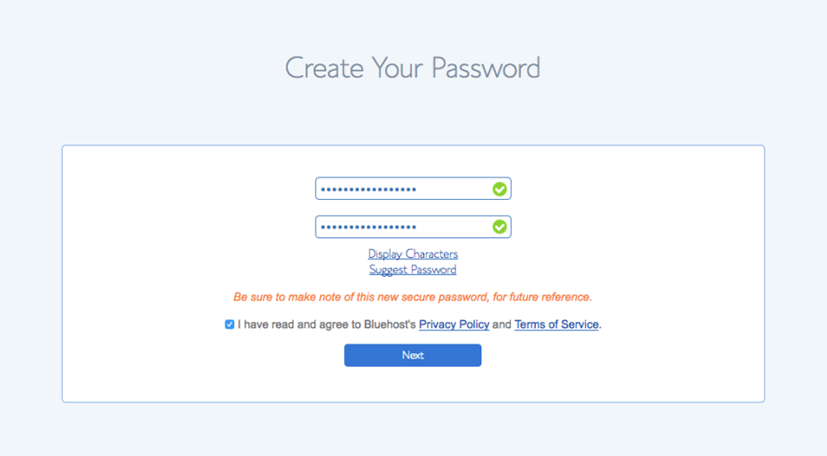 Step-10: Login to your account with the newly created password and then click "Log in".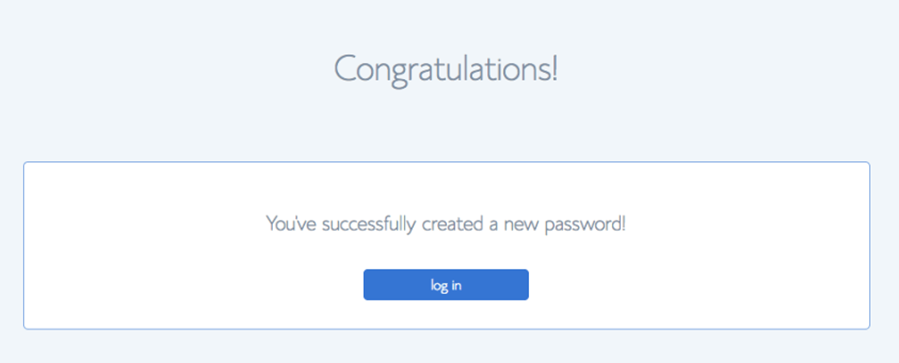 It will direct you to the Bluehost portal of "hosting."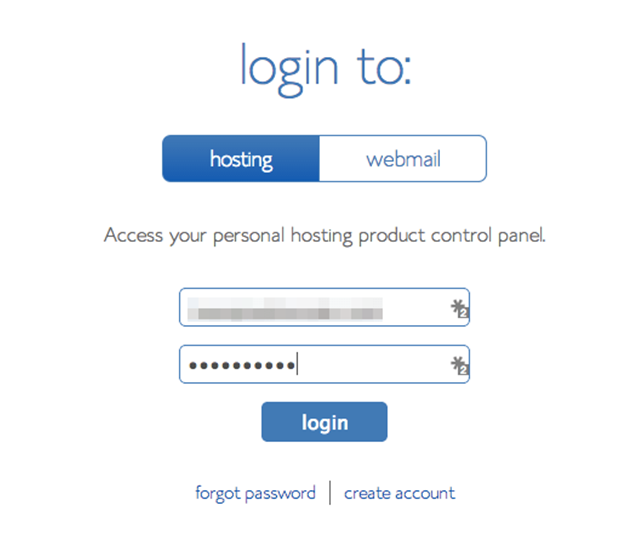 5. Install WordPress
BlueHost automatically installs WordPress. It gives you total authority over your theme and site. The only limitations to your WordPress is due to the hosting plan that you selected. After the complete installation, the following window will appear;

Select "start building" option. You will be directed to the BlueHost admin site.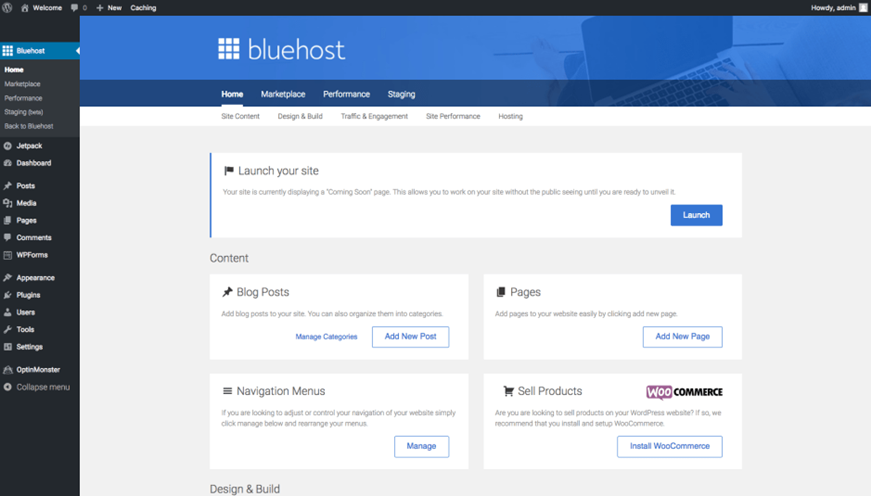 To further configure WordPress, select "Users" from the sidebar menu. You will find an option of "add new" as you hover over it with the pointer.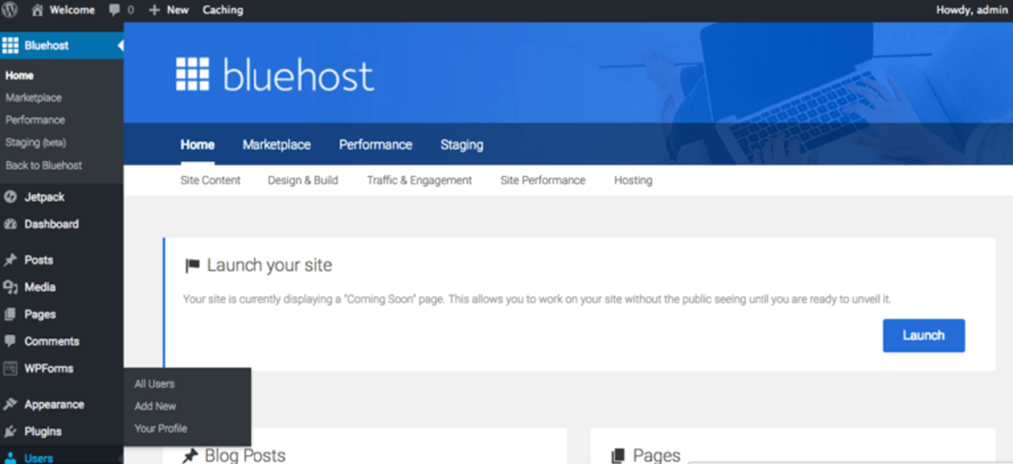 Next, set the administrator's role with the required information. This is the new user it secures the "admin" name to avoid possible hacking. Therefore, it is suggested to not use it.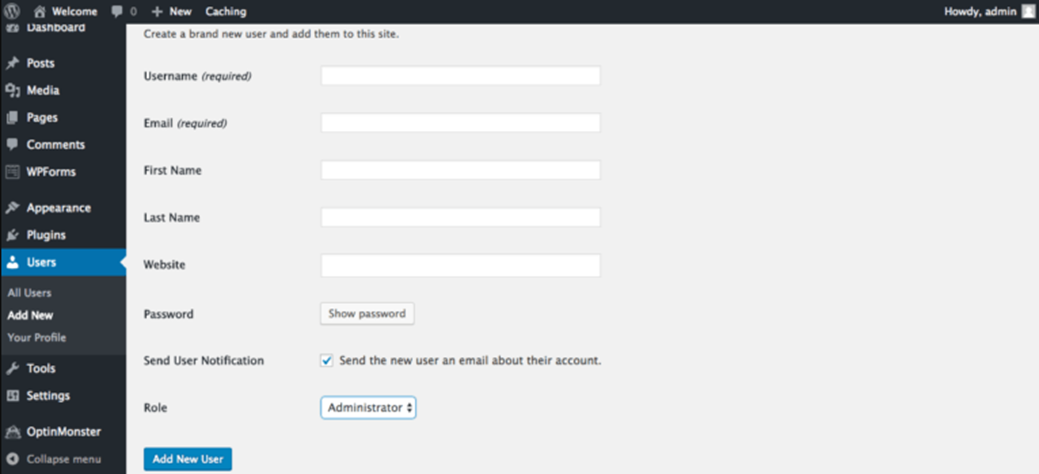 Clicking "Show Password" will auto-generate your password. Save it somewhere else by copying and pasting. This password will be used to log in to your WordPress website. You can later change this password and username by going back to user settings and "change password".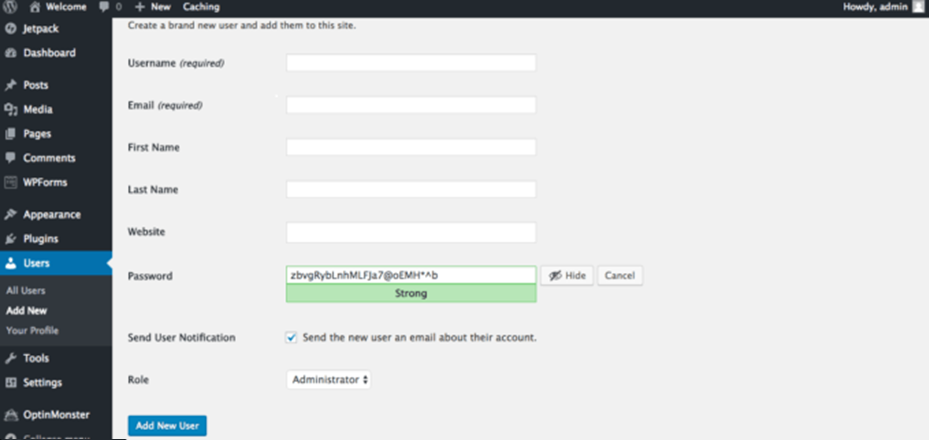 You can login to your WordPress account with http://your-site-url-here.com/wp-admin. Here, you will find a login form. Enter the credentials of the user you just created.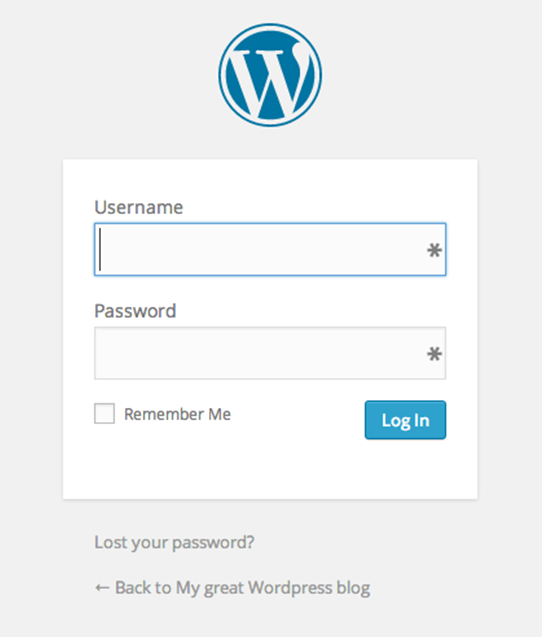 Now, you are directed to WordPress dashboard where you can control all your settings including plugins, themes and users.
That's it! You are ready to start your blog!
Starting fitness blogging with WordPress
After purchasing a domain and hosting, you can start your fitness blog. If you choose Bluehost, you will automatically be directed to set your login and password after the purchase. It is quite simple because everything is set at the backend.
As you log in, the backend of WordPress would look like this. All the menu options and tools are seen on the left-hand side;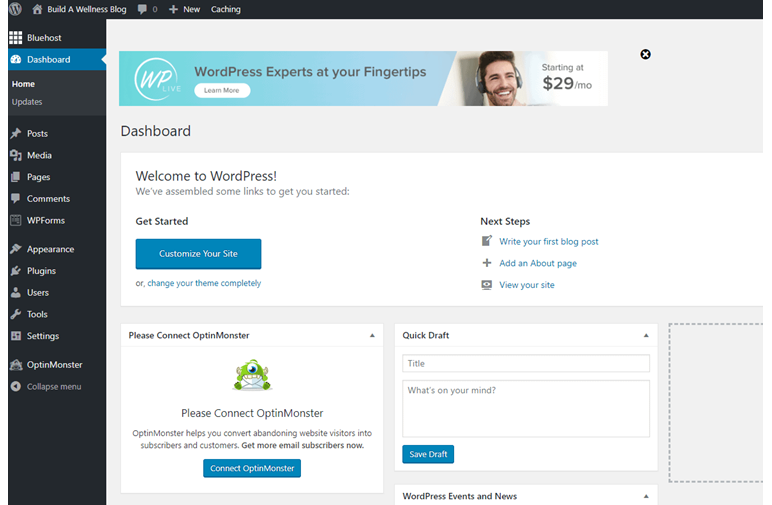 Customizing permalink
Permalink structure impacts the SEO. So, it should be sweet and short that has the keyword relevant to you blog.
Hover over "Settings" option to check the structure of your permalink from the menu on the left. Select "permalinks".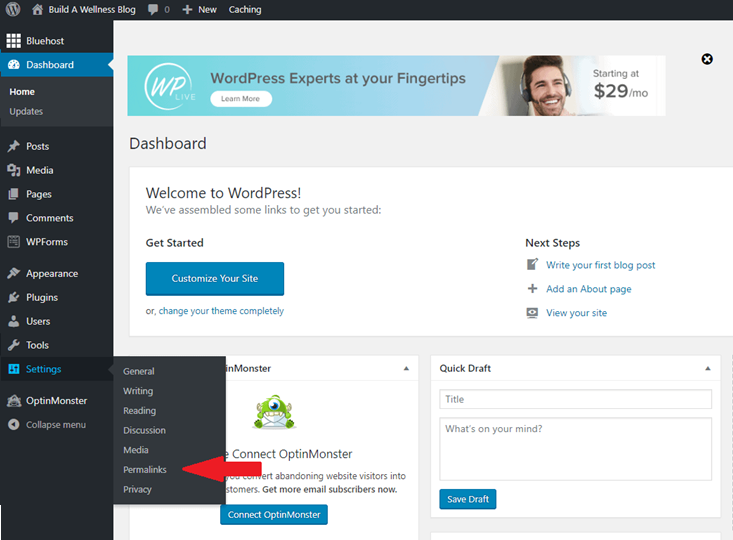 After that, a screen like this will appear;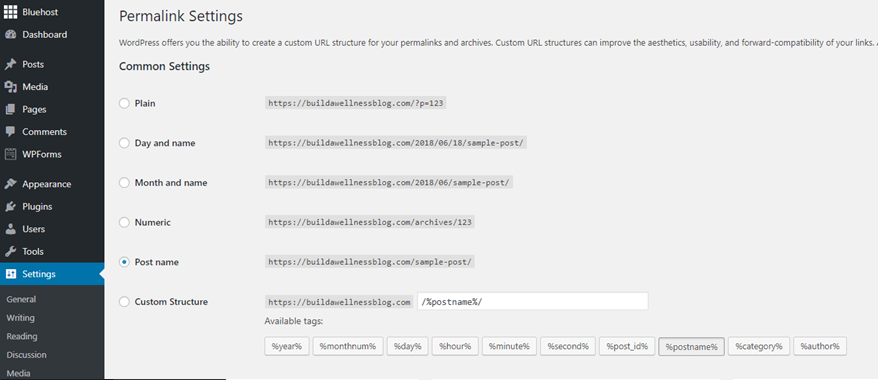 The default permalink structure is never ideal of SEO. It should be changed to "post name". Click "save changes". Here, you go to move ahead.
This is the foremost step before publishing the content because afterwards it will break links to redirect the pages.
Permalink structures are changeable for every post separately.
6. Configure YOAST for SEO optimization
Installing Yoast SEO plugin is very simple and important. You just need to follow a few steps;
Login to your WordPress website where you'll find "dashboard"
The menu on the left side will display "Plugins" option.
You will find "Add New" towards the top of the screen. Here, in the search bar, write "Yoast SEO".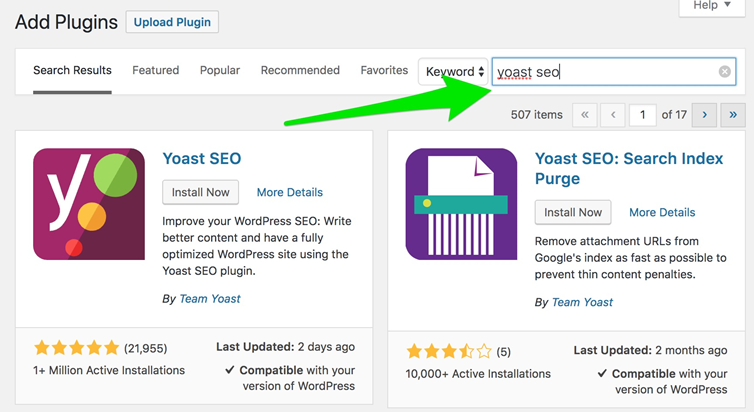 You will be directed to a page with search results. The plugin can be seen here. Click "install now". It will start installing the plugin.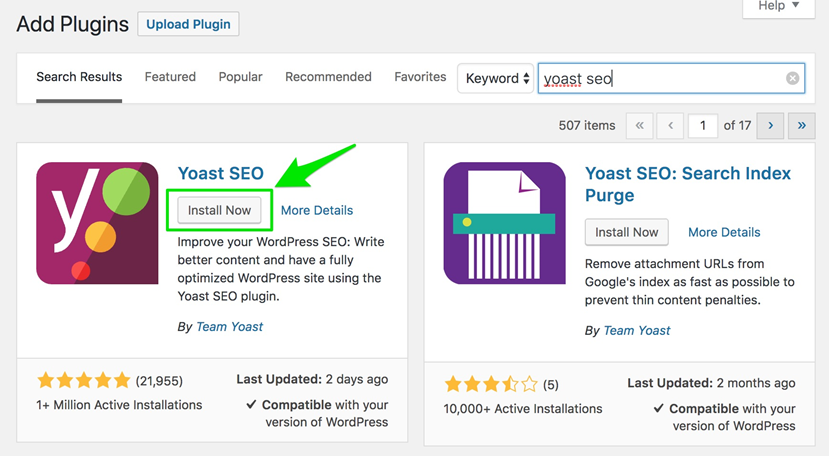 After installation, select "Activate". It appears exactly where the "Install Now" button was/
GO! Configure your plugin!
This plugin will help you to be index on the first page or search engines.
7. Choose WordPress theme
WordPress offers hundreds of templates. Choosing the most appropriate theme is important. The right theme is always responsive across all devices. However, with so many themes in hand, it is indeed daunting to pick the best among the rest.
There is always a default theme which was there since the time you first signed up. Yet, you still have an option of choosing something of your choice to make it more appealing.
Hover the cursor to "appearance" on the left menu. The expanded box will show the "themes".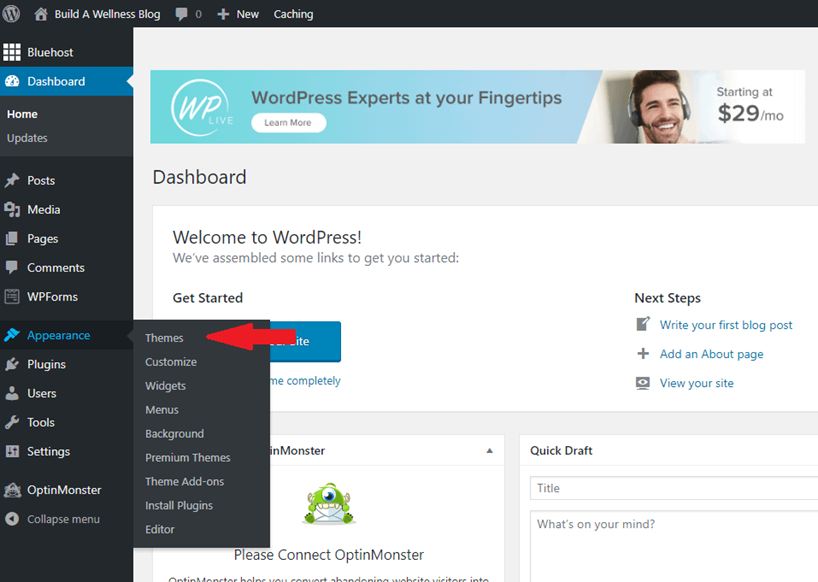 It will lead you to the free theme option which is installed. The "add new" option will provide you with themes that are free for installation.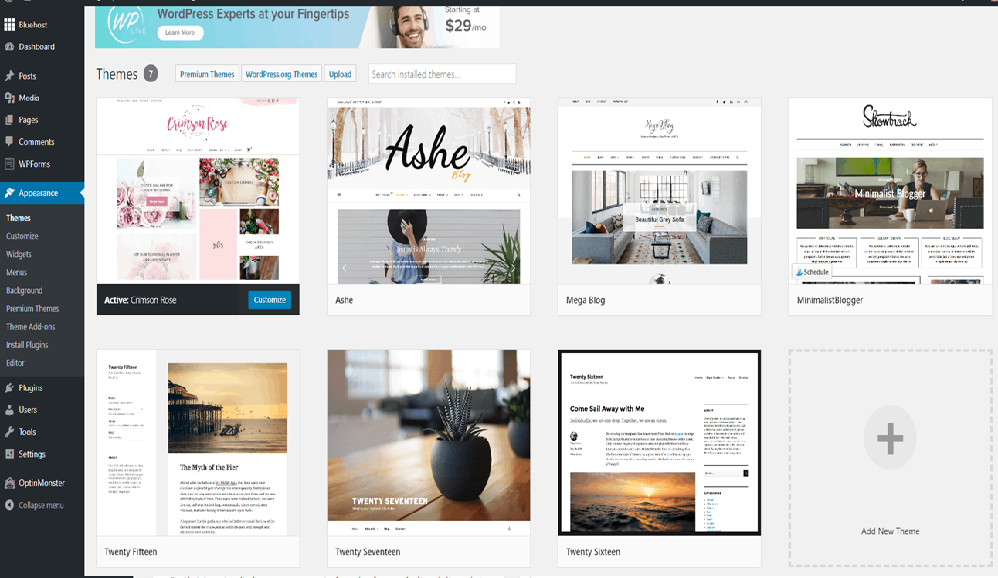 You will enjoy working around with these themes with the preview where you can have an overview of the site. Moreover, it helps you upload header or logos and other media easily.
But if you don't have anything to upload, that's fine too, just play around with colours and features it provides you.
If you are just starting a new website, free themes would be better but probably you will need to upgrade after some time. You can avail of extra customizability, general update, and better customer support with the paid themes.
Free blog themes
Creating travelling, photography, vloging or blogging are the activities that come with special parts in one's life. Codeless has gathered special themes for this purpose. These themes have modern touch with stylish and creative designs for the customer.
Premium themes
The unique blog and premium sports themes are available on WordPress that are fully responsive and designed with full attention to details. Codeless has compiled a set of premium blogging themes. You can check them out.
8. Create the First Post
While creating the first post for your website, consider adding the keyword. You should take a few steps in this regard. Here's a plan for you to optimize your website.
Step-1: Page review on your website:
Prior to the keyword search, have a look at all the pages. The critical pages should have a maximum number of keywords.
On a large site, a spreadsheet may be used to list all the pages that track the required improvements. On a blogging website, just use the keyword research tools that give you ideas on the topics of blog posts.
Step-2: Using a research tool for keyword
Keyword research tool provides you with data that help you choose the best keyword.
Step-3: Researching keyword
After brainstorming the best keyword, think of a relevant topic for the blog post you are looking for. Then search the keyword in the keyword tool and you interested niche.
Step-4: Look for the metrics
Interpret the information that the keyword tool gave. It is the average number of searcher of your keyword each month. Pad difficulty and SEO difficulty range in scores from 0-100. The keyword with lower scores means they are easy and the ones with higher scores are more difficult.

Step-5: Choose the keyword
After seeing the metrics, you will get to know if a keyword is good to use or not. The keyword that you might most likely select will have
Low competition
Low SEO difficulty
High search volume
Therefore, before posting the content on your website for the first time, think about your audience for the keyword.
Step-6: Try not to spam the same keyword in one article, use different keywords. One keyword can be repeated at a max of 2 times.
Step-7: Optimize the SEO in page by using Yoast Plugin and Linkwhisper for internal link building as one of the most important strategies to increase your rankings
Step-8: Super Important start creating backlinks
9. Promote your fitness blog
Promoting your fitness blog is essential for reaching a wider audience and increasing traffic. To effectively promote your blog, you need to use various online marketing strategies. Here are three of the most effective methods:
Social media marketing
Social media platforms such as Instagram, Facebook, and Twitter can be powerful tools for promoting your fitness blog. Start by creating dedicated accounts for your blog on these platforms, and consistently post quality content that engages your audience.
Use relevant hashtags and interact with others in the fitness community to increase your visibility. It's also a good idea to share your blog posts on your social media profiles, encouraging your followers to visit your website and read your content.
Guest posting
Guest posting is an excellent way to promote your fitness blog, gain credibility, and reach a new audience. Reach out to other fitness bloggers and websites, offering to write high-quality articles for them in exchange for a link back to your blog.
Make sure to choose reputable websites with a good domain authority and a related target audience. This strategy not only increases your blog's visibility but also improves your search engine rankings by creating valuable backlinks.
Email marketing
Building an email list is another effective strategy for promoting your fitness blog. Offer a free resource or subscription to your newsletter in exchange for your readers' email addresses.
Regularly send out updates and new blog posts to your subscribers, and include exclusive content and offers to keep them engaged. Email marketing helps you build a loyal audience, drive traffic to your blog, and increase conversions for your products or services.
10. Fitness Blog Post Ideas
To keep your fitness blog engaging and informative, you need to consistently publish high-quality content. Here are some fitness blog post ideas to get you started:
Workout routines and exercise guides
Nutritional tips and healthy recipes
Fitness challenges and goals
Personal fitness journey and progress updates
Reviews of fitness products and equipment
Tips for staying motivated and setting goals
Interviews with fitness professionals and influencers
Mental health and wellness tips related to fitness
Success stories and transformation testimonials
Tips for overcoming common fitness obstacles
What Is A Fitness Blog?
A fitness blog is a blog that helps you get in shape to improve your overall health. These blogs are written by fitness expertise. Hence, they have important information and ideas on losing fat or gaining health.
You'll find numerous fitness blog in the digital world, and the formatting of such blog posts are usually based on instructions, i.e., training techniques, diet and nutrient tips, and exercise routines,
However, there are several ways to identify the quality and credibility of a fitness blog. You can use some quality metrics to analyze the quality of the information mentioned in the fitness blog, for starters.
For instance, you can focus on how the fitness blogger represents the fitness journey. The blog is solving the problem reader has. They would be able to achieve their health goals by following the information mentioned in a specific blog.
Moreover, some of the key benefits of fitness blogging (career-wise) are the following:
You can build brand authority via fitness blogs.
Gain more exposure to your audience.
When your content gets shared, you receive more traffic.
Fitness blogs can boost your website's SERPs ranking.
Considering the benefits mentioned above and advantages, I'd say fitness blogging is surely fruitful in the future, both commercial wise and personal wise.
Here you have some fitness websites and blogs where you can get some inspiration: Best fitness websites
How to make money blogging fitness?
1. Affiliate marketing
It is a type of marketing based on performance and helps dramatically to monetize your blog. The business owners usually reward affiliates for bringing a new customer for the company through advertising endeavours. Customers, publisher, network and merchants are the key players in this.
Online advertising is further linked to affiliate marketing. Some of these mechanisms are paid search engine marketing, email marketing, search engine optimization, content marketing and display advertising.
Remember that referral marketing is different from affiliate marketing. It's a good idea to sign up to search for promotional offers with affiliate networks. You may include Amazon.com or nutriprofits.com.
You can find the most profitable affiliates programs in our post: Hight Ticket Affiliate Programs
2. Sponsored posts
Advertisers can make a handsome income with sponsored posts. In this arrangement, you may have to publish according to the advertiser's demands or may have to write content including their service or product.
You can expect $50 to $500 according to the type of post. The rules for writing sponsored posts may vary from country to country. You have to clearly mention in your post that it's an advertisement.
3. Blog sponsorship
Influential blogs are more likely to be sponsored by companies. You will have to mention the company or brand's name in footer/header or sidebar or have cross-branding throughout the blog.
You should have full command over your niche so the companies may want to sponsor you. There is an option of offering companies your services. You may offer fitness training and consultation services to start their blog.
4. Online coaching
Offering online coaching services is another way to make money with your fitness blog. Create a coaching program or package that caters to your target audience's needs, focusing on specific goals such as weight loss, muscle building, or improving athletic performance.
You can provide personalized workout plans, nutrition advice, and ongoing support through email, video calls, or a private online community.
5. Advertising
Advertising is a popular method for monetizing a fitness blog. You can include display ads on your website, collaborate with brands for sponsored content, or partner with affiliate programs that pay for clicks or sales generated from your blog.
To make the most of advertising, focus on promoting relevant products and services that align with your niche and provide value to your audience. Be transparent about sponsored content and maintain your blog's credibility by only recommending products you genuinely trust and believe in.
In Summary
Fitness Blogging, as well as other blogging niche, is really a long-term game to build income and a huge traffic, so sooner you start fitness blogging better is!
We have covered everything you need to know about how to start a fitness blog in 2023. From the first steps and blog name, to the blog creation process using Bluehost.
Stay updated with further Codeless blog articles to learn more about SEO, increasing traffic and choosing the best performing website builders or WordPress themes in these days.
If you need assistance or suggestions, feel free to leave a comment.

Ludjon, who co-founded Codeless, possesses a deep passion for technology and the web. With over a decade of experience in constructing websites and developing widely-used WordPress themes, Ludjon has established himself as an accomplished expert in the field.