In this article, I am listing some of the best web designs for estate agents. There's often a demand for this type of design, but it's challenging to find websites that fit the bill.
After conducting some research, I've listed some of the top real estate websites with the best designs.
The Top 10 Best Web Design for Real Estate Agents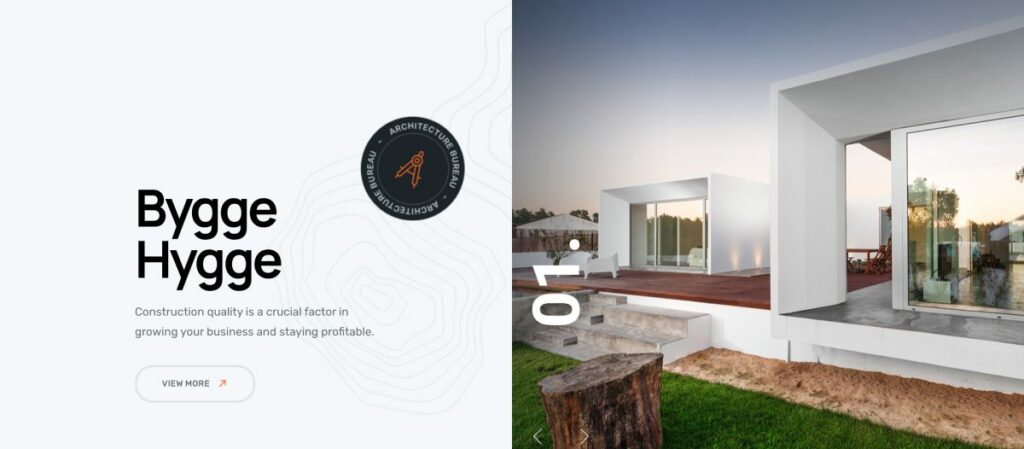 Bygge is a premium WordPress Theme that includes several demos, one of which is the 'Interior Design' demo. Due to its design and structure, this particular demo can be easily adapted for a real estate agent website. After exploring the demos of Bygge, you might find inspiration, and at the same time, you've found a theme ready to build your real estate agent website in just a few clicks.
Read More: 20 Best Architecture WordPress Themes 2023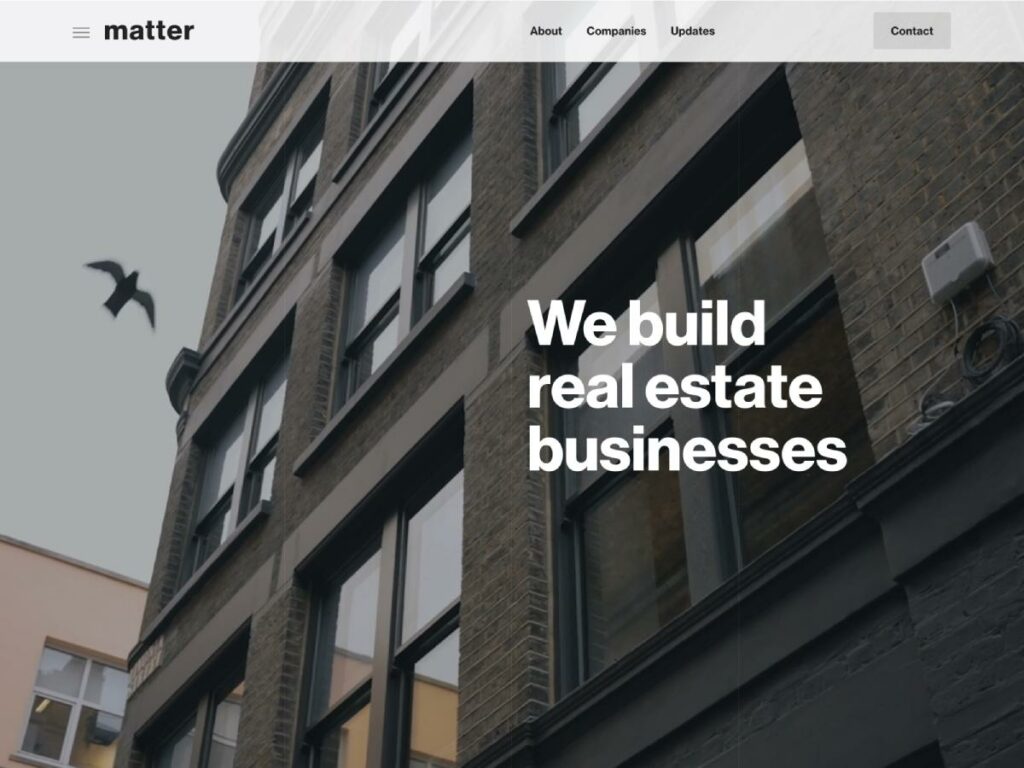 Designed by: Alchemy Digital & Alchemy Digital PRO
Matter Real Estate is a brilliant testament to what can be achieved when design and purpose coalesce. The firm isn't just about selling properties. Matter invests in companies and the real estate surrounding them with a clear emphasis on meeting a social need. Every design choice reflects a deep understanding of the end user.
Key Design Elements:
Mobile: A sleek and efficient mobile design ensures that users can access the website from anywhere, anytime. Thumbnail previews make it easy for users to skim through listings and pick out the ones they're interested in.
Desktop: The expansive desktop view offers detailed property visuals, allowing potential buyers to immerse themselves in what could be their future homes.
Article Page & Blog Page: Comprehensive and organized. Whether you're browsing articles about the real estate industry or diving into the company's latest blog posts, the layout is intuitive.
Company & Contact Page: Get to know the brand with a dedicated company page, and easily reach out with a seamlessly integrated contact page.
Menu Overlay: An elegant solution for navigating through the site. Users can effortlessly jump from one section to another with a smooth overlay.
Color Palette: The sophisticated combination of HEX #222222 and HEX #ffffff is striking, offering a professional and clean look.
Typography: The use of 'Kepler-std', 'neue-haas-grotesk-display', and 'neue-haas-grotesk-text' provides a perfect blend of modern and classic, making the content easy to read and aesthetically pleasing.
Categories: This website effortlessly straddles the boundaries of Business & Corporate and Real Estate design, all while presenting a Clean Portfolio.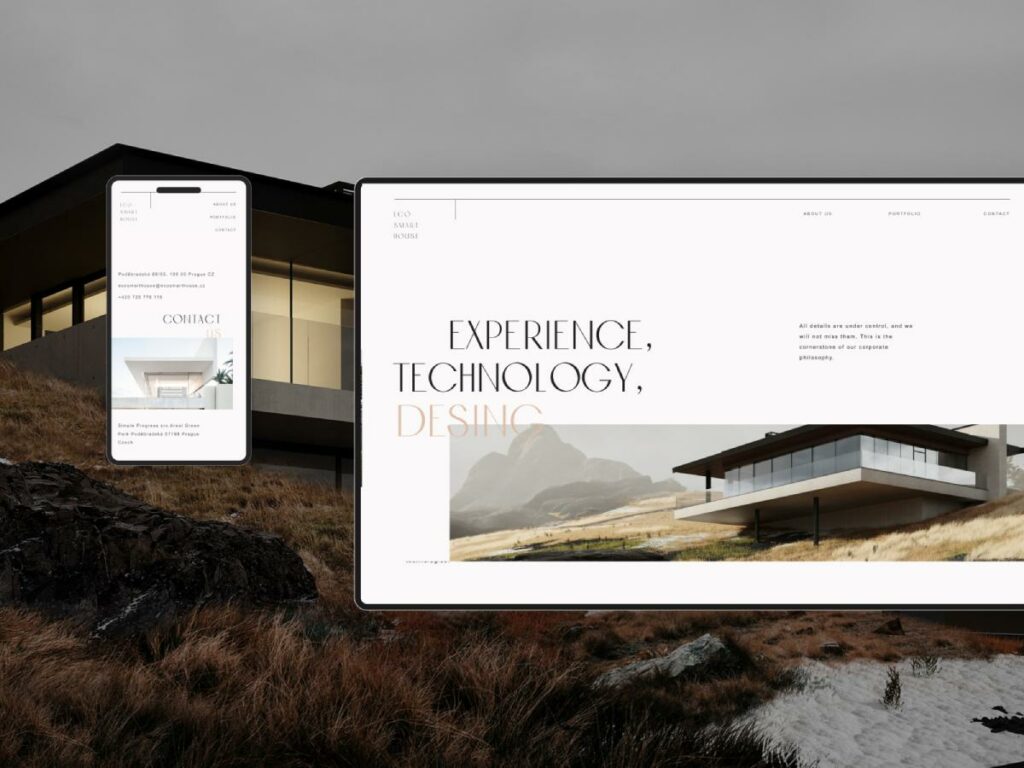 Delving into the world of Smart House Building Company, it's evident that they're not just constructing houses, but dreams. This brand stands tall in the realm of real estate development, creating spaces that reflect modern aesthetics while catering to today's dynamic lifestyles.
Key Design Element
Built using a combination of the following elements:
UI (User Interface): A stellar user interface makes navigating through the 'About Us' page a breeze. Fluid animations, intuitive layouts, and clear call-to-action buttons ensure that users can easily grasp the company's vision and mission.
Website Craftsmanship: Meticulous attention has been paid to every web component, ensuring that the page loads swiftly and offers an immersive experience to every visitor.
Interior Mastery: Reflective of their proficiency in interior design, the home page is adorned with stunning visuals of interiors that the company has conceptualized and brought to life.
Architecture: Their architectural prowess is evident in the beautifully rendered sketches and 3D models on display. These visuals not only add depth to the page but also offer visitors a peek into Smart House's design philosophy.
Design: Every design element, from typography to color schemes, has been chosen carefully, creating a symphony of visuals and content. The page effectively communicates the brand's design ethos, emphasizing clean lines, modern aesthetics, and functional spaces.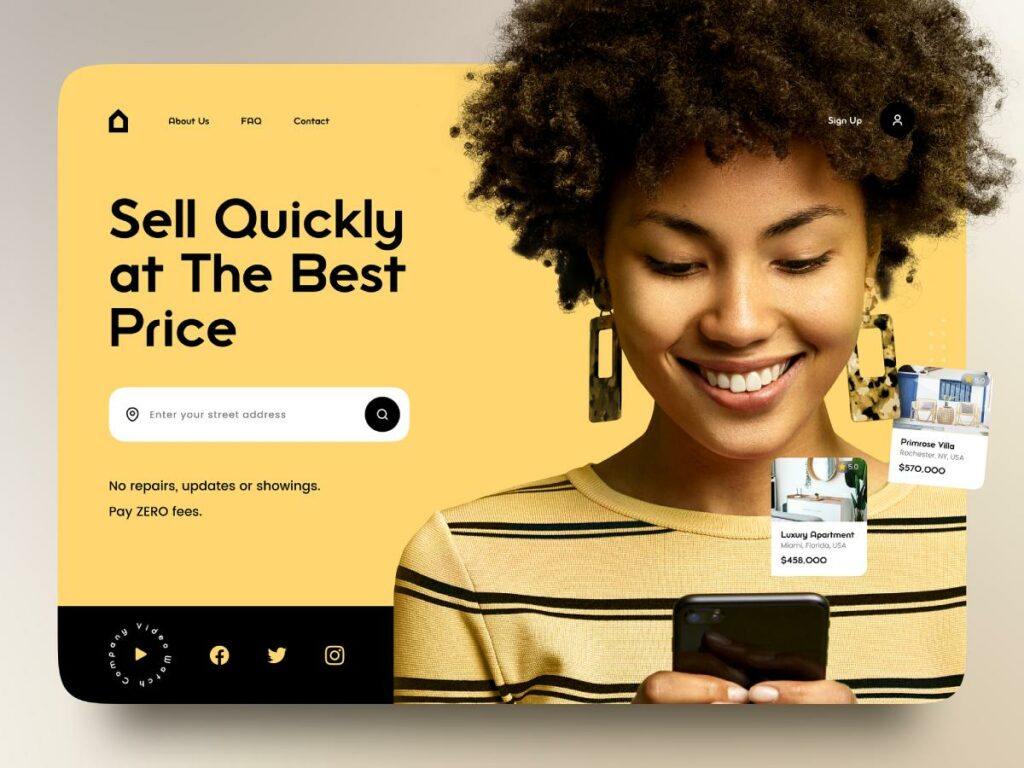 This is another Landing Page concept design for real estate agents with modern colors and big fonts to increase sales and be direct with the message people want to share. The Desing is one Dribble so you take a look and get inspiration.
You can also find more similar landing page designs here: 10 Best Free Elementor Landing Page Templates 2023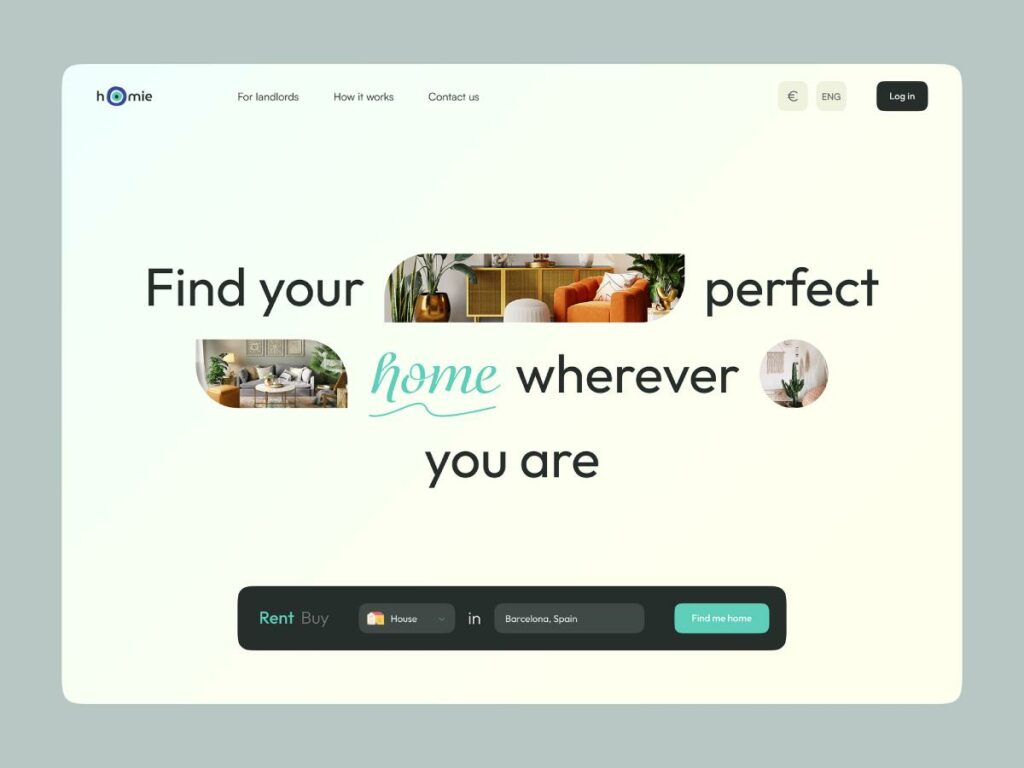 The real estate web app is another Dribble project which you can consult. I like how they have made the concept for the home page with different little tools where visitors can choose if they want to buy or rent a house and at the same time choose the location.
Also, the colors and the fonts used makes the design looks very modern and minimal at the same time.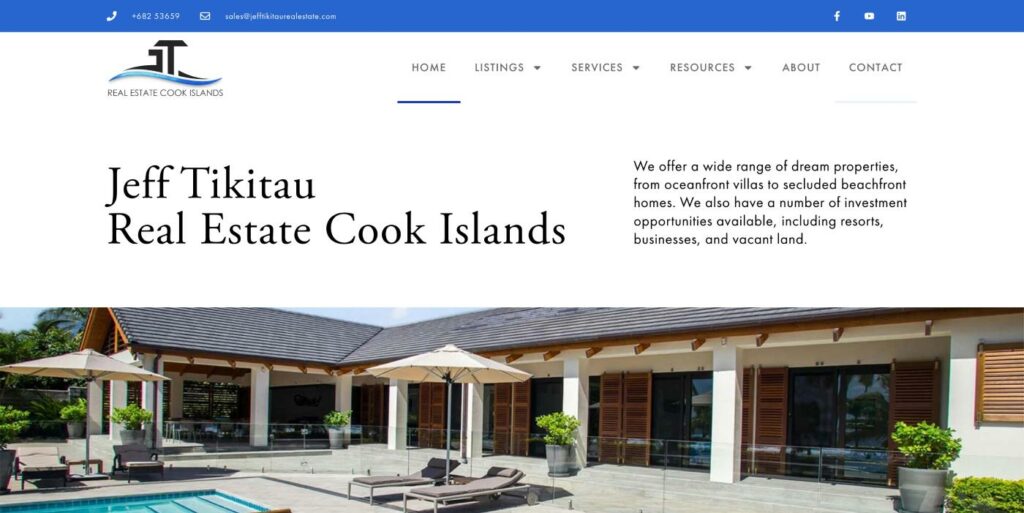 Designed by: JTCreative & JTCreative
Overview: In the sprawling world of real estate web design, Jeff Tikitau Real Estate emerges as a beacon of elegance and functionality. Based in Rarotonga, their digital platform doesn't just list properties; it transports users to the tranquil shores and vibrant communities of this paradise, making the dream of owning a piece of this haven more tangible.
Key Design Features and Elements:
Mission Statement: Prominently displayed, the mission of Jeff Tikitau Real Estate is clear and inspiring. The website aims to bring users closer to the dream of owning property in Rarotonga, emphasizing the company's dedication to matching individuals with their idyllic homes.
Desktop Experience: On the desktop interface, users are met with expansive visuals, perhaps of Rarotonga's pristine beaches or its lush landscapes. Easy-to-use navigation tools, crisp typography, and interactive elements ensure an immersive browsing experience.
Mobile Optimization: Recognizing the importance of mobile accessibility, the design seamlessly transitions into a mobile-friendly layout. This ensures that users on-the-go can still access property listings, connect with agents, and stay updated with real estate opportunities.
Highlighted Elements: The design effectively showcases highlights of the website, making it easy for users to access key features, be it the latest property listings, client testimonials, or guides on Rarotonga's real estate market.
Integration: Given the modern user's expectations, this website offers integrated tools possibly including mortgage calculators, virtual tours, and direct chat functions with real estate agents.
Categories: The website gracefully merges two design paradigms – Web & Interactive and Real Estate. The result? A platform that's not only visually compelling but also highly functional, ensuring users are always a step closer to finding their dream property in Rarotonga.
Read More: 10 Best Website Design Sites for Inspiration 2023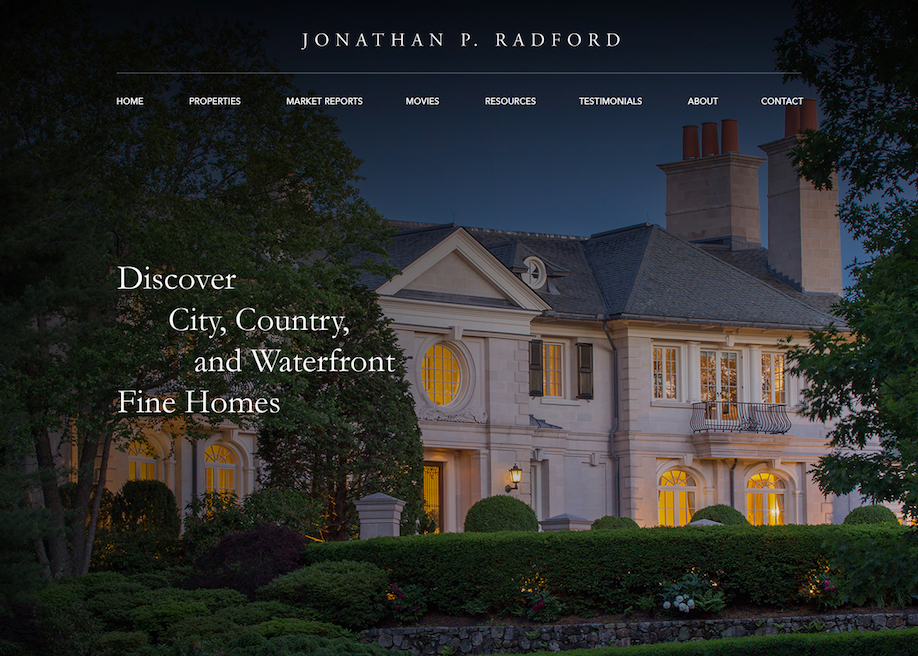 Designed by: luxurypresence
Overview: In the vast realm of luxury real estate, Jonathan Radford stands out as the eminent figure representing New England. His digital platform, as crafted by Luxurypresence, is a mirror reflection of his prominence in the field, exhibiting class, sophistication, and the very best of New England's real estate offerings.
Key Design Features and Elements:
Prestige and Elegance: Representing the #1 Coldwell Banker realtor in New England requires a platform with authority and luxury. The website features an array of multimillion-dollar listings, each presented with immaculate detail and grandeur.
Visual Engagement: Including stunning videos offers users a visceral experience of the properties. These visual narratives and high-quality images allow potential buyers to immerse themselves in the luxury that Jonathan Radford represents.
Sophisticated Search: Navigating through such an extensive portfolio of luxury listings could be overwhelming, but the website offers a refined search experience. This ensures that users can quickly and efficiently find listings that resonate with their preferences.
Color Palette: The website adopts a timeless color palette:

HEX #000: Provides depth and emphasis.
HEX #9C9C9C: Offers a neutral contrast, enhancing readability and visual balance.
HEX #ffffff: Brightens the layout and accentuates content.

Typography: The choice of fonts amplifies the site's sophistication, ensuring legible and aesthetically pleasing content.
Technological Backbone: Powered by robust technologies such as Node.js and React, the website promises speed, efficiency, and a seamless user experience.
Responsive Design: Recognizing the diverse devices users might access the site from, it boasts an adaptive and fluid design, ensuring an optimal viewing experience across devices.
Interactive Elements: Beyond the visual content, the website integrates forms and input fields, making it easier for potential clients to reach out, inquire, or schedule viewings.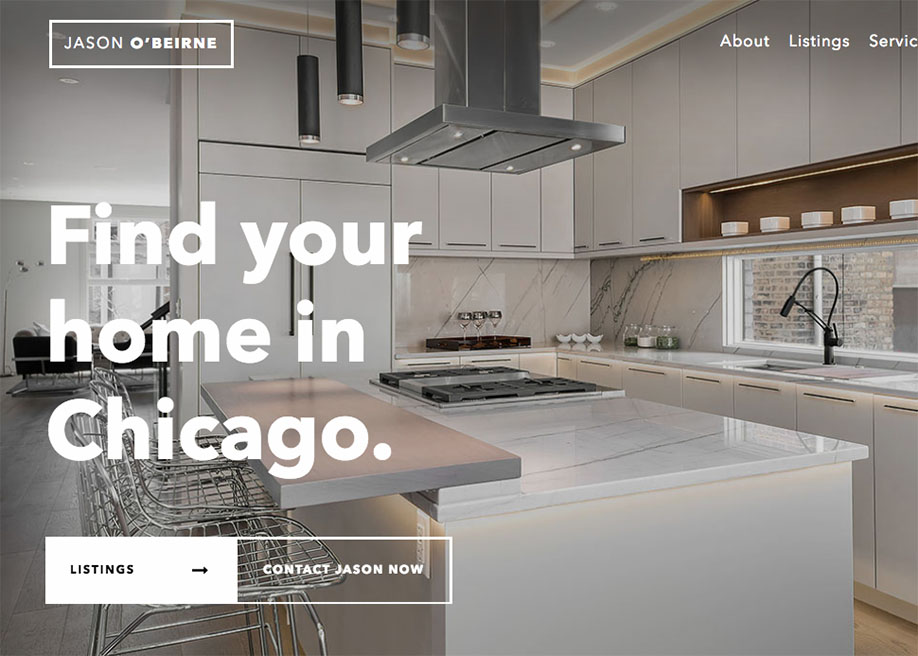 Overview: In the bustling cityscape of Chicago, Jason O'Beirne Real Estate positions itself as a trusted developers' realtor, bridging the divide between stunning properties and discerning buyers. The digital domain of this brand, crafted meticulously by saldrich32, is more than just a website – it's a vivid portrayal of Chicago's vibrant real estate scene.
Key Design Features and Elements:
MLS Integration: Recognizing the importance of up-to-date listings, the website is ingeniously integrated with the MLS. This ensures that users always have access to the latest property listings in real-time.
Custom Luxury Webpages: Luxury demands exclusivity. Hence, custom webpages like 171lombard.com have been crafted, providing a dedicated space for premier listings, enabling potential buyers to delve into every meticulous detail of these exclusive properties.
Mobile-First Design: In today's fast-paced world, accessibility is paramount. Jason O'Beirne Real Estate's website shines with its mobile-friendly design, ensuring that whether users are on-the-go or lounging at home, Chicago's finest listings are always at their fingertips.
Color Palette: The chosen color palette is minimalist yet impactful:

HEX #ffffff: A clean white backdrop, offering a canvas that accentuates property photos and content, exuding a feeling of spaciousness and luxury.

Typography: The website's typography complements its sleek design. It harmoniously integrates with the visual elements, ensuring content is legible while enhancing the overall aesthetic experience.
Visuals and Photography: High-resolution property photographs play a pivotal role in the site's allure. Each image, carefully curated, tells a story, allowing users to visualize and connect with the spaces even before they step in.
Categories: Jason O'Beirne's digital presence encapsulates a spectrum of design principles:
Real Estate: The foundation of the platform.
Bright & Clean: Reflecting the fresh, contemporary nature of Chicago's urban properties.
Graphic Design: Every visual element, from icons to layout, is thoughtfully designed to enhance user experience.
Photography: A cornerstone, offering users a virtual tour of properties.
Responsive Design: Ensuring a seamless experience across various devices.
Technology Stack: Empowered by WordPress, the website promises stability, flexibility, and ease of management. This platform choice also ensures that content updates, from property listings to blog posts, are effortlessly executed.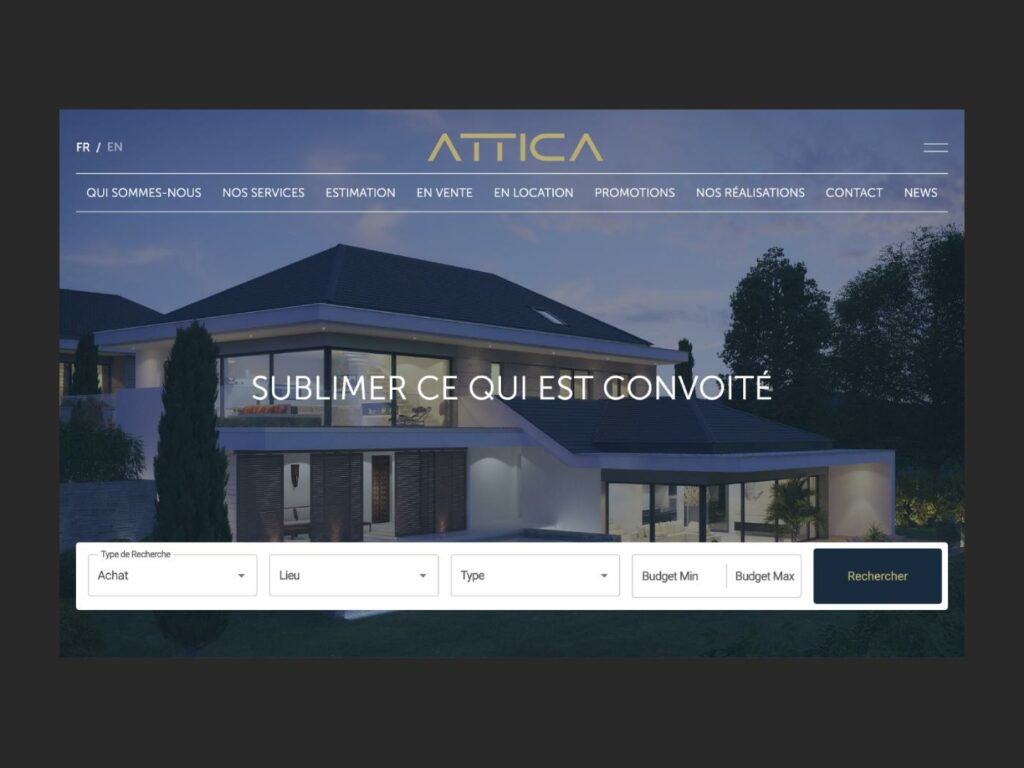 Designed & Developed by: EWM. SA
When it comes to luxury real estate in the sophisticated regions of Geneva and beyond, ATTICA IMMOBILIER stands as a paragon of opulence and refinement. Under the masterful digital artistry of EWM SA, a renowned Geneva & International web & development agency, ATTICA's online presence is both a visual delight and a functional masterpiece.
Key Design Features and Elements:
Holistic User Experience: On both mobile and desktop interfaces, the website delivers a fluid, intuitive browsing experience. The design is optimized to cater to the modern user's diverse device preferences.
ATTICA ABOUT US: A cornerstone of the site, this section delves deep into the brand's ethos, history, and vision. It is a testament to ATTICA's commitment to luxury, service, and unparalleled expertise in the real estate domain.
PROMOTIONS: Highlighting the latest and most exclusive property offerings, the promotions section is designed to captivate and entice potential buyers, offering a glimpse into the luxurious possibilities that await.
SERVICE: Beyond just property listings, ATTICA emphasizes its wide array of services. Whether it's property management, consultation, or bespoke real estate solutions, this section assures clients of ATTICA's holistic approach to luxury real estate.
Stunning Visuals: The use of big background images is not just a design choice but a narrative tool. Each image paints a vivid picture of the luxury and exclusivity that ATTICA properties embody.
Minimalistic Aesthetics: Adhering to the principles of minimalism, the website boasts a clean and uncluttered design. Every element, from typography to imagery, is thoughtfully placed, ensuring that the content remains the focal point.
Interactive Gestures: The site incorporates intuitive gestures and interactions to enhance user engagement. This ensures that users have a dynamic and immersive browsing experience.
Advanced Filters and Effects: To simplify the property search process, the website offers advanced filters. Coupled with subtle effects, these tools make property exploration both efficient and enjoyable.
Content Architecture: At the heart of this website is meticulously crafted content architecture. Every piece of information, property details, client testimonials, or market insights, is organized and presented with precision.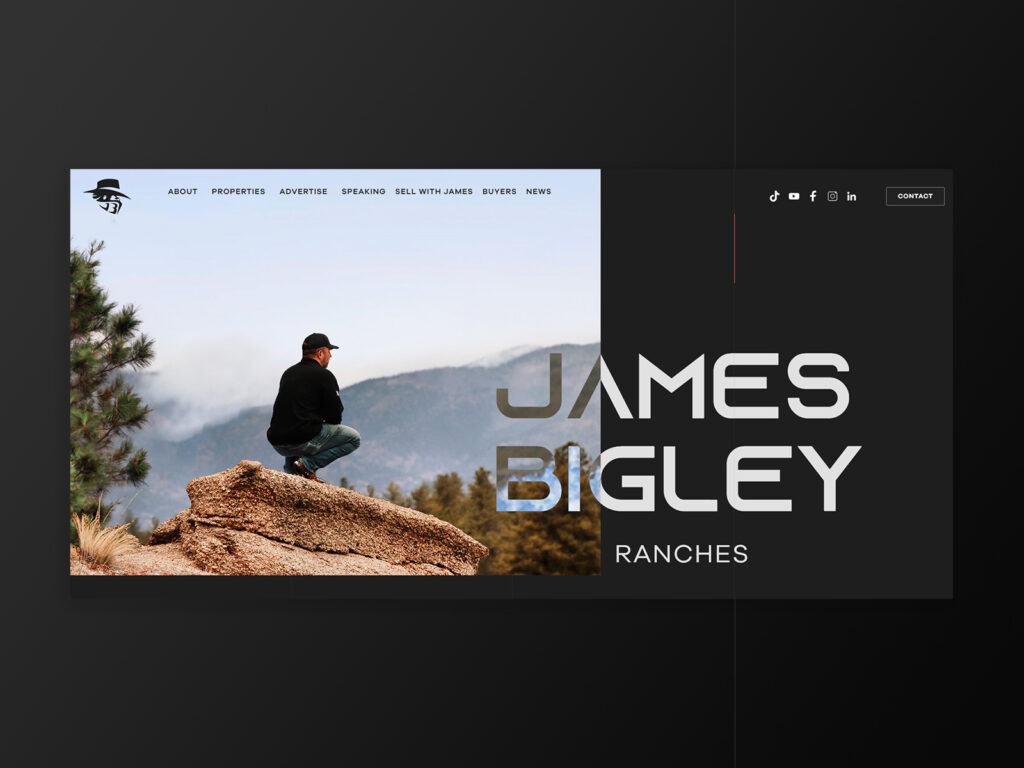 Crafted by: Lion Tree Group
James Bigley, not just a name in real estate, but an influential figure in the industry. His digital domain, brought to life by the expertise of Lion Tree Group, is a bold testament to his stature. The website, embodying the expansive essence of ranches, allows users to embark on a virtual exploration of some of the finest properties while experiencing James Bigley's vision.
Key Design Features and Elements:
Bold and Immersive Interface: Both on mobile and desktop versions, the website's design exudes confidence and grandeur, mirroring James Bigley's influential status in the real estate world.
Harmonious Color Palette:

HEX #313131: This deep shade acts as the primary background, providing a sense of depth and sophistication, setting the stage for rich content and imagery to shine.

Typography: The chosen fonts complement the boldness of the website, ensuring that each word and piece of information stands out, guiding users through the narrative seamlessly.
Parallax Scrolling: The website harnesses the beauty of parallax effects, creating a multi-dimensional browsing experience. As users navigate, images and content seem to move at different speeds, providing depth and dynamism to the storytelling.
Data Visualization: Reflecting the expansive world of ranch real estate, the site integrates innovative data visualization tools. These allow users to gain insights into property statistics, market trends, and more, in a visually engaging manner.
Horizontal Menu: A distinctive choice, the horizontal menu offers users a unique navigation experience. Positioned intuitively, it ensures that users can seamlessly transition between different sections of the site.
Social Integration: Recognizing James Bigley's influential status, the website seamlessly integrates with various social platforms. This ensures that users can connect with his social profiles, further expanding the narrative and reach.
Rich Media: A blend of high-resolution photographs and videos offers users a vivid portrayal of the ranches. These media elements, carefully curated, allow users to virtually step into each property, feeling its expanse and beauty.
Conclusion
I hope that after reading the above article, you've found inspiration for your website. It showcases designs, colors, and typography that you can incorporate into your own web page.

As one of the co-founders of Codeless, I bring to the table expertise in developing WordPress and web applications, as well as a track record of effectively managing hosting and servers. My passion for acquiring knowledge and my enthusiasm for constructing and testing novel technologies drive me to constantly innovate and improve.
Expertise:
Web Development,
Web Design,
Linux System Administration,
SEO
Experience:
15 years of experience in Web Development by developing and designing some of the most popular WordPress Themes like Specular, Tower, and Folie.
Education:
I have a degree in Engineering Physics and MSC in Material Science and Opto Electronics.