The first step you undertake, before you start creating a website, is finding the best website design sites for inspiration. In this article, I'm going to share with you websites that have been my muse for years in creating not only various websites but also themes for Codeless Themes.
You can also read our latest article on making UI designs with AI.
The Top 10 Best Website Design Sites for Inspiration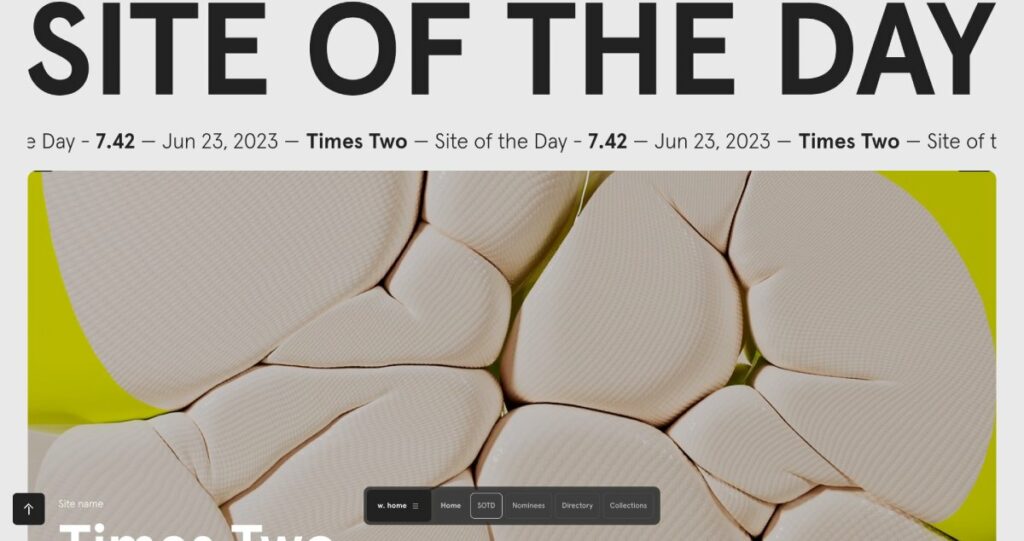 AWWWards is a splendid online platform, a true gem for every design enthusiast. Those in search of creative inspiration for web designs find this site a treasure trove. Bursting with an abundance of imaginative and innovative designs, AWWWards is often the first port of call for creators and designers.
From the moment you land on AWWWards' website, you're plunged into a world brimming with stunning visuals and remarkable designs. They curate a comprehensive selection of exceptional, innovative designs, ensuring a steady influx of fresh inspiration. This is the key reason it's held in high esteem among the creative communities around the globe.
The beauty of AWWWards lies in its diversity. It serves as a melting pot of different styles, themes, and design philosophies. One can find anything from minimalist designs, stark in their simplicity, to complex and intricate creations, demonstrating the full depth of creativity within the design world.
Furthermore, this site is more than just an inspiration hub. AWWWards also hosts competitions, celebrating the exceptional work of talented designers from all corners of the world. By recognizing and rewarding the best in the field, AWWWards plays a significant role in the web design landscape, encouraging innovation and excellence.
In a nutshell, if you're seeking web design inspiration, AWWWards is a vibrant, rich, and diverse platform, bursting with ideas to spark your imagination. It's a go-to resource for those looking to stay ahead of the design trends and a remarkable site that is sure to keep your creative juices flowing.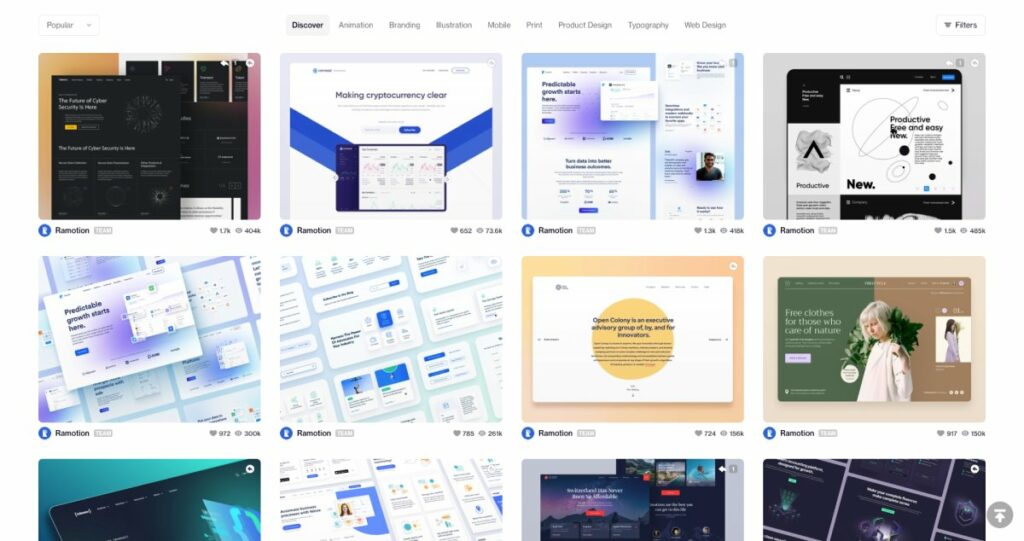 Dribbble is a wellspring of creativity and a household name in the realm of design inspiration. It is an online community where designers from all walks of life and every corner of the globe converge to showcase their work, share their visions, and draw inspiration from their peers.
On Dribbble, variety and quality reign supreme. You can find a remarkable array of designs ranging from sleek website layouts to intricate illustrations, stunning typography, and beyond. The wealth of ideas found here is a testament to the platform's diversity, catering to a myriad of tastes and styles.
Designers find Dribbble an ideal platform to share their work and receive constructive feedback from the community. This unique collaborative environment helps users refine their skills and foster their creativity. It is a dynamic, interactive space that encourages learning and growth.
Another striking feature of Dribbble is its intuitive and user-friendly interface. Users can easily navigate through a sea of design works, filtering based on their specific interests or needs. This feature makes the discovery process enjoyable and time-efficient.
Dribbble is more than a showcase of splendid designs. It is a lively community, fostering connections among designers worldwide. This platform provides an excellent opportunity for networking and collaboration, promoting a sense of camaraderie within the global design community.
In summary, Dribbble is a fertile ground for design inspiration, a platform where creativity flourishes. Whether you're a seasoned designer looking for fresh ideas or a newcomer seeking to learn from the best, Dribbble is a source of inspiration you should not overlook.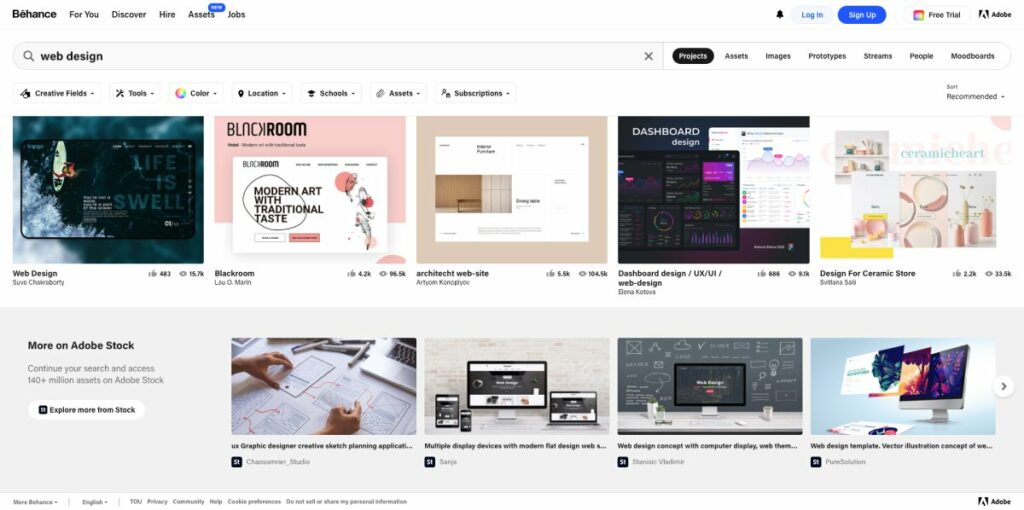 Behance stands tall as a powerhouse platform for creative professionals worldwide. Its significant presence in the design world is indisputable, making it a top-notch source for web design inspiration.
The moment you step into Behance's world, you're greeted by a plethora of designs spanning multiple disciplines. It's a veritable feast of creativity, hosting works ranging from graphic and web design to illustration, photography, and much more. This varied landscape of projects is a testament to Behance's commitment to showcasing a broad spectrum of creative talent.
What sets Behance apart is its emphasis on projects. Designers do not just share isolated images or designs; they present comprehensive projects, giving viewers a deep-dive into their creative process. This approach allows for a better understanding of the thought process and effort behind each piece, adding depth and context to the visual feast.
Also, Behance's community is very engaged, offering valuable feedback and exchange of ideas. This constructive interaction fuels creative growth and innovation. It creates an environment where designers can both inspire and be inspired, forming a vibrant and interconnected creative ecosystem.
Navigating through Behance is a breeze, thanks to its well-structured interface. It's easy to explore, discover, and immerse yourself in an array of incredible designs. You can browse by creative fields or search for specific styles or projects, making it a flexible and user-friendly source of inspiration.
In essence, Behance is more than a showcase of creative projects. It's a thriving hub for creative minds to connect, share, and learn from each other. Whether you're seeking inspiration, aspiring to network with like-minded professionals, or looking to gain insight into varied creative processes, Behance serves as a wonderful platform to meet your needs.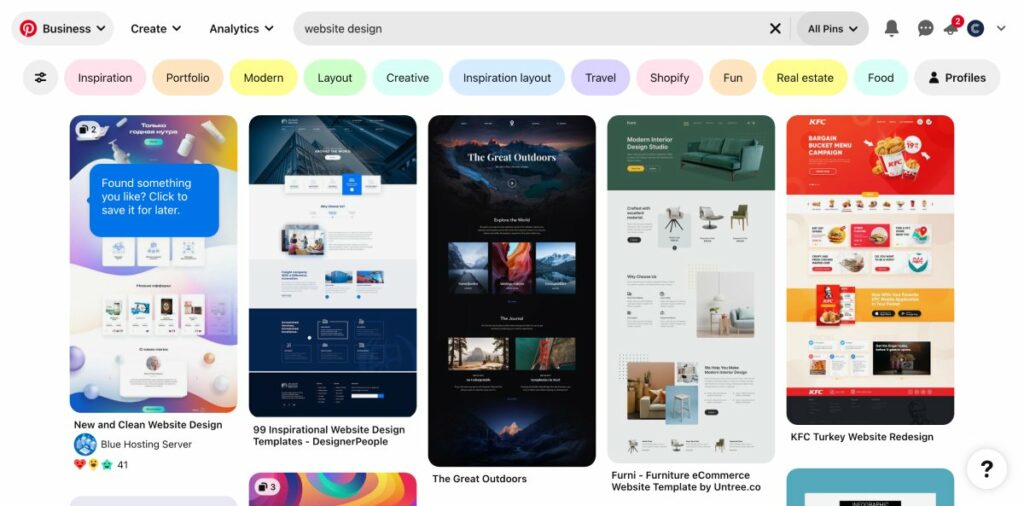 Pinterest stands as a visual discovery engine, renowned for its endless supply of creative ideas. A go-to platform for millions of users worldwide, Pinterest is an extraordinary tool when hunting for web design inspiration.
From the first glance, you are immersed in a sea of visuals spanning a vast array of categories. From web designs and graphic art to photography and DIY crafts, Pinterest has it all. The sheer volume of content ensures you're bound to stumble upon something that piques your interest or sparks your creativity.
One of the unique aspects of Pinterest is its personalization features. As you interact with the platform, it begins to understand your preferences, curating a feed tailored to your tastes. This customization feature keeps your inspiration sources fresh and relevant, fueling your creativity in new, exciting ways.
Pinterest is also renowned for its easy-to-use, intuitive interface. Users can create boards to categorize and store their favorite finds, making it easy to revisit and organize ideas. This feature turns Pinterest into a personal inspiration library, always at your fingertips.
Moreover, the platform is more than a tool for individual inspiration. It's also a community. Users can follow creators, join group boards, and share ideas, encouraging collaborative inspiration and shared creativity.
In summary, Pinterest is a powerful, dynamic platform for finding web design inspiration. Its blend of vast content, personalization features, and user-friendly interface make it an excellent resource for creatives seeking fresh ideas. Whether you're planning a project or simply browsing for pleasure, Pinterest is sure to stoke your creative fires.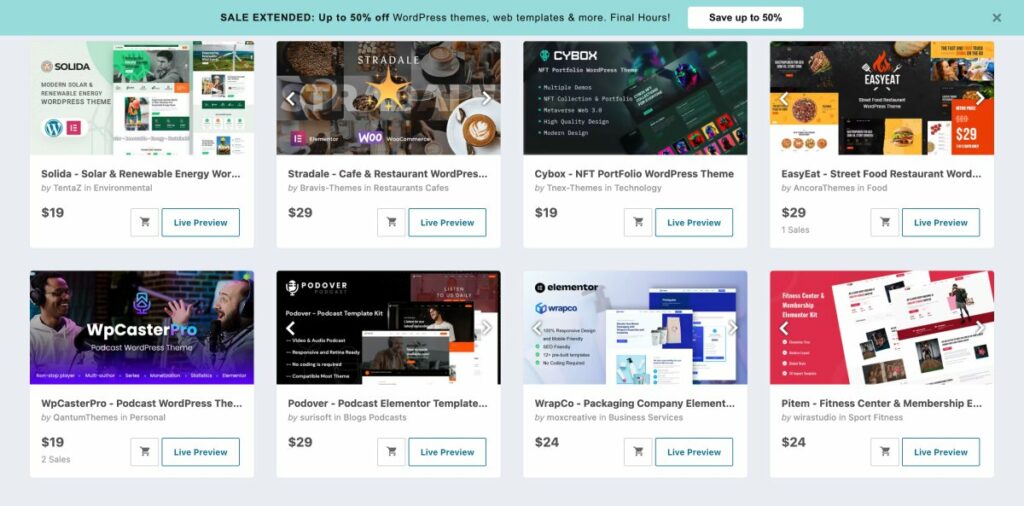 ThemeForest is a remarkable marketplace for digital assets, particularly renowned for its wealth of web design WordPress themes and templates. As a part of the Envato Market, ThemeForest offers a vast range of high-quality products, making it a highly regarded resource for web design inspiration.
The platform is home to thousands of themes and templates, spanning across different CMS platforms like WordPress, Joomla, and Drupal, among others. This extensive selection guarantees that regardless of your project's needs or your aesthetic preferences, you're likely to find something that catches your eye on ThemeForest.
ThemeForest's strength lies in the quality and diversity of its offerings. Whether you're after minimalist aesthetics, corporate designs, or creative and artistic themes, ThemeForest delivers. The products available are crafted by talented designers and developers from around the globe, ensuring a diverse mix of styles and trends.
Each theme and template on ThemeForest comes with a detailed overview, user ratings, and reviews. This transparency allows users to make informed decisions, ensuring the chosen product aligns with their needs. Moreover, it's a great way to see real-world application of design trends, styles, and techniques.
In addition, ThemeForest is not just a platform for buying and selling digital assets. It is also a vibrant community. Users can engage in lively discussions, ask questions, and exchange insights, further fueling creative inspiration.
In conclusion, ThemeForest is more than just a marketplace; it's a space brimming with web design ideas. By exploring its diverse offerings, you not only find potential assets for your project, but also a wealth of design inspiration that could spark your next creative endeavor.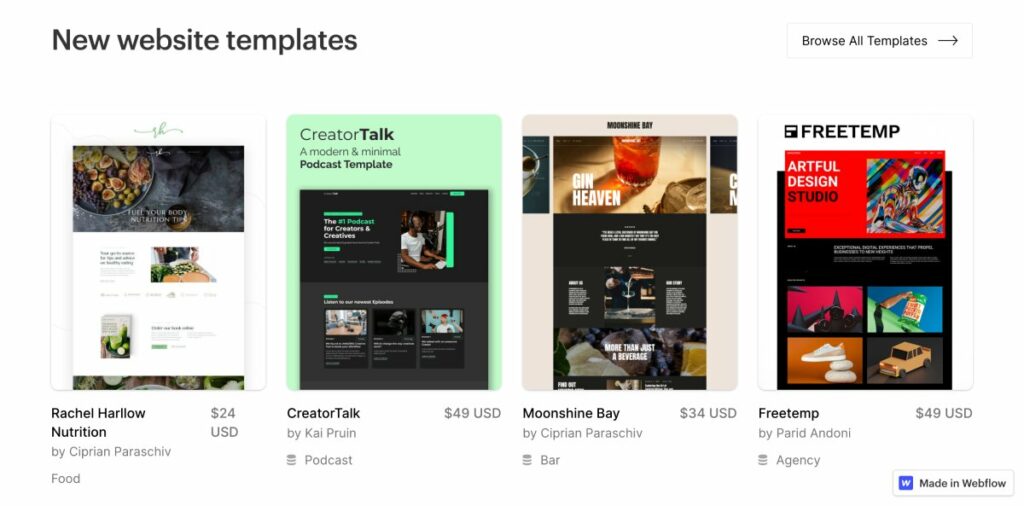 Webflow is an innovative web design tool that seamlessly combines design and development into a unified platform. It's not only a resource for creating responsive, professional websites but also a rich source of inspiration for web designers across the globe.
From the moment you engage with Webflow, you're met with a plethora of beautifully crafted website templates and examples. These span a wide range of industries, styles, and functionalities. Whether you're seeking a sleek e-commerce layout, a vibrant portfolio design, or a minimalist template, Webflow delivers.
What sets Webflow apart is its emphasis on customization and control. The platform allows you to design visually while automatically generating the code behind the scenes. This means you can directly manipulate the design aspects of your site, sparking creativity and providing real-time visual feedback.
Webflow's Showcase is a particular highlight for design inspiration. Here, users can explore a vast collection of projects created by other designers using Webflow. The Showcase is a diverse mix of styles and ideas, providing a window into the platform's capabilities while sparking creativity for your projects.
Moreover, the Webflow community is highly active and supportive. Designers can engage in discussions, share their projects, and offer feedback. This collaboration fosters a vibrant ecosystem that encourages learning, inspiration, and growth.
In conclusion, Webflow is a remarkable tool that marries functionality with creativity. Its focus on visual design control, combined with a vast array of templates and community projects, makes it an invaluable resource for web design inspiration. Whether you're a seasoned designer or just starting out, Webflow has something to inspire everyone.
Read More: Webflow Review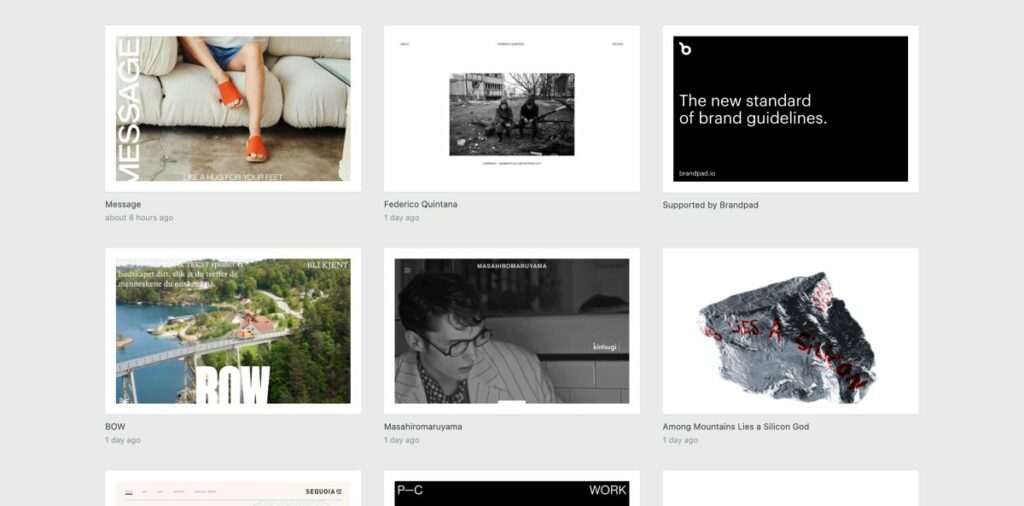 SiteInspire is an exceptional online resource that shines a spotlight on the finest digital and interactive designs from around the globe. It's a curated collection of high-quality websites, serving as an excellent source of inspiration for web designers.
Upon visiting SiteInspire, you're greeted with an array of unique and captivating website designs. The selection spans various styles, industries, and design philosophies, ensuring there's a wellspring of inspiration for any project or taste. From bold and vibrant designs to minimalist aesthetics, the diversity is truly impressive.
A standout feature of SiteInspire is its clean, user-friendly interface. The site is intuitively organized, allowing users to filter the showcased designs by styles, types, subjects, and platforms. This precise categorization streamlines the discovery process, making it easy to find specific design inspiration.
The platform is not only about showcasing beautiful designs. It is also a hub for recognizing and celebrating the remarkable talent within the digital design community. Each website featured on SiteInspire is a testament to the creativity and expertise of its designers, serving as both inspiration and motivation for others.
Furthermore, SiteInspire maintains a strict selection process, ensuring only the most exceptional designs make it to their collection. This focus on quality over quantity makes SiteInspire a reliable source for truly innovative and effective web design ideas.
In summary, SiteInspire stands as a reliable, curated showcase of the finest digital designs. Its blend of high-quality content and user-friendly navigation makes it an excellent resource for web designers seeking inspiration. Whether you're starting a new project or seeking to stay updated with the latest design trends, SiteInspire is a resource worth exploring.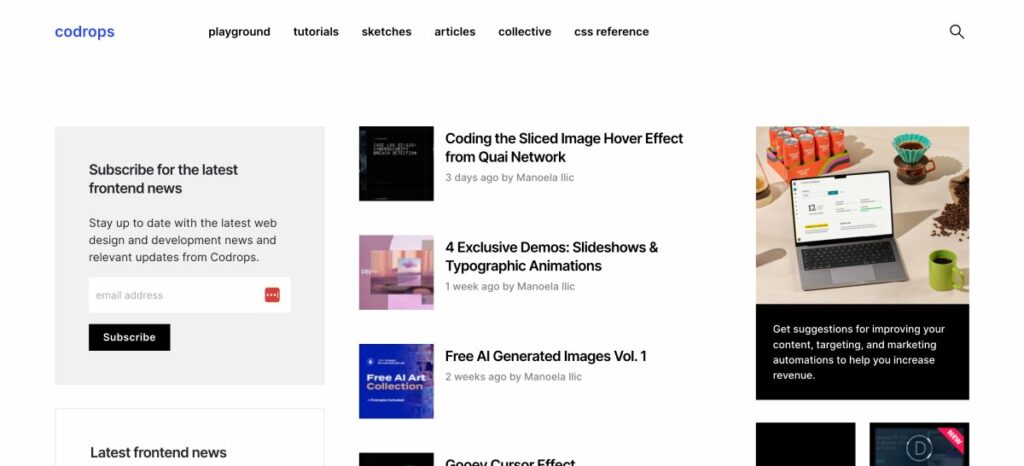 Tympanus, often recognized by its popular blog Codrops, is a veritable treasure chest of web design inspiration. This site is renowned for offering a wealth of innovative tutorials, articles, and resources that push the boundaries of creativity and interactive design.
As soon as you enter the world of Tympanus and Codrops, you're enveloped by a universe of cutting-edge web design techniques and ideas. From interactive animations to groundbreaking CSS effects, the site is filled with fresh, trend-setting concepts that can inspire and elevate any web project.
A notable aspect of Tympanus and Codrops is the clear focus on not just sharing inspiration, but also imparting knowledge. The platform offers a myriad of in-depth tutorials and demos, allowing users to not only admire the innovative design ideas but also learn how to implement them. This practical, hands-on approach makes it a uniquely valuable resource for web designers.
In terms of navigation, Tympanus and Codrops offer an intuitive, user-friendly experience. Visitors can browse by categories such as CSS reference, tutorials, playground, and collectives, enabling easy access to a wide array of content. Moreover, the site's crisp, clean aesthetic makes for an enjoyable browsing experience.
The community that has formed around Tympanus and Codrops is another key highlight. This enthusiastic group of designers and developers exchange ideas, share their work, and contribute to discussions, fostering a vibrant, creative environment.
In conclusion, Tympanus and Codrops stand out as a beacon of inspiration and learning in the web design landscape. Whether you're seeking fresh ideas, learning new techniques, or exploring the frontier of interactive design, this platform is an invaluable resource.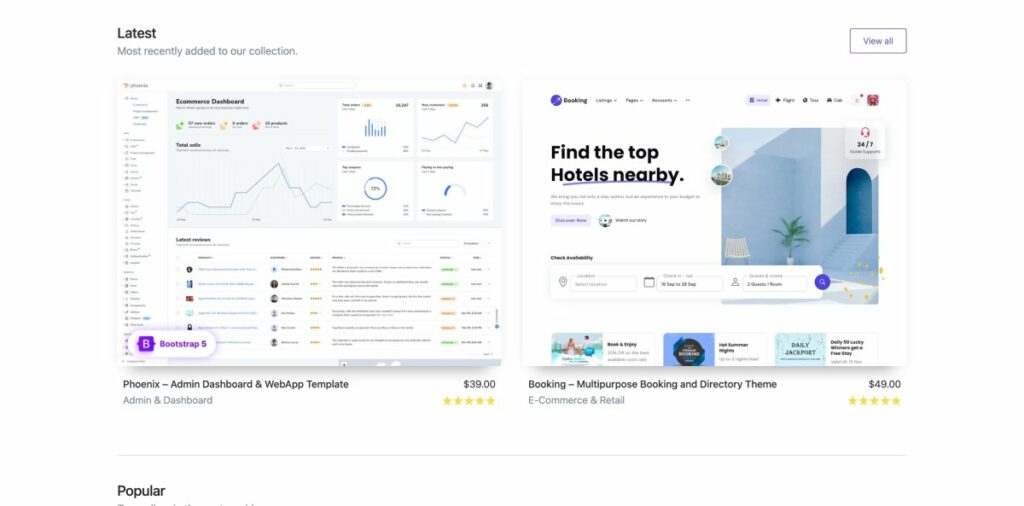 GetBootstrap Themes is an exceptional hub offering a wide array of professional, highly customizable themes built using the Bootstrap framework. It's a go-to resource for developers and designers seeking robust, responsive designs for their web projects, serving as a rich source of web design inspiration.
Visiting GetBootstrap Themes, you're presented with a diverse selection of themes and templates. These span various categories, including e-commerce, admin & dashboard, landing pages, and many more. Each theme on the platform is meticulously crafted to be functional and aesthetically pleasing, providing plenty of inspiration for designers with different needs and tastes.
What sets GetBootstrap Themes apart is its strong foundation on the Bootstrap framework. The themes leverage Bootstrap's flexible grid system and extensive component library, ensuring designs that are not only visually appealing but also highly responsive and accessible. This focus on performance and usability brings an added layer of inspiration, guiding designers to create websites that are both beautiful and functional.
The themes showcased on GetBootstrap Themes are accompanied by detailed descriptions, including lists of features, requirements, and even screenshots. This transparency helps users gain a comprehensive understanding of each theme, making it easier to envision how these designs could be adapted for their own projects.
Furthermore, the platform provides excellent support resources. This includes documentation and tutorials, empowering users to fully harness the potential of the Bootstrap framework and the provided themes.
In conclusion, GetBootstrap Themes is a stellar resource for web design inspiration, particularly for those utilizing the Bootstrap framework. Its blend of high-quality themes, detailed information, and strong support makes it an excellent tool for designers, whether they're brainstorming ideas for a new project or looking to enhance their web design skills.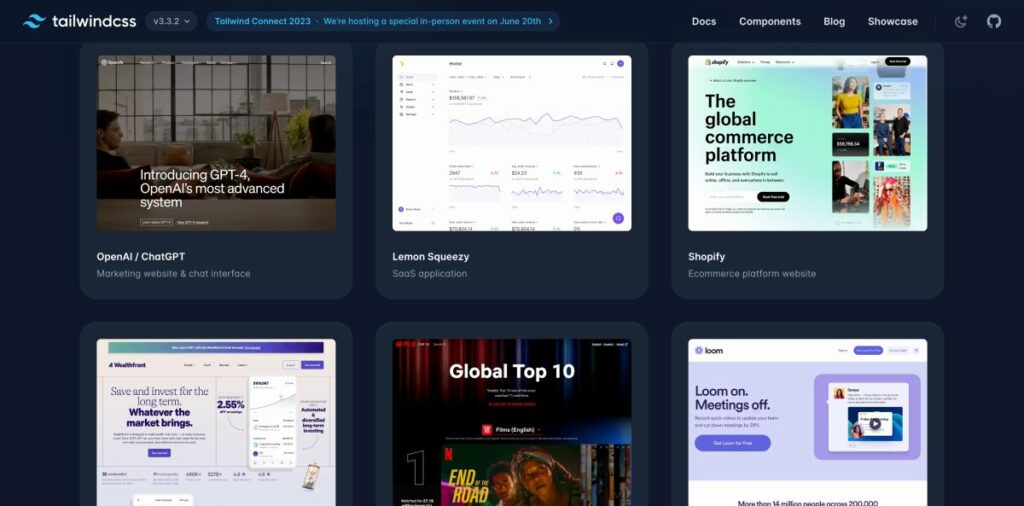 Tailwind CSS is a highly customizable, low-level CSS framework that has gained popularity for its flexibility and utility-first approach. While it's primarily a tool for creating unique designs efficiently, it also serves as a profound source of web design inspiration.
As you engage with Tailwind CSS, you're met with a world of design possibilities. The framework encourages you to build designs from scratch, with hundreds of utility classes at your disposal. This approach sparks creativity and offers unparalleled control over your design, freeing you from the constraints of pre-defined components and styles.
In addition to the flexible toolset, Tailwind CSS has an active and growing community. Many designers share their creations built with Tailwind, providing a wealth of ideas and inspiration. From complete website layouts to specific components like navigation bars, buttons, or cards, you can find a plethora of designs that showcase the versatility of Tailwind CSS.
The official Tailwind CSS documentation itself is a valuable source of inspiration. It provides a comprehensive guide to the framework's functionalities, coupled with examples that demonstrate practical application. These resources not only help you understand the tool better but also inspire innovative ways to use the utility classes in your designs.
Moreover, Tailwind UI, a component library from the creators of Tailwind CSS, offers professionally designed, fully responsive components built using Tailwind CSS. This library serves as an excellent inspiration source, showcasing what's achievable with the framework.
In conclusion, Tailwind CSS is a potent tool that inspires creativity and originality in web design. Its utility-first approach, coupled with a vibrant community and excellent resources, provides endless inspiration for web designers looking to craft unique, custom designs. Whether you're starting a new project or refining your design skills, Tailwind CSS is a source of inspiration worth exploring.
FAQs
What is "Webdesign Inspiration"?
"Webdesign Inspiration" refers to the process of seeking out and exploring innovative and creative web design ideas to inspire your own projects. This could involve looking at different websites, design showcases, blogs, and other resources that feature unique and aesthetically pleasing web designs.
Why is web design inspiration important?
Web design inspiration is crucial because it can stimulate creativity, offer new perspectives, and keep you updated with the latest trends and technologies in the field. It can help you to create more engaging, user-friendly, and visually appealing websites.
Where can I find web design inspiration?
There are numerous sources for web design inspiration. These include online platforms like AWWWards, Dribbble, Behance, Pinterest, ThemeForest, Webflow, SiteInspire, Tympanus (Codrops), GetBootstrap Themes, and Tailwind CSS, among others. Offline sources can also be great for inspiration, such as nature, architecture, and print media.
How can I use these sites for web design inspiration?
You can browse through these sites to see various design styles, color combinations, typography, layouts, and interaction patterns. Studying these elements can help you develop a deeper understanding of web design and inspire you to create unique and effective designs.
Can I directly copy designs from these inspiration sites for my project?
While it's useful to learn from other designs, it's essential to respect copyright laws and the original designer's work. Instead of copying a design verbatim, try to take inspiration from various sources and create your unique design that best suits your project's needs.
Are there any other ways to find web design inspiration besides these websites?
Yes, inspiration can come from anywhere. Apart from these websites, you can also find inspiration from everyday life, nature, books, art, and even other industries. The key is to keep an open mind and stay curious.
I'm a beginner in web design. How can these inspirational sources help me?
These sources can provide you with a broad overview of what's possible in web design, help you understand current trends, and offer practical examples of how various design principles are applied. They can also stimulate your creativity and motivate you to learn and experiment with new design techniques.
Conclusion
I hope that all my shares above can help you with website design inspiration for your next website. At the same time you can find also the latest trends and educate yourself on how to use font, colors and layouts. If you have any other suggestions please write in the comments below.

As one of the co-founders of Codeless, I bring to the table expertise in developing WordPress and web applications, as well as a track record of effectively managing hosting and servers. My passion for acquiring knowledge and my enthusiasm for constructing and testing novel technologies drive me to constantly innovate and improve.
Expertise:
Web Development,
Web Design,
Linux System Administration,
SEO
Experience:
15 years of experience in Web Development by developing and designing some of the most popular WordPress Themes like Specular, Tower, and Folie.
Education:
I have a degree in Engineering Physics and MSC in Material Science and Opto Electronics.