Getting into the website template game lead us to understand the need for all kinds of websites. It can be any type; online jewelry shop, beds and baths, restaurant, and the list goes on. And because of the extensive ideas of a blog topics, the list of Wix blog templates also goes on.
Wix templates are always trending and make sure that the blogs look appealing and professional at the same time. The amazing templates are customizable and 100% free to play with.
We have compiled a set of 15+ beautiful and professional Wix templates collection for blog . All of which are available for you to create your dream blog.
Fishing blog & Forum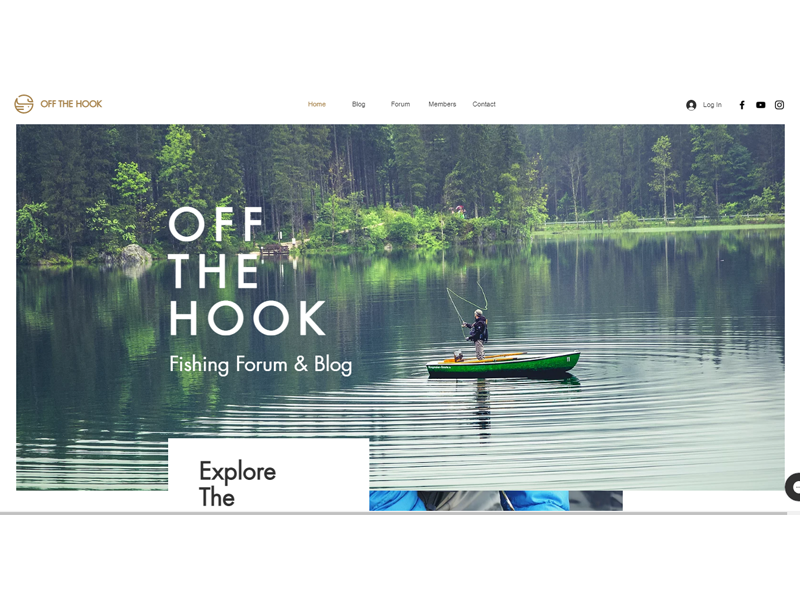 The template is specifically designed for nature blogs and sports forums. If you intend to spread your hobby of outdoor sports or fishing, this template provides you an out-of-the-hook forum. It is an engaging and fun place where your community or visitors can share and participate. They can equally share their details about the impressive catches, fishing holes, tips and gear reviews.
It provides blocks for content and images in the background. There are multiple pages. The template is easily customizable and provides solution to any small business related to marine or yacht sailing.
Art & Culture Blog and Podcast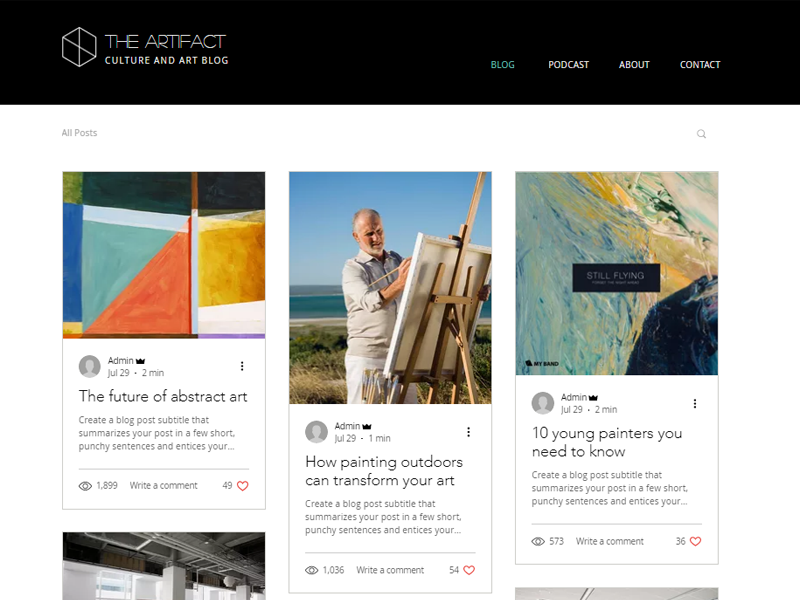 The template is well suited for the critics, writers, culture, arts and bloggers. It has a minimal design with boxed layout. The template is modern and sleek.
It is very easy to work on Art & Culture Blog and Podcast because all it needs is to add images and text to start your personal blog post.
The template is easy-to0use, elegant and beautiful with a classy and lovely functional design. It can be proved as an ideal choice for all types of art and culture magazines/blogs. The theme is developed elegantly.
The layout is responsive, modular and flexible with drag and drop feature as well. Also, it gives detailed demo documentation with unlimited web-fonts, widgets and color schemes.
Personal Blog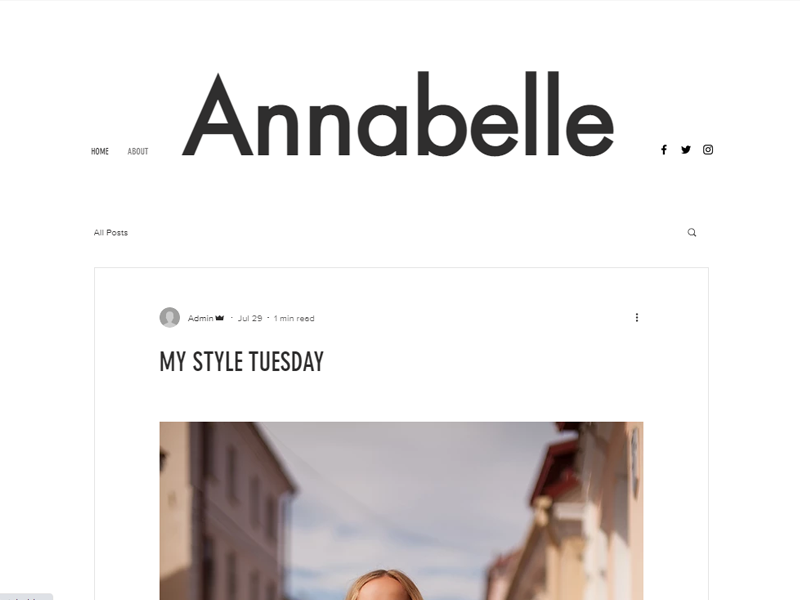 The template works best for fashion retailers, fashion designers, fashion stylists, fashionistas and fashion bloggers.
The template seems like a dreamy mix paired with highly fashioned photography with inviting and rich content sets. It gives a beautiful and appealing appearance to your website that fashionistas would not take their eyes off.
You can simply transform your photography to be bright, bold and big that stands out. In addition, a stylistic and professional statement can be created with the latest trends. You can start your own blog right now, by clicking "edit to begin" on the fashion blog.
If you are a blogger, then it is a perfect option for you. It is easy to use and super simple theme. therefore, it ensures well-crafted, responsive and high quality blog. The great typography makes the followers and fans focus keenly on the words.
Education blog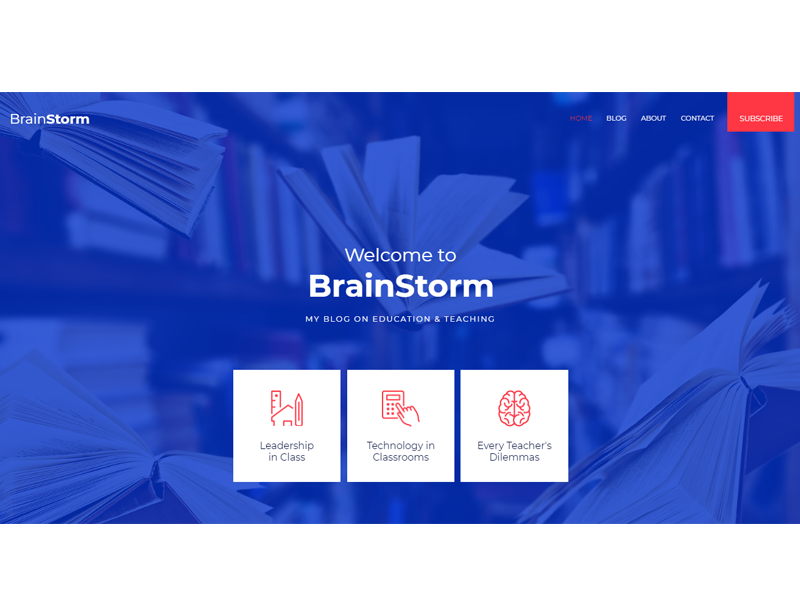 Education blog theme is best for the teachers, researchers and academics. This template allows you to share education and knowledge with a different template deign. In such a way, a dedicated space is created to share your opinions about parents and peers.
It provides you an effective platform to share information for trader, teaching experiences and ideas. Thus, you can share useful information for your visitors. All you need to do is simply edit the posts and see the blog growing for the educational findings and tips. This theme further promises to provide an amazing experience of LMS with eLearning features and super friendly UX.
Movie blog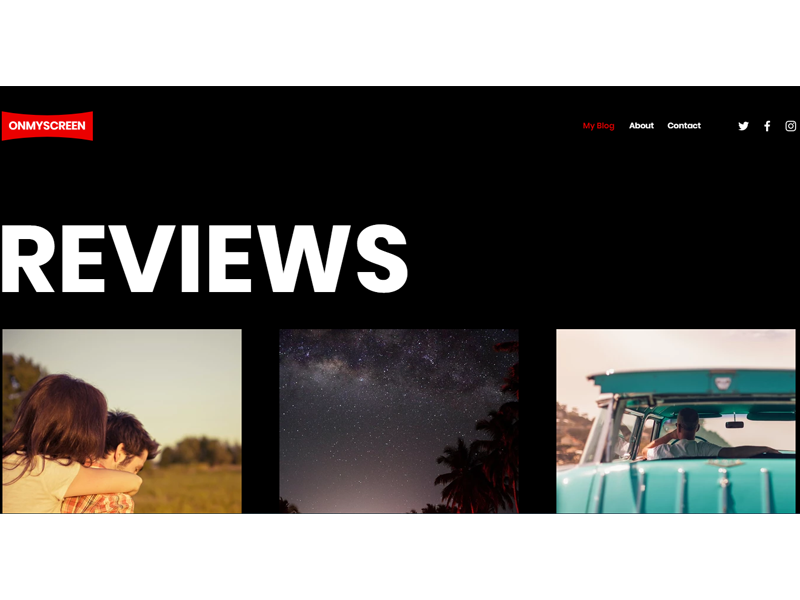 The theme, Movie blog is well suited for the celebrity fans, film critics and bloggers. If you plan to launch a movie database, film or project presentation or review, Movie blog provides you a powerful template with diverse layout.
It is based on JavaScript and HTML5 and includes certain dynamic elements to create interactive maps, sliders, TV shows, and movies. The menu seems to have mega-functionality that allows you to add custom HTML, buttons, videos and banners into the menu items.
The theme is compatible for cross browser. It is high in responsiveness. It means that it will work well with all modern devices.
Religious blog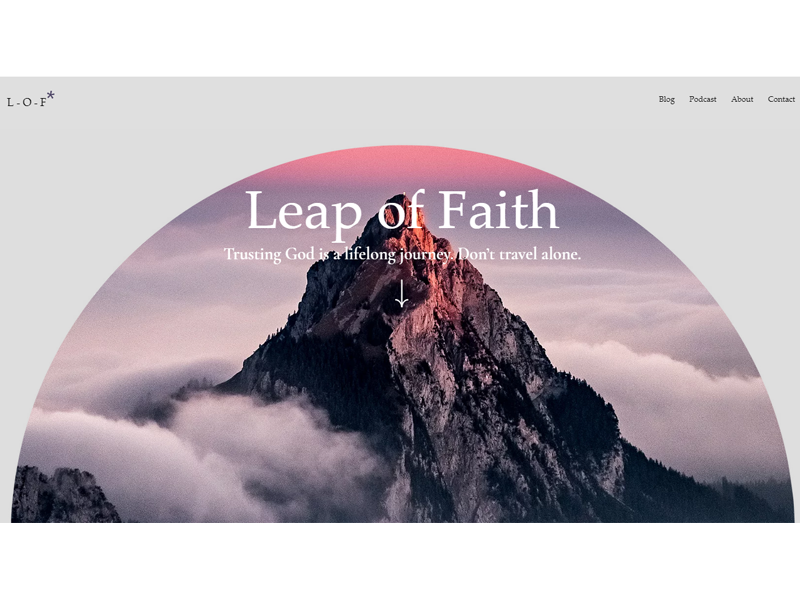 The theme is well designed for faith based organization, bloggers and religious organizations. It is a calming and bright template design promising to inspire your community. Wix Blog provides you an opportunity to start showcasing your stories and ideas.
You can engage you followers by creating your own podcast on Wix. All you need to do is click on "Edit" and you can start right away. The design of the template is fresh, clean, responsive and authentic. It is easy to use and offers a professional design.
The theme is highly customizable, flexible and modern. It works well with all types of devices.
Family blog & Forum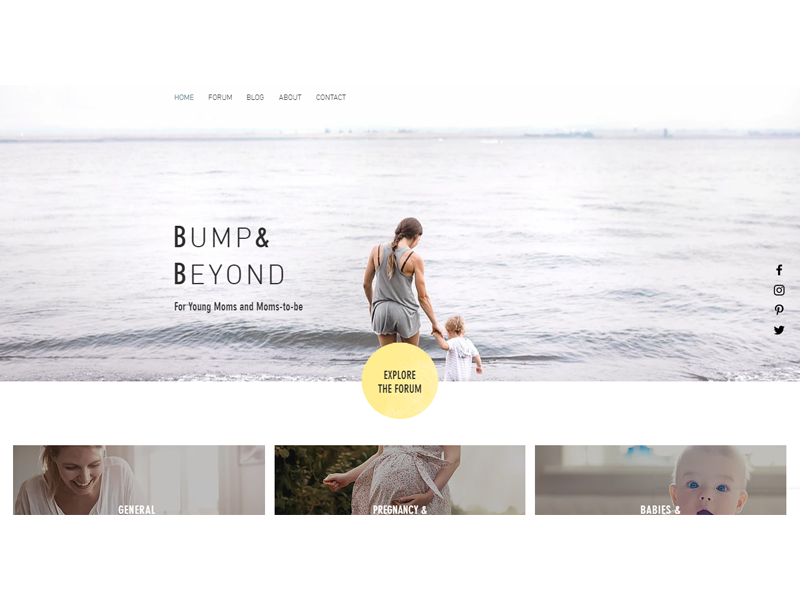 The theme works best for doulas, community leaders, parents-to-be and moms. It offers a stunning yet simple template for busy moms who want to connect to the other busy parent like themselves.
You can share everything about parenting or household, whether it's about your household skill or seeking parenting advice or tips. You can even share stories of your parenting and toddlers with the community.
It offers you a splendid platform where you can deliver and take tips from the people like you in a functional and stylistic way. Taking benefit from an easy to use template is just a click away.
Travelling blog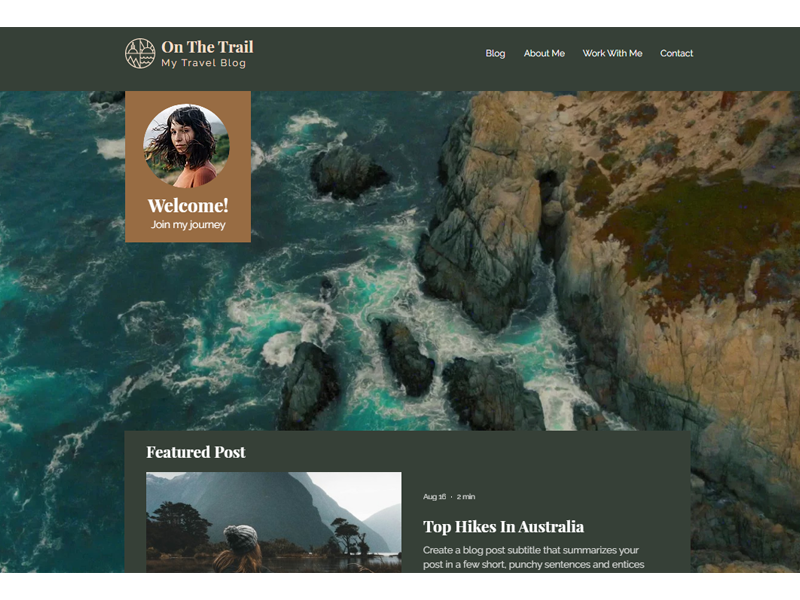 The theme is well suited for personal sites, passion projects and travel blogs. You plan to embark a lifetime adventure and need to pen down your planning and experience, this template will provide you a good platform. It will work as a collection of your memories and keepsakes.
You can quickly adapt a site for your needs if you plan to keep a record of your phots in a blog or Instagram. You can even share live videos through this. But, add your details before that.
Travelling blog is going to be your new travel companion. What the wait for? Start a new and captivating tourism and adventure blog now.
Literature blog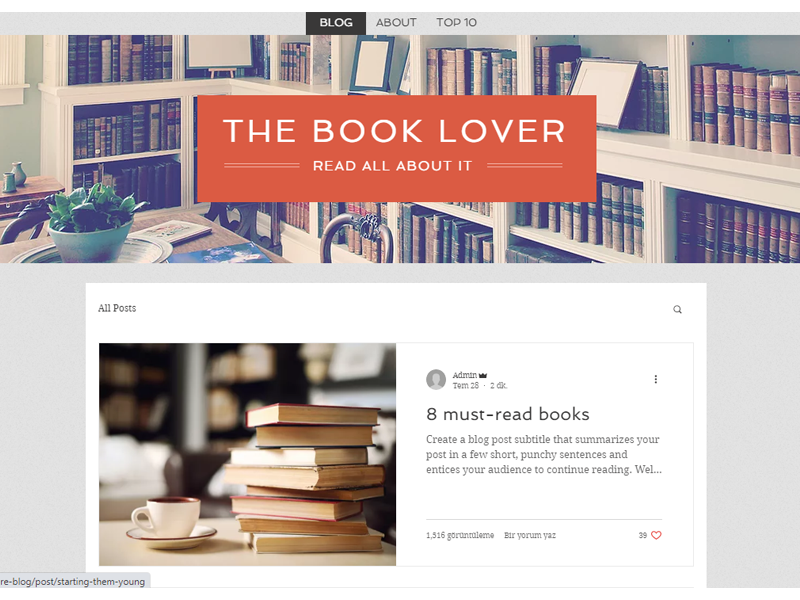 The theme is best for the hobbyists, academics, book lovers and bloggers. The Literature Blog calls all the literature fans. This template for blog provides a forum for the critiques and reviews of your favorite books. The template provides you a block to list your top ten reading choices, probably the best way to engage your visitors.
You can also go ahead with listing your favorite book or what you are reading currently. The editing in this template is very easy and requires you to only click on each post.
It is a responsive layout that not only supports reviews but also invites serious writers on the platform to showcase their writing skills.
Marketing blog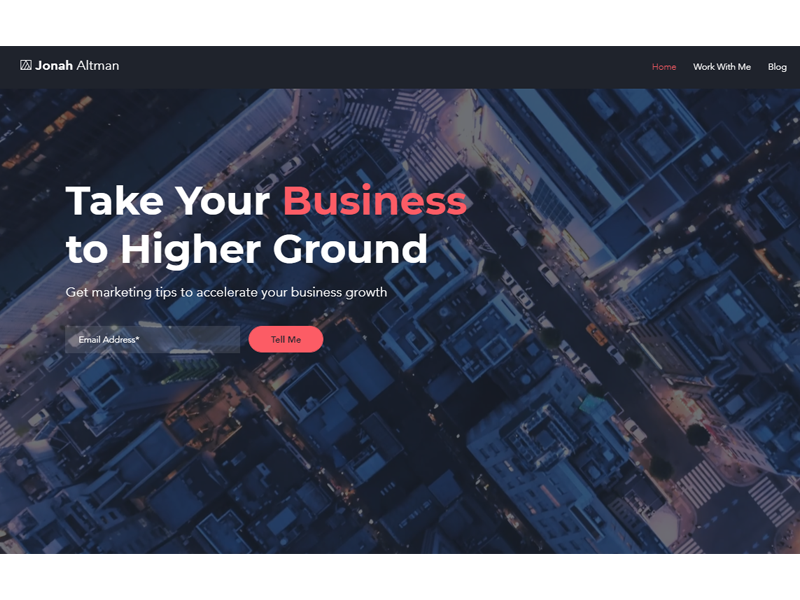 The template is best for business professionals. It includes advice columns too. If you have loads of experience and knowledge on business marketing, it's time to share all of this with the community.
You can grow an online community and fan-base with a subscribe section which is highly visible with this template. The Marketing blog makes it a lot easier for the visitors to remain updates with the latest posts on Wix Blogs.
You can share strategies, offer advice or write about the trends with this template. It provides you a great start up blog.
Photography blog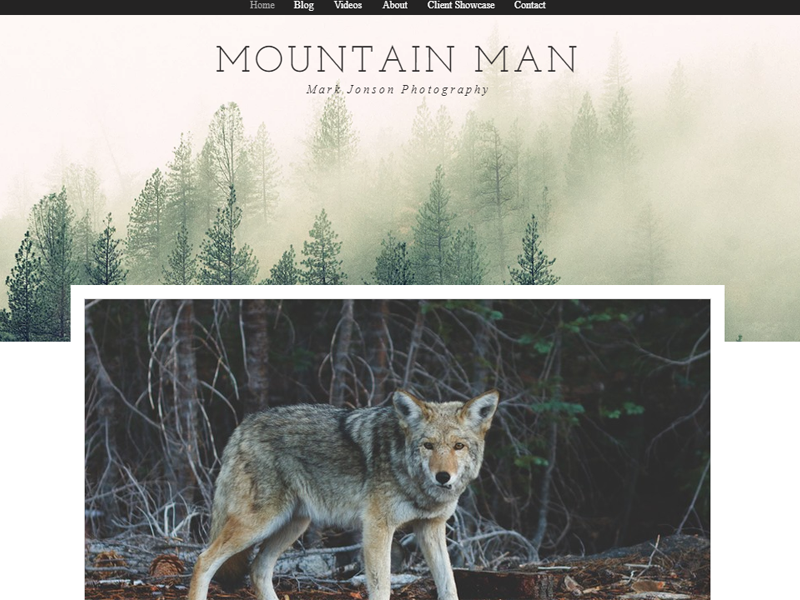 The blog template is perfect fit for freelancers, publishers, photographers and bloggers. You can start a beautiful blog for photo sharing and narratives with this clean theme. It highlights the spectacular images while using the parallax scrolling effect to keep the strip header.
It leaves your visitors in a wow-state by adding a stream of hi-res photos. Meanwhile, you can also share the story behind the images with an easy to edit platform for blog.
Photography blog is designed to be fully responsive and high-end research to make it device friendly. The theme is however, not limited to photography only, instead it is adoptable for a wide range of applications.
Techno music blog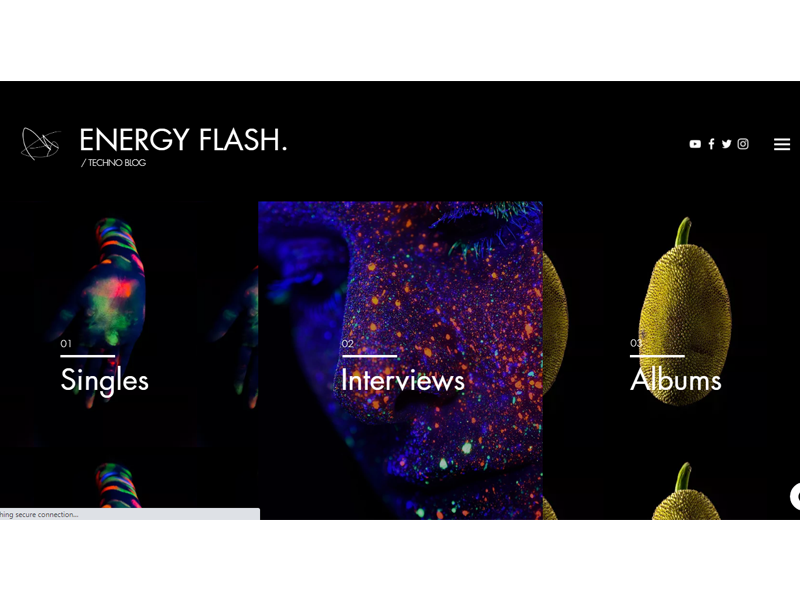 The theme is very well suited for enthusiasts, reviewers and music bloggers. Techno music is based on the creativity and rhythm play. This music blog template is likewise distinctive. The dark background gives a futuristic aesthetic for the multimedia and text content of your site.
It offers uniquely styled pages to stress on the blogging categories in your website. It comes with great options and widgets to link the elements of full discography preview. There is a prepared integration for store layout to sell the music albums and music too.
It is a fancy layout for the music bloggers. It comes with reviews features which is perfect for you if you are a music lover.
Makeup blog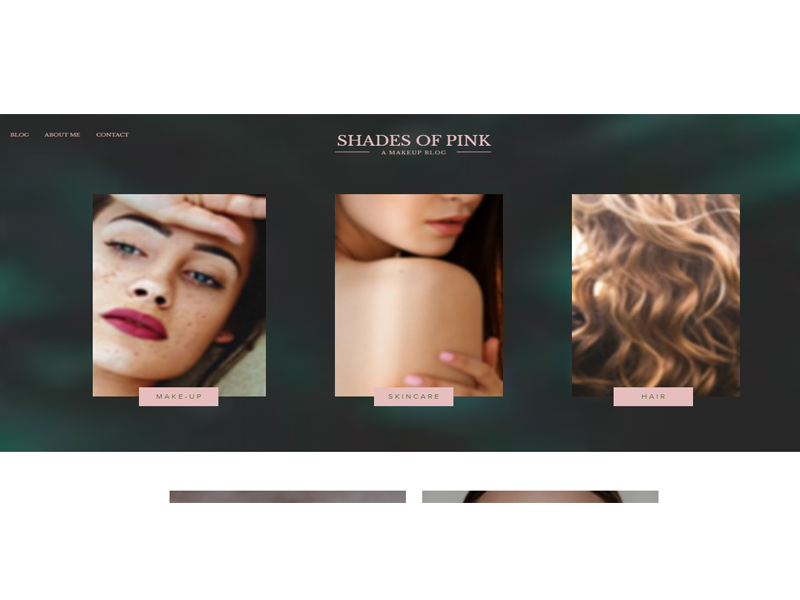 The Makeup blog is specifically designed for wellness, fashion, style, and beauty related reviewers and bloggers. If you feel itchy to comment on the styles and brands but can't wait to share your experience from the fashion event, this beautiful blog is there to help you add custom images and texts.
Before starting, you just need to introduce yourself to the visitors and connect your blog to the social media, and ta da! You're a new style sensation.
It is a perfect theme for beauty bloggers who want to make online makeup shop, write a makeup product review or create makeup blog.
Jazz Music blog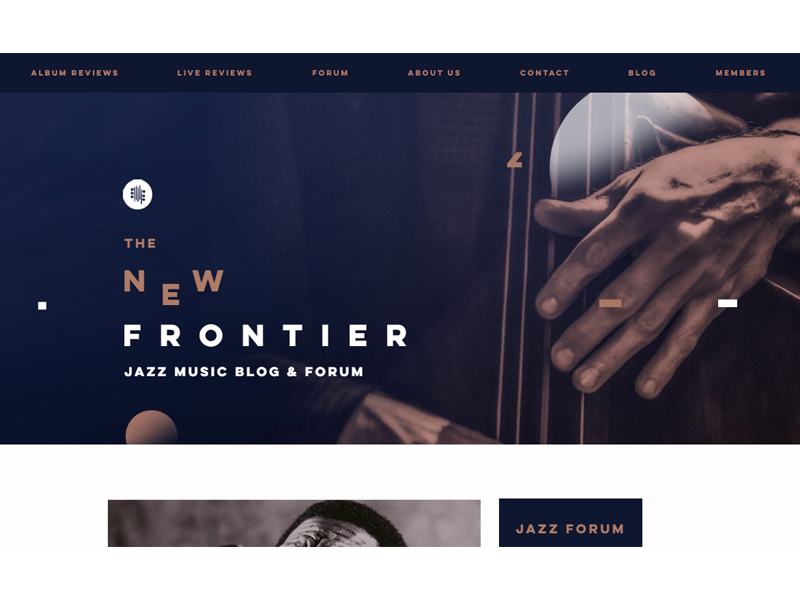 The template is highly suitable for the jazz music promoters, reviewers and bloggers. It gives individuality, tradition and improvisation to your blog. The template is very stylish that adopts the defining aspects of jazz.
The template is musically expressive. The pages are highly dedicated to interactive forums, upcoming performances and album reviews. Thus, your website will offer your visitors a complete experience of jazz-y culture.
The theme is well suited for the creative bloggers who are interested in fine arts or music bands as well. Moreover, it provides a perfect design with necessary smart features for excellent sound performance.
Mindfulness blog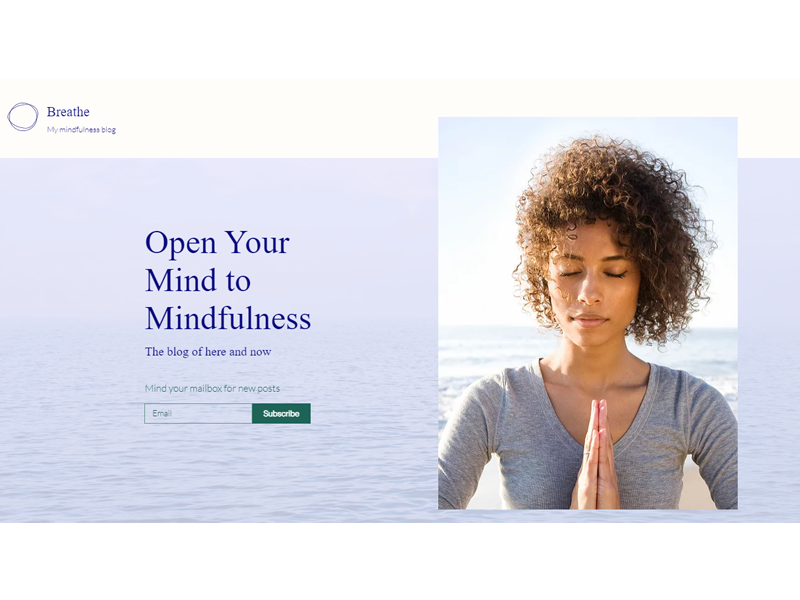 Mindfulness blog is a theme for lifestyle and alternative medicine bloggers. It is a colourful and clean template for you to start a clam and balanced journey in a click.
The Wix Blog provides as interactive way to share resources, tips and news with the readers. It has in-built contact and subscribe forms that make it easy for you to create fan-base and followers.
The template runs superfast and smoothly on the mobile, tablets and computer devices. It has an eye catching feature for all the sections including contact form section, animation boxes and testimonial box.

Ludjon, who co-founded Codeless, possesses a deep passion for technology and the web. With over a decade of experience in constructing websites and developing widely-used WordPress themes, Ludjon has established himself as an accomplished expert in the field.