The basis of the most effective website is a competent website builder. There appear to be thousands of various methods to design a website these days. Wix is a well-known name in the field of site builders.
They've been here for a long time. Until 2018, Wix relied on word of mouth and ease of use to build the brand. Wix's website's vast customization capabilities and template selection provide you with total control over designing and managing your website.
Wix is one of the best beginner friendly website builder on the market
Wix has the functionality to supply it all, whether you want a website for blogs or a competent online business. Wix makes it simple to create your dream website without any technical knowledge and is a good solution for most customers' needs.
In this Wix review, we give an in-depth glance at one of the best website builders on the internet. We'll guide you throughout all of the platform's essential benefits and downsides, assisting you in determining whether Wix is the ideal match for your project — or if you'd be better off with a substitute.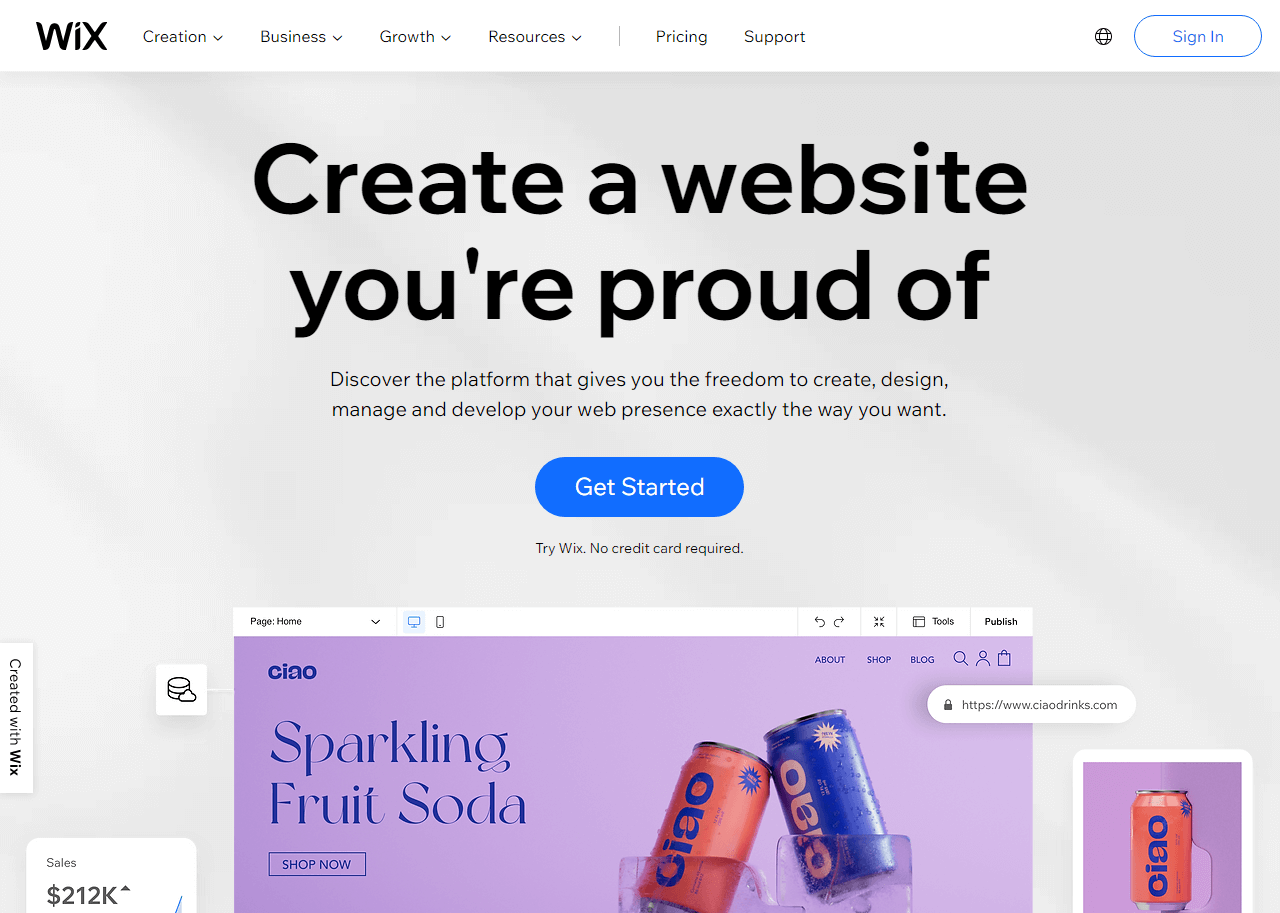 What is Wix?
Wix is a website builder that attempts to let anyone who doesn't know how to code their website or online store. Thousands of people utilized it to create their business websites. It's a 'hosted' service, which implies it's hosted on its systems ('in the cloud').
As a result, there is no software to download anywhere, and you are not required to purchase any hosting. So, as long as you have a web browser and internet connectivity, you can create, manage, and market a Wix website. Wix's platform is updated and tweaked regularly.
Features
According to its website, the Wix account offers an extensive feature set — over 1,000 creative capabilities, regardless of the plan or technique you pick to design your company website. Keeping that in mind, let's take a glance at some of the essential aspects Wix has to offer:
1. Drag and drop website builder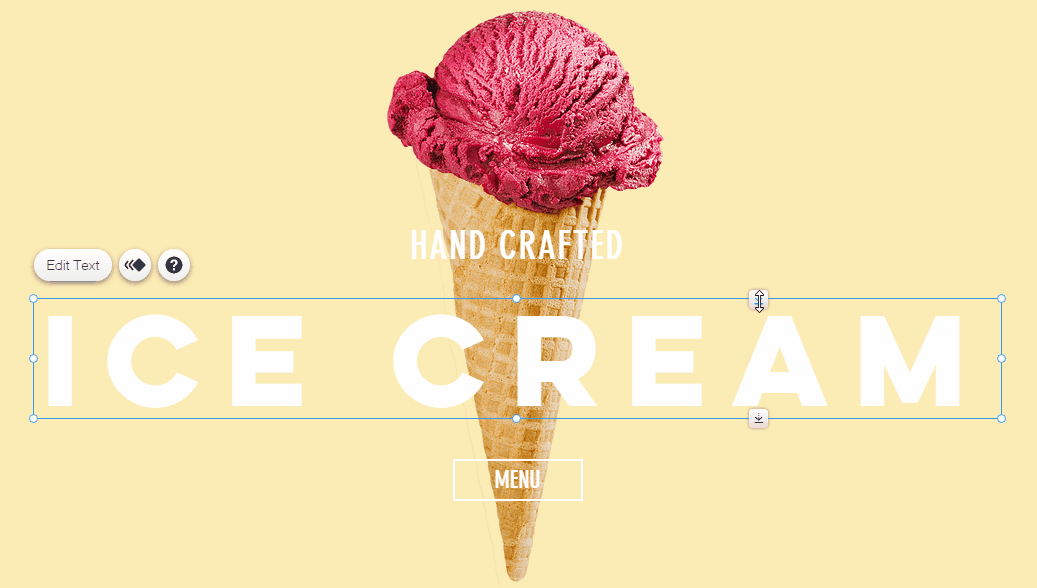 Wix is a full-fledged drag-and-drop website builder. You can personalize each aspect of your website using the Wix Editor. Select various attractive photos and films, change the backdrop, and add sounds.
Display text and animations anywhere you want, modify the font size and type, apply a 3D parallax effect, and add a floating bar with social network links.
2. Huge media collection
Wix has a massive media library that includes photos, GIFs, Clip Art, video, audio, and more. A wide variety of stock pictures and movies are organized into categories for free usage. Without leaving Wix, users can purchase premium photos from Big Stock.
Other possibilities include submitting your photographs or videos to use on your site, as well as picking images from social networks, Google Drive, and other alternatives. Music from your Spotify account may be shared on your website.
3. Easy blogging
Wix is a fantastic blogging platform. Wix has recently developed a new 'Wix Blog' software that allows you to effortlessly build a great blog on your site.
Eight stunning layouts, simple maintenance, social features, and many more are among the highlights. Notably, the new Wix Blog app allows you to write, modify, and publish posts on the live side of your website.
4. Search engine optimization
Wix includes the SEO Wiz tool, which will walk you through just what is required to optimize your site for search engines. The Wix SEO Wiz builds a unique strategy for your site's needs, guiding you through each step about what to fix and how to enhance it.
Following the strategy removes the guesswork from SEO and assures that your site is optimized correctly. That raises your chances of obtaining traffic significantly.
Read More: Best SEO Tools.
5. Wix app market
Wix provides a rich app market, with many free and paid apps available to enhance your website's functionality. Apps are classified into several categories, such as Apps for Blogs, Marketing Materials, Design Tools, Statistics, and Networking, to mention a few.
Add an Instagram story or an events calendar to your site, show off your photos with a gallery or slider app, or make a quality symbol for your website in under five minutes. With more than 200 programs to select from, you can give your website the extra functionality it requires to succeed.
Wix's app store is fantastic, and the company is constantly introducing new, intriguing add-ons to improve its websites.
Who should use Wix? And who should avoid it?
Wix is perfect for creative people, small businesses, and first-time users: It contains more features like fabulous SEO tools and dozens of applications. Wix has 800 beautifully designed and completely configurable layouts; you may choose among them.
Even if you have no technical skills, you can use Wix to design a great website. However, we understand that Wix is not for everyone. Wix isn't for you if you want complete authority over each part of your site.
You have no control over your site's hosting, upgrades, or uptime. Wix is ideal if you want something simple to operate because it does all of your legwork.
As the plan costs rise, you'll get more capability with the premium plans for website and e-commerce firms. However, in general, all website-category and e-commerce business-category premium plans have the following features:

1. Website features
Wix's four premium website plans all include:
The opportunity to connect a domain name.
Additional storage and bandwidth.
Google Analytics integration.
Premium customer assistance.
A personalized logo – a distinctive icon for your browser tab.
Wix ads may also be removed from your site using the premium website plans.
2. Wix business features
Wix provides the opportunity to make online payments of your choosing without charge for all premium business plans. These subscriptions also include linking a custom domain, removing Wix advertisements, interacting with Google Analytics, and using more storage.
Furthermore, all premium business plans feature unlimited bandwidth, ad coupons, and extra web tools.
Pros and Cons
Even the best versatile website builder has problems. Here's an in-depth look at Wix's best and worst features.
Pros
1. Upgraded design templates
Wix's drag-and-drop design tools allow you to construct a contemporary website in a matter of minutes. That enables you to launch a business or private website without considerable investment. Some Wix blog templates are limited to the free plan; still, you get an instant and great Wix user experience.
Although Weebly and Squarespace undoubtedly adopt more uniform design principles, it's the only web platform with personalized design content.
2. The interface is intuitive and useful
It has not the most visually appealing backend interface you want in a website builder nowadays, but it is functional. All of the tools you require are only a few mouse clicks away. Even on the free version, you get instructions and tools to alter templates so your website matches the design of your business.
3. Not locked into long-term plans
Many website builders need you to sign a 24-36 month contract to acquire an affordable premium plan. Wix does not have that problem. You may try it out for as low as $5 per month and unsubscribe at any moment if you choose to upgrade it to the paid option.
4. Site security without compromising speed
Wix websites operate above average in speed straight out of the box. Because the website is hosted on a Wix server, you don't need to be serious about safety. It means you may focus more on developing your website and utilizing the services you acquired from their different premium bundles.
5. All-in-one solution
If you have an issue with your site, you have just to contact Wix to receive the help you need. There's no wastage of time looking for problems or dealing with broken plugins or widgets. You may reach their customer care department by email, phone, or an interactive FAQ website.
Cons
1. Premium Plans Are Single-Site Only
Think again if you assumed that purchasing a monthly premium plan would get you unlimited access to Wix for all of your sites. The premium capabilities are not transferable, which means you purchase it for one website, and it stays on that site!
Suppose how uneasy it would be if all you needed were to connect to Google Analytics. Another thing worth thinking about.
2. Your Site Isn't Transferrable
It is the most significant disadvantage of utilizing Wix, as far as we know. While we are sure Wix is suitable in not allowing individuals to export websites built with their platform, this causes an essential issue for many people.
Assume you're a business owner who has outgrown the possibilities Wix can provide for whatever reason. It implies you'll have to pay a significant sum of money to construct and migrate your website away from Wix!
3. Tracking And Analytics Require A Paid Plan
The most accessible approach for website owners to assess how well their site functions is to use Google Analytics or a few other comparable programs. Sadly, it would be best to improve your strategy to utilize them with Wix.
It does not come cheap and can be inconvenient at times, even though it is as easy as a Google API connection!
4. Free Plan Forces Wix Branding
This point may show what so many say about nothing has been accessible in life, but there is a price for those of you who select Wix and opt to continue on its free plan.
Wix branding is required for free sites hosted on the platform. It's not irritating, but it's evident because it displays right on top of the page, already before your website header.
5. Templates Not Interchangeable
We find it a little bothersome that you can't move material from one template to another. We get that this is a website builder, not Microsoft PowerPoint, but simply letting me see how it appears on a couple of different backdrops would be great.
So, nothing major here except a word of warning — choose your template wisely! You'll have to carefully transfer all of the details you've created on your initial design if you change your opinion later!
6. Mobile devices not synchronized
Wix's mobile features are also not fully synchronized. Therefore, not all sites can be seen adequately on mobile devices.
Read More: Best Mobile Friendly Website Builders.
Extra Addons
Wix provides a few website-building options that are suitable for most customers. Here's an in-depth examination of two popular Wix products:
1. Email marketing
Wix plans have vital email marketing tools that allow you to develop and analyze email marketing campaigns to increase engagement rates and visits. You can gather leads, create emails, and automate emails using Ascend by Wix.
With an easy email designer, email management, and comprehensive data monitoring, Wix's email marketing capabilities allow you to engage with your customers on a more personalized level. By generating customized email campaigns tailored to your target, you may entirely revolutionize your business.
Wix, like website templates, helps to select from an ever-expanding library of designer-made email templates, which is what you need to grab people's attention.
Wix not only provides you with reliable tools ideal for any email campaign, but it also provides you with access to its whole marketing and client management suite. A few of those features allow you to do the following:
Make social media postings
Create a promotional video.
Chat with guests in real-time
Customizable forms.
Get sophisticated SEO services.
Take charge of your finances.
With Wix's email marketing capabilities, you may obtain nearly seven times the number of visits, providing a significant expansion for any business.
2. Wix bookings
Wix Bookings is an online appointment technology that lets you organize, host, and provide solutions to your community via an online shop.
After buying one of the Company or Ecommerce plans, which start at $18 per month, you may incorporate Wix Bookings into your website. An appointment booking system is a must-have for eCommerce users since it simplifies selling things and taking payments.
Wix Bookings provides a comprehensive scheduling capability such as calendar administration, employee management, and safe payment options. The all-in-one booking solution allows you to optimize your business by handling daily duties through an easy-to-use interface.
You can showcase services, schedules, and prices, interact with consumers via chat sessions, design customized reservation forms, and deliver SMS or email booking alerts with online scheduling.
With Wix Bookings, you will have access to several features, including:
Packages and membership cards
Intelligent analytics for client services
Receive payment in over 40 different currencies
Wix mobile application
Wix Bookings is ideal for organizations that want a more regulated booking and scheduling system.

Wix vs. the Best Website Builders
While most website builders specialize in certain areas, such as eCommerce or content marketing, Wix is a master of all crafts. This website builder throws a broad net, making it appealing to a diverse range of consumers who want professional-looking websites fast and affordably. Wix is also listed in as one of the best ecommerce platforms in our listing
Wix will look good for you even if you're an experienced restaurant trying to advertise your business, a startup embarking on your first online venture, or an expert web developer lacking the time or resources to construct a website from scratch. For instance, Wix has a drag-and-drop editor, but WordPress does not have it by default.
It also has excellent customer support. Wix support is available to both free and premium account customers is a significant benefit.
Read More: Webflow vs. WordPress: Pricing, CMS & eCommerce.
Wix Pricing
1. Premium Plans
Wix is classified as one cheapest website builders on the market.
Wix offers eight premium plans. All Wix's yearly premium plans include a free domain name for the first year. These are specifically website plans:
The Connect Domain package is only accessible in a limited number of countries. It consists of a website advertisement.
The Combo plan includes everything you'll want with an essential website, but traffic is limited to 2 GB of bandwidth.
The bandwidth on the Limitless package is unlimited. It's where we recommend most users start.
The VIP plan grants you entry to prioritized customer service, allowing you to bypass the phone support queue.
Here are packages for eCommerce websites
Wix's initial eCommerce plan is the Business Basic. It does have certain feature restrictions.
The Business Unlimited plan includes eCommerce services that the Business Basic plan does not.
The Business VIP allows you entry to prioritized customer service, allowing you to bypass the phone support line.
Furthermore, Wix.com provides the Wix Enterprise package, starting at $500.
Compared to the Combo Plans, Wix's Unlimited Plan provides more storage space.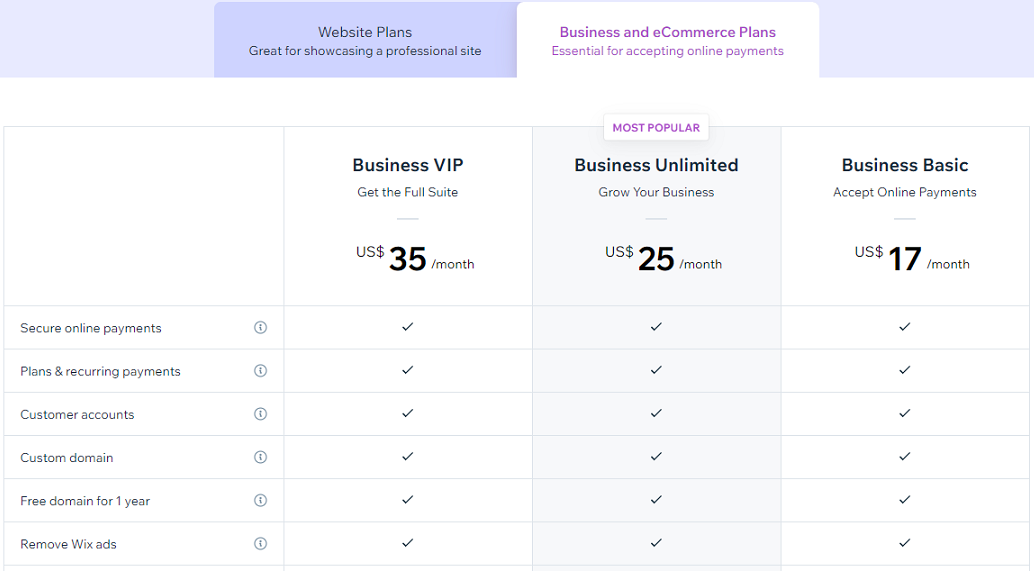 2. Free Plan
Wix offers a free version if you utilize a Wix subdomain (e.g., yourwebsite.wix.com). You must also show Wix advertisements and have restricted functionality.
Read More: Best Free Website Builders.
A premium subscription must utilize a custom domain and have full features. It's ideal for a quick or temporary job or to test out Wix before upgrading.
However, it restricts you to 500 MB of bandwidth per month and includes an ad on your free website.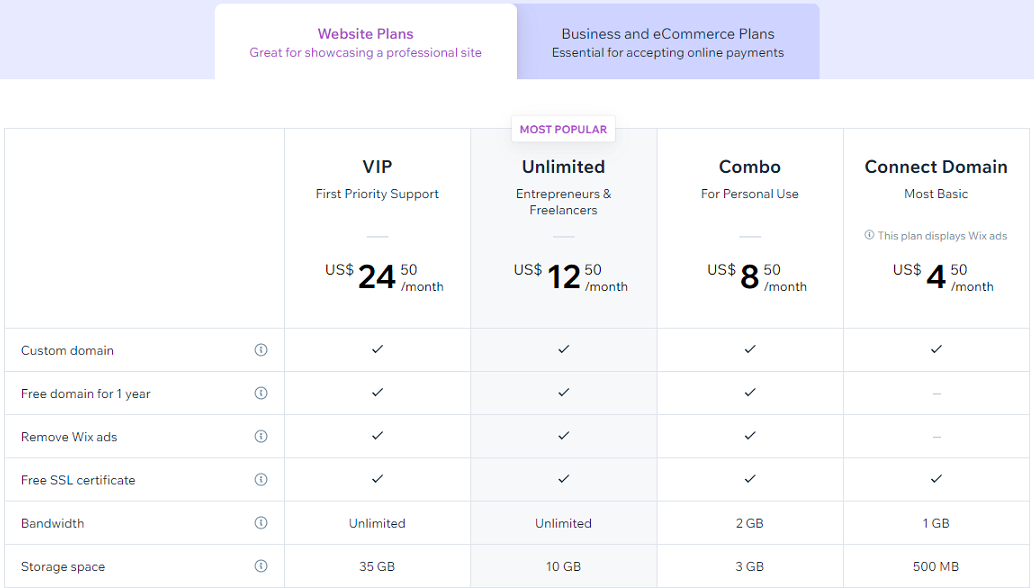 Template Library
Wix offers the most templates of any website builder on the marketplace currently. Wix has over 800 designer-made designs to select from, so you can discover something that fits you and your website requirements. In comparison, GoDaddy and Squarespace have just over 100 each.
Wix Templates are available for various company areas, including health, travel, cuisine, photography, and education, to mention a few. There are numerous categories and subcategories to assist you in locating the suitable template for you since there are so many to pick from. Due the fact they have a lot of photography templates we have ranked it among best photography website builders article.
There are several categories to choose from: business and services, retail, creative, community, and blog. Wix also allows you to open and save as many templates as you like before committing to the final output.
The designs are professional-looking and enable pixel-perfect personalization. There is a user-friendly mobile version that may be customized to your liking.

Website building
Wix lets you choose from three options for building the website:
Wix Artificial Design Intelligence
"Let Wix ADI develop a website for you" pretty much sums it up. This option is intended for total beginners who want a website – and are not concerned with in-depth editing or bespoke designs.
This approach allows you to select a template, adjust typefaces, add blocks, drag and drop pieces, and do various other things to create a genuine one-of-a-kind website. The 'Wix Editor' interface employs a technique to web design known as 'absolute positioning.'
Shopify, a competitor, employs responsive web design, which means your site adapts itself to appear appropriately across devices automatically.
The designer's version of Wix is Velo by Wix (previously known as Corvid by Wix). It gives developers access to the code, databases, and APIs (Application Programming Interfaces) to create more customized Wix sites and applications.

Conclusion
We take a close look at one of the most popular website builders on the internet in our Wix review. Wix provides an extensive media collection, including images, GIFs, Clip Art, video, music, and other material. Wix has recently released a new 'Wix Blog' software that allows you to create a fantastic blog on your website with ease.
Wix has a robust app market with a variety of free and premium apps to enhance the functionality of your website. In addition, all premium business plans include unlimited bandwidth, ad coupons, and more site tools.
The premium features aren't portable, so they'll stay on that site if you buy them for one website! For free sites hosted on the platform, Wix branding is necessary. Wix offers a few website-building alternatives appropriate for the vast majority of users. Wix not only gives you powerful tools for every email campaign, but it also gives you access to the rest of its advertising and customer relationship management suite.
This website builder appeals to a broad spectrum of customers searching for competent websites that can be created quickly and economically. The drag-and-drop editor is available in Wix but not in WordPress. It also provides excellent customer service, with paid and free account holders receiving priority help.
Wix Templates are provided for health, tourism, food, photography, and education, among other industries. There is a mobile-friendly version that may be tailored to your preferences. The 'Wix Editor' interface uses a web design concept known as 'absolute positioning.'

As one of the co-founders of Codeless, I bring to the table expertise in developing WordPress and web applications, as well as a track record of effectively managing hosting and servers. My passion for acquiring knowledge and my enthusiasm for constructing and testing novel technologies drive me to constantly innovate and improve.
Expertise:
Web Development,
Web Design,
Linux System Administration,
SEO
Experience:
15 years of experience in Web Development by developing and designing some of the most popular WordPress Themes like Specular, Tower, and Folie.
Education:
I have a degree in Engineering Physics and MSC in Material Science and Opto Electronics.