Are you looking for the best photography website builders? Getting a photo gallery website online has become a lot easier and cheaper with website builders. We present to you in-depth research of the very best, so you can start today.
There are around 201,764 photography businesses in US according to IBISWorld and to stand out from the crowd you need to create a photography website.
In a hurry? Here is a short list of the best website builders for photographers:
These website builders for photographers are selected on the basis of ease of use, blogging functionality, SEO, and design.
Squarespace being placed at the top of the list means it is the best in terms of its templates that are image-focused and stunning. These templates keep a balance between professional and artsy appearance.
Wix is strong due to its user-friendly interface which put it at the second position in the list.
SmugMug is specialized in safeguarding your images on the website. We have created a comparison table to list the minor details of all the listed website builders.
The Top 7 Best Photography Website Builders in 2023
Let's take a closer look at each one of these website builders to find the perfect for your need.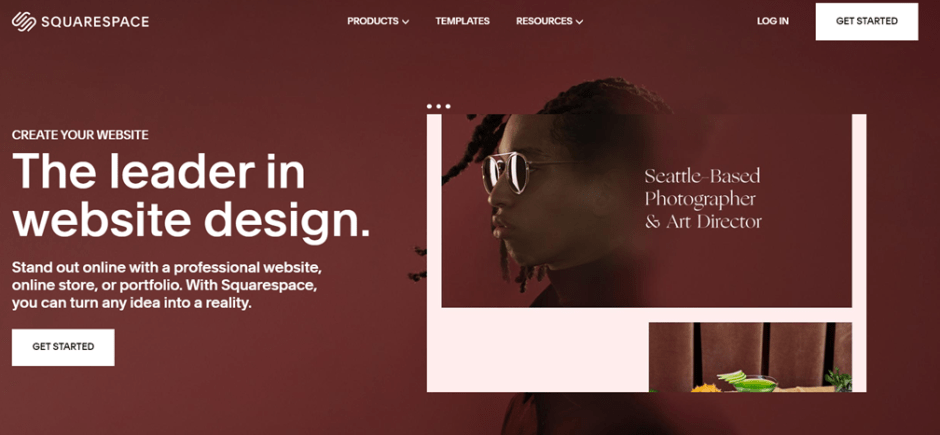 Overall, Squarespace is the best overall photography website builder. It is known for being mobile responsive and creating stunning websites. It comes with really attractive layout designs.
Squarespace is the best overall photography website builder. It is known for being mobile responsive and creation of stunning websites. It comes with really attractive layout designs.
Squarespace creates a stunning website that feels high-end, polished, and highly professional. It is among the most popular choice of photographers because of its inexpensive premium plans and intuitive website builder. Also, it has a very easy-to-use user interface.
Squarespace gives you unlimited storage and bandwidth even at the cheapest plan.
| | |
| --- | --- |
| Pros | Cons |
| The templates are highly gorgeous and fit for creatives. It is best for the most stylish photography backdrop | It's expensive. But it offers a lot of features in the package. Thus, better value for money. |
| All the features are in-house developed, so the standard is well-maintained. Third part plugins may vary in standard. | Squarespace poses a steeper learning curve. It is the most sophisticated builder which makes it the hardest to grip |
Design
Squarespace offers the most stunning photography templates among all the website builders. The design is highly flexible and is professionally designed. Moreover, all the themes it offers are mobile responsive.
Also, it allows you to switch templates easily to refresh the overall web design. For example, you can change fonts and colors in just two clicks.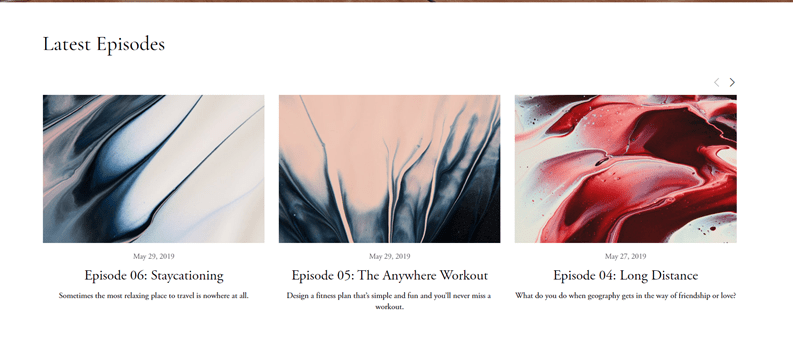 Features
Squarespace has quality features to support a quality website. It provides powerful blog features, strong SEO and social integration.
The range of featured plugins it offers is small. However, a wide range of third-party plugins can be used to have a more adventurous experience for every niche.

SEO
Squarespace offers help in optimizing the entire content of the website according to SEO. It further makes it easy to edit alt tags and descriptions of the images after being uploaded once.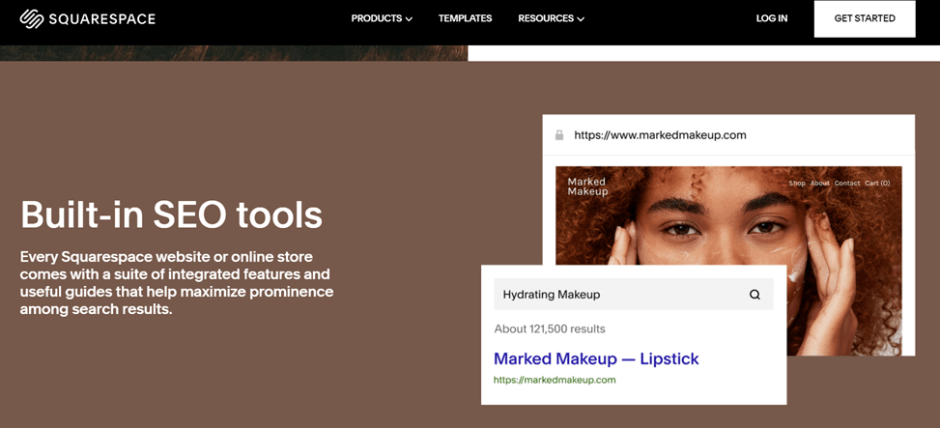 Moreover, it also offers you to add extra elements such as promoting your work and engaging visitors may require creating a blog. In addition, you can accept inquiries by adding contact forms.
Blogging
Squarespace offers a great platform that attracts bloggers. It offers multiple solutions such as:
Adding RSS feed
Optional comments
Creating blog categories
Adding unlimited number of pages on the cheapest plan too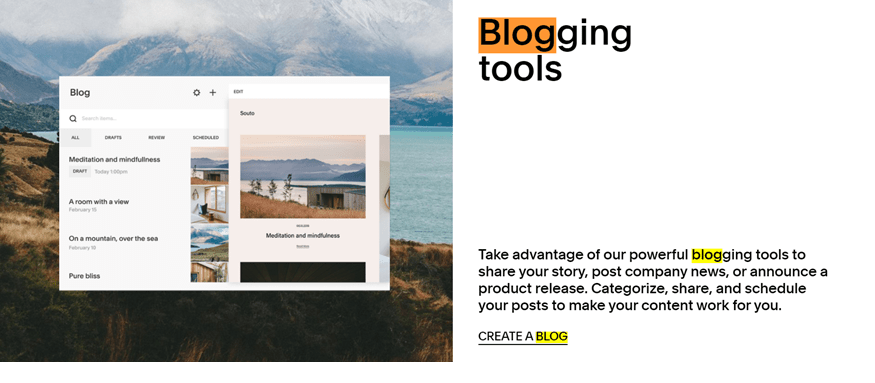 Squarespace is rated as the top in terms of blogging. It provides minimalist, clean and crisp templates for blogging. Thus, your website will look highly professional.
Pricing
It offers 4 price plans from $12 to $40 per month. These plans also allow you to sell through your websites. Above all, you don't need to pay for all the functions, only pay for what you actually need. You are free to cancel or change your plan anytime.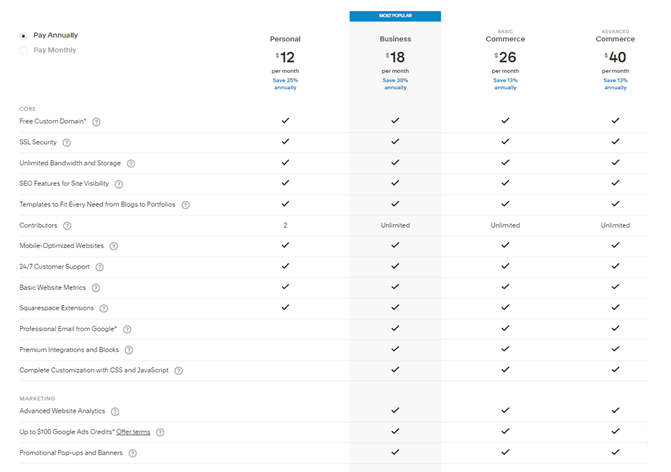 The best of Squarespace is that it offers 50% off for a student package. It needs a valid academic email address for this in addition to the terms and conditions.
It offers a 14-days trial period but does not have a free plan.
The personal plan of $12/month is most popular among the photographers.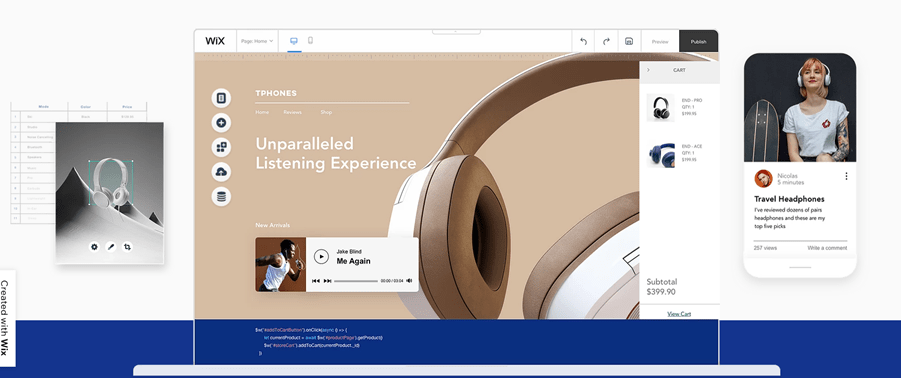 Wix provides a wide range of template that are easy to select and surprisingly easy to store and upload high quality photos.
Wix is a highly versatile and user-friendly website builder for various small businesses. Wix provides a wide range of templates that is easy to select and surprisingly easy to store and upload high-quality photos.
It is an all-rounder but stands at the top on the basis of its popularity among photographers. Moreover, Wix proves to be a great platform with SEO options that help photographers who are looking to build an online portfolio to get new clients.
Specifically, Wix is suitable for event and shoot photographers.
| | |
| --- | --- |
| Pros | Cons |
| It gives full control over your website with frag and drop editor. It means you can do anything that you imagine. Wix is best for a highly customizable photography platform. | The template cannot be changed after the site is launched. So if you want to change your portfolio website or design it further, it is not possible with Wix. |
| Wix automatically optimizes the site for multiple platforms. The websites created as a result are fully responsive to all devices. | The creative control is overwhelming, especially for beginners. |
Design
Wix offers 500+ professionally designed templates. Out of which, 30+ are designed specifically for photographers.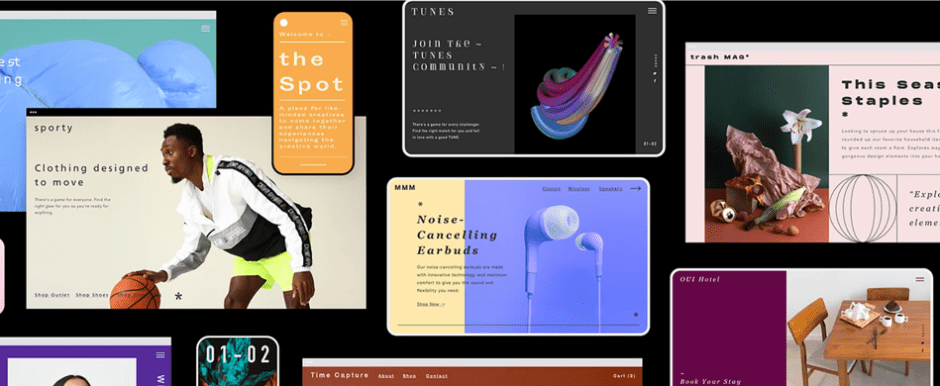 It includes several gallery options to display your collection from Art photography to urban photography with clustered thumbnails to minimalist framing.
Even the gallery has different styles for you to explore. These include lightboxes to slideshows for image popping. Finding features in Wix is worth digging into to get the best to represent your work.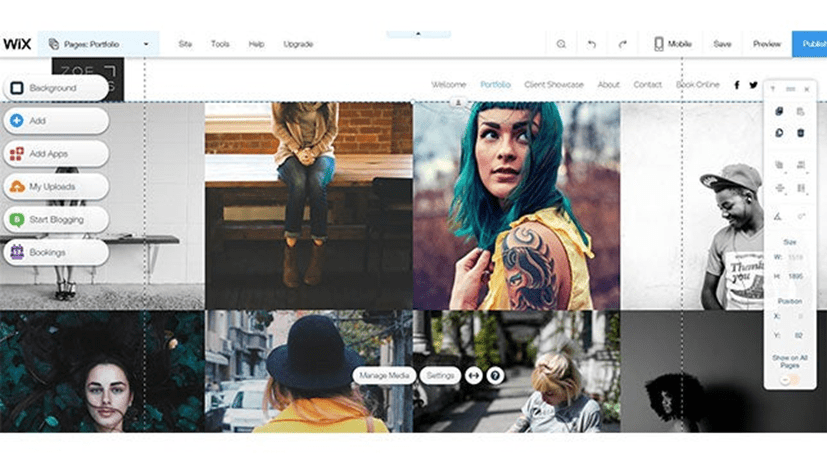 Therefore, spending time choosing the right template on Wix is worthy as you can change it later.
Wix also offers full control over your creativity. Wix provides a natural fit as it is flexible. The drag and drop builder makes it possible to do everything with the website that you need or imagine.
Moreover, the photo upload speed is also impressive that helps minimize the time in bulk uploading. Above all, continuous editing goes on in the background.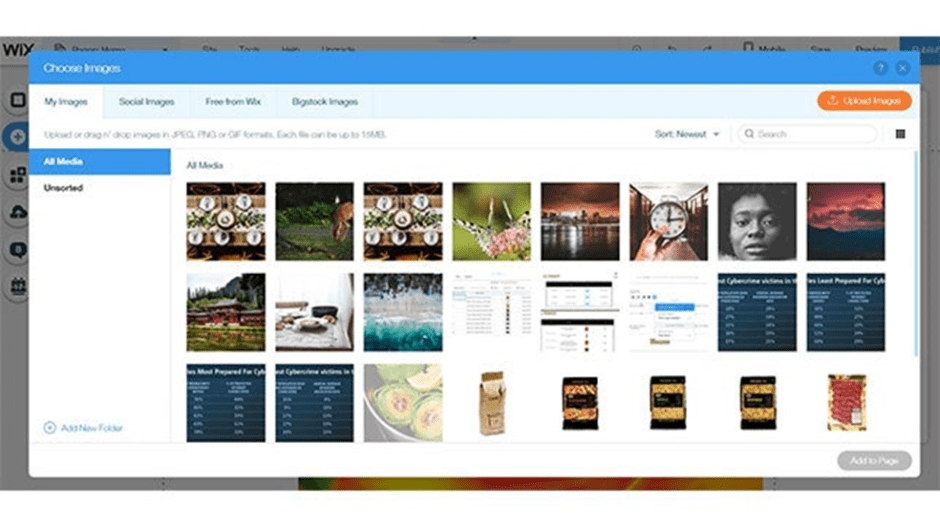 With Wix, you can experience super simple image management and uploading. Thus, you can easily manage your collection while saving time.
Features
Wix offers several ways to let your photography stand out and grab visitors' eyes. Adding social media connections and contact forms is super easy with Wix. Moreover, it has an impressive app store that gives an option of adding almost all sorts of features (mostly free and some paid. Wix also offers outstanding e-commerce features.
SEO
You can add alt tags after uploading the photographs. Thus, Google can easily read them and improve the on-site SEO. Wix helps you optimize SEO site-wide. It is ideal to push up your ranking.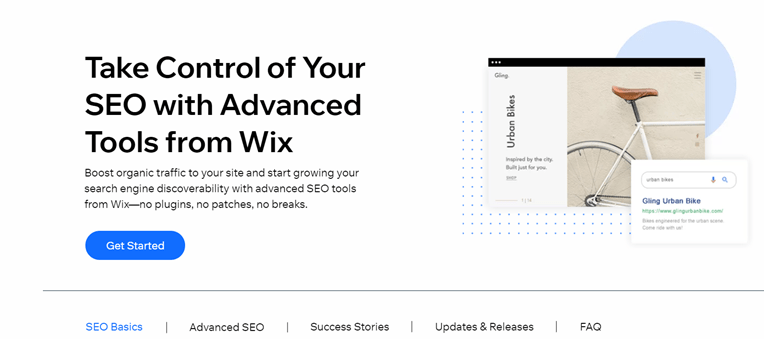 Generally, Wix supports your SEO strategy with its specific approach. The SEO Wizard in Wix tailors your website and content. It is a pretty helpful as well as a unique feature.
Blogging
Wix blogging tool helps you add a blog to your website. It gives the best "blog on the side" type blog. But if you want to make your blog to be the backbone of your site, then you will need to face some serious roadblocks. Such as;
RSS feed is not possible so updating content is more difficult
Posts will pile up because of archiving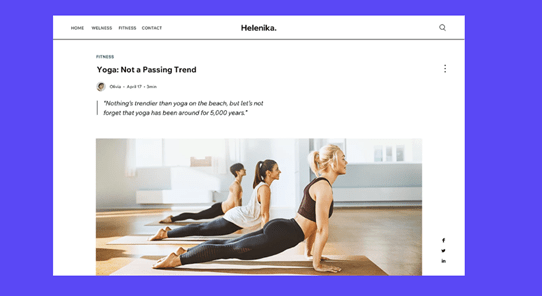 Pricing
Wix offers the most generous plans to build your website. If you are a beginner, you can build your confidence too. Obviously, building a fully professional website is not possible with a free plan, so we will not suggest you stay on it for long. Also, the free plan display Wix advertising, so that will eat up most of your storage.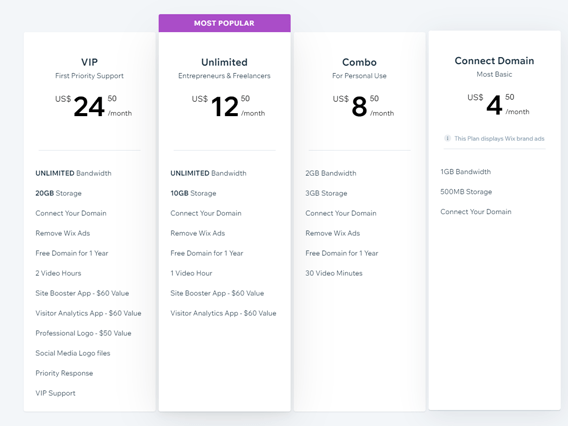 Considering one of the premium plans is a good idea for monthly investment. Your own URL and custom domain name can be added for only $13 per month. Thus, you can access a wider range of tools and templates while getting rid of Wix's advertising.
It will also give additional storage so you can now upload more photographs. So, grow your website further.
Wix is a great thing for those who plan to sell their photography through a website. It offers special Ecommerce plans that start from $23 per month. These plans give you a set of selling tools.
To make the Wix website stand out, premium plans are best to opt for. In this way, you will ensure the first impression.
Learn more about Wix by reading our full Wix review.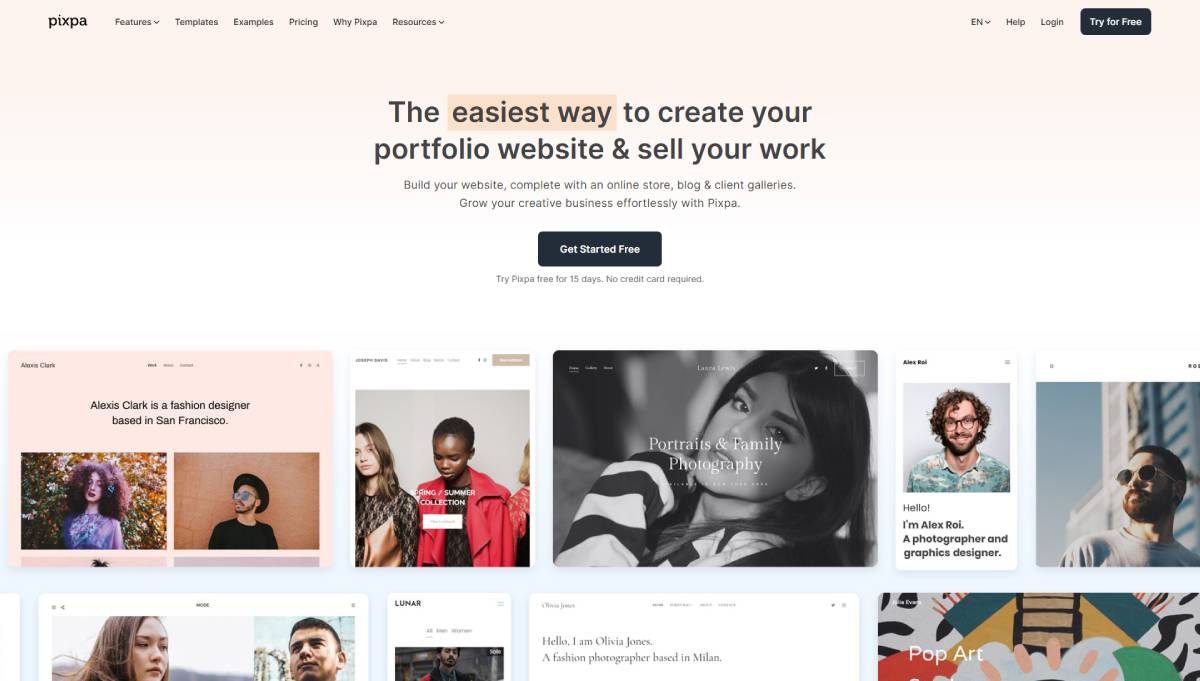 Pixpa is an all-in-one website builder which has been designed to empower photographers and creative professionals and businesses in building professional websites, without having to touch a single line of code.
Pixpa is the most affordable website builder for photography sites
It offers a robust set of tools for building online portfolio websites including professional and sophisticated gallery options, e-commerce galleries to sell photographic prints which can be auto-fulfilled through WHCC or Fotomoto, client galleries, and mobile gallery apps for client proofing and servicing, extensive SEO and marketing tools and much more.
Pixpa can help photographers share, sell and deliver their work professionally, effortlessly, and affordably.
Pros
Beginner-friendly, no-code website builder platform.
Built-in client proofing platform for photographers.
E-commerce galleries to integrate e-commerce facilities into your photography portfolio.
Extensive SEO manager and integrated marketing features.
Built-in blogging platform.
24×7 customer support through live chat.
Extensive help website with step-by-step guides and tutorial videos.
Cons
Custom domain names must be purchased separately from a third party.
Paid service. No free plans or freemium model
Design
Pixpa is designed to be a completely no-code platform which means you can create your portfolio website easily and without coding.

Once you sign up for Pixpa you will be asked to select a template from the platform's huge repertoire of mobile-optimized, responsive and photographer-friendly templates. Once you have chosen a template, you can customize all of its visual elements to suit your design requirements and taste.
The easy-to-use visual editor and drag and drop page builder are extremely intuitive, responsive, and user-friendly. For more advanced users, Pixpa also offers the option to use custom HTML and CSS code for further customization.
Features
Pixpa is not only easy to use but also feature-rich. The best part about Pixpa is the fact that it is tailor-made to suit the needs of photographers and creative professionals. It offers extensive, sophisticated, and professional gallery options and photographer-friendly tools for client proofing, e-commerce, and portfolio building.
SEO
Pixpa's SEO manager comes with robust tools for managing your website's SEO. It allows you to set sitewide metadata, including alt tags, specify search engine-friendly urls, generate automatic sitemaps and more.
All Pixpa websites are based on clean HTML markup which makes them easily indexable improving SEO ratings. For analytics, Pixpa allows for integrations with Google Analytics and Google Webmaster tools to help you understand, analyze and optimize your website's performance.
Blogging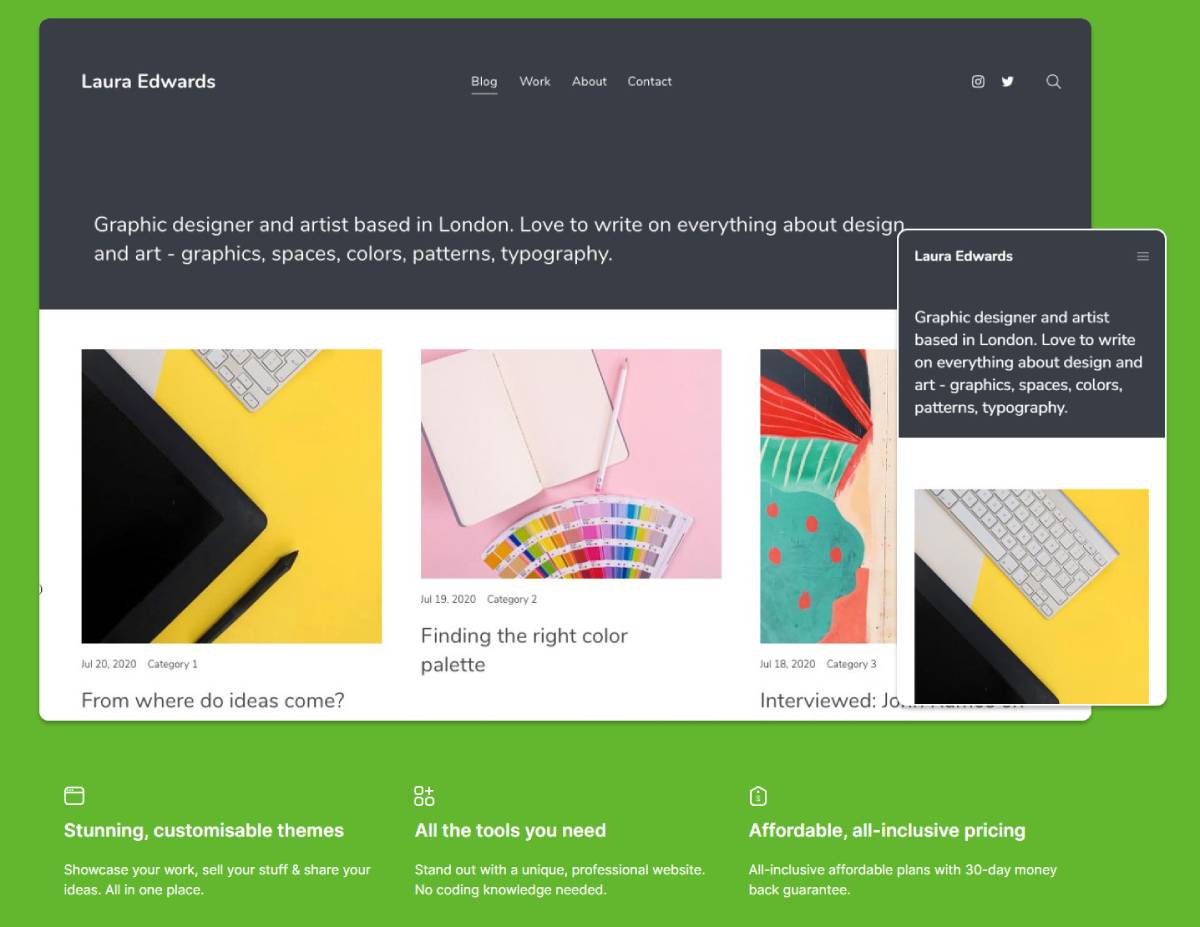 Pixpa comes with built-in blogging tools to help you create a photo blog or even add a regular blog to your photography website. The blogging platform has fully customizable layouts that let you personalize and fine-tune all the visual aspects of your blog including, fonts, colors, image styles, banners, and more.
The WYSIWYG editor allows you to create, edit, publish and schedule blog posts all in one place. Pixpa's blogging platform also supports embeddable media including images, videos, and more. You can choose to enable and moderate comments through the built-in commenting system or Disqus. .
Pricing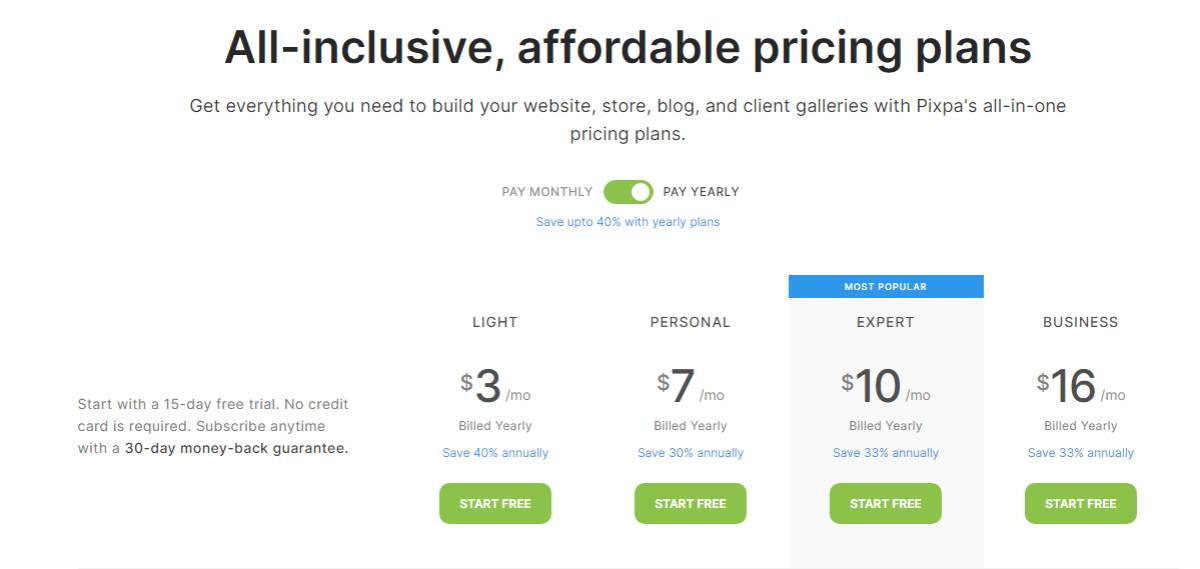 Pixpa is a paid service, so there are no free plans like you would get on a freemium model service.
You can however opt for a full-featured, 15-day free trial and test drive the service to its full capacity. No credit card information is required for sign-up and there are no hidden charges.
The pricing plans start from as little as $3/month and the highest plan costs $16/month. You can also opt for standalone plans for client galleries.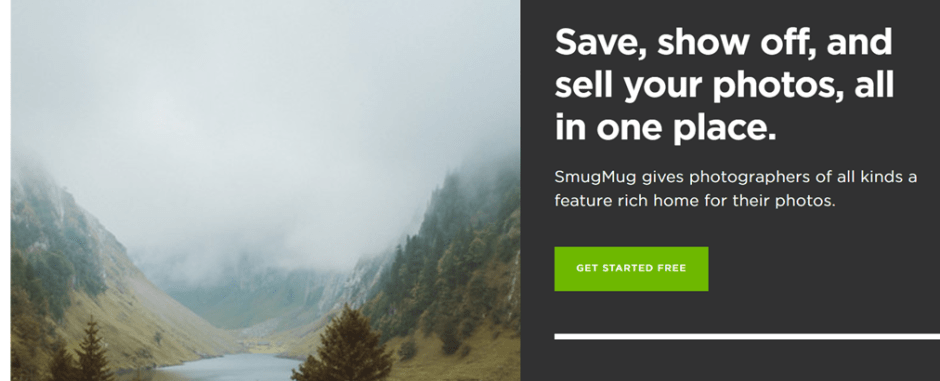 SmugMug is a website builder custom-crafted for professional photographers. It offers easy ways to display and sell your photographs. It is a specialized builder for what it does.
SmugMug is a website builder custom-crafted for photographers. It offers easy ways to display and sell your photographs. It is a specialized builder for what it does.
However, in comparison to other best website builders for photographers, it is limited in terms of versatility such as Superspace or Wix.
SmugMug still offers a competitive advantage in terms that it helping to sell out of the box. You can create a custom price list, sell prints, photo download options and send gifts directly without extra integrations.
| | |
| --- | --- |
| Pros | Cons |
| It offers excellent photography features with security of your images after they are published. | The portfolio specialisation is limited. SmugMug does not hold up non-portfolio functionality. |
| You can easily monetize your photos with SmugMug. You can readily sell your prints and products right after signing up. | The cost of portfolio plan is $15 per month. It's a bit steep if it is for starting out and not for monetizing. |
Design
SmugMug shines with photography-related features. Its higher demand is due to its designs. It offers pretty limited features particularly under the cheap plan and even with expensive ones. This can only provide you with 21 templates.

It offers a moderate collection of designs that are simple to show off the photography. However, the features are limited. It is not only about the limited quantity. It's great that SmugMug focuses only on the images, but, it simultaneously loses the extra features of maps or contacts forms.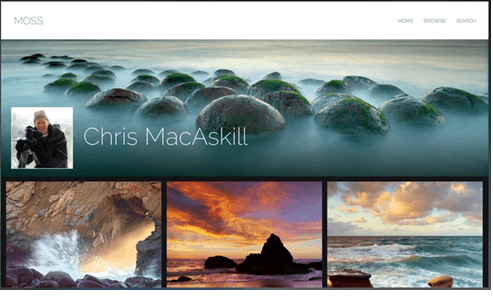 The customization options offered by SmugMug is quite basic. It is also rigid sometimes. For example, it does not allow many alterations with the width and height of the image boxes. If you truly want creative control, this website builder may not be for you. Instead, it lets your photos shine out and speak for themselves.
Features
SmugMug is a specialized website creator for photographers, it has certain features and perks that other builders do not offer. The best feature of SmugMug is that it secures your photos from a third party.
The security options keep on increasing as you pay more for the plan.
Password protect the whole site including galleries, folders, and pages.
Images can be protected with watermarks
Right-click protection is also enabled that displays customized notice of copyrighting as the right click is used by visitors on the website.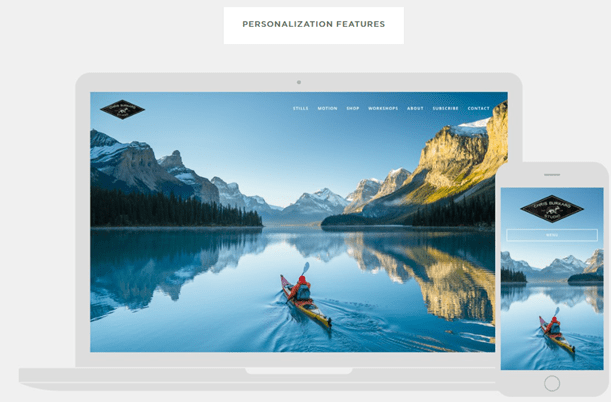 Here's a closer look of some of the best features of SmugMug:
Uploading albums from Dropbox and multiple locations
Snap-on upload and go straight to the image from the storage to the website while still working on the front-end.
Extensive integration with social media while staying connected to the community.
Professional partnerships with printers so that it is easy to order products or prints directly from the website for more integrations.
Lightroom syncing of the photo library
Unlimited video and photo uploads.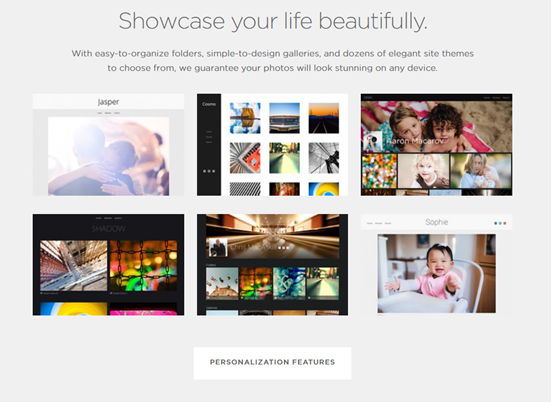 SEO
SEO supports business growth so that you can tag keywords and descriptions on images. Meanwhile, you can edit metadata to create sitemaps and individual pages to submit a directory to Google.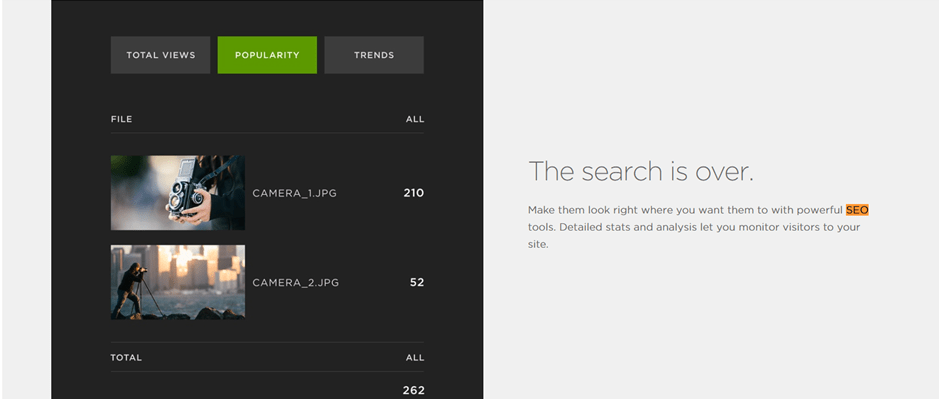 SmugMug offers a specific SEO guide with extraordinary practical advice. Thus, ranking is not a problem with SmugMug.
Blogging
Alas! If you are a blogger, SmugMug is not for you. There is no built-in option for blogging. Just know this beforehand prior to starting your photography site.
Pricing
SmugMug does not offer any free plan, but 14 days trial for free. Then, you can subscribe to one of the most suitable premium plans. The plans range from basic $8 per month to pro plan $50 per month. On the basis of annual payments, the cheapest would cost you $96 per year.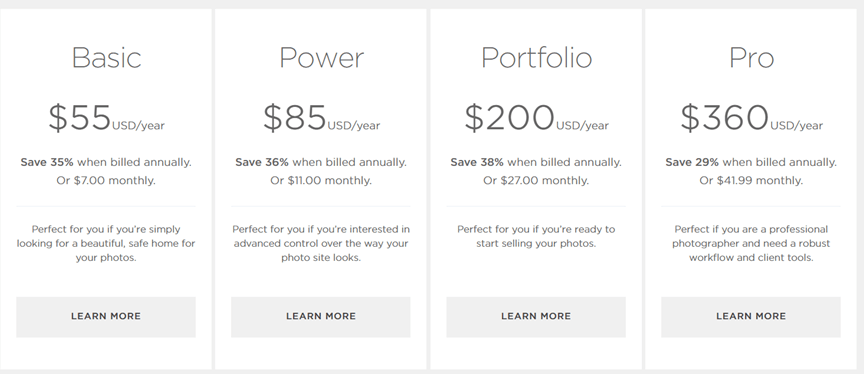 WordPress is a famous and most popular blogging CMS on WordPress.org. Moreover, blogging powers are combined in WordPress.com. WordPress.org provides a user-friendly and streamlined editor for website building.
WordPress is a famous and most popular blogging CMS on WordPress.org. Moreover, blogging powers are combined in WordPress.com. WordPress.org provides a user friendly and streamlined editor for website building.
WordPress offers a powerful yet challenging free website builder solution that cannot be beaten. It provides outstanding value for your money. It is down on number fourth in the list because it is not good for a photography portfolio. WP is a good fit if you want your website to be a low-cost photography blog.
The WordPress community offers outstanding support and you can find a lot of tutorials on the web.
| | |
| --- | --- |
| Pros | Cons |
| It is best for blogging as it provides a wide range of built-in tools | The less likable choice for beginners as it is not easy to use |
| Worth money spending because of the number of features | The primary use is for blogging so the designs and features are not specific for photographers' websites as compared to competitors. |
Design
WordPress.com offers thousands of themes with 91+ being tagged for photography. Most of the themes lack drag-and-drop tools that are why their customizability is highly restricted.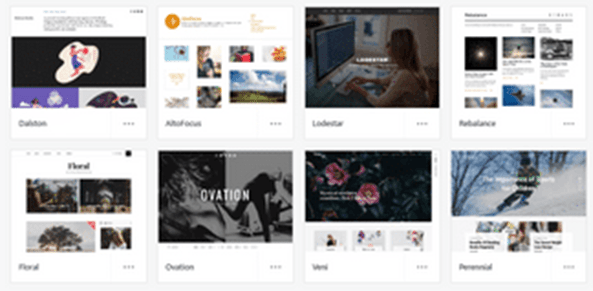 The design and content cannot be edited at the same time. It creates a restriction in creativity and feels clunky, especially if you are looking forward to redesigning the template.
Features
WordPress.com ranks at the top in terms of blogging. It offers many in-built plugins for free. However, these are still limited as compared to the other site builders in the list included in this post.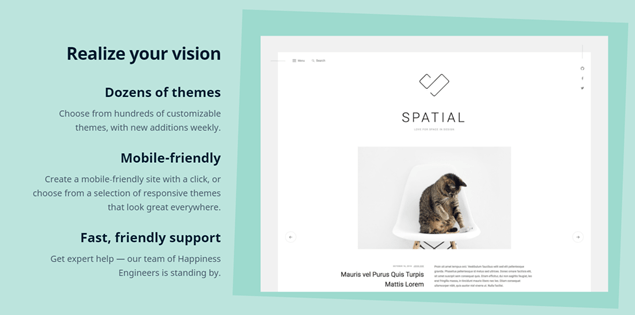 Blogging
WordPress.com offers a complete set of blogging tools that cover all the user comments and social bookmarking.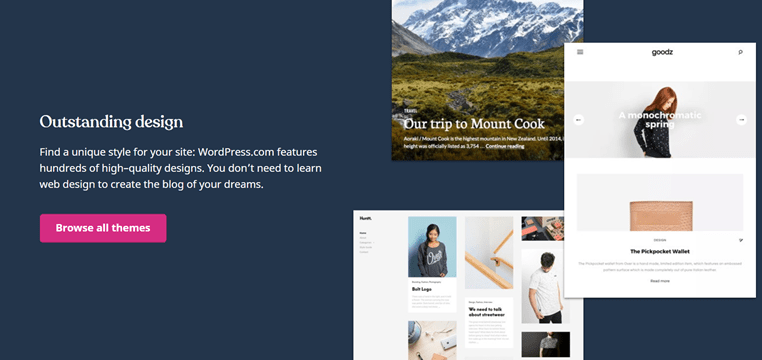 WordPress SEO
Both WordPress.org and WordPress.com are consistent with SEO tools. WordPress.com comes with all the tools to build an SEO-friendly website. They both include content delivery networks (CDN) that further increase the page loading speed.
Pricing
The most significant feature of WordPress.com is that it values the amount it costs. It wowed the users with the number of features it offers for the dedicated price.

Without a doubt, It has four paid and one free plan. The paid plans range from $45 to $5 per month. The WordPress.com branding can be unlocked with 200GB storage and gives access to all SEO tools. It costs $25 for the business plan.
$8 is for another premium plan without these features but it is fine for a small photography business website. It gives 13GB storage where you can also monetize your website.
Weebly is characterized as the cheapest photography website builder. It offers a range of affordable designs that are not only sleek but flexible too.
Weebly is characterized as the cheapest photography website builder. It offers a range of affordable designs that are not only sleek but flexible too.
There are several restrictions in designing with Weebly, but if you are not fussed with the design of your own website, then this restriction won't hinder your work.
It offers amazing features that can easily be added through app center. So it is easy to add only those features that you want to add for your website.
| | |
| --- | --- |
| Pros | Cons |
| Weebly has an unparalleled App Center. You can do whatever you imagine with the sheer number of apps on the Weebly App Center. | Weebly is bought by Square which may be a good step towards eCommerce by away from the creative website. |
| The interface offers a balance between structure and customizability. It presents your photography out of the box. You can easily and interestingly play around with templates and add multiple features. | A personal restore option is not available. Only Weebly support can restore a down site for you. |
Design
Designs of Weebly are simple yet attractive but there are not many jaw-dropping or groundbreaking type designs. It offers 50 stylish and clean layouts from a modest selection. Their themes are still below the average quality as offered by Squarespace or Wix.
The designs offered by Weebly are ideal, simpler, and more basic. Technically, they do not standout. More visual and creative designs can, however, be looked at under the Personal and Portfolio categories.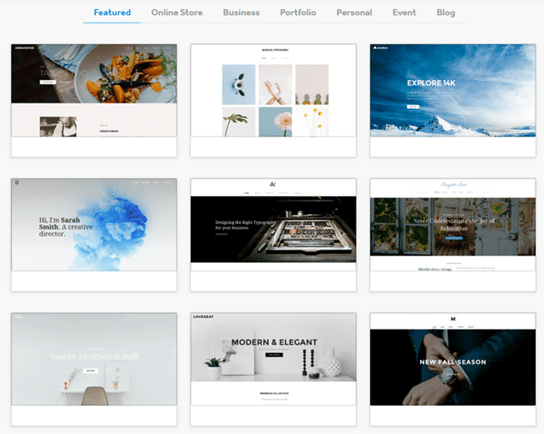 The templates offered by Weebly are simple but easy to use. Therefore, they save a lot of time if you want to quickly build a website. Moreover, it can continue uploading photographs in the background. Therefore, you don't have to wait for the uploads to complete.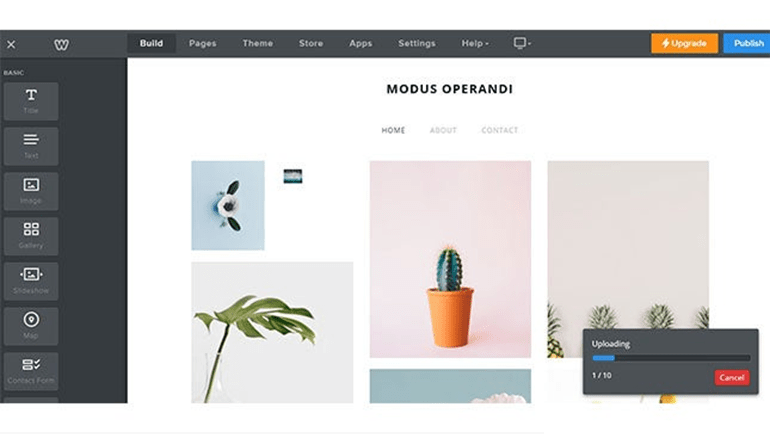 Features
Weebly works well for selling products/images with these handy apps.
Weebly auto-optimizes images during uploading for the web. It results in washed-out color palettes. Therefore, it is important to check for the potentially embedded color and sRGB to protect images from diminished vibrancy. It is specifically recommended for the images after editing in Lightroom.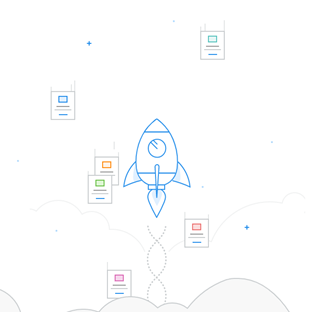 Blogging
Weebly's strongest point is its blogging tools.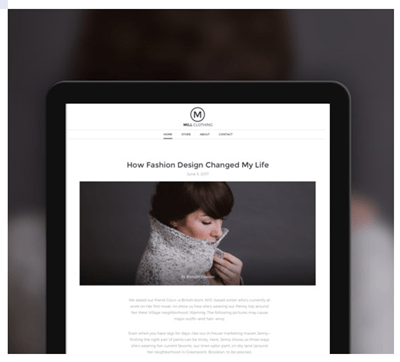 You can expect the following from it:
Viral blog with social bookmarking
Comments
Archive with easy access
Detailed analytics of blog performance
SEO
There are several useful apps for SEO promotion with Weebly. However, these are only available for premium plan subscribers. The more logical would be the subscription with the upgraded plan according to the requirement.
Also, it is easy to edit alt texts to tweak and upload photos with the settings to further optimize the site's SEO. It helps to rank the website higher in the search engines.
Pricing
Weebly is the cheapest on the list to create a professional photography website. Especially, It offers three paid plans with a range between $6 and $26 per month. A free plan is also present but we do not suggest it to create a professional website.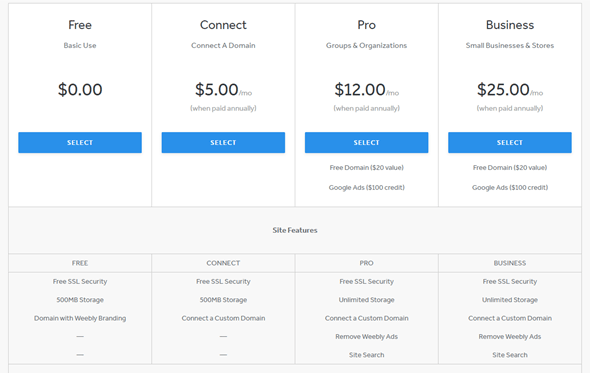 We strongly suggest the professional plan among all the plans as a starter. This is because it offers a good value for money as compared to the personal plan. Moreover, you can create a highly professional site with this plan. It is the cheapest plan that offers you to get rid of all the ads from the page.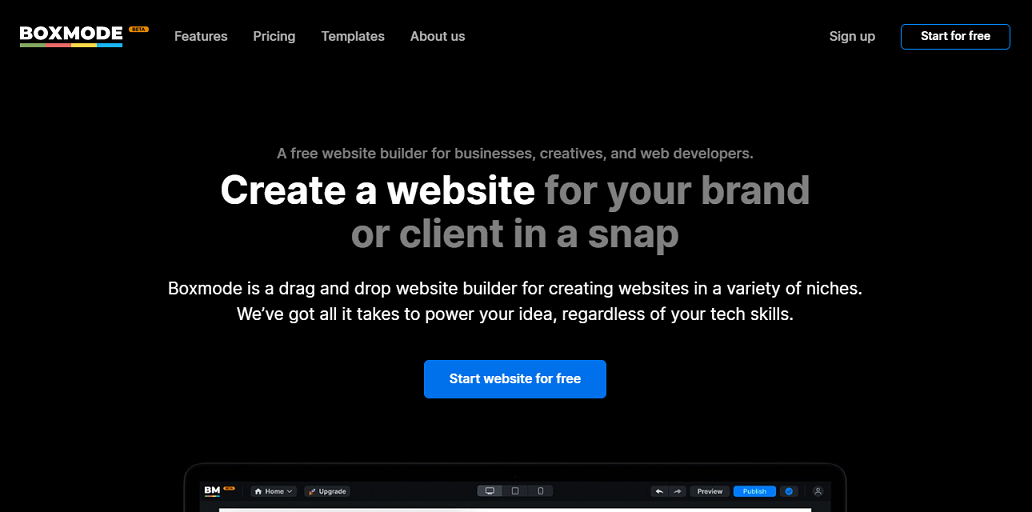 Boxmode is a new website builder for photography websites. It offers optimal tools for any small or big online project.
Users can enhance their online presence with the help of its outstanding scalability. This includes comprehensive business websites promotional landing pages as well as online stores. It is straightforward to use in terms of beneficial ingredients and embedded assets. These are equally useful for both the pros and beginners.
You can have the option of both the customized and ready-to-use templates with a drag and drop interface.
| | |
| --- | --- |
| Pros | Cons |
| BoxMode is a minimum viable product | Only 30 templates |
| You can create a beautiful and straightforward portfolio | Limited widgets |
| Free of cost | Occasional bugs |
| Unmatched SEO arsenal tools | |
Design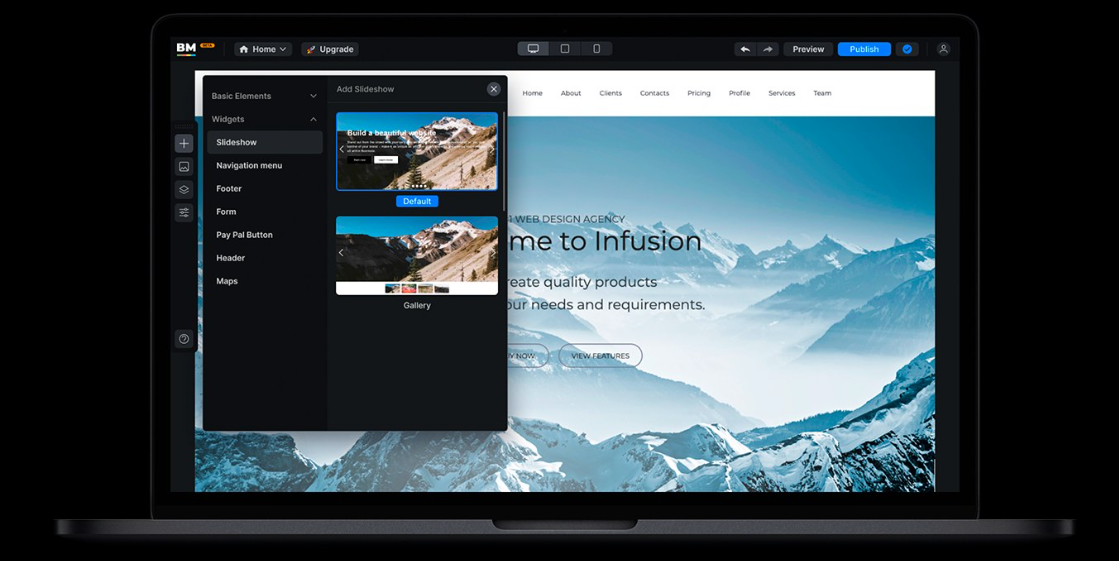 The theme offers ready-made templates for almost all niches. There are plenty of unique templates specific for distributed and specific businesses across all types of categories.
Building blocks are provided with widgets. Place them on the canvas using drag and drop tools so you can create your fully-featured website in a matter of minutes.
The website editor helps using JS code, CSS, and HTML to design elements, make integrations, and add features.
Features
Boxmode helps with a good user experience and flexibility. There is a multipage-ready editor you can use when you have a complex business website or a simple landing page. Thus, it is suitable for all sorts of projects.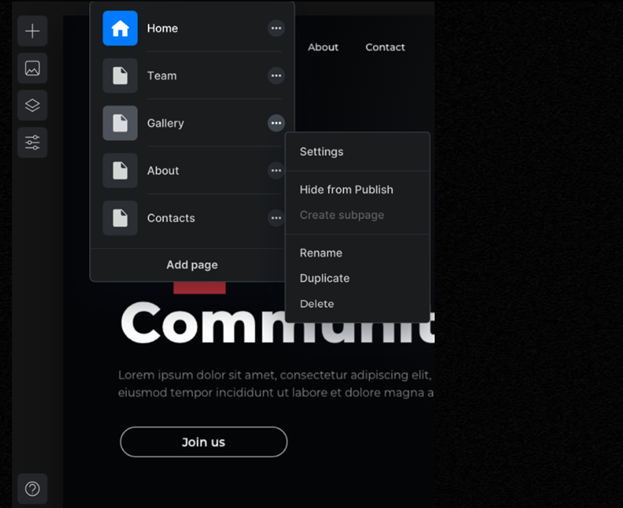 It offers free mapping for the domain as "boxmode.io," which you can connect to your personalized environment. It is also free of cost. The essential widgets help to create your website in chunks.
The most important ones are customized headers, footers, contact forms, maps, video blocks, CSS and HTML code section, slideshow, and navigation menu.
The customizable widgets are sued as building blocks that can fully feature in a few minutes. Moreover, the drag and drop builder helps explore the easiest ways to customize a website without developer assistance or coding knowledge.
The projects are autosaved, so you can work without having to worry about your progress.
SEO
With Boxmode, it is easy to develop a website with clean code so that the indexing of your website is ensured. And therefore, it is easily approachable by search engines.
The editing of meta-tags is another pro of using Boxmode. You can create keyword-rich descriptions and meta titles to make them more accurately available for the search engines.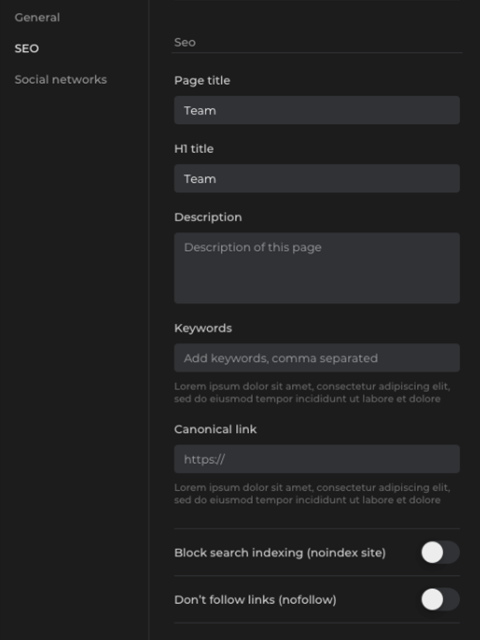 Additionally, it has a feature of automated robots.txt and XML sitemap. With this feature, you can create an error-free and effortless indexing. Thus, you can simply fine-tune the visibility of your online presence manually.
Tracking a website's performance is also feasible using the integrations of analytical tools such as Facebook Pixel, Hotjar, GTM, and Google Analytics.
Canonical links also help to prevent penalties on duplicate content. The open graph tags ensure an attractive representation of your website towards your audience.
Blogging
Boxmode helps in blogging as well. This is indeed a piece of good news for the authors and professional bloggers. The enthusiasts can also significantly aspire to their visitors by sharing their knowledge.
Here, you can also monetize your blog by adding affiliates or reviews of the related niche.
Pricing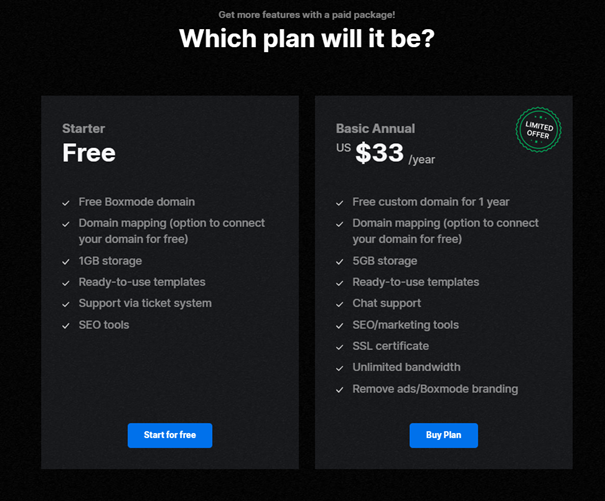 Yes, you got it right. The above figure shows that Boxmode offers you freemium. Therefore, you can have a fully functional website at no cost. Yet, for custom solutions, ultimate widgets, and advanced templates and features, you can purchase the basic annual plan.
Above all, it is absolutely free.
Wrapping Up
To recap! We compared the most used and important features of the best photography website builders available today. The features that were thoroughly studied were ease of use, blogging, SEO, design and pricing.
We ranked every photography website builder according to the value for money, customer support, and customer reviews in stars. The top picks are Squarespace, Wix, SmugMug, WordPress, and Weebly.
In short, The most important aspect while selecting a photography builder is that it should put your image to the center and front with a show-off. Your image should be showcased in such a way that potential clients or even visitors are attracted to see your photos.

Ludjon, who co-founded Codeless, possesses a deep passion for technology and the web. With over a decade of experience in constructing websites and developing widely-used WordPress themes, Ludjon has established himself as an accomplished expert in the field.