If you are looking to create an online store with a WordPress Inventory management system, it is worth taking care of the right stock management plugin.
Making the right choice is not just a tactical challenge; it is a platform that provides your business with more opportunities to grow and scale.
Not all solutions for online stores are the same in terms of their functionality, so it is important to determine the criteria initially that you will be guided by when accepting and getting acquainted with specific e-commerce tools.
What is the difficulty of choosing?
The basic difficulty is that different plugins can target different products. For example, some of them are more focused on selling digital goods – e-books, photographs, music tracks. Others are more suitable for selling physical goods in need of shipping and inventory management. And there are plugins that have a high degree of versatility, and therefore can be suitable for both types of products. We will pay special attention to them in this review.
So, the first rule of choice is when deciding which plugin you need, get a clear idea of ​​what exactly you want to sell. At first glance, such a question may even seem primitive. But this is only if you do not take into account one important circumstance – over time, your product line may expand. For example, digital products can be added to products that can be "touched". Let's say you start out as an online store selling paper books, and in the future electronic versions will also be added. It is important that the plugin initially provides in its functionality what you may need from it in the future. So look at this issue strategically.
The second rule of choice is to decide which payment gateways you are going to use when accepting payments from your target audience, which will buy goods or order services. At this stage, you need to make sure, that the selected plugin supports the required options by default, whether it provides for the addition of extensions.
The third rule is to make sure the plugin is compatible with the premium theme. The vast majority of plugins that are presented on the modern IT product market accept extensions. This is due to the fact that not a single plug-in by itself is able to accommodate the entire necessary range of functions, and even do it with a margin for the future.
And the final rule of choice is to make sure that the company offering the plugin communicates adequately with customers and provides sufficient support. Of course, most online store owners have to hire IT specialists to create a website. But this does not negate the fact that technical support is sometimes required from the plugin developers. It is very important that you do not have to wait for it and this does not cause downtime in the online store.
So today we have collected solutions that will help you automate inventory operations and simplify the process of moving products. Let's start!

WooCommerce powers 22% of the top 1 million eCommerce sites in the world. This plugin is the most popular in the e-commerce segment. In 2015, it was bought by Automattic, which provides the WordPress.org service. This plugin has an extensive list of advantages that make it so popular. Among them:
Many themes and extensions – this makes it possible to adapt this plugin for different types of online stores. In simple terms, the plugin allows you to design your store the way you like, choosing from a huge number of possible options. Despite the fact that such variability in the choice of themes seems to be something secondary since it does not affect the functionality of the site, it is of no small importance from an aesthetic and conceptual point of view.
Compatible with both physical and digital products. This is important from the point of view of the variety of assortment, even if at this stage of development of your store you are going to work with only one category of products. Integration of this plugin with Envira Gallery allows you to sell photos from your site easily. Such functions can be of interest to photo salons and private photographers, as well as craftsmen who specialize in art objects. Selling high-quality digital copies of paintings is a fairly popular area for making a profit today.
Simple inventory management. The WooCommerce plugin is equipped with tools that you can use to simplify inventory management and even entrust it to your online store manager.
If we talk about the relative disadvantages of using this plugin, the first one is variability. Yes, on the one hand, these are really wide opportunities for choice. But on the other hand, a new user can get confused by the huge number of options that are available on the page. Another point that may arise in using this plugin is related to possible difficulties in finding extensions. But, at the same time, there are a lot of them available.
Considering that the advantages of the WooCommerce plugin many times overlap the possible difficulties in its use, this IT tool is in great demand, many specialists and users prefer to work with it.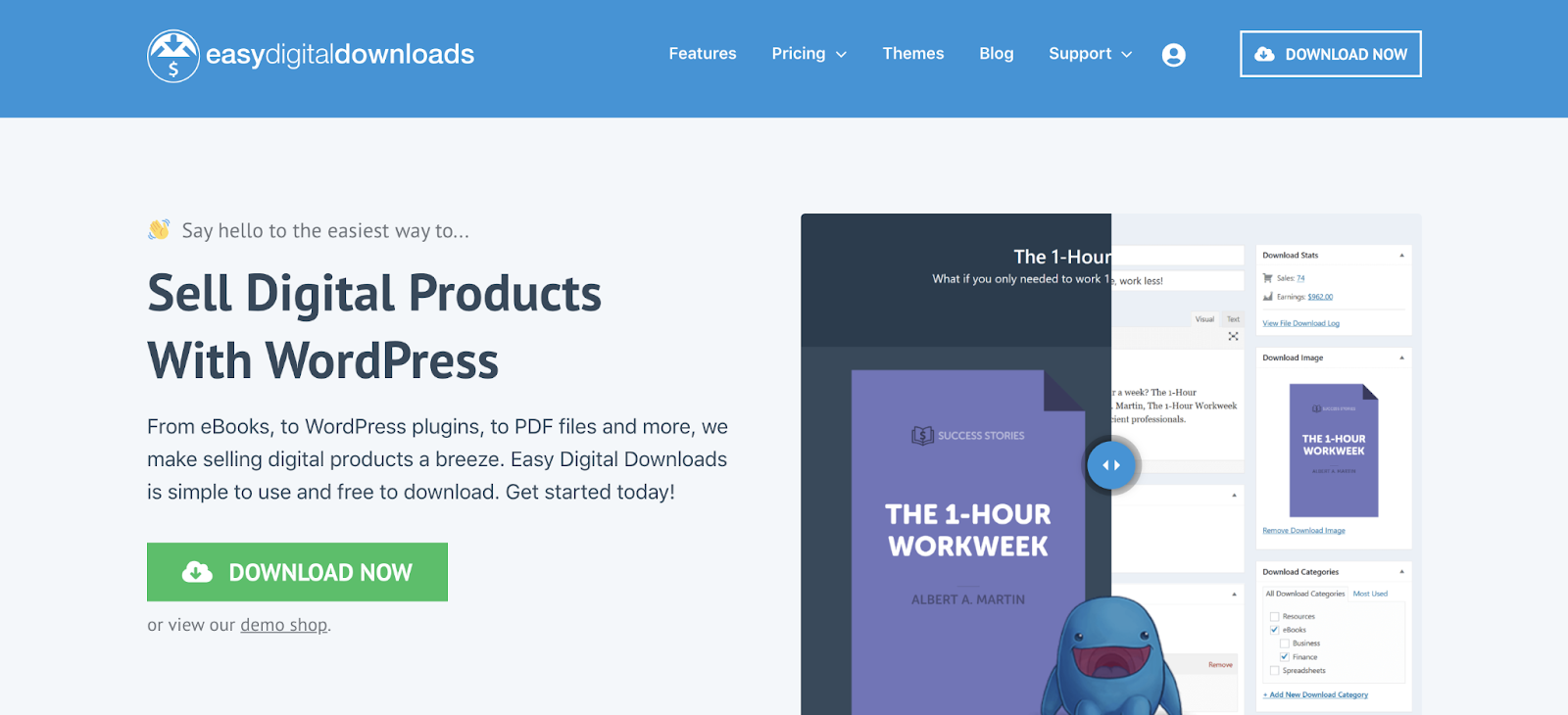 Unlike the two previous plugins, this option is more limited in its "product" focus. It is designed for digital products. At the same time, the plugin is easy to use. It has powerful functionality. And if you are not focused on selling physical products, then this option is fine. Let's take a closer look at the benefits of this specialized online tool. So this:
The plugin's ease of use is amazing. You will be able to understand from the very beginning how to add products, how to view them. For novice users, this is great news, here the developers have greatly simplified the task.
Extensions. Hundreds of extensions are available for this plugin, which means that you can increase the functionality as needed and new strategic prospects for the development of your online store. There are many payment gateways, services, platforms, and additional functions available.
Variety of topics. The plugin works with the vast majority of WordPress themes. You can choose a theme that best suits the niche in which your online store operates.
Inventory management for the download limit that is available to the subscriber.
As with any IT tool, this plugin has its relative disadvantages as well. Already from the name itself it follows that it is intended exclusively for digital goods. Therefore, if, over time, you decide to expand the range by adding physical products, it will be difficult to do so. However, it is difficult to call this disadvantage fully as such. The developers initially made the plugin specialized, so here we are not talking about limited functionality, but about a specific target niche for which the tool was developed.
But it's a little worse in this regard if you decide to sell external products as well. But here, too, the problem is solvable. To sell external or affiliate products, you need to install special third-party extensions.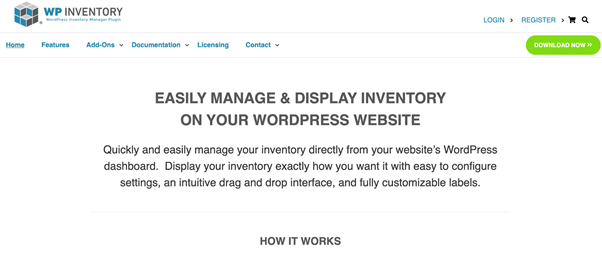 This plugin has a very simple interface that you can completely customize yourself. eCommerce sellers will be able to arrange inventory by drag and drop and display it in a convenient order.
The free version of WP Inventory Management unlocks all the tools you need to display an unlimited number of products. You will be able to manage and save all information in one place.
Key features of the plugin:
simple and complete customization of shortcuts;
the ability to divide items into an unlimited number of categories;
display of lists with values ​​in the form of separate fields or a spreadsheet;
intuitive and user-friendly interface for management, located in the WP control panel;
to maintain an optimal structure and eliminate clutter, you can turn off fields;
the library contains many templates to simplify settings;
the process of adding elements is simple, it is also easy to make settings and edits with full control over their display in the external interface.
For $149 a year, the full toolbox opens. With a subscription, more settings are opened, for example, connecting email notifications, a backup basket, a location manager, etc.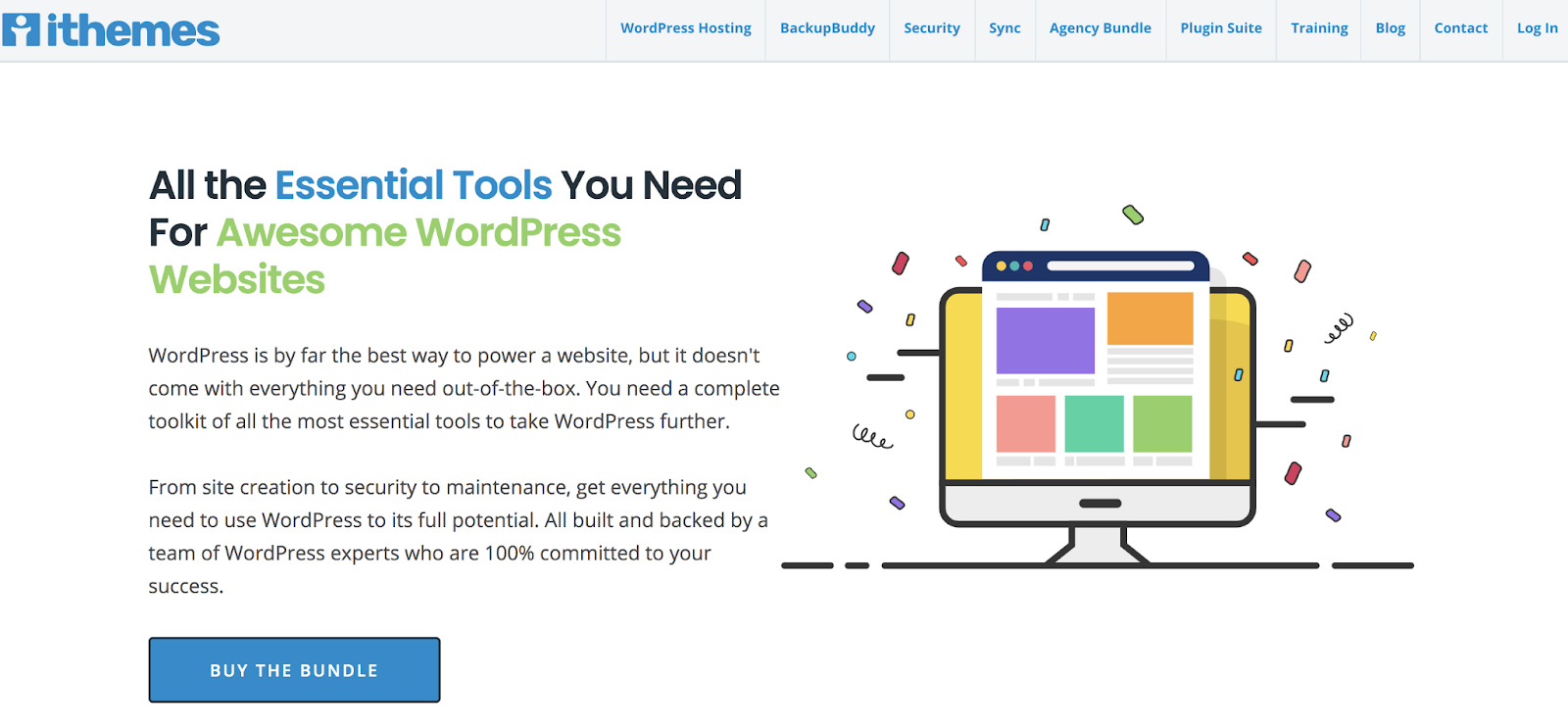 This plugin was developed by the authors of another popular product in the IT industry – the BackupBuddy plugin. It is a promising tool for e-commerce online platforms that are powered by WordPress. Among the main advantages of the plugin are:
Support for several types of products. Physical goods and digital downloads can be sold equally well with this plugin. What's more, it offers the option to take advantage of a paid extension that you can use to sell subscriptions on your site.
Simplicity and efficiency of setting. In this parameter, this plugin is slightly different from the previous one. As soon as the activation is completed, the user is taken to the setup wizard. You can figure it out quickly enough. The main thing is to choose which product you intend to sell and in what form you intend to receive payments.
If we talk about the disadvantages of using the iThemes plugin, then here we can note a fairly small community. Unlike its competitor WooCommerce, this plugin is younger. Like any relatively new IT product, it has not yet managed to conquer a large audience. However, the advantages that the functionality of this plugin offers to developers and users give reason to look optimistically into the future and hope that the growth in popularity is a matter of time.

Many IT industry analysts describe the platform as rapidly growing. And there is every reason for such assessments. Although the service is standalone, it must be integrated with WordPress. Let's take a closer look at its advantages and disadvantages.
Among the pluses of this plugin are:
Ease of use. It is so simple that even a novice user can get familiar with its functionality without any problems. You shouldn't have any problems in order to set up SSL, integrate the platform with different payment gateways. Delivery options, tax issues – everything is within the functionality of this plugin.
Versatility in terms of supporting different product formats. Here, as with the WooCommerce and iThemes Exchange plugins, there is support for physical and digital product categories. The plugin will equally successfully cope with placing orders for dresses, shirts, music tracks, digital copies of art objects. This means that you can experiment with the assortment as you please.
Complete inventory management option. The plugin has not only an inventory editor built-in but also a wholesale importer that is paired with an order tracker. This greatly simplifies the inventory management process.
Apart from the merits of the Shopify plugin, it has one very noticeable drawback. There is a monthly subscription fee for using this platform. If we talk about its price, then it is comparable to the purchase of hosting.
Also, an additional fee is provided if you want to use external systems for payment. On the one hand, the plugin provides a simple payment platform on Stripe, which can make things easier for newbies. But on the other hand, you should pay extra for the variability. And this is a minus.
So which eCommerce plugin should you choose?
In each of the listed plugins, one way or another, an inventory management option is provided. Therefore, when choosing, one should take into account a combination of factors and not just this one indicator. But, nevertheless, we will share some tips:
If you are only going to trade digital products, choose Easy Digital Downloads.
If maximum functionality and variability are important to you, and a lot of options do not disorient you, then you should pay attention to WooCommerce.
And if the priority is the speed of setup and ease of use, and at the same time you are not afraid of the availability of a fee, you should choose Shopify.
Let these tips help you better understand the issue and organize your online store efficiently.