Having your online store searchable and visible on search engines makes it possible to gain customers online. To achieve this, you need to use the best eCommerce platforms for SEO. If the store appears on the first page of Google, you increase your chances of having higher conversions and sales.
Here is a summary of the best e-commerce SEO platforms:
According to SEMrush, 37.5% of all traffic to eCommerce websites comes from search engines. Furthermore, around 44% of people start their online shopping with a search engine. Therefore, using an eCommerce platform customized for SEO gives you a head start in your online marketing efforts.
Choosing the ideal platform to use can be a challenge. This is because there are many such platforms on the market promising to help you generate massive revenues. In this article, we will provide you with 7 of the best eCommerce platforms for SEO.
How to Choose the Best SEO-Friendly Ecommerce Platform
Choosing the best SEO-friendly eCommerce platform involves looking at key features designed to boost the SEO performance of an online store.
These platforms have all the essential SEO features, making it easy for you to put your store on the first page of search engines. Let's highlight some essential features to look for.
Speed/Performance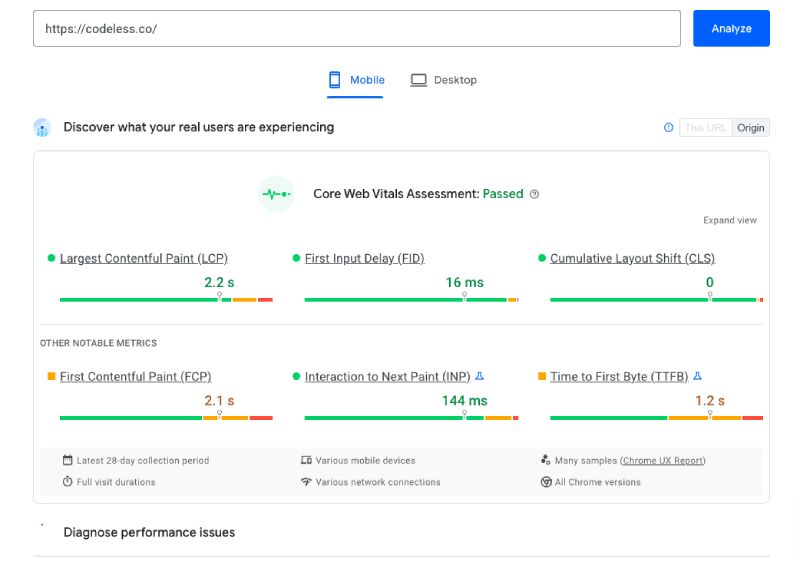 Choose a platform that is optimized for speed. Speed is one of the most important ranking factors for the popular search engine Google. With speed comes performance, which should also be at par with the great speed for the best SEO results.
Average Organic Traffic
The average organic traffic of an eCommerce platform gives you a clue on the amount of traffic you should expect if you do everything right. This means you should choose an eCommerce platform depending on the size of your business and the amount of traffic you expect per month.
SEO Features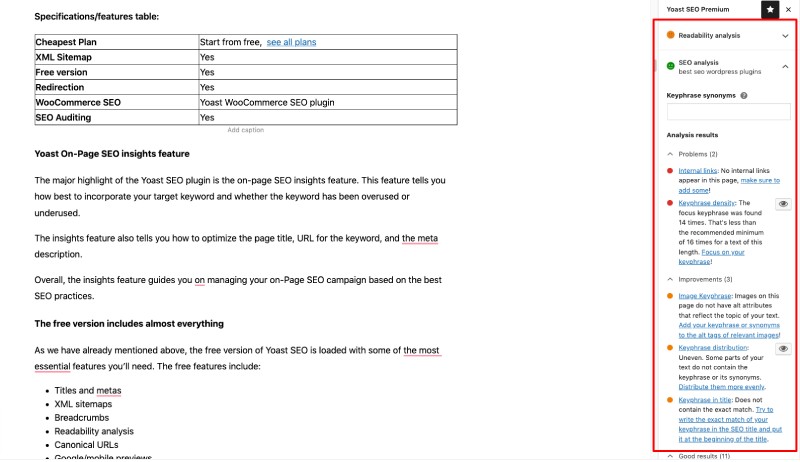 The more critical features to look at are the in-built SEO features. Look for the following features:
Page indexing control: The platform should give you page indexing control. This allows you to choose which pages should be indexed and which ones should not.
Sitemap: Does the platform automatically generate sitemaps for your online site, or you'll have to do it manually. Go for platforms that automatically generate sitemaps.
Structured data: The platform should make it easy to create structured data
Robots.txt editing: This gives you the freedom to choose which pages or URLs should not be crawled by search bots.
Redirects management: Redirects management ensures that you do not lose traffic to a popular page that no longer exists.
Log files access: This allows you to see raw, unfiltered traffic to your ecommerce website.
Keyword optimization (title, meta description, etc): It should be easy to optimize meta tags with your chosen keywords.
Extra SEO add-ons included: This can be any extra SEO service such as SEO analytics
HTML code editor: This allows you to edit code based on SEO recommendations or best practice.
Blog Features
A blog is mandatory to have if you want to inform your audience about offers, new products, upcoming events, and more. Choose a platform with a built-in blogging function. It should be easy to create and post blogs, share posts on social media platforms, add categories, and monitor the performance of the blog.
Pricing
Price is also a crucial factor. Some platforms have free plans that you can start with. As expected, the free plans have various limitations. An expensive plan, however, does not guarantee better SEO performance than a cheaper or free plan.
Traffic Conversion
Once a potential buyer visits your online store, you expect them to buy a product, subscribe to a newsletter, or make specific inquiries. An eCommerce platform with high-converting pages helps you to convert this traffic and turn them into customers. Good examples are eCommerce sites with product recommendations and abandoned cart recovery.
Comparison of The Best Ecommerce Platforms for SEO
Check below a table comparison between some of the best SEO e-commerce platforms with respective ratings:
Woocommerce
Shopify
BigCommerce
Squarespace
Wix
Nexcess
Shift-4-shop
Ranking
#1
#2
#3
#4
#5
#6
#7
Overall Rating
4.74
4.70
4.30
4.14
4.10
4.00
4.00
Review Summary
Woocommerce summary
Shopify summary
BigCommerce summary
Squarespace summary
Wix summary
Nexcess summary
Shift-4-shop
summary
Performance
4.5
4.7
4.3
4.0
3.8
3.7
3.5
Avg Organic Traffic
≈75,000
≈10,000
≈35,000
≈5,500
≈500
≈60,000
≈10,000
SEO Features
Support for Google snippet
Automatic sitemap generation
WordPress SEO features
Auto-generated sitemap
Google Analytics ready
Product review options
Mobile-responsive
SEO-friendly URLs
Automatic 301 redirects
Automated sitemaps
Default SEO page titles and meta descriptions
Dedicated SEO panel
Robots.txt file access
Instant Google indexing
Structured data markup
Support for Google snippet
Automatic sitemap generation
WordPress SEO features
Automatic sitemaps
301 redirection tools
Pagespeed optimized
Blog Features
All WordPress blog features e.g creating post categories, enable comments, etc
Built-in blogging engine
Search engine listing for a blog
Change a blog's web address
Built-in blog
Custom blog URL
Social sharing
Built-in blog page
Categorize posts
Push posts to social media
Wix Blog feature
Blog as featured or pinned
Change display settings
Depends on platform used e.g WordPress
Built-in blog
Add categories and archives
Commenting feature
Cheapest Plan
Free
$24/month
$29.95/month
$16/month
$4.50/month
$19/month
Free
Ecommerce Platform for SEO: Test Ratings
The table below summarizes how each of these eCommerce platforms performed in our testing and measurement areas for SEO:
Let's start reviewing SEO eCommerce platforms one by one:
Best overall eCommerce platform for SEO
Access to robots.txt file
Custom URLs
Built-in blogging feature
Free with self-hosting or
with WordPress.com/business
See Pros & Cons
Pros
Seamless integration with WordPress
Free and open-source
Extensive documentation 
Developer-friendly 
Flexible and secure payments with 140 region-specific gateways  
Allows you to sell both digital and physical products 
Strong SEO features built-in with WordPress
Frequent updates 
Strong tech support 
Cons
Specific to WordPress sites
Needs a bit of technical knowledge 
Quality hosting can be pricey 
WooCommerce is a free WordPress plugin that allows you to build online stores. WooCommerce has been used to build millions of eCommerce sites on the web. It is a great platform for SEO because it's built on WordPress, which comes with in-built SEO features.
Although WooCommerce is free, it doesn't mean you will not spend any money to bring your store online. You'll need to get quality Woocommerce hosting and a domain name, as well as an SSL certificate. In order for your visitors to get the best experience, you will have to spend money.
The platform has a large community of developers and is constantly being updated with new features. You can easily integrate the eCommerce platform with an existing WordPress site using the WooCommerce plugin. In addition, many WordPress themes are designed to work well with WooCommerce.
The inbuilt sitemap features make it easy for search engines to index products on the eCommerce site. In addition, the platform allows you to customize your meta descriptions, title tags, and URLS.
Some of the main eCommerce features that come with the plugin include endless product variation, real-time shipping rates, 140 region-specific payment gateways, iOS and Android mobile apps, automated tax collections, multi-lingual support, and multi-currency support. These are features that add to a better user experience of online shoppers which ultimately has an impact on SEO
Woocommerce comes with the following inbuilt SEO features:
301 redirects
URL customization
Robots.txt editing
Blogging
Mobile-friendliness
In addition to the inbuilt SEO features, more SEO gains on your ecommerce site can be achieved by installing the Yoast SEO plugin. You can also use the Jetpack plugin to increase the site's speed, which is an important ranking factor for Google.
Learn more: Best WordPress SEO plugins.
Although this is one of the best eCommerce platforms designed for optimal SEO performance, you can only use it on WordPress.
Pricing
Free
Fastest SEO eCommerce Platform

Yoast SEO for Shopify
Redirect management
Blog
Starting from $24 / month
See Pros & Cons
Pros
Easy to use
Add an unlimited number of products even on basic plan
Seamless Google Analytics integration 
Great blogging features
Many built-in SEO features
Lightning fast 
Free 14-day trial
Many plugins 
Cons
Does not allow editing robots.txt
Transaction fees can add up quickly 
Inability to change URLs
Shopify is an all-in-one eCommerce platform that powers over one million online stores. The platform has literally everything you need to build a fully functional eCommerce store. The platform comes with 70+ professional themes that make it possible for you to quickly set up your online store. Shopify is also great for beginners.
The eCommerce-specific features on the platform include unlimited products, in-depth analytics, POS for brick and mortar shops, 100 different payment gateways, automatic tax calculations, advanced inventory management, abandoned checkout recovery, and fulfillment centers.
One of the most critical elements of an SEO campaign for a business website is blogging. Shopify is built with blogging in mind, making it easy to create and publish blog posts. Through blogging, you will be able to attract more customers to the website.
You can edit your meta descriptions and page titles of both main pages and product pages. Furthermore, you can create redirects to prevent site visits to product pages that are no longer available on the platform.
Shopify is Google Analytics-ready. Through GA integration, you are able to track your site's SEO performance. The social sharing buttons also make it possible to share your content on various social media platforms.
The Yoast SEO for Shopify plugin is a useful tool that you can use to complement the inbuilt SEO features on the platform. The plugin allows you to get instant technical SEO improvements, increase organic traffic, increase chances of rich results, and receive actionable guidance on how to improve your content.
Shopify, like any eCommerce platform, does not have all the SEO features you might be looking for. For example, if you want to adjust your internal link structure, you may need the help of a developer. Furthermore, the platform does not allow robots.txt edits.
Pricing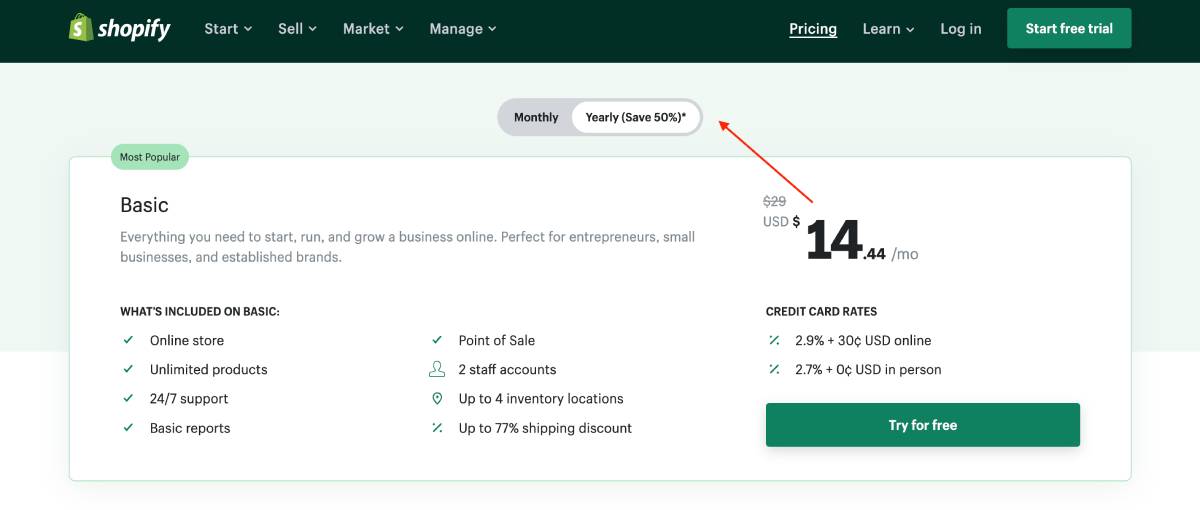 Basic at $24 per month
Shopify at $69 per month
Advanced at $299 per month
Best for large enterprise eCommerce

SEO-friendly URLs
Automatic 301 redirects 
Social commerce 
Starting from $29.95 / month
See Pros & Cons
Pros
99.9% uptime
Robust security
No additional transaction fees
Offers flexibility and scalability 
Seamless WordPress integration
Plenty of built-in SEO features
Free 15-day trial
Free themes 
Cons
Limits on annual sales
Expensive 
Strict branding guidelines 
Bigcommerce is a versatile eCommerce platform that works well for both small and large businesses but it's more suitable for large businesses. All the platform's plans come with SEO tools to help your online sites and products rank high on search engines. The platform is also incredibly easy to use.
Bigcommese is a software-as-a-service platform, which means you do not have to worry about maintaining your web servers. Gartner, IDC, and Forrester rank Bigcommerce as the most trusted B2B and B2C eCommerce solutions.
Some popular brands that use Bigcommerce include Hilton Hotels, Rebecca Minkoff, and Skullcandy. The platform also has an app store that offers email marketing, social media tools, and similar features.
BigCommerce comes with in-built 301 redirects, allowing you to redirect traffic from one page to another. You can also edit the robots.txt file. This means you get to decide which of your pages can be crawled by search engine bots. The platform also allows you to customize URL structure and make it more user-friendly.
All the templates are mobile-responsive. With Google adopting the mobile-first indexing approach, this increases your chances of getting your products indexed within the shortest time period.
Some of the eCommerce features that make BigCommerce great for SEO include:
Fully customizable themes
Page builder with a visual editor
Social commerce
Multi-currency and multi-lingual support
Customer segmentation
Automated in-store sales tracking with POS system
Multi-storefront and multi-channel selling
The main downside of Bigcommerce is that it doesn't come cheap. The standard starter plan starts at $29.95 per month, making it the most expensive e-commerce platform in this list. However, if you are serious about SEO, the high prices are worth the results you'll get.
Pricing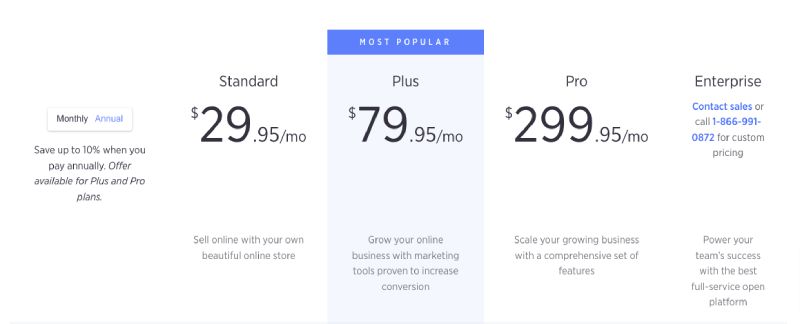 Standard at $29.95 per month
Plus at $79.95 per month
Pro at $299.95 per month
Enterprise at customized prices
Best for blogging and design features

Structured data and automatic markups
Automatically-generated SEO-friendly pages 
Mobile-friendly 
Starting from $16 / month
See Pros & Cons
Pros
Great security
Direct integration with Google My Business and Google Search Console 
Fully-managed cloud hosting
Built-in SEO features
24/7 support
Beginner-friendly 
Social media integration 
Ready for blogging
Mobile-responsive 
Cons
Not suitable for big sites
Limited payment options 
Limited number of extensions 
Squarespace also ranks high as one of the top eCommerce platforms for business owners that are serious about SEO. The platform offers over 100 flexible templates that you can use to create an online store.
Compared to some platforms on the list, Squarespace is flexible enough to allow you to sell not only physical goods but also build websites for a salon or restaurant that sell subscription-based service or want to book appointments.
Squarespace comes ready for blogging – one of the most important SEO features for any business website. The in-built feature allows you to quickly start a blog for your online shop, drive traffic to your website, convert the traffic, and make sales.
This platform is also mobile-responsive. It is estimated that over 90% of online shoppers use their mobile phones to search for goods and buy them. A mobile-friendly eCommerce platform makes its online shop easily accessible to smartphone users. Your online store will look and work great on mobile.
You can control how your Squarespace site appears in the SERPs. You can also add meta tags to each page and automatically generate sitemaps. More SEO features on the platform include canonical tags, structured data, custom-clean URLs, rich product listing, SSL security, a dedicated SEO panel, and site tracking metrics.
Want to track SEO progress? Check out the best SERP trackers.
The eCommerce-specific features that complement your SEO efforts on the platform include:
Multi-currency support
Subscription options
Appointment booking option
Commerce APIs
Inventory management
Discount codes
Easy-to-use tax tools
The main limitation of Squarespace is that it lacks the ability to have a deep navigation hierarchy. This makes it unsuitable for big businesses or any shop with large volumes of products.
If you're selling many products, it is difficult to organize them the way you want. In addition, Squarespace lacks multi-lingual support.
Pricing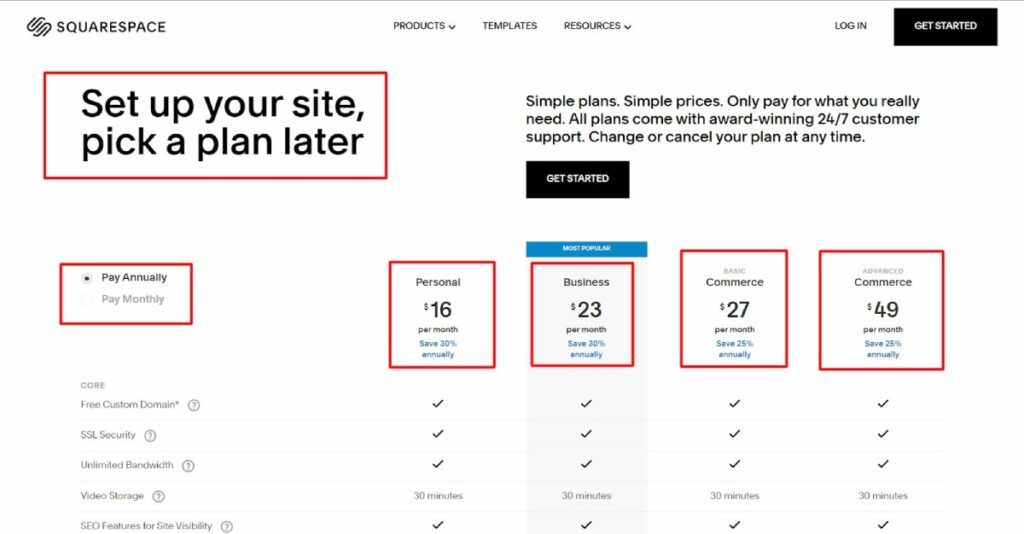 Personal at $16 per month
Business at $23 per month
Basic Commerce at $27 per month
Advanced Commerce at $49 per month
Cheapest SEO e-commerce platform

Built-in keyword research tool
Robots.txt file access
Instant Google indexing 
See Pros & Cons
Pros
Secure online payments 
Automatically created SEO patterns
Bulk 301 redirects
Automated Instagram and Facebook Ad campaigns 
No coding knowledge is required 
Google Search Console integration
Smart caching 
Cons
Limited storage in all plans
Page duplication 
Slow page loading speeds
Wix is a platform that allows you to easily create online stores without the need for coding knowledge. The platform is optimized for search engines, giving you a head start in your SEO efforts to make the pages and products rank high on search engines.
All plans, including the free plan, include SEO tools. However, in order to access Wix's eCommerce functionality, you have to sign up for the business package. Wix also comes with a mobile app. As a business owner, the mobile app allows you to edit your website from anywhere.
Wix is cloud-based, which means you can access it from any device. You don't have to install or download anything to start using the platform.
Popular brands that use Wix include Samsung, Nike, and Coca-Cola. There is an in-built wizard that allows you to optimize your website for better SEO results.
The platform allows you to edit your website's title and meta tags and customize them using your preferred keywords. You can also customize the meta tags on your blog posts for the best SEO results.
Other key SEO features include a built-in keyword research tool, canonical tags, robots.txt file access, structured data markup, and bulk 301 redirects. Ecommerce-specific features that complement your SEO efforts include:
Abandoned cart recovery
Tax automation tools
500+ professional templates
Subscription model
Multi-channel sales
Inventory tracking and management
Order management and fulfillment
250+ apps
Custom checkout
The main limitation of Wix is that it is not suitable for large businesses. If you have a large volume of products to sell online, the better options are Shopify and BigCommerce.
Pricing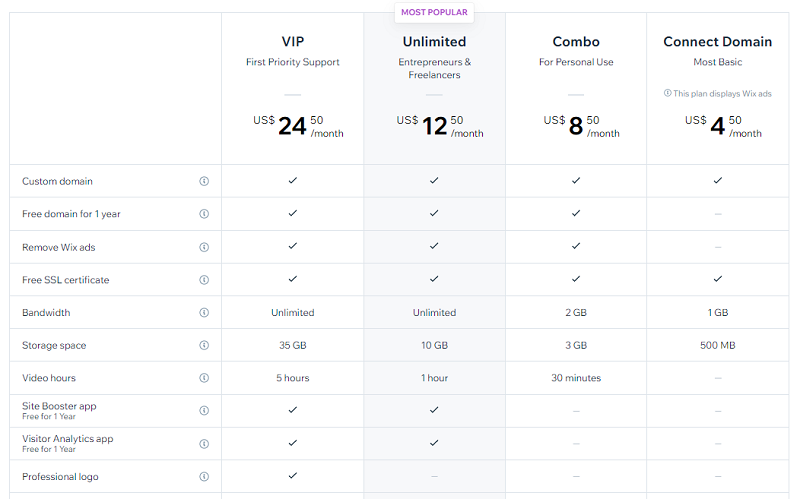 Connect Domain at $4.50 per month
Combo at $8.50 per month
Unlimited at $12.50 per month
VIP at $24.50 per month
Best for well-established stores

Custom URLs
Blogging feature
Access to robots.txt file
Starting from $13.3 / month
See Pros & Cons
Pros
Easy to use
Smart features for monitoring
Powerful online marketing tools
Uses AI
Affordable pricing 
24/7 support
No eCommerce transaction fees
Free automatic plugin updates 
Cons
Steep learning curve 
Limited options for customizations 
No demo on the official website
Nexcess Storebuilder is a separate product offered by Nexcess hosting, which is part of the Liquid Web brand. Existing customers of Nexcess hosting can take full advantage of the store builder for free. It is an extremely easy-to-use platform.
Like woocommerce, Nexcess Storebuilder is a WordPress eCommerce site builder. It combines web hosting, woocommerce, and other plugins to form a unified eCommerce website builder. This means you get all the advantages that come with the woocommerce platform. In addition, Nexcess storebuilder applies artificial intelligence to help you develop a professional and attractive website.
Using Nexcess Storebuilder allows you to enjoy all the in-built SEO features available on WordPress and WooCommerce. Nexcess also provides some of the fastest page loading speeds, which is great for your store's SEO.
The main Storebuilder features include:
Premium plugins and themes
Detailed product pages
Unlimited products
Payment gateways
Abandoned cart recovery
User-friendly admin area
Sales and performance monitoring
Pricing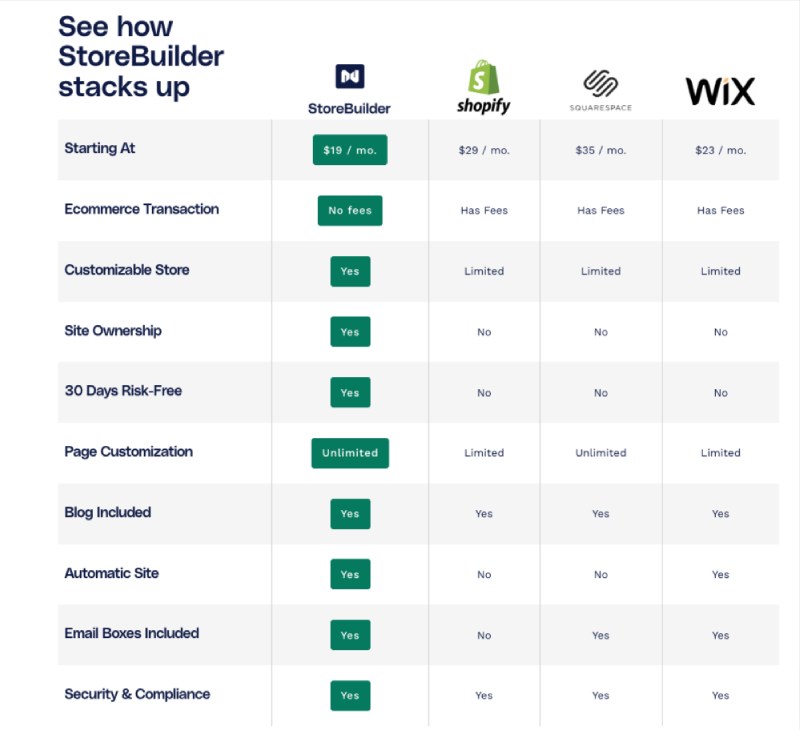 Managed WordPress hosting
Spark at $13.30 per month
Maker at $55.30 per month
Designer at $76.30 per month
Builder at $104.30 per month
Producer at $209.30 per month
Executive at $384.30 per month
Enterprise at $699.30 per month
Totally free e-commerce SEO platform

SEO-friendly templates
Mobile friendly 
XML sitemap builder
See Pros & Cons
Pros
AI-driven fraud detection
Free domain name registration 
Unlimited products, bandwidth, and users
No additional transaction fees
Dedicated ecommerce support 
Free migration 
Cons
Expensive premium plans 
Difficult to use 
Shift4Shop is another top ecommerce platform for SEO. The company's website claims that the platform is "the most search engine-friendly eCommerce site builder on the market". The company has all the reasons to blow its own trumpet because of the amazing SEO features it offers.
The platform automatically creates sitemaps for you to help search engines index your pages quickly. Furthemore, Shift4Shop has in-built support for the Yoast SEO plugin. The plugin guides you through various SEO activities and gives you recommendations on what should be done to achieve specific KPIs.
Shift4Shop also gives you access to detailed analytics. The analytics allow you to track your site's progress. You can make SEO adjustments based on the SEO metrics picked from the analytics.
The main SEO features on the platform include SEO-friendly templates, mobile-friendly pages, XML site builder, 301 redirects, access to robots.txt file, canonical site URLs, custom URLs, pagespeed optimized, and Google Analytics integration.
Some ecommerce-specific features on the platform include:
Cart abandonment recovery tools
Product and order management
A targeted email marketing system
Fast and convenient payments
Social media marketing tools
Shift4 Shop has a free plan. However, this free plan is only available to United States merchants. If your business is not located in the United States, you can not sign up for the free plan. The paid plans are quite expensive, with the Basic plan going for $29 per month.
Pricing
Free end-to-end eCommerce plan
Why is SEO Important for Ecommerce websites

The essence of putting your business online is to get more customers through various online platforms. One of the most used platforms to get information and products online are search engines like Google.
SEO is a method of boosting a site's search rankings on search engines, ecommerce SEO is the best way to drive more traffic to your online store.
Additional benefits of SEO to e-commerce sites include:
Better ROI compared to other marketing methods like paid advertising
A successful SEO campaign builds you a long-term asset that continues to pay dividends after the initial investment
Increased credibility and brand awareness
Getting an eCommerce site optimized for SEO means that you will not be starting from scratch when building your SEO strategy.
Our Methodology
Picking the eCommerce platform for search engine optimization means looking at essential features designed for the best SEO results. We, therefore, conducted our research by giving priority to platforms that provide SEO features.
Some important features we looked at include the ability to edit and customize meta tags, automatic sitemap generation, robots.txt file access, canonical URLs, 301 redirects, and social sharing. A
perfect platform would have all the desired SEO features, but no ecommerce platform is perfect. For example, with all its many and great SEO features, Shopify does not allow users to change or customize their URLs, nor does it give you access to robots.txt files.
Together with the SEO features, we also looked at the eCommerce features that come with these platforms. These features may not have a direct link to SEO, but they play a significant role in attracting and retaining your client base, which is the ultimate goal of SEO.
Your SEO campaign may be successful and attract traffic, but if key features are missing or the user experience is poor, your website will have high bounce rate, the visitors are not likely to return, and your site may have poor reviews or rates. Poor reviews negatively affect SEO.
Some crucial ecommerce-specific features we considered include inventory management capabilities, multi-currency support, great storefront themes, multiple sales channels support, discount codes, abandoned cart recovery, compatibility with third-party apps and plugins, product recommendation, and ecommerce automation tools. These are the features that make the platforms be considered as ecommerce sites.
We tested these platforms and read reviews to ascertain their efficiency in delivering SEO results.
After all the research, testing, and going through online reviews, we came up with this list of the 7 best eCommerce platforms for SEO.
Conclusion
A great e-commerce platform makes it easy for you to sell your products online. However, people need to first find your business and products online, and this is where SEO comes in.
SEO helps your online store and products rank high when potential buyers search for the products using specific keywords. An eCommerce platform designed for SEO makes it easy for your products to rank high on search engines.
FAQs
What is Ecommerce SEO?
Ecommerce SEO is SEO that is specifically customized for eCommerce platforms. This type of SEO ensures that products in online stores are searchable and rank high on search engines. 
What is the best eCommerce platform for SEO?
Woocommerce is the best eCommerce platform for SEO. It has strong inbuilt eCommerce SEO features that make it easy for your products to rank on search engines. The platform is built on WordPress, which is also SEO optimized. 
Is SEO important for eCommerce?
Yes. SEO helps eCommerce sites rank high on search engines. This means that online stores can get high organic traffic. This traffic can be converted to customers. 
What is the difference between e-commerce SEO and normal site SEO?
Ecommerce SEO is conducted with the aim of ensuring products appear on the first page of search engines. A normal site does not aim to boost products to the first page, only interested in ensuring specific keywords appear on the first pages. 
What is the SEO strategy for a new eCommerce website?
A new eCommerce website should start with extensive keyword research, establish an easy site architecture, ensure the site has great loading speed, and create unique product descriptions for each product. 

Ludjon, who co-founded Codeless, possesses a deep passion for technology and the web. With over a decade of experience in constructing websites and developing widely-used WordPress themes, Ludjon has established himself as an accomplished expert in the field.