If you're searching for a WordPress Ticketing System, you've landed in the right place to explore the best plugins currently available.
These plugins not only facilitate the effortless creation of a ticketing support or help desk system within WordPress but also enable you to manage customer support exceptionally well without investing heavily in complex platforms.
The Top 7 Best WordPress Ticketing System

Streamlined WordPress integration
Easy-to-use support ticket management
Email-based support tickets
Convenient customer interactions
See Pros & Cons
Pros
Intuitive user interface
Smooth integration with WordPress
Powerful email ticketing functionality
Comprehensive knowledge base
Cons
Pricier than some alternatives
Limited automation features
Help Scout Desk is the best WordPress ticketing system as a plugin. The plugin effortlessly integrates with your WordPress website, ensuring that your support ticket system is tightly knit with user profiles and order details.
This WordPress ticket plugin allows users to create support tickets directly through email, seamlessly converting them into trackable tickets within the system.
Help Scout Desk also prioritizes the customer experience, enabling users to manage their support queries effortlessly from within their account on your website. The straightforward, email-based ticket management also ensures that customers can receive and respond to support messages without needing to log into a separate system.
The starting price of $19 per month can be justified by the rich feature set and the convenience offered to the customers, ensuring that they can communicate with your support team without any additional hurdles.
Learn more: Best WordPress Plugins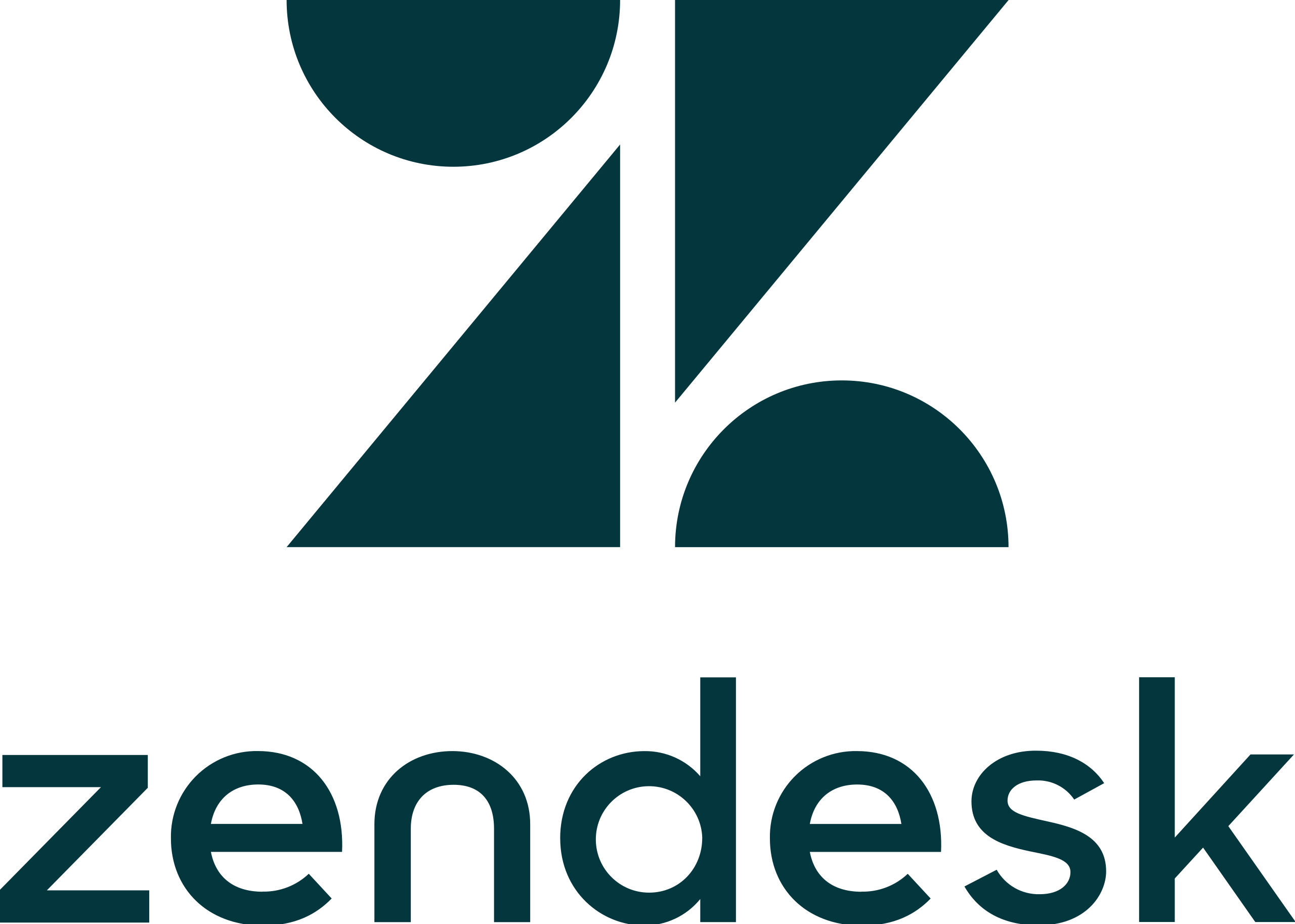 Powerful Single Sign-On (SSO) capabilities
Convert blog comments into tickets effortlessly
Include Zendesk Support Web Widget or Feedback Tab
Access and manage tickets directly from the dashboard
Free 30-day trial, pricing starts afterward
See Pros & Cons
Pros
Seamless integration with WordPress
Streamlined user support management
Enhanced user experience with SSO
Direct ticket access from the dashboard
Cons
The learning curve for new users
Possible need for developer assistance for customization
Zendesk Support for WordPress is fully-integrated support ticket system that brings a rich feature set designed to significantly uplift your customer service experience.
Zendesk eliminates the hassle of multiple logins for users with its robust Single Sign-On (SSO) functionality, ensuring users can seamlessly interact with support without undergoing repetitive login processes. It aligns your WordPress user base with your support ecosystem, presenting an unhindered and secure user experience.
The ability to convert blog comments directly into Zendesk Support tickets provides a unique touchpoint, allowing issues or inquiries raised in comments to be swiftly escalated and addressed within the support framework. It transitions from a public dialogue to a private, direct conversation without requiring additional steps from the user, thereby enhancing user satisfaction.
With the inclusion of the Zendesk Support Web Widget and Feedback Tab on your webpages, users can effortlessly search your knowledge base, initiate a chat with an agent, or submit a ticket, all without navigating away from the current page. Thus, it ensures that support is always accessible and readily available at every point in the user's journey.
Moreover, accessing and managing tickets straight from your WordPress dashboard ensures that your support system is deeply interwoven with your site management, providing a centralized experience for managing user interactions and support requests.
Zendesk has meticulously developed a platform that not only addresses user issues but also provides mechanisms to enrich the user experience on your WordPress website. Whether it is through unobtrusive support availability via widgets or through ensuring seamless user interaction with SSO, Zendesk's WordPress plugin is a comprehensive solution for businesses looking to enhance their online customer service endeavors.

Unlimited tickets and agents
16+ Custom field types
Advanced custom filter and search
Internal private notes for agent communication
Free and Premium versions available
See Pros & Cons
Pros
Comprehensive ticket system
Guest ticket features
Rich-text editor and email notifications
Google reCaptcha and GDPR compatibility
Cons
May require customization for specific needs
User interface could be enhanced for usability
SupportCandy provides a comprehensive helpdesk ticket system. With a legacy as one of the pioneering support ticket systems for WordPress, it has earned recognition for its simplicity, security, and a feature-rich environment.
One of the crucial aspects of SupportCandy is its allowance for an unlimited number of tickets and agents, ensuring scalability and flexibility for businesses of all sizes.
The plugin excels in providing a multitude of custom fields (16+ types) to capture varied and specific information related to tickets and customers. It also provides exclusive agent-only fields, ensuring internal data pertinent to the ticket is securely held within the support team, enhancing collaborative problem-solving while maintaining confidentiality.
With features like a customizable rich-text editor and advanced custom filter and search functionalities, SupportCandy ensures that both agents and customers can interact with the support system in a seamless and user-friendly manner.
The plugin also stands out with its GDPR compatibility and Google reCaptcha integration, ensuring that customer interactions comply with data protection regulations and are secure from potential automated threats. Coupled with mechanisms like email notifications and clearly defined working hours, SupportCandy offers a well-rounded solution that aligns customer expectations with operational capacities.
In an era where customer service can significantly impact business outcomes, SupportCandy for WordPress positions itself as a reliable, secure, and comprehensive tool for managing customer interactions and issues systematically. Thus, providing a streamlined, efficient, and enhanced customer service experience.

Multiple ways for ticket submission
Premium and Free release options
Advanced user profile features
Scalable to 50,000+ users
Free and Premium versions available
See Pros & Cons
Pros
Versatile ticket system adaptable to various use-cases
Mail notification functionalities
Supports ticket submission through multiple platforms
Various custom field options for tickets
Cons
Some features are only available in the premium version
UI may seem outdated and might need a refresh
The WordPress Advanced Ticket System (WATS) plugin stands out as a robust, and scalable solution designed to integrate the support ticket system within a WordPress environment. Catering to both small businesses and large organizations with more than 50,000 users, WATS offers a customizable solution that can be fine-tuned to align with various organizational needs and requirements.
WATS extends a diverse suite of functionalities with multiple ways for customers to submit tickets, including front-end forms, admin side submission, shared guest user features, and direct email submission (available in the premium release). This ensures that organizations can facilitate user-friendly, accessible, and straightforward means for their customers to raise issues, seek support, or communicate effectively.
With key features in the free release, such as ticket submission/update on behalf of users and smooth integration with WordPress themes, WATS can effortlessly blend into your existing WordPress setup. Moreover, the capability to preset and update priority, status, type, and product keys for each ticket allows administrators to maintain orderly and efficient ticket management.
The premium release of WATS brings in a host of advanced features, including but not limited to ticket assignment, file uploading, HTML WYSIWYG editor for ticket submission/update in the front end, internal comments for private admin exchanges, and a myriad of mail notification options.
With its wide range of features and scalability, WATS serves as a reliable, feature-rich, and comprehensive support ticket system for WordPress, ensuring you can systematically and effectively manage user inquiries, complaints, and support requests across your organization.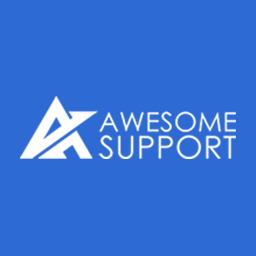 Quick and easy setup within 5 minutes
Email notifications and customizable correspondence
Integration with popular e-commerce platforms
Advanced ticketing and agent collaboration
Free and Premium versions available
See Pros & Cons
Pros
Extensive and versatile feature set
Seamless integration with WordPress UI
Support for multiple products and departments
Robust ticket sorting, filtering, and tagging system
Cons
Some advanced features are premium-only
The array of options might be overwhelming for smaller businesses
Awesome Support, is an easy-to-use support plugin for WordPress, that offers a comprehensive helpdesk and support ticketing system that rivals SAAS solutions such as Zendesk and Helpscout.
Tailored for simplicity and efficiency, you can have your helpdesk up and running in just 5 minutes with the helpful startup wizard guiding you through the initial setup.
The Ticketing feature enables users to effortlessly submit tickets from the front end while agents manage them from the WordPress back-end.
Import tickets seamlessly from platforms like Zendesk, Helpscout, and Ticksy using the free importer add-on, ensuring a smooth transition to your new helpdesk.
Email notifications keep all relevant parties informed, with the ability to customize every email and select from six different notification types.
Restricted access ensures that all correspondences are private between the client and the agents. While File Upload capabilities provide control over the number and size of files that can be uploaded. You can provide support for an unlimited number of products and synchronize product lists with popular e-commerce platforms such as WooCommerce and Easy Digital Downloads (EDD).
The robust Custom Fields feature facilitates the creation of additional custom fields on ticket forms, with 13 field types, control over their display location (front-end, back-end, ticket list, ticket form, etc.), and who can view them. Coupled with the premium Custom Fields add-on, you have an even more convenient experience at your fingertips.
Agent Collaboration is a key focus of Awesome Support, enabling multiple agents to work on the same ticket and transfer tickets between each other, assigning primary, secondary, and tertiary agents to tickets with the flexibility to transfer tickets to any agent.
The plugin also boasts advanced Sorting and Filtering options, security features that allow you to assign capabilities to each of your agents, easy tracking of ticket origin, and the ability to create your own priority scheme.

Front-end and Guest Ticket Submissions
Unlimited Tickets and Agents
Multiple Attachments with Control over Size and Type
Powerful Filters and Sorting with Custom Fields
Free with a Pro version available
See Pros & Cons
Pros
Fully GDPR Compatible
Support for Multiple Attachments
Supports RTL languages and Fully Responsive
Equipped with Powerful Filters and Sorting
Cons
May have a learning curve for non-tech users
Some users might prefer a simpler design
JS Help Desk, a feature-packed, professional helpdesk system, redefines the support experience on WordPress. This sophisticated tool promises an efficient, robust, and intuitive plugin experience, ensuring no user query remains unanswered.
With Front-end and Guest Tickets, JS Help Desk allows users to create tickets from the front-end, and even permits ticket submissions from guests who prefer not to create an account. Furthermore, the system supports Unlimited Tickets and Agents in the admin area, even in the base version, ensuring scalable support for your growing business.
With a strong emphasis on user data protection, JS Help Desk is Fully Compatible with GDPR laws, providing options to erase or anonymize user data upon request. And the Multiple Attachment feature, where users and admins can upload multiple attachments in ticket creation and replies, ensures comprehensive communication in every interaction.
Other key features include Powerful Filters and Sorting options, detailed reports on ticket statuses and support staff performance, and Custom Field capabilities for an enhanced user and admin experience.
Whether you're managing a small team or a large customer support operation, JS Help Desk provides the tools you need to manage, respond to, and resolve support tickets with utmost efficiency and professionalism.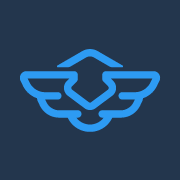 Manage Multiple Mailboxes
Unlimited Tickets and Users
Efficient Inbox Management Tools
Robust Automations and Integrations
Starting at $199.50/year with Pro and Plus options available
See Pros & Cons
Pros
Streamlined Customer Support Management
Advanced Collaboration Features
Feature-rich Plans at Various Price Points
Impressive Customer Insight Capabilities
Cons
May Be Pricier for Smaller Teams
Some Advanced Features Only in Pro Version
Heroic Inbox, a stellar solution for your help desk needs, comes packed with features designed to streamline your customer support, manage mailboxes efficiently, and enhance team collaboration. Catering to different business needs, it offers three pricing plans: Essential, Plus, and Pro, each progressively unlocking more features for a comprehensive help desk system.
Each plan, starting from Essential at $199.50/year (down from $399), comes with a myriad of features, including managing 2-10 mailboxes, unlimited tickets and users, and no monthly fees. With a tier-based offering, Heroic Inbox has a suitable plan whether you're a budding business or a large enterprise
FAQs
What is a WordPress Ticketing System?
A WordPress Ticketing System is a plugin or tool that allows businesses and organizations to manage and resolve customer inquiries, issues, and other communicative interactions through a structured support ticket system, directly from their WordPress website.
Why should I use a Ticketing System on my WordPress site?
Implementing a ticketing system ensures that customer inquiries are organized, tracked, and addressed efficiently, enhancing the user experience and ensuring no request goes unnoticed or unresolved.
Can I customize the ticket forms to match my site's design?
Yes, most WordPress ticketing system plugins offer form customization options, allowing you to adjust the visuals and fields to align with your website's aesthetic and informational needs.
Is it possible to prioritize tickets in the system?
Absolutely. Many ticketing system plugins allow you to set priorities for tickets, ensuring that urgent matters are attended to promptly, and resources are allocated effectively.

How do ticketing systems manage multiple customer service agents?
WordPress ticketing systems typically provide agent management features, allowing admin to assign tickets to specific agents, view agent performance, and ensure a balanced workload among the support team.
Can customers track the status of their submitted tickets?
Yes. Most systems provide a way for customers to track their ticket status, ensuring transparency and keeping users informed about the progress of their inquiries or issues.
Are WordPress Ticketing Systems secure?
Security levels can depend on the specific plugin. However, reputable WordPress ticketing systems prioritize data security, safeguarding both your information and that of your customers through encryption, secure data storage, and other protective measures.
How does a ticketing system notify agents about new tickets or updates?
Agents typically receive notifications via email or in-dashboard alerts whenever a new ticket is submitted, or an existing ticket is updated, ensuring they are promptly informed about all customer interactions.
Can I integrate the ticketing system with other tools or platforms?
Yes, many WordPress ticketing systems offer integrations with various CRM platforms, e-commerce solutions (like WooCommerce), and other tools to streamline and centralize your customer management process.

Is it possible to offer multilingual support with a WordPress Ticketing System?
Yes, some ticketing systems provide multilingual support or are compatible with translation plugins, allowing you to cater to a diverse, global audience effectively.
Conclusion
Choosing the right help desk tool for your WordPress site is key to happy customers. With the right plugin, you can easily manage questions, solve problems, and make sure your customers always get the help they need.
Whether it's Awesome Support, Heroic Inbox, or another option, picking a tool that fits your needs will make your support shine. Happy picking, and here's to happy customers too!

Ludjon, who co-founded Codeless, possesses a deep passion for technology and the web. With over a decade of experience in constructing websites and developing widely-used WordPress themes, Ludjon has established himself as an accomplished expert in the field.