This article will focus on the best 7 web hosting for beginners. We will discuss their main features and unique benefits to site owners.
Site owners need a user-friendly host allowing 1-minute easy set-up and management of websites. When you select the right host, you avoid common pitfalls that beginners fall into.
These are the top 7 web hosts for beginners:
Let's get started.
Top 7 Web Hosting for Beginners 2023
1. Bluehost – Best Overall
Bluehost is the best web host for beginners because of its user-friendliness. The host makes it incredibly easy to set up and manage a new website.
First, it has a wizard that takes you through the setup process. From selecting a plan to choosing a domain name, Bluehost allows you to become a site owner in minutes.
The hosting provider also has a custom admin dashboard integrated on top of the standard one.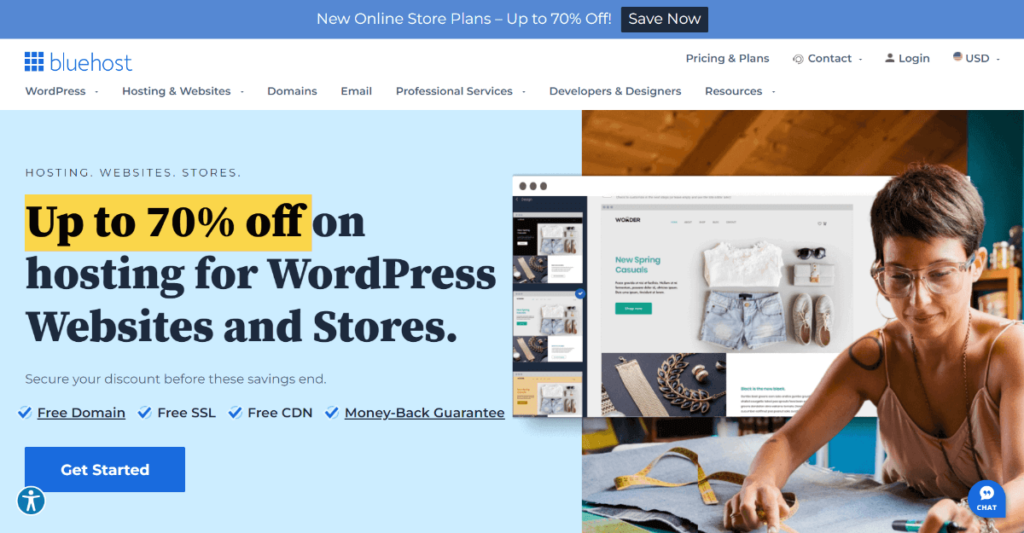 Even though cPanel is one of the most popular admin dashboards available, it still has a complex UI and presents a learning curve for beginners. With Bluerock, Bluehost's control panel, managing your site is easy.
It only takes a few clicks to install WordPress, add a new website, and set up plugins. Installing WordPress and WooCommerce takes a few clicks, and Bluehost does all the heavy lifting for you. You don't have to worry about updates, backups, and security because they are all managed in-house.
Bluehost has several service channels, including phone support, email support, and live chatting. No matter the pricing tier you pick, you can call agents at any time of the day.
There are free add-ons like business email hosting, SSL certificates, free domain registration for the first year, and CDN. Did I forget to mention it? All Bluehost plans come with a 30-day money-back guarantee.
Why is Bluehost the best overall web host for beginners?
Affordable price
Custom dashboard
Easy setup process
30-day money-back guarantee
Free add-on features
Awesome customer support
Easy WordPress and woo-commerce installation
Bluehost Pricing
BlueHost's shared hosting plans are divided into four. If you pay for an annual plan, these are the prices you get them for:
Basic: $4.95/month
Plus: $5.45/month
Choice Plus: $5.45/month
Online Store: $9.95/month
Storage starts from 10GB to 100GB SSD. All plans have free SSL, email hosting, and free domain registration.
From the Plus Plan, you get access to Yoast SEO for free. And if you buy the Choice Plus or Online Store plan, you also get daily backups for at least one year.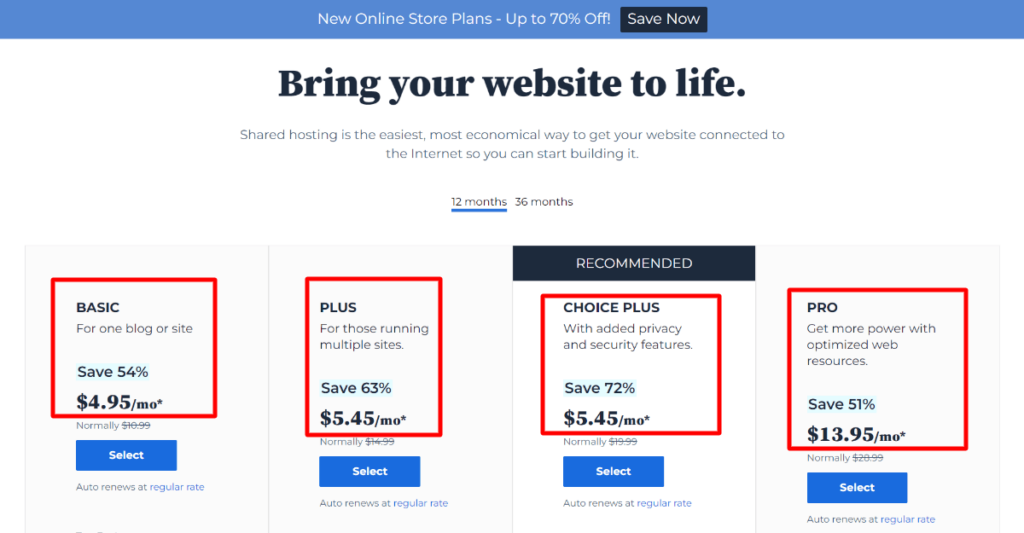 2. Hostgator – Best for disk space
Beginners and non-tech-savvy site owners can install WordPress, Magento, Joomla, and Drupal with just one click. Once you have them installed, HostGator makes it easy to manage your sites and scale up with new sites without paying any extra.
New users get free SSL and domain registration. Depending on the pricing tier, users can access up to $500 in Google ads credit and $100 in Microsoft ads credit. These help you kickstart the advertising of your site and product.
Just like Bluehost, Hostgator also offers a 30-day money-back guarantee. However, this host takes it further by providing daily backups to all plans.
Hostgator also has 24/7 customer support that users can access via email, live chat and phone.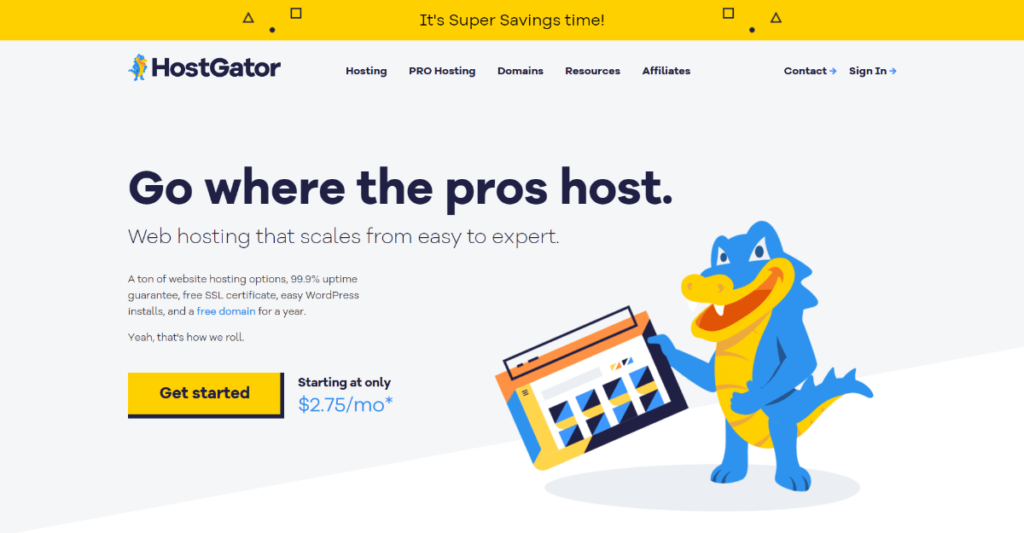 Why is Hostgator the best for disk space?
If you are looking to start a site that requires tons of disk space, Hostgator is the best option for you. For new signups, the host offers unmetered bandwidth and unlimited storage.
You won't need to upload images and videos and worry about paying for extra storage. Also, you can attract tons of traffic and have busy server activity without being charged extra.
Unmetered bandwidth and storage space if try to compare to other providers. They claim that you can have unmetered storage but keep in mind that this have also a limit when you surpass a certain threshold. It was also featured in our post as the best unlimited hosting providers.
Hostgator Pricing
Hostgator's shared plans are:
Hatchling plan: $2.75/month
Baby plan: $3.50/month
Business plan: $5.25/month
All Hostgator plans have free SSLs and domain registration, unmetered bandwidth and storage. If you want to access ad credits, you have to upgrade to the Baby plan. Free SEO tools, dedicated IP addresses, and Cloudflare CDN become available from the business plan.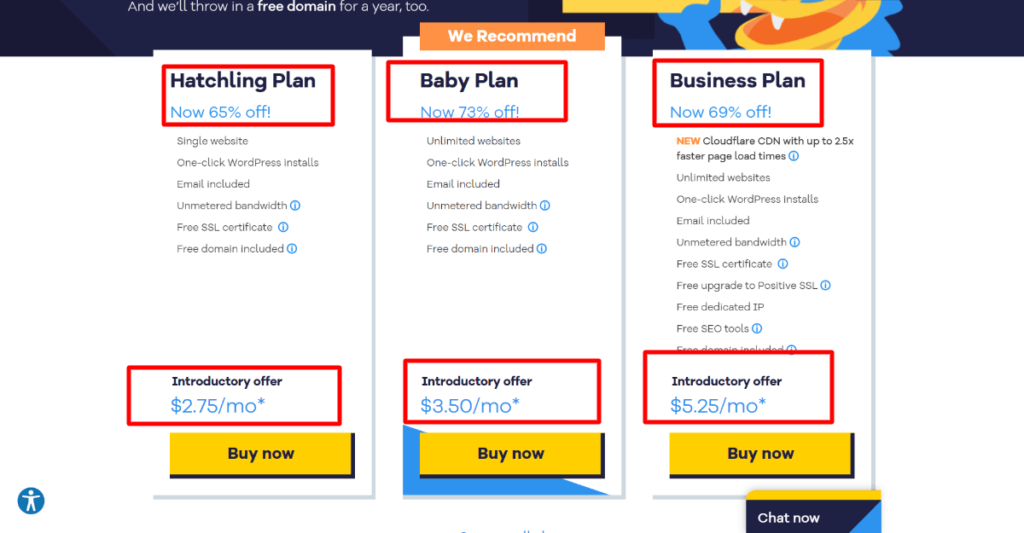 3. Siteground – Best in Customer Support
With over 2.8 million registered domains, Siteground has become a popular web host for businesses of all sizes. It is known to have the best customer support in the industry.
According to a report in 2020, customers voted Siteground to have the best customer support. The provider has all the popular help channels, including a knowledge base, email ticketing, live chatting and phone support. Reps are available 24/7 to help you solve your needs.
Users rave about Siteground's support about how professional the reps are. A customer said he only had to wait sixty seconds to connect with an agent.
Apart from customer support, Siteground offers users a custom-built admin panel. You can easily create emails, install themes, and add new sites.
Siteground also offers a free CDN, free SSL certificates, and free domain registration. Your site is guaranteed a 99.9% uptime.
Like others, Siteground has a 30-day money-back guarantee.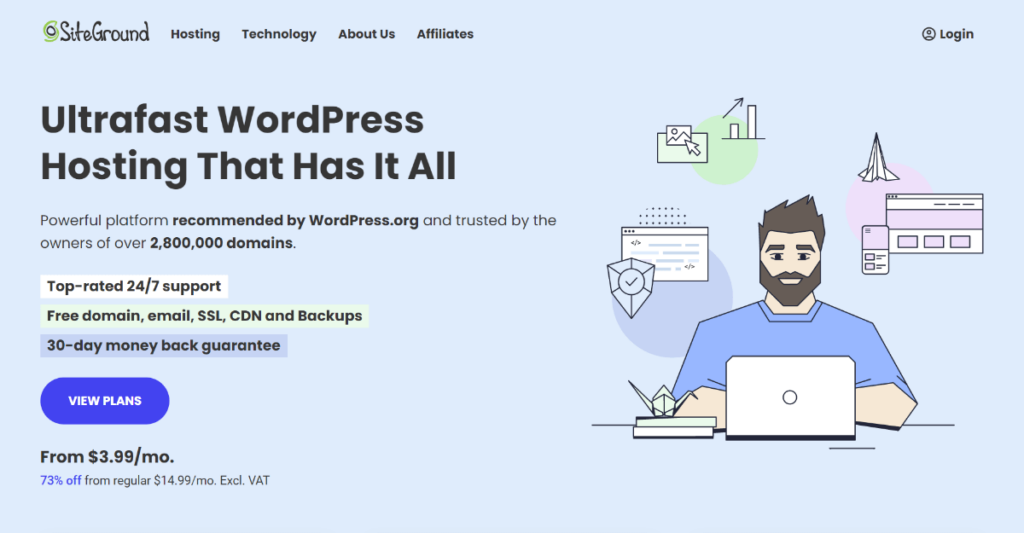 Why is Siteground the best in customer support?
24/7 round-the-clock customer support
Custom-built and user-friendly admin panel
Free SSL and CDN
99.9% uptime guarantee
30-day money-back guarantee
Siteground Pricing
Siteground's web hosting plans are:
StartUp: $3.99/month
GrowBig: $6.69/month
GoGeek: $10.69/month
All these plans have access to free domain registration. They get at least 10GB SSD storage, free SSL, email hosting, and daily backups. The differences lie in the GrowBig, and GoGeek plans allow for hosting an unlimited number of websites and staging a site before publishing.
4. Hostinger – Most Affordable
If you are looking for the cheapest possible option for hosting a site, check out Hostinger. Hostinger is known for the insanely affordable rates it sells for while still offering an incredible number of features. You can even use their sister company, 000webhost, to create a site free of charge.
New Hostinger users can access free CDN, domain registration, free SSL certificates, email hosting, and weekly backups. The Premium plan can host up to 100 websites per account.
Hostinger's custom dashboard, hPanel, is suitable for beginners and poses no learning curve. It allows users to install WordPress and other software with just one click.
Even though the dashboard looks simple, it takes care of simple tasks like setting up a new theme and complex tasks like altering an SQL database.
The hosting provider has several customer support channels, including email ticketing, phone support, and live chat. You also get a 30-day money-back guarantee.
Why is Hostinger the most affordable web host for beginners?
If you compare it with Bluehost that's the cheapest package costs $2.95 per month and Hostinger is $1.99 about $1 dollar less. Also what they offer for the price that gives is absolutely the cheapest solution.
Custom dashboard
One-click installation
Unlimited bandwidth
Standard support channels
Hostinger Pricing
Hostinger's shared web hosting plans are:
Single web hosting: $1.99/month
Premium web hosting: $2.99/month
Business web hosting: $3.99/month
The Single plan allows users to host one website and get free SSL certificates, email hosting, and weekly backups. The lowest tier also allows for one-click WordPress installation and managed hosting. Once you upgrade to the other levels, you also get free domain registration and unlimited bandwidth.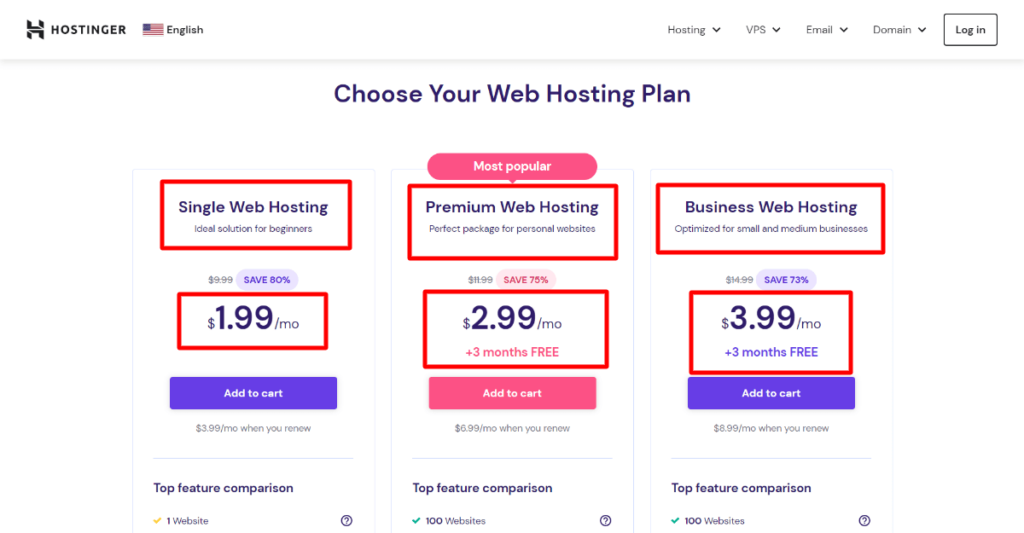 5. A2 Hosting – Fastest Hosting
A2 Hosting is the provider to choose if you want low response times and high loading speeds. An industry test found that A2 hosting had an average response time of 295ms in 2023. The provider also offers a 99.9% uptime guarantee.
Going with a host that targets high speed and uptime allows you to set up a website that seamlessly caters to customers more efficiently. Pages will load fast any moment customers click a link.
Apart from speed, A2 recognizes that different people set up websites for various reasons. Packages include shared hosting, dedicated hosting, reseller hosting, VPS hosting, and WordPress hosting. A2 has plans for non-profit and personal website hosting.
The host also offers free domain registration, free SSL, a 30-day money-back guarantee, and free website migration. The provider has a Turbo Boost tool for constantly optimizing site speed.
Why is A2 Hosting the fastest web host for beginners?
295ms average response time
99.9% uptime guarantee
Free Migration
Free SSL and domain registration
Money-back guarantee
A2 Hosting Pricing
A2's shared hosting plans are:
Startup: $2.99/month
Drive: $5.99/month
Turbo boost: $6.99/month
Turbo max: $14.99/month
This provider allows the lowest tier to host only one website per account. However, it also gets free migration and a 30-day money-back guarantee.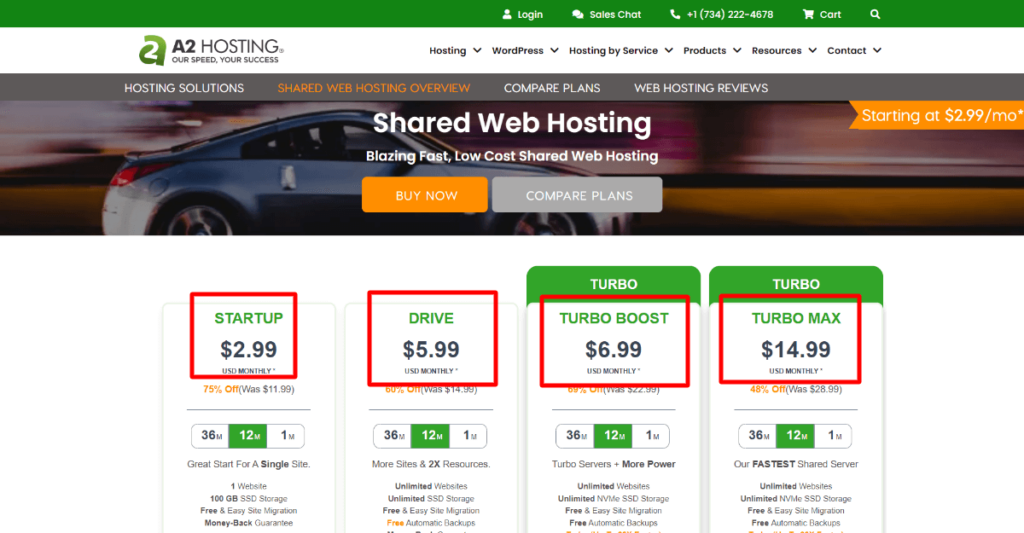 Read More: Fastest Web Hosting
6. DreamHost – Best for USA Customers
Setting up a site in a data center located in the US can significantly improve site performance and response times. Check out Dreamhost if the majority of your customers are located in the US.
DreamHost has two primary data centers, both in the USA. They are located in Ashburn, Virginia and Portland, Oregon. You get to decide to choose one during sign-up.
This host offers WordPress pre-installation, so you won't even need to click a button. It takes care of updates, backups, and security. It also has a WordPress site builder with over 200 templates.
Other features include automated backups, free email hosting, free SSL, at least 50GB of storage, and superb customer support.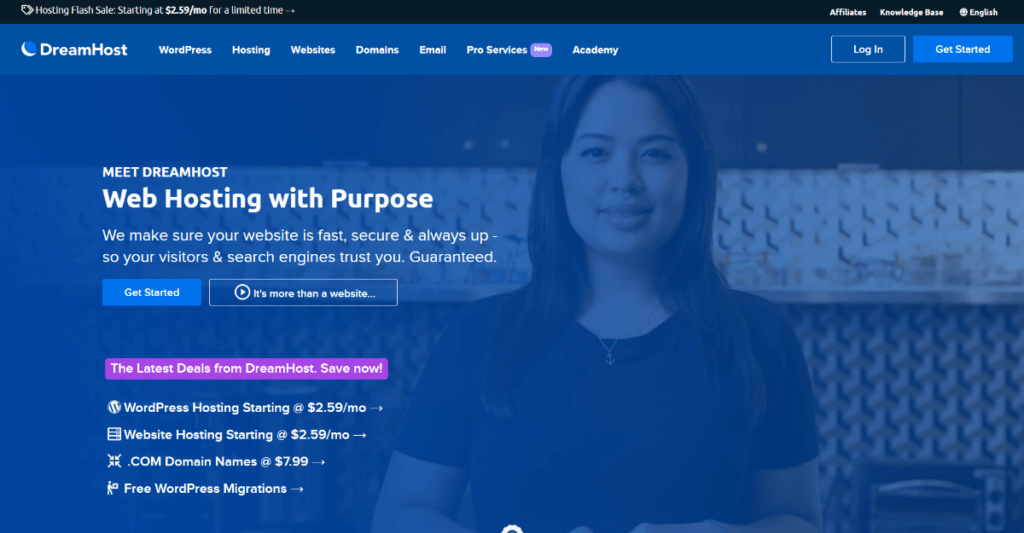 Why is Dreamhost the best web host for USA customers?
Both data centers are located in the us
WordPress pre-installation
Automated backups for all tiers
WordPress site builder
Free SSL certificates
Dreamhost Pricing
Dreamhost shared hosting plans are divided into two. They go for as low as:
Shared Starter: $2.59/month
Shared Unlimited: $3.95/month
These prices are available if you pay for 3 years. If you decide to pay monthly, the prices are $4.95/per month and $8.95/per month, respectively.
Both plans have several features, the significant difference being that Shared Starter users can host only one website and have to pay an extra $1.67/month for email hosting.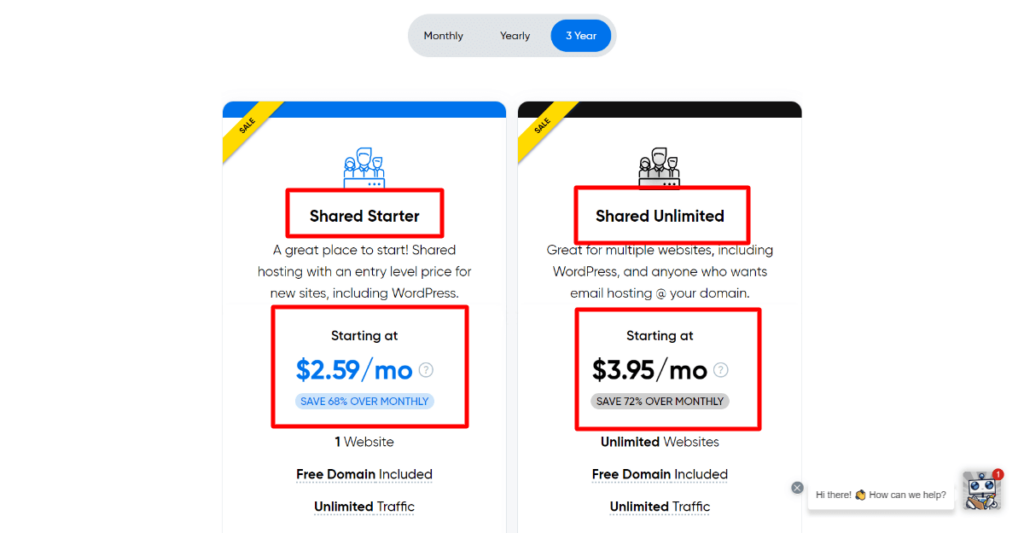 7. Godaddy – Best for Reliability
Check out Godaddy if you're interested in reliability. The host is a significant name in the game and has been around for decades.
Godaddy has data centers on three continents – the US, Europe and Asia. It guarantees an uptime of 99.98% and response times as fast as 171ms.
The host offers shared and WordPress hosting plans that include free domain registration, one free SSL certificate, and free business email. Even though the starting storage space is on the low side, 25GB, you still get a lot of features for an affordable price.
Why is Godaddy the best reliable web host for beginners?
Hosts 17 million+ websites
99.98% uptime guarantee
Data centers in 3 continents
Free SSL certificates
Free domain name registration
Godaddy Pricing
Godaddy's shared hosting is divided into:
Economy: $3.99/month
Deluxe: $5.99/month
Ultimate: $7.99/month
Maximum: $12.99/month
All the plans mentioned above have access to unlimited bandwidth, daily backups, and one-click WordPress installations. The differences are in storage and the number of sites each package can host.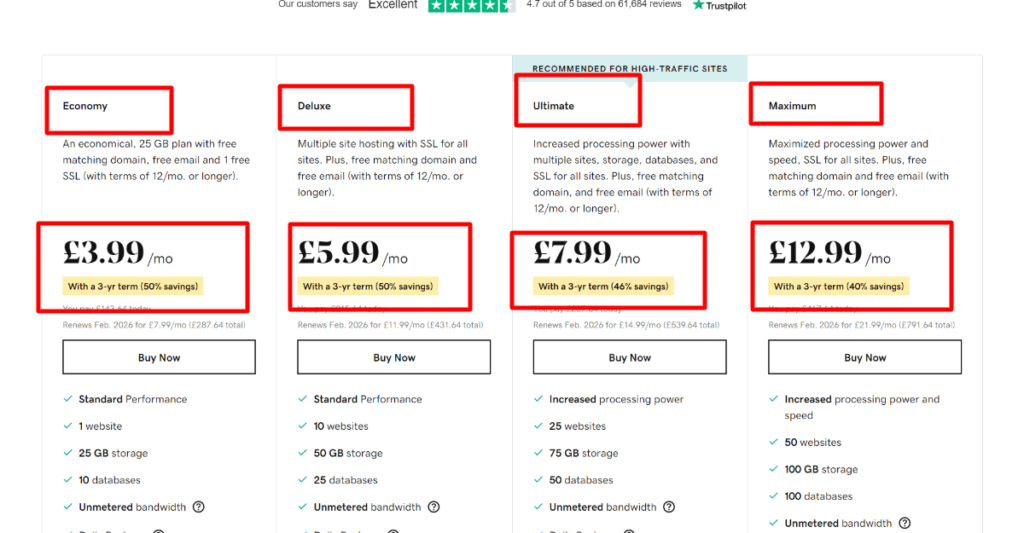 Conclusion
Common pitfalls beginners fall into when selecting a host include complicated admin panels, lack of easy WordPress installation, extra cost features, and lengthy contracts.
We found that Bluehost is the best overall web host for beginners because of its user-friendliness, affordability, and free add-ons. If you want the best customer support, check out Siteground.

As one of the co-founders of Codeless, I bring to the table expertise in developing WordPress and web applications, as well as a track record of effectively managing hosting and servers. My passion for acquiring knowledge and my enthusiasm for constructing and testing novel technologies drive me to constantly innovate and improve.
Expertise:
Web Development,
Web Design,
Linux System Administration,
SEO
Experience:
15 years of experience in Web Development by developing and designing some of the most popular WordPress Themes like Specular, Tower, and Folie.
Education:
I have a degree in Engineering Physics and MSC in Material Science and Opto Electronics.