Ycode is a no-code website builder that helps you create websites easily. It lets you turn ideas into websites that work well and look good, without needing to know how to code.
You can start using Ycode for free or book a demo to see how it works. The visual editor feature gives you the ability to control the look of your website fully.
This tool makes the process of building a website straightforward, letting you create a site that matches your vision exactly, with no compromise.
Read More: No-Code Website Builders
Ycode Features
Design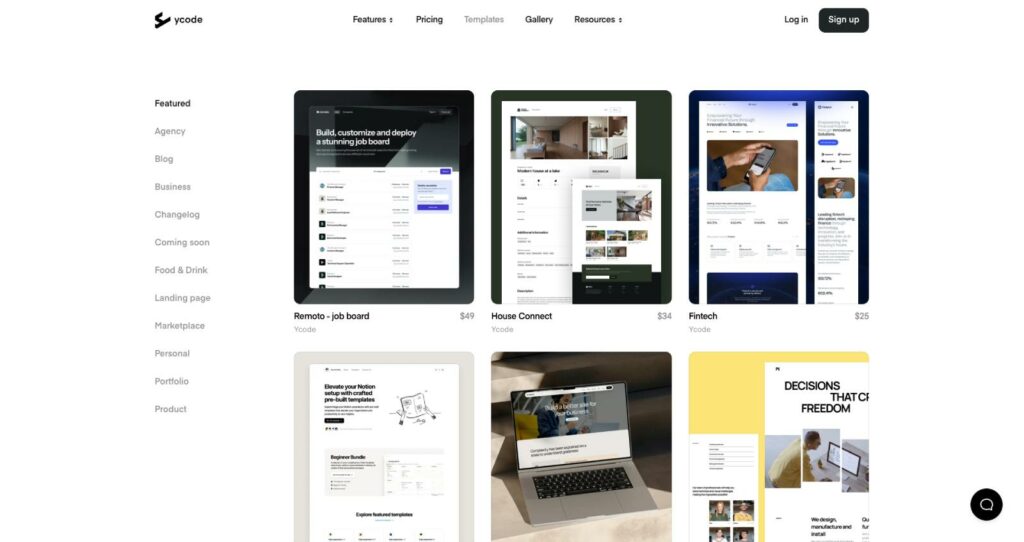 With Ycode, you get to hold the reins of your website's visual appeal firmly. It provides a visual editor that empowers you to create designs that not only resonate with your brand's ethos but are also striking enough to grab attention instantly. Here's how Ycode ensures that your designs are nothing short of spectacular:
Design Properties: Ycode promises a user interface where you have the ability to control and customize every aspect of CSS design, making your website truly yours.
Layer Styles: Streamline the design process by establishing consistent styles for various elements throughout your project. These can be reused, ensuring a cohesive look and saving time.
Breakpoints: Modify your website to fit a plethora of device sizes, enhancing the responsiveness and ensuring a seamless user experience across all platforms.
Components: To speed up the building process, save groups of elements as components which can be reused wherever necessary, maintaining uniformity and saving time.
Work with Real Content: Integrate CMS collections effortlessly into any design layout, allowing you to work with real content and see exactly how it will look upon publication.
Animations: Add a dynamic touch to your designs by incorporating animations. Engage your audience with various animation triggers like click, hover, scroll into view, while scrolling, and page load, making the browsing experience more interactive and fun.
Pre-built Layouts: Get a head start on your project with pre-built layouts that include essential sections like hero sections, headers, and footers. These layouts are designed to be both attractive and functional, providing a solid foundation for your website.
Export HTML: Flexibility is key; if you wish to use your design elsewhere, Ycode permits quick and easy exporting of any element or an entire page to HTML.
Publish Instantly: To ensure that your project goes live without a hitch, Google Cloud backs Ycode as a secure and reliable platform for instant publishing.
Furthermore, you can experiment with different templates provided by Ycode to get a feel of what resonates with your brand. From job boards to tech and business templates, there is a variety to choose from, helping you to craft a website that stands out.
I have to say that Ycode is so similar to Webflow as a website builder but for sure Webflow is more advanced.
Explore Available Templates:
Remoto – Job Board Website Template – Available at $49 on Ycode
Molle Tech Website Template – Available for free on Ycode
Modern Business Website Template – Available for free on Ycode
Mobile Application Website Template – Available for free on Ycode
Get started for free and begin your journey of creating a website that not only meets your requirements but exceeds expectations in design and functionality.
CMS (Content Management System)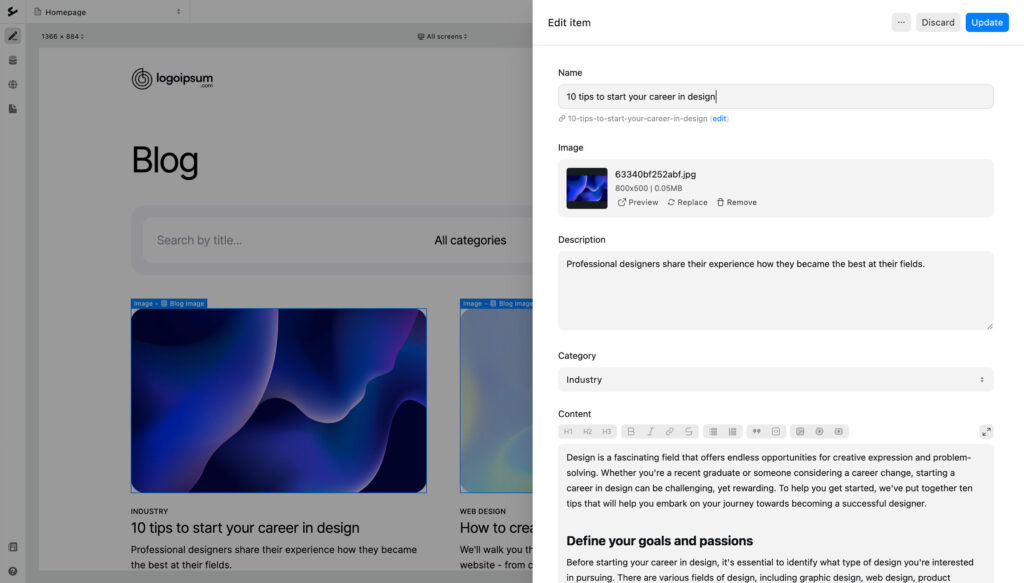 The CMS feature in Ycode revolutionizes how you manage and present content on your website, promising flexibility and ease of use right from the get-go. Here's an insight into how it ensures optimal content organization and accelerated delivery:
Collections: Structure and organize your content as per your needs. Ycode facilitates manual or bulk imports, simplifying the process of data management and allowing for efficient content arrangement.
Filter, Search, and Sort: Improve your website's user experience by integrating a filter form. This tool aids visitors in quickly locating the content they are interested in, through capabilities like sorting and searching.

Filter Form: Enables users to narrow down content based on specific criteria.
Pagination: Customize the display settings to adjust the number of collection items visible per page, ensuring a user-friendly browsing experience.
Limit: Set a cap on the maximum number of collection items displayed, maintaining a clean and organized webpage.

Integration with Airtable: If you have content already hosted on Airtable, Ycode allows for a seamless integration, letting you utilize Airtable as your website's CMS.
Forms: Build forms with diverse layouts and designs. Connect these forms with collection fields to start gathering data efficiently.
Relationships: Forge connections between different collections, for instance, linking authors to respective blog posts, fostering a cohesive content structure.
Conditional Visibility: Employ the feature of conditional visibility to show or hide elements, creating unique designs that are influenced by collection data, giving a tailored experience to your users.
Import Feature: Facilitates smooth content importation from another CMS or a spreadsheet, making content transfer hassle-free.

Upload CSV: Upon importing your file, Ycode allows you to map columns to specific fields, streamlining the content arrangement process.

Content Editor Mode: This mode is particularly beneficial for copywriters, offering a convenient platform to work with content either through a CMS or visually on a canvas without interfering with the existing design.
Ycode emphasizes providing a CMS platform that not only organizes content efficiently but also accentuates the impact of your content, tailoring a pleasant user experience. Start for free and explore the reimagined way of content management with Ycode.
Forms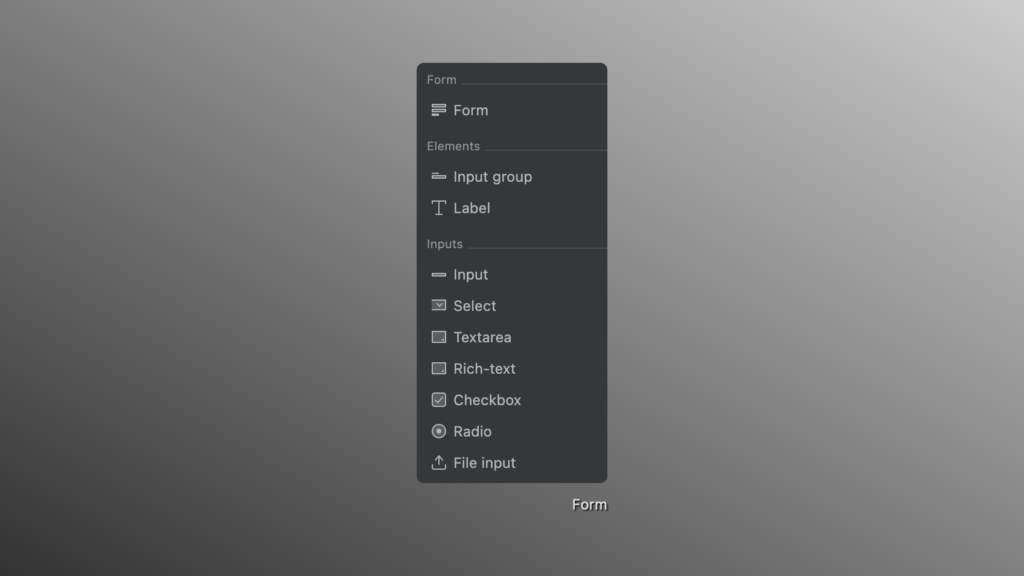 Ycode provides an extensive suite of form functionalities to cater to various needs of a website. Whether it's data collection, user authentication, filtering, or more advanced capabilities, Ycode's form feature has got you covered. Here's an overview of what you can achieve with Ycode's form tools:
Creating Record: Easily build forms specifically tailored to generate new collection items, simplifying the process of data entry.
Editing Record: Equally important is the ability to make updates or modifications. Ycode offers forms that enable users to edit existing collection items.
References: Enhance the user experience by enabling filtering of collection items based on linked reference fields. Users can filter using select options, checkboxes, or radio elements, offering versatility in search criteria.
Searching by Text: Make content discovery straightforward for your users. They can easily input text to find relevant results within the collection items, enhancing navigation.
Min/Max Filters: Users can filter collection items based on a set range, such as prices or dates, using minimum and maximum value criteria.
Sorting: Allow users to organize collection items according to specific fields, in either ascending or descending order, making content navigation more user-friendly.
Items Per Page: Empower your visitors by letting them decide the number of collection items they wish to view on a single page, creating a tailored browsing experience.
Authentication: Ycode's form features also cater to user authentication. This means websites can be designed to display content based on distinct user types or access levels, ensuring personalized content delivery.
Advanced: For those with a more intricate setup, Ycode permits forms to connect with a private API that you've established, expanding the possibilities of form functionalities.
SEO (Search Engine Optimization)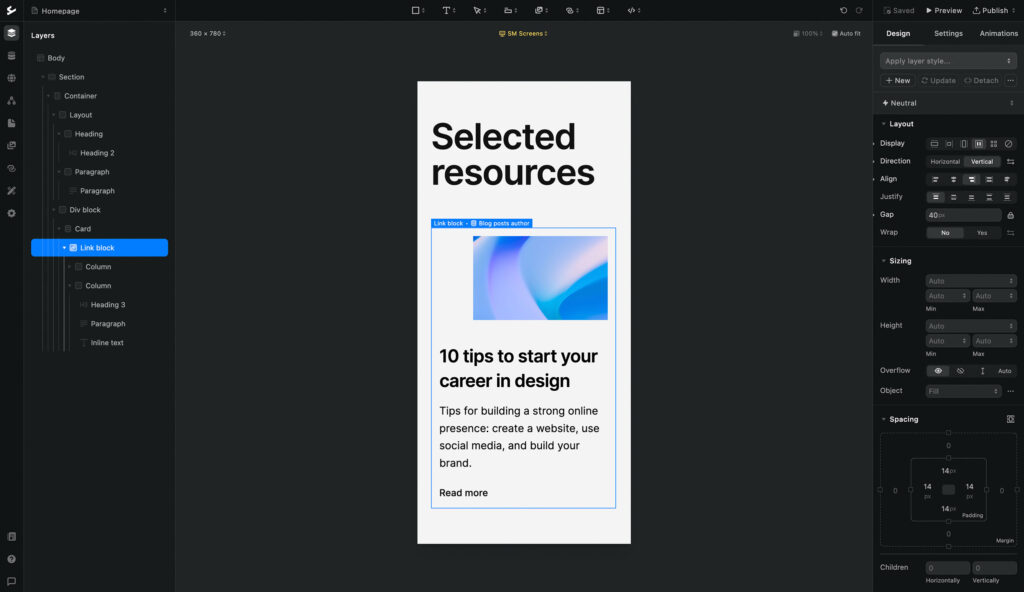 SEO is a critical element in increasing a website's visibility. Ycode brings forth a variety of SEO tools and features that help in optimizing your website for better search engine rankings and user experience. Here is how Ycode assists you in optimizing your site:
Meta Tags: Enhance your website's SEO by adding static or dynamic meta titles and descriptions. These tags play a crucial role in improving your website's visibility and rankings on search engine results pages.
Image ALT Tags: A vital feature that aids not only in SEO but also in enhancing user experience and accessibility. By adding ALT tags to individual images, you make your website more accessible and potentially improve your SEO standings.
Sitemap: A sitemap is a roadmap to your website. With Ycode, you can either generate an XML sitemap automatically, ensuring search engines can crawl and index your site effectively, or opt to create a custom sitemap manually, giving you more control over how search engines navigate your site.
301 Redirects: Redirecting users and search engines to a different URL is a breeze with Ycode's 301 redirects feature. It is an excellent tool to maintain website integrity and SEO value in case of changes or updates to your webpage URLs.
SEO-Friendly Code: Ycode is committed to producing clean, semantic code that not only ensures high-speed page loads but also contributes to better SEO performance, making your website more appealing to search engines.
Indexing Controls: Manage your robots.txt file effortlessly with Ycode, controlling how Google and other search engines index your project, and ensuring that only the content you want to be found is indexed.
Social Share Settings: Enhance your website's social media presence by defining the title, description, and image displayed when pages are shared on various social platforms. This feature helps in crafting a coherent and engaging narrative for your brand on social media platforms.
Animations
Ycode invites you to venture into the realm of vibrant and dynamic website designs with its Animation feature. This aspect allows you to infuse life and movement into your website elements, captivating your audience right from the moment the page loads. Here's what you can accomplish with Ycode's animation functionalities:
Page Load: As soon as your webpage finishes loading, trigger captivating animations to greet your visitors, creating an engaging and visually appealing first impression.
Endless Loop & While Scrolling: Craft immersive scrolling experiences with functionalities that offer creative effects like parallax and progress bars. These elements create an interactive narrative as users scroll through your page, keeping them engaged with a visually stimulating environment.

Parallax Effect: This popular animation effect creates a sense of depth and motion, adding a visually appealing aspect to your webpage.
Scroll into View: Make your website more interactive by setting up animations triggered either when elements scroll into view or when another layer enters the viewport, making for a dynamic and interactive user experience.

Click Interactions: Boost your website's interactivity by configuring animations that display modals, panels, and other elements when users click on specific items on the page, offering a more engaging and interactive user experience.
Hover Interactions: Elevate user engagement with hover animations that allow you to modify elements, refresh styles, and reveal additional content.
User Authentication

Ycode's built-in user authentication feature stands as a vital tool in crafting websites that resonate with various user types. It's a pathway to creating a more interactive and personalized environment on your website. Here's how you can utilize this feature:
Users Collection: Initiate a structured approach to gathering data by creating diverse fields within the users collection. This allows you to gather a rich tapestry of data from your users, which can be instrumental in crafting personalized experiences.
Build User Profile Pages: Offer your users a personal space on your website by enabling them to have user profile pages. Customize the layout to your preference and decide on the kind of information you'd like to collect. Additionally, provide the liberty for users to update their profile pages, making for a more engaging and interactive user experience.
Integration with Airtable: Streamline your user management process by syncing all signed-up users with your Airtable base table. This integration makes for a seamless data management process, helping you keep track of your user data efficiently.
Email Workflows: Automate your engagement with users by setting up workflows that trigger email dispatches post form submissions. This functionality can be an essential tool in maintaining active engagement with your user base.
User Content Management: Empower your users by letting them have control over the content they create on your website. Through workflows, users can easily create and manage their content, fostering a sense of community and engagement.
Conditional Visibility: Tailor the content display based on user collection fields, ensuring that users are presented with content that resonates with their preferences and interactions on your site.
Airtable Integration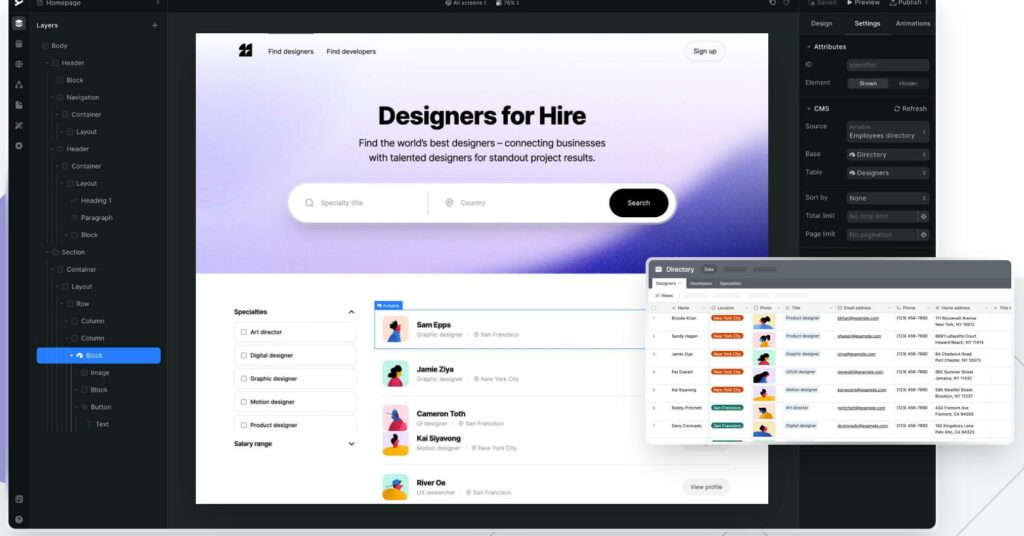 Ycode facilitates seamless integration with Airtable, a versatile platform that can act as a robust backbone for your content management. Here's how you can enhance your website's functionality with the Ycode-Airtable collaboration:
Getting Started with Forms: Ycode allows you to construct form layouts of varying designs. These forms can be seamlessly integrated with fields from your Airtable base, paving the way for efficient data collection that's well-structured and organized.
Filter, Search, and Sort: Implement filter forms on your website to assist visitors in swiftly locating the content that is most relevant to them. This feature stands as a testament to Ycode's commitment to fostering a user-friendly experience.
Conditional Visibility: Tailor your website's visual elements based on the data stored in your Airtable fields. This feature permits the display or concealment of specific elements, enabling you to create unique and personalized designs that resonate with your audience.
Relationships: Exhibit data interconnections effortlessly, showcasing linked records such as designers associated with specific locations or blog posts linked to particular authors. This creates a more interconnected and rich content experience.
Pagination and Item Limit Controls: Maintain a clean and organized webpage by adjusting the number of collection items visible per page, and setting a maximum limit for displayed items. This ensures a user-friendly browsing experience without overwhelming your visitors with excess information.
Authentication: Combine the power of Airtable with Ycode's user authentication feature, facilitating the display of content in accordance with different user types, fostering a more personalized user experience.
Unleashing Design Potential: Augment your website's visual appeal with Ycode's visual editor, granting you the autonomy to create impactful designs that resonate with your brand ethos and leave a lasting impression on your visitors.
Pricing
Embark on your website creation journey with Ycode doesn't have to break the bank. In fact, Ycode offers a flexible pricing structure that accommodates different needs and growth phases of your website. Here's a snapshot of the pricing tiers available:
Furthermore, you have the option to choose between monthly and yearly billing, with the yearly option offering savings of up to 50%, making it a prudent choice for those looking to make a longer-term commitment.
Regardless of the tier you choose, Ycode promises a platform where your website can flourish and grow, with the flexibility to upgrade as and when your website demands more features and capabilities.
Read more: Low-Cost Website Builders
Pros and Cons
Pros:
User-Friendly Interface

Easy to start, even for individuals not specialized in web design.
Offers video tutorials to help users get acquainted with its features.

Feature-Rich

Offers a powerful CMS with forms for data entry and filtering.
Allows for pixel-perfect design settings.
Provides user authentication capabilities.

Integration and Customization

Seamless integration with Airtable.
Allows the addition of custom code in the header/body of pages.
Well-organized file manager for easier navigation.

SEO and Social Media Friendly

Offers SEO and social share settings for every page, helping to improve visibility and sharing capabilities.

Budget-Friendly

Offers a free plan to try out almost all features.
Has reasonable pricing options for different levels of user needs.

Community Engagement

Regular updates with community engagement to enhance features based on feedback.
Cons:
Stability Issues

Some users have reported repeated crashes, impacting the efficiency and workflow.
Problems have been reported with customer service and lack of support during crashes.

Refund Policy

Some negative experiences with the refund policy, contrasting with positive experiences with other platforms.

Bugs

A few users mentioned encountering bugs, indicating that there might still be some issues to iron out.

Potential for Improved Customer Service

A user had a negative experience with customer service, indicating room for improvement in customer support.
Other Resources
Webflow vs Squarespace – Which is Better for Beginners?
Wix Review – Features, Pricing Pros & Cons, Rating
5 Best Unlimited Website Builders (Compared)
Conclusion
Ycode appears to be a platform with great potential, already facilitating a smooth transition for users from other platforms like WordPress. Its forward momentum is promising, indicating a willingness to evolve and adapt to users' needs.
I can say that it is a platform similar to Webflow and Framer with a lot of options to customize your website as you wish.
The mixed bag of reviews points towards a classic case of a growing tool with notable strengths but also with areas needing urgent attention to foster user trust and satisfaction. It would be interesting to watch how Ycode navigates through these initial challenges and if it can emerge as a reliable and sought-after tool in the web development industry.

As one of the co-founders of Codeless, I bring to the table expertise in developing WordPress and web applications, as well as a track record of effectively managing hosting and servers. My passion for acquiring knowledge and my enthusiasm for constructing and testing novel technologies drive me to constantly innovate and improve.
Expertise:
Web Development,
Web Design,
Linux System Administration,
SEO
Experience:
15 years of experience in Web Development by developing and designing some of the most popular WordPress Themes like Specular, Tower, and Folie.
Education:
I have a degree in Engineering Physics and MSC in Material Science and Opto Electronics.