Converting "YouTube to MP4" has become a common practice in our digitally interconnected world. With the upsurge of information, tutorials, and visual narratives on YouTube, the need to save and share this content in a versatile format has become increasingly vital. From businesses, and educators, to casual internet users, everyone finds it handy to transform their favored YouTube content into an accessible MP4 format.
Why has this trend spiked in recent years? The reason is the convenience and universal compatibility of MP4. No matter if you are looking for offline accessibility, plan to add a personal touch to your website, or just want to build a personal library of informative videos, MP4 serves you right.
While our focus is on this conversion process, it's crucial to navigate the process legally and ethically. This journey from YouTube to MP4, though incredibly useful, is a path that must tread carefully. So, stick around as we dive into this digital odyssey with a detailed guide, tool reviews, and more.
You can also read: How to find emails from different Youtube Channels.
Why Convert YouTube Videos to MP4
Downloading YouTube videos and converting them to MP4 can be beneficial in a variety of situations. One option is to download videos locally for viewing when you don't have internet access. This ensures that your favorite content is always available, regardless of your internet connectivity.
MP4 videos can be used during various presentations or for educational purposes. They serve as handy tools for enhancing understanding and engagement in these settings, particularly because of their universal compatibility and easy distribution.
Moreover, often these videos are needed for uploading to our websites. This is the primary reason why I'm writing this article. As web developers, we've all encountered the need to download a YouTube video and embed it on our website.
Tools to convert Youtube to MP4
When it comes to converting YouTube videos to MP4, a range of tools – both online and desktop-based – come to our rescue. Let's review a few popular ones, highlighting their pros, cons, and overall effectiveness.
Among online converters, "Online Video Converter" stands out for its straightforward interface and quick conversion process. Simply pasting the YouTube URL and selecting MP4 as the desired format does the job. However, the downside is the occasional pop-up ads that can be intrusive. In terms of usability, efficiency, and quality of conversion, it garners a solid 8 out of 10.
Another notable online tool is "ClipConverter". It offers advanced settings like video resolution and file size customization. Its drawback lies in its inability to convert videos containing music due to copyright issues. It earns a 7 out of 10 for its high usability, mixed efficiency, and good quality of conversion.
On the desktop side, "4K Video Downloader" is a strong contender. Its ability to download playlists and even entire channels is a unique feature. Additionally, it provides high-quality conversion with no ads. Its only con is that the free version limits playlist downloads. We'd rate it an impressive 9 out of 10.
"Freemake Video Converter" is another desktop tool worth mentioning. It supports multiple formats and provides high-quality conversions. However, the free version adds a watermark, and its conversion speed is relatively slow. Its overall rating lands at 7 out of 10. Recently they have added the online version.
While these tools offer a good start, it's essential to choose one based on your specific needs, and always consider the ethical and legal implications of downloading and using the videos.
Guide on How to Convert YouTube Videos to MP4
YouTube videos to MP4 using both an online converter and a desktop software converter.
Online Converter: Using Online Video Converter
Navigate to the website of Online Video Converter
Copy the URL of the YouTube video you wish to convert.
Paste the URL into the 'Video URL to Download' box.
Select 'MP4' from the drop-down 'Format' menu.
Click on 'Start' to begin the conversion process.
Once the conversion is complete, click 'Download' to save the MP4 file to your device.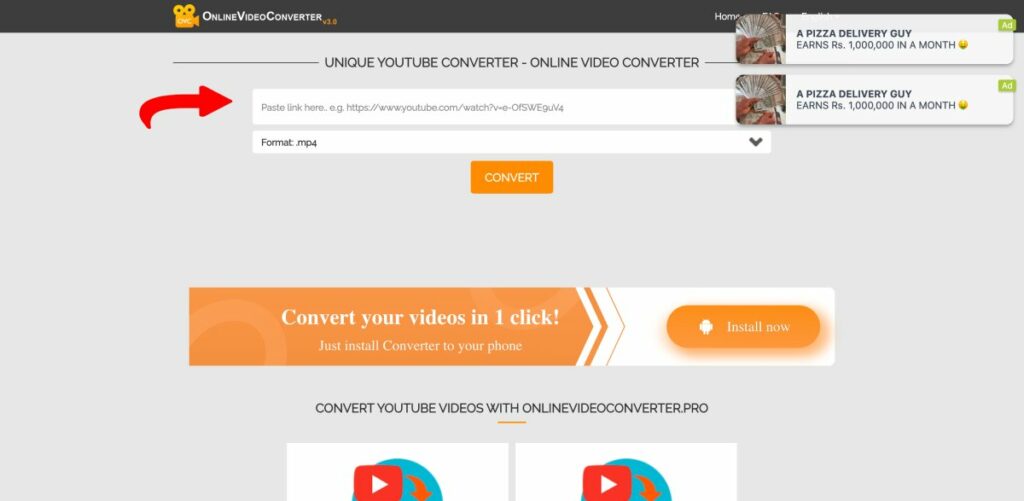 Desktop Software: Using 4K Video Downloader
Download and install the 4K Video Downloader software from its official site.
Open the software once the installation is complete.
Copy the URL of the YouTube video you want to convert.
Click the 'Paste Link' button in the 4K Video Downloader.
In the 'Download Video' box, select 'MP4' under the 'Format' option.
Select your preferred quality, then click 'Download'.
The MP4 file will be automatically saved to your designated folder.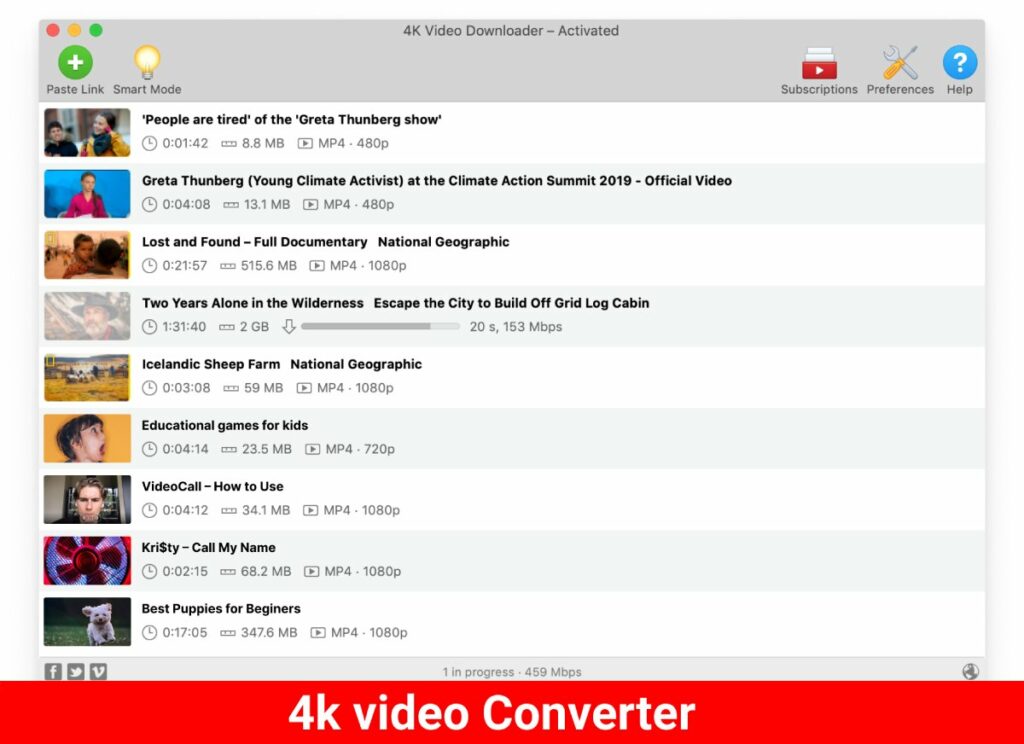 Remember to use these tools responsibly, always respecting copyright laws and YouTube's Terms of Service. Also, you might need another tool for editing videos after downloading them.
FAQs
Can I convert any YouTube video to MP4?
Yes, theoretically, you can convert any YouTube video to MP4. However, it's crucial to consider the copyright laws and YouTube's terms of service. Unauthorized downloads, especially for commercial use, can infringe on the rights of content creators and violate YouTube's policies.
Are online converters better than desktop software for converting YouTube to MP4?
Both online converters and desktop software have their advantages. Online converters are typically easy to use and don't require any software installation, making them convenient for one-off or infrequent conversions. Desktop software, on the other hand, often offer more advanced features and better conversion quality, making them a good choice for more frequent or large-scale conversions.
Is it legal to convert YouTube videos to MP4?
The legality of converting YouTube videos to MP4 largely depends on how you intend to use the downloaded content. If you're downloading a video for personal, offline use, it usually falls under fair use. However, using the downloaded content for commercial purposes, without the consent of the original creator, can infringe copyright laws. Always respect the rights of content creators and YouTube's Terms of Service.
Will converting YouTube videos to MP4 affect the video quality?
The video quality after conversion largely depends on the converter tool you use. Some tools maintain the original video quality, while others might cause some quality loss. Always check the final result and adjust the video settings before conversion to ensure the best possible quality.
Are there any risks in using converter tools?
Some converter tools, particularly less reputable ones, might come with risks such as intrusive ads or malware. Always use reputable, highly-rated tools, and consider installing a robust antivirus software for an extra layer of protection.
Conclusion
Navigating the digital waters of converting "YouTube to MP4" can be an enlightening journey. As we've seen, the utility of such conversions spans from offline viewing, curating personal archives, to enhancing educational materials and enriching website content. We've also dipped our toes into the sea of available tools, both online and desktop-based, weighing their strengths and weaknesses.
While these tools facilitate conversion, it's crucial to remain vigilant about the quality of your output, potential security threats, and most importantly, the adherence to copyright laws and YouTube's terms of service. Choosing the right tool for your needs, armed with a few handy tips, you can safely embark on your conversion journey.
In the grand scheme of digital content consumption, understanding and effectively using the "YouTube to MP4" conversion process can open new doors to content accessibility and versatility. Yet, as with any tool or technique, using it wisely, responsibly, and ethically remains the guiding principle.

As one of the co-founders of Codeless, I bring to the table expertise in developing WordPress and web applications, as well as a track record of effectively managing hosting and servers. My passion for acquiring knowledge and my enthusiasm for constructing and testing novel technologies drive me to constantly innovate and improve.
Expertise:
Web Development,
Web Design,
Linux System Administration,
SEO
Experience:
15 years of experience in Web Development by developing and designing some of the most popular WordPress Themes like Specular, Tower, and Folie.
Education:
I have a degree in Engineering Physics and MSC in Material Science and Opto Electronics.