Video editing holds tremendous importance to thrive on digital platforms; considering this fact, we have combined a list of the top 12 cheap video editing software. The article will help you decide on the perfect software based on your demands and budget requirements.
Several video editing applications are available in the market, and making the right choice might not be easy. However, when you go through our listed top best video editing software, its features, and prices, you will be able to choose what is best for you.
Let's get started.
The 12 Best Cheap Video Editing Software in 2023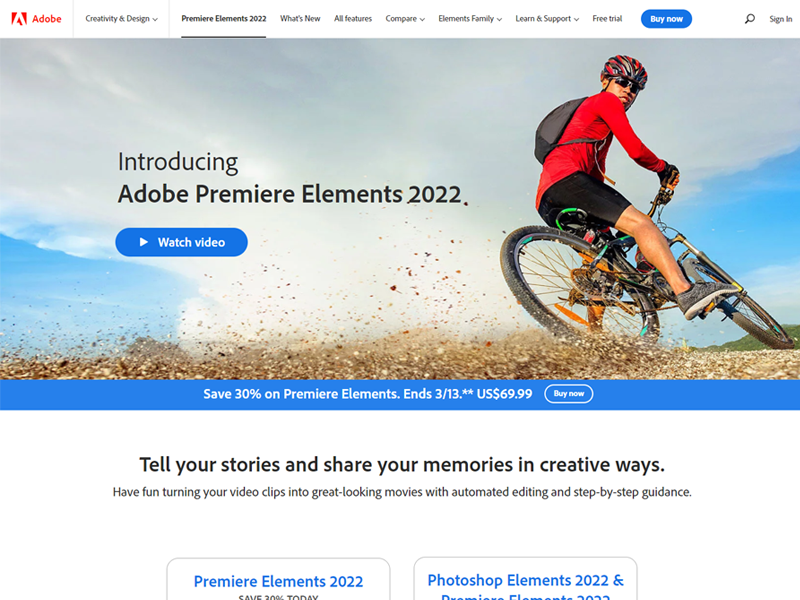 Adobe Premiere Elements by Adobe Systems is the top best and cheap video editing software currently available in the market. It is a simpler version of the more complicated editing tool Adobe Premiere Pro.
The software is ideal for beginners in this field for its easily manageable tools. It was marked as the number-one selling video editing software in 2006.
Besides a user-friendly interface, the platform also offers unlimited videos and audio tracks. Moreover, third-party app integrations will make editing more smooth and more powerful.
Features:
A few important features:
Automated subject reframing, fixation of grainy regions
Variety of different ratios like square or vertical without compromising the quality
Straightforward photo resizable capabilities
Easy application of effects on specific parts of the photo
Faster and GPU-rendered video cropping
Drag and drop editor
Automated matching of the audio track with video length
Brilliant video trimming capabilities
Quick mode
Extraction of clear and eye-pleasing candid photos from any video
The simple addition of animated layouts
Adjustable shadows and highlights
Magical double exposures outlook
Creation of time-lapse videos
Fun boomerangs, glassy effects, and amazing slideshows
Simple size adjusting options
Hundreds of themes and effects
Smart tagging and automated curation of videos
Price:
Currently, Adobe Systems is offering a 30% discount on each plan of Adobe Premiere Elements. Both plans are one-time purchases. They are:
Premiere Elements 2023 – US$69.99
Photoshop Elements 2023 and Premiere Elements 2023 – US$99.99
2. Filmora – $59.99/lifetime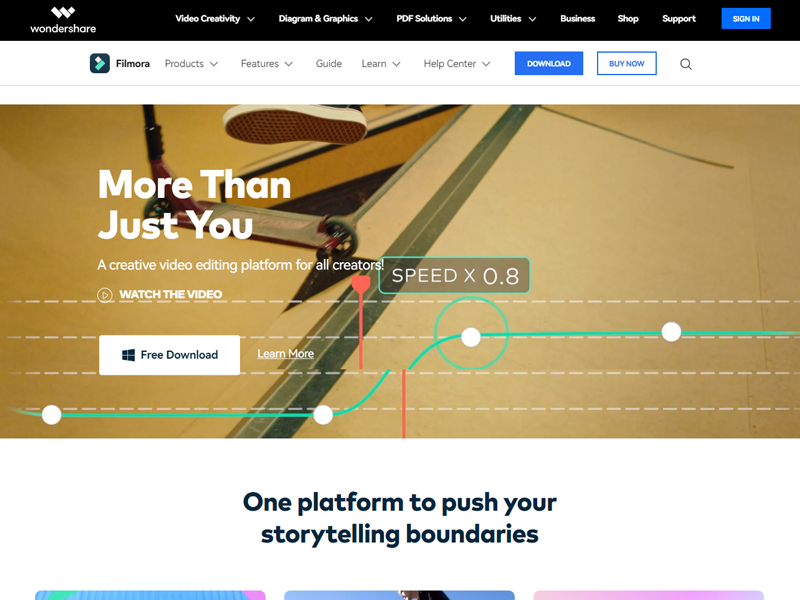 Filmora is a collaborative platform where you can find different video creation and editing applications. Beginners or intermediate editors can conveniently use the products at Fillmore.
This WonderShare sponsored platform allows clean and crisp video editing through its comprehensive tools. Moreover, its straightforward interface makes it a perfect choice for editors who are new to the video editing field.
Features:
Let's look at some important Filmora video editor's features:
100 video blueprints
A massive library of video effects including moving factors, filters, layouts, transitions, animations, and copyright-free musical tracks
Advanced video editing features like keyframe, noise reducer and remover, audio adjuster, and similar other options for the perfect audio outcome.
Master transformation tools like blend modes, background changer, chroma key for green screen etc.
4K video quality
Professional color correction tools
Price:
Filmora offers a 20% off deal on their regular prices. However, it is only valid for those who purchase the license from their mobile phone. Moreover, it is separately available for both iPad, Windows and MAC users. There is also a 30-day money-back guarantee, and it is a one-time purchase that provides a lifetime license.
The standard price at Filmora is $79.99. However, for now, you can get it at the discounted rate of $59.99 exclusive for mobile buyers.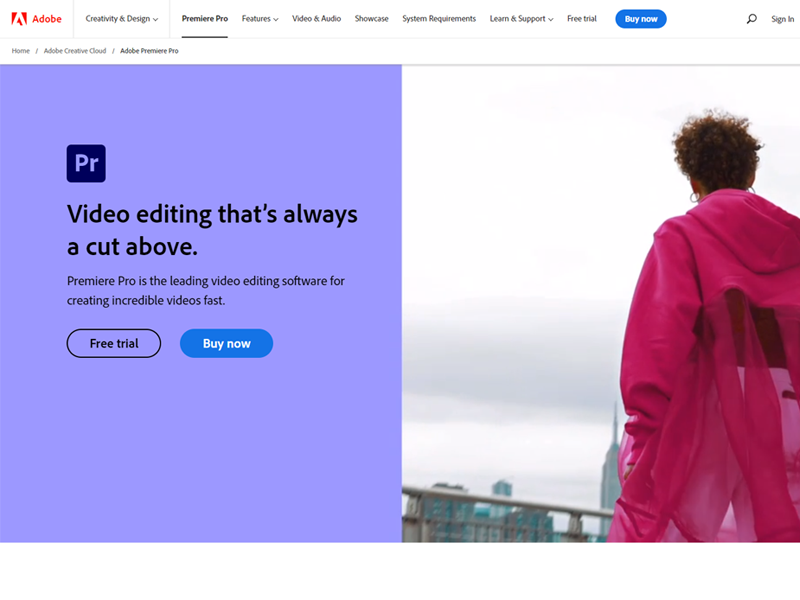 Adobe Premiere Pro a video editing software by Adobe Inc., is a timeline-based application. Unlike Adobe Premiere Elements, it is more inclined towards professional video editing and requires pro editors to operate.
Its widely efficient tools ensure an advanced level of visual effects and audio editing. The high-definition outcome at Adobe Pro is perfectly suitable for broadcasting. The software's ingenious creation, editing, and crafting capabilities make it secure a spot in the top 3 best video editing software.
Features:
Let's look at what features collaborate to make Adobe Premiere Pro the best-suited application for professional video editing.
Hundreds of professional templates
Extensive customization options for animations, motion graphics, titles etc.
Color correction and shifting tools
Extensive audio tools and hundreds of pleasant musical tracks
Extensions of thousands of third-party applications. Adobe Photoshop and Frame.io, to name a few.
Quality up to 8k is accepted.
Lightweight workflows, faster performance, easy file-importing capabilities
Offline speech-to-text tool with three times faster speed
Artificial Intelligence-powered audio remixing
GPU-rendered effects like Linear Wipe and Black Dissolve
Free transmission animated titles
Price:
Adobe Premiere Pro's license is available separately for individual editors and teams. They also offer a 30-day free trial. Let's have a look at their prices for each plan.
For individuals – $20.99 per month
For teams of enterprises – $39.99 per month for one license
For students and teachers – $19.99 per month for one year. It then costs $29.99 per month after it.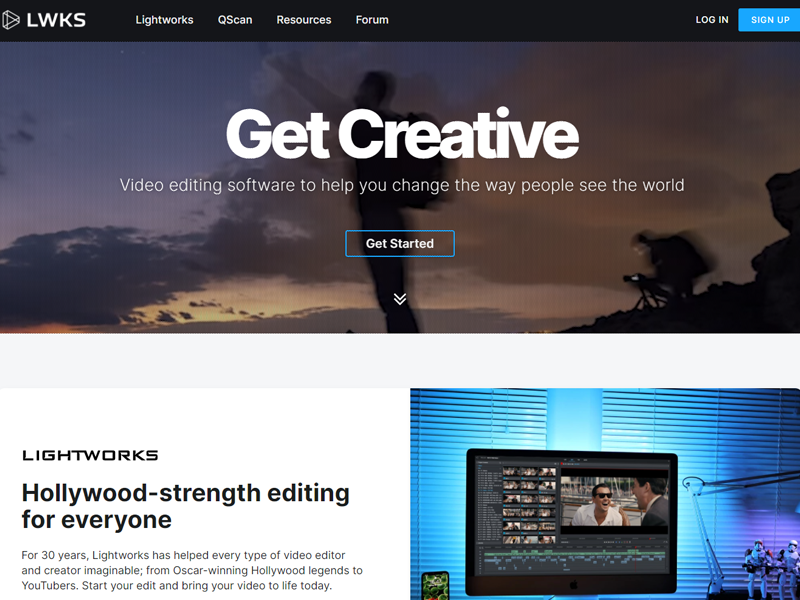 Lightworks a non-linear video editing software, is one perfect choice for producing top-class digital video content. It has been serving the purposes of video creation and editing for 30 years. Till now, around 4 million users have benefited from their services. Moreover, it has also been used to edit many films and TV series.
Their creative slogan says to change the way people see the world; living by it, the extensive tools at LightWorks allow the most refined video creating, editing, and crafting. Besides being used in professional tasks, many YouTubers prefer operating this platform to edit videos for their channels.
Features:
The features that facilitate top-notch video editing at LightWorks are:
Import videos from any type of media file
Convenient export to multiple social networking sites
Available for Windows, MAC, and Linux without any compromise on quality
Proxy files of high-definition, 4K, and 8K videos
Automated editing of selected effects in the background
Autosaving of every single action performed during editing
Speed-optimized timeline irrespective of the editor's experience
More than 100 customizable graphical motions and titles
Massive library of creative transmissions
Cloud storage compatibility
Premium metadata-creating options
Flexible layouts
Default keyboard shortcuts; You can also establish personalized keyboard templates.
Extensive hardware support like Black magic Design, AJA, Matrox hardware etc. – all suitable for HDMI and SDI cables
Highly responsive customer support services
Built-in audio equalizers and filters
Integration with several audio plugins
Voice recording tool to directly enter the voice over
One can translate it into many different languages
Price:
There are two plans available at LightWorks. Let's have a look to get a better idea:
LightWorks Create – $9.99 per month (for social media video creators, business employees and teachers).
LightWorks Pro – $23.99 per month (for broadcasters and filmmakers).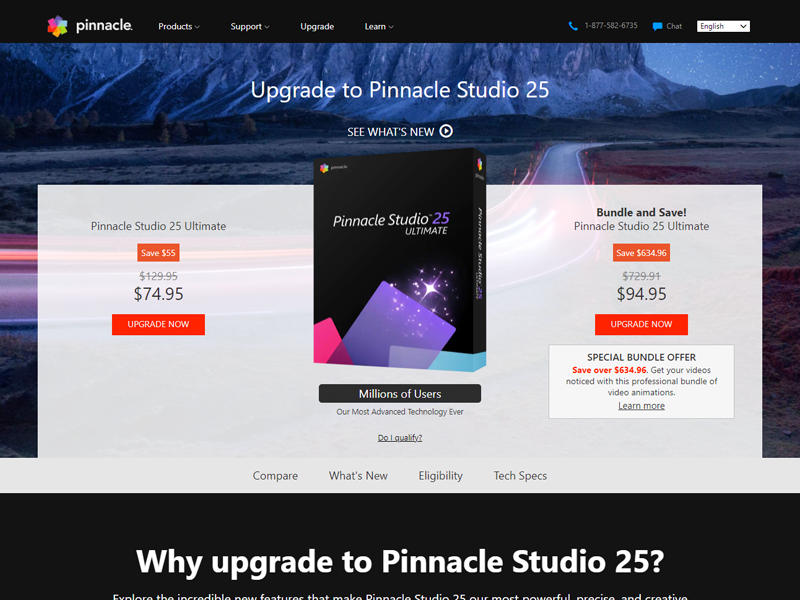 Pinnacle Studio by Corel is an advanced and top-class video editing software. It is preferred for professional-level editors. However, even novice users can get familiar with its features with a smooth learning curve in less time.
It guarantees high-end performance through its extensive visual and audio tools. Moreover, recently introduced advanced features like stop motion videos, Multicam editing, and motion tracking have made the editing capabilities of Pinnacle much better than before.
This editing software is best suited irrespective of the business type, either small, medium-sized, or large enterprise.
Features:
This list of powerful video editing features at Pinnacle Studio will make you realize what makes it a premium video editing tool:
360 editing capabilities
Straightforward interface
Split-screen video
Multi-track video editing at one time
Lens correction on a wide scale
Three dimensions title editor
Video masking
Proper color grading system
Smooth transitions
Custom shortcuts setup
Efficient positioning, sizing, and speeding tools
Beautiful paint options and their aesthetic effects
Streamlined editing workflows
Highly compatible with 4K videos
Unique morph transitions and animations
Multi-track video editing through the recently introduced Multicam editor
Integration with essential applications like NewBlue FX, Boris FX, Stock footage and Red Giant software
Price:
There are three plans at Pinnacle Studio in total. There are:
Standard – $59.59
Plus – $99.95
Ultimate – $129.95
Let's look at what features all these plans offer individually: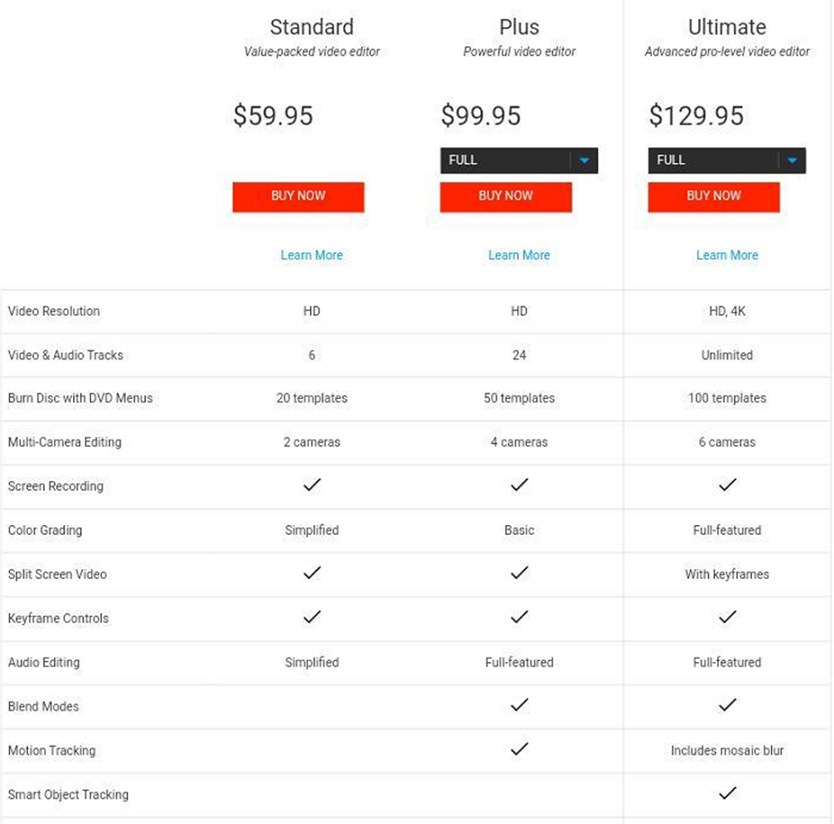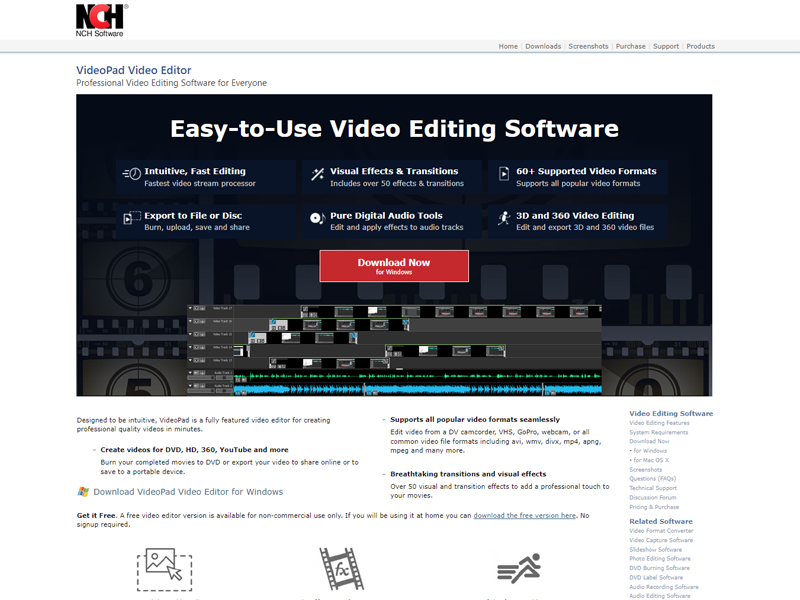 Video Pad Video Editor by NCH Software is a primary movie maker platform suited for novice editors. It is a perfect tool for immediate editing needs like video creation for personal social media accounts or family and friends.
Although it lacks premium features that cater to professional-level editing, it is still a choice of caliber if you are a beginner with no advanced demands. Moreover, its simple and user-friendly interface facilitates ease of use without compromising the quality of the outcome.
This Windows 11 compatible editing has extensive features that guarantee a top-notch product at low prices.
Features:
Let's look at Video Pad features that help beginners design their ideas in the most creative ways:
Integrated VirtualDub plugins like WavePad (for perfect sound quality), MixPad (for efficient mixing of two different soundtracks), and PhotoPad (an image editor).
Extensive file support like AVI (audio video interleave), WMV (windows media video), 3GP, and DivX
Direct video import on multiple social media platforms like YouTube, Facebook, and Flickr
Overall review of the video after editing is finished
There are many different effects for categories like light, colors, text overlays, transitions, etc.
Unlimited video track editing at the same time
There are two versions of Video Pad free Video Editor; a free (with a watermark) and a paid one. Many advanced features are limited on the former version, whilst the latter is preferred by professional video enthusiasts for its unlocked premium tools.
For example, the free version only supports file export from two means, i.e. WMV and AVI. In contrast, the paid plan has more options for prior action. With the free version, you can only edit two video clips simultaneously. The paid version allows unlimited video tracks to be edited simultaneously. There are many such features that only the premium version of Video Pad supports. The free version is suitable when you are doing primary-level editing.
Price:
The three different paid software at Video Pad besides their free plan are:
Video Pad Video Editor Master's Edition – $79.99
Video Pad Video Editor Home Edition – $49.99
Video Pad Video Editor Master's Edition Quarterly Plan – $7.16 per month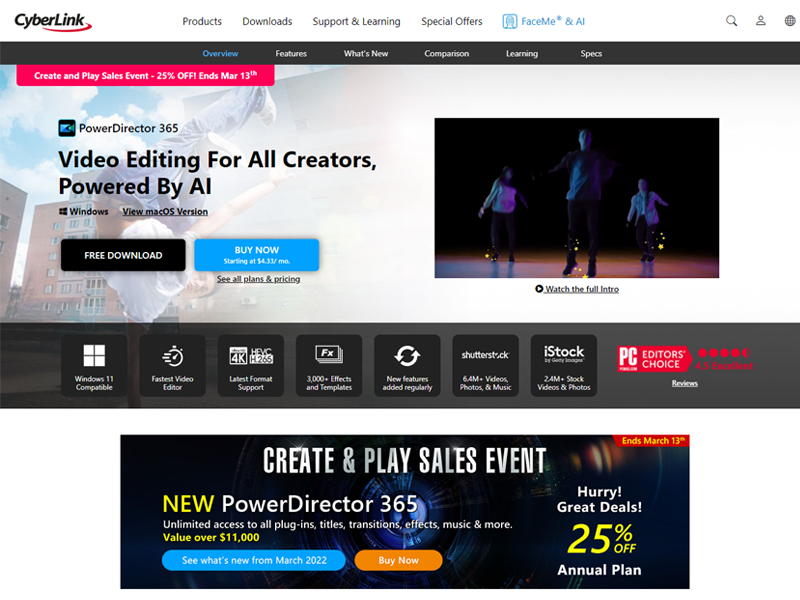 Cyberlink PowerDirector is a fantastic video editing software suitable for editing youtube videos for social media platforms. The platform allows 1:1 square frame editing for popular social networking applications like Facebook and Instagram.
It is also compatible with editing vertical clips on mobile phones. Moreover, the extensive tools for direct screen recording and chroma key features can create YouTube tutorial videos and replace the green screen with the desired background.
Cyberlink PowerDirector has received several awards from many digital platforms; PCWorld awarded this application as the Best Prosumer Video Editing Software. They are also awarded the Best Product of The Year at PCMags.
Features:
Have a look at the award-winning video editing features of Cyberlink PowerDirector Ultra video editor.
25 GB cloud storage capacity for each year
Advanced screen capturing and live recording toolsets
1:1 square keyframing editing
Easy import, editing, and export of vertical videos
Production of 120/240 fps high-quality videos
Multiple audio and video files support both import and export
Third-party integrations with ProDAD Adorage 13 Lite and NewBlue Essentials 1
Compatible with videos with graphics of up to 8K
Autosaving feature of each action
Dual screen editing
Automated distortion corrector
Conversion of titles and images to 360 dimension
Reversible timeline sequencing
Efficient image sequencing
Nested adjustment capabilities
Extraordinary blending modes
Paint and theme designer
Motion tracking by frame
The adjusted display speed of PIP
Price:
Cyberlink PowerDirector plans are available at Cyberlink's video editing platform. These are:
PowerDirector 20 Ultra – $99.99
PowerDirector 20 Ultimate – 139.99
PowerDirector 365 – $51.99 billed annually
Director Suite 365 – $96.99 billed annually
PowerDirector 365 business – $149.99 billed annually
HitFilm Pro is an all-in-one video editing software that effectively handles the editing program and allows the application of VFX after-effects in the same tool. This diversity makes it one of the top preferences of professional video editors and artists all around the globe.
With HitFilm Pro, you can conveniently edit, compose, title, and animate videos in two and three dimensions. All in all, HitFilm Pro equips you with every feature and tool needed for professional-level video editing. Moreover, its advanced features like chroma key, particle and text actions, and VFX toolset contribute significantly to its success in the digital market.
They also facilitate integrations with top plugins like Foundry, Boris FX, Future Learn, etc., to ensure that no customer faces an unsatisfactory outcome.
Features:
Please have a look at powerful HitFilm Pro video editing and VFX features under the below list::
Advanced workflows
Easy handling of several tabs of editing activities at one time
Innovative export capabilities which automatically starts exporting files when the app is switched back on
Collapsible and expandable panels to focus more on what features you need necessarily
Presets export for high-quality compression of files
Colour-coded options which make them easily detectable
RAM preview and image support of up to 8K
Compatibility with every video format ranging from vertical smartphone shots to high-quality camera clips
Intelligent keyword search for quick locating of files
Custom playback and pause qualities
Threaded GPU rendering for faster and smooth performances
Locking option on edits to avoid unwanted changes
Manual matte creation through freehand or custom masking options
Real-time playback
A significant number of premium animation tools
Highly supportive of vertical videos
Enhanced composite shots
Animation of two or more shots at one time either through a control panel graph or timeline graph
Three-dimensional layers, models, and particle simulations
Inbuilt audio adjuster
Copy a group of combined functionality from one video file and easily apply it to another file.
Unlimited audio and visual tracks
Price:
The HitFilm Pro at FX home costs $349 for a lifetime license with 12 months of regular updates and technical support. Moreover, you get three licenses per purchase, which means you can run the software on three different systems simultaneously.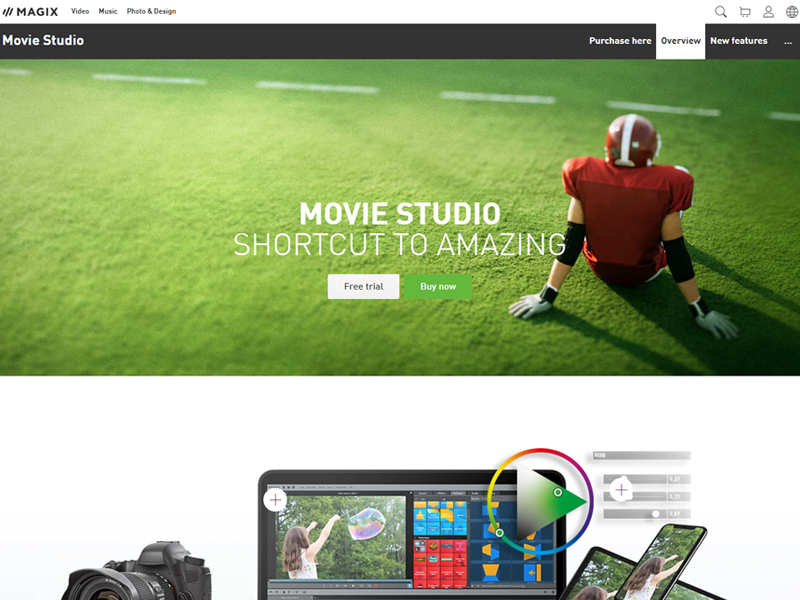 Magix Movie Edit Pro has made video editing more effortless and fun with its exclusive straightforward tools than before. It supports videos with a resolution as high as 8K. It offers every necessary tool to create highly refined and qualified videos for different purposes.
Moreover, their advanced services like image stabilizing capabilities, high-grade color correction, object tracking, and more than 300 title templates will best suit the video editing process for semi-professionals.
It is compatible with Windows only and comes with a steep learning curve making it suitable for beginners. Its first version came out in 2001. Since then, many notable upgrades have been made, making it stand in the top 10 video best video editors available in the market.
Features:
Let's look at what Magix Movie Edit Pro offers as part of its best video editing software.
Frame-by-frame video editing through a detailed timeline
Clear and crisp storyboard mode
Easy customizable and resizable capabilities
Free arrangements of audio and images in the multi-format timeline
Important practical tools like split, beginning remover, split Hollywood movies etc.
Customizable keyboard shortcuts
Easy closure of gaps between individual clips of the video
The diverse wizard offers range from media transfer to the conversion of finished film into DVD etc.
Pre-built photo and video templates
GPU rendered smooth performance
Multi-camera mode
A huge library of consent-free background music, sound effects, stock images, and animations
Creation of animated travel routes with Magix Travel Maps, i.e. different vehicles, avatars, locations, custom layouts, fly-in animations etc.
High-quality fonts
Different shades of 650+ titles and transitions
15 dynamic templates for title animations
Custom split screen and video collages
Slow-motion and fast-motion effects
Layer masks of amazing effects, transitions, fades, images, and composites from different video clips
Intuitive support with exclusive presets
A wide variety of export formats
Price:
There are three different packages available at Magix Movie Edit Pro. Let's have a look at them:
Movie Studio 2023 – $69.99
Movie Studio 2023 Platinum – $69.99
Movie Studio 2023 Suite – $129.00
Have a look at the below image to get an idea of what these plans offer individually: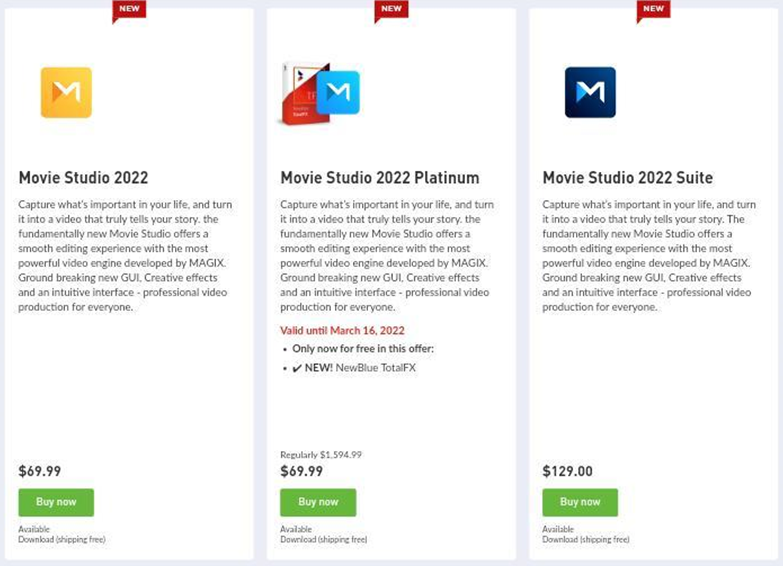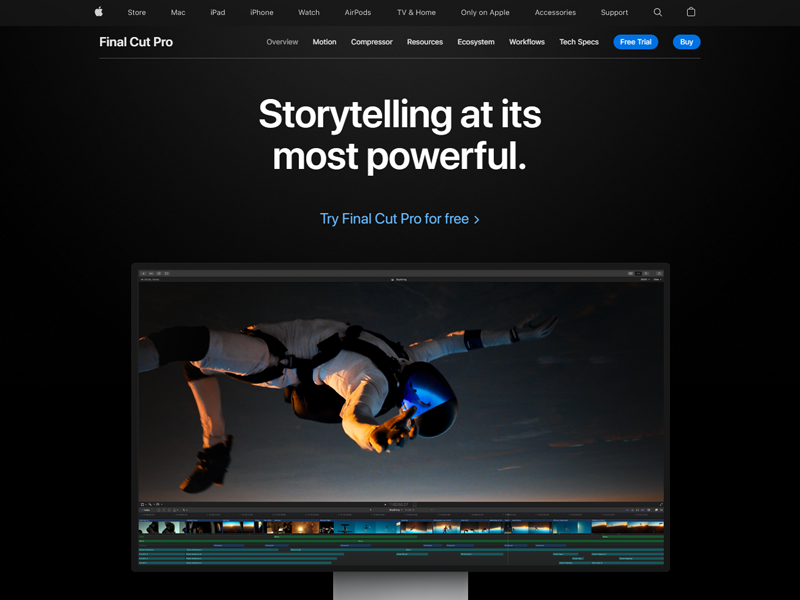 Final Cut Pro, formerly regarded as Final Cut Pro X, is an Apple sponsored linear video editing software. It has been in action since 2011. Its tools are pretty similar to Apple's other video editing tool, iMovie.
The platform allows sorting multiple files through metadata to make searching convenient for you. Moreover, its highly advanced tools ensure premium quality effects, a progressive organization of editing procedures, and compelling audio and video editing all in a single place.
It is known as one revolutionary video editing app for creating, editing, and publishing highly qualified videos.
Features:
Let's discuss some essential features of Final Cut Pro X:
Better playback performance through GPU-rendered processing
Supports image sizes ranging from SD to 4K irrespective of the resolution
Background working like auto stabilization saving, transcoding, media management, etc.
Integrations with multiple plugins like Motion 5 and Adobe Photoshop
Quick multi-tracking of files
Magnetic timeline for smooth video clip editing
Easy export of bundled videos and audio in a single file
All important professional camera formats
360-degree videos and titles
Virtual reality headset playback
Object tracking options
Face and object detection
Adjustments or focus points and field depth in video clips captured in iPhone 13's cinematic mode
High-quality color grading
Dynamic text and color correction tools
Drag and drop editor
Highly organized tools
Creation of two-dimensional and three-dimensional titles
Modifiable filters
Built-in chroma key
Insertion of multichannel audio
Audio optimizer, equalizer, and noise reducer
Multiple angles viewing at one time
Price:
Final Cut Pro X's best part is that you just have to spend your money one time, and you will be awarded a lifetime license to the video editor. The one-time price for purchasing Final Cut Pro X is $299.
11. Camtasia – $224.99/user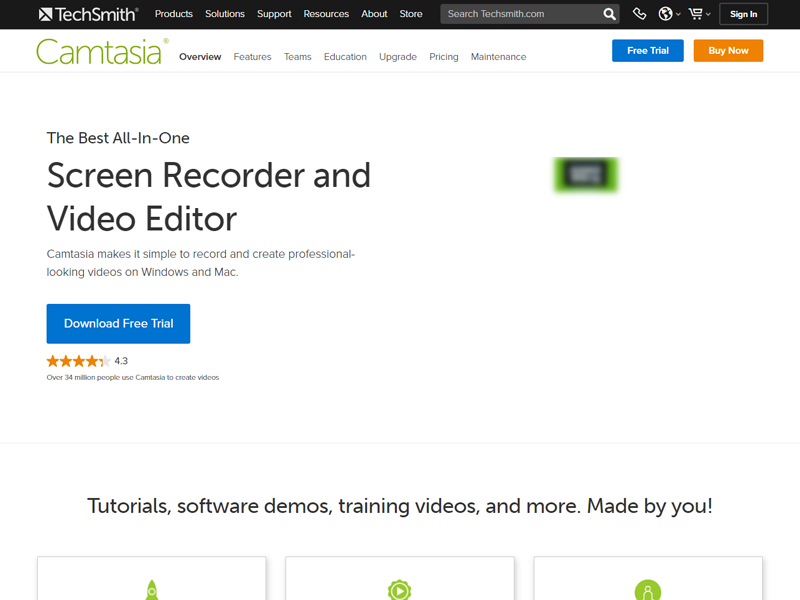 Camtasia is a two-in-one video recording and editing application. This application is compatible with both Windows and macOS. More than 34 million people have used its video editing services and are wholly satisfied.
Moreover, they make video editing incredibly easier for beginners through understandable tutorials, demonstrations, and training sessions. It will take significantly less time for you to get familiar with its editing tools, for it does not require the editor to possess advanced editing skills. One can quickly start using their pre-built templates and add desired effects from the vast library.
Features:
Camtasia is considered the best video recording and editing software for the following reasons:
Screen recording from any platform
Drag and drop text, transitions, and effects editor
Instant uploading on platforms like YouTube, Vimeo, Screencast, Instagram etc.
Inbuilt video templates
Royalty-free clips and image
Easy sharing of inbuilt templates, libraries, themes, shortcuts, favorites and presets in one single file
One-click save of frequently used themes and styles
Diverse screen recordings options like full-screen records or specific dimensions like a single region or window of the video
Straight importing of video recorded with web camera
Extensive audio inserting options like real-time recording, the addition of an audio file from the computer, or import from the internet
Copyright-free audio tracks and musical effects
Integration with Microsoft PowerPoint
Multiple importing compatibilities like with a computer, mobile phone or cloud
More than a hundred aesthetic transitions for improved flow
Pre-made animations or one can even customize by themselves
Price:
Camtasia has different plans for different audiences. Have a look below to get an idea:
For individuals and large business enterprises – $224.99 per user
For educators and students – $161.03 per user
For government or NGOs – $201.74 per user
All plans come with a 30-day money-back guarantee.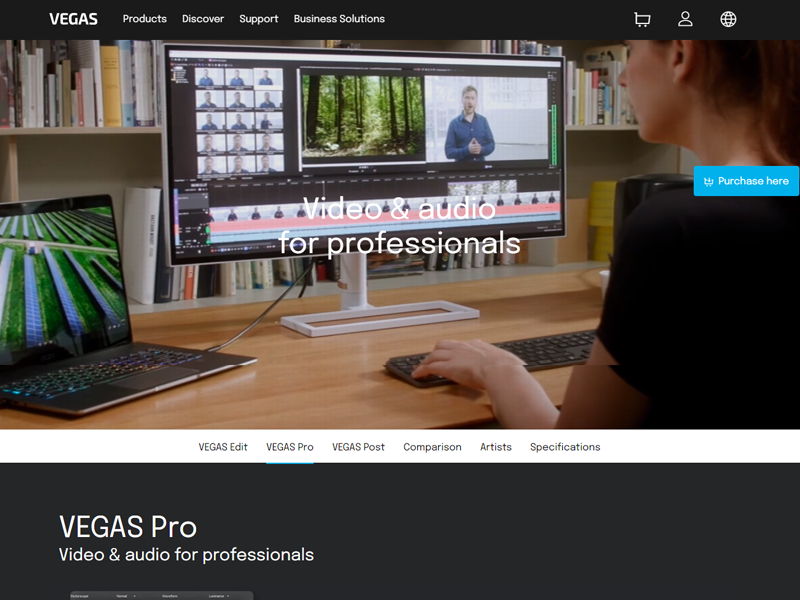 Vegas Pro Video Editor is a complete video editing software package formerly sponsored by Sonic Foundry and Sony Creative Software. Magix now manages it. This Windows-exclusive software allows non-linear editing with its unique sets of tools.
Vegas Pro was formerly available as audio editing software and was later developed into a successful video editing tool. The developers are constantly improving the software and have introduced many significant editing features to facilitate the video editing procedures more effectively.
Features:
A few features of Vegas Pro Video Editor are highlighted below:
Real-time video editing of multiple tracks simultaneously
Unlimited audio tracks editing
Video sequencing irrespective of resolution capacity
Premium effects and composition features
Supports several plugins like VST, DirectX, etc.
Effective sound mixing
No unnecessary hardware connection required
Three-dimensional motion tracking
Timeline sync
Automated controlling and keyframing
Multicam editor
Multiple unique filters, effects, transitions, and animations
Custom workflows
Scripted API
Advanced color correction
Auto lighting adjustment
Top-class colorization of black-and-white scenes
Text to the speech text editor
Royalty-free stock images
Proxy workflows and rendered queuing
Live streaming and editing
Live broadcasting to famous streaming applications with desired effects
Background noise reducer
Easy scene detection
Credit rolls and subtitles
Price:
The different Vegas Pro plans are:
Vegas Edit 365 – $7.79 per month if billed annually (video editor for everyone)
Vegas Pro 365 – $11.99 per month if billed annually (well suited for professional video enthusiasts)
Vegas Post 365 – $17.99 per month if billed annually (a full-stack package)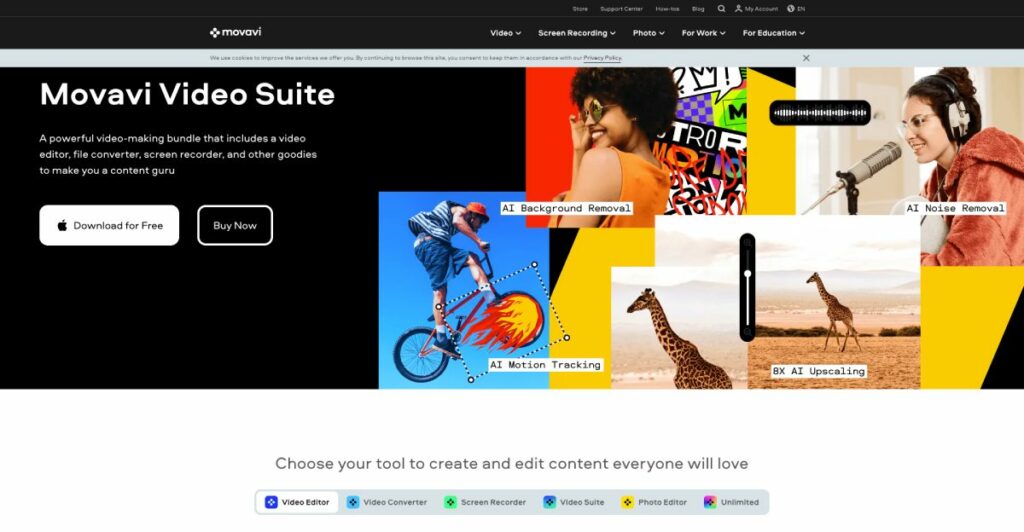 Movavi Video Editor is a comprehensive and user-friendly video editing software with a clean and intuitive interface that makes it easy for users of all experience levels to create stunning videos. From novice videographers to seasoned professionals, everyone will find something to love in this efficient and dynamic tool.
With its vast array of effects, you can add depth and dimension to your stories. The editor is equipped with a wide range of transitions, filters, titles, and stickers that allow you to make your videos uniquely yours. It's like having a complete video production studio at your fingertips.
Beyond the basic cut and trim, Movavi Video Editor offers advanced editing tools such as crop, rotate, split, and merge capabilities. These features provide you with full control over your footage, letting you create a polished and professional final product.
One of the standout features of Movavi Video Editor is its fast processing speed. Powered by a robust engine, the software ensures a smooth and efficient editing process, so you can work without interruption or delay.
Moreover, with its wide compatibility, you can work with a variety of video formats, both for importing and exporting your projects. This means you can easily share your creations with the world, irrespective of the device or platform your audience uses.
Movavi Video Editor's impressive feature set, ease of use, and efficient performance make it a valuable tool for anyone looking to create high-quality videos.
Features:
User-friendly interface
Tons of effects: Add transitions, filters, titles, and stickers.
Advanced editing tools
Audio editing
Fast processing
Wide compatibility
Pricing:
All Movavi programs in one bundle cost only – 105.5€
Video Suite – 59.9€
Video Suite + Photo Editor – 69.95€
Screen Recorder + Video Editor – 51.95€
FAQs
What do most YouTubers use to edit their videos?
YouTubers have the most use of video editing software; hence an easy-to-manage tool is vital. For this reason, the most preferred video editing software for YouTubers are iMovie, Final Cut Pro, and Adobe Premiere Pro CC. If I am asked to narrow these three top tools to the top, I choose iMovie for simply manageable devices and better results.
What is the most accessible software to edit videos?
Beginners and novice editors must start with software that is not too complicated to operate. For that reason, my research has concluded that the most accessible platform available out there in the market currently is iMovie. Most importantly, it is free and can perform all the necessary actions for basic editing. However, we have another software of choice for Android users, i.e. Adobe Premiere Rush.
What is the best cheap video editing software for beginners?
Currently, the best and cheapest video editing software for beginners is Video Pad Video Editor. Its paid plan will cost you only $24.99. Moreover, it also offers a free program but with limited features.
Conclusion
The importance of video editing software in today's digital world is undeniable. Whether you own a public social media account, or blog, or work in the film editing team, it is required in every field. Hence, making the right choice is vital, so your efforts and, most notably, the money should not go to waste.
To fulfill the prior demand, we researched multiple video editing software providers available in the market. We narrowed them down to the 12 best and cheap video editing software. This list will help you decide which item is ideally suited for you according to your needs and work type.
Want to Learn More?

Ludjon, who co-founded Codeless, possesses a deep passion for technology and the web. With over a decade of experience in constructing websites and developing widely-used WordPress themes, Ludjon has established himself as an accomplished expert in the field.