Cloud VPS hosting opens up a new world of possibilities for website owners. It's a robust, adaptable solution. When performance matters, this option shines.
It brings swift page loads. It promises excellent uptime. Plus, it offers scale as your site grows. All in a package that's easy to manage.
Welcome to the future of web hosting.
The 9 Top Best Cloud VPS Hosting

Most Affordable
Free Domain
WordPress Optimized
Starting from $9.99/month
See Pros & Cons
Pros
Value for Money
Easy-to-use Interface
Excellent Customer Support
Cons
No Free SSL on Basic Plan
Limited Disk Space on Cheap Plans
No Daily Backup on Basic Plan
Hostinger is a trusted name in the hosting world, catering to an array of users, ranging from newcomers to seasoned developers who demand more in terms of resources and control. It's known for its technologically advanced servers, outstanding value for money, and round-the-clock customer support.
We're focusing on their Cloud VPS, an excellent choice for those seeking robust performance, greater storage, and dedicated resources.
The Cloud plan offers an impressive array of features such as capacity for 300 websites, 200 GB storage, 3 GB RAM, 2 CPU cores, daily backups, and unlimited SSL and bandwidth. All these come with a discounted price tag of up to 60% off, making it a strong contender for those in search for affordable yet high-performing hosting plan.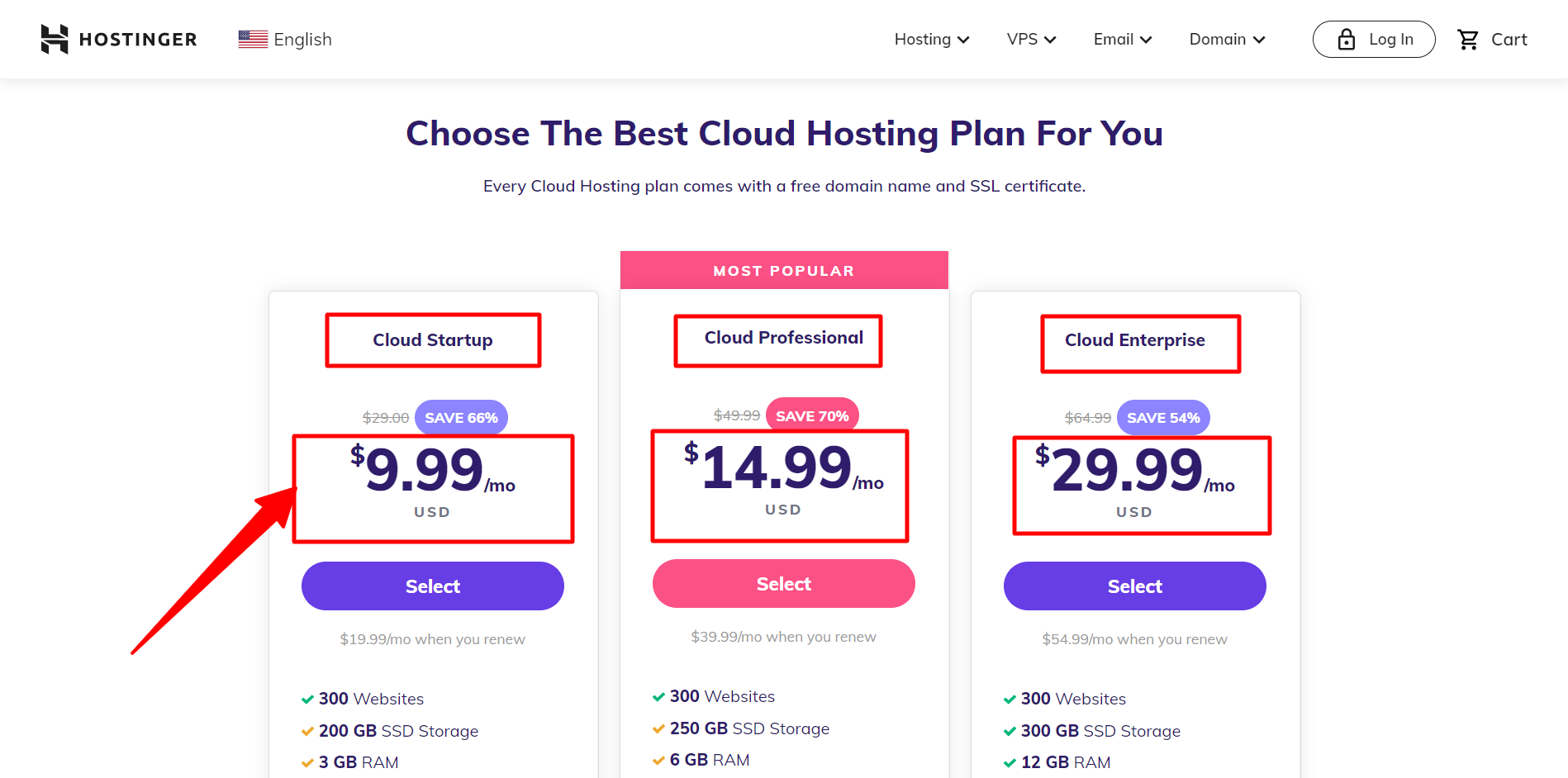 Among the plans, the Cloud Professional plan catches our attention. It's optimized for scaling professional websites and comes with 250 GB storage, 6 GB RAM, and 4 CPU cores. It is also currently on sale for a whopping 70% off. Lastly, the Cloud Enterprise Plan is designed for those who require maximum performance and houses features such as 300 GB storage, 12 GB RAM, and 6 CPU cores.
Ease of Use: Hostinger's offerings are user-friendly, with an intuitive control panel (hPanel) at allows users to navigate and manage their hostings effortlessly. They also provide a one-click WordPress installation and a 99.9% uptime guarantee, giving you peace of mind and ensuring your website is always available to your visitors.
Hostinger's server locations are diverse, with servers in USA, UK, France, India, Singapore, Brazil, Lithuania, and the Netherlands. This geographic diversity allows for faster load times and a smoother user experience for your web visitors, no matter where they are located.
As for customer support, they offer 24/7 assistance in 11 languages, ensuring that their global customer base is well taken care of. Plus, their comprehensive knowledge base and step-by-step YouTube tutorials are there to provide additional assistance whenever needed.
While Hostinger stands out in many areas, it's worth noting that some users have mentioned about the limitations on resources such as storage and processing power in the lower-tier plans. Hence, it's important to assess your needs carefully before choosing a plan.
On the whole, Hostinger's Cloud Virtual Private Servers provides a balance of affordability and performance. It has all the necessary features to host a fully functional, fast, and secure website. So, for those seeking a powerful yet budget-friendly hosting solution, Hostinger is worth considering.

Blazing Fast Speed
Developer Friendly
Excellent Customer Support
Starting from $2.99/month
See Pros & Cons
Pros
High speed performance
Excellent uptime
Great customer support
Free site migration
Environment-friendly
Cons
Plans can be expensive compared to competitors
Refund policy restrictions
Upselling of add-ons
A2 Hosting steers the course when it comes to Cloud VPS Hosting, providing an array of resources and options tailored to ensure optimal website performance and reliability. Whether you're a small business owner or running a high-traffic website, the company has it covered with various plans meeting a wide range of needs and budgets.
Offering an assortment of Managed VPS plans, A2 Hosting has curated packages such as Lift 4, Lift 8, Lift 16, TurboMach 8, TurboMach 16, and TurboMach 32. Priced between $39.99 to $99.99 per month, these plans provide bang for the buck with features like free SSL certificates, Imunify360 Security Suite, CloudLinux OS, and a cPanel control panel. But it doesn't stop there! The company also offers worry-free hosting, managed updates, 24/7 support, and regular security patches.
A2 Hosting takes a stride further with Turbo VPS plans, designed explicitly for seamless performance. These packages promise up to 20x faster page loads, improved conversion rates, higher SEO rankings, and the power to handle up to 9x more traffic. The Turbo VPS plans also come with similar features as the Managed VPS plans which only accentuate their value.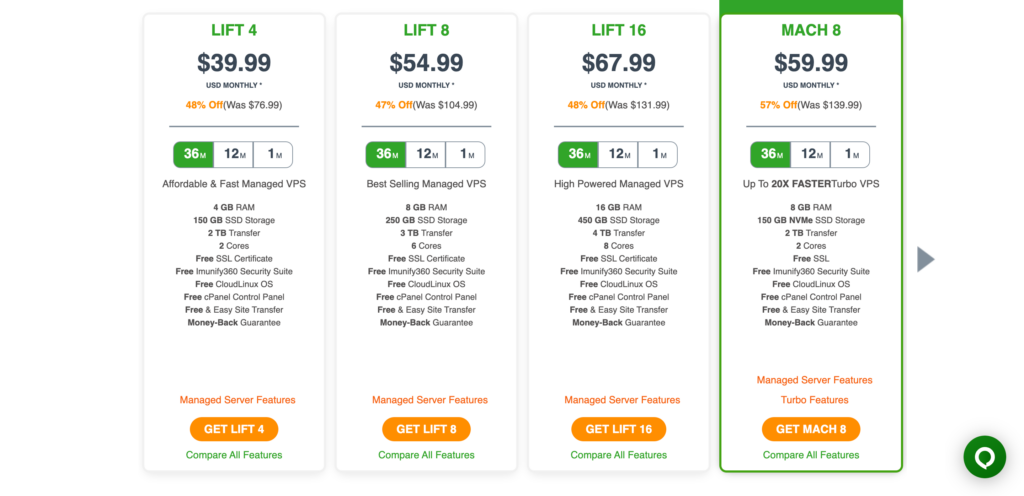 Ease of Use: Navigating through A2 Hosting's interface is effortless. The cPanel control panel provides a user-friendly experience, and the option for easy site transfer makes the shift to their service a breeze.
But that's not all! For those seeking more affordable options, A2 Hosting offers the Runway and TurboSupersonic plans with lower resource allocations. All plans come with a money-back guarantee, administrative level root access, a 99.9% uptime commitment, and the liberty to choose your operating system.
If we delve into user reviews, it's clear that A2 Hosting is renowned for its reliable service and responsive customer support. Customers have lauded the company for its fast servers, excellent support, and hassle-free setup, and many believe that A2 Hosting stands out due to their superior performance and customer service. The pricing might be a notch higher, but users generally argue that the quality of service justifies the cost.
In summation, A2 Hosting provides a comprehensive VPS Hosting in Cloud solution, distinguished by high-powered hosting, fast servers, reliable service, and round-the-clock customer support. It's an excellent choice for those seeking a blend of performance, reliability, and affordability."
Read More: Best cPanel VPS

Powerful Infrastructure
Developer Friendly
Excellent Documentation
Starting from $5.00/month
See Pros & Cons
Pros
Scalable solutions
Outstanding customer support
Wide range of OS distributions
Great API for developers
Predictive pricing
Cons
Not very beginner-friendly
Managed databases are expensive
No free tier
DigitalOcean stands as a beacon in the realm of Cloud server hosting, providing an impeccable balance between performance, ease of use, and cost-efficiency. This review evaluates the standout features of DigitalOcean's hosting services, providing an insightful look into its capabilities.
The heart of DigitalOcean's services lies in its virtual machines, aptly named Droplets. These Linux-based VMs are armed with dependable uptime, backed by a 99.99% SLA. Users can engage with their Droplets via an intuitive UI, a command-line interface, or API, granting them unprecedented control and flexibility over their hosting.
What sets DigitalOcean apart is its versatility in plan offerings. From the Basic plan to the Storage-Optimized plan, DigitalOcean provides a myriad of options to suit all workloads. Premium Droplets come highly recommended, providing a harmonious blend of performance and price, making them ideal for most users.
One of DigitalOcean's standout offerings is the App Platform, a streamlined solution for deploying and scaling apps without the hassle of managing infrastructure. This feature is a boon for developers and businesses alike, simplifying the normally complex task of app deployment.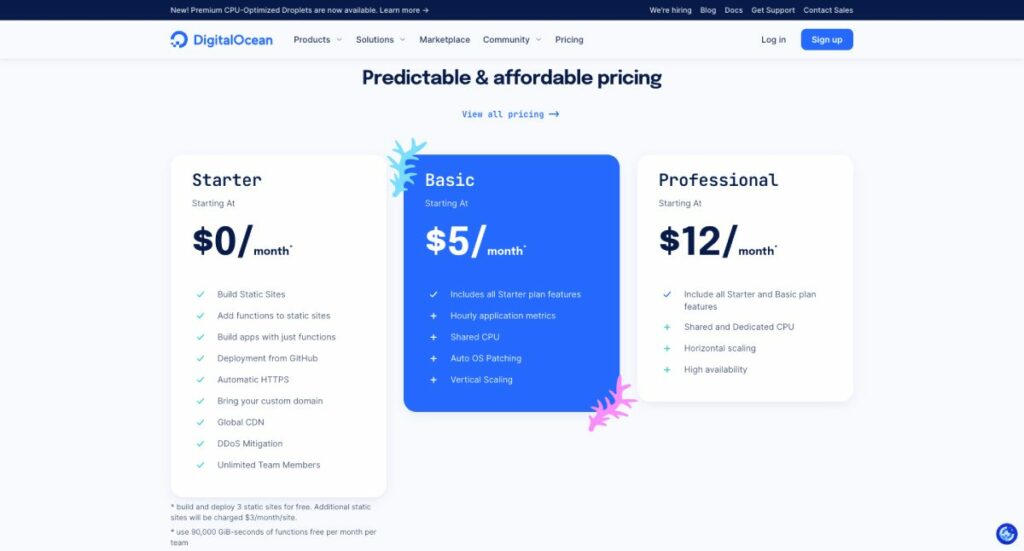 Ease of Use: Deployment of Droplets is a breeze, with various Linux distributions available at your fingertips, including pre-installed apps. The option to resize Droplets to accommodate increasing resources is an added bonus, ensuring the scalability of your hosting.
While DigitalOcean offers a wealth of features, it also provides comprehensive tools to ease the user experience. Noteworthy are its monitoring tools, Cloud Firewalls, and team management options. Furthermore, additional services like backups, snapshots, and Load Balancers contribute to making DigitalOcean a standout choice.
When it comes to pricing, DigitalOcean doesn't shy away from transparency. Pricing is predictable, and users can easily calculate their potential savings using DigitalOcean's price estimate calculator.
A critical factor in the decision-making process for cloud is cost. Here, DigitalOcean shines, offering significant cost savings that can reach up to 55% in comparison to other cloud providers. This, coupled with its stellar uptime, monitoring, and global data centers, makes it a compelling choice for those seeking reliable and cost-effective hosting.

Managed Cloud Hosting
Pay-as-You-Go Plans
24/7/365 Support
See Pros & Cons
Pros
Excellent performance
Free SSL certificate
24/7/365 support
Free trial available
Dedicated firewalls
Cons
No domain registration
Email hosting costs extra
No file manager on dashboard
CloudWays is a prominent player in the world of cloud hosting platforms, presenting a simplified yet robust hosting solution for developers, agencies, and businesses. By integrating essential features such as staging environments, backups, vertical scaling, and free SSL installation, it stands out as a reliable VPS on Cloud hosting service.
With CloudWays, users can launch their websites in no time, thanks to its user-friendly interface and efficient management tools. It comes with a built-in advanced cache and Cloudflare CDN, providing optimized performance and faster growth for your website. The liberty to select from three cloud providers and the opportunity to host unlimited websites are features that users find exceptionally convenient.
What sets CloudWays apart is its emphasis on team empowerment and seamless website management. The services offer faster website performance, fortified security, and round-the-clock expert support to maximize the potential of your websites. In fact, it's recognized as the #1 SMB hosting provider on G2, powering over 570,000 websites.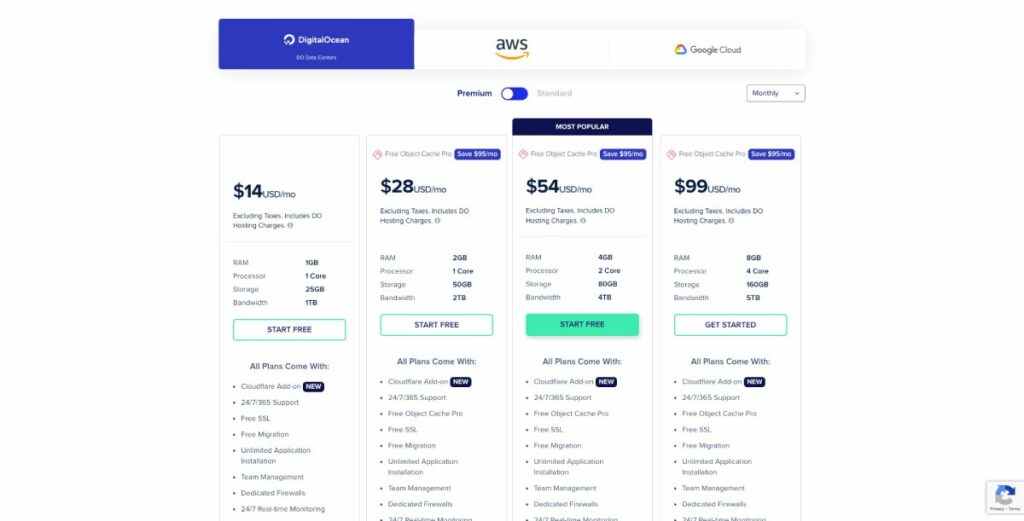 CloudWays offers managed hosting for popular platforms like WordPress, Magento, Laravel, and even custom PHP server deployments. It is highly esteemed by users for its speedy service, user-friendliness, and cost-effectiveness. To top it all, it provides an affiliate program with attractive commissions and monthly payouts.
Ease of Use: CloudWays is designed to simplify the intricacies of cloud hosting. It strives to create a hassle-free hosting experience for users, enabling them to concentrate on their business while the platform handles the technical side. The vision is clear – to make cloud hosting as straightforward as possible without compromising on quality.
In terms of pricing plans, CloudWays offers a flexible pay-as-you-go model, ensuring you only pay for the resources you use. This cost-effectiveness is a significant advantage for businesses that need a scalable hosting solution. However, its pricing model also means you need to be aware of your usage to avoid unexpected costs.
So, why choose CloudWays for cloud VPS hosting? The answer lies in its comprehensive features, flexibility, reliability, and competitive pricing. Whether you're a budding developer or a large agency, CloudWays VPS hosting can tailor solutions to fit your specific needs.
In conclusion, CloudWays is a formidable choice for cloud hosting. Its dedication to providing user-friendly, efficient, and secure hosting solutions sets it apart from the competition. The platform combines high performance with outstanding customer support, making it an excellent choice for businesses of all sizes.

Google Cloud Infrastructure
Fast Speeds
WordPress Optimized
See Pros & Cons
Pros
Excellent customer service
Free site migrations
WordPress staging
Free SSL certificate
99.9 % uptime
Cons
Higher starting price
No email hosting
Exceeding visit limit leads to extra charges
Kinsta, a prime contender in the world of managed WordPress hosting, leverages the power of Google Cloud Platform to provide a high-performance, secure, and scalable environment for your WordPress sites. As a Cloud server service, it is brimming with remarkable features and functionalities that promise and deliver robust website performance.
One of the standout features of Kinsta is its worldwide CDN with over 260 locations globally. This ensures rapid page loading times, regardless of where your visitors are accessing your site from. The edge caching feature further reduces load times by a significant 49%, giving users a smooth browsing experience.
When it comes to security, Kinsta leaves no stone unturned. The integration with Cloudflare offers enterprise-level firewall protection and DDoS protection, fortifying your site against potential cyber threats. Plus, free wildcard SSL support simplifies SSL management, while automatic daily backups, uptime checks, and the use of SFTP/SSH protocols enhance the reliability and safety of your site.
Managing your WordPress sites, databases, and applications becomes a breeze with Kinsta's dedicated dashboard, MyKinsta. It offers site management tools, analytics, and optimization tools all under one roof. Kinsta also offers DevKinsta, a local WordPress development tool that allows for convenient creation and testing of WordPress sites.
From a pricing standpoint, Kinsta offers a competitive starting price of $35 per month, which covers all the essential features of VPS hosting. If you're not satisfied with your current hosting, you can also take advantage of their free site migration service. Plus, a 30-day money-back guarantee ensures that you can try out their services risk-free.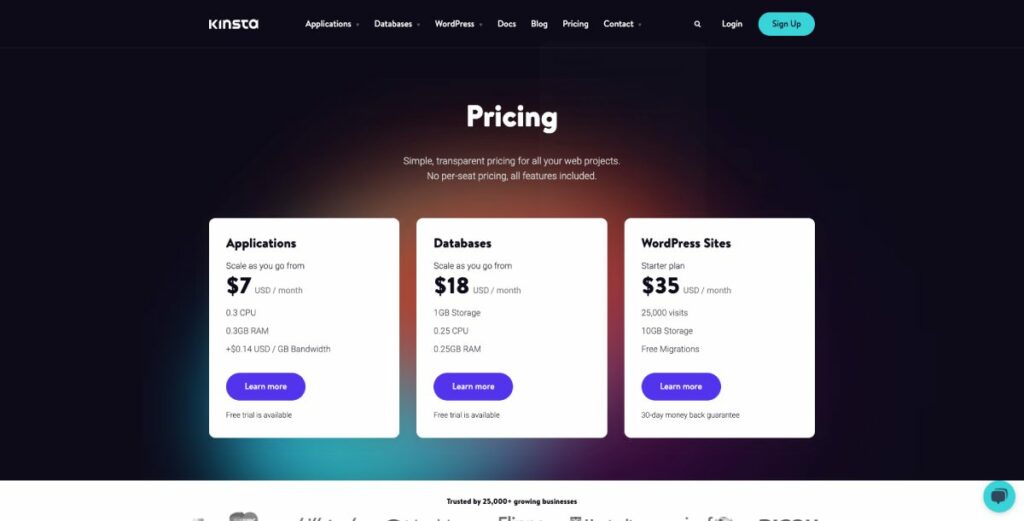 Ease of Use: One of the benefits of Kinsta's infrastructure is the ease of use it offers to users. The intuitive dashboard and the availability of DevKinsta make it highly user-friendly, whether you're a novice or an experienced webmaster. The 24/7 support team is always on hand to assist, contributing to a 97% satisfaction rate among Kinsta's users.
In comparison to its rivals in the Cloud hosting arena, Kinsta sets itself apart with its high-end CPUs, global availability, and a robust suite of features tailored for optimized WordPress performance. If you're looking for a hosting service that balances speed, security, and scalability, Kinsta should be high on your list.

Strong Uptime
Free SSD Drives
Secure IMAP Email
Starting from $6.39/month
See Pros & Cons
Pros
Good customer service
90-day money-back guarantee
Free website migration
Cons
High renewal rates
No instant account access
Weak website builder
InMotion Hosting has carved a niche for itself in the competitive landscape of cloud VPS hosting. Its remarkable features and performance make it a worthy contender in the hosting industry.
One of the defining characteristics of InMotion Hosting's Cloud VPS service is its provision for root access. Customers enjoy the freedom to choose from a variety of Linux OS options – Alma, CentOS, Ubuntu, or Debian. This level of customization offers you complete control over the hosting environment.
When it comes to safety and security, InMotion doesn't disappoint. The hosting company employs robust Corero DDoS protection and offers dedicated IP addresses, ensuring that your data remains secure from potential threats. The additional layer of commercial-grade protection further bolsters the security aspect.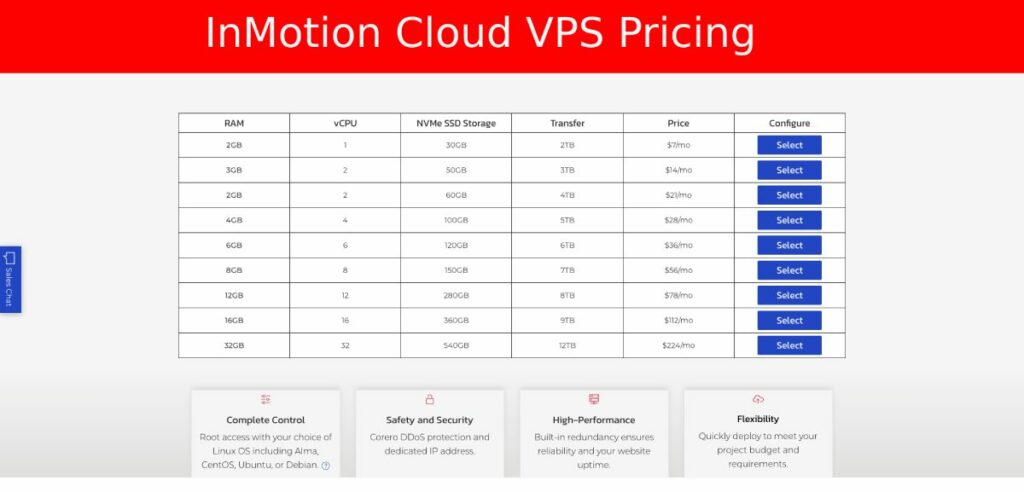 Performance is another area where InMotion Hosting shines. High availability and uptime are ensured with redundant hardware clusters. This translates to consistent and fast website performance, a crucial factor in today's fast-paced digital world. Moreover, the hosting platform promises fast pings, which ultimately contributes to improved website speed and user experience.
Scalability is a stand-out feature of InMotion Hosting's Cloud VPS. The platform facilitates easy scalability and upgrades, allowing your website to grow seamlessly with your business. The allocated server resources can be adjusted based on your website's workload capacity. This means that as your business scales, your hosting platform can adapt to meet the growing demands.
The pricing for Cloud VPS hosting by InMotion Hosting is justifiably competitive, considering the broad array of features and benefits the provider offers. Even though it might be slightly higher than some other hosting providers, the value for money is substantial.
However, the highlight of InMotion Hosting is the flexibility it offers in deploying applications. The ability to configure virtual machines to specific requirements and deploy them quickly is a testament to the platform's versatility. Furthermore, the Ansible Control Node allows for easy automation of server tasks, relieving you from the technicalities of server management.
Ease of Use: The platform is user-friendly, and even if you are a beginner, you'll find it easy to navigate through. The resource monitoring dashboard is intuitive and provides you with a clear overview of your consumed resources.
InMotion Hosting's Cloud Virtual Private Server hosting is indeed a reliable, scalable solution that offers complete control, high performance, and flexibility in deploying applications. It provides a comprehensive suite of features to meet the diverse needs of businesses. It's a worthwhile option to consider for hosting your website.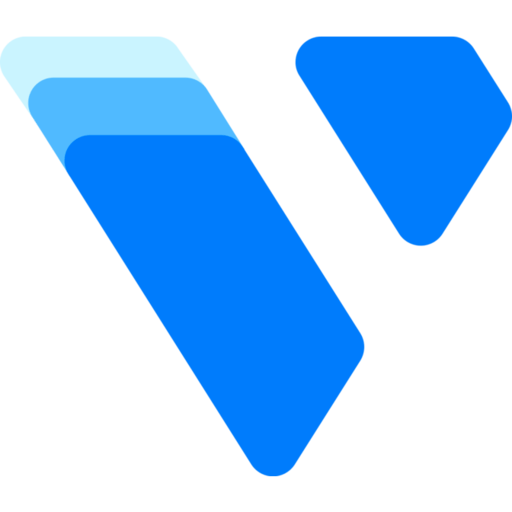 Highly Scalable
Data Centers Worldwide
SSD Storage
Starting from $2.50/month
See Pros & Cons
Pros
Powerful Compute instances
Intuitive API
Outstanding uptime
Cons
Support could be improved
Charges for outgoing data
Complex for beginners
Vultr is a robust contender in the arena of Cloud hosting, providing an impressive blend of flexibility, global reach, and value for money, outperforming several competitors. With its diverse product range, it has carved a unique place for itself in the hosting world. Let's delve into the details of what Vultr offers.
One of the highlights of Vultr is its broad product lineup, which includes cloud compute instances, shared and dedicated CPUs, bare metal servers, cloud GPU, and various storage options like block storage and object storage. This gamut of offerings can cater to diverse use cases, such as website hosting, web and mobile apps, game development, and even complex areas like machine learning and artificial intelligence.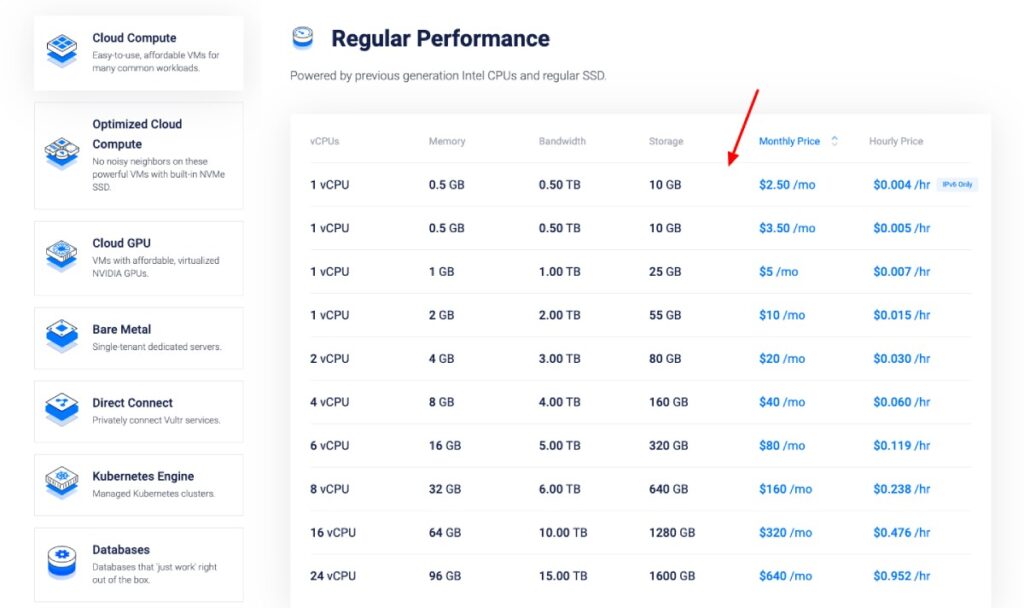 A unique feature that sets Vultr apart is its marketplace. Here, users can browse and deploy popular applications and games while vendors can add their unique apps. It's a win-win for both parties, enhancing the overall hosting experience.
Vultr's pricing model is another key attraction. They offer competitive pricing options and have partnered with other companies to provide integrated solutions for cloud computing. They also provide enterprise-class stability and performance backed by a 100% SLA guarantee.
When it comes to global accessibility, Vultr has 32 server locations spread across 6 continents. They support a wide range of operating systems and offer easy deployment with their cloud orchestration system. This global presence aids in better website performance and faster load times.
Ease of Use: Vultr's commitment to simplifying infrastructure is commendable. They offer a user-friendly control panel for managing cloud instances. Their comprehensive documentation and API support can be a boon for both beginners and experienced users.
However, no product is without its downside. While Vultr offers a plethora of features and options, this might be overwhelming for beginners. Also, while their global presence is impressive, regional coverage could be better.
In conclusion, if you're seeking a Cloud hosting platform that provides flexibility, a broad product spectrum, competitive pricing, and global reach, Vultr is worth considering. However, if you're a beginner, make sure to take advantage of their customer support and documentation to make the most of their hosting service.

Wide Range of Configurations
Great Scalability
30 Day Free Trial
See Pros & Cons
Pros
Flexible and scalable options
30-day free trial
Wide range of server configurations
Cons
Limited customer support
Add-on features can add up
No shared hosting plans
Kamatera, a global cloud service provider founded in 1995, has carved a niche for itself with its robust enterprise-grade cloud infrastructure products. Specializing in Virtual Private Server (VPS) hosting, Kametera caters to organizations of all sizes, offering an extensive array of cloud services.
Emphasizing on convenience and affordability, Kametera makes available popular applications such as WordPress, Drupal, and Magento in the cloud, absolutely free of charge. What's more, there's no commitment or setup fee involved. This strategic feature allows users to deploy their preferred applications quickly, thereby enabling efficient management of their online presence.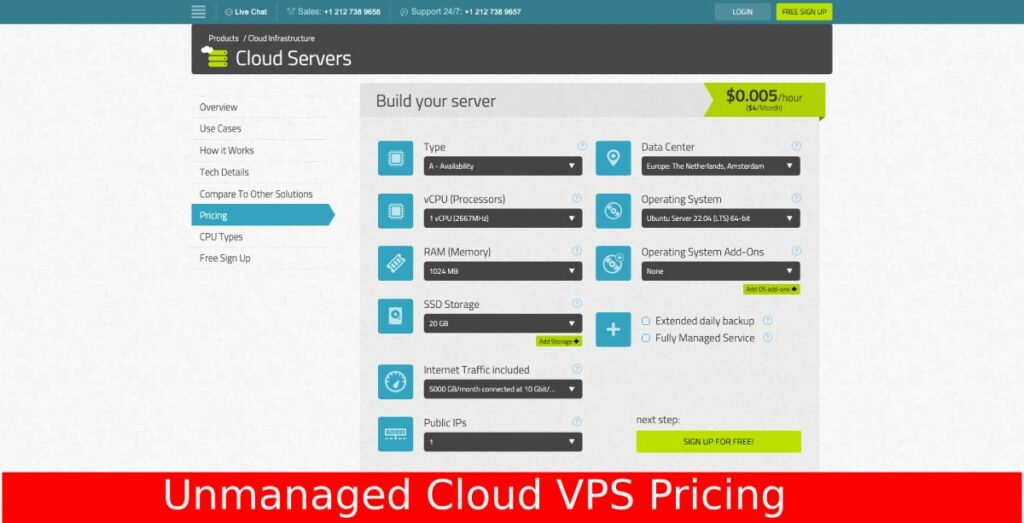 Kametera's VPS hosting services have received a wave of positive reviews from users regarding their reliability. One user noted the service's consistent performance and cost-effectiveness. However, it's worth pointing out that some users have voiced concerns over the lack of support for lower-tier levels.
One aspect of Kametera that truly stands out is its mission to simplify IT infrastructure. By offering a cloud-based solution, it facilitates access to company emails and documents from any device. This not only streamlines workflows but also significantly reduces the need for tech support for application installation on end-user devices.
As for pricing and features, Kametera provides a comprehensive range of cloud services at competitive prices. This, coupled with its steadfast reputation for reliable VPS hosting services, makes it a valuable contender in the market.
Ease of Use: Kametera's user-friendly interface simplifies the process of managing your cloud services. This intuitive design eliminates the steep learning curve often associated with similar platforms.
In the realm of Cloud VPS hosting, Kametera's offering stands as a testament to the company's extensive expertise in cloud computing technology. If you're in search of a reliable, cost-effective, and feature-rich VPS hosting solution, Kametera might just be the solution for you.
However, it's crucial to consider your specific needs and budget before making a decision. While Kametera shines in many areas, its reported lack of support for lower-tier levels might be a deal-breaker for some. Weighing the pros and cons will ensure you make an informed decision that best serves your online needs.
In conclusion, Kametera's blend of reliability, affordability, and feature-rich offerings, make it a compelling choice for cloud hosting. A choice that indeed warrants your consideration.

High Performance
Security Features
Scalable Solutions
Starting from $3.50/month
See Pros & Cons
Pros
Robust Infrastructure
Strong Security Measures
Wide Range of Services
Cons
Complex User Interface
Customer Support Could Be Better
Limited Locations
OVHCloud is a veritable haven for businesses seeking a robust, scalable, and reliable Cloud VPS hosting solution. With its keen focus on providing a reputable environment for cloud services, it offers a suite of features designed to meet diverse business needs.
At the core of OVHCloud's hosting are the guaranteed resources. This feature ensures that your chosen CPU, RAM, and storage are exclusively allocated to you, offering unswerving performance and stability. However, it's worth noting that the absence of shared resources might lead to an escalation in costs, especially for smaller businesses or startups.
One of the standout offerings by OVHCloud is their exhaustive range of storage options. Whether it's SSD storage for high-performance needs or classic storage for cost-effective solutions, the flexibility is commendable. However, the sheer range can also be overwhelming, especially for newcomers in the cloud hosting scene.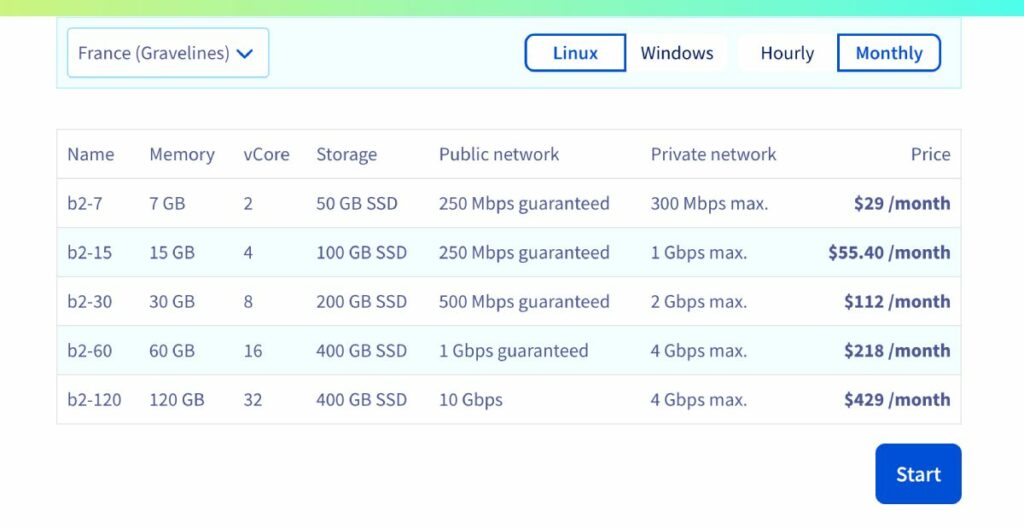 An exceptional highlight of OVHCloud is its network solutions. Users can benefit from the robustness of a global fiber-optic network with an integrated anti-DDoS system. This combination assures uninterrupted service and consistent availability of your business applications. Nonetheless, network complexities might be challenging for anyone without a dedicated IT team.
Ease of Use: OVHCloud offers a user-friendly interface with a learning curve that's not steep, making it accessible for users of varying tech proficiency. However, the abundance of settings and options might be intimidating for some users.
Regarding pricing, OVHCloud's VPS packages are competitively priced, starting at just $6/month. That said, remember that the cost can quickly scale up with the addition of extra resources or services.
In terms of support, OVHCloud provides comprehensive assistance, including a rich knowledge base, tutorials, and a dedicated support team. However, the lack of 24/7 live chat support can be a downside for users based in different time zones.
To sum up, OVHCloud's is a hefty selection that's feature-packed, scalable, and committed to performance. While the multitude of options can be overwhelming, and some features may necessitate technical expertise, its robust offerings make it a viable choice for various business needs.
FAQs
What is Cloud VPS Hosting?
Cloud VPS hosting is a blend of Cloud and Virtual Private Server (VPS) hosting. It provides robust and flexible solutions to manage your website. It's like having your own dedicated server, but within a shared hosting environment.
What's the difference between Cloud VPS and traditional VPS?
While both Cloud VPS and traditional VPS offer private, dedicated resources, the main difference lies in the infrastructure they use.

Traditional VPS is hosted on a single physical server. This means if that server goes down, all the VPSs hosted on it go down too. It also limits scalability because the resources of the physical server are finite.

On the other hand, Cloud VPS is hosted on a network of interconnected servers, often spread across different locations. This gives Cloud VPS a high level of redundancy – if one server fails, another takes over. Additionally, Cloud VPS is highly scalable. You can add resources on-demand as the network of servers has immense combined capacity. This makes Cloud VPS more resilient and flexible than traditional VPS.
Why choose this hosting?
For its high performance, excellent uptime, and scalability. As your website grows, your hosting can scale up with it. This is a step-up from shared hosting, offering more control and stability.
Who can benefit from VPS Cloud hosting?
Businesses of all sizes, bloggers, and anyone who expects their website traffic to increase over time. If you require more control over your hosting environment, or if you're handling sensitive data, this is an excellent choice.
Is easy to manage?
Yes, it's user-friendly. Many providers offer management dashboards and customer support. Plus, there's plenty of online resources and guides to assist you.
Does VPS in Cloud hosting provide good value?
While it can be slightly pricier than shared hosting, the benefits outweigh the cost. The increased control, better performance, and potential for scalability offer great long-term value.
How is the security?
Security is a priority in Cloud VPS hosting. Each user operates independently of others, enhancing security. Plus, providers often offer additional security features. Always check the security measures your potential provider offers.
What is the main difference between Shared Hosting and Cloud VPS hosting?
Shared hosting involves sharing server resources with other websites. In contrast, Cloud VPS hosting offers your own partition of a physical server, leading to better performance, security, and control.
Conclusion
In conclusion, Cloud VPS hosting is the future. It offers speed, reliability, and adaptability. It's the smart choice for those who demand top-tier performance.
Remember, as your website expands, so too can your hosting capabilities. In the world of digital growth, Cloud VPS hosting is your steadfast companion. It's not just a service, but a path to seamless online success. Opt for it, and embrace the possibilities.

Ludjon, who co-founded Codeless, possesses a deep passion for technology and the web. With over a decade of experience in constructing websites and developing widely-used WordPress themes, Ludjon has established himself as an accomplished expert in the field.