Scalable hosting is all about instantly getting the server resources you need for the increasing demands of your website. Unexpected traffic spikes may cause slow loading speeds or even website crashes. But when you are hosted on a scalable web hosting service, appropriate resources are allocated to service the spikes.
This kind of hosting ensures you do not have to worry or stress about what will happen when your website needs more power and server resources.
Here is a short list of the best scalable web hosting:
The scalability of a host means that your site can grow on it stress-free. This requires that the hosting provider offers the prerequisite resources to allow your website to scale. This includes enough storage, bandwidth, solid security, and great support, among other key features that are essential for a large website.
Best Cheapest Scalable Hosting

Optimized for WordPress
Cloudflare protected nameservers
1-click WordPress installation 
Host up to 100 sits with a premium shared hosting plan
Unlimited storage and databases
30 days money back guarantee 
SSH certificates
Starting from $2.99/month
See Pros & Cons
Pros
Free SSL certificates
99.9% uptime guarantee 
Free weekly backups
Free site builder
Free Domain
Free email 
Free Migration 
24/7/365 tech support 
Cons
No traditional cPanel
Limited starter plan
Non-Standard payment terms 
Get excellent web hosting services at cheap rates with Hostinger. The cheapest plan on the platform costs $1.99 per month. This cheap plan still gives you free SSL, free site builder, 99.9% uptime, and more.
Hostinger is ideal for small and medium-sized businesses looking for affordable web hosting services. Growing businesses can scale with Hostinger's VPS plans that start from $3.49 per month. Cloud hosting services on the provider start from $9.99 per month. These are some of the cheapest advanced hosting services you can get anywhere.
The unlimited features make Hostinger a suitable choice for small businesses looking to scale at an affordable price. However, to enjoy these unlimited features like unlimited storage and bandwidth, you have to be on the premium plans of shared hosting. The starter plan – Single shared hosting – limits you to 50 GB storage and 100 GB bandwidth.
Pricing
VPS Plan: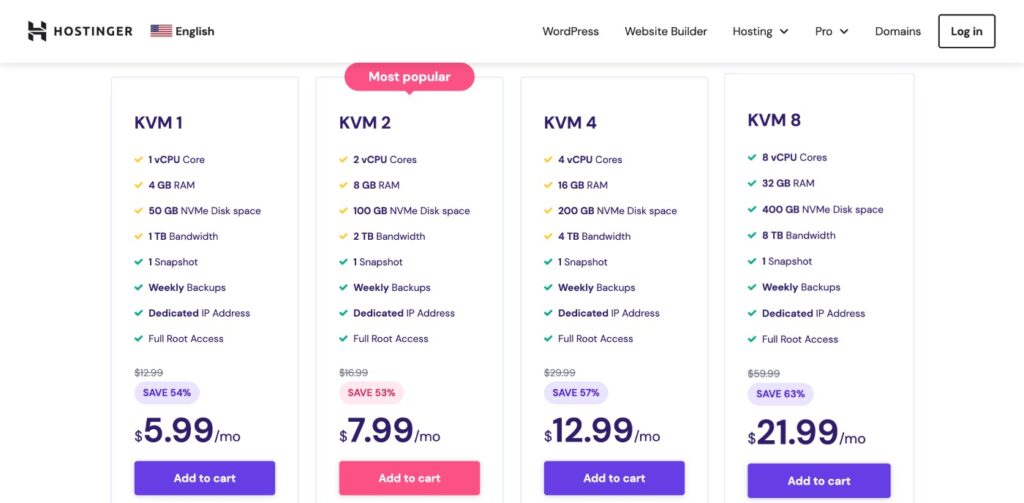 VPS 1 1GB RAM, 20 GB, SSD, 1 TB Bandwidth – $5.49/month
VPS 2 2GB RAM, 40GB SSD Disk space, 2 TB Bandwidth – $4.99/month
VPS 3 3GB RAM, 60GB SSD Disk space, 3TB Bandwidth – $7.99/month
Cloud Plans:
Businesses that outgrow the shared hosting plans can use the provider's VPS plans. Hostinger has eight VPS plans. The cheapest VPS plan costs $5.99 per month while the most expensive plan goes for $77.99 per month. The VPS hosting services feature 100 Mb/s networks, SSD and processing power, NFS support, dedicated IPv6, multiple data centers, and full root access. 
The alternative scaling option is through the company's cloud hosting solutions. Cloud hosting services start with the Cloud Startup plan at $9.99 per month, followed by the Cloud Professional at $14.99 per month, and then Cloud Enterprise at $29.99 per month.
Best Scalable Managed Cloud Hosting

Choose from 5 popular providers 
1-click server cloning
Managed cloud hosting
1-click unlimited WordPress installation
Insanely fast servers
See Pros & Cons
Pros
24/7/365 monitoring
Auto-healing cloud servers
Free backups 
Free site migration 
Cons
No email hosting
No cPanel
No free domain 
Cloudways is a platform as a service – PaaS – web hosting provider. The company offers some of the best cloud hosting services you'll get anywhere. The scalable managed hosting services also come at reasonable pricing. You get to choose your preferred cloud hosting provider. The cloud infrastructure networks on the platform include Digital Ocean, AWS, VULTR, Linode, and Google Cloud.
Some of the top security features on Cloudways include DDoS attack protection, dedicated firewalls, advanced bot detection, two-factor authentication, and automatic patching. The platform also integrates with WordPress and WooCommerce. This makes it a good choice for scaling eCommerce stores.
Pricing
Digital Ocean premium pricing:
$12 per month
$26 per month
$50 per month
$96 per month

Vultr high-frequency plans:
$13 per month
$26 per month
$50 per month
$100 per month
Linode pricing:
$12 per month
$24 per month
$50 per month
$90 per month
AWS pricing:
$36.51 per month
$86.77 per month
$176.26 per month
$274.33 per month
Google Cloud pricing:
$33.81 per month
$73.50 per month
$138.52 per month
$225.93 per month
Best for flexible billing

Flexible billing
2 hours of launch assist
Highly available servers 
90-day money-back guarantee 
Starting from $2.99/month
See Pros & Cons
Pros
2-3 dedicated IP options
Free site migrations
Free cPanel
99.99% uptime
Cons
High renewal rates
The servers are in the US only
InMotion focuses on managed hosting services. You get excellent service with loads of features with the company's VPS plans. Its VPS service is dubbed one of the best in the industry.
VPS hosting services give you better control of your servers than shared hosting. However, you must have the skills and experience to manage servers to get the best performance. The inexperienced site owners can use managed hosting services on the platform.
The shared hosting plans at InMotion are affordable, starting at $2.99 per month. You get unlimited bandwidth on this starter plan and 100 GB SSD storage.
Pricing
Shared hosting plans:
Core at $2.99 per month
Launch at $5.99 per month
Power at $5.99 per month
Pro at $13.99 per month

VPS hosting plans:
VPS 4 GB at $19.99 per month
VPS 8 GB RAM at $39.99 per month
VPS 12 GB RAM at $49.99 per month
VPS 16 GB RAM at $59.99 per month
The cheapest VPS plan gives you 4 GB RAM, 2 vCPU Cores, 2 dedicated IPs, free SSL, 90 GB SSD, 2 TB bandwidth, root access, unlimited email, and free WHM license.
Best for fastest page loading

Enhanced security
Well-built plans with 4 GB RAM
Auto installs with Softaculous
SEO tools
99.99% uptime 
Hackscan for perpetual security 
Server rewind data backups 
Starting from $2.99/month
See Pros & Cons
Pros
Free CDN
Daily kernel updates
Turbo server for fast page loads
Free and easy site migration 
Anytime money back guarantee 
Cons
Turbo servers only available on premium plans
High renewal rates 
No free domain 
A2 Hosting gives you fast speeds and overall excellent VPS hosting services. Their Turbo servers ensure that you get the fastest page-loading speeds in the industry. Some key features of the hosting provider include auto installs, free CDN, and free site migration. A2 web hosting is ideal for businesses seeking fast and scalable web hosting services.
Pricing
Shared web hosting plans:
Startup at $2.99 per month
Drive at $5.99 per month
Turbo boost at $6.99 per month
Turbo Max at $12.99 per month

As your business grows and scales, A2 gives you an opportunity to host on servers with more resources allocated to your website through their VPS plans. You can choose either the managed or unmanaged VPS plans.
Managed VPS hosting plans:
Lift 4 at $39.99 per month
Lift 8 at $54.99 per month
Lift 16 at $67.99 per month
Mach 8 at $59.99 per month
Core features available on the cheapest managed VPS plan include 2 Cores, 4 GB RAM, 2 TB transfer, free SSL, free cPanel, and 150 GB SSD storage.
Unmanaged VPS hosting plans:
Runway 1 at $4.99 per month
Runway 2 at $7.99 per month
Runway 4 at $9.99 per month
Supersonic 8 at $34.99 per month
Features available on the cheapest unmanaged VPS plan include 1 GB RAM, 2 TB transfer, root access, 150 GB SSD storage, and 1 core.
Best for hourly billing

Convenient hourly and monthly billing
Option to choose your own OS or application configuration
Latest cPanel
Enterprise firewall
Solid State Drives
Block and object storage
Weebly site builder 
Starting from $5.24/month
See Pros & Cons
Pros
Unlimited FTP accounts
Unlimited subdomains
Unlimited databases 
Unlimited email accounts
Free dedicated IP address
Free SSL
Cons
Limited data server options
No managed WordPress
No free domain 
Hostwinds has two-tier shared hosting plans that make it easy to scale. The shared web hosting plans start at $5.24 per month and come with unlimited databases, free SSL, site builder, and more. The second tier is business shared hosting which starts from $8.99 per month.
The company provides efficient and reliable cloud hosting services for businesses that are growing. Cloud hosting pricing is based on the resources used as well as hours of service.
Pricing
Shared web hosting:
Basic at $5.24 per month
Advanced at $6.74 per month
Ultimate at $8.24 per month

You can scale to the business hosting plans which are enterprise-level hosting services. The pricing for the business plans are as follows:
Basic at $8.99 per month
Advanced at $10.49 per month
Ultimate at $12.74 per month
Away from the shared hosting plans, you can use Hoswind's hosting services for stress-free scaling. The company offers cloud server hosting services priced based on the number of server resources and a number of hours used. Features that come with server hosting include snapshots, 1 Gbps ports, custom ISO's, friendliness guarantee, enterprise firewall, and 99.9999% uptime guarantee.
The cheapest server hosting costs $0.006931/hr. Resources for this rate include 1 CPU, 1 GB RAM, 30 GB storage, and 1 TB bandwidth. The most expensive cloud hosting service costs $0.456931/hr and comes with 16 CPU, 96 GB RAM, 750 GB storage, and 9 TB bandwidth.
The other scaling option is through the company's VPS hosting services. The VPS plans offered at Hostwinds come in four main categories:
Linux managed
Linux unmanaged
Windows managed
Windows unmanaged
Each of the four VPS categories above has different pricing tiers depending on the number of server resources allocated to the plans. For example, fully managed Linux VPS hosting with 1 CPU, 1 GB RAM, 30 GB storage, and 1 TB bandwidth will cost you $8.24 per month, while fully managed Linux VPS hosting with 12 CPU, 96 GB RAM, 750 GB storage, and 9 TB bandwidth costs $395.24 per month.
Best for WordPress Scalable Managed Hosting

Managed WordPress
100% renewable energy match 
Enhanced security
Ecommerce enabled
30 days money back guarantee 
Pre-installed Git
3 caching levels
Starting from $2.99/month
See Pros & Cons
Pros
Fast 24/7 support via the chat system
Free migration plugin
Free SSL and CDN
Unlimited databases 
Unmetered traffic
Cons
High renewal rates 
No VPS hosting
Little disk space on some plans 
SiteGround is one of the best WordPress hosting service providers. Some WordPress-specific services you get from the company include a free WordPress setup wizard, managed WordPress, and WordPress auto updates. The WordPress hosting plans on the platform start from $2.99 per month.
Pricing
Web hosting plans:
Startup at $2.99 per month
GrowBig at $4.99 per month
GoGeek at $7.99 per month

WordPress hosting plans:
Startup at $2.99 per month
GrowBig at $4.99 per month
GoGeek at $7.99 per month
Scaling at SiteGround is easy with the premium plans on both shared and WordPress hosting. The GoGeek plan has exclusive features that include 30% faster PHP, priority support, free private DNS, staging + Git, the highest tier of resources, on-demand backup copies, and white-label clients.
Best Scalable Provider with Google Cloud

WordPress optimized 
Industry-leading speed
Global content delivery network
Enterprise-level firewall and DDoS protection
30-day money-back guarantee 
2 months free if paid yearly 
Google cloud platform
See Pros & Cons
Pros
24/7 support by WordPress experts
Free SSL and CDN
Easily upgrade or downgrade 
Automatic daily backups
SLA-backed 99.9% uptime guarantee
Cons
Expensive 
No email hosting 
Kinsta is a cloud-based web hosting company that offers managed WordPress hosting services. The servers are fast
Although this is one of the best picks for WordPress sites that are looking for the best performance as they scale, the premium performance comes at a higher price. The cheapest plan on the platform costs $35 per month. Kinsta also offers 24/7 support from WordPress experts.
Pricing
Starter at $35 per month
Pro at $70 per month
Business 1 at $115 per month
Business 2 at $225 per month
Business 3 at $340 per month
Business 4 at $450 per month
Enterprise 1 at $675 per month
Enterprise 2 at $1,000 per month
Enterprise 3 at $1,350 per month
Enterprise 4 at $1,650 per month

Types of Scalable Web Hosting
There are three main types of scalable web hosting – shared, VPS, and cloud hosting. An additional type that is sometimes combined with shared hosting plans with some providers is WordPress hosting.
Shared Web Hosting
Shared web hosting involves sharing of the same server resources with other websites. This means that your website does not have a dedicated server. Sharing of servers has its own advantages and disadvantages. For example, whereas it is cheap, the shared resources may not be enough for each site.
Shared hosting is the cheapest hosting type compared to other types like VPS and cloud hosting. However, the main question you may ask is how scalable these shared hosting plans are. This is because shared hosting has limited power and server resources compared to VPS and dedicated hosting.
Not all hosting providers have reliable and climbable hosting services. This is why we picked for you a few hosting providers that have cheap shared plans that are scalable. Some of the key features to look out for in these scalable shared hosting providers is their bandwidth and storage. A scalable plan would have unlimited bandwidth and storage that allows your website to grow.
Cloud Hosting
Cloud hosting is the most preferred hosting type for businesses and website owners who have websites that expect to grow and attract large amounts of traffic. The limitation of shared hosting would only mean that you have to upgrade to a more advanced and resourceful hosting type like cloud hosting.
Cloud hosting provides a reliable method of managing unexpected peaks or falls in traffic. This is because the platform is able to add machines when traffic is growing, as well as turn off some machines when traffic is low. This is how cloud hosting is able to offer automatic scalability. Most cloud hosting platforms charge per hour.
VPS Hosting
VPS hosting comes close to cloud hosting in terms of service offerings. This is also the first option for many users who want to upgrade or scale from shared hosting plans. Compared to shared hosting, VPS hosting allocates each server to fewer users. In addition, VPS allows website owners to configure their virtual private servers to their preferred specifications.
Managed WordPress Hosting
WordPress is the most popular content management system. There are many hosting companies that have customized some of their services to specifically cater to the unique needs of WordPress sites. These platforms should also have the resources to allow your WordPress site to scale.
A scalable WordPress hosting provider will give you an elastic hosting infrastructure that grows with your site's growth. Additional features to look out for include the latest version of PHP, database optimization, and automatic WordPress updates.
Differences Between VPS and Cloud Hosting
Cloud hosting, together with VPS hosting, are the hosting types that come to mind when considering upgradable hosting options. Cloud hosting involves hosting your website on multiple servers that are connected together on a network. The network enables you to choose resources from different places. One of the main advantages of cloud hosting is that when some machines on the network fail, others can take over, ensuring your website always stays online and is fast.
VPS hosting borrows from the framework of shared web hosting, the only difference being the number of websites each server can serve. VPS minimizes the number of sites each server powers, compared to shared hosting where a single server can serve many websites.
The difference between cloud and VPS also stems from the way sites are deployed. Cloud hosting enables you to host your website on multiple servers. Both VPS and cloud hosting, however, involve the virtualization of computing resources. Virtual machines are created and deployed on a network of servers in the case of cloud hosting, or on a single server in the case of VPS hosting.
FAQ
What is scalable hosting?
Scalable hosting is a website hosting service with the power and resources to accommodate the needs of a growing website. 
What is cloud hosting?
This is a hosting type where websites or apps are deployed on a network of connected virtual and physical servers, ensuring greater scalability and flexibility. 
How does cloud hosting work?
Compared to other types of hosting, cloud hosting requires that a website is deployed on multiple servers. Resources scale according to the website's needs. 
Which is the most scalable developer-friendly hosting provider?
Cloudways is our top choice for all-round scalable hosting. Other developer-friendly cloud options include Microsoft Azure, Google Cloud Platform, and Amazon Web Services. 
What is the best scalable WordPress hosting?
Kinsta
Is shared hosting scalable?
Few providers allocated their shared hosting plans enough resources to allow websites to scale. It is possible to scale within the by upgrading to premium shared hosting plans. However, the limitations of many shared hosting platforms do not make them ideal for scalable web hosting. 
Conclusion
The best scalable web hosting services must guarantee you a smooth transition to servers with more resources to serve the increasing demands of your website. For example, if there are spikes in website traffic, the web servers must be able to handle the spikes and prevent possible site crashes. Although there are some shared hosting options that have enough server resources to scale your business, the preferred hosting options for scalability are VPS and cloud hosting.
Want to Learn More?

As one of the co-founders of Codeless, I bring to the table expertise in developing WordPress and web applications, as well as a track record of effectively managing hosting and servers. My passion for acquiring knowledge and my enthusiasm for constructing and testing novel technologies drive me to constantly innovate and improve.
Expertise:
Web Development,
Web Design,
Linux System Administration,
SEO
Experience:
15 years of experience in Web Development by developing and designing some of the most popular WordPress Themes like Specular, Tower, and Folie.
Education:
I have a degree in Engineering Physics and MSC in Material Science and Opto Electronics.