Free cPanel hosting is the best solution for those starters who want to start a website without investing in hosting. It helps you display and rank your site worldwide through the fastest servers to enjoy global recognition.
Purchasing premium cPanel hosting can be costly. Thus, we need to help you choose a web hosting provider that offers you one of the best free cPanel Hosting plans.
This write-up will review the seven best free cPanel web hosting. In this case, If you are a starter or site owner and want to rank your site on search engines, you should study these 7 Free cPanel hosting services before taking action.
So, let's dive right in.
A shortlist of the seven best free cPanel Hosting
Here is the shortlist of the Top seven free cPanel Hosting providers. We'll discuss all Hosting in detail in the article below and put the power in your hands to choose the one you love.
The Top 7 Best Free cPanel Hosting
How do you know which is right for you? Here, we list all hosting to provide the correct hosting choice for you. Let's discuss the comparisons of different hosting in the given table.
Let's vividly discuss the stunning features of all Hosting providers one by one along with the pros and cons. It will help you choose the suitable free cPanel Hosting.
1. 000Webhost – Best for Uptime

DNS management
SSH access and GitHub integration
Web-based file manager
See Pros & Cons
Pros
Lots of free templates
Decent Site Performance
WordPress auto-installer
No ads on your website
Guided site-building
Instant account activation
Free website builder
Cons
The Free plan has limited features
Unstable builder
The native site builder seems unpolished.
000webhost is a free cPanel hosting, where you'll get the MySQL database, Hotlink protection, and an Uptime guarantee.
It provides an incredible experience if you're looking to start a Zero small investment site or want to play around with a self-hosted WordPress.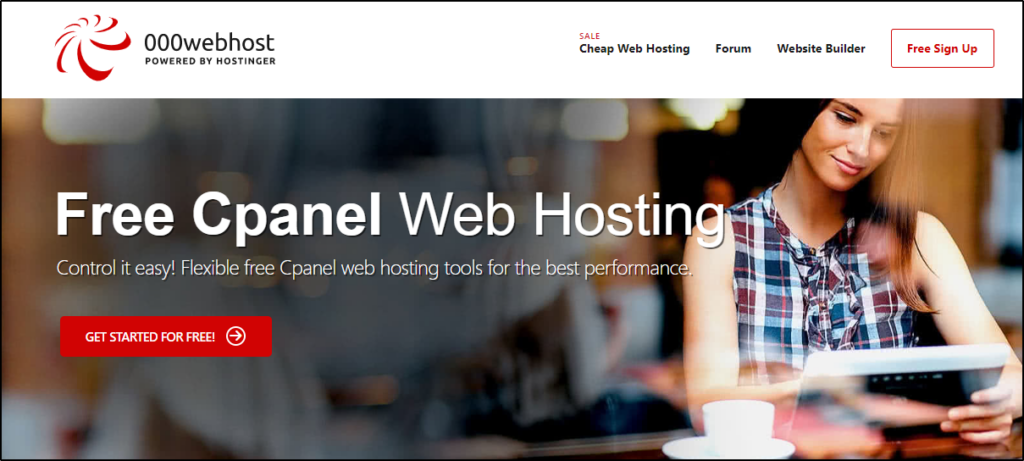 Moreover, 000webhost controls your website using the cPanel control panel and special helpful admin tools.
000webhost allows you to use it for free as long as you want. Also, what makes it unique is its advanced firewalls and DDoS (Distributed Denial of Service) that make it unique, which keep your site safe and secure.
The free cPanel hosting of 000webhost controls all aspects of website administration in its fantastic interface. The site management features are listed in a way that gives you a flexible and easy interface with various tools for the best performance.
Let's take a look at the Features.
Features:
DNS management
SSH access and GitHub integration
Backups Wizard
Web-based file manager
FTP session control
IP deny manager and password-protected directories
HotLink and Leech protection
phpMyAdmin
Email forwarders
Free domain with premium plans
One to 100 websites
FTP accounts
Getting Started Wizard
Change the cPanel interface and language
SSL certificates with premium plans
LiteSpeed cache
Why do we think 000webhost is the best for uptime?
000webhost is the best choice for Uptime and instant support. After registering, you will activate your account in no time in just a few clicks. You can build and organize your website like a Pro without technical and code experience.
Another exciting thing about 000webhost is that it is excellent for starter businesses or medium websites. You can configure any issue within hours and keep your status up to date.
2. Hostinger – Almost Free Web Hosting

Hostinger Site builder

50 to 100 websites
SSH access
Starting from $1.99/month
See Pros & Cons
Pros
Unlimited MySQL databases.
Cloudflare DDoS protection.
Softaculous App Installer.
LiteSpeed Web Cache. Manager.
24/7 Chat support
Easy to set up
Fast Speed Page Load
Cons
Hostinger Offers Limited storage.
Inconsistent Performance
Company Reputation
Hostinger has been offering services since 2011 and is known for its quality hosting features and affordable prices starting from $1.99/mo, which is an almost Free Web Hosting package.
The overall thought about Hostinger is constructive. It is very user-friendly and provides an automatic update and free domain registration.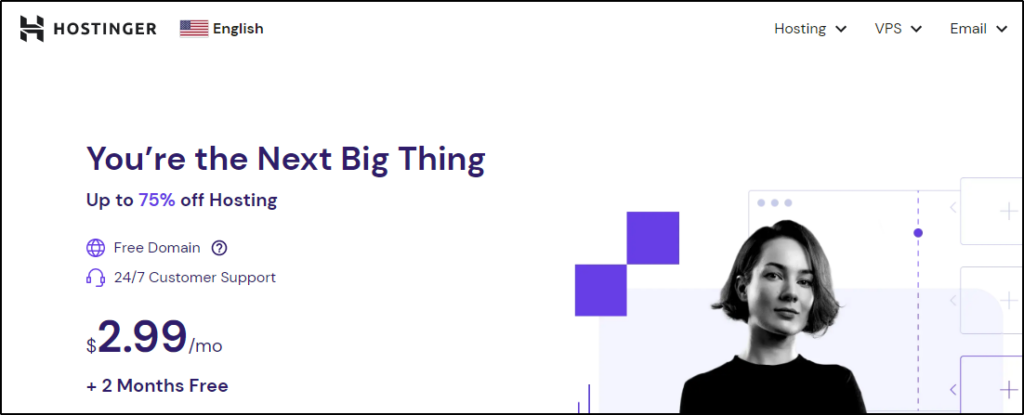 Another exciting thing about Hostinger is its Unlimited FTP and free SSL certificate that encrypts your site's data from malware.
Customer care and support make Hostinger a trustable company. Moreover, Hostinger's cPanel control is hPanel-based hosting, so the company also offers separate hosting.
You can get the same features with their hosting plans. However, Hostinger will manage your website through cPanel. If you're a starter, this is the Go To option.
Let's discuss the stunning features of Hostinger in the below lines.
Features:
Free domain registration
Hostinger is easy to use
Hostinger Site builder
Advanced security
50 to 100 websites
Unlimited FTP users
Cloud SMTP delivery
SSH access
Why do we think Hostinger is the best with almost free Web hosting?
Hostinger offers hosting at the most affordable, almost accessible, for starters and medium businesses. They give you access to plenty of Bandwidth, a control Panel, and an almost 99.9% free uptime guarantee.
Hostinger plans include free SSL certificates, Backups, access control, and DDoS protection. In simple words, Hostinger allows beginners and non-technical experts to use a powerful control panel with a friendly and easy-to-use interface.
Hostinger provides round-the-clock support, security, flawless uptime, and high-performance SSD storage. A dedicated Unlimited MySQL database, fast page load, and 24/7 customer support let you experience the power and speed.
3. Bluehost – Best WordPress Trial Hosting

Domain Management
Resources Protection
Spam experts help
Automated Backups
See Pros & Cons
Pros
Reliable Security
Generous Storage
Free SSL certificate
Scalable Business Plans
High uptime and fast loading speed
Seamless WordPress Integration
Unmetered Bandwidth
A Free Domain Name for the First year
No Hidden costs
30 Money back guarantee for all hosting plans
Cons
High renewal rates
Slow on high volume of traffic
Bluehost is the best trial hosting company that offers various hosting plans for individuals and businesses with cPanel. However, their plans need to provide a completely free hosting service.
Bluehost plans start from as low as $2.95 per month and come with various features and resources to fulfill different hosting needs.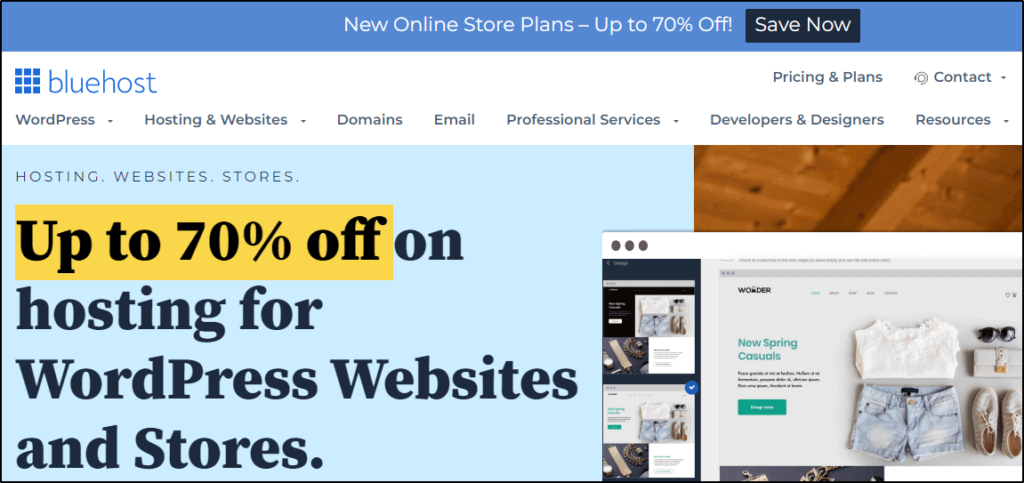 WordPress is recommending the Bluehost platform in the world of hosting. The best thing about Bluehost is that it allows free WordPress site migration.
A beginner can easily set up a website on Bluehost because it has no added complexities. With just one click, Bluehost gives you free design flexibility, and you can customize your site the way you want.
What I love about Bluehost is Bluehost's automated Backups, Site lock protection, and free website builder. Over 2 million sites are hosted by Bluehost worldwide, so the company is doing something unique.
Let's vividly address the diverse features of Bluehost web hosting company in the below lines.
Features:
Domain Management
Resources Protection
Spam experts help
Automated Backups
Secure Shell (SSH) access
Site statics report
File Transfer Protocol (FTP) access
HotLink Protection
Multi-server Management
Free Content Delivery Network (CDN)
Domain Privacy and protection
MySQL database
Subdomains and parked domains
SiteLock Protection
Custom cron jobs
Web File Manager
WordPress Staging
Website Builder.
Why we think Bluehost is the best with Trial hosting
Blulehost offer a free trial time to test it for 30 days which customer can reclaim their money back in case they don't like it.
They ensure you'll have 24/7 customer support that includes not only the technical part of the platform but also gives you an easy-to-use setup interface.
The Trial hosting of Bluehost makes it easier for end-users to test their services without committing to a long-term contract.
Bluehost helps users build and manage their websites with plenty of features and tools, including email hosting, website builder, Bandwidth, and unlimited storage of data files.
Read More: Bluehost Review 2023 – Honest Check of Pros & Cons
4. Freehosting – Best for disk space

Webmail
SSL certificate
Shell access
DNS zone editor
See Pros & Cons
Pros
Easy spam control feature
Autoresponders and filtering
Compatible with Linux, Apache, PHP, and MySQL
Unlimited FTP accounts
Cons
Free domains and subdomains are not included with the free plan.
Selected countries are not included in the services.
Freehosting has been delivering services since 2010 in the hosting industry. One thing that makes Freehositng.com special is the best free Disk Space of 10 GB memory on the server. It offers two data centers dedicated to free and paid without interfering with one another.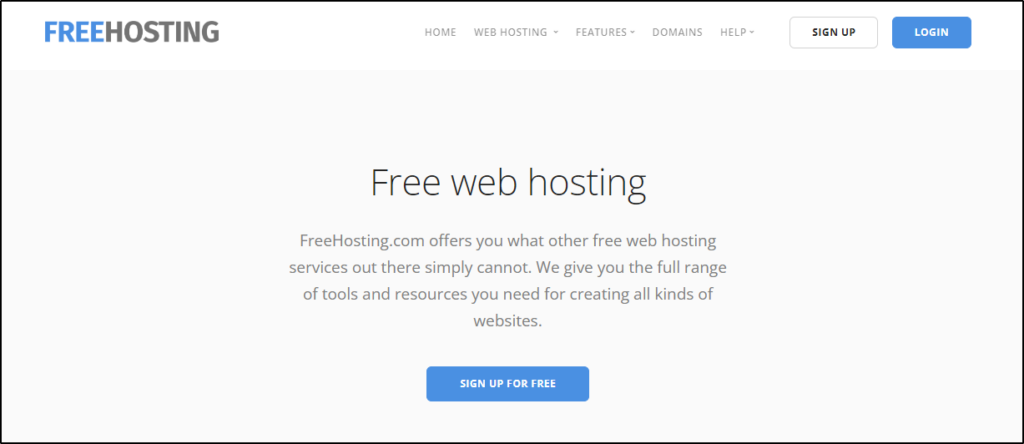 Freehosting.com offers a tremendous opportunity for small and starter websites with its free cPanel hosting. You can build a website with Freehositng's in-house site builder.
Besides disk space, Freehositng also offers SSL certificates, Unlimited FTP accounts, and a domain registration service. Some more advanced stunning features are discussed below that mark Freehosting.com different from other providers.
Features:
One website
Email account
Webmail
IMAP/POP3/SMTP
SSL certificate
Crontab
Shell access
DNS zone editor
Disk usage viewer
Web-based file manager
Why do we think Freehosting.com is the best for Disk space?
The most significant feature of Freehositng company is the expanded disk space for users with 10 GB of storage.
Suppose you're looking for free hosting with considerable Disk space. In that case, Freehositng is your only choice.
5. Googiehost – Best for Bandwidth

Short Subdomain Name
Free, Premium SitePad Website Builder
Free SSL Certificate
No Ads on Your Website
See Pros & Cons
Pros
1000MB SSD Storage
Hotlink Protection
2 MySQL Databases
Free Website Builder
2 FTP Accounts
100 GB Bandwidth
PHP all versions
Online File Manager
Free CMS Installers
Cons
User cannot make multiple accounts
You need to turn off the blocker if you want to host Googiehost
Googiehost is a free cPanel hosting company with stunning added features to support you in reaching new heights. It helps you provide greater Bandwidth of 100 MB/Sec uplink, increasing the data transmission rate. Greater Bandwidth delivers more information in less time.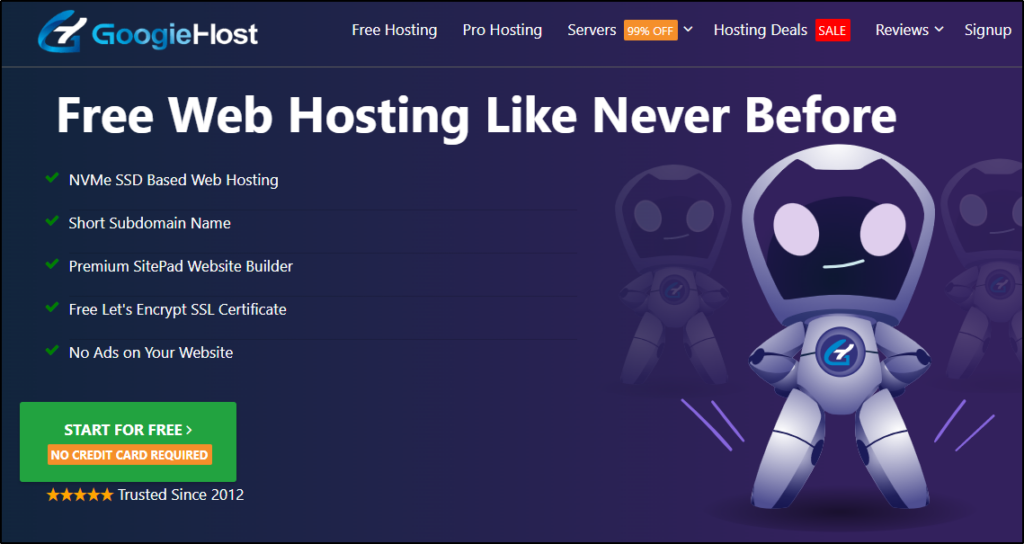 There is no limit to the traffic your site can receive with Googiehost. With 100 GB of Bandwidth, Googiehost transmits larger files and can handle a larger amount of traffic.
You can get a free migration service when switching to premium plans. With Googiehost, you can get the ultimate free hosting service with their cPanel called "DirectAdmin" to manage the free hosting.
Along with a free web hosting provider, Googiehost helps you get free webmail access, a fast MySQL database, Malware protection, 2 FTP accounts, and free sub-domains. Now, let's take a look at its features.
Features:
Short Subdomain Name
Free, Premium SitePad Website Builder
Free SSL Certificate
No Ads on Your Website
NVMe SSD-Based Web Hosting
Free SitePad Builder
Integrated Control Panel
Easy to use cPanel
Free Sub-Domain
Softaculous Auto Installer
24/7 Customer Support
Malware Protection
Business Emails
Why we think it is the best for Bandwidth
Googiehost offers 100 GB of Bandwidth to its customers. Don't worry if your website is complex and has more traffic. Googihost can handle it.
The bright on the list is they offer unlimited Bandwidth with a 100 MB/Sec uplink to increase the data transmission speed than usual.
The average speed of Bandwidth is 3 – 25 MB/Sec. However, Googiehost provides 100 MB/Sec that makes it different from other providers in the list. It is also excellent for adaptability and free web hosting.
Googiehost offers Free CMS Installers, all PHP versions, and Cloudflare support. Googiehost is one of the free web hosting companies with these free advanced features.
Read More: Best Unlimited Hosting Providers
6. HostSS – Best with free email accounts
Unlimited email forwarders and mailing list
SPF control
Unlimited Auto Responders
Multi PHP versions
See Pros & Cons
Pros
SpamAssassin for spam control
Programming languages are included
IP Deny manager (for blocking unwanted IP addresses)
HostSS is one of the brilliant cPanel hosting companies that offer free hosting services for over 6000 sites and 2500 users worldwide. Despite being free, Hostss.com competes with many paid hosting providers.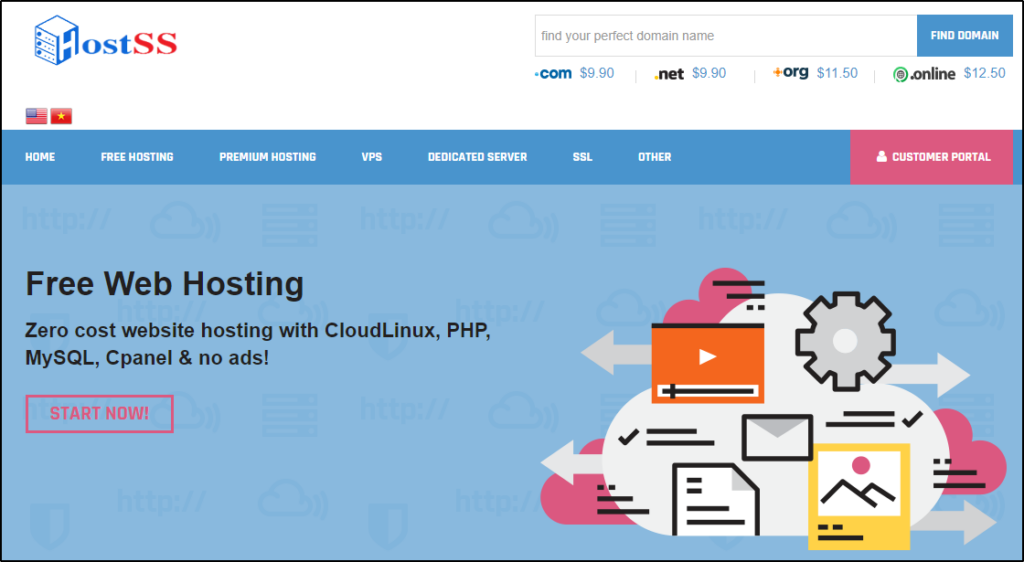 The most notable feature is Email Accounts. HostSS offers Unlimited Email Forwarders and mailing lists. The webmail system of HostSS allows you to access your email accounts through any browser.
Moreover, HostSS enables free SSL certificates, monthly backups, and Cloud Linux, improving the server's security and stability. It also helps you with dedicated servers and paid VPS Hosting.
Features:
Subdomains
Unlimited email forwarders and mailing list
SPF control
Unlimited Auto Responders
Multi PHP versions
DKIM records
phpMyAdmin
Webmail
No ads
Hotlink protection
Cron jobs
Email accounts
Why do we think HostSS.com is the best with free email accounts?
HostSS.com offers free email account service with SPF control and Unlimited Auto Responders
Using the HostSS knowledge base, you can take care of your website updates, Technical care, and stability. Or, in case you don't find the solution, you can quickly contact their technical team by submitting a support ticket.
7. Infinityfree – Fastest Free cPanel hosting

99.9% uptime
Free subdomain
Free SSL
Unlimited storage
See Pros & Cons
Pros
Free web hosting
No ads on customers' websites
cPanel is provided for management
Fantastic knowledge forum
Cons
Insufficient for Big Business sites
Doesn't have Customer support
By providing Free and Fastest hosting, Infinityfree smashes the competitor's market. Not all hosting companies are free in reality. Some of them are free initially for a certain period, but later they come at a price.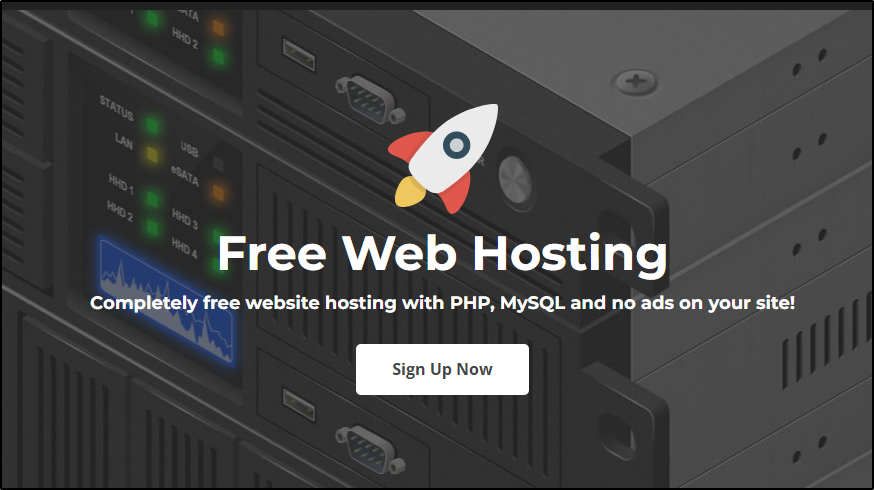 Infinityfree was independently experienced and found to be the faster free hosting.
Moreover, No credit card or hidden fees are required to purchase hosting. It's genuinely free.
As its name indicates InfinityFree vows to offer a free service web hosting option as long as you want to enjoy it. Infinityfree is a free and independent hosting company that provides the best and fastest hosting services. Let me give you a tour of InfinityFree's features.
Features:
99.9% uptime
Free subdomain
Free SSL
Unlimited storage
Why we think Infinityfree is the best with the Fastest Free cPanel hosting
InfinityFree is pretty fast and free with tremendous cPanel hosting, Softaculous, PHP, and MySQL. They offer a 99.9% guarantee of Uptime speed as its main priority.
InfinityFree offers 5 GB storage and introduces the Fastest Free cPanel hosting with Unlimited Bandwidth. InfinityFree Bandwidth generally delivers more information simultaneously with greater customer satisfaction.
Final thoughts
Choosing a free cPanel hosting plan is vital for website owners and starters who want to rank their businesses without investments. Free cPanel hostings are easy to optimize and manage all the essential hosting features.
In this article, we discussed the tremendous hosting plans, their features, and their support. We urge don't miss the free hosting opportunity if you want to make your business dream a reality.
Last but not least, you would probably be better off finding a free hosting plan elsewhere. If this is true, you can choose your favorite Free cPanel Hosting from today's discussed plans.
Did you wonder how to pick the best hosting and build a successful website? Let us help you select a fantastic free hosting plan and build your online presence effectively.
FAQs
Is free cPanel hosting a good solution?
Free cPanel depends on the requirements and needs of your business. It is the best solution if you are a starter or want to start a new website.
Free web hosting may come with storage limitations, Bandwidth, and a limited number of websites which may be sufficient for larger and more complex businesses.
How long can I use Free cPanel Hosting?
The Free cPanel Hosting usage may vary among different hosting providers and their plans. Typically, some companies may require users to upgrade to a paid plan after a specific time, While others offer as long as you want.
How to use SMTP in free hosting cPanel?
In terms of SMTP, some free hosting providers limit their services. In this case, you can use an external SMTP such as Gmail or Sendinblue. To use these services, you must create an account and obtain the SMTP server later.
You might be interested in reading:

As one of the co-founders of Codeless, I bring to the table expertise in developing WordPress and web applications, as well as a track record of effectively managing hosting and servers. My passion for acquiring knowledge and my enthusiasm for constructing and testing novel technologies drive me to constantly innovate and improve.
Expertise:
Web Development,
Web Design,
Linux System Administration,
SEO
Experience:
15 years of experience in Web Development by developing and designing some of the most popular WordPress Themes like Specular, Tower, and Folie.
Education:
I have a degree in Engineering Physics and MSC in Material Science and Opto Electronics.