With the increasing rate of people starting their businesses and stores online, the need of guiding them about web solutions is also increasing. Today we will make a Bluehost Review which is one of the most popular providers for website management, and web hosting.
Web hosting is a service that publishes all your content on your online site and makes it visible to your audiences. There are multiple web hosting service providers available in the market; however, for now, we will be covering one such company, Bluehost.
Bluehost is one of the best web hosting providers on the market
Let's look at what is BlueHost and how it helps its users host their websites effectively.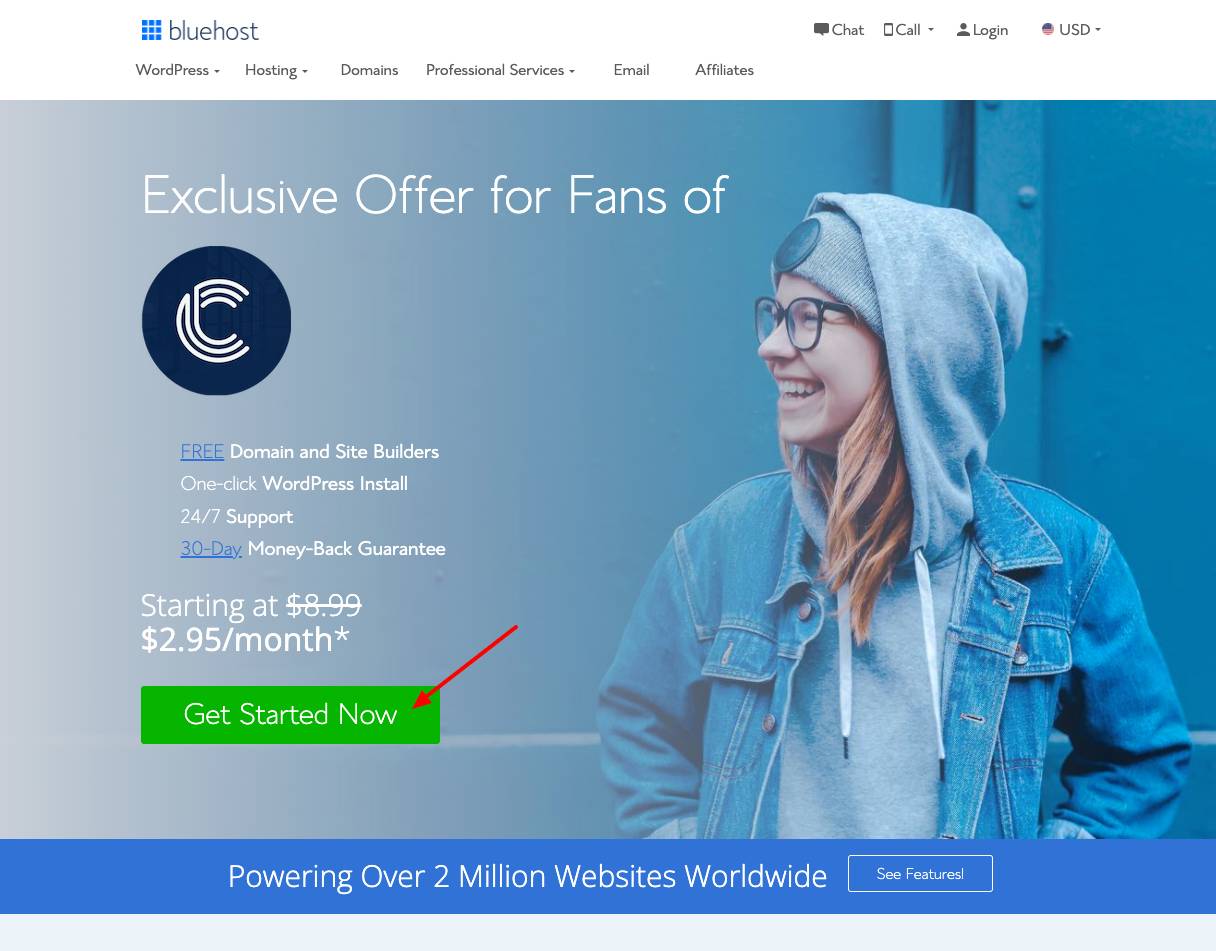 An Introduction To Bluehost
Bluehost, the world's most popular hosting company, is officially recommended by WordPress on their website. They have a wide variety of plans with different prices for customers of all categories like small and medium business operators. However, they might not be effective for big companies with larger projects.
They offer 24/7 technical support for their customers, with not a single off even on holidays.
Bluehost was started in 1996 and marked its way toward success in mere few years. It is now categorized as one of the best hosting companies on the digital platform.
BlueHost closed the official partnership with WordPress in 2006 and is recommended on its original website.
Scroll down to access a detailed hosting review on Bluehost, the web hosting provider. This review will discuss everything about Bluehost, from their offered hosting services to their pros/cons and shared hosting pricing plans.
Let's start our review by looking at what type of services Bluehost offers for web hosting.
Bluehost offered products
Bluehost's platform provides multiple products for web hosting ranging from domains to virtual private servers.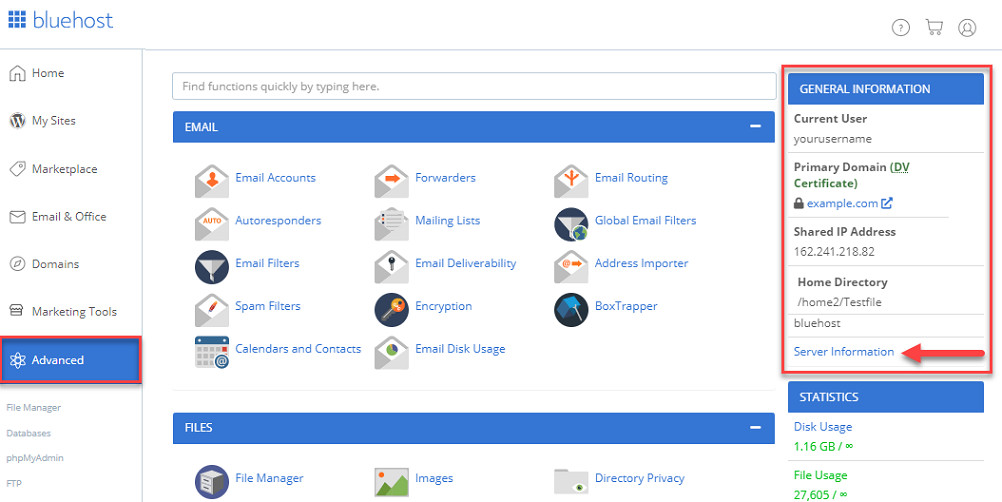 Let's have a brief look at what you get with Bluehost:
Domains
Bluehost as a domain provider is a bit costly you have to pay money upon each annual renewal to access domain names directly from Bluehost. If it is your major investment category, Namecheap is an excellent and cheaper platform for purchasing domain names.
Shared Hosting Plans
Shared hosting plans are highly recommended for small-scale entrepreneurs. It might not be a good investment for large companies dealing with bigger projects. It is almost similar to sharing a flat where you get your private room; here, the flat is a server, and the hosting space is the room you are allotted. It will save you a lot of money but might cause some noise issues.
Bluehost offers this service at tiers ranging from $2.95 to $13.95 per month for first term (12 months), depending on the intensity of features you require.
Dedicated Servers
If you are running a site with a major conversion rate and dealing with daily traffic spikes, CPU resources and a dedicated server should be your go-to choice as part of the hosting plan. Compared to shared hosting, it is like occupying a whole house by yourself with no flatmates or neighbors. It is indeed the top server choice for performance criteria.
The pricing of dedicated servers at Bluehost ranges from $79.99 to $119.99 per month; it is costly. But the investment is worth it with all the guarantees of top-notch quality, speed, performance, and stability.
WordPress Hosting
WordPress, an open-source publishing software, is also hosted at Bluehost. It is an optimum choice for those handling WordPress websites and want to enjoy benefits like a staging area and more.
However, the high prices of this category might concern you. Their basic WordPress hosting plan, build, starts at $9.95 per month.
Virtual Private Server
Virtual Private Server, also VPS hosting, settles as a server between shared and dedicated hosting. Bluehost will share the server between you and other consumers in this plan. But with a wall (read; virtual) in between your projects and theirs.
If you use a specific programming language, you might opt for this type of server. It skills in providing special server configuration.
At Bluehost, the pricing plans of this category start from $18.99 and end at $59.99 per month.
All the significant hosting services offered by Bluehost are covered above. A major drawback of this platform is the lack of cloud-based hosting services.
This review is based on the shared hosting plan. Must give it a read if you are planning to invest in this category and decide yourself whether Bluehost shared hosting plans are worth your money or not.
Let's talk about discounted deals that Bluehost offers on their plans. They offer massive discounts during the first year of your use on almost every plan. However, the renewal prices are quite costly and might concern your budget.
Further details about prices and features of their plans are seen in the image below: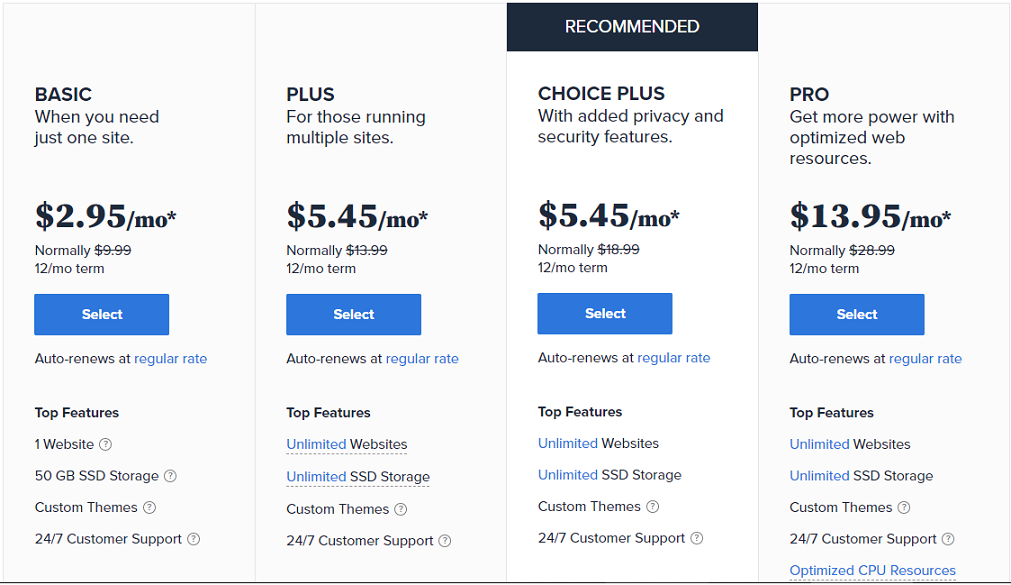 Please look at this table to know more about their pricing plans.
| | | | | |
| --- | --- | --- | --- | --- |
| Plans | Basic | Plus | Choice Plus | Pro |
| Websites | 1 | Unlimited | Unlimited | Unlimited |
| Domain names allowed | 1 | Unlimited | Unlimited | Unlimited |
| Customer support | Phone and live chat | Phone and live chat | Phone and live chat | Phone and live chat |
| Performance | Standard | Standard | Standard | High |
| Amount of maximum files | 200,000 | 200,000 | 200,000 | 300,000 |
| Storage limit | 50GB | Unlimited | Unlimited | Unlimited |
| Email accounts and storage | 5 and 100MBs | Unlimited | Unlimited | Unlimited |
| Database and maximum database size | 20 and 5GB | Unlimited and 5GB | Unlimited and 5GB | Unlimited and 5GB |
| Maximum concurrent MySQL connections | 150 | 150 | 150 | 150 |
| Backups | Basic | Basic | Advanced for 1 year | Advanced |
| Dedicated IP address | Not provided | Not provided | Not provided | Provided |
| First-term prices (12mo) | $2.95 per month | $5.45 per month | $5.45 per month | $13.95 per month |
Backups are facilitated by an automated, integrated system that helps in easy daily backups creation and data restoration.
If your project is small-scale, hosts a single website and the limited 50GB will do your work, you should opt for the basic plan.
Moreover, this plan also limits the number of email accounts and databases. If you don't need an unlimited quantity of both items, the basic plan is a perfect fit for you.
The second plan, known as a plus, provides unlimited websites and unmetered storage capacity. Moreover, it also offers unlimited email accounts.
Further, the choice plus plan comes with each feature of the plus plan, also offers domain privacy and advanced backup capacity (limited to 1 year).
If you are a large company handling multiple clients or working on a big project requiring more stability and high processing speed, you should opt for their pro plan. The maximum number of web files hosted through this plan close around 300,000. Moreover, lifelong advanced backup options are vital for bigger scaled hosting.
Bluehost Customer Support Services: Are They Helpful?
We all need a technical guide when handling digital websites and related issues; most hosting companies excel in providing such guidance to their customers with their utmost customer Bluehost support services.
Bluehost is no less in providing such services to their users, for which they have a massive library full of articles on frequent queries. Moreover, they also feature step-by-step guidance manuals and video tutorials as a part of their customer support scheme and a knowledge base. These items are the most beneficial for newbies to find solutions to their queries in a minimum time.
However, a few technical issues might require you to directly consult an expert in a similar field.
Bluehost caters to this option by providing a 24/7 live chat with their polite and highly responsive team of experts. You can also contact their customer care center through their phone number. These items make it very easy to solve your queries with a single click.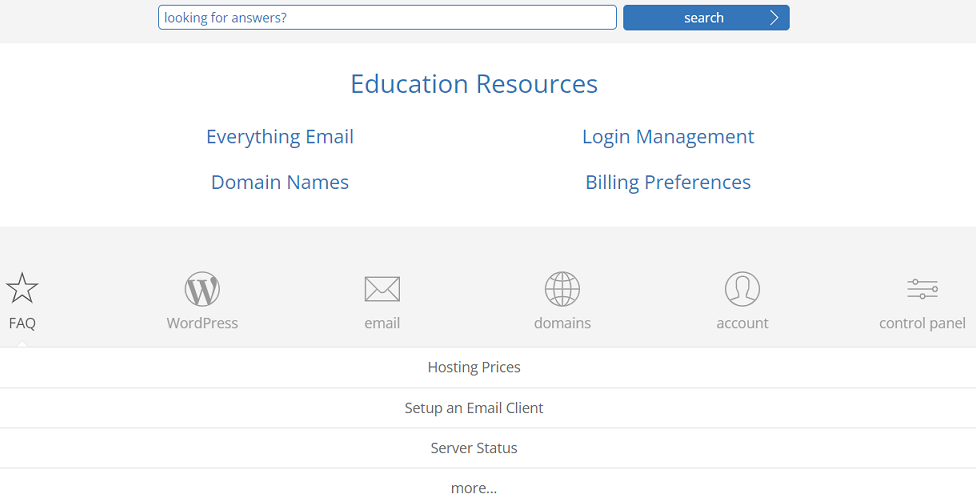 However, they do lack a ticket support system. It was initially supported by Bluehost and was recently removed for users to prioritize live chat and phone support. However, it was essential when people could not solve their issues through the options mentioned above.
Bluehost Pros and Cons: The Positives And Negatives
Let's look at the positive and negative sides of using Bluehost website hosting services provider.
Bluehost Pros
Affordable first-term prices; renewal rates are a bit higher.
Solid uptime guarantee; Bluehost has been tested many times for this feature and always passes the standard uptime numbers. The only issue is that they don't offer service level agreements for minimum uptime guarantee that you might find common with other hosting service providers.
Maximum storage capacity; the shared hosting plans of Bluehost provide loads of storage capacity to cater to web businesses.
There is no traffic limit; with Bluehost, you get unmetered bandwidth, which is a good idea for sites that experience frequent high-traffic spikes.
WordPress is officially recommended it.
One-click WordPress installation support.
Excellent customer support.
The free content delivery network and secured socket layers.
Bluehost Cons
Continuous upsells; the Bluehost shared hosting packages show popup upsells that might be unpleasant for some users.
Speed needs to be improved; Bluehost speed, prior tested, lacked the required speed of loading processing. There is a lot of improvement scope in their speed feature.
Bluehost only works smoothly for US resident website runners. Users from other areas might face extreme speed and performance issues.
Limitations on their basic plan; if you are tight on your budget, you might have to face limitations on several websites, databases, email accounts. Moreover, they also don't have advanced-level backup options.
High domain renewal cost.
When To Opt for Bluehost As a Hosting Provider?
Bluehost is the perfect choice for small online small business runners. If your site does not experience frequent traffic surges, you would be satisfied with its provided services. However, it is best to avoid this host when handling bigger projects with multiple clients and increased traffic.
Many alternatives to Bluehost at comparatively better prices are also available.
When To Avoid Bluehost?
If your site demands high performance and stability, Bluehost would not satisfy your needs. For such demands, you can always hunt for a hosting provider with extensive features available in the market.
Moreover, it is also highly not recommended for those aiming to incur staging areas, Git repositories, etc., with their shared hosting plans.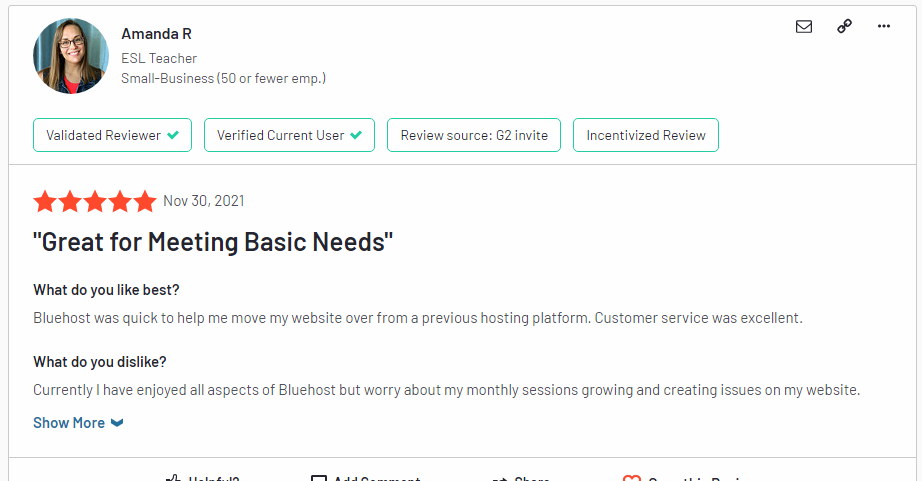 Ease Of Use
Under these criteria, Bluehost has not managed to excel much. Let's talk about the registration process of this hosting provider. It is a bit complicated with a detailed form created so you might end up spending money on irrelevant and expensive extra features.
Their constant upsell popups, promotional banners, and links might irritate users and cause a major distraction while working. They should take measures to solve this issue, or they might lose users with all the popping up upsells.
Domain Names
With Bluehost, you will get free domain registration for the first term. Afterward, you have to spend around a few dollars according to your domain per month registering new domains or for renewal of existing ones. Moreover, all their pricing plans offer unlimited hosting domains, subdomains except for the basic. The basic plan allows domain registration of only one website.
Emails
If you purchase a basic plan of Bluehost, you get around 5 emails and a storage space capacity of 10MBs. Moreover, with high tiers, they provide unlimited emails to their users. But the limit of sending out these emails is 500 per hour; hence if you deal with thousands of customers, Bluehost might not suit you.
Database
Bluehost's basic plan allows the creation of 20 databases; higher pricing plans can accommodate unlimited of these. Maximum database size in these plans sits around 5GB which is enormous and suitable for bulky data storage.
Applications
Bluehost has an automatic installer that you can use to conveniently add important software like Drupal, Fantastico, Joomla, Magento, and much more.
They also have a WordPress installer to handle related sites; however, you might have to install unnecessary plugins that can take up the storage. But the good thing is that you can easily delete them afterward.
Website Space Limitations
The shared website hosting plans of Bluehost offers 50GB of sufficient website space. However, there are some limitations on the number of files allowed; with Basic and other plans, you get the capacity to accommodate around 200,000 files and 300,000 with that of Pro Plan.
Monthly Data Transfer Limitations
There are no limits on the amount of data transferred monthly; Bluehost provides this feature as unmetered.
FTP Accounts And Security
You can create unlimited file transfer protocols with Bluehost, but secured FTP can only be incurred with the main account.
Server Location
Bluehost's centers are mainly located in the United States. If you are a non-North American resident, go for some other hosting provider, as with Bluehost, you might face speed and performance issues on your website. However, it might be a suitable choice for Canadian residents as well. This the reason we have listed it here: 13 Best Web Hosting Canada
Security Features
Security with BlueHost is appreciation-worthy will all the extra add ons that come with their plans.
A few examples are; SiteLock to be safe from hackers, with CodeGuard, you get advanced backup options.
Moreover, they also have a two-factor authentication system integrated for enhanced security. With this common method of security, a hacker won't break your password and have illegal access to your account in any case.
Server Speed
BlueHost needs to improve a lot in the server speed area. As for the price they are charging with their plans, the user should be getting top-notch speed performance from this hosting company.
Uptime
BlueHost excels by providing solid uptime of up to 99.99% in this category. These numbers are essential in providing a smooth user experience and better SEO rankings for your website.
Backups
BlueHost creates downloadable backup files daily, weekly, and monthly which you can easily restore when required. However, it is too little for an advanced hosting provider; other similar services offer up to 20 types of backups that you can choose.
However, their Pro Plan does offer an unlimited advanced backup scheme. You can also purchase their expensive backup add-on to create on-demand backups.
Content Delivery Network
BlueHost lacks its in-built content delivery network, but it is not a problem with the integration of Cloudflare. You can conveniently activate this integration and have CDN for your site; it is highly recommended to do so.
Features Of Servers
BlueHost offers the usage of PHP versions 7.3,7.4, and 8.0 on its plans. Moreover, their databases operate smoothly on MySQL 5.6. A few more programming languages included by BlueHost are Perl, Ruby on Rails, etc.
Refunds, Guarantees, and Warranties
With BlueHost, you can enjoy a straight 30 days money-back guarantee with no ifs and buts. However, their uptime numbers don't come with any warranty or guarantee. Hence in case of downtime due to any malfunction, you won't be compensated.
Customer Support And Assistance Services
Their customer service tier includes live chat support and phone calls. Their technical team is polite and quick to respond. However, the verification of account owners at Bluehost is a bit complicated. They should consider including an easy way out for this category.
Bluehost Overall Ratings
Bluehost is rated 3.8/5 by its customers and users for various reasons.
Bluehost's services are fine but not the best, and with such performance, their pricing also seems to be a bit on the higher side. They need to improve in many areas, specifically in speed numbers.
Bluehost Performance Test
You might need answers to a few questions before investing in any BlueHost plans about their speed and performance. Speed and uptime are major categories that concern the users.
Let's look at the outcomes of one-month-long testing of BlueHost's speed and uptime.
Bluehost Speed Test
Excellent speed is essential for every website runner for a smooth user experience and search engine optimized results.
The comparison of Bluehost's speed with other common hosting providers can be seen in below table:
These speed tests carried on each platform was held under similar size and content of the website for each provider.
With the speed test table at your reach, you must have realized that Bluehost ranks last in the speed category; hence you should avoid it for bulky websites. SiteGround or GreekGeeks are better options in such an instance.
Bluehost Uptime
Many hosting providers promise an uptime of 100%, which is logically impossible in most cases. Technical problems like server load time maintenance or hardware malfunction might result in your server getting down for short periods. The best hosting service minus this part has to provide 100% uptime to their users' servers.
Although the maximum uptime goal when purchasing plans of any hosting provider should be 99.95%, any figure below it will result in the unavailability of your website to your visitors and even search engine.
Let's compare uptime capacities provided by different common hosting providers:
| | | | | |
| --- | --- | --- | --- | --- |
| Provider | 2019 Uptime | 2020 Uptime | 2021 Uptime | Pricing Plan Starts At |
| Kinsta | No data available | 100% | 100% | $30 per month |
| CloudWays | No data available | 100% | 100% | Free/$100 per month |
| SiteGround | 99.98% | 99.97% | 100% | $3.99 per month |
| NameCheap | No data available | No data available | 100% | $1.88 per month |
| WPEngine | No data available | 99.99% | 99.99% | $25 per month |
| BlueHost | 99.98% | 99.97% | 99.99% | $2.95 per month |
| HostGator | 99.94% | 99.91% | 99.99% | $2.75 per month |
| A2 Hosting | 99.93% | 99.99% | 99.98% | $2.99 per month |
| GreenGeeks | No data available | 99.98% | 99.98% | $2.95 per month |
| DreamHost | 100% | 99.99% | 99.96% | $1.99 per month |
| InMotion | 99.97% | 99.73% | 99.95% | $2.99 per month |
| IONOS | No data available | No data available | 99.93% | $0.50 per month |
| Hostinger | 99.62% | 99.48% | 99.92% | $1.99 per month |
Bluehost has remarkably solid uptime numbers and stands high in competition with other top hosting providers. However, they offer no warranty on their uptime; hence in case of a mishap, you won't be compensated, unlike other providers. They usually provide their clients with free hosting options for one month in such instances of downtime due to technical issues.
Bluehost For WordPress Hosting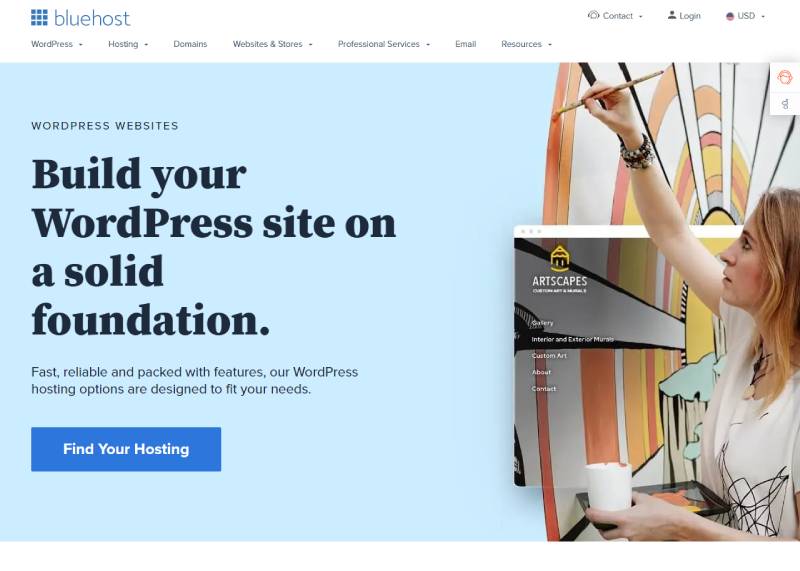 Bluehost is currently powering WordPress Hosting for around 2 million websites. They provide the following essential features for a smooth user experience and high-quality site performance.
WordPress centric dashboard and tools
1 click easy installations
Free of cost domain name
Emails
File transfer protocols
The system of Bluehost for WordPress support is easily scalable, and users can contact their highly supportive technical team for their queries 24/7.
WordPress has recommended Bluehost to its users.
Bluehost Review: Is It Recommended?
So after analyzing every feature of Bluehost and its comparison with other major providers, Bluehost has not managed to make it to the top of my list. However, if you aim to get a hosting provider that offers a total bit rate and unmetered storage, you can go for this provider.
As discussed above, they still need to improve in their speed performance area as they came last compared with other top providers. Hence, if speed is your major concern, give it a miss and go for something better, as seen in the list.
For uptime, no doubt, they managed to give complete competition to top hosting providers like SiteGroud, GreenGeeks, etc., as you can see above as well.
I would say they offer quite cheap WordPress hosting and affordable first term plans for their pricing scheme. But it all goes wasted with their expensive renewal charges that might not prove to be a good fit for your budget.
Moreover, you can still try Bluehost for 30 days without paying a single buck and then decide based on your prior experience.
Alternatives Of Bluehost
If you choose Bluehost as your hosting service provider, your site will probably work fine, especially if you are a North American resident.
But, in my opinion, a few more similar service providers can provide you with better features at comparatively lower prices. Moreover, the packages for the same price might include advanced options that Bluehost lack, like backup options, staging area, etc.
Let's look at some alternatives to Bluehost and why you should opt for an alternative best web hosting provider instead of Bluehost.
For efficient site performance and speed results in minimum prices, you can go for either A2 Hosting or Dream Host. They are designed to incur stable hosting services with their economic pricing plans; their services are almost similar or better than those offered by Bluehost, but money is the main focus here.
A few other better options for web hosting to consider are SiteGround and GreenGeeks, when your main focus is on your website's faster speed and stability. Their plans are highly affordable and come with a few better options than Bluehost, like advanced backup capacity, etc., besides providing increased speed performance.
For excellent customer support services and technical guide a few minutes away from you, you should go for hosting providers like SiteGround, InMotion, and DreamHost.
If you are running a WordPress-optimized website, SiteGround is the perfect choice for you. This hosting service provider has all-in-one features to run your WordPress site smoothly. Although you might find WordPress hosting with all the providers mentioned earlier, SiteGround is the ultimate winner for its attributes like built-in cache plugin, speed optimization features, etc.
However, if your ultimate choice of hosting service provider remains Bluehost, you can try its features for 30 days free with a 30-day money-back guarantee. After this trial, you can decide whether to invest here or look for any other available options mentioned above.
Read More: Siteground vs Bluehost: Which is Better for WordPress
Bluehost FAQs
Let's have a look at some of the frequently asked questions by users already using Bluehost as their hosting company or intend to invest in their plans.
Can an online store be created on Bluehost by using the WooCommerce feature?
Bluehost can prove to be a perfect choice for new online startups as their WooCommerce support is considered the best. You can invest in their starter plan to achieve your goal of the successful launch of your online store.
However, as soon as your store gets popular, it might experience traffic surges that are not possible for the starter plan to handle. For this reason, you would require to upgrade your plan to higher tiers which are a bit costly.
Is Bluehost a good choice for newbies in the world of the web?
Yes, of course. Bluehost is one of the ultimate beginner-friendly platforms currently available in the market. They have WordPress installed automatically on their platform for the users as soon as they sign up. Moreover, their user-friendly CPanel hosting is another addition to the list of features making actions easier for web runners.
They also offer detailed guidelines, video tutorials, and an articles library that is one click away and stores answer to thousands of queries. Moreover, live chat and phone support available 24/7 are like the cherry on the cake.
Is Bluehost capable of handling traffic surges?
Bluehost offered plans are perfect for small and medium startups. Their offered hosting services could handle over 100 visitors at once without any glitch; it is tested by stress test.
Although the plans offered by Bluehost can handle mild traffic spikes, it is completely not a good idea for large businesses that have thousands of visitors at one time. Moreover, higher tiers can handle more traffic but are quite costly.
Why does WordPress recommend Bluehost?
Bluehost has formed a collaboration with WordPress in 2006. Moreover, it is ranked as one of the top hosting providers in the market and provides extensive managed WordPress support with great capabilities.
They have all the features to optimize WordPress sites perfectly and allow top-notch speed, stability, and performance. Moreover, WordPress engineers in their technical team are always available at your service.
Is a credit card required to sign up on Bluehost?
BlueHost does accept credit card payments, but if you are not comfortable paying through this, you can opt for PayPal as your payment method during checkout.
Is Bluehost in any way better than GoDaddy as a website hosting provider?
Yes, it is better than GoDaddy for its comparatively extensive support. Their CPanel and dashboard are easy to navigate and beginner-friendly. Moreover, pricing plans for small startup owners by Bluehost are affordable relatively.
What is the difference between Bluehost and SiteGround or HostGator?
SiteGround's pricing plans are a bit more costly than that of Bluehost. Bluehost's starter plans cost around $2.95 per month and provide a free domain name. In contrast, SiteGround's basic plans start at $3.99, and no such feature is added as a free domain. However, there is no doubt that SiteGround offers excellent speed results and security add-ons.
Comparing Bluehost with HostGator, both provide similar services in terms of hosting products, functionality units, site migration capabilities, pricing plans, and much more.
You can also find comparison reviews of Bluehost with other hosting companies like  InMotion or DreamHost. Comparatively, Bluehost lacks in providing faster speed but does not fail to offer a smooth user experience through WordPress website builder integration with many editable templates.
What is the location of Bluehost servers?
Bluehost's server centre is located in Utah in the United States of America. Their primary data centre is spread around 50,000 square feet and is well equipped to deal with all the technical issues with utmost quick response.
Which Bluehost plan would be suitable for me?
If you are a newbie in online business, you should go for their basic plan. Later with your store's progress, you can upgrade the plan anytime.
Conclusion: Is Bluehost Worth It?
With all the important information about Bluehost at your end, you might have been able to make up your mind on whether to opt for Bluehost as your ultimate hosting service provider or hunt for another suitable company.
To conclude, I would say that, Bluehost has managed to gain its place as the top hosting company in the digital market. They have multiple hosting products and features that make your website ideal for running online stores.
Moreover, you can solve your queries through their 24/7 live chat and team of technical experts irrespective of the plan you have purchased.
Their starting plans are highly affordable for small eCommerce businesses and fulfill the requirement of essential features.
For beginners, it is the perfect hosting provider with budget-friendly plans and extensive tools. With the website's growth, they can conveniently upgrade to high-tier plans.

As one of the co-founders of Codeless, I bring to the table expertise in developing WordPress and web applications, as well as a track record of effectively managing hosting and servers. My passion for acquiring knowledge and my enthusiasm for constructing and testing novel technologies drive me to constantly innovate and improve.
Expertise:
Web Development,
Web Design,
Linux System Administration,
SEO
Experience:
15 years of experience in Web Development by developing and designing some of the most popular WordPress Themes like Specular, Tower, and Folie.
Education:
I have a degree in Engineering Physics and MSC in Material Science and Opto Electronics.