Selecting the right high-traffic WordPress hosting is essential for any growing online business. With a myriad of choices available, it can be challenging to find the perfect solution for your unique needs.
Our handpicked list of the top best WordPress hosting providers for high-traffic websites aims to simplify your decision-making process.
Crafted with care, this article features providers that excel in performance, reliability, and scalability.
Based on my personal experience and tests, DigitalOcean is the best provider for high-traffic WordPress websites.
The Top 7 Best High-Traffic WordPress Hosting

Developer-Friendly
Flexible Pricing
High Performance
See Pros & Cons
Pros
Wide range of Droplet configurations
Easy-to-use control panel
Active community and extensive documentation
Scalable resources and pay-as-you-go pricing
1-click app installations
Cons
Limited managed services
Additional costs for backups and snapshots
No free domain or SSL certificates
DigitalOcean has emerged as a powerful high-traffic WordPress hosting solution for those looking to manage substantial traffic on their websites. With standout features and a competitive pricing model, this hosting provider has become a popular choice for those seeking to optimize their online presence.
If you are going to choose DigitalOcean here is the tutorial: How to Host WordPress on DigitalOcean 2023 (Guide)
Ease of Use
DigitalOcean offers an intuitive admin page that streamlines the process of managing your WordPress Hosting. User Gergely Anton found this feature to be both useful and powerful, making it easier to manage VPSs compared to other providers he tried, like Hostinger and Namecheap.
Key Features
One of the main reasons users like Cate Q are impressed with DigitalOcean is its up-to-date documentation and affordable prices. Cate Q runs a WordPress install on a $10 droplet, serving about 50k unique page views a month and finds DigitalOcean to be a superior choice over Kinsta, which was three times more expensive.
Global Infrastructure
DigitalOcean boasts an expansive network of 15 data center in 9 locations that ensures optimal performance.
Pricing
DigitalOcean offers a flexible pricing model that caters to a variety of budgets. With affordable plans starting at just $5 per month, this hosting provider appeals to both small businesses and larger enterprises.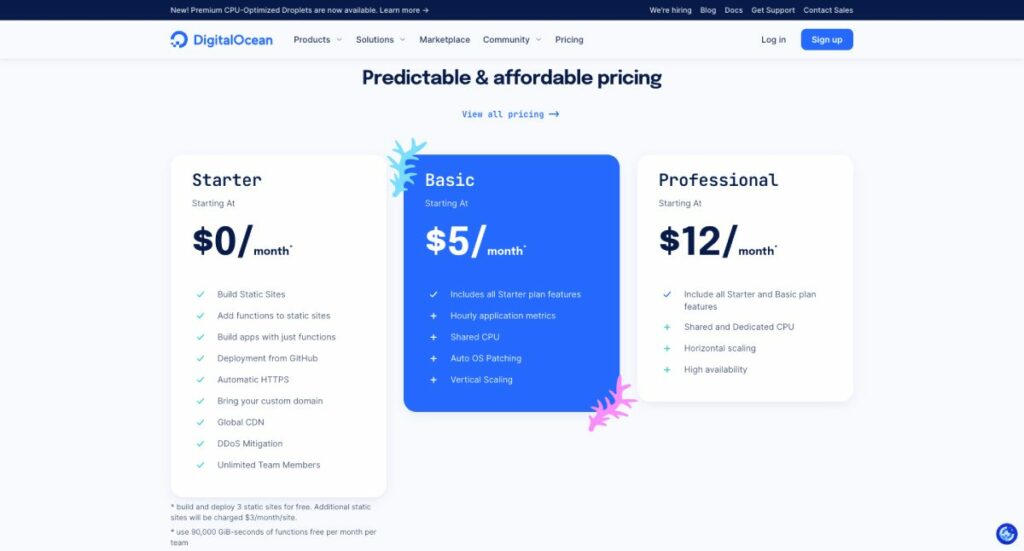 Customer Support
Users like Drayfocus have praised the quick, useful, and professional technical assistance provided by DigitalOcean's support team. Drayfocus experienced an issue with his WordPress droplet and was able to resolve it within 12 hours, thanks to the timely support.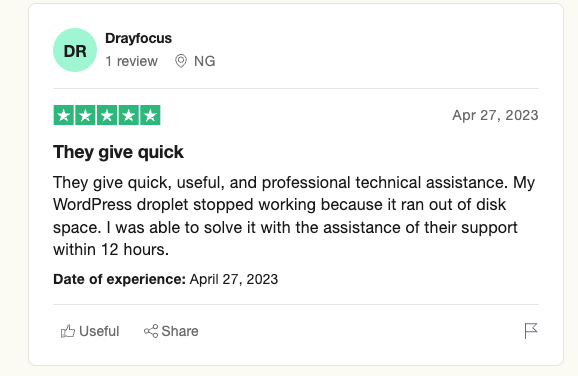 Bandwidth
DigitalOcean offers 1TB generous bandwidth allowances with its basic plan, ensuring that your website can handle large volumes of traffic without compromising on performance.
Performance
DigitalOcean Web Average Latency for all plans it s offer is 49.8ms and tested with P99 test is 145ms.
P99 tells how the hosting provider responds to high requests and as you can see the web average latency goes from 49.8ms to 145ms. It stays to the 99 percentile which makes DigitalOcean a good hosting provider also on high-traffic websites.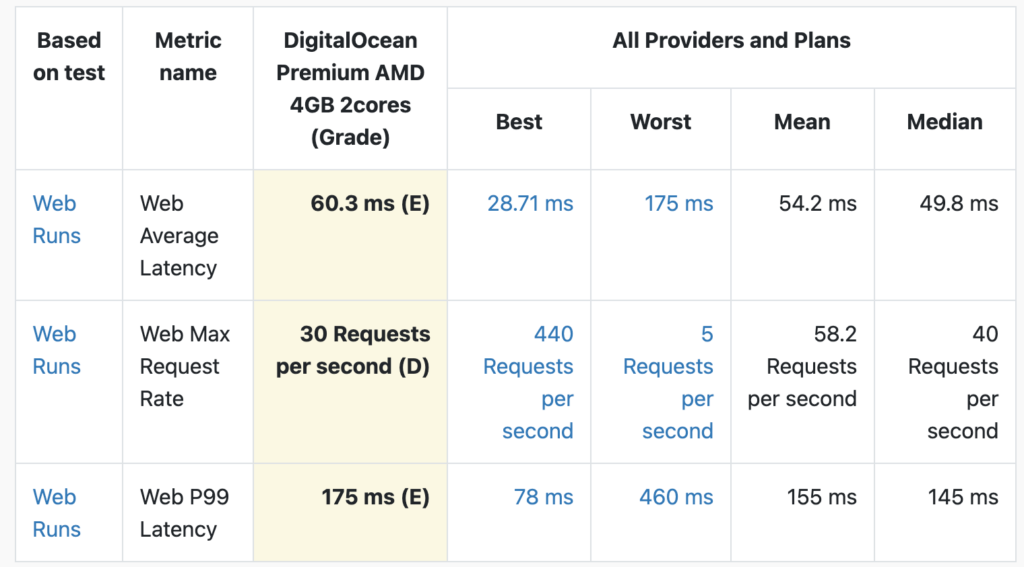 Read More: Vultr vs DigitalOcean vs Linode: Who Leads?

Managed WordPress Hosting
Google Cloud Platform
Free CDN & SSL
See Pros & Cons
Pros
High-performance hosting
Free migrations
Top-notch security
Expert WordPress support
Daily backups
Cons
Higher cost compared to shared hosting
No email hosting included
Only for WordPress websites
Kinsta, a leading managed WordPress hosting provider, is renowned for its enterprise-level features and performance tailored for heavy-traffic websites.
Built on Google's premium tier network and high-end CPUs, Kinsta boasts lightning-fast speed, ensuring a seamless experience for both site owners and visitors alike.
With an impressive CDN powered by HTTP/3, Edge caching, and 275+ global locations, Kinsta can reduce load times by up to an astounding 49%. But is this hosting service suitable for your website? Let's dive deeper into its features, benefits, and drawbacks.
Ease of Use:
Kinsta's intuitive MyKinsta dashboard simplifies site management, allowing you to monitor and optimize your WordPress sites, databases, and applications in one place. Additionally, Kinsta provides free migrations for new customers, a 30-day money-back guarantee, and an easy-to-use DevKinsta tool for developers.
Key Features
When it comes to features crucial for WordPress websites with a lot of traffic, Kinsta excels in various aspects. Its Application Performance Monitoring (APM) Tool helps identify performance bottlenecks, enhancing site speed. Furthermore, Kinsta's robust security features include an enterprise-level firewall, DDoS protection, simplified SSL management with free Wildcard SSL support, and a malware security pledge.
Global Infrastructure
Kinsta's global infrastructure is another significant advantage, ensuring that your site loads quickly for visitors worldwide. You can choose between 35 data centers all around the globe.
Pricing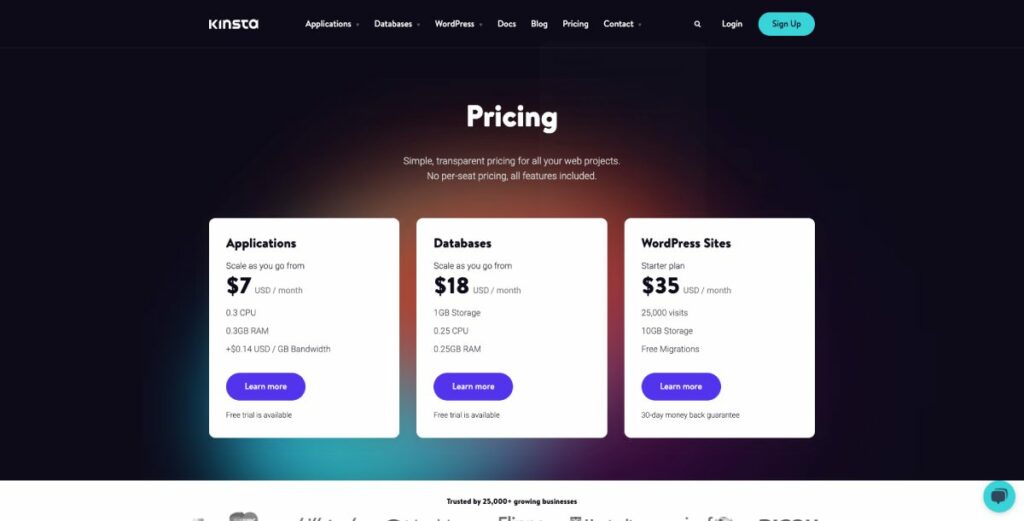 Its pricing model accommodates different use cases, such as single-site plans, agency plans, WooCommerce plans, and custom plans. However, some users have reported occasional site downtime and insufficient PHP memory for their WooCommerce sites, which the responsive support team promptly addresses.
Customer Support
Despite some negative feedback, many customers believe that Kinsta's premium pricing is justified by its top-notch performance, security, and expert support. It's important to carefully consider your specific needs and potential limitations when deciding on a hosting provider for your WordPress site.
Performance
Kinsta uses Google Cloud Engine servers so we have tested their web average latency and which is 49.9ms and P99 latency 145ms. Kinsta can support websites with high-traffic easily as shown by the stress test here: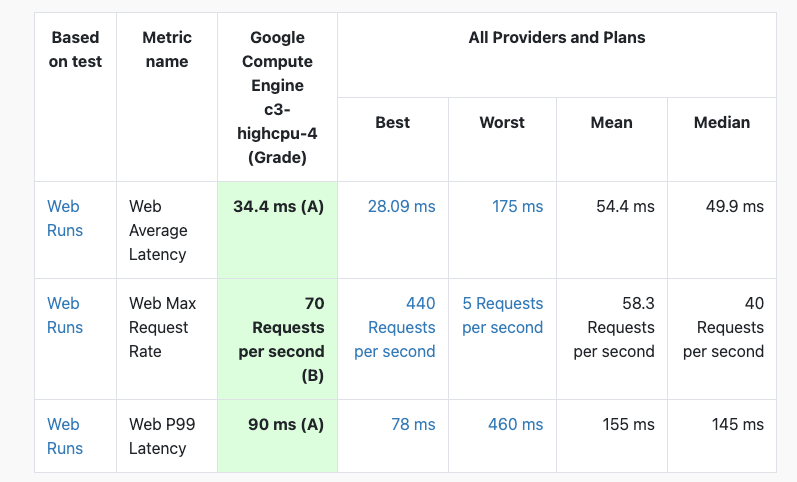 Read More: Kinsta Review

Managed Cloud Hosting
Flexible Pricing
WordPress Optimized
See Pros & Cons
Pros
High-performance hosting
Choice of cloud hosting providers
Easy application deployment and management
Free SSL certificate
24/7 support
Cons
No domain registration
Requires some technical knowledge
No email hosting
CloudWays, a managed cloud WordPress hosting platform, offers high-performance servers specifically designed for high-traffic WordPress sites. With features such as SSD-based hosting, HTTP/2-enabled servers, and a built-in cache mechanism, CloudWays ensures your website delivers a smooth and efficient user experience, even during periods of heavy traffic.
Ease of Use
CloudWays offers a user-friendly dashboard that allows you to manage your server resources easily. However, some technical expertise may be required, and you may need to hire a developer or seek technical support for server management.
Key Features
Some of the standout features of CloudWays include built-in caching mechanisms (using Redis, Varnish, and Memcached), NGINX and Apache web servers, MariaDB/MySQL and PHP-FPM databases, and the in-house Breeze cache plugin. These features help improve the speed and performance of your WordPress website, ensuring your site remains responsive even during high-traffic periods.
Global Infrastructure
With CloudWays, you can choose from multiple cloud providers such as Amazon Web Services (AWS), Google Cloud, and DigitalOcean, giving you the flexibility to select the best option for your specific needs and budget. This, in turn, enables you to leverage their global infrastructure and data center locations for improved performance.
Pricing and Plans
CloudWays offers a free trial with various hosting plans, such as DO1GB (up to 25 GB storage and 1 TB bandwidth), DO2GB (up to 50 GB storage and 2 TB bandwidth), and DO4GB (up to 80 GB storage and 4 TB bandwidth). This allows you to test their services and choose the plan that best suits your requirements.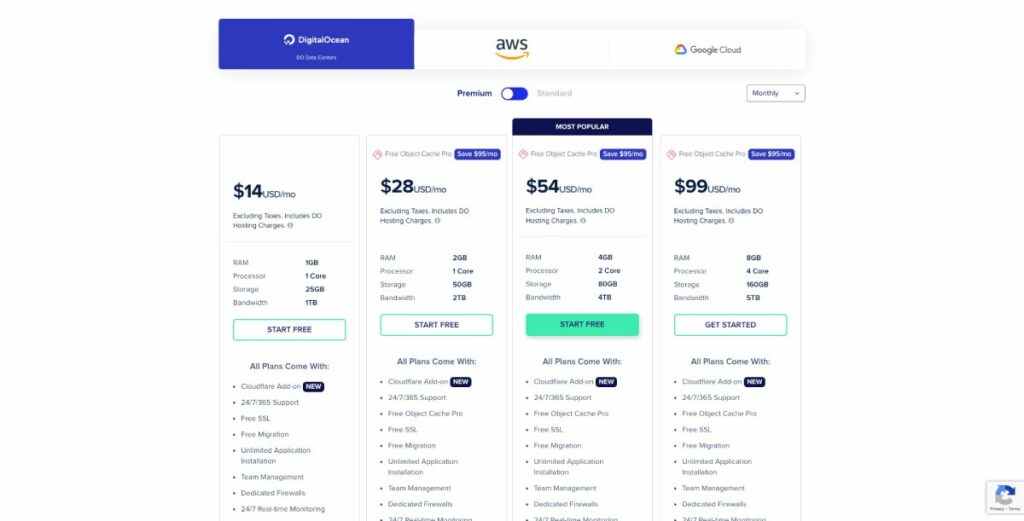 Customer Support
Although CloudWays provides 24/7 customer support, they primarily focus on server-related issues. For WordPress-specific assistance, you may need to seek support elsewhere.
Bandwidth
CloudWays offers an impressive range of bandwidth options, enabling you to handle high-traffic periods with ease. This ensures that your website remains accessible and responsive for all users, regardless of fluctuations in traffic volume.
Performance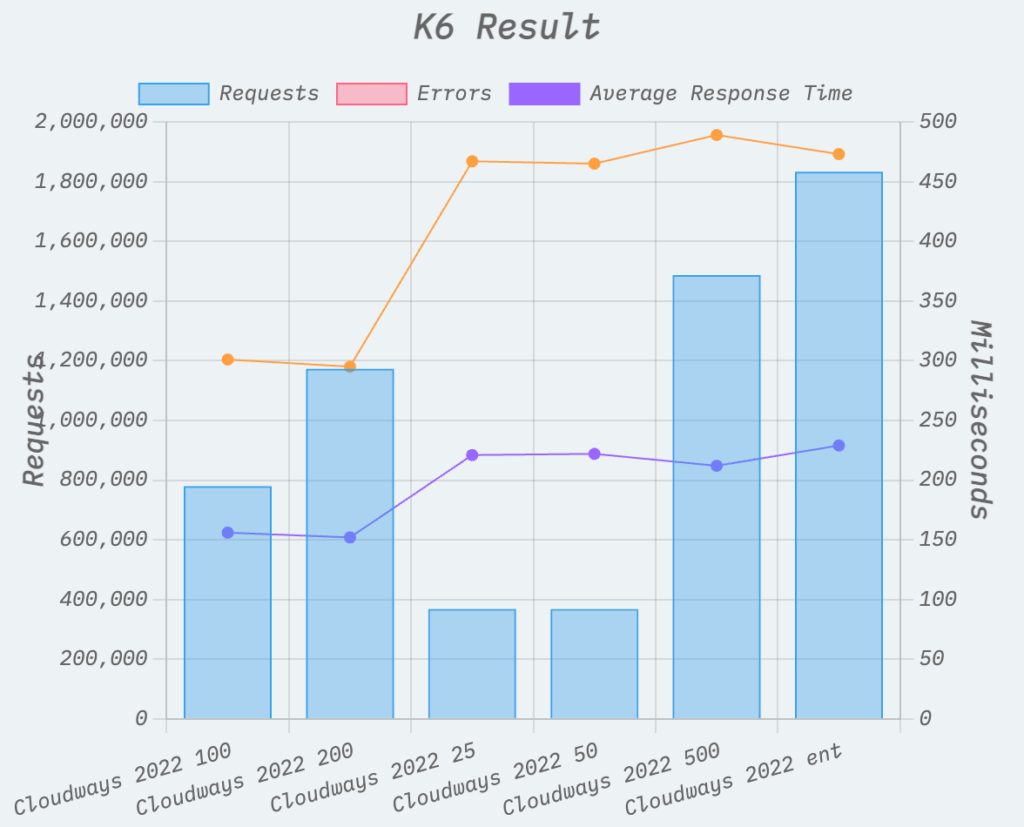 After the stress test made with k6.io we found that the response time goes from Average Response time goes from 229ms to 473ms on P95 stress test.
As you can see Cloudways is able to support high web requests without any issues except a little drop in response time which is totally acceptable.

Managed WordPress Hosting
Fast Load Times
Expert Support
See Pros & Cons
Pros
Top-tier performance and speed
Automatic daily backups
Free SSL certificate
Staging environment
24/7 customer support
Cons
Expensive for small businesses
No email hosting
Limited to WordPress sites
Wp Engine is a known managed WordPress hosting provider easy to use with a lot of features.
Ease of Use
WP Engine stands out in the market as a top choice for high-traffic WordPress hosting, thanks to its focus on providing an intuitive platform, excellent customer support, and powerful features specifically tailored for high-traffic sites. The easy-to-use dashboard and Smart Plugin Manager make managing your site a breeze, allowing you to focus on your website's growth and success.
Key Features
One of the key features that a high-performance WordPress hosting should have is a robust infrastructure. WP Engine boasts a global infrastructure with data center locations across the world, ensuring optimal performance and low latency. Their platform is built on AWS cloud infrastructure and utilizes an Nginx server stack, which is known for its speed and reliability. This helps in handling traffic spikes and delivering a smooth user experience.
Pricing
WP Engine's pricing model offers a range of plans to suit the needs of various websites. For high-traffic sites, the Growth plan (starting at $77 per month) supports up to 100,000 visits, while the Scale plan (starting at $193 per month) caters to as many as 400,000 visits. The custom plan is available for even larger needs, providing tailored solutions to accommodate your website's requirements.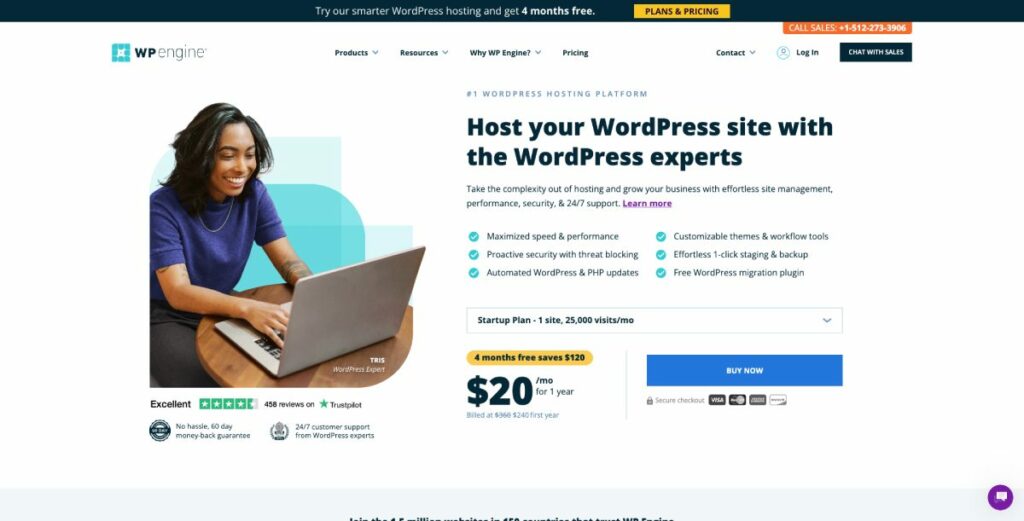 Customer Support
As for customer support, WP Engine has received praise from users for its responsive and knowledgeable team, who are always ready to assist with any issues. They also offer valuable resources, such as articles, white papers, and case studies, to help users optimize their WordPress websites.
Bandwidth
High-traffic websites require WordPress hosting with ample bandwidth, and WP Engine delivers on this front with its 99.95% uptime guarantee. This ensures that your website is consistently available to serve your growing audience.
Performance
With server-level caching via Varnish and Memcached, WP Engine ensures fast page load times for high-traffic sites. Additionally, the built-in CDN service helps reduce server load, improving global load times. Their commitment to security includes regular malware scanning, automatic WordPress updates, and multiple firewalls to protect your site from potential threats.
New Relic APM showed that web transaction time typically sits at 250 ms. However, during the load test, it spiked to 1,300 ms per request, with the majority of processing time attributed to PHP and Memcached. You can read here the whole study: WP Engine Stress Test.
This test shows that WP Engine can easily support a high-traffic website even at its peak hours.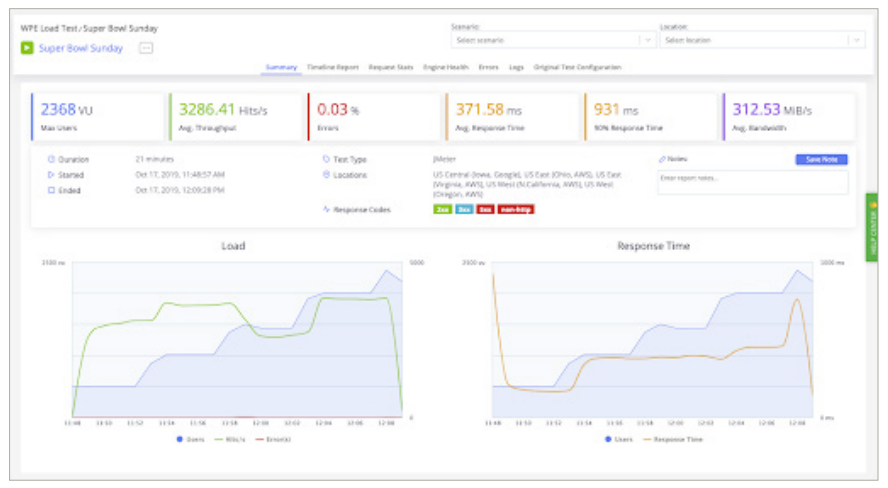 High Performance
Customer Support
WordPress Optimized
Starting from $6.99/month
See Pros & Cons
Pros
WordPress staging
Free SSL certificate
Free CDN
High-speed server infrastructure
24/7 customer support
Cons
Higher pricing compared to competitors
Setup fee for monthly billing
No free domain included
SiteGround has established itself as an affordable and reliable solution for high-traffic WordPress hosting. With a wide range of hosting services, SiteGround caters to different business needs, from small and medium-sized businesses to large online sellers. In this review, we delve into the key features, performance, and pricing that make SiteGround an excellent choice for WordPress websites with traffic.
Ease of Use
SiteGround is renowned for its user-friendly interface and seamless WordPress integration, making it a top choice for both beginners and experienced web developers. The company utilizes premium Google Cloud infrastructure, ensuring reliability, speed, and security for high volume WordPress sites. Their custom implementation of PHP and MySQL, along with static and dynamic caching, can boost website performance, making WordPress sites up to five times faster.
Key Features
SiteGround's managed WordPress hosting plans include advanced features such as staging, server-level caching, and automatic updates, all at a competitive price. The GoGeek plan, in particular, is designed to support up to 100,000 monthly visits, with smart caching and optimization capabilities that can accommodate even higher traffic. For those seeking more robust solutions, SiteGround's cloud hosting plans offer dedicated and managed resources at an affordable price point, ensuring optimal performance and scalability for high-traffic sites.
Global Infrastructure
SiteGround leverages the power of Google Cloud Platform, providing a worldwide network of data center locations. This allows customers to choose a server location close to their target audience, ensuring faster website loading times and improved user experience. Moreover, SiteGround offers CDN integration via Cloudflare, further enhancing site performance and security.
Pricing
SiteGround's pricing model is transparent and competitive. The GoGeek shared plan starts at $5.99 per month (promo pricing), supporting up to 100,000 monthly visits. For sites with even higher traffic demands, the cloud hosting plans range from $100 to $400 per month, with a custom cloud plan option available based on your specific needs.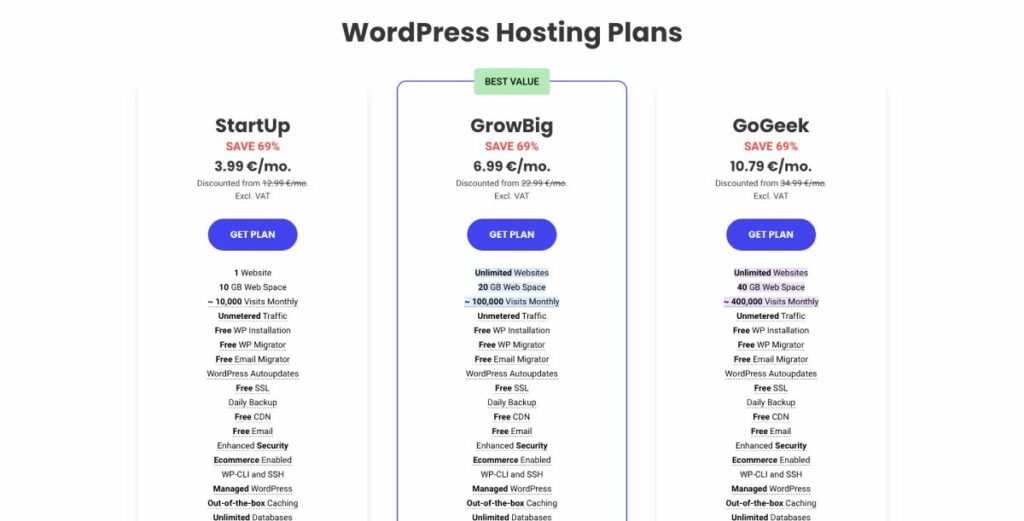 Customer Support
SiteGround's customer care team is available 24/7, providing fast, multi-skilled, and helpful support. Many customers, including Mike, Kristie, and Christian, have reported positive experiences with the support team, praising their efficiency and knowledge. Additionally, SiteGround offers resources such as tutorials, eBooks, and a knowledge base to help users make the most of their hosting services.
Bandwidth
SiteGround places no strict limits on bandwidth, making it ideal for websites with a lot of visitors. Their 99.9% uptime guarantee, smart WAF, and distributed backups ensure that your website stays secure and available at all times.
Performance
On a stress test with K6 tool Siteground P95, response time goes at a maximum of 145ms from the average response time of 42ms.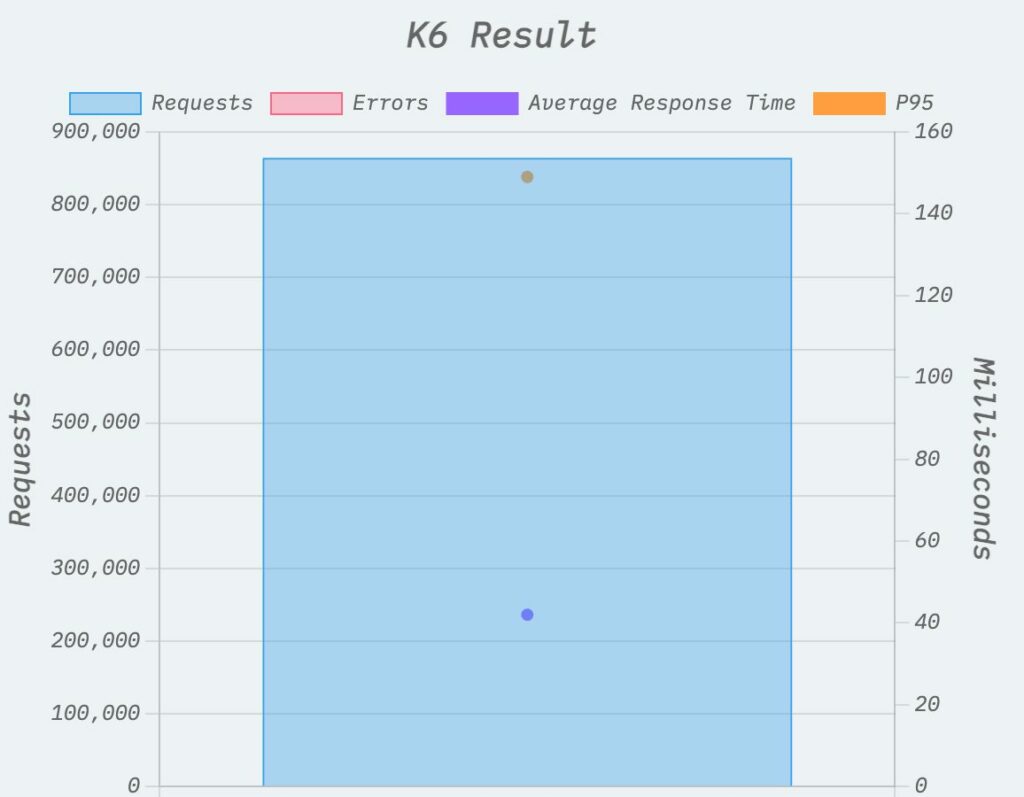 High Performance
Free SSL Certificate
Anytime Money Back Guarantee
Starting from $2.99/month
See Pros & Cons
Pros
Fast server speeds
WordPress optimized
Free SSL certificate
User-friendly control panel
24/7 customer support
Cons
Higher renewal prices
Limited storage on basic plans
Phone support not available 24/7
A2 Hosting has made a name for itself in the WordPress Hosting market, boasting a range of features designed to cater to websites experiencing significant traffic volumes. With a focus on performance, reliability, and top-notch customer support, A2 Hosting aims to provide an optimal hosting environment for WordPress sites. In this review, we'll explore the various features and aspects of A2 Hosting that make it a strong contender in the high-traffic hosting market.
Ease of Use
A2 Hosting offers a user-friendly and simple interface for managing your WordPress Hosting. The company provides 1-click WordPress installation and free site migration, ensuring a smooth transition for your website. This ease of use makes A2 Hosting an excellent choice for both newcomers and experienced users alike.
Key Features
Some key features of A2 Hosting's hosting include the use of LiteSpeed cache, a cutting-edge caching technology that significantly improves website performance. Additionally, A2 Hosting utilizes Turbo servers, which offer increased speed and reliability compared to traditional shared hosting servers. However, on the downside, some users have reported slow response times and technical issues, indicating room for improvement in terms of stability and performance.
Global Infrastructure
A2 Hosting's global infrastructure includes data center locations in the United States, Europe, and Asia. This extensive network ensures that your website is accessible to users worldwide while minimizing latency.
Pricing
When it comes to pricing, A2 Hosting offers three main plans: Lite, Swift, and Turbo. The Lite plan starts at $2.99 per month, while the Turbo plan, designed for the highest performance, starts at $9.99 per month. Keep in mind, though, that these initial prices are promotional and may increase upon renewal.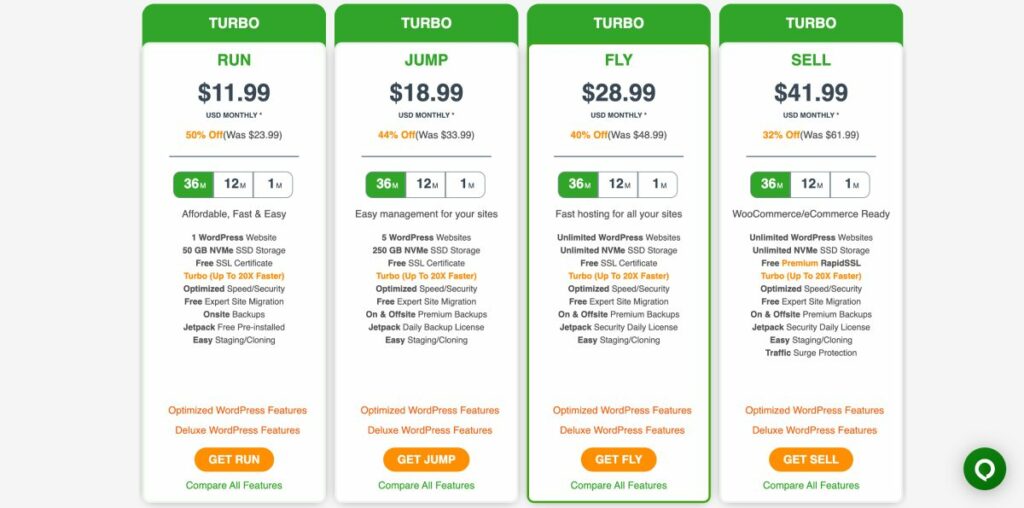 Customer Support
Customer support is a critical aspect of any hosting provider, and A2 Hosting is no exception. The company offers 24/7 support through phone, live chat, and ticketing, as well as a vast knowledge base for self-help resources. While some customers have praised the responsiveness and expertise of A2 Hosting's support staff, others have experienced long wait times and less-than-satisfactory problem resolution.
Bandwidth
A2 Hosting provides unmetered bandwidth for all WordPress Hosting plans, ensuring that your website can handle large volumes of traffic without incurring additional costs.
Performance
K6 P95 Stress is passed with a little latency on response time from 121ms to 235ms.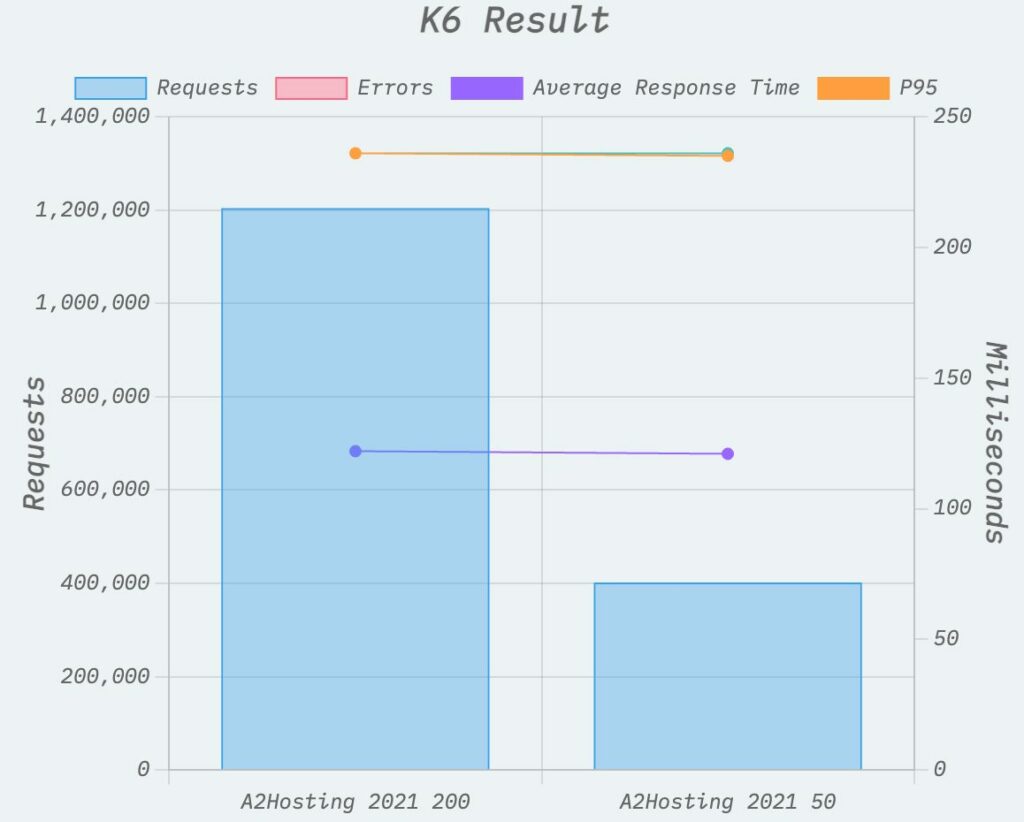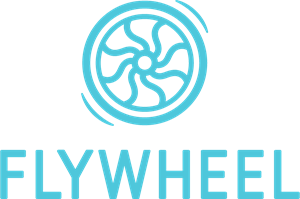 Managed WordPress Hosting
Free Migrations
Performance-Optimized
See Pros & Cons
Pros
Managed WordPress hosting
Free site migrations
Performance optimization
Staging sites
Collaboration tools
Cons
Plans can be expensive compared to shared hosting
Only for WordPress websites
No email hosting
Flywheel is a managed WordPress hosting provider that caters specifically to high-traffic websites, offering exceptional performance, scalability, and support for your growing online presence.
With a suite of advanced features and an intuitive dashboard for easy site management, Flywheel is trusted by over 35,000 agencies and creative brands worldwide.
It is the perfect WordPress hosting for agencies that want to host their client's websites.
Ease of Use
One of Flywheel's greatest strengths is its user-friendly dashboard, allowing you to manage your sites, collaborate with team members, and seamlessly communicate with clients. They also offer free migrations and a custom control panel that is both intuitive and easy to use, making it ideal for those with limited technical knowledge.
Key Features
Flywheel's WordPress hosting plans come with a host of powerful features tailored to help your website thrive. These include FlyCache, a managed caching system designed for ultra-fast loading speeds, as well as a robust CDN backed by Fastly for improved performance and decreased load times. Additionally, Flywheel's auto-healing technology allows your site to recover quickly from service failures, ensuring minimal disruptions in the face of increased traffic.
Global Infrastructure
Flywheel boasts a reliable global infrastructure, ensuring your site remains accessible and load times remain minimal, regardless of where your visitors are located. Their data centers are strategically placed around the world, providing you with the flexibility to choose a location closest to your target audience.
Pricing and Plans
Flywheel offers competitive pricing with four managed hosting plans, as well as the option to create a custom plan to suit your unique needs. Plans start at just $13 per month, and you'll receive two months of free hosting when you pay annually. Furthermore, Flywheel offers a 14-day trial, allowing you to test their services before committing.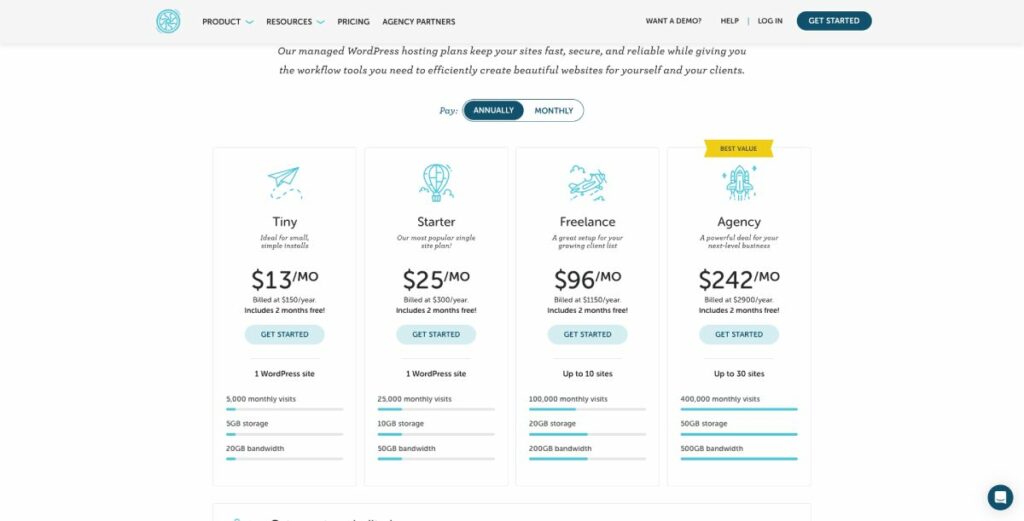 Customer Support
While some users have faced challenges with Flywheel's customer support, the majority of customers appreciate their responsive and knowledgeable Happiness Engineers. Available 24/7, Flywheel's support staff is equipped to assist you with any issues that may arise, ensuring the smooth operation of your high-traffic WordPress site.
Bandwidth
Flywheel's plans cater to various levels of website traffic, with bandwidth options ranging from 5,000 to 400,000 visits per month. As your site's traffic grows, you can easily upgrade to a higher tier or add more resources through their personalized hosting plans.
Performance
As you can see on the K6 test we have done Flywheel on the peak stress comes with an average response time of 1592ms. It is not bad in general but is the highest response time from all the listings above.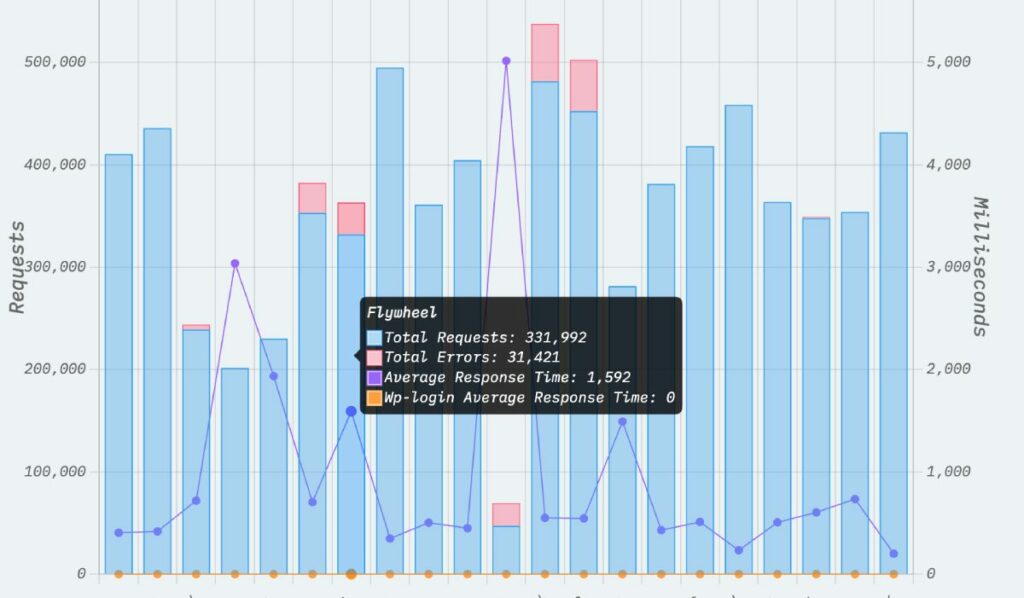 Conclusion
By considering the top seven options we have presented in this article, you can make a well-informed decision based on your specific needs and requirements.
Each provider offers unique features and benefits, ensuring optimal performance, reliability, and scalability for your high-traffic website.
Remember to evaluate your options carefully and prioritize your site's needs in order to find the perfect hosting partner. With the right choice, you can rest assured that your website will continue to thrive, catering to your growing audience with ease and efficiency.

As one of the co-founders of Codeless, I bring to the table expertise in developing WordPress and web applications, as well as a track record of effectively managing hosting and servers. My passion for acquiring knowledge and my enthusiasm for constructing and testing novel technologies drive me to constantly innovate and improve.
Expertise:
Web Development,
Web Design,
Linux System Administration,
SEO
Experience:
15 years of experience in Web Development by developing and designing some of the most popular WordPress Themes like Specular, Tower, and Folie.
Education:
I have a degree in Engineering Physics and MSC in Material Science and Opto Electronics.