Today we will review one of the best managed WordPress hosting – Kinsta.
In this detailed Kinsta review, you will learn everything about this hosting provider. You will know whether it is suitable for your website or not. By the end of this article, you will have enough information to make the right choice.
To find out just how amazing it is, I hosted a test website with Kinsta for a few months to see if it could truly stand up to its claims.
In the process, I received a truly enterprise-level hosting experience, with rock-solid reliability, lightning-fast page-loading speeds, and a level of support that would put most enterprise-level companies to shame. Kinsta was everything I could have hoped for and more.
What is Kinsta? An Overview

Premium Managed WordPress Hosting
Suitable for Enterprise
High Performance and Speed
Starts from: $35 / month
30-day money-back guaranteed
See Pros & Cons
Pros
Solid Speed and Uptime
Custom-made for WordPress
Different data centers locations
Automatic site backups
Free website migrations
Cons
High prices
No unlimited storage or monthly visits
WordPress only
Kinsta is one of the most popular managed WordPress hosting providers in the market. It is suitable for high-traffic websites and enterprises. They offer enterprise-level hosting for WordPress websites with high traffic.
Mark Gavalda founded Kinsta in 2013. The company has its headquarters in San Francisco, California, and offices in London, England.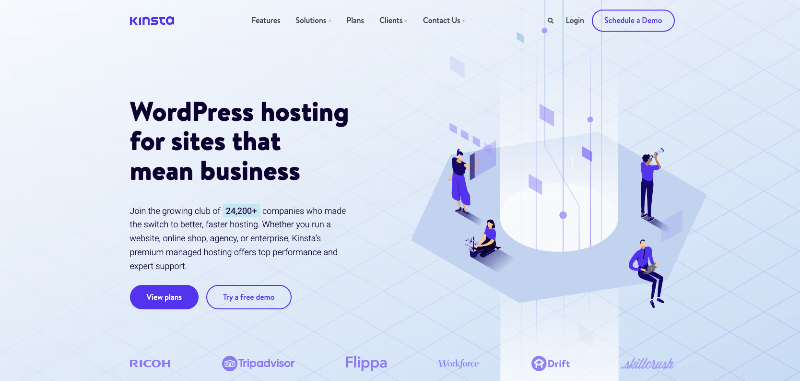 What is Kinsta used for?
Kinsta is probably the best hosting solution for large enterprises and businesses that rely on their website for generating revenue. Thanks to its speed optimization, it also works well for bloggers who want more traffic and a site that loads quickly on all devices.
Kinsta also works well for eCommerce stores thanks to its one-click installation of popular shopping carts. The company offers 24/7 support, a money-back guarantee, and a risk-free trial on its hosting plans.
When not to use Kinsta web hosting?
If you don't need a high level of security, there are cheaper options. If you are not looking for premium 24/7 support, there are cheaper options.
Finally, if you don't need premium WordPress hosting features (e.g. WP-CLI, staging server, one-click staging deployment, private domains, etc.), there are cheaper options.
If you do need a high level of security, a premium support team, or premium features, Kinsta is the best option on the market.
Kinsta Rating: Breakdown
Kinsta scored a total of 4.7 stars out of 5 in our research making Kinsta one of the best and fastest WordPress hosting. The area we tested are listed below:
Features
Ease of Use
Performance (Speed and Uptime)
Pricing
Support
Here is the final score for each area:
| | | |
| --- | --- | --- |
| Category | Rate /5 | Expert Insights |
| Features | 4.1 | Kinsta has awesome features for advanced users and enterprise business levels but has some limitations. You don't have unlimited storage or monthly visits. More about features. |
| Ease of Use | 4.6 | Extremely easy to use, with a custom-made control panel. Create a website with only one click. More about Ease of Use. |
| Performance | 4.9 | Absolutely the best performance we have tested so far. Fastest average loading time and a solid 100% Uptime. More about Performance. |
| Pricing | 3.5 | Kinsta is a bit pricey for small businesses. If you are not looking for a scalable hosting solution that can power a website with daily traffic spikes, better check cheaper alternatives. More about Kinsta Pricing. |
| Support | 4.2 | They provide live chat, phone and tickets system. The team can help even with advanced tasks. More about Support. |
| Overall | 4.7 | www.kinsta.com |
Kinsta Features
Let's look at some of the best features you can find on Kinsta.
Uptime & Monitoring
Your website will be checked every 2 minutes for uptime using any Kinsta plan. Uptime is important for SEO and user experience.
People will not stay on your site if your site is down often. A monitoring system will alert you if your website goes down and you can fix the problem as soon as possible.
You can also set up monitoring on your own with Pingdom, Uptime, or another monitoring system.
Easy Management Dashboard
Kinsta includes a management dashboard where you can view and edit site settings, troubleshoot issues, set up security and view site analytics.
You can also install multiple sites from one dashboard. Kinsta offers a wide range of site management and security features, including Site cloning; Importing existing sites; One-click staging sites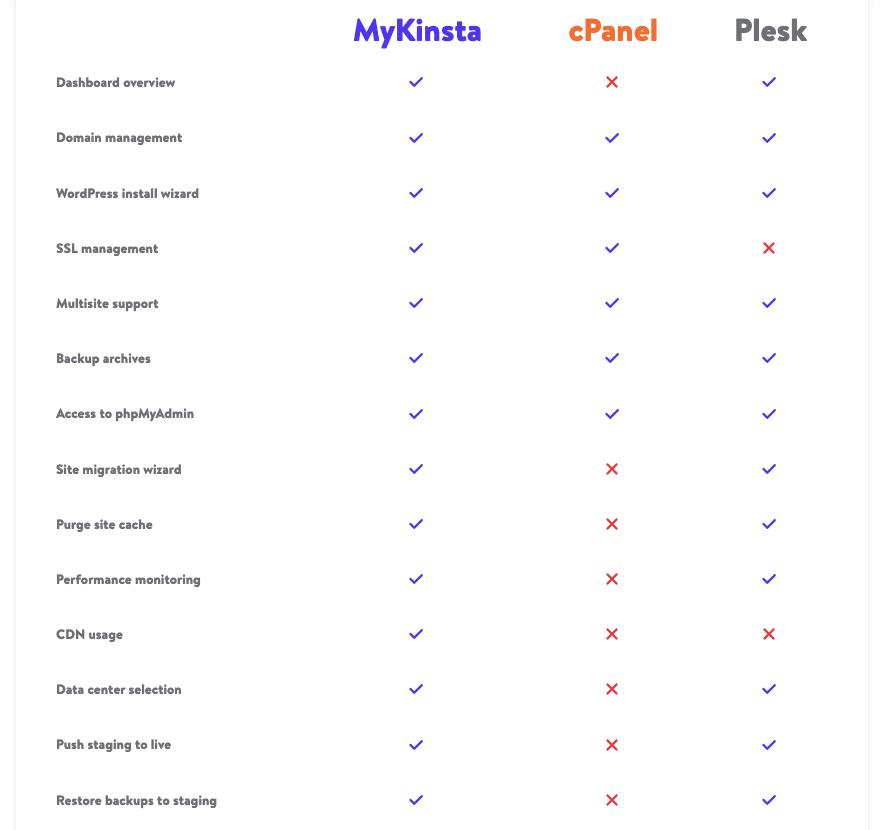 Cloud-based powered by Google Cloud
Kinsta is not a shared hosting service at all. It is entirely cloud-based and operates its optimized server technology built on Google's Cloud Platform.
It's also very scalable and secure, with data centers worldwide, 24/7 support, and a 99.9% uptime SLA.
In other words, it's about as close to a dedicated server or private cloud hosting as you can without renting a physical server.
Free SSL Certificate
Kinsta provides a premium service, and so you get SSL certificates for free. You don't have to install these on your server manually, Kinsta will take care of that for you.
You can choose from trusted providers like RapidSSL, GeoTrust, Thawte, and Symantec.
Kinsta also offers free valid SSL certificates for its domains, which is perfect for users just starting their blogs or websites.
The best part about Kinsta's SSL solution is that you don't have to keep track of these certificates because they are automatically renewed for you.
Performance-Boosting Cache
Kinsta includes performance-boosting caching settings to improve performance and allows you to reduce the amount of data being sent to your users and improve your site's speed overall.
You can choose from a variety of different caching options depending on what best suits your needs. You can go with standard or advanced caching, reverse proxy, or even accelerated hosting.
It all depends on your site and what you are trying to accomplish. In the end, all of these options will help to improve your site's speed.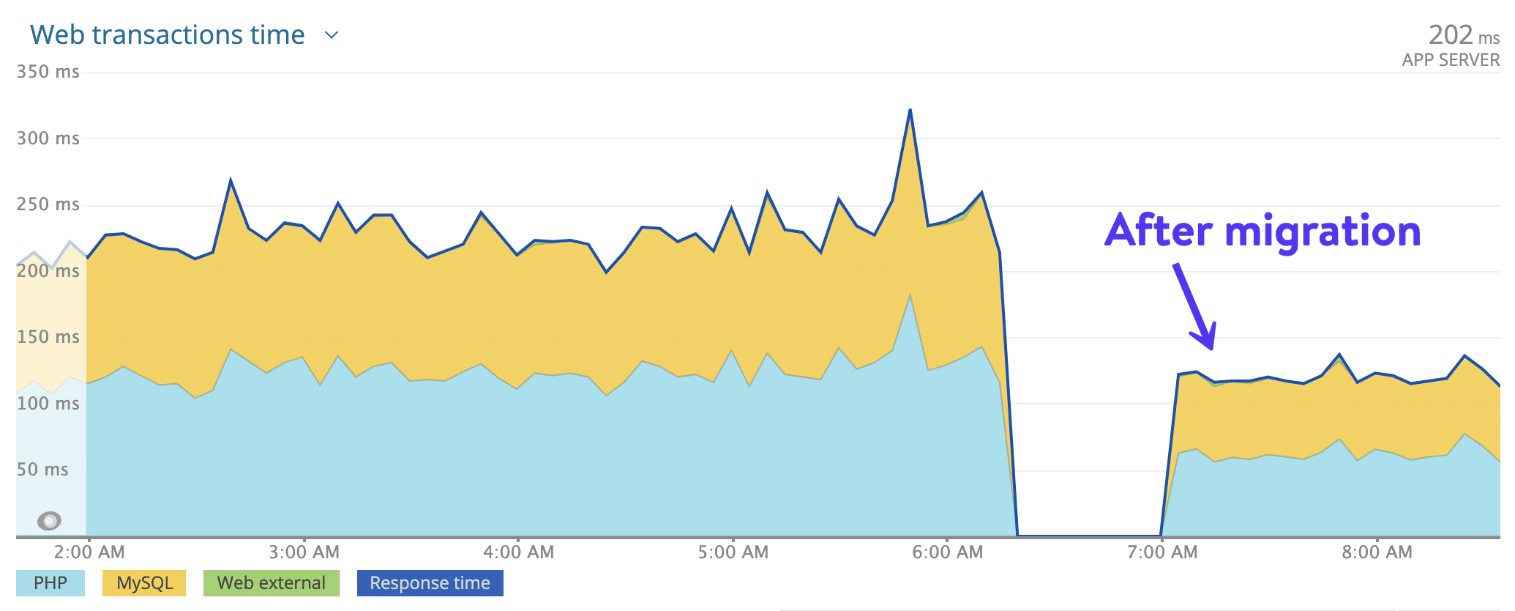 Automatic Daily Backups
It provides automatic daily backups by default. You can also schedule custom backups for any date/time using the maintenance console. The data is stored in Google's data centers and can be restored to any Kinsta account.
Different Data Center Locations
Additionally, you can choose from three different data center locations for your website: Eastern United States, Western United States, or Europe. Each of these data centers has its own advantages and disadvantages. Eastern data center is the closest one to most of the United States population.
It's also the best option for websites that receive a lot of visits from people in Asia. Western data center is the closest one to most of the United States population. It's also the best option for websites that receive a lot of visits from people in Central and South America.
European data center is the closest one to most of the European Union population. It's also the best option for websites that receive a lot of visits from people in Africa and Middle East.
Free Cloudflare CDN
Kinsta includes Cloudflare CDN for free. Cloudflare is a service that optimizes your website's content delivery to visitors by caching it at strategic locations across the Internet.
This way, visitors will get the fastest load times, no matter where they are. In addition, Cloudflare also has a security feature that helps protect your website against malicious visitors.
Kinsta Ease of Use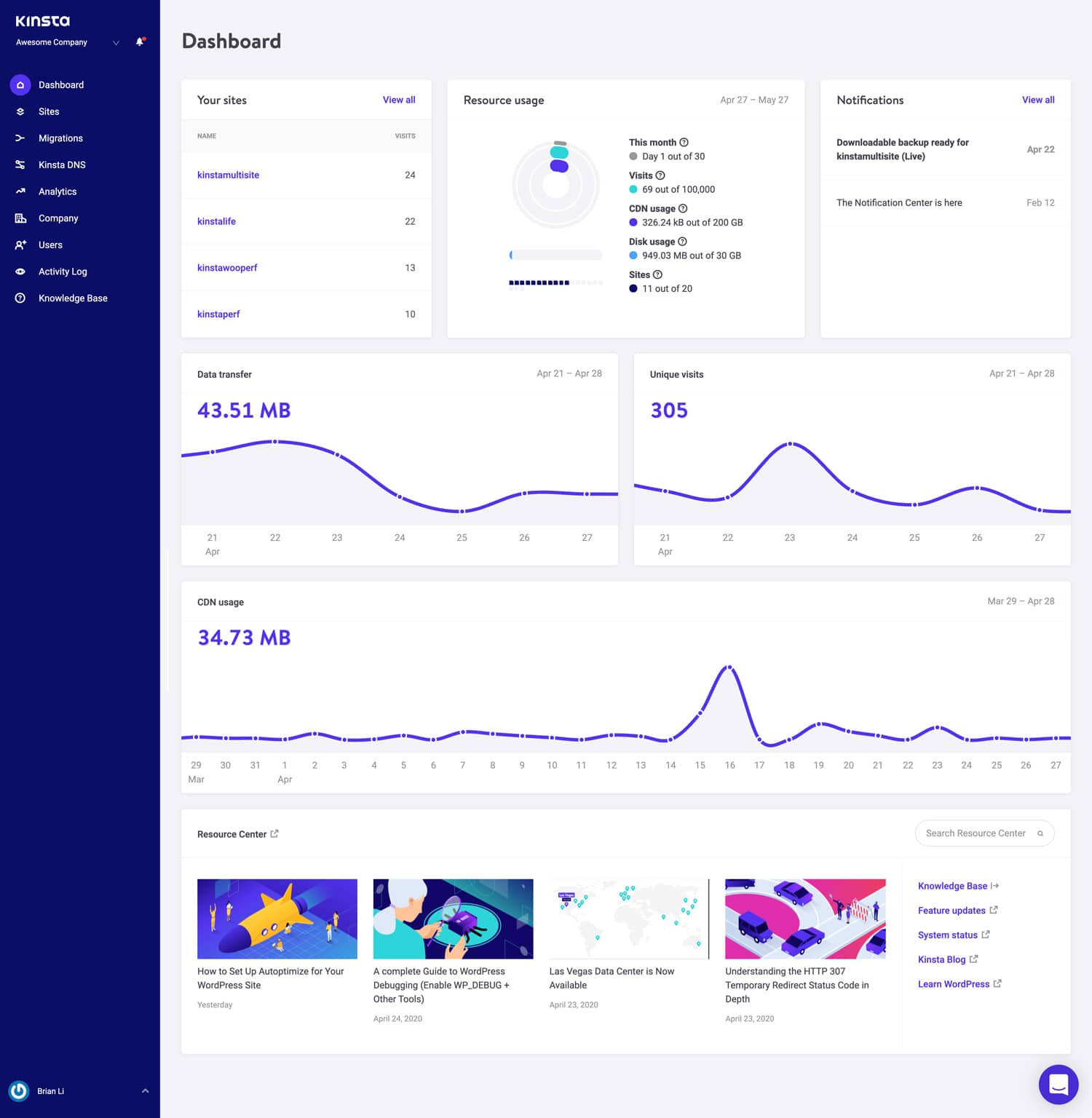 The site and user experience is very sleek and modern. You can tell that Kinsta is a new company in the hosting space, but you can also see that they are very dedicated to providing the best service possible. The site is very intuitive and easy to use, making it a great option for beginners.
You can easily find what you are looking for by clicking on categories at the top of the page or searching for a specific topic. Once on a hosting plan page, you can click on the "learn more" button at the top right of the page to view important information about the plan.
You can also click on the "tour" button at the top right to view a tour of the site. The tour is very helpful for beginners and inexperienced users as it walks you through the process of purchasing a hosting plan on Kinsta.
The control panel is completely different from other hosting providers. You will not find any cPanel like interface. It is much more user-friendly and easy to use. It is easy to install any plugin or app on Kinsta.
Kinsta Performance
Thanks to their tailored infrastructure and software, the website has up to 3x faster page load times. 99.99% SLA for uptime.
We did research on various web hosting for their performance. One of the tested platforms was Kinsta.
We have run tests on different websites running on Kinsta. Here are the results below:
The first website server response time is 3ms (very good), with an average loading time of 1.2s and the slowest 1.57s.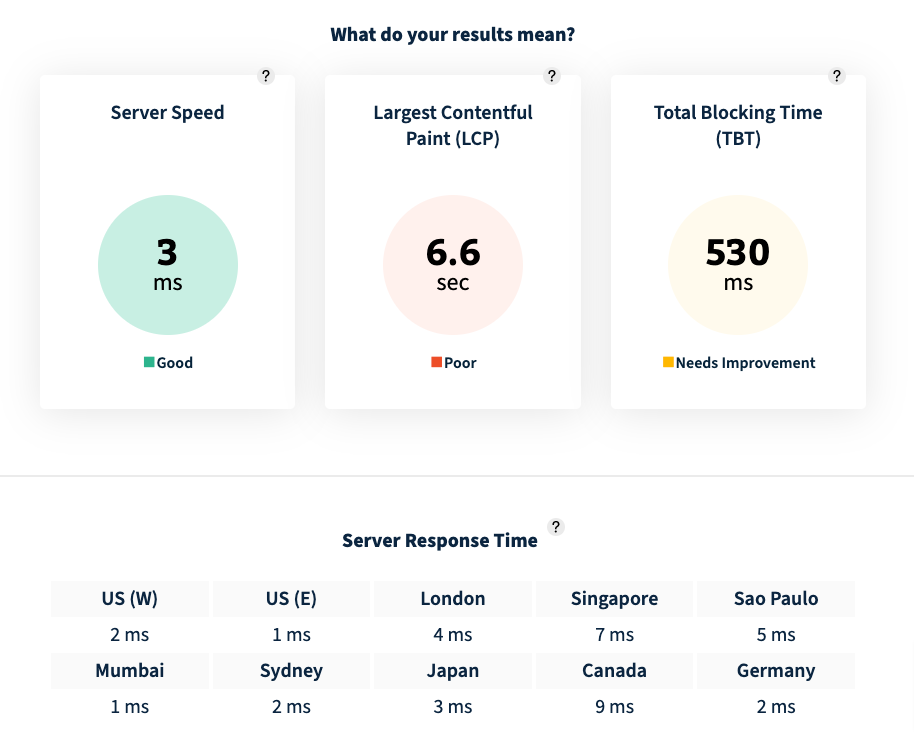 On GTMetrix, the performance is also very good: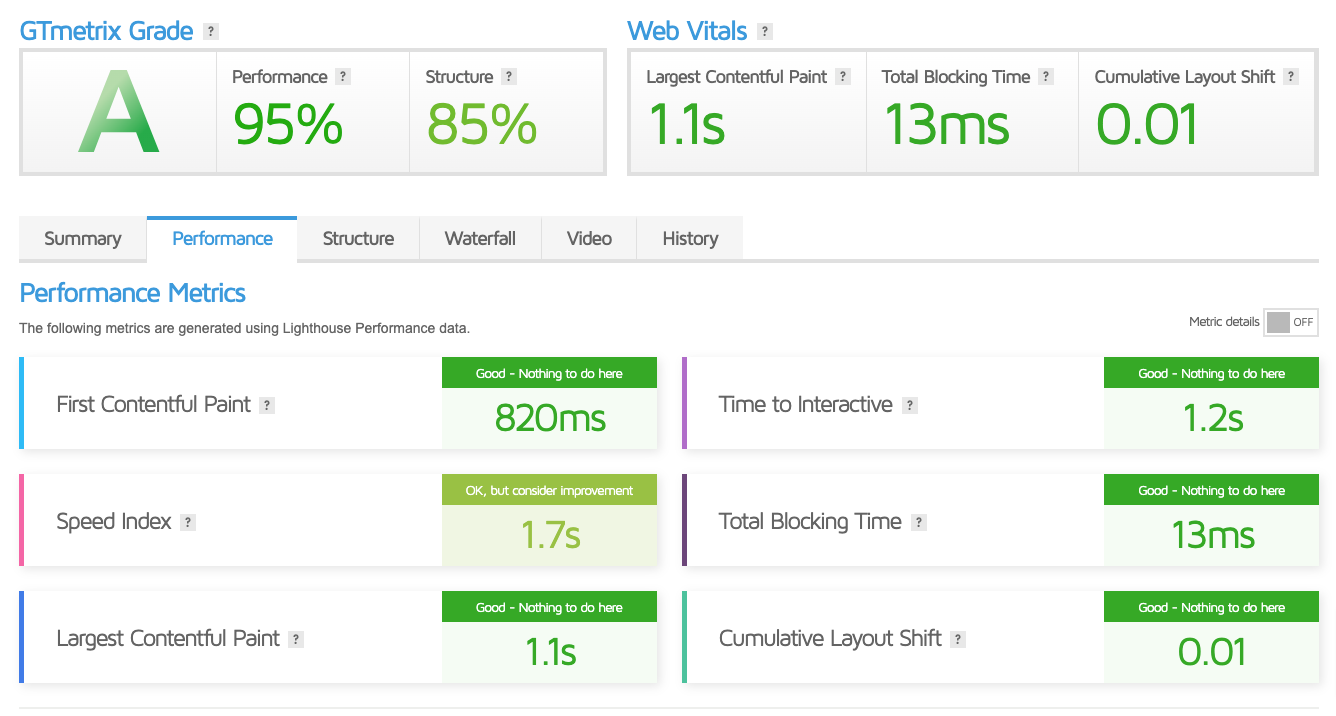 Kinsta Pricing
It is really expensive to use Kinsta.
It starts with the smallest plan at $39 per month. After that, there is a plan for $70 per month. Then, the largest plan is $1,650 per month. There are also options between these amounts.

Additionally, this is not just about the cost of using the Kinsta service but also about the benefits you receive.
The cheapest plan does not come with a lot of features, and it only supports one website. If you want to host 5 WordPress Installs you have to get the $115 plan. After that, you are charged $225/month to support up to 10 websites and so on.
What can you expect from each Kinsta plan?
Kinsta has so many plans because each one is divided into the number of websites you can run, the number of monthly visitors, the amount of storage, and the amount of CDN storage, which I believe is not common in other providers.
Kinsta also offers tiered plans, which means that the more traffic your site gets, the more resources you will need.
All plans come with the same features and benefits, but the number of websites you can host on your account is what determines which plan you need.
Here is a table comparison between each pricing plan: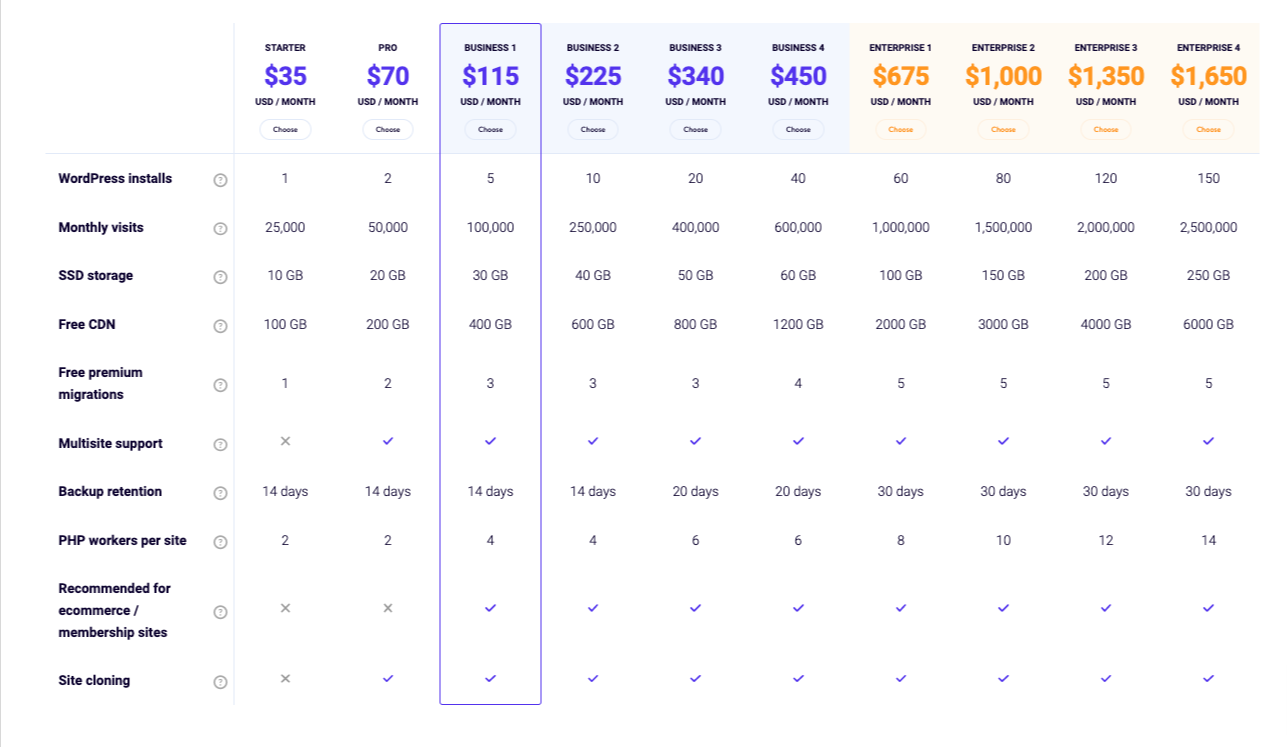 Kinsta Support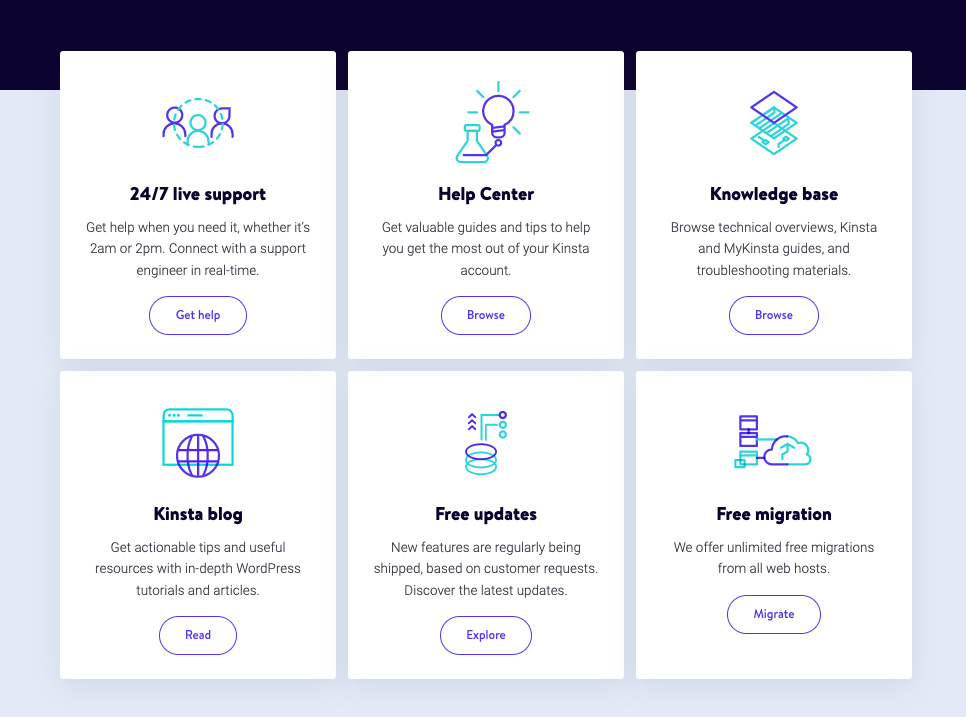 Kinsta offers a live chat box. You can send your questions to the Kinsta team at any time and click on the box at any time to receive real-time responses from the team.
You can also click on a "Let's Chat" button to open the chat box at any time, and you will be connected with the Kinsta team member who is logged into the system at that time.
We think this is a very convenient option for those who want to get help at an convenient time, rather than waiting for a response when a team member is available. The Kinsta team is very responsive, and we didn't have any problems with the live chat box, but if you do, you can also contact the team through the "Email Support" button on the site.
Kinsta has real 24/7 support through phone also. The team is available for picking up the phone every day of the year. You can also contact the team through email and get a quick response.
This is a great way to receive support if you are having issues but don't want to pick up the phone. You can receive a ticket number and keep track of your issue. When the team is ready to address your issue, they will send you a message through the app. This way you can keep track of the issue, receive updates, and keep everything documented.
Conclusion
My primary conclusion after testing and reviewing Kinsta is that it is suitable for enterprise WordPress sites in terms of reliability, speed, and performance.
You can't go wrong with this host if you want a host that can handle a high traffic volume without slowing your site down or a host that will keep your site online even during significant traffic spikes.
Kinsta also offers excellent customer service, especially compared to other hosts.
FAQs
Is Kinsta worth the price?
I think the managed WordPress hosting plans from Kinsta are worth every penny. They offer top-of-the-line performance, stellar customer support, and an intuitive user experience, making them a great choice for both small businesses and enterprises.
Is Kinsta good for WordPress?
Kinsta is dedicated solely to WordPress. It was started by a team of ex-WordPress engineers and still has most of its customers using that CMS. It's a really good option if you are a WordPress fan and want the best hosting experience for your site. Kinsta has various plans at different price points, but all of them come with premium support. Plans start at $80/mo.
What are the best Kinsta alternatives?
There are several other hosting providers that offer similar functionality to Kinsta, but at a lower price point. The best Kinsta alternatives depend on your particular needs, but here are a few suggestions. We recommend trying out WP Engine, SiteGround, or InMotion Hosting. These are great options if you are on a tight budget and don't need the advanced functionality that Kinsta offers. WP Engine has a one-click staging environment, which can be really helpful for development teams. SiteGround and InMotion Hosting both have a one-click installation of WordPress. These features can make the setup process much easier.
How Do I Pay for Kinsta?
Kinsta offers flexible payment options, including credit card, PayPal, and Google Pay. You can choose to pay monthly or annually. Additionally, Kinsta has a generous 45-day money-back guarantee, so you have plenty of time to test out their service and see if it's right for you. To find out more about Kinsta's features and pricing, check out their website.

Ludjon, who co-founded Codeless, possesses a deep passion for technology and the web. With over a decade of experience in constructing websites and developing widely-used WordPress themes, Ludjon has established himself as an accomplished expert in the field.