SSD WordPress hosting is a known hosting solution that has gained immense popularity in recent times.
This type of hosting is widely embraced due to its utilization of high-speed solid-state drives (SSDs) as storage devices, which offer significant performance advantages over traditional, physically-based hard disks.
Unlike older magnetic disk storage, SSDs utilize microchips to store data, resulting in faster data retrieval and transmission.
As a result, hosting providers can deliver superior speeds and responsiveness, enhancing the overall performance of WordPress websites hosted on SSD infrastructure.
If you are in a hurry here is a short list of the best SSD Hosting for WordPress:
The 7 Top Best SSD WordPress Hosting
Here we will list the best SSD WordPress hosting providers and companies.
Overall Best SSD Hosting for WordPress

Managed cloud hosting with SSD storage
Choice of five top cloud providers
Advanced caching technologies for faster loading
Flexible and scalable hosting plans
See Pros & Cons
Pros
Pay-as-you-go pricing
One-click WordPress installation
Free SSL certificate and migration
24/7 customer support
Cons
No email hosting
No domain registration
Cloudways is the best SSD WordPress Hosting based on our latest test.
Cloudways is an emerging hosting provider that specializes in cloud hosting, specifically powered and owned by DigitalOcean. This provider leverages the cutting-edge infrastructure of DigitalOcean, which has been at the forefront of cloud and dedicated server services, pioneering the integration of SSD drives.
By utilizing DigitalOcean's advanced servers, Cloudways ensures optimal performance and reliability for their hosting platform. Consequently, Cloudways has established itself as one of the top hosting providers, delivering exceptional services with the advantage of SSD technology.
Advanced caching technologies like Varnish, Memcached, and Redis, Cloudways ensure fast page loading times for your WordPress site. The platform also offers one-click WordPress installation, free SSL certificates, and free migration services to make setting up and managing your site as simple as possible.
Cloudways' pay-as-you-go pricing model allows you to scale your hosting resources according to your needs. Plans start at $14 per month, and you only pay for the resources you actually use.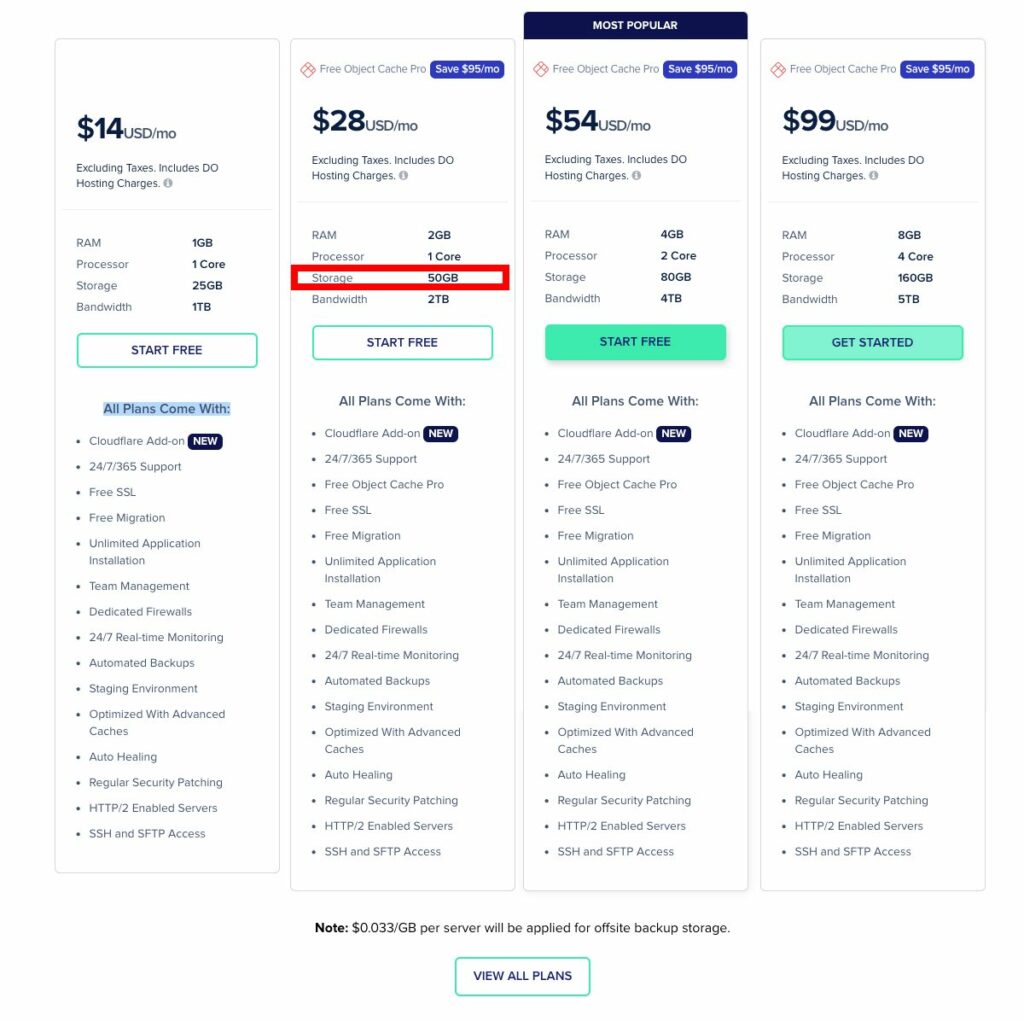 However, it's worth noting that Cloudways does not provide email hosting or domain registration services. You'll need to purchase these separately from a third-party provider.
The combination of speed, scalability, and support makes it a top choice for those seeking reliable hosting services.
Cheapest SSD Hosting

Affordable hosting with SSD storage
User-friendly control panel
Free domain and SSL certificate
24/7 customer support
See Pros & Cons
Pros
Very affordable hosting plans
High-performance SSD storage
Easy-to-use control panel
Excellent customer support
Cons
Some advanced features only available on higher-tier plans
Restrictions on bandwidth and storage
Hostinger is the cheapest WordPress hosting solution for users seeking reliable SSD-based performance. Their entry-level shared hosting plans come with a free domain and SSL certificate, as well as high-performance SSD storage to enhance website speed.
With user-friendly tools like the Hostinger control panel and a 24/7 customer support team, Hostinger is an excellent option for beginners and experienced users alike.
However, users should be aware that some advanced features like automatic backups and unlimited bandwidth and storage are only available on higher-tier plans. Additionally, there are some restrictions on the amount of bandwidth and storage available with lower-tier plans.
What I like about their packages is the fact they offer a lot of storage. For example, you can have 100GB storage SSD with only $2.99 on their starter plan.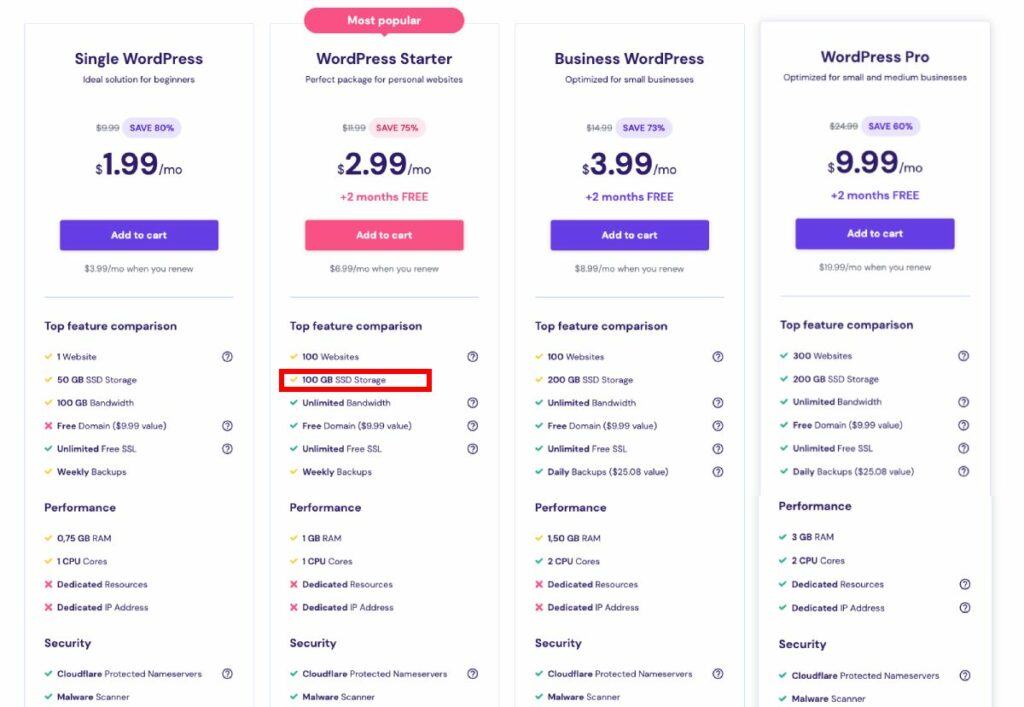 Hostinger is a budget-friendly option for users seeking SSD-based hosting services with strong customer support.
Best cPanel Hosting with SSD

Officially recommended by WordPress.org
Custom Bluehost dashboard
Enhanced cPanel
SEO Tools
See Pros & Cons
Pros
Beginner-friendly interface
Optimized for WordPress hosting
Reliable uptime and performance
Wide range of hosting plans
Cons
Higher renewal prices
Some feature limited to higher-tier plans
Bluehost is a reputable hosting provider that is widely popular among WordPress users and is also recommended by WordPress.org. Their hosting packages are affordable and user-friendly, with a free domain, SSL, and one-click installation included.
Bluehost has recently improved its website loading speed by integrating SSD hard drives, making its hosting packages even faster and more reliable.
Additionally, they offer a free CDN service to further enhance website performance. Upgrading to higher-tier plans unlocks unlimited website hosting and additional features.
Bluehost is a great option for users seeking a cPanel hosting and affordable plan for their WordPress websites.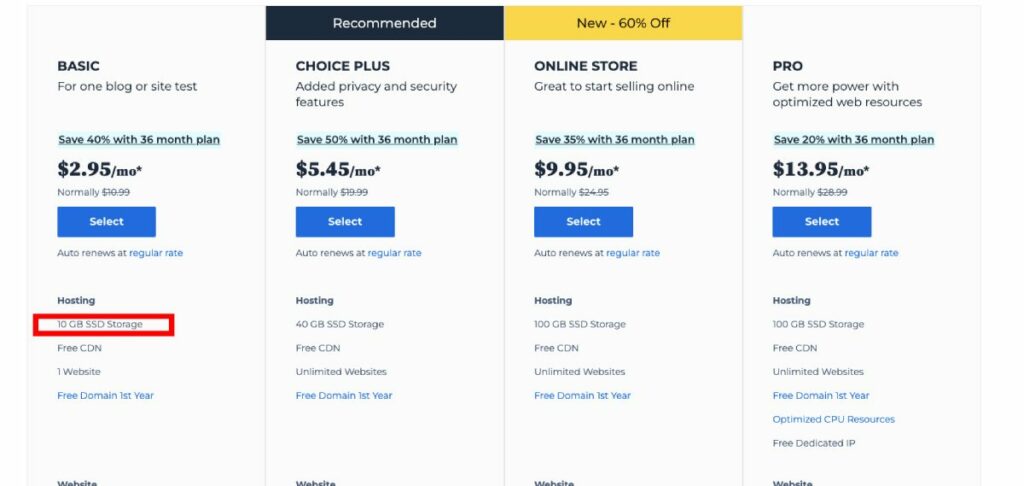 Fastest Shared SSD Hosting

Optimized WordPress hosting
Free SSL certificate and CDN integration
Top-notch customer support
Advanced security features
See Pros & Cons
Pros
Highly optimized hosting for WordPress
Free SSL certificate and CDN integration
Exceptional customer support
Advanced security features
Cons
Renewal prices are higher
Storage limitations on lower-tier plans
Siteground has been incorporating SSD technology into all of its hosting packages since 2015. They specialize in WordPress hosting and, although their plans may be slightly pricier than the average hosting providers, they offer exceptional performance and impressive speed.
Our speed tests consistently rank Siteground among the top platforms with remarkably fast average response times measured over a span of more than a month.
Siteground is a reliable hosting provider that specializes in optimized hosting for WordPress websites. They offer a range of features geared towards delivering high performance and security for WordPress users.
One of Siteground's standout features is its exceptional customer support. Their support team is highly knowledgeable and available 24/7 to assist users with any hosting-related queries or issues.
Siteground also prioritizes website security, implementing advanced security measures to protect websites from threats and vulnerabilities.
Pricing for Siteground hosting plans starts at $3.99 per month, offering a solid hosting solution for small to medium-sized websites. You will get 10GB SSD storage with this plan and 20GB SSD with the Grow Big plan.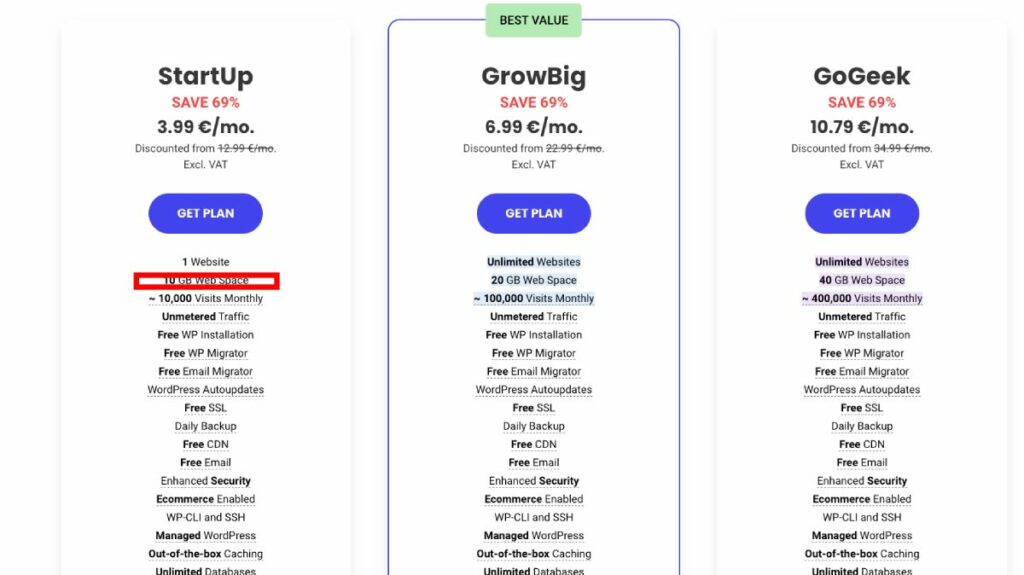 Keep in consideration that renewal prices are higher. Additionally, lower-tier plans may have storage limitations, so users with high storage needs should consider higher-tier plans.
Best Cloud SSD Hosting for WordPress

Managed WordPress hosting
Powered by Google Cloud Platform
Automatic daily backups
Staging environments
See Pros & Cons
Pros
Exceptional performance and reliability
SSD storage for faster website loading
Advanced developer tools and staging environments
Outstanding customer support
Cons
Higher price point compared to other providers
Limited disk space on entry-level plans
Kinsta is a premium managed WordPress hosting provider, powered by the robust infrastructure of Google Cloud Platform. They offer exceptional performance and reliability, delivering an outstanding hosting experience for businesses and professionals.
Kinsta utilizes SSD storage, which ensures faster website loading times and a smoother user experience. The utilization of SSD technology enhances the overall performance of websites hosted with Kinsta.
In addition to their impressive performance, Kinsta provides automatic daily backups and free site migrations, making it convenient for users to manage and transfer their websites seamlessly.
Developers will appreciate Kinsta's array of advanced tools and staging environments, facilitating efficient testing and development workflows. This allows for the seamless deployment of updates and changes to WordPress websites.
Kinsta sets itself apart with its outstanding customer support, ensuring that users receive timely assistance from their expert team, available 24/7.
It's important to note that Kinsta's pricing starts at $35 per month, and offers 10GB SSD storage. For adding another 20GB of space you should pay plus $20/monthly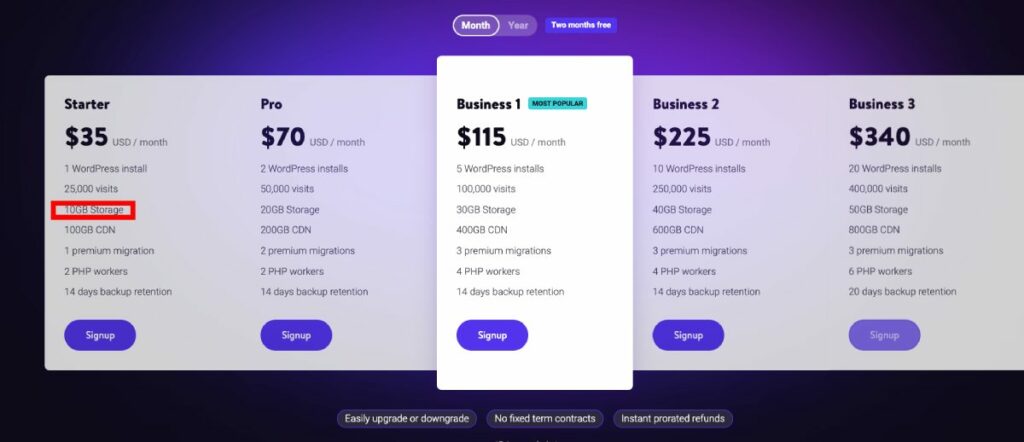 Best for Unlimited SSD hosting

NVM-e SSD-powered hosting
Free website migration
Advanced security features
Responsive customer support
See Pros & Cons
Pros
Free website migration and domain

Advanced security and backup solutions
Responsive customer support
Cons
Higher renewal prices
Some advanced features limited to higher-tier plans
InMotion Hosting is the best unlimited SSD hosting in this list. They have an NVM-e SSD-based plan for only $4.99/month.
By utilizing SSD storage, InMotion Hosting ensures faster data retrieval and improved website speed, contributing to an enhanced user experience.
InMotion Hosting offers free website migration and a complimentary domain name, making it convenient for users to transfer their existing websites seamlessly. This feature eliminates the hassle of manual migration and simplifies the process of getting started with InMotion Hosting.
Security is a priority for InMotion Hosting, as they provide advanced security features and automatic backups to protect websites and data. This offers peace of mind to users, knowing that their websites are well-guarded against potential threats.
In terms of customer support, InMotion Hosting prides itself on providing responsive assistance. Their support team is readily available to address any concerns or technical issues that users may encounter along the way.
It's important to note that while InMotion Hosting offers affordable pricing, there may be higher renewal prices. Additionally, some advanced features may be limited to higher-tier plans.
For example, you can get 100GB SSD for only $2.29/month and with $4.99/month you can have the Lunch plan with Unlimited NVMe SSD and unlimited bandwidth.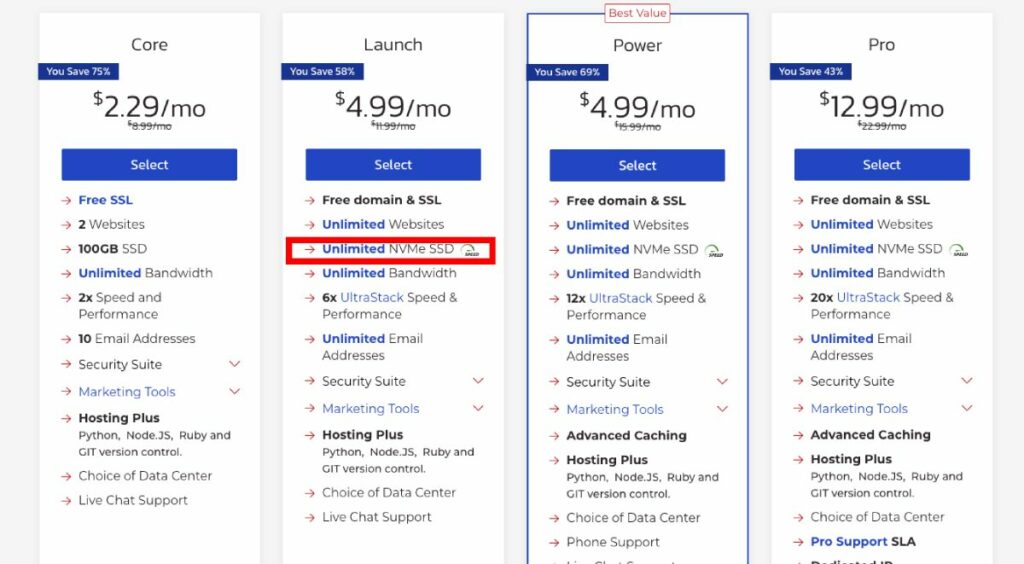 Best Managed WordPress hosting with SSD

WordPress

Dedicated
Expert WordPress support
See Pros & Cons
Pros
Top-notch performance and reliability
Advanced security measures and automatic backups
Scalable infrastructure for growing websites
Expert WordPress support
Cons
Higher price point compared to other providers
Some limitations on lower-tier plans
WP Engine is a leading provider of managed WordPress hosting, offering exceptional performance and reliability. Their hosting platform is specifically tailored to meet the needs of WordPress websites, ensuring optimal speed and efficiency.
Security is a top priority for WP Engine, as they implement enterprise-grade security measures and automatic backups to protect websites from potential threats. This proactive approach to security ensures that users' data and websites are well-protected.
One of WP Engine's notable features is its highly scalable infrastructure. They provide a robust hosting environment that can easily accommodate the growth of websites, making it an ideal choice for businesses and individuals with expanding online presence.
Our team has seen that WP Engine offers expert support specifically tailored for WordPress users. Their support consists of WordPress specialists who are equipped to handle any technical inquiries or challenges that users may encounter during their hosting journey.
While WP Engine's pricing may be higher compared to some other providers, it reflects the premium quality of their managed WordPress hosting. Users should also be aware that lower-tier plans may have certain limitations.
FAQs
What is SSD webhosting?
SSD web hosting refers to hosting services that utilize Solid State Drives (SSDs) as the primary storage medium for websites and applications.

Unlike traditional Hard Disk Drives (HDDs), SSDs have no moving parts and use flash memory technology, resulting in significantly faster data retrieval and improved website performance.

SSD web hosting offers faster loading times, reduced latency, and improved overall user experience due to the enhanced speed and responsiveness of SSDs.
Is 10 GB SSD enough for a website?
In many cases, 10 GB of SSD storage can be sufficient for a small to medium-sized website, especially if it primarily consists of text-based content with minimal multimedia files. However, if your website includes a significant amount of high-resolution images, videos, or downloadable files, you may require additional storage space. It's important to consider future growth and scalability when determining the appropriate storage capacity for your website.
Does SSD load websites faster?
Yes, SSDs (Solid State Drives) do load websites faster compared to traditional Hard Disk Drives (HDDs). SSDs have no moving parts and use flash memory technology, allowing for much faster data access and retrieval.

This results in reduced latency and faster read/write speeds, which directly contribute to faster website loading times.

When a visitor accesses a website hosted on an SSD, the data can be retrieved and delivered more quickly, leading to a smoother and more responsive browsing experience. As a result, SSDs significantly improve the overall performance and speed of websites.
What is NVMe SSD hosting?
NVMe SSD hosting refers to hosting services that utilize NVMe (Non-Volatile Memory Express) SSDs as the primary storage medium for websites and applications.

NVMe is a protocol designed specifically for solid-state drives, providing a more efficient and high-performance interface compared to traditional SATA or SAS interfaces.

NVMe SSDs offer even faster data transfer speeds and lower latency compared to regular SSDs, delivering exceptional performance and responsiveness.

They leverage the parallelism and advanced architecture of NVMe technology to handle multiple simultaneous data transfers, resulting in significantly reduced data access and retrieval times.
Conclusion
In conclusion, SSD hosting for WordPress offers numerous advantages due to the utilization of Solid State Drives (SSDs) as the primary storage medium. SSDs outperform traditional Hard Disk Drives (HDDs) in terms of speed, responsiveness, and overall performance. Websites hosted on SSDs experience faster data retrieval, reduced latency, and improved loading times, resulting in a smoother and more enjoyable user experience.
Providers like Cloudways, Hostinger, Bluehost, Siteground, A2 Hosting, InMotion, and WP Engine offer SSD hosting solutions tailored specifically for WordPress websites.
Each provider has its own unique features and strengths, such as user-friendly interfaces, optimized performance for WordPress, reliable uptime, advanced security measures, and exceptional customer support.
When selecting an SSD hosting provider for your WordPress website, it is crucial to consider factors such as your specific needs, budget, scalability requirements, and the reputation of the provider. Carefully evaluate the features and pricing offered by each provider to determine which one aligns best with your goals and preferences.
Regardless of the provider you choose, migrating to an SSD hosting environment can greatly enhance your WordPress website's speed, performance, and overall reliability. With faster loading times and improved user experience, you can attract and retain visitors, boost search engine rankings, and ultimately achieve your online objectives more efficiently.
In the ever-evolving digital landscape, SSD hosting has become a crucial element in ensuring the success and competitiveness of WordPress websites. Embrace the power of SSDs and experience the difference in performance and speed as you take your WordPress website to new heights.

Ludjon, who co-founded Codeless, possesses a deep passion for technology and the web. With over a decade of experience in constructing websites and developing widely-used WordPress themes, Ludjon has established himself as an accomplished expert in the field.