In the rapidly growing world of e-commerce, choosing the right hosting provider for your WooCommerce store is crucial for the success of your online business.
The Woocommerce plugin boasts powering millions of stores on the web – the plugin has been downloaded over 80 million times. With numerous WordPress hosting options available, finding the most suitable one for your specific needs can be a daunting task.
However, worry not, as we have done all the research for you and compiled a list of the 10 best WooCommerce hosting options for 2023, including managed options for an even smoother experience.
In this article, we will delve into the critical factors you need to consider when selecting the ideal hosting provider for your WooCommerce store, such as performance, security, scalability, and support. We will also discuss the benefits of managed hosting, which can save you time and resources by handling technical aspects and allowing you to focus on growing your business.
With the right hosting partner, you can rest assured that your WooCommerce store will not only offer an exceptional user experience but also thrive in the competitive online marketplace.
These are hosting companies that support WooCommerce for optimum performance. In addition, these are companies that offer WordPress specific and/or WooCommerce-specific customer support.
Comparison of the Best Hosting for WooCommerce
Below you will find the best hosting providers for WooCommerce compared based on their speed, price, uptime, and customer support
Summary Rating Test
We have tested each of the characteristics of the table below and rated them based on hosting real performance
The 10 Best WooCommerce Hosting Providers: Detailed Analysis
Best Overall Hosting for WooCoommerce
Siteground is the best WooCommerce hosting for speed, uptime, and features.
You know you are on the right eCommerce hosting platform when you're dealing with a host that is recommended by WooCommerce itself.
Some essential features that come with this hosting provider include free SSL, free WordPress installation, automatic WordPress updates, and automated daily backups. You also get PCI-compliant servers on the highest tier.
SiteGround makes everything easy for you by automatically setting up the WooCommerce plugin for you. The setup also automatically comes with a WooCommerce theme. This means that you can set up your store quickly and start adding products right away.
Despite its immense offerings, the company offers limited storage space. Therefore, SiteGround would only be ideal if you are running a small store. Big enterprises would need a provider that offers unlimited storage space. SIteGround's GrowBig and GoGeek plans have more storage space than the starter plan, but they still have caps.
SIteGround is also a WordPress.org recommended hosting provider. In addition to this being an assurance of exceptional performance, it also means the company provides reliable security for your sites. It is one of the highest-rated hosting services in the WordPress community.
The performance of SiteGround sites is enhanced by the multiple data centers in the United States, Europe, and Asia.
Speed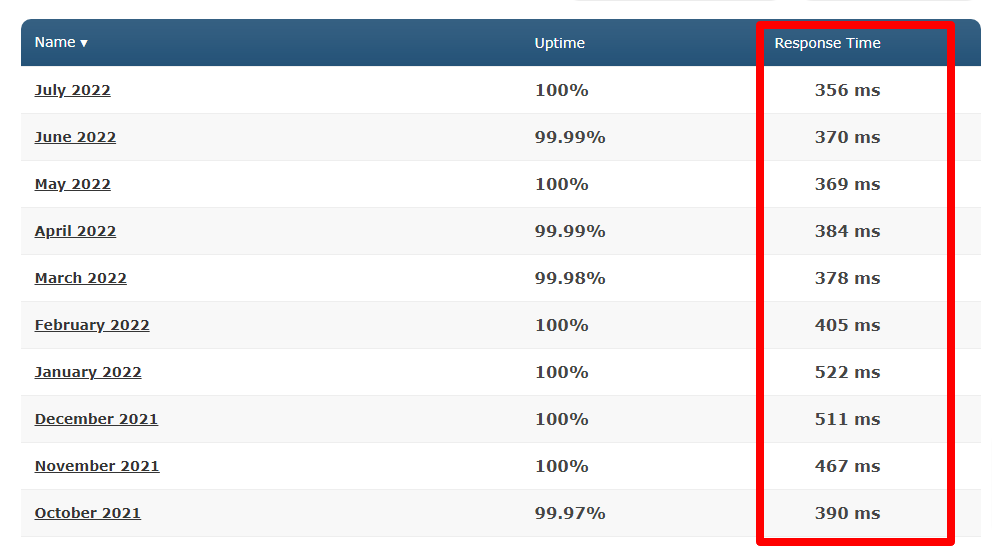 Siteground is one of the fastest web hostings we have tested with an average load time of 380ms. The site speed was tested for the last 12 months. This feature makes it perfect for hosting WooCommerce websites.
Uptime
Uptime measurement of the last 12 months gives a 99.99%.
Customer Support
Customer support at SiteGround is available 24/7. You can contact support by phone, ticket-based email support, or live chat. Users around a lot of research we have made are very happy with the support and expertise their staff offer.
Pricing
It is not the cheapest one but it is worth all the little extra money you have to add.
Hosting plans:
StartUp at $2.99 per month
GrowBig at $4.99 per month
GoGeek at $7.99 per month

Visit Siteground Hosting or read the full Siteground review
Fastest Woocommerce Hosting
A2 Hosting is a popular web hosting company that focuses on speed, security, and support. It is the fastest hosting solution for WooCommerce websites. These are crucial features for your site's user experience and SEO performance.
Their focus on speed and performance is the reason why they allow users to choose their preferred data location. The server locations are in Amsterdam in the Netherlands to cover Europe, Singapore in Asia, and Michigan and Arizona in the United States.
Key features on this platform include free SSL, 1-click WooCommerce deployment, 99.9% uptime commitment, and SEO tools. Compared to many hosts in this list, A2 does not provide a free domain for its users.
Security for your online store is guaranteed through reinforced DDoS protection and a dual firewall. Additional security features include a virus scanner, hackscan protection, two-factor authentication, and brute force defense.
Speed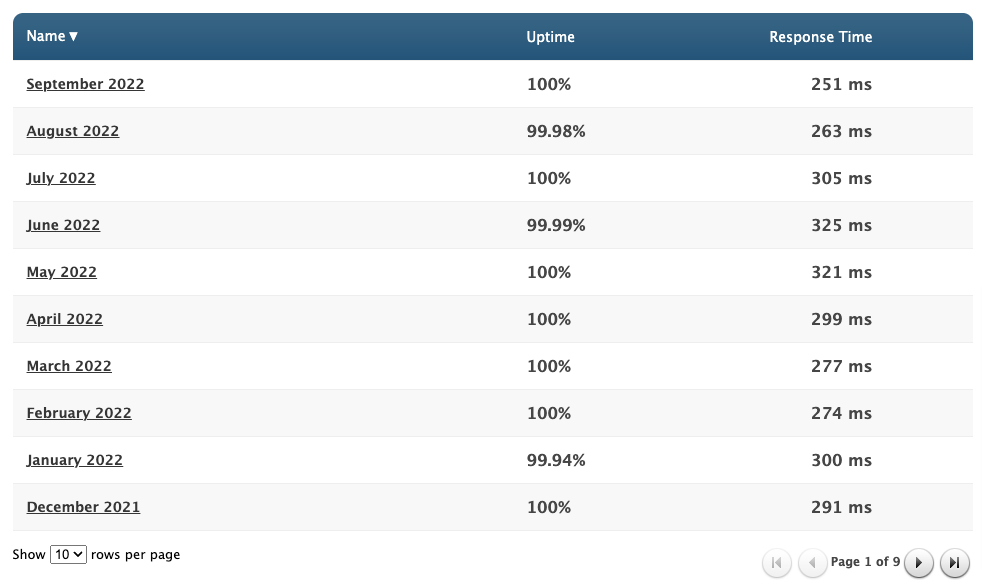 Based on our tests for the last 12 months, we have seen that A2 Hosting is the fastest hosting provider on the market. The average response time of 267ms
Uptime
Also, the uptime of the hosting is pretty good and one of the best on our list with 99.98%.
Customer support
A2 hosting provides 24/7 customer support via email, phone, and chat. Based on online reviews users are satisfied with their service
Pricing
The price is so reasonable if you choose to make a payment for 36 months upfront. In case you will choose a 1 year or 1 month the price goes up.
Turbo Run at $11.99 per month
Turbo Jump at $18.99 per month
Turbo Fly at $28.99 per month
Turbo Sell at $41.99 per month

Visit A2 Hosting or read our full A2 Hosting review
Cheapest Hosting Provider for WooCommerce
Hostinger is one of the best hosting options for business owners on a tight budget. With just $3.99 per month, you can host your WooCommerce online store with Hostinger.
Some of the main attractions of this web host include free unlimited SSL, free email, DDoS protection, unlimited databases, managed WordPress, and more. They also give you an uptime guarantee of 99.9%, ensuring buyers can always access your website.
Hostinger WooComece hosting is cheap because it's shared hosting. The company also offers VPS and cloud hosting services suitable for big e-commerce enterprises that need more server resources.
As a hosting provider that is focused on WordPress, Hostinger is a good choice for hosting your WooCommerce store, regardless of the size.
Hostinger has 7 data center locations – in Europe, Asia, South America, and the USA.
Speed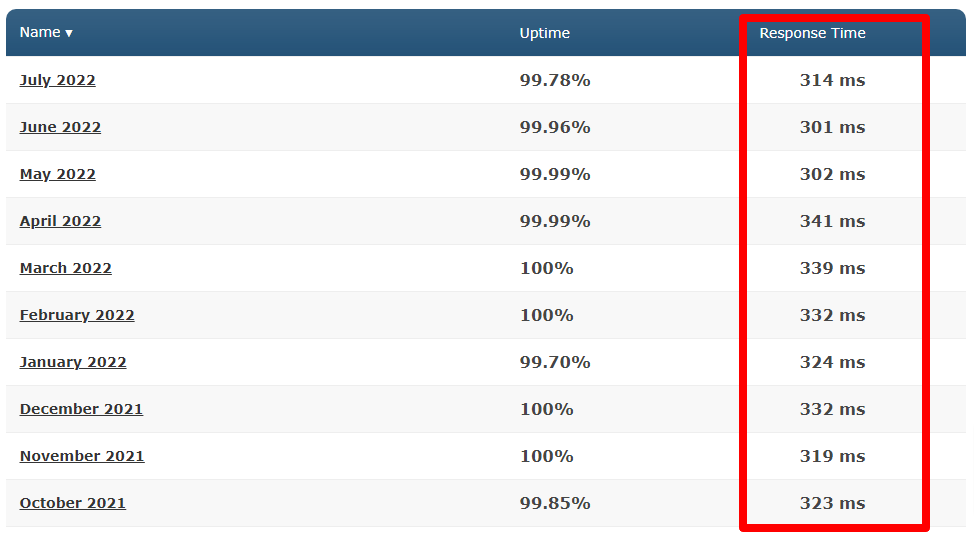 Hostinger has surprised me with its response time (server speed) of 329ms even using shared hosting.
Uptime
The last 12 months of tests show an average of 99.95% of uptime which is good.
Customer Support
Their support is the only thing that can really be improved to make it faster but isn't too bad. This is the reason I rate it with 4.0
Pricing
Pricing has a higher rating score of 4.9 because is cheap and the same time offers a great service. You can also go to $1.99/month if you choose a simple Shared Hosting plan.
Woo Starter at $3.99 per month, renews at $7.99 per month
Woo Premium at $11.59 per month, renews at $12.99 per month
Woo Business at $23.99 per month, renews at $39.99 per month

Visit Hostinger or read the full Hostinger review
Best for Dedicated Hosting
InMotion offers loads of WooCommerce features, making it a good choice for hosting your websites. Some features of interest include 20X WordPress performance, unlimited bandwidth, hack and malware protection, WordPress pre-installed, dedicated IP address, and 24/7 support.
You also get automated WordPress updates, which means your store always runs on the latest WordPress version. This is good for your site's security and the overall functioning of the online store. The company offers a staging environment where you can test your store before launching your site or putting it live.
Speed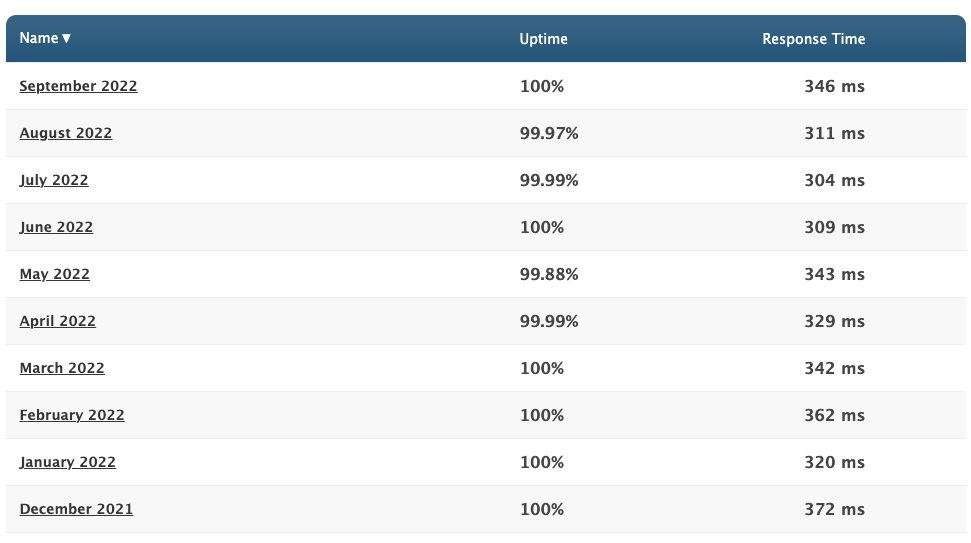 It is one of the fastest hostings in this list due to its exceptional hardware infrastructure. The average response time measured in the last 10 months is 355ms
Uptime
Inmotion during the last 10 months of testing looks very stable and secure to host a professional WooCommerce website.
Pricing
It is a little bit expensive compared with other solutions but if you pay for 24 months you can get a discount. The price is the only low rating that makes this hosting slide into fourth place.
WP Launch at $7.99 per month
WP Power at $7.99 per month
WP Pro at $15.99 per month

Visit Inmotion Hosting
Best for Managed WooCommerce Hosting
Kinsta offers premium managed WordPress hosting services. You should expect to get equally premium hosting services for WooCommerce from this provider. The company's hosting services are powered by the Google Cloud platform. In addition, the infrastructure is highly optimized for eCommerce solutions like WooCommerce.
The platform is easily scalable because you can change the plan based on your monthly visits and needs.
Some of the features of interest on this platform include a one-click WooCommerce installer, free SSL, auto-scaling, fast server-level caching, and 24-hour support.
You also get different types of backups:
Environmental backups
Automatic backups every 24 hours
Full downloadable .zip backups
Manual backups
Add-ons for additional backups
The MyKinsta dashboard gives you a sleek overview of your websites. The type of information you can view from the dashboard includes analytics, migrations, and billing. The company also offers white-glove migrations for free.
Speed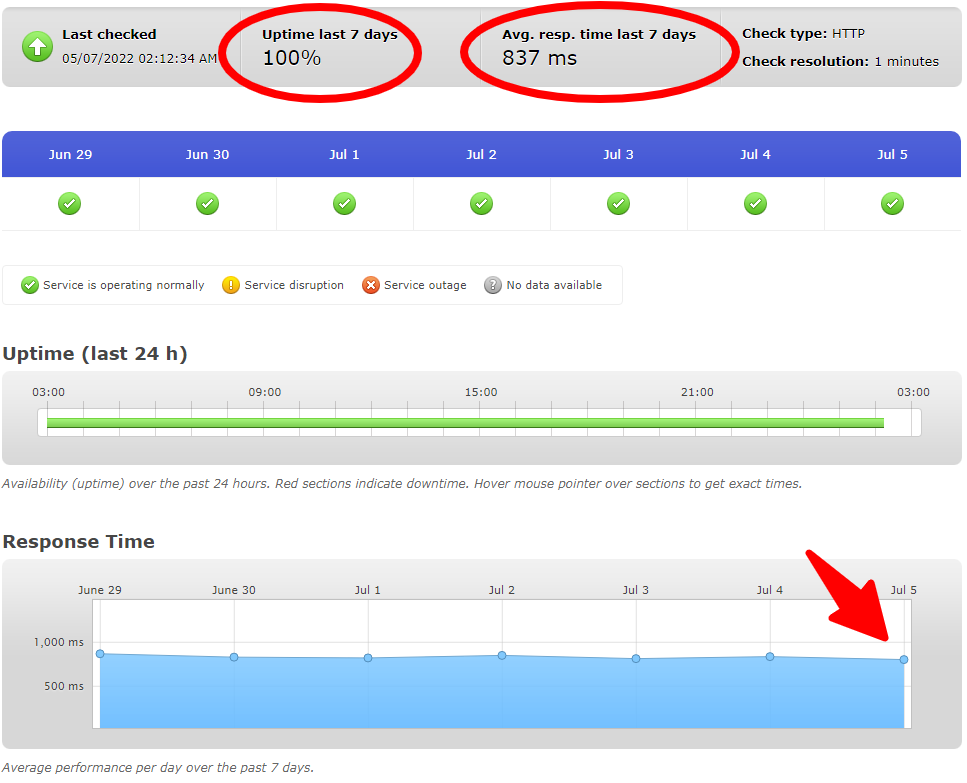 Speed wasn't too good for Kinsta and I really don't expect an average load speed time of 1024ms.
Uptime
Uptime has received one of the best rating scores on this list with 99.99% for the last 12 months of testing.
Customer Support
It looks exceptional with real experts that can help you resolve any problem you can have related to their hosting.
Pricing
Kinsta is one of the most expensive hostings out there but sometimes it can be justified by their amazing support, uptime, and security
Startup at $35 per month
Pro at $70 per month
Business 1 at $115 per month
Business 2 at $225 per month
Business 3 at $340 per month
Business 4 at $450 per month
Enterprise 1 at $675 per month
Enterprise 2 at $1,000 per month
Enterprise 3 at $1,350 per month
Enterprise 4 at $1,650 per month
Customized and dedicated VMs – customized pricing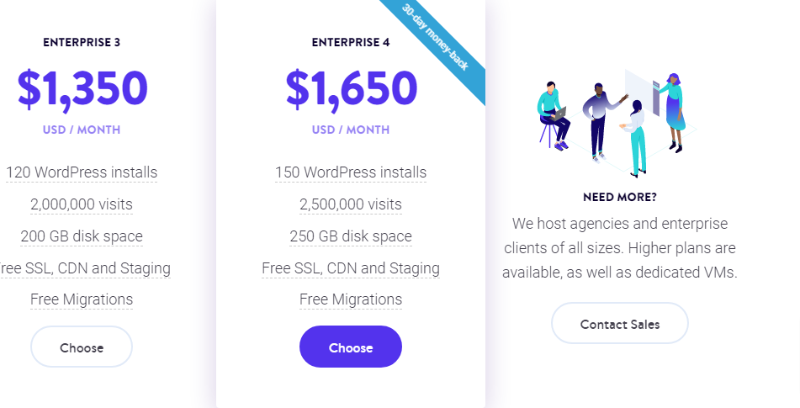 Visit Kinsta or read the full Kinsta review
Best for Features
Liquid Web provides hosting services through its subsidiary, Nexcess. In addition to Woocommerce, Nexcess also hosts other eCommerce platforms like Magento, as well as hosting WordPress sites. Nexcess is a perfect choice for individuals or businesses looking for fully managed hosting for Woocommerce.
Nexcess uses cloud infrastructure for hosting, ensuring your website is automatically updated. The company also gives you unlimited email accounts, a staging environment, daily backups, and 30-day money-back guarantee. In addition, all plans come with premium WordPress plugins.
Nexcess has six hosting plans. The cheapest is Creator at $15.83 per month and the most expensive is the Enterprise plan at $699.30 per month. The wide range of plans ensures that there is a plan for every type of eCommerce store.
One of the unique features that make Liquid Web's Nexcess stand out from the rest is the auto-scaling feature. This feature allows your online store to handle more users when required. Therefore, you don't have to worry about bandwidth and storage when your store experiences a spike in users. The company also runs nightly automated WooCommerce tests.
Speed
Their hosting average response time speed is about 295ms and is second only compared to A2 Hosting. This is the reason for 4.8 rating score.
Uptime
In the latest 2 months, we have seen some problems with the uptime parameter that have decreased their average to 99.75%
Customer Support
Customer support looks great and response times are very good. Support staff are trained and have a lot of experience.
Pricing
Liquidweb is categorized as premium hosting so its price is higher than the average.
Starter at $13.30 per month
Creator at $55.30 per month
Merchant at $104.30 per month
Standard at $209.30 per month
Growth at $384.30 per month
Enterprise at $699.30 per month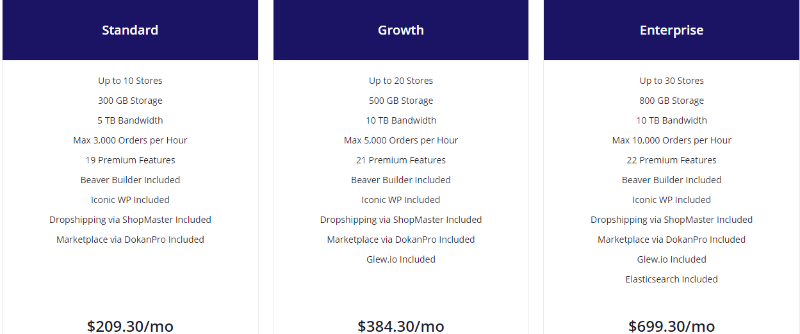 Visit LiquidWeb
User-Friendly Hosting
Dreamhost is a popular web hosting provider that offers reliable WordPress hosting. It is ok for a beginner that doesn't want to spend a lot of money and doesn't have competencies.
Dreamhost has WooCommerce pre-installed, making it quick and easy for you to set up your online store. Other key features offered by the host that is essential for your online store include a pre-installed SSL certificate, 24/7 WordPress support, free domain, free domain privacy, unlimited email, 100% uptime and more.
It is also crucial to note that Dreamhost is another WordPress.org recommended hosting provider.
Dreamhost strives to guarantee you solid security through its web application firewall. In addition, you get daily backups to prevent data loss.
Speed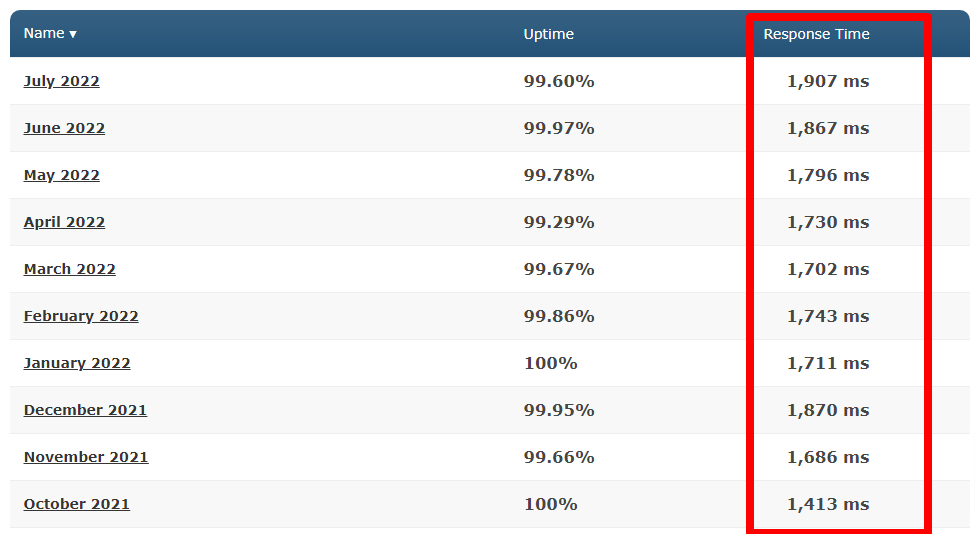 After 12 months of real measurements, Dreamhost is the slowest host on our list with 1824ms.
Uptime
Uptime is about 99.93% and is ranked to the lowest in this listing.
Customer Support
It is good and fast for an easy problem but it makes a little slow when you have other complicated issues.
Pricing
DreamHost has the cheapest plan for shared hosting at $2.59/month if you purchase it for 36 months. In case you want to choose managed hosting the prices go up to $16.95/month.
WordPress hosting plans:
DreamPress at $16.95 per month
DreamPress Plus at $24.95 per month
DreamPress Pro at $71.95 per month

Visit Dreamhost or read the full Dreamhost Review
Best for YITH Plugins Integrated
Bluehost is a popular host among WordPress users, making it a good choice for hosting your WooCommerce site. Some key features on the platform include unlimited bandwidth, unlimited website space, free SSL, free domain, and unlimited email storage. In addition, the company also offers site traffic analytics. Analytics gives you the real-time performance of your online store.
Lastly, they have inclued the most famous YiTH WooCommerce plugins within the WooCommerce plan that can help customize and enhance your WordPress store.
Bluehost gives you a 30-day trial period to test its hosting service and features. Take advantage of this period to try out the platform before committing. After the trial period, you can choose either of the two packages available, WooCommerce standard and WooCommerce premium. The 30-day trial is available on both packages.
Bluehost is also one of the few WordPress.org recommended hosting providers, giving you the assurance you need to get reliable hosting services. Bluehost can pre-install both WordPress and WooCommerce for you, making it possible to set up your store quickly.
Speed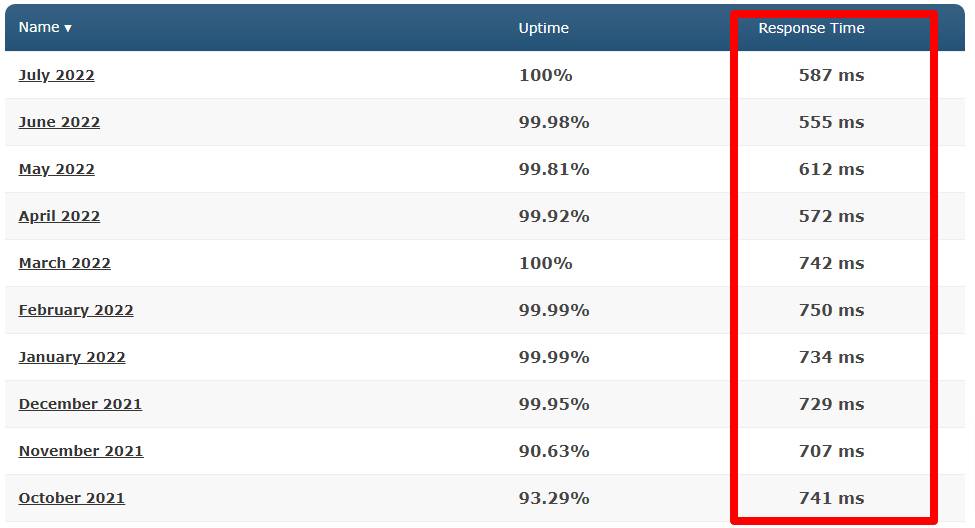 During our testing over the last 12 months, we have measured an average load time of 702ms which isn't bad at all.
Uptime
Uptime is about 99.86% and isn't low if you consider that we have recorded 99.99% for other hosts in this list.
Customer Support
Slow but their staff is able to resolve your basic problems and issues.
Pricing
Bluehost is known to be one of the most affordable hosting providers and offers shared hosting for only $2.95/month.
In case for dedicated hosting for WooCommerce, you can consult the image below
WooCommerce pricing:
WooCommerce Standard at $24.95 per month
WooCommerce Premium at $39.95 per month

Visit Bluehost or read the full Bluehost Review
Unlimited Storage and Bandwidth
HostGator is a popular web hosting service provider that hosts over 8 million domains. Key features that come with this provider include one-click WordPress installation, free SSL, free email, and unmetered bandwidth.
HostGator also offers some of the cheapest shared hosting plans dedicated to WooCommerce in this list. The cheapest shared hosting plan costs $5.95 per month. This plan comes with a free SSL certificate and a free domain is also included. There is also an option to cloud power your hosting through HostGator's WordPress cloud hosting. This is an option that is ideal for businesses that want to upgrade from the shared plans but do not have the budget for VPS hosting.
Speed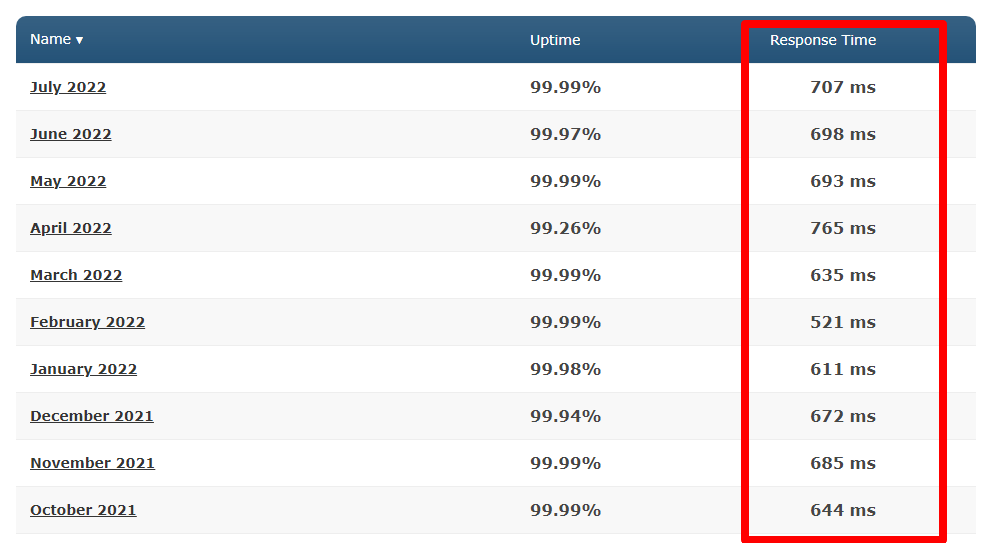 Our testing on Pingdom shows an average server response time of 752ms
Uptime
99.89% is the Uptime for the last 10 months of measurement
Customer Support
Customer support isn't good enough most of the time you have to wait a lot and sometimes their staff haven't the right expertise to solve your problems.
Pricing
Hostgator offers very good prices and you can receive a lot of discounts when purchasing a package for more than a year.
Starter Plan at $5.95 per month
Standard Plan at $7.95 per month
Business Plan at $9.95 per month

Visit Hostgator or read the full Hostgator Review
Best for Customer Support
WP Engine is best described as VIP WordPress hosting. This means that you should expect the best services and performance, but at a price that is higher than most providers in this list. Their robust and fast servers can handle anything, ensuring you have a hassle-free hosting experience on the platform. All plans on the platform also come with 36+ premium StudioPress themes.
Notable features at WP Engine include free SSL and SSH, threat detection and blocking, daily backups, local developer tools, and free automated migrations. All plans also come with ElasticSearch, a powerful store search utility. The feature delivers near-instantaneous results. This is a useful feature for online stores with a large collection of products and offers.
The company has a team of technical experts that ensures everything runs smoothly. Therefore, this is the perfect hosting provider for a business that doesn't want to deal with the technical side of things.
WordPress itself recommends WP Engine for large stores. This does not mean you cannot host your small online store with the company. Considering the prices and the server resources, it makes economic sense to only use the platform for hosting large eCommerce stores.
Solid security features at WP Engine make your WooCommerce site practically hacker-proof. The company offers 24/7 customer support services by email, live chat, and phone.
Speed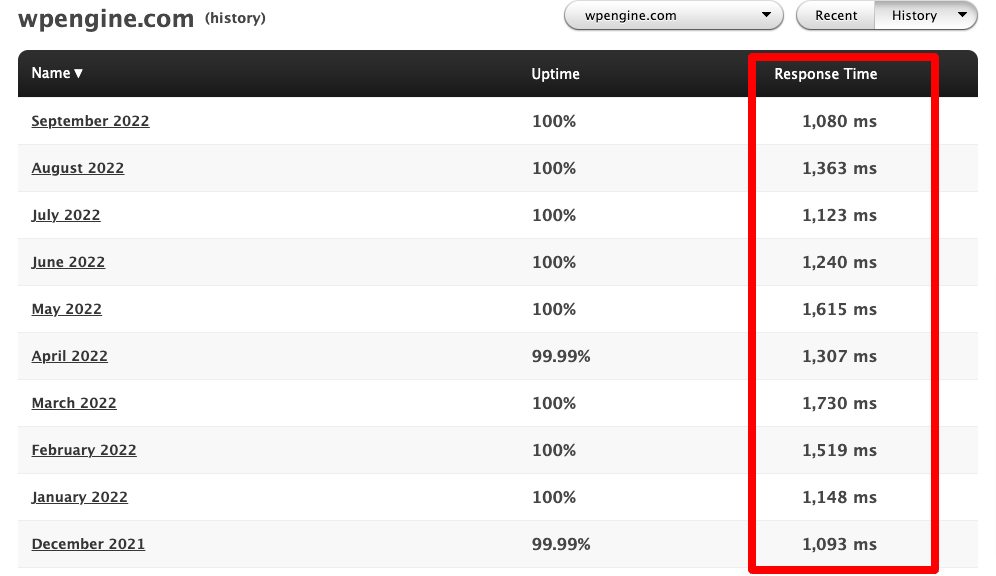 During 12 months of monitoring WPengine, we have found an average load speed of 1084ms that is too high for premium hosting
Uptime
Otherwise from Speed, Uptime is 99.99% so I have rated with a 4.8 score.
Customer Support
WPengine has a very professional team that helps you resolve the most common problems. Their support is one of the best on the market.
Pricing
WPengine has one of the most expensive hosting services on the market. One of the reasons is their exceptional customer service.
Managed eCommerce hosting:
Ecommerce Hosting Startup at $30.00 per month
Ecommerce Hosting Professional at $62.50 per month
Ecommerce Hosting Growth at $116.67 per month
Ecommerce Hosting Scale at $291.67 per month
Dedicated Hosting Custom – customized pricing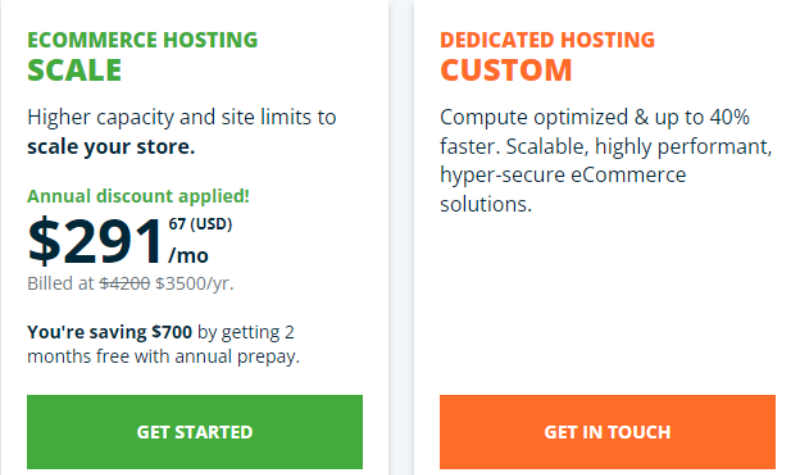 Visit WPengine
What is WooCommerce Hosting?
Woocommerce hosting is a service offered for hosting WordPress websites with the WooCommcerce plugin usually for running an online store. Therefore, WordPress hosting is a prerequisite for this kind of service. In addition, you will need an SSL certificate to accept online payments on your store.
These hosting plans goes beyond just hosting to provide you with support from a team trained in dealing with WooCommerce on a daily basis. The hosting providers give you hassle-free hosting services and let you focus on growing your business.
Like the typical WordPress hosting that is available on shared, VPS, and dedicated hosting, This hosting service is also available in all hosting types. Shared hosting is the cheapest and most popular hosting for WooCommerce e-commerce websites. However, big enterprises may find shared hosting to be limiting and should go for dedicated servers to handle the large amounts of traffic.
The requirement for hosting WordPress with WooCommerce:
RAM > 2GB
PHP 7+ and Mysql
Fast Hosting
Security
Support
Types of WooCommerce Hosting
When it comes to choosing the right WooCommerce hosting for your online store, it's crucial to understand the different types of hosting options available. In this section, we'll discuss the three main types of WooCommerce hosting: shared hosting, dedicated hosting, and managed hosting. By understanding the differences between these options, you can make an informed decision and select the best WooCommerce hosting for your ecommerce website in 2023.
Shared Hosting
Shared hosting is the most affordable and popular type of web hosting, especially for small businesses and startups. With shared hosting, multiple websites are hosted on a single server, sharing resources like CPU, RAM, and storage space. This makes shared hosting an economical option for WooCommerce store owners who are just starting out or have a limited budget.
Some of the key benefits of shared hosting for WooCommerce include:
Affordability: Shared hosting plans are generally cheaper than dedicated or managed hosting options.
Ease of use: Most shared hosting providers offer easy-to-use control panels and one-click installations for popular applications, including WooCommerce.
However, there are some drawbacks to using shared hosting for your WooCommerce store:
Limited resources: Since resources are shared among multiple websites, your site may experience slower load times and performance issues if there's high traffic on the server.
Security risks: Shared hosting can be more susceptible to security breaches and hacking attempts due to sharing a server with other websites.
Dedicated Hosting
Dedicated hosting is a step up from shared hosting in terms of performance and resources. With dedicated hosting, your WooCommerce store is hosted on a server dedicated solely to your website—meaning no sharing of resources with other sites. This results in improved performance, security, and customization options.
Some key benefits of dedicated hosting for WooCommerce include:
Enhanced performance: Your site won't be affected by other websites' resource usage, leading to faster load times and better overall performance.
Increased security: Dedicated servers offer more robust security features and allow for greater control over your site's security settings.
Customization: Dedicated hosting offers full control over your server's settings, enabling you to optimize your WooCommerce store's performance and features.
However, dedicated hosting may not be the best option for every WooCommerce store owner due to:
Higher costs: Dedicated hosting plans are typically more expensive than shared or managed hosting options.
Technical knowledge required: Managing a dedicated server often requires a higher level of technical expertise than shared or managed hosting solutions.
Managed Hosting
Managed hosting is a specialized type of hosting tailored specifically for WooCommerce websites. With managed hosting, the hosting provider takes care of server management, security, and performance optimization, allowing you to focus on growing your ecommerce business.
The benefits of managed hosting for WooCommerce include:
Expert support: Managed hosting providers have in-depth knowledge of WooCommerce and can help you troubleshoot and optimize your site.
Streamlined updates: Managed hosting plans typically include automatic updates to WooCommerce and other plugins, ensuring your site is always up to date and secure.
Enhanced performance: Managed hosting providers optimize server settings for WooCommerce, resulting in faster load times and better overall site performance.
However, managed hosting may come with some downsides:
Higher costs: Managed hosting plans are generally more expensive than shared hosting, but often more affordable than dedicated hosting.
Limited customization: Since the hosting provider manages the server, you may have less control over server settings and configurations than with dedicated hosting.
In conclusion, the best WooCommerce hosting option for your online store depends on your specific needs and budget.
Shared hosting is ideal for small businesses and startups looking for an affordable solution, while dedicated hosting offers the best performance and customization options for larger, high-traffic stores.
Managed hosting is a great option for WooCommerce store owners who want expert support and streamlined server management without the need for advanced technical knowledge.
How to Choose a Hosting for WooCommerce?
The hosting service you use plays a major role in the performance of your online store. Bad or poor hosting services can cause downtimes, slow speeds, or cause errors. These are events and actions that can lead to poor performance of your website, which ultimately negatively affects your online sales.
Choosing the best hosting involves checking for the critical features and functions that are expected on such providers. The important features to look for include the following:
Performance: Look for hosting providers with records of excellent performance. The more uptime guaranteed, the better for your store. Fast loading speeds are also better for your site performance compared to average and slow speeds.
SSL certificate: Ensure you have an SSL certificate for the encryption of data.
WooCommerce installation: The best hosts provide auto installation of woocommerce
Woocommerce expert support: Priority should be given to companies that offer WooCommerce-specific support. In addition, support services should be available 24/7.
Extra layers of security: DDoS protection, firewalls, and similar security features should be available to protect your website as well as your clients and visitors.
Staging: Staging for testing new WooCommerce sites and updates.
Backups: Choose hosts that perform regular backups to avoid loss of data. The host should also make it simple for you to restore your website.
PHP: Should support PHP 8+
Data centers: Multiple data centers increase the chances of having servers near your target market.
PCI Compliance: Make sure you host with servers that are PCI compliant. This means compliance with Payment Card Industry Security Standards to ensure transactions are safe. Many cheap shared hosting plans are run in environments that are not PCI compliant. However, if you use modern payment gateways like PayPal, it's not necessary to check for PCI compliance.
Woocomerce hosting, compared to generic hosting, gives you specific services and features tailored towards the proper and effective functioning of online stores.
In addition, the hosting company handles most of the backend services and lets you focus on running and growing your business. For example, good hosting takes care of your site security, WordPress updates, and daily backups to protect your data.
An additional factor that is critical in the selection of hosting, in general, is the pricing. For example, if you're on a tight budget, you'll be forced to only consider the cheapest options on the list. Whereas you might be missing some premium features offered on expensive plans, these cheap WooCommerce hosts still give you what you need to run an online store efficiently.
Why Use WooCommerce
WordPress is known as the premier blogging platform. However, the large repository of themes and plugins makes it possible to customize your WordPress site to specific functions, including eCommerce stores. Woocommerce is an extension of WordPress that allows you to set up a fully-featured online store.
Unlike many plugins and themes on the platform, the WooCommerce plugin is developed by Automatic, the company behind WordPress. Therefore, WooCommerce is designed to work well with many WordPress plugins. You can rely on the many available plugins to customize the look of your store or add features such as analytics, sales, and marketing. There are many themes and plugins specifically created for WooCommerce.
Woocommerce also features all functions that you'd expect on an online store. You also get safe and secure payments. The plugin comes with Stripe and PayPal out of the box. It is also possible to deploy Add-ons to start using other payment gateways like mobile wallets, bank transfers, and cards. You can also use regional payment methods and gateways that WooCommerce supports.
WooCommerce is the ideal platform for individuals looking for a fully-functional eCommerce platform for selling products.
What Makes WooCommerce Different
The WooCommerce plugin is free. This means that after paying for WordPress hosting services, you do not incur any extra costs to create your online store. However, you may have to add and use premium plugins to enhance the functionality of your store, although there are still many free plugins and themes to use.
Woocommerce also allows you to add as many products as you wish on your online store – no limits. The only limitation in such cases would be your hosting provider based on the amount of space they provide. This is why bandwidth and space is one of the critical factors to consider when looking for hosting WooCommerce.
Conclusion
Having many hosting providers in the market may make it difficult to choose the best one for your business. This is why this review was conducted, to pick for you some of the best hosting providers available for WordPress + WooCommerce.
Here is our final recommendations:
The hosts in this review differ in various offerings and pricing, but all of them provide solid hosting services. Your choice of the perfect host for your business will depend on your budget, the scale of your business, the server resources you're looking for, and your target market. It is important that you choose hosts with data center locations in your target market or nearby. Hosts with integrated Cloudflare CDN or similar features will also help in boosting speeds for your users.