A cheap managed WordPress hosting is a package that is made especially for WordPress and offers a few services that ease the burden of website maintenance.
Your WordPress website is optimized by managed WordPress hosting, which also manages security, backups, upkeep, and performance enhancements.
Here is a summary of the best cheap managed WordPress hosting:
Most managed service providers adjust and customize their services to meet the demands of a content management system.
WordPress powers 40% of all websites on the internet, so it should be no surprise that managed WordPress providers are quickly becoming a necessity for those without a background in hosting administration or coding.
An excellent WordPress hosting service should not only be affordable but also offer great support, fast website loading times, secure infrastructure, and assurance regarding technical updates.
Based on our years of experience with WordPress website hosting and management, we listed and reviewed some of the least expensive managed WordPress hosting providers in this guide.
The Top 6 Cheapest Managed WordPress Hosting Services
Host
Price/month
Number of Websites
Free Domain
Bandwidth
Disk space
Hostinger
$1.99 (Single WordPress)
$2.49 (WordPress Starter)
$3.99 (Business WordPress)
$11.59(WordPress Pro)
1 (Single WordPress)
100 (WordPress Starter)
100 (Business WordPress)
300(WordPress Pro)




Yes
10,000 Visits Monthly (Single WordPress)
25,000 Visits Monthly (WordPress Starter)
100,000 Visits Monthly (Business WordPress)
200,000 Visits Monthly (WordPress Pro)
50 GB SSD(Single WordPress)
100 GB SSD (WordPress Starter)
200 GB SSD (Business WordPress)
200 GB SSD (WordPress Pro)

SiteGround
$3.99 (Startup)
$6.69 (GrowBig)
$10.69 (GoGeek)
1 (Startup)
Unlimited (GrowBig and GoGeek)
No
10,000 Visits Monthly (Startup)100,000 Visits Monthly (GrowBig)400,000 Visits Monthly (GoGeek)
10GB (Startup)
20GB (GrowBig)
40GB (GoGeek)
A2 Hosting
$7.99 (Run)
$12.99 (Jump)
$19.99 (Fly)
$28.99 (Sell)
1 (Run package)
5 (Jump)
Unlimited (Fly and Sell)
No
Unmetered
50GB (Run)
250GB (Jump)
Unmetered (Fly and Sell)
DreamHost
$12.00 (DreamPress)
$24.00 (Dreampress Plus)
$79.95 (DreamPress Pro)
1 (DreamPress)
Unmetered (Dreampress Plus & Pro)
Yes
Unmetered
30GB SSD (DreamPress)
60GB SSD (Dreampress Plus)
120GB SSD (DreamPress Pro)
Flywheel
$15 (Tiny)
$30 (Starter)
$115 (Freelance)
$290 (Agency)
1 (Tiny)
1 (Starter)
10 (Freelance)
30 (Agency)
No
5000 Visits Monthly (Tiny)25000Visits Monthly (Starter)100000 Visits Monthly (Freelance)400000 Visits Monthly (Agency)
5GB (Tiny)
10GB (Starter)
20GB (Freelance)
50GB (Agency)
WP Engine
$20 (Startup)
$39 (Professional)
$77 (Growth)
$193(Scale)
Custom(Dedicated)

1 (Startup)
3(Professional)
10 (Growth)
30+ (Scale)
30+(Dedicated)
No
25000 Visits Monthly (Startup)75000 Visits Monthly (Professional)100000 Visits Monthly (Growth)400000 Visits Monthly (Scale)400000+ Visits Monthly (Dedicated)
10 GB (Startup)
15 GB (Professional)
20 GB (Growth)
50 GB (Scale)
50+ GB (Dedicated)
Hostinger is the cheapest managed WordPress hosting provider on the market. They provide different low-cost hosting services, live chat support 24 hours a day, and a solid platform based on hPanel.
Hostinger includes a one-click WordPress installation, managed automatic updates, enhanced security, a free CDN, WordPress speed acceleration, and free site migration.
They also provide geolocation hosting, with a choice of 7 data centers in the United States, Europe, Asia, and South America. Hostinger has 29 million customers in 178 countries.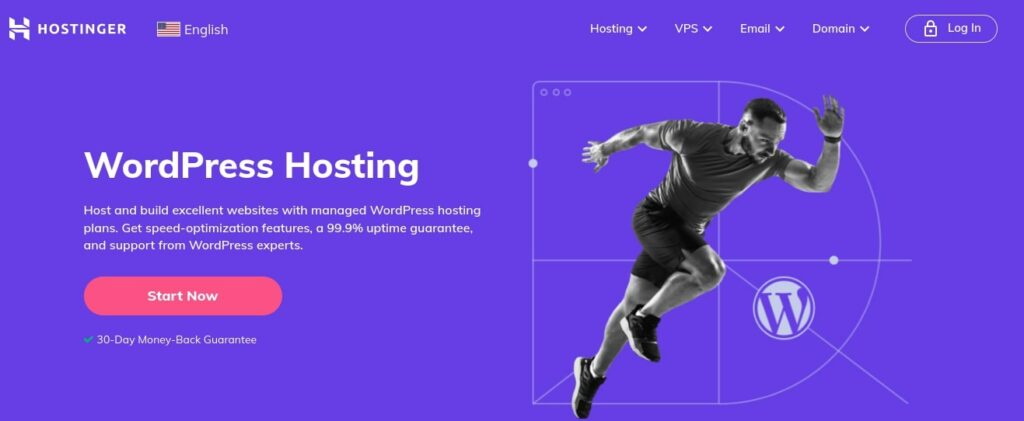 It is a fantastic choice if you want to get going right away and keep your expenses to a minimum with maintaining a high uptime and low response time.
Hostinger also includes WordPress-specific features such as WP-CLI to assist you in installing plugins and configuring multisite installations.
Advantages
They have the most affordable entry-level plans in the industry with plans with lower prices. They provide extremely low-cost hosting plans for users who simply want to test out an idea.
Simple to learn – user-friendly interface.
Excellent customer service. They provide excellent customer support for all plans, which is extremely beneficial to beginners.
Low renewal cost – Unlike other hosting providers, Hostinger offers lower renewal prices when you renew your initial plan.
Outstanding performance. Given Hostinger's pricing, their performance and speed are excellent for this price point in the hosting industry.
Disadvantages
Sign up for their Pro plan ($11.95/mo) to get a dedicated IP for your website.
Other features, such as a staging website, unlimited databases, CDN, and SSH access, are available only with their premium plans.
No Daily Backups. Instead of daily backups, their single and premium plans provide weekly backups. However, regardless of their hosting provider's daily backup claim, we recommend that users always set up their own backup solution.
Features
| | |
| --- | --- |
| Free SSL certificate | Yes |
| User-friendly interface | Yes |
| Free Migration | Yes |
| One-click installer | Yes |
| Free weekly backup | Yes |
| Automatic WP updates | Yes |
| 24/7 customer support | Yes |
| Professional email address | Yes |
| WordPress staging | Yes |
Pricing
Hostinger pricing starts at $1.99 per month for a single WordPress plan with 10,000 monthly visitors and then jumps to $3.99 per month for managing 100 websites with 100 GB of storage and 25,000 monthly visitors.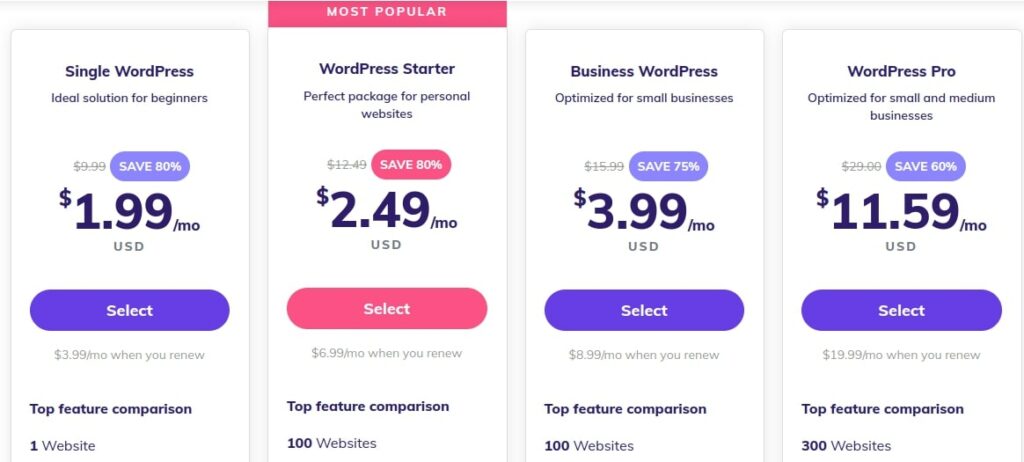 Best for
Hostinger is recommended for all beginners who want to start a website without spending a lot of money. Hostinger's low-cost shared hosting plans provide excellent value for money, as well as excellent performance and an extremely user-friendly control panel.
Higher-traffic websites that want to scale without changing providers should also look into Hostinger
Read More: Complete Hostinger Review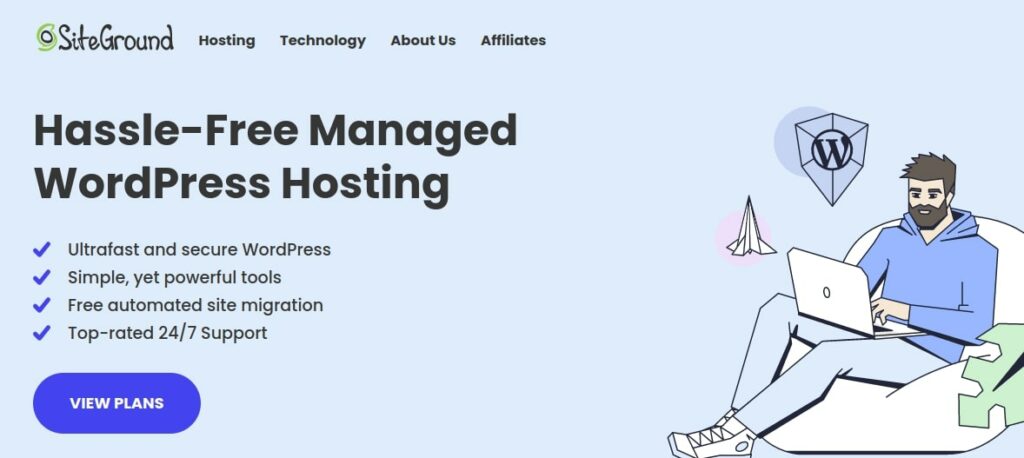 SiteGround is a popular and highly regarded hosting provider in the WordPress community.
They offer unique in-house WordPress bandwidth and security solutions to make your site as fast and secure as possible.
Known for providing the best 24/7 support in the industry, which is why they are an official 'WordPress' recommended hosting provider.
SiteGround features include automatic upgrades, daily backups, built-in WP caching, free CDN, free SSL, one-click staging, and GIT version control. They are also one of the few companies that provide location-specific hosting, with 6 data centers in the United States, Europe, Asia, and Australia.
This means that the service provider will take care of your blog's automatic WordPress and plugin updates, caching, and security procedures.
Advantages
Servers that are lightning fast. SiteGround servers are all highly optimized for performance. For all new customers, they use the Google Cloud platform, which is one of the fastest platforms on the market.
Excellent Customer Service. To say the least, their customer service is outstanding. They provide phone support, live chat, and ticket-based
Backups every day for free (30-day retention).
A high-quality but reasonably priced WordPress hosting solution. One of the most cost-effective possible choices on our list.
WordPress has officially recommended it.
On the same account, you can have an unlimited number of WordPress websites.
Disadvantages
The cheapest plan has a monthly user limit of 10,000, which is low in comparison to other hosts.
Higher monthly billing fee: If you choose monthly billing, the hosting service becomes more expensive. However, if you sign up for a longer billing period, you will receive a larger discount and a lower rate. They do offer a 30-day money-back guarantee, so it's a good idea to sign up for a longer billing period.
Features
| | |
| --- | --- |
| Free CDL and SSL certificate | Yes |
| Automatic WordPress updates | Yes |
| Free migrations | Yes |
| Daily backups | Yes |
| Automatic security updates | Yes |
| 24/7 customer support | Yes |
Pricing
Choosing monthly billing increases the cost of the hosting service. However, you'll receive a larger discount and a lower rate if you sign up for a longer billing cycle.
In any case, they provide a 30-day money-back guarantee, so it's a wise move to select a longer billing cycle when you sign up.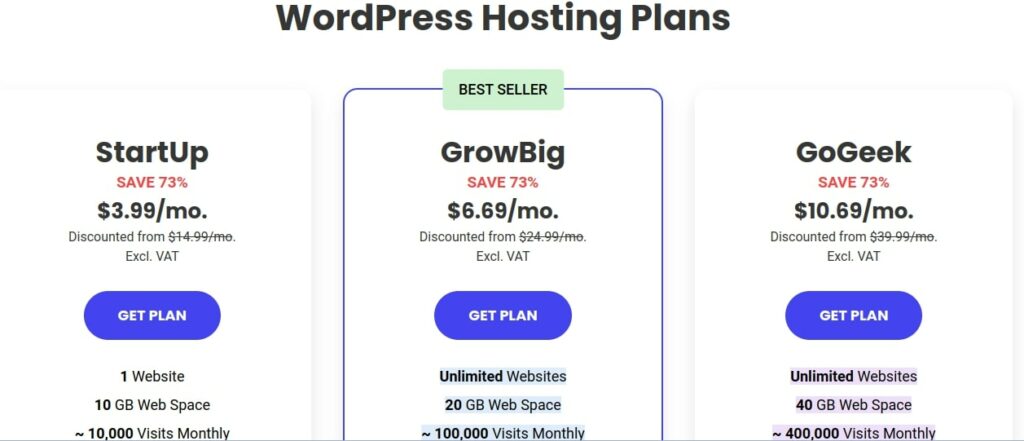 Best for
SiteGround is ideal if you need a fast web hosting provider with excellent customer service. They have hosting plans to suit every budget, and each plan includes a comprehensive set of features.
Read More: Siteground Review
Their managed WordPress hosting plans are powered by a VPS – a virtual private server. This is one of the more powerful hosting plans. The $39.99 per month option includes up to 150GB of storage and 2TB of transfer which makes the price reasonable.
Additionally, a free SSL certificate and 4GB of server RAM are included together with a free site migration and simple 1-click installation for CMS tools like WordPress.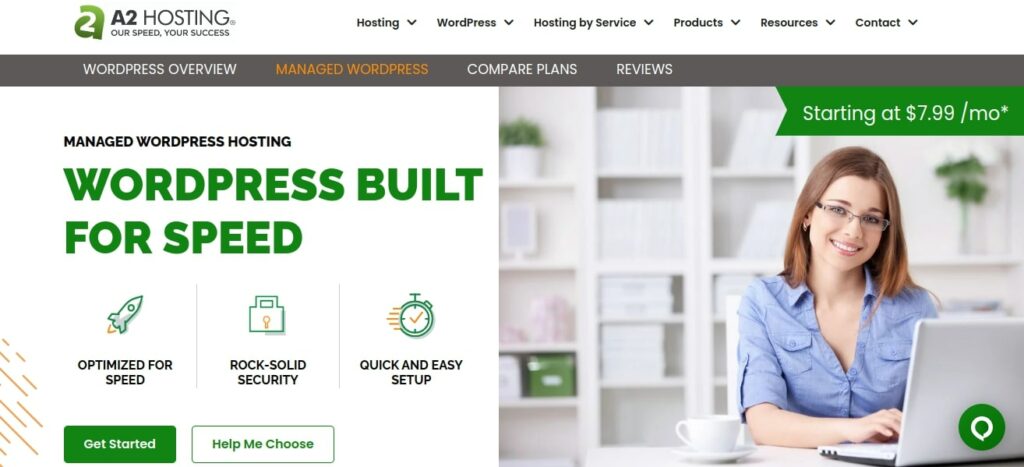 Ultimately, A2 Hosting has a strong position in the market, and we've previously recommended them for diverse reasons and types of websites. All in all, when you have the means, you will be satisfied with their services.
Advantages
The provider's security measures are excellent. All plans include free access to tools such as SSL certificates and DDoS protection.
It provides the fastest WordPress hosting, with a load time of 392ms, and it also provides free migration services.
Every A2 Hosting plan includes WordPress staging. In this way, you can experiment with the layout of your blog without affecting the live version.
For simple site management, the provider employs a standard cPanel. The dashboard's ease of use makes it appropriate for beginners.
Disadvantages
No plan comes with a free domain name.
The real value starts with the Turbo plans, implying that the basic plans are lacking in advanced features.
Features
| | |
| --- | --- |
| WordPress staging | Yes |
| Free account migration | Yes |
| Free SSL | Yes |
| Automated WordPress backups | Yes |
| 24/7 customer support | Yes |
| 1-click site staging | Yes |
| User-friendly interface | Yes |
| Free HackScan protection and DDoS protection | Yes |
Pricing
Along with their 30-day money-back guarantee, A2 Hosting also offers an anytime money-back guarantee. If you are not completely satisfied with their hosting service, you have the option of receiving a full refund within 30 days.
Any services that remain unused after 30 days will be eligible for a prorated refund.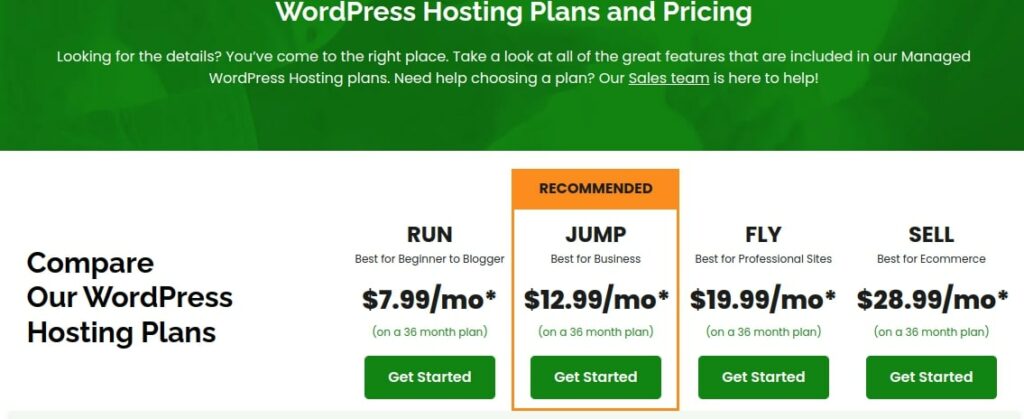 Best for
For those who need high processing power but are on a tight budget, such as online retailers, start-ups, and larger companies, it is therefore recommended.
Read More: A2 Hosting Review

With over 18 years in business, DreamHost is renowned for making web hosting simple. You receive a personalized dashboard, one-click installation of WordPress, automatic WordPress updates, unlimited space, unlimited bandwidth, and free SSDs, which accelerate your website by 200%.
Over 1.5 million WordPress blogs and websites are powered by DreamHost. Additionally, they are an authorized WordPress hosting provider. They provide a range of plans including managed hosting for WordPress including custom-made plans.
Advantages
Guaranteed money back. DreamHost provides a money-back guarantee of 97 days. That means you can cancel your account and receive a full refund within 97 days of signing up.
Their entry-level plan allows for up to 100K visits per month. Without having to upgrade to a more expensive plan, this will be sufficient for the majority of websites for a number of years.
It is a hosting company with over 20 years of experience that ranks among the best.
Automatic Daily Backups – DreamHost plans include daily website backups. Despite the fact that we always advise users to create their own real-time WordPress backups.
Few businesses still offer phone support, but they do.
Disadvantages
Only the more expensive plans of their company offer a feature like priority support and CDN.
On each of their plans, there can be only one WordPress installation.
Features
| | |
| --- | --- |
| Free SSL certificate | Yes |
| Free domain | Yes |
| Free WordPress migrations | Yes |
| User-friendly interface | Yes |
| Daily and on-demand backups | Yes |
| Built-in caching | Yes |
| WordPress site builder with 200+ design themes | Yes |
| WordPress staging | Yes |
Pricing
You will receive a full refund if you decide to cancel after signing up because you are unhappy with the performance within the first 97 days. There is no surprises; just a simple, beginner-friendly web hosting environment.
The fact that everything they need can be accessed without upgrading plans will please seasoned users.

Best for
DreamHost is a top pick for people looking for an easy way to build and manage a website with access to thousands of gorgeous themes and powerful plugins to customize your site.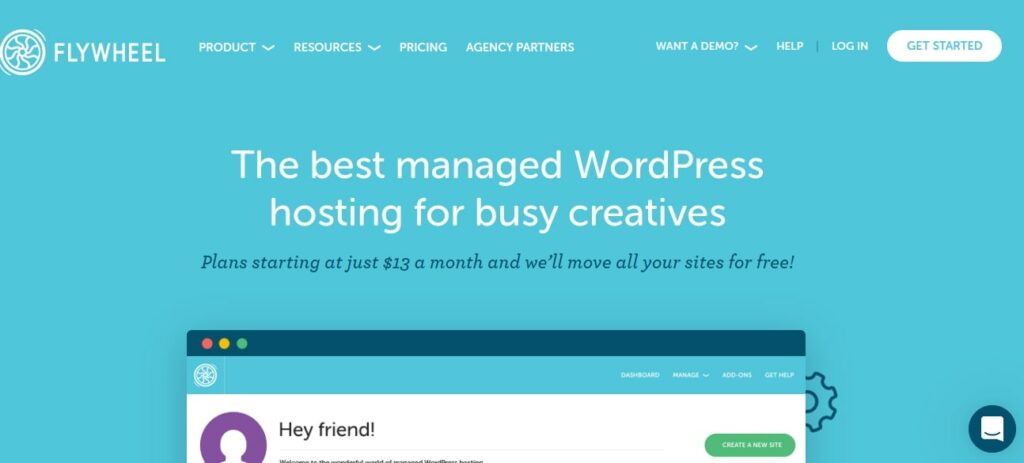 It is the preferred platform for freelancers and agencies who manage multiple WordPress websites on behalf of their clients. They have workflow tools to help you manage multiple accounts in addition to the standard features you would expect from a premium hosting provider.
Flywheel also provides custom-built managed WordPress hosting plans for agencies with 100 or more sites. These packages are ideal for growing your agency or web design business.
Interacting with the platform is truly user-friendly and simple. There is virtually no learning curve. They have data centers located all over the world (which helps your site performance by guaranteeing good load times all around the world).
There's also built-in caching and automatic backups.
Advantages
Excellent features for agencies or freelancers managing multiple client websites.
The ability to move billing to another account or transfer a site to a client.
User-friendly interface – very simple to use.
CDN is included at no extra cost with all packages.
They only host WordPress websites on their network.
Disadvantages
Their basic package only includes 5GB of storage.
Monthly costs are higher when compared to other providers.
Features
| | |
| --- | --- |
| Free SSL certificates | Yes |
| Free CDN and custom caching | Yes |
| Hacker-free security | Yes |
| User-friendly interface | Yes |
| Free weekly backup | Yes |
| Nightly backups | Yes |
| 24/7 customer support | Yes |
| WordPress staging | Yes |
Pricing
The Flywheel starter plan is $15 per month and contains 1 WordPress site, 5 GB of storage, and a monthly usage limit of 5000.
To use the available tools for Freelancers and Agencies, you must subscribe to one of their premium plans, which cost $115/month (up to 100K visits) or $290/month (up to 400K monthly visits).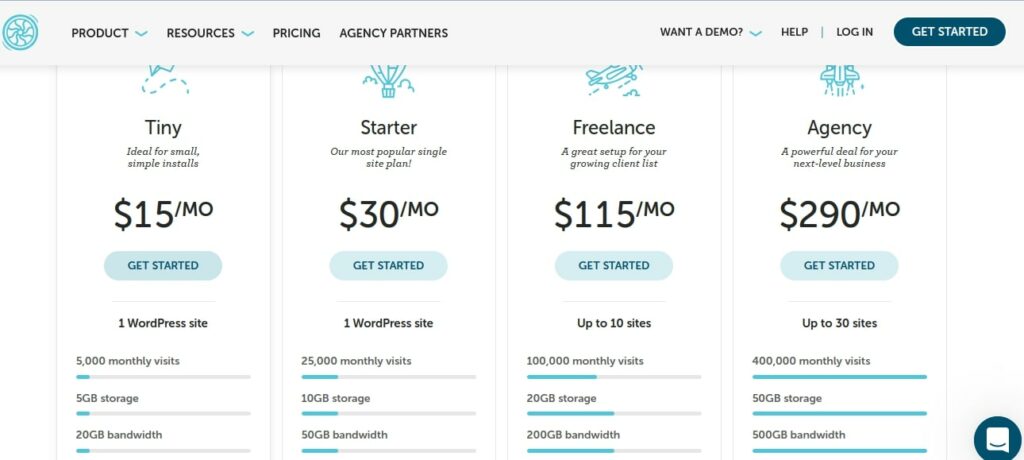 Best For
Agencies and Freelancers who want to manage a lot of WordPress installations in one dashboard with high performance and fast speed.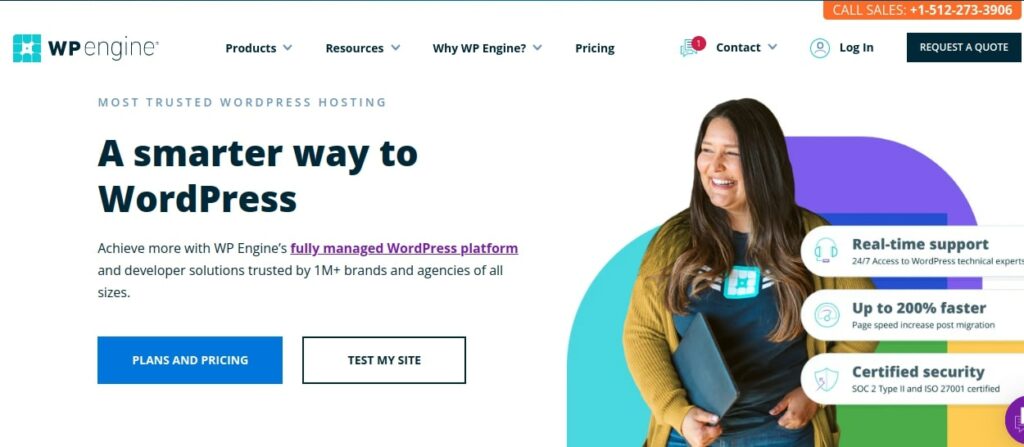 It was created specifically for WordPress. Many consider it the best WordPress host, and there are no significant drawbacks to suggest otherwise.
It's not the cheapest option; in fact, it's the most expensive, especially as your traffic grows, but it's well worth it. WP Engine is the way to go if you want to build an online business while providing the best user experience possible.
They provide excellent WordPress-optimized hosting plans, 24/7 chat support (currently rated 4.5 / 5 by our survey respondents), staging environments, and a slew of other benefits that make it a great one-stop solution for your WordPress site.
Advantages
Security. WP Engine protects your site with many advanced security features that other hosts do not provide.
It is one of the most dependable hosting providers, with infrastructure designed specifically for WordPress.
WordPress Expert Support – The entire WP Engine support team is made up of WordPress experts.
All packages include free premium themes.
Easy to set up different environments (dev, staging, and production) for faster web development.
WordPress hosting that is fully managed and comes with a 60-day money-back guarantee.
Disadvantages
Some Plugins are not permitted. Certain WordPress plugins are not permitted to be installed on your site by WP Engine, either because they conflict with or duplicate WP Engine's features, or because they cause a high server load.
In comparison to other providers, all plans have a lower storage capacity. This could be an issue if your website contains a large number of images and videos. More storage is an option, but it will raise the monthly cost.
Although it is worthwhile, it is the most expensive premium WordPress.
Features
| | |
| --- | --- |
| Automatic WordPress updates | Yes |
| User-friendly interface | Yes |
| Daily site backups | Yes |
| Free weekly backup | Yes |
| Automated SSL certificates | Yes |
| 24/7 customer support | Yes |
| Continuous monitoring and robust security | Yes |
| WordPress staging | Yes |
Pricing
The pricing, on the other hand, is a disadvantage. The most affordable option is $30 per month ($20 with our discount if you sign up for 12 months in advance).
That's four months of free service just for being a loyal Themeisle reader. Not bad at all. This plan allows you to have one WordPress installation, receive up to 25,000 monthly visitors, and use up to 10GB of disk space.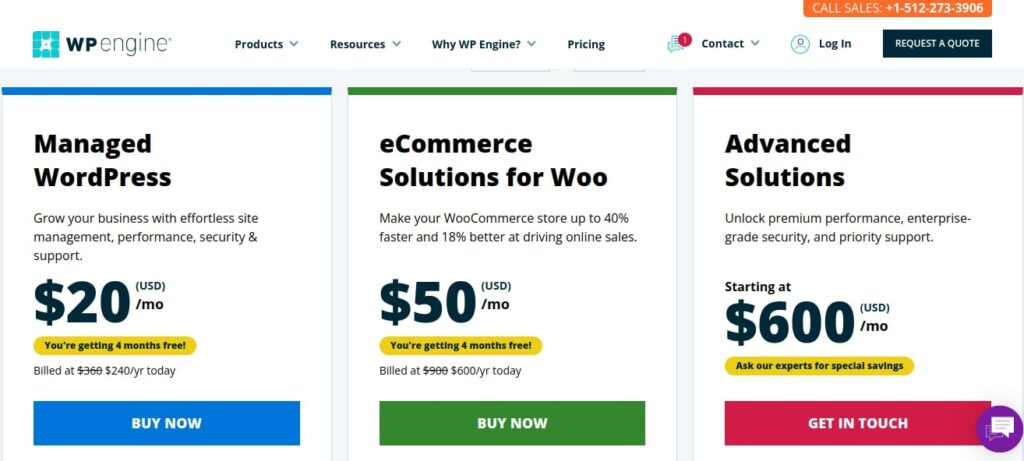 Best For
It is ideal for bloggers and businesses who want to avoid wasting so much time on technical details and instead find a WordPress host that simply works.
Factors to consider when Choosing a Managed WordPress Hosting
Speed
In general, managed hosting plans provide faster loading times. However, this is usually due to the aggregate quality of the host's infrastructure across all of its available hosting plans, not just its managed offerings, rather than any "added WordPress magic."
User Support
A key differentiator is that managed WordPress hosting providers typically have a team of trained individuals on hand to guide you through the intricacies of maintaining your WordPress site.
For example, one of our top recommended companies, SiteGround, has a reputation for excellent customer service that is willing to bend even its own policies to please the customer.
So, before you buy a managed hosting plan based solely on its low price, read user reviews to learn about its support.
Optimization of user experience
The more you become acquainted with your WordPress site, the more you may wish to do with it. Check to see if the managed WordPress host pack you're thinking about includes the ability to create a staging environment.
This allows you to test new themes and plugins before installing them on your live WordPress site. Another factor to consider is whether you intend to migrate from another hosting provider or server.
The website migration process is usually much simpler and is usually included for free in managed WordPress plans.
FAQs
Is it worth using Cheap managed WordPress hosting? 
Yes! This is due to the fact that managed hosting includes more advanced services and features that can save you a lot of time and migraine when managing your WordPress website.
Do I need managed WordPress hosting to start my website?
No! You should however consider it if you want to build a WordPress site without having to worry about maintenance, managed WordPress hosting is a better option. 
The web host handles updates and backups for you. Furthermore, managed WordPress hosting providers install a firewall and perform malware scans on your website to improve its security.
Who should use Managed WordPress?
All types of people. It will be beneficial to you if you work for a website development company. It will help you if you are a freelancer or entrepreneur. If you have an e-commerce website, it will benefit you because speed, performance, and security are critical. 
But, more importantly, it will benefit you if you don't want to deal with the technical aspects of your WordPress website and instead concentrate on the business side of your website.
Conclusion
According to the discussion above, it is very possible to enjoy the managed WordPress hosting experience for less than ten dollars per month.
Alternatively, if you believe you require a more powerful hosting setup, you could always pick a more pricey managed WordPress hosting solution to address your requirements.

As one of the co-founders of Codeless, I bring to the table expertise in developing WordPress and web applications, as well as a track record of effectively managing hosting and servers. My passion for acquiring knowledge and my enthusiasm for constructing and testing novel technologies drive me to constantly innovate and improve.
Expertise:
Web Development,
Web Design,
Linux System Administration,
SEO
Experience:
15 years of experience in Web Development by developing and designing some of the most popular WordPress Themes like Specular, Tower, and Folie.
Education:
I have a degree in Engineering Physics and MSC in Material Science and Opto Electronics.