Mastodon Hosting providers can be found abundantly online, but be cautious as not all providers and their plans are suitable. It's essential to purchase a VPS, Cloud, or dedicated plan that allows you to install Mastodon, a decentralized social media network.
Furthermore, keep in mind that a Mastodon hosting solution should meet certain criteria, such as having at least 3GB RAM and a 2-core CPU server.
These requirements are crucial to begin your search. I've made this task easier for you by listing 5 Hosting providers along with the respective plans that are suitable for hosting Mastodon.
The Top 5 Best Mastodon Hosting Providers

Superior speed performance
Custom hPanel for efficient management
Free daily backups and SSL certificate
Optimized for WordPress with one-click installation
Starting at $7.99/month
7% OFF with our coupon: CODELESS
See Pros & Cons
Pros
Highly affordable hosting plans
Easy-to-use interface
Efficient customer support
99.9% uptime guarantee
Cons
Renewal rates can be high
Hostinger, with its robust infrastructure, can efficiently support Mastodon, the open-source social media network. Given Mastodon's server requirements, selecting the right hosting environment is crucial for ensuring optimal performance.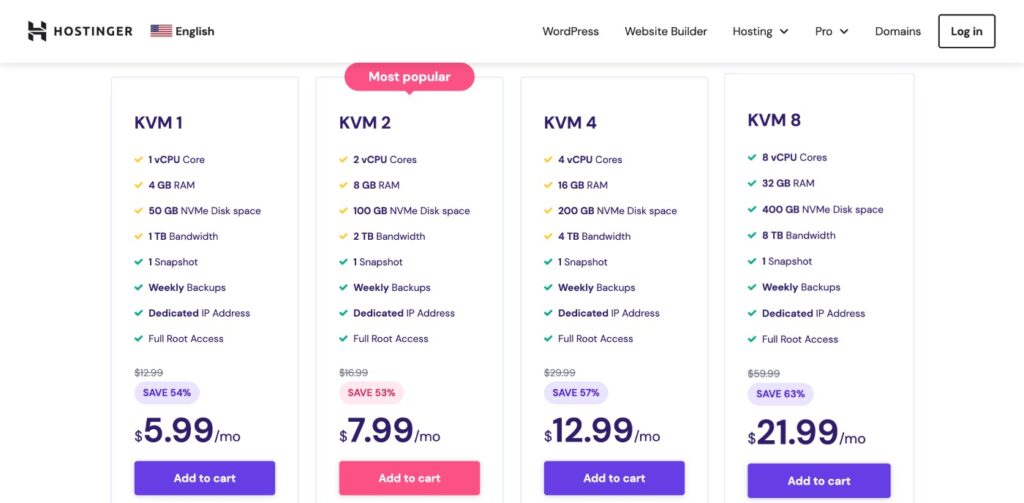 So practically you need about 3GB RAM and 2 Core CPU in that case I will recommend you Hostinger VPS KVM2 plan which cost $7.99/month and offer 8GB RAM and 2CPU Core plus 100GB NVME storage.
You can get extra 7% OFF by using our exclusive coupon code: CODELESS
This configuration will be perfect for hosting Mastodon.

Optimized Droplets for various applications
SSD-based storage for high-speed data access
Hourly pricing to match dynamic needs
Datacenters located across the globe
Starting at $28/month for relevant Mastodon specs
See Pros & Cons
Pros
Quick setup and scalability
Transparent pricing with no hidden fees
Extensive documentation & active community
Dedicated CPU options for consistent performance
Cons
Additional costs for managed databases
No direct phone support
Known for its simplicity and being developer-centric, DigitalOcean offers a range of cloud infrastructure services that are suitable for hosting Mastodon. Their scalable Droplets can match the requirements of Mastodon, ensuring a smooth experience for users and administrators alike.
Considering Mastodon's demand for **at least 3GB of RAM and a 2 Core CPU**, DigitalOcean's standard plan suits the bill.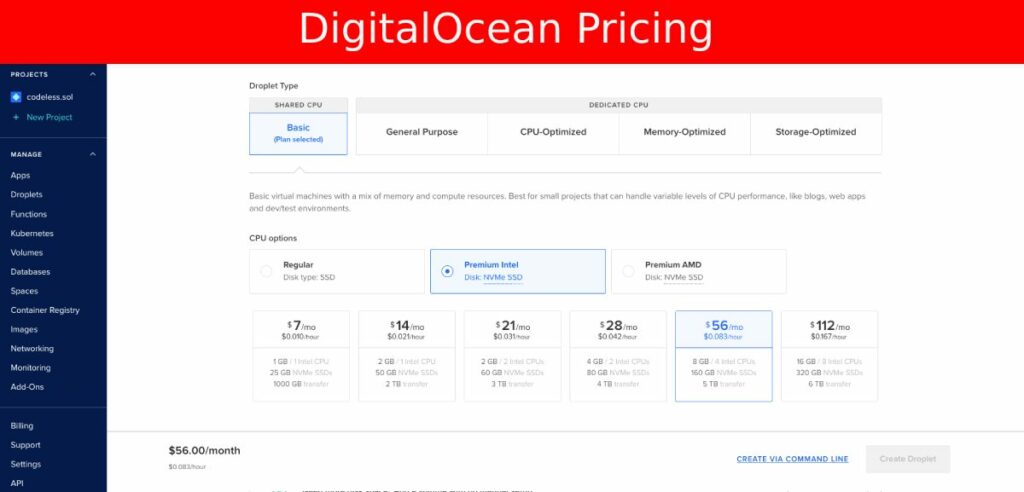 This ensures that your Mastodon instance runs efficiently:
CPU: 2 vCPUs
RAM: 4GB
NVMe Storage: 4TB
Transfer: 3TB
Operating System: Choice between Ubuntu, Debian, or other popular Linux distributions
Estimated Cost: Starting at $28/month
With DigitalOcean's reliable SSD-based storage, network speed, and datacenter locations worldwide, Mastodon instances can achieve fast load times and provide a consistent user experience. The provider's straightforward documentation and community tutorials make it relatively easy to set up and maintain Mastodon, even if you're new to the platform.
Furthermore, DigitalOcean's monitoring and alerting features ensure that you are always updated about your Mastodon instance's health, helping you to make informed decisions about scaling and resource allocation as your user base grows.

SwiftServer Platform for fast page loads
Free and easy site migration
Enhanced security with free HackScan
99.9% uptime guarantee
Starting at $29.99/month for relevant Mastodon specs
See Pros & Cons
Pros
Root access for advanced customization
Optimized for eCommerce & CMS
Choice of data center location
Friendly and efficient 24/7/365 support
Cons
High renewal rates
Limited storage in base plans
A2 Hosting, renowned for its turbo servers and excellent customer support, offers Virtual Private Server (VPS) solutions that cater well to Mastodon's hosting requirements. With a commitment to performance and reliability, A2 Hosting ensures that your Mastodon instance remains fast and secure.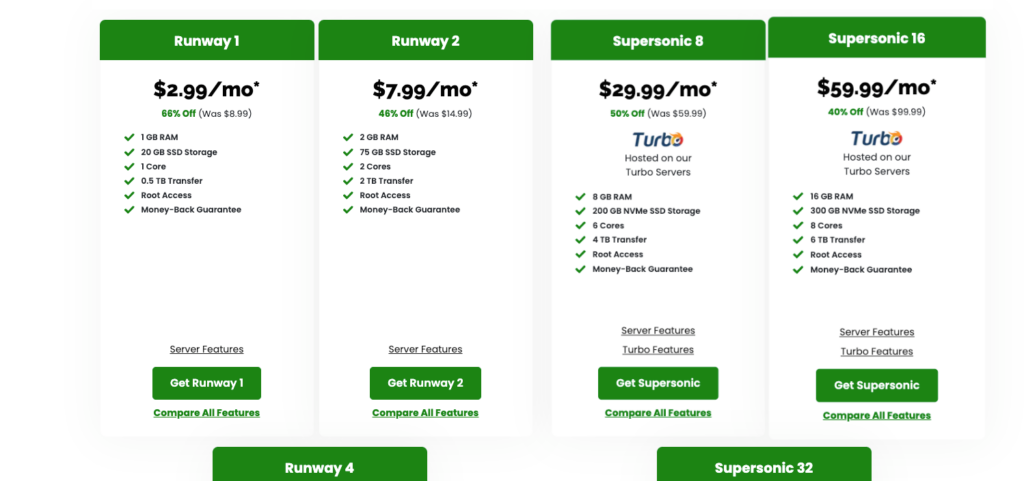 A2's Managed VPS Lift 4 plans fit perfectly:
CPU: 2 Cores
RAM: 8GB (more than Mastodon's minimal requirement)
Storage: 150GB SSD
Operating System: Choice between cPanel, Plesk, or other popular Linux distributions
Estimated Cost: Starting at $39.99/month
You can also choose a cheaper solution the unmanaged vps plan that cost $29.99/month that offers these parameters:
8 GB RAM
200 GB NVMe SSD Storage
6 Cores
4 TB Transfer
Root Access
Money-Back Guarantee
A2 Hosting's VPS plans are powered by their SwiftServer platform, promising faster page load times. Additionally, they offer a free HackScan service to ensure your Mastodon instance remains protected against any potential threats. With data redundancy and automated backups, you can have peace of mind about your data's safety.
Moreover, the 24/7/365 guru crew support ensures that any technical challenges are swiftly addressed. A2's commitment to a 99.9% uptime guarantee ensures that your Mastodon community stays online and active without any interruptions.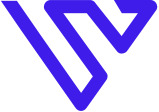 Managed Cloud cPanel Server
Optimized for high-performance
Dedicated resources for all plans
Unlimited Traffic & Websites
Starting at $39.50/month (50% off for the first term)
See Pros & Cons
Pros
Flexible plans catering to various requirements
Included backups and SSL Certificates
cPanel/WHM for easy management
24/7 dedicated support
Cons
Renewal rates higher than initial promotional rates
Limited customization outside of cPanel/WHM
Verpex offers managed cloud servers with dedicated resources, making it a viable choice for hosting a Mastodon instance. Their servers are optimized for high performance, ensuring that your Mastodon instance is responsive and reliable for your users.
For Mastodon, with its requirements of **3GB RAM and a 2 Core CPU**, Verpex's **Managed Server – D4** plan fits the bill, offering even more resources than needed:
CPU: 2 Dedicated Xeon vCPUs
RAM: 4GB Dedicated RAM
Storage: 80GB Dedicated SSD
Traffic: Unlimited
Features: cPanel/WHM, Backups, SSL Certificates, App Installer, and Unlimited Websites
Estimated Cost: Starting at $39.50/month (50% off for the first term, renews at $79.00/mo)
What stands out about Verpex is the managed aspect of their offerings. They handle the technical details, allowing you to focus on the content and community of your Mastodon instance. The inclusion of cPanel/WHM makes server management a breeze, and the unlimited traffic ensures your community can grow without concerns about bandwidth limits. Their 24/7 support ensures that any issues or concerns are addressed promptly.
Overall, Verpex's managed cloud servers provide a robust environment for hosting Mastodon, making it a solid option for those looking for dedicated resources and comprehensive server management.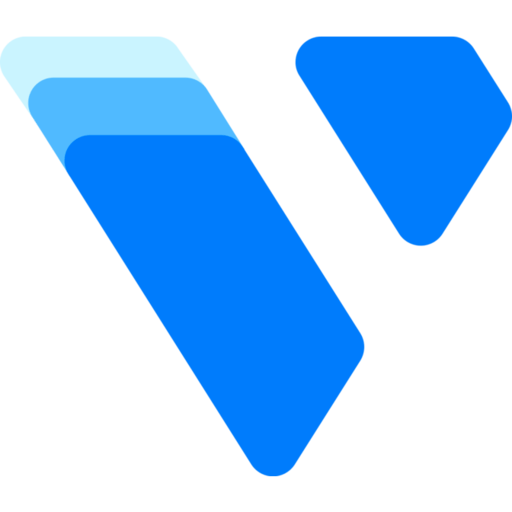 Flexible cloud compute plans
High-performance SSDs
Massive range of CPU and RAM combinations
Transparent hourly and monthly pricing
See Pros & Cons
Pros
Offers a broad spectrum of server configurations
Scalable infrastructure to accommodate growth
Competitive pricing with hourly rates available
Robust infrastructure with high uptime
Cons
Some lower-tier plans have limited features (e.g., IPv6 only)
Steep price jumps between certain plans
Vultr stands out as a robust cloud hosting provider offering a multitude of configurations to cater to a broad range of hosting requirements. For those aiming to set up a Mastodon instance, it's important to select a configuration that meets the requirements of 3GB RAM and a 2 Core CPU.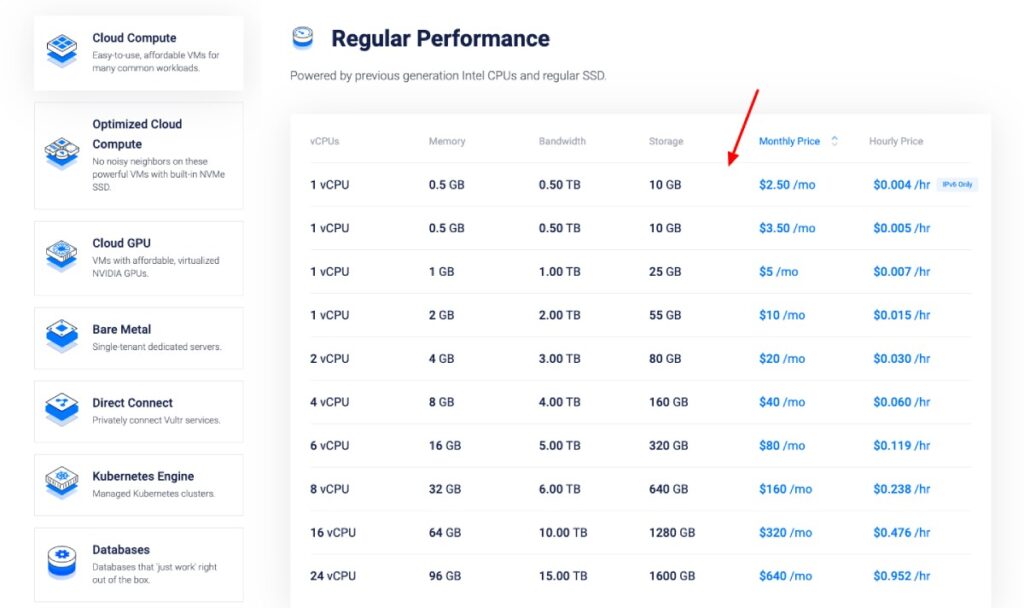 Considering the Mastodon specifications, the **2 vCPU, 4 GB RAM** plan at **$20/month** would be a suitable choice:
CPU: 2 vCPUs
RAM: 4GB
Storage: 80GB SSD
Traffic: 3.00 TB
Estimated Cost: $20/month or $0.030/hr
This plan offers resources that not only match but exceed the basic Mastodon requirements, ensuring optimal performance. Moreover, Vultr's transparent pricing allows users to monitor and manage costs effectively. The scalable infrastructure is also a bonus, allowing the Mastodon instance to grow seamlessly.
In conclusion, Vultr offers a compelling hosting solution for those looking to set up a Mastodon instance. Their flexible cloud compute plans and high-performance SSDs ensure that users get value for money and reliable performance.
FAQs
What is Mastodon?
Mastodon is a free, open-source, and distributed social networking platform. It's an alternative to centralized platforms, allowing users to host their instances and be part of a larger Mastodon network.
Why do I need specific hosting requirements for Mastodon?
Mastodon, like any application, has specific server resource requirements to function optimally. Ensuring that your hosting meets these needs will provide a smooth and efficient experience for you and your users.
What are the basic hosting requirements for Mastodon?
At a minimum, Mastodon requires a server with at least 3GB RAM and a 2-core CPU. Other requirements might include storage, bandwidth, and software dependencies, depending on whether you're using Docker or not.
Can I host Mastodon on shared hosting?
Generally, it's not recommended to host Mastodon on shared hosting due to its resource requirements and the nature of shared hosting environments. It's better to use VPS, Cloud, or dedicated hosting.
Is Docker necessary for hosting Mastodon?
No, Mastodon can be hosted with or without Docker. However, using Docker can simplify the deployment and scaling process for some users.
How much does it typically cost to host Mastodon?
The cost can vary based on the hosting provider and the chosen plan. Basic VPS plans that meet Mastodon's requirements can start from $5 to $20 per month, but this can go up depending on additional features and resources.
What should I consider when choosing a Mastodon hosting provider?
Look for a hosting provider that offers sufficient resources (RAM, CPU), good uptime, regular backups, and responsive customer support. Also, consider factors like scalability and the ease of setting up Mastodon.
Can I migrate my Mastodon instance to another hosting provider?
Yes, it's possible to migrate Mastodon to a different host. However, ensure you back up your data and follow the appropriate migration steps to avoid data loss.
Are there any security considerations I should be aware of when hosting Mastodon?
Yes, as with any online platform, security is crucial. Ensure your server is regularly updated, use strong passwords, configure firewalls, and consider implementing SSL certificates for secure data transmission.
How does Mastodon handle data and user privacy?
Being open-source, Mastodon is transparent about its data handling practices. Additionally, since you'd be hosting your instance, you have more control over data and its privacy. However, always inform your users about your privacy policies and data handling practices.
Conclusion
In this article, I believe I have provided you with plenty of good options for hosting Mastodon. In short, if you want a straightforward, affordable, and high-performance hosting provider, I would choose the Hostinger KVM 2 plan.
However, if you have big plans to scale up Mastodon quickly, I would recommend a droplet on DigitalOcean with 4GB RAM and a 2-core CPU.

As one of the co-founders of Codeless, I bring to the table expertise in developing WordPress and web applications, as well as a track record of effectively managing hosting and servers. My passion for acquiring knowledge and my enthusiasm for constructing and testing novel technologies drive me to constantly innovate and improve.
Expertise:
Web Development,
Web Design,
Linux System Administration,
SEO
Experience:
15 years of experience in Web Development by developing and designing some of the most popular WordPress Themes like Specular, Tower, and Folie.
Education:
I have a degree in Engineering Physics and MSC in Material Science and Opto Electronics.