DirectAdmin VPS hosting is somewhat rare, as only a few providers support and offer the ability to use this control panel.
Recently, DirectAdmin has begun to be used more as a good alternative to cPanel and WHM. This software is often used in reseller hosting, although it can be utilized in shared or standard VPS hosting as well.
The management is simple and intuitive, which is why its usage has lately increased. In this article, I wanted to conduct detailed research to find those providers that come with the option to use DirectAdmin on their VPS.
The Top 5 Best DirectAdmin VPS Hosting

KVM VPS Hosting Plans
NVMe Storage
Dedicated IP & Full Root Access
IPV4 & IPV6 Support
24/7 Support
Starting at $5.99/month
7% OFF Exclusive Discount Coupon: CODELESS
See Pros & Cons
Pros
Flexible plans with up to 8 cores
Weekly Backups
100 Mb/s Network
Add DirectAdmin for advanced web hosting control
Cons
DirectAdmin at extra cost
Some advanced features limited to higher-tier plans
Hostinger is the best Directadmin VPS hosting that comes with a variety of plans designed to cater to different needs. The plans include KVM 1 to KVM 8, with vCPUs ranging from 1 to 8 cores, memory from 4GB to 32GB, NVMe Storage from 50GB to 400GB, and bandwidth from 1TB to 8TB.
All these plans include a dedicated IP, full root access, IPV4 & IPV6 support, and 24/7 customer support.
The integration of DirectAdmin offers a graphical web-based web hosting control panel, enabling seamless administration of websites through a web browser.
With different DirectAdmin plans such as Personal Plus, Lite, and Standard, users can choose the right fit for their hosting needs.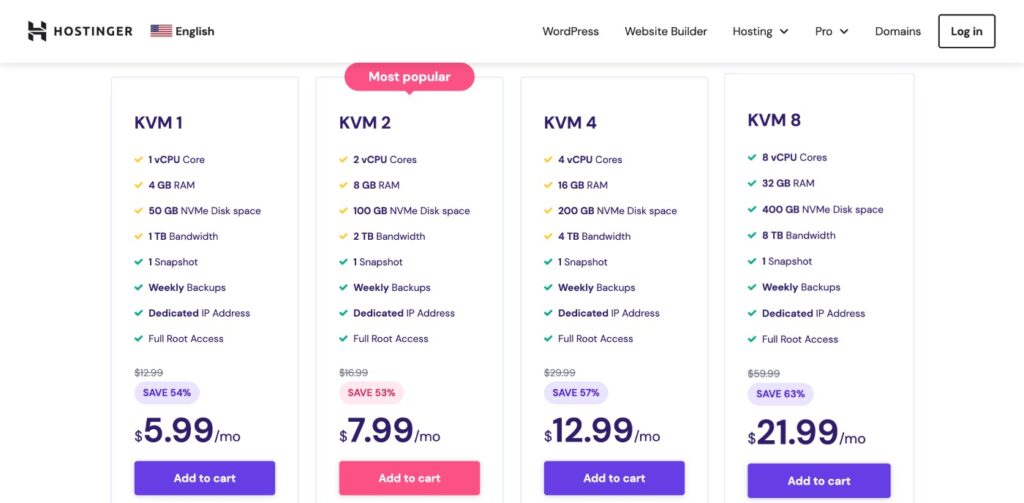 These plans range from $7.99 to $17.99 per month, providing options for 2 to unlimited accounts and 20 to unlimited domains.
Hostinger's commitment to providing robust and scalable VPS hosting, coupled with the flexibility to choose the right DirectAdmin plan, positions them as a reliable option for businesses looking for advanced control and management of their websites.

Powerful DirectAdmin control panel
Lightweight system conserving server resources
Flexible VPS plans from $6.00 to $96.00/slice
Excellent DirectAdmin VPS hosting solutions
See Pros & Cons
Pros
Wide range of CPU cores from 1 to 16
Storage up to 480GB
Memory from 2048MB to 32768MB
Transfer ranging from 2TB to 32TB
Cons
Could be too complex for absolute beginners
InterServer's VPS hosting is designed to provide a powerful yet easy-to-use control panel. Known as a "lightweight" solution, DirectAdmin consumes fewer server resources, leaving more power for website hosting.
InterServer's DirectAdmin VPS hosting plans are feature-rich and offer superior control, power, and flexibility, with pricing starting from $6.00 per slice to $96.00 per slice.
The plans come with CPU cores ranging from 1 to 16, storage from 30GB to 480GB, memory from 2048MB to 32768MB, and transfer options from 2TB to 32TB.
These scalable solutions allow businesses to select the right fit for their needs, whether they are looking for smaller, cost-effective options or more extensive, high-performance packages.
InterServer's commitment to providing excellent VPS hosting solutions, coupled with the lightweight nature of the Directadmin control panel, positions them as an appealing option for those looking for efficient and effective hosting with a range of pricing options.

PCMag's Editor's Choice 4 Years in a Row
7 Days Money Back Guarantee
15+ Global Server Locations
24*7 Expert Support
See Pros & Cons
Pros
Various hosting plans to fit different needs
Reliable uptime
Full root access with dedicated IP
24/7 expert support
Cons
Some features might be limited to higher-tier plans
AccuWeb Hosting is known for its powerful and fast VPS. Their hosting solutions offer excellent uptime and have been acknowledged by PCMag's Editor's Choice for four consecutive years.
With AccuWeb Hosting, users get full root access and dedicated IP, providing a high level of control and security. They also offer a 7-day money-back guarantee, underscoring their confidence in the services they provide.
Offering 24/7 expert support, AccuWeb Hosting ensures users get the help they need, when they need it. Their pricing starts at just $5.99/month, providing an affordable solution for those in need of reliable web hosting services.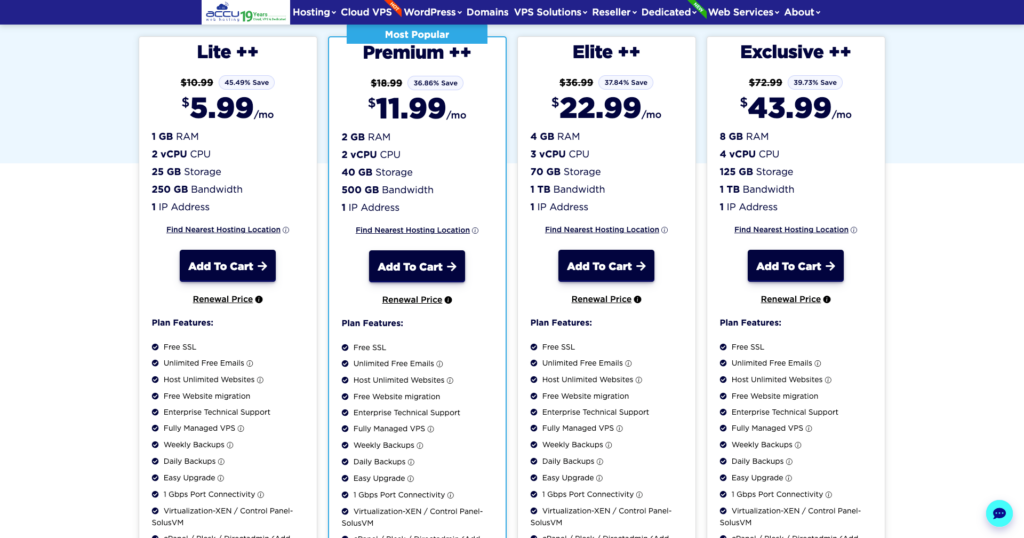 AccuWeb offers different panels like DirectAdmin, cPanel or Plesk so you can choose which you want to choose for your VPS.

Premium DirectAdmin Hosting
Guaranteed RAM and RAID-10 SSD Storage
2 IP Addresses with each plan
DirectAdmin/cPanel Available
See Pros & Cons
Pros
Highly customizable VPS servers
Guaranteed resources for smooth performance
Plans suitable for different needs and budgets
24/7 top-notch customer support
Cons
Higher starting price compared to other hosts
KnownHost is renowned for offering premium DirectAdmin hosting, with plans that cater to various website needs and budgets. Their VPS servers come with guaranteed RAM and RAID-10 SSD storage, ensuring smooth performance for your website.
Starting at $43.25/month, KnownHost's plans offer 2 IP addresses with each, and both DirectAdmin and cPanel are available. Their customer support is available 24/7, and they have a reputation for quick and efficient service.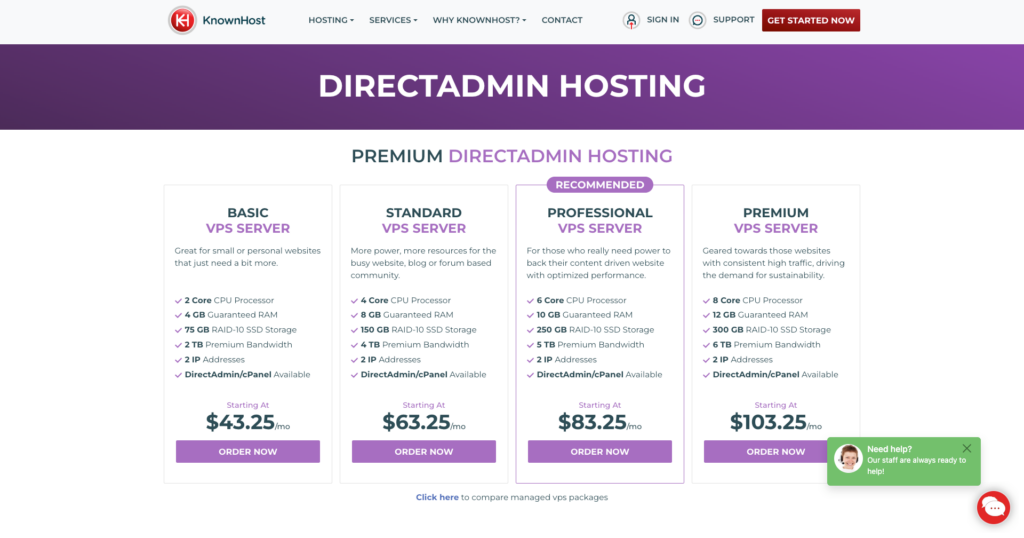 Though their starting price might be higher compared to other hosts, KnownHost provides a range of powerful features and robust performance, making them a solid choice for those seeking quality web hosting.

Intel® Xeon® Gold 6132 processors
RAID protected SSD storage
Bandwidth up to 32 TB
Optional daily or weekly backups
Offers extra price for DirectAdmin licenses
Starting at 3.24 EUR/month (50% discount)
See Pros & Cons
Pros
Cost-effective plans with discounts
Scalable resources for various needs
High bandwidth options
Optional backup services
Cons
DirectAdmin licenses at extra cost
TIME4VPS offers flexible and cost-effective VPS hosting solutions, with plans starting at just 3.24 EUR/month. With the Intel® Xeon® Gold 6132 processors and RAID-protected SSD storage, TIME4VPS ensures optimal performance for your website.
Their bandwidth options go up to 32 TB, and customers can choose between 100 Mbps or 1 Gbps. Optional daily or weekly backups are also available. Moreover, TIME4VPS offers an extra price for installing DirectAdmin licenses to your Virtual Private Server, allowing greater control over server configurations.
Though DirectAdmin licenses come at an extra cost, TIME4VPS's competitive pricing and robust features make them a viable choice for businesses and individuals looking for efficient and scalable web hosting solutions.
FAQs
What is DirectAdmin
DirectAdmin is a web hosting control panel software that allows users to manage various aspects of their web hosting accounts. It provides an intuitive graphical interface to handle tasks such as email account management, domain management, website statistics, and database administration. DirectAdmin is known for its simplicity and ease of use, making it a popular choice among both beginners and experienced webmasters. It is often used as an alternative to other control panels like cPanel, especially in VPS, shared, and reseller hosting environments.
What is DirectAdmin VPS Hosting?
DirectAdmin VPS hosting refers to Virtual Private Server hosting that utilizes the DirectAdmin control panel. It's an alternative to other popular panels like cPanel and allows for simplified management of server resources.
Why Choose DirectAdmin Over Other Control Panels?
DirectAdmin is known for its intuitive interface and user-friendly design. It's often chosen as a cost-effective alternative to other panels and is suitable for various hosting types, including reseller and shared hosting.
Are All Hosting Providers Offering DirectAdmin?
No, DirectAdmin support is provided only by a select number of hosting providers. It's recommended to research and find providers that specifically offer DirectAdmin as an option for their VPS.
How Does DirectAdmin Benefit Reseller Hosting?
DirectAdmin's simple management tools make it an attractive option for reseller hosting, allowing resellers to easily manage multiple accounts and provide a consistent experience for their clients
Is DirectAdmin Suitable for Beginners?
Yes, DirectAdmin's interface is designed to be intuitive and straightforward, making it accessible for beginners while also offering advanced features for more experienced users.
What Are the Costs Associated with DirectAdmin VPS Hosting?
The costs can vary among providers, and some might offer DirectAdmin as a free inclusion in their VPS packages, while others may charge extra. It's advisable to check with individual providers for detailed pricing.
How Secure is DirectAdmin?
DirectAdmin is built with security in mind and offers features like brute force detection and integration with firewall solutions. Regular updates and professional support add to its security profile.
Can I Switch to DirectAdmin from Another Control Panel?
Yes, many providers offer migration tools to make the switch from another control panel to DirectAdmin. It's best to consult with your hosting provider for specific procedures and support.
Is DirectAdmin Suitable for Shared or Standard VPS Hosting?
Absolutely! DirectAdmin is versatile enough to be used across various hosting types, including shared and standard VPS hosting.
Conclusion
In conclusion, DirectAdmin VPS hosting represents a growing trend in the hosting world, demonstrating its potential as a viable and user-friendly alternative to platforms like cPanel and WHM.
While only a select number of providers currently offer this unique feature, its intuitive management and versatile applications for various hosting types make it a noteworthy consideration.
If you are in search of a hosting solution that offers ease of use along with flexibility, exploring providers that offer DirectAdmin on their VPS may be a wise decision.
This detailed research has shed light on the options available, aiming to guide you towards a choice that best fits your needs and preferences. Whether for reseller hosting, shared, or standard VPS hosting, DirectAdmin seems poised to become a prominent player in the hosting industry.

Ludjon, who co-founded Codeless, possesses a deep passion for technology and the web. With over a decade of experience in constructing websites and developing widely-used WordPress themes, Ludjon has established himself as an accomplished expert in the field.