In the dynamic world of web hosting, the quest for a cheap unmanaged VPS hosting provider can often seem like an uphill battle.
The reason for this is simple: unmanaged VPS hosting is an affordable, flexible, and scalable solution for your business. It delivers the needed power and control in your hands, but at an affordable price.
Our main goal in this article is to guide you through the labyrinth of options, shedding light on cost-effective solutions that don't skimp on quality or service. We've put together a list of seven providers who strike the ideal balance, providing excellent performance without breaking the bank.
So, fasten your seatbelts and let's take a thrilling ride into the world of affordable virtual private servers.
If you are in a hurry check out our shortlist:
The Top 7 Cheapest Unmanaged VPS Hosting Providers

Scalable VPS Plans
24/7 Customer Support
SSD Storage
Starting from $3.99/month
See Pros & Cons
Pros
Competitive Pricing
Full root access
Easy-to-use control panel
30-day money-back guarantee
99.9% uptime guarantee
Cons
No free domain
Limited data center locations
Windows VPS plans cost more
Hostinger is the cheapest unmanaged VPS hosting service and is worth considering for users who want to take control of their website management.
In this Hostinger VPS review, we will delve into the key factors that make it a viable option for users and weigh the pros and cons based on real customer experiences.
Ease of Use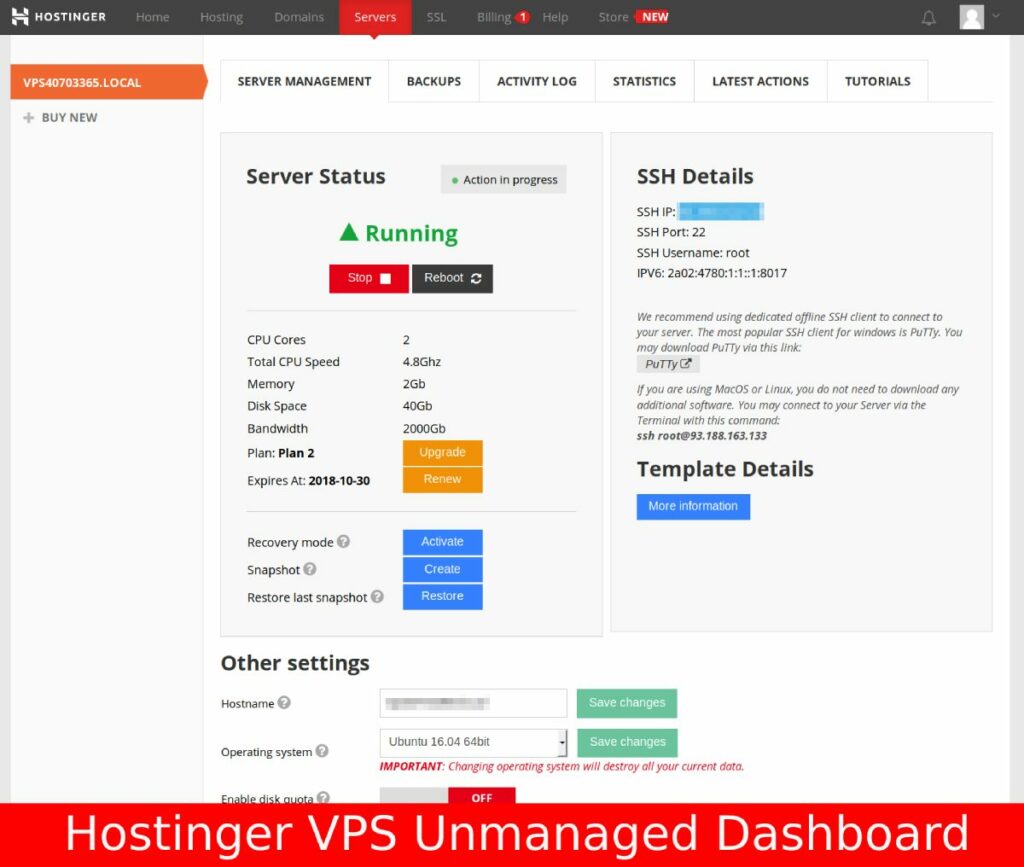 Hostinger VPS is designed to offer a seamless experience starting with a user-friendly interface. Its simple dashboard and control panel provide straightforward access to vital tools and functionalities. While it may take some time to master for those new to unmanaged hosting, the learning curve is manageable.
Key Features
Hostinger VPS offers excellent speed and performance, thanks to its global infrastructure and multiple data center locations. The service supports the latest technologies like IPv6 and SSD storage, providing fast loading times and reliable uptime. The average server response time is 70.3ms.
However, some users have reported occasional downtime and slow site loading.
Data Centers
With data centers located in several strategic locations worldwide, Hostinger VPS ensures optimal performance and reduced latency for users.
Data centers are found on:
Europe (France, the Netherlands, Lithuania, the United Kingdom)
Asia (Singapore, India)
North America (the USA)
South America (Brazil)
Pricing Model
Hostinger offers a variety of affordable pricing plans, making it an appealing choice for those on a budget.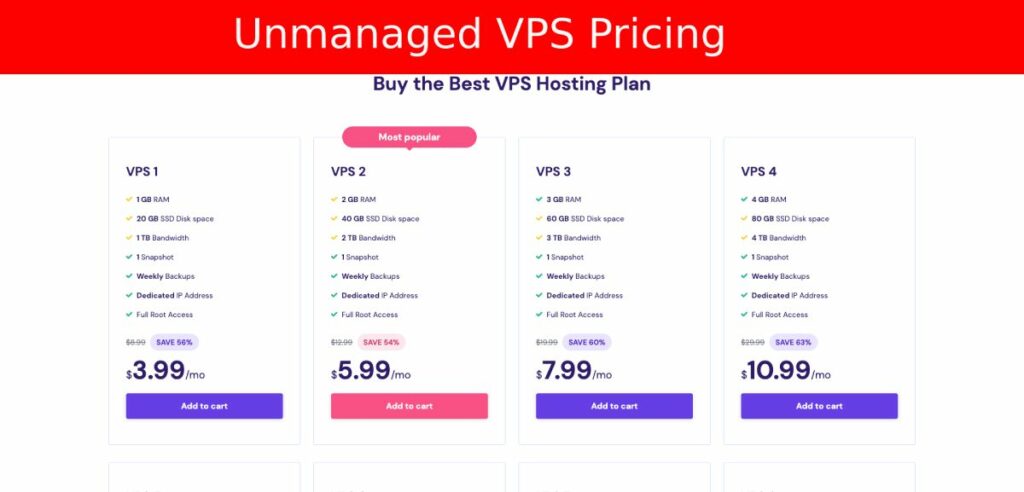 Customer Support
One area that stands out in Hostinger is its customer support, with several users such as Chris Wordsman and Mrsbarddog applauding the assistance they received. Despite the lack of phone support, Hostinger offers live chat and email support, ensuring users can get help when needed. However, it is essential to note that some users like JAJan had negative experiences with Hostinger's tech support.
Who Should Use it:
Hostinger VPS is an ideal option for those seeking an affordable unmanaged hosting solution with robust features and flexibility. The service is especially suitable for users with some technical expertise who can effectively manage their hosting environment.
Read More: Windows VPS Hosting

Feature-packed plans
45-day money-back guarantee
WordPress Optimized
Starting from $23.95/month
See Pros & Cons
Pros
One-click WordPress installs
Free SSL certificate
Unmetered bandwidth
Easy-to-use control panel
99.9% uptime guarantee
Cons
Higher renewal rates
Must pay extra for daily backups
Some plans have resource restrictions
Hostgator offers a range of web hosting solutions, and among their offerings is affordable and reliable VPS hosting.
This review will delve into the features, performance, and customer experiences of Hostgator's unmanaged Linux VPS hosting, providing you with the information you need to decide if this is the right hosting solution for you.
Ease of Use:
Hostgator's unmanaged VPS hosting allows users to easily manage their server with full root access, which may be attractive to tech-savvy users. However, this level of control may not be suitable for those who are less experienced or prefer a more hands-off approach to hosting.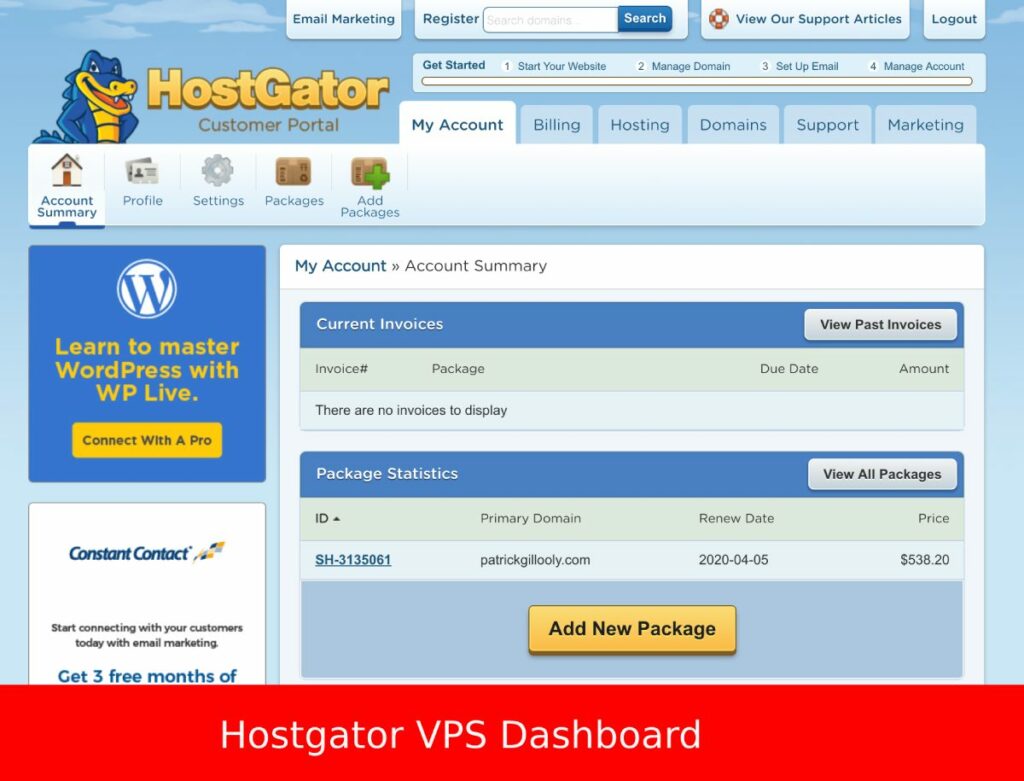 Features and Performance:
Hostgator's unmanaged VPS hosting boasts a range of features essential for those who require more control and flexibility. These features include full root access, easy scalability, and multiple layers of security.
However, it's worth mentioning that some users have reported downtime issues, which may be a concern for those who need high availability for their websites. The server response time is about 143ms
Global Infrastructure and Data Centers:
Hostgator operates multiple data centers across the globe, ensuring that its customers have access to robust infrastructure and reliable services.
The data centers are located in North America, Europe, Asia, Australia
This is important for users seeking low latency and fast load times, contributing to improved user experience and potentially better search engine rankings.
Pricing and Plans:
Hostgator offers three unmanaged cheap VPS hosting plans – Snappy 2000, Snappy 4000, and Snappy 8000. These plans cater to varying budgets and resource requirements, with prices ranging from $23.95 to $34.95 per month. Users can easily upgrade or downgrade their plans as needed, allowing for flexibility in terms of cost and performance.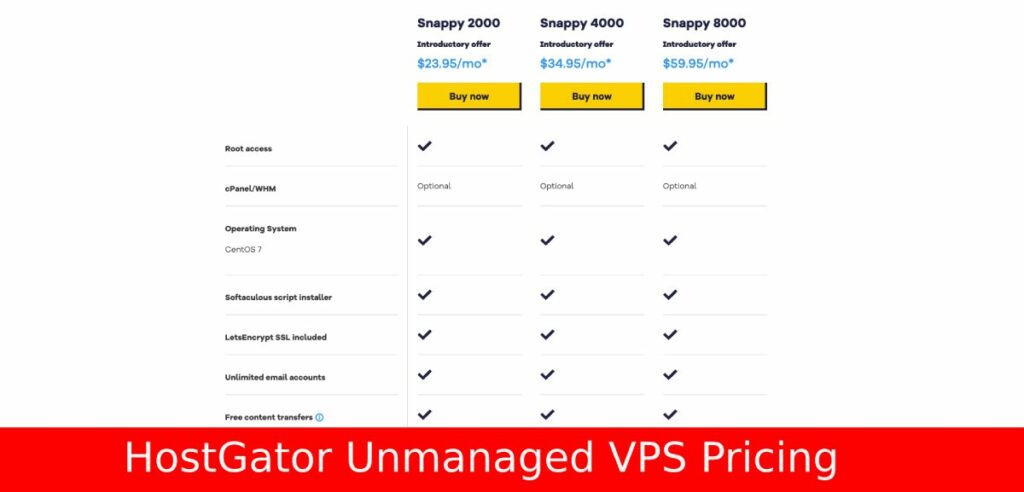 Customer Support and Resources:
Hostgator provides 24/7 customer support through chat, phone, and email. While many users have had positive experiences with their support team, others have reported long wait times and occasionally unresponsive technical support. In addition to customer support, Hostgator offers a comprehensive knowledge base for users to find solutions and guidance on various topics.
Who Should Use Hostgator's
Hostgator's unmanaged Linux VPS hosting is suitable for those who have some technical expertise, require more control over their hosting environment, and are looking for an affordable solution. However, users prioritizing a highly available hosting service and responsive customer support may want to explore other options.

High Performance
Flexible Pricing
WordPress Optimized
Starting from $2.99/month
See Pros & Cons
Pros
Fast server speeds
Free SSL certificate
Anytime Money-back Guarantee
Excellent customer support
99.9% uptime commitment
Cons
Additional fees for some features
Migration fees for some plans
Higher renewal rates
A2 Hosting offers a budget-friendly VPS hosting solution perfect for users seeking complete control over their server environment. Their flexible and scalable plans provide you with dedicated resources, ensuring maximum performance for your website or application.
Ease of Use: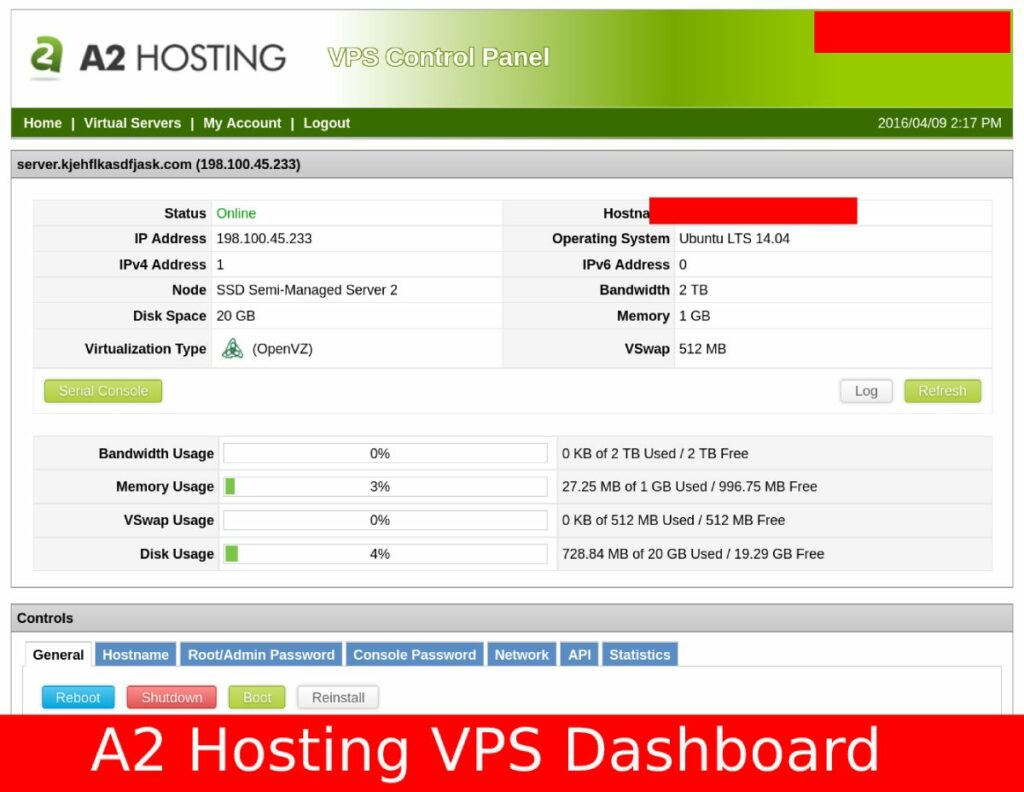 The unmanaged Virtual Service Provider hosting service grants users the flexibility and control to manage their own servers, including software installation, security, and operating system maintenance. This may appeal to more tech-savvy users who prefer a hands-on approach.
Key Features:
A2 Hosting's unmanaged VPS hosting grants you full root access, allowing for extensive customization. The SwiftServer platform delivers consistently high performance, thanks to features like solid-state drives and quadruple networks.
Moreover, the Turbo Boost VPS plans boast up to 20 times faster page loads, resulting in improved conversion rates. All plans come with a 99.9% uptime commitment and a money-back guarantee, and their 24/7/365 customer support team is always ready to help.
Global Infrastructure and Data Centers:
A2 Hosting's data centers are strategically located in USA – Michigan, USA – Arizona, Europe – Amsterdam, Asia – Singapore, ensuring top-notch service and availability to clients globally.
Pricing and Plans:
A2 Hosting offers a range of unmanaged VPS hosting plans to cater to different users' needs. Prices are affordable, starting from $2.99/month, with the option to scale up as your website grows.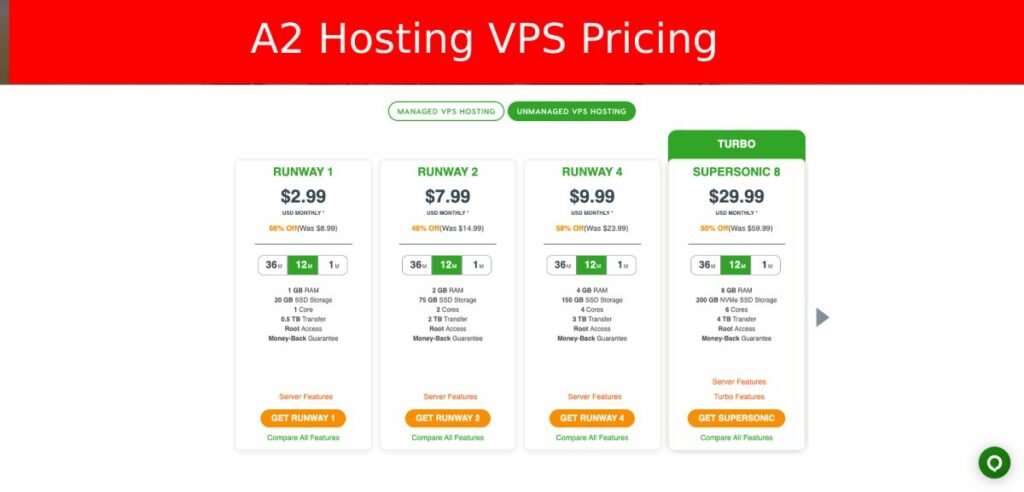 Customer Support:
While A2 Hosting's customer support has generally received positive feedback, some users have reported mixed experiences. For instance, a few customers experienced unstable VPS performance, while others encountered issues with limited disk space or outgoing FTP connections. However, A2 Hosting acknowledges these concerns and pledges to address them, demonstrating its commitment to customer satisfaction.
Who Should Use It:
A2 Hosting's VPS hosting is ideal for individuals and small businesses who require dedicated resources and customization at an affordable price.

High Performance
Scalable Infrastructure
Developer Friendly
See Pros & Cons
Pros
SSD-based storage
Flexible API
Wide range of pricing plans
Intuitive control panel
99.99% uptime
Cons
No free domain
Not optimized for WordPress
Limited managed services
DigitalOcean stands out as a top choice for cheap virtual hosting services due to its simplicity and scalability. As a cloud hosting provider, it offers virtual machines known as Droplets, which cater to various needs, from basic applications to RAM-intensive tasks.
With a strong focus on community and education, DigitalOcean provides comprehensive documentation, tutorials, and a supportive forum to help users make the most of their hosting experience.
DigitalOcean comes also as one of the free VPS Hosting options due to it's $200 free credits.
Ease of Use: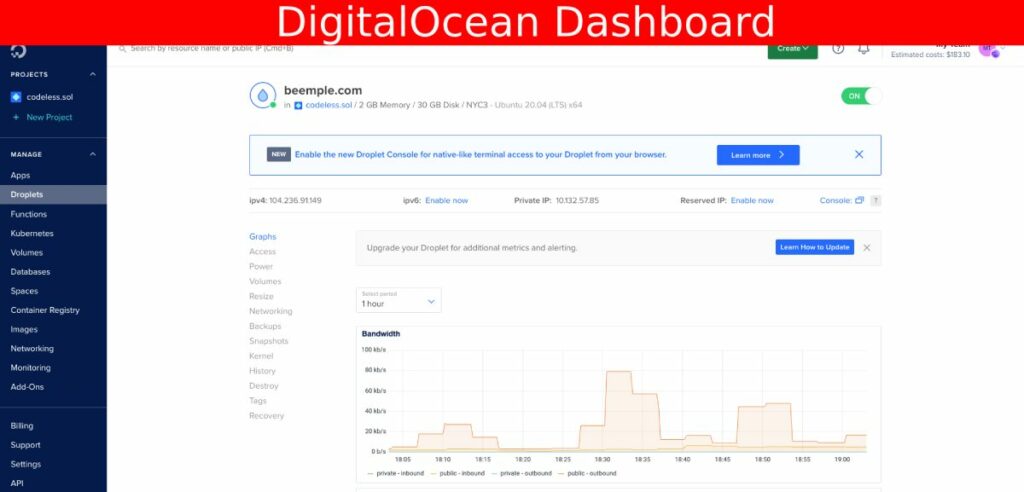 DigitalOcean excels in offering a user-friendly experience, with an intuitive UI, CLI, API, and Terraform Provider that simplifies managing virtual machines. Users can quickly deploy and manage their Droplets, and resizing options allow for easy resource scaling.
Key Features:
DigitalOcean offers essential features such as monitoring, firewalls, team management, backups, snapshots, block storage, object storage, load balancers, and reserved IPs. Users can deploy Droplets to various distributions like Ubuntu, Rocky Linux, and Debian, among others. However, some customers have reported restrictions on basic services and concerns over billing history.
The Average Server Response time is about 84.5ms
Global Infrastructure:
Offering a 99.99% uptime service level agreement, DigitalOcean ensures reliable performance for its global infrastructure and data center locations. The data centers are located in:
AMS2, AMS3: Amsterdam, the Netherlands
NYC1, NYC2, NYC3: New York City, United States
SFO1, SFO2, SF03: San Francisco, United States
SGP1: Singapore
LON1: London, United Kingdom
FRA1: Frankfurt, Germany
TOR1: Toronto, Canada
BLR1: Bangalore, India
SYD1: Sydney, Australia
Many customers appreciate the stable infrastructure, lightning-fast network, and exceptional server performance that DigitalOcean delivers.
Pricing: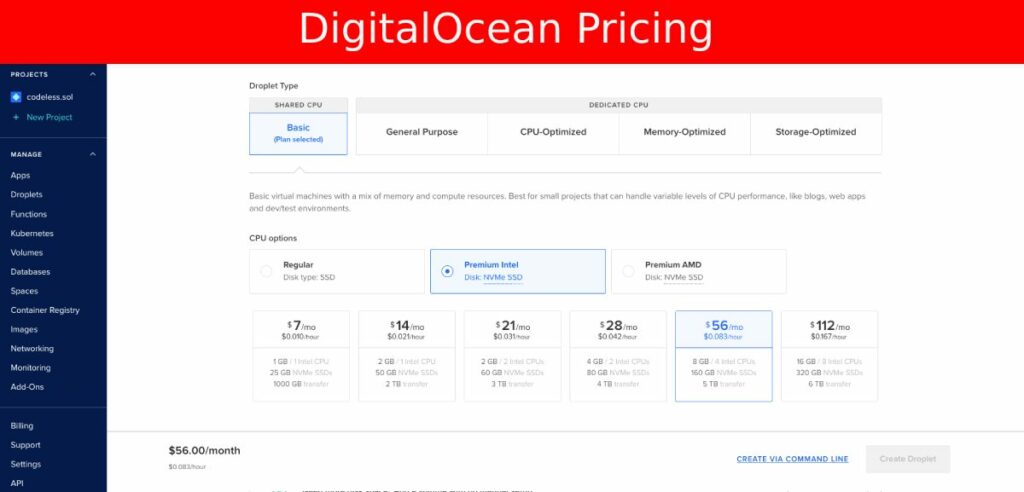 DigitalOcean's straightforward pricing model is highly appealing for those seeking cheap VPS unmanaged hosting. With predictable costs and no hidden fees, users can access Droplets starting at 500 GiB of free outbound data transfer per month, and additional transfer billed at $0.01 per GiB. Billing is hourly up to a monthly cap of 672 hours, showcasing their commitment to transparency.
Customer Support:
DigitalOcean's customer support receives praise for being helpful and knowledgeable. In case of technical issues, the support team promptly provides professional assistance. The extensive knowledge base and resourceful community forum further boost customer satisfaction.
Who should use it:
Overall, DigitalOcean proves to be an excellent choice for cheap Cloud unmanaged VPS hosting, offering a mix of affordability, performance, and ease of use. While there are some negative aspects, such as restrictions on certain services, the positive experiences far outweigh the limitations. With its focus on simplicity, minimalism, and a supportive community, DigitalOcean is highly recommended for users seeking a cost-effective and reliable hosting solution.

Fast Performance
SSD Storage
Free SSL & Domain
See Pros & Cons
Pros
Optimized for WordPress
Free SSL certificate
Free domain
90-day money-back guarantee
24/7 customer support
Cons
Higher starting price than some competitors
Setup can be a bit complex for beginners
No monthly payment option
InMotion Hosting offers a range of affordable unmanaged VPS hosting solutions that are perfect for those who require complete control and root access to their servers.
With its reliable and scalable cloud VPS hosting, InMotion has made a name for itself in the hosting market, providing Corero DDoS protection, dedicated IP addresses, and redundant hardware clusters monitored 24/7.
However, it is essential to note that their cheaper options do not come with cPanel or other graphical user interfaces (GUI). Also, we have listed it as one of the best WordPress VPS hosting providers.
Ease of Use: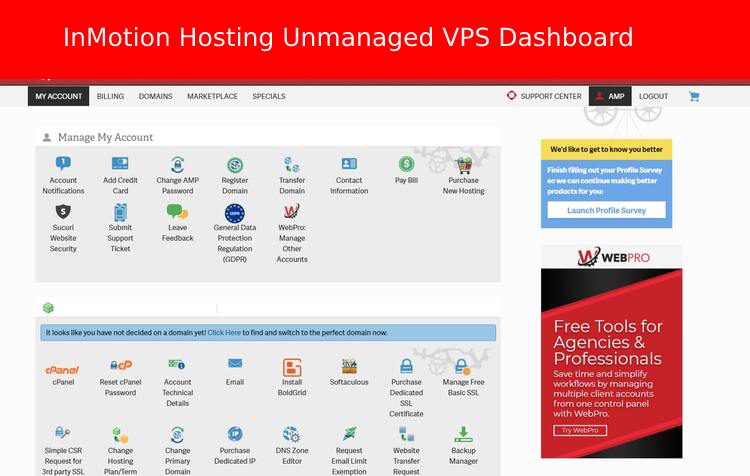 InMotion Hosting allows users to choose from various Linux OSes, making it adaptable to a range of needs. Their Resource Monitoring Dashboard provides a visual breakdown of server resources, ensuring users can track their usage efficiently.
For those who need more disk space, RAM, or bandwidth, upgrades can be made at any time through the hosting account's AMP control panel.
It is worth noting that some users have reported challenges with their Magento installation and website security.
Global Infrastructure and Data Centers:
InMotion Hosting uses enterprise-grade fiber optics to feed data centers close to IXP locations, providing fast pings and optimal performance. With their commercial-grade protection and elite hardware, InMotion enables businesses to deploy applications quickly and efficiently.
The data centers are located in West Coast – USA, East Coast – USA, Amsterdam – Europe
Pricing and Plans: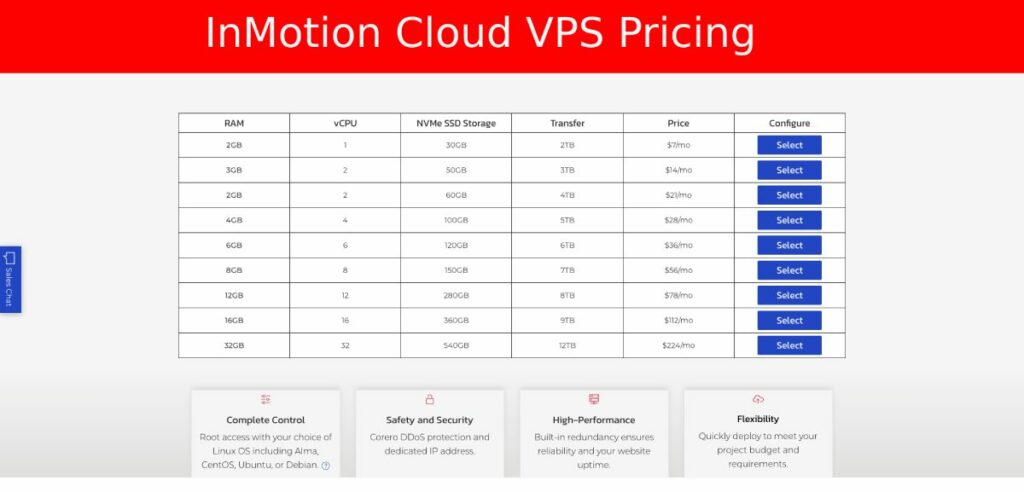 InMotion Hosting offers various cloud VPS hosting plans tailored to different needs and budgets. Although they do provide cheaper options, those plans do not include cPanel or GUI software. For those who require additional support, managed VPS hosting with cPanel, server management, backups, and security is also available.
Customer Support and Resources:
InMotion Hosting's customer support is a mixed bag, with some users praising their responsiveness and helpfulness, while others report unresponsive support and unresolved technical issues. However, they do offer extensive articles and guides for users to make the most of their cloud server hosting experience, and their support team is available 24/7/365 via live chat or phone call.
Who Should Use:
InMotion Hosting's unmanaged scalable VPS hosting is best suited for individuals and businesses that require complete control, root access, and flexibility at an affordable price. While there are some concerns with customer support and certain technical aspects, many users find their services reliable and appreciate the resources provided.
In conclusion, InMotion Hosting's cloud VPS hosting offers a competitively priced, scalable, and reliable solution for those seeking affordable VPS hosting. With their global infrastructure, comprehensive resources, and a range of plans, InMotion has plenty to offer. However, it is crucial to weigh the pros and cons to determine if this hosting provider is the right fit for your needs.

High-Performance Cloud Servers
Scalable and Flexible
Wide Range of OS Options
See Pros & Cons
Pros
State-of-the-art data centers
Pay-as-you-go billing
Highly customizable
Excellent customer support
30-day free trial
Cons
More expensive than some competitors
No built-in control panel
Not specifically optimized for WordPress
Kamatera, a leading cloud infrastructure provider, offers affordable and scalable VPS hosting services tailored to meet the demands of budget-conscious businesses. With a transparent pricing model, top-notch customer support, and excellent server performance, Kamatera is a formidable option for those seeking cheap cloud VPS hosting solutions.
Ease of Use: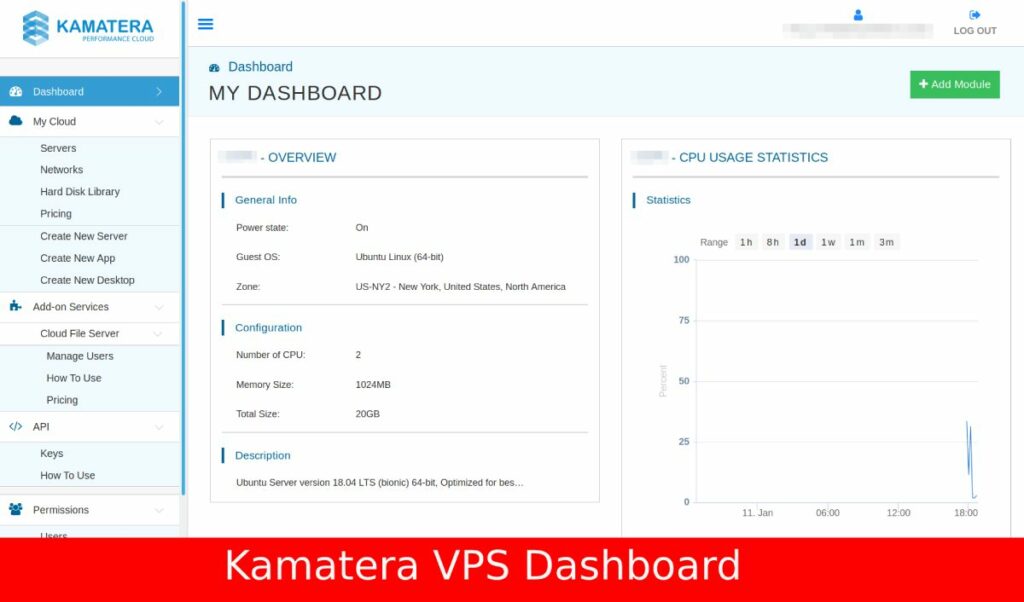 Kamatera's VPS hosting platform is user-friendly, making it easy to set up and manage servers, even for those with limited technical expertise. However, some users have mentioned compatibility issues with the web interface across different browsers.
Key Features:
Kamatera offers a variety of features that distinguish its Unmanaged VPS hosting services, such as premium Intel CPUs, providing 300% more power, and the option to choose between monthly or hourly billing. With load balancing, firewall, and managed services, Kamatera ensures a high-performance, flexible, and secure environment for your website.
Global Infrastructure:
Kamatera boasts a robust infrastructure and state-of-the-art data centers located in multiple regions worldwide. This guarantees a 99.95% uptime, ensuring your website remains accessible and performs at optimal levels.
Pricing Model: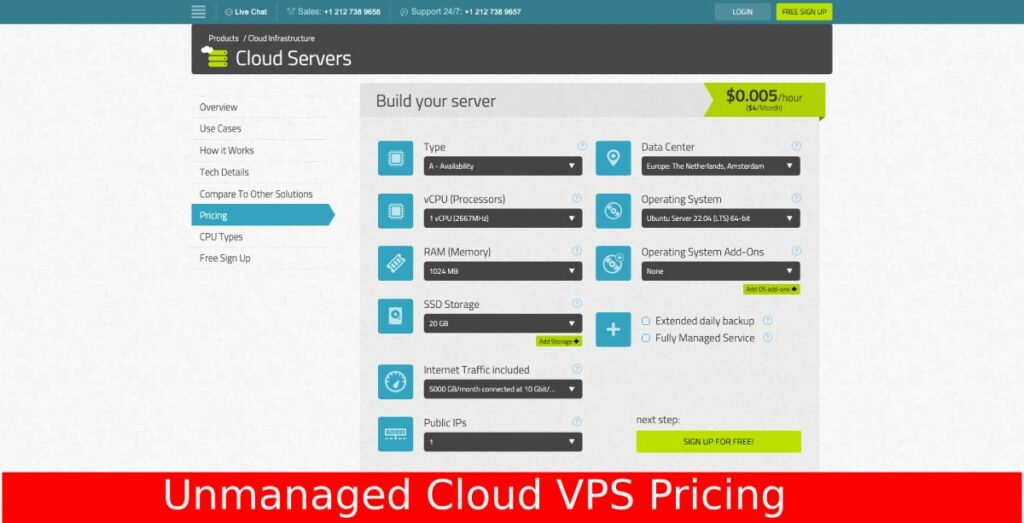 Starting at just $4.00 per month, Kamatera offers a competitive pricing model with a clear and straightforward policy, leaving no room for hidden costs. Their online calculator enables users to estimate the cost of their cloud infrastructure based on their desired server configuration. Additionally, Kamatera offers a 30-day free trial, giving you the opportunity to evaluate their services before committing.
Customer Support:
Kamatera prides itself on delivering personalized customer service and support. Their team of experts is available 24/7 to provide real-time technical assistance, addressing any concerns that may arise. While some users have reported dissatisfaction with the company's credit card verification and billing practices, many others have praised Kamatera's support team for their helpfulness and efficiency.
Who Should Use Kamatera:
Ideally suited for small to medium-sized businesses, freelancers, and developers seeking an affordable yet powerful not managed VPS hosting solution, Kamatera offers a combination of flexibility, scalability, and exceptional performance.
In conclusion, Kamatera's VPS hosting services present a compelling choice for those searching for a cost-effective VPS solution without compromising on quality. With its transparent pricing, high-performance servers, and first-class customer support, Kamatera is a strong contender in the competitive hosting market.

High Performance
Scalable Infrastructure
Developer Friendly
See Pros & Cons
Pros
High-performance SSD servers
Pay-as-you-go pricing
Wide range of Linux distributions
Extensive API and developer tools
Good customer support
Cons
No managed WordPress hosting
Not beginner-friendly
No free domain
Linode has made a name for itself in the cloud hosting market, providing budget-friendly VPS hosting solutions tailored to those who require flexibility and customization. Ideal for users with technical expertise, Linode offers a default Linux installation, allowing you to configure your VPS according to your specific needs.
Additionally, Linode's intuitive user interface simplifies the setup and management of your virtual server. In this review, we'll examine the key features of Linode, pricing, global infrastructure, customer support, and more.
Ease of Use: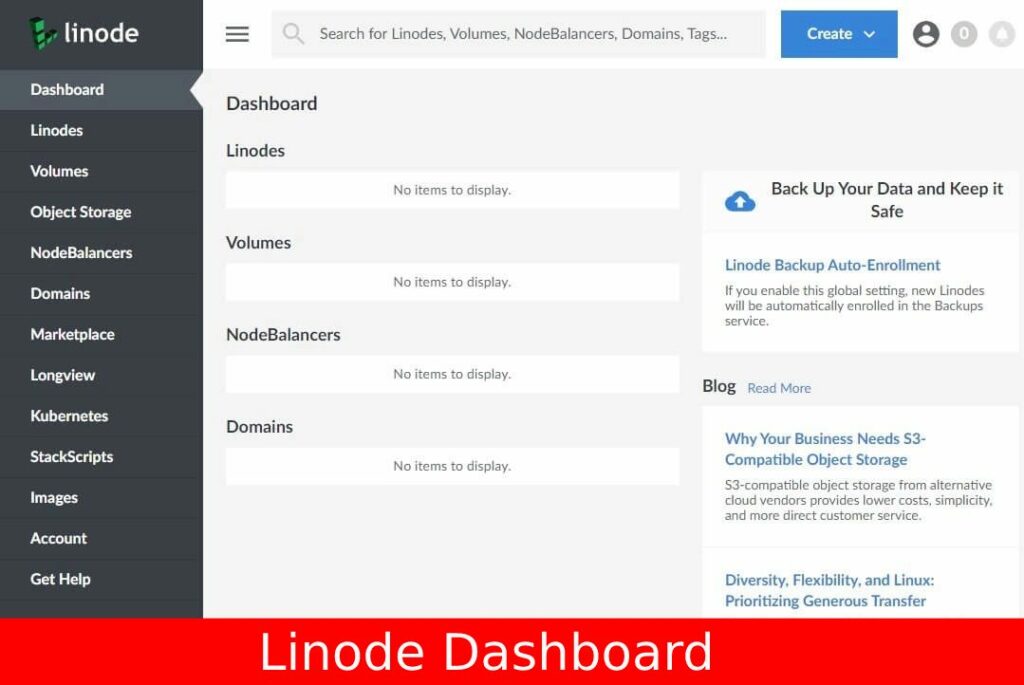 Linode's unmanaged VPS hosting services cater to those who possess the technical skills needed to set up, secure, and maintain their server. Users are responsible for Linux installation, web server setup, firewall protection, and website migration. However, the user-friendly interface makes these tasks more accessible, ensuring a seamless experience.
Key features:
Linode offers competitive pricing, starting at $5 per month for the smallest VPS package. For the price, you get 1 CPU core, 1GB RAM, 20GB SSD storage, and 1TB monthly transfer. The platform also provides additional services, such as managed backups, node balancers, and block storage, for an extra fee.
Global Infrastructure:
Boasting nine data centers across North America, Europe, and Asia-Pacific, Linode delivers a reliable service with a 99.9% uptime guarantee and free DDoS protection. Linode's VPS provisioning time is faster than many competitors, further emphasizing its efficiency.
Pricing model: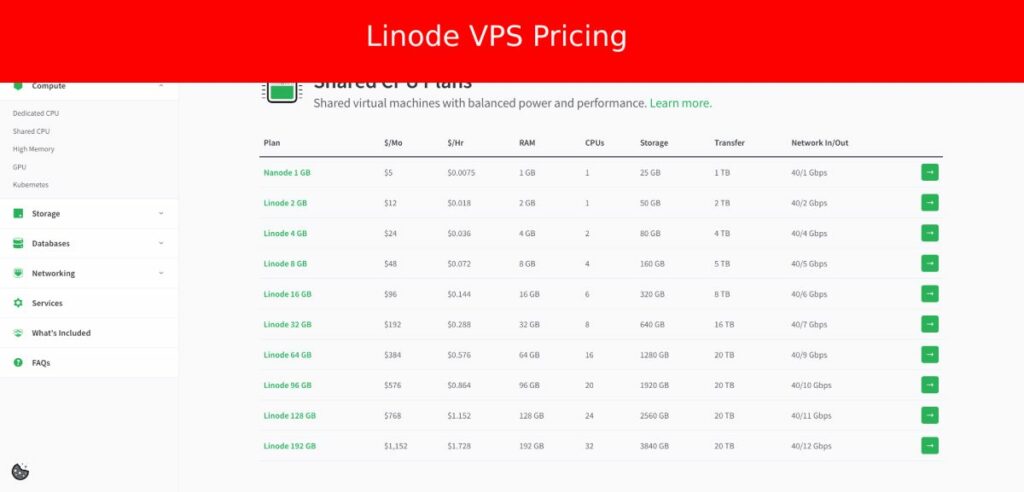 Linode's affordable pricing model starts from $5 per month for an entry-level VPS plan. The platform offers straightforward pricing with monthly caps, flat fees, and no lock-in commitments.
Customer Support:
Linode provides a comprehensive knowledge base, documentation, and community support to assist users in resolving technical issues and troubleshooting their VPS. However, some users have reported slow response times, which Linode acknowledges and continues to work on improving.
Who should use it:
Linode's VPS hosting services are best suited for users who require technical flexibility, affordability, and reliable service. With a robust API, automation, and integration with third-party tools, Linode is an excellent choice for those who are well-versed in server management and looking for a budget-friendly solution.
In conclusion, Linode offers an affordable, customizable, and reliable unmanaged VPS hosting solution for those with the technical expertise to manage their server.
With competitive pricing, global infrastructure, and a user-friendly interface, Linode is a strong contender in the market. However, users should be aware of some reported issues, such as slow customer support response times and account closures related to fraud detection.
It's essential to conduct thorough research to determine if Linode's services align with your needs.
FAQs
Should I choose managed or unmanaged VPS hosting?
The choice between managed and unmanaged VPS hosting hinges on your technical prowess and time availability. Managed hosting is ideal if you prefer a hands-off approach, as the provider handles most of the server management tasks. On the other hand, unmanaged VPS hosting is a perfect fit for those with server management skills who want greater control and customization over their server environment.
What are the benefits of unmanaged VPS hosting?
Unmanaged VPS hosting offers several benefits. It provides greater flexibility and control over your server settings and configurations. It also tends to be cheaper than managed hosting because you're not paying for additional support services. Furthermore, it's a great opportunity to sharpen your server management skills.
How much is unmanaged VPS?
The cost of unmanaged VPS hosting varies depending on the provider and the specific features of the plan. Prices can range from as low as $2.99 to $50 per month. Remember, while going for the cheapest unmanaged VPS may be tempting, it's also important to consider the reliability and performance of the service.
How do I secure an unmanaged VPS?
Securing an unmanaged VPS involves several steps. This includes regular updates and patches, configuring a firewall, installing and maintaining an antivirus solution, and implementing stringent password policies. Additionally, it's advisable to regularly monitor and audit your server logs for any suspicious activity. Remember, securing an unmanaged VPS requires a fair amount of technical knowledge and commitment.
Conclusion
In conclusion, finding the cheapest unmanaged VPS hosting providers shouldn't be like finding a needle in a haystack. With the right information at your fingertips, you can navigate this landscape with confidence.
The seven providers we've reviewed in this article have proved their mettle in offering cost-effective, reliable, and high-performance solutions.
Remember, while price is certainly a significant factor, the ultimate goal is to find a service that meets your specific needs and grows with your business.
Your journey to the perfect, wallet-friendly VPS hosting starts here. We hope this guide has illuminated the path, helping you make a decision that will propel your online presence to new heights. Good luck with your digital journey!

As one of the co-founders of Codeless, I bring to the table expertise in developing WordPress and web applications, as well as a track record of effectively managing hosting and servers. My passion for acquiring knowledge and my enthusiasm for constructing and testing novel technologies drive me to constantly innovate and improve.
Expertise:
Web Development,
Web Design,
Linux System Administration,
SEO
Experience:
15 years of experience in Web Development by developing and designing some of the most popular WordPress Themes like Specular, Tower, and Folie.
Education:
I have a degree in Engineering Physics and MSC in Material Science and Opto Electronics.