Bitcoin Hosting refers to those hosting providers which accept Bitcoin as payment for their services. Not all hosts offer this option, but with thorough research, several hosts have been identified that accept payment in the cryptocurrency Bitcoin.
The Top 5 Best Bitcoin Hosting

Fast servers worldwide
User-friendly interface
Various hosting plans
Accepts Bitcoin and other cryptocurrencies
See Pros & Cons
Pros
Reasonably priced plans
Strong uptime and performance
24/7 customer service
30-day refund policy
Cons
Some advanced features only in premium plans
Hostinger stands out as a great option for those in need of reliable, fast, and reasonably priced hosting services. With a vast network of servers globally, it ensures prompt loading times for users everywhere. Importantly, it accepts payments in Bitcoin, providing additional flexibility for its clients.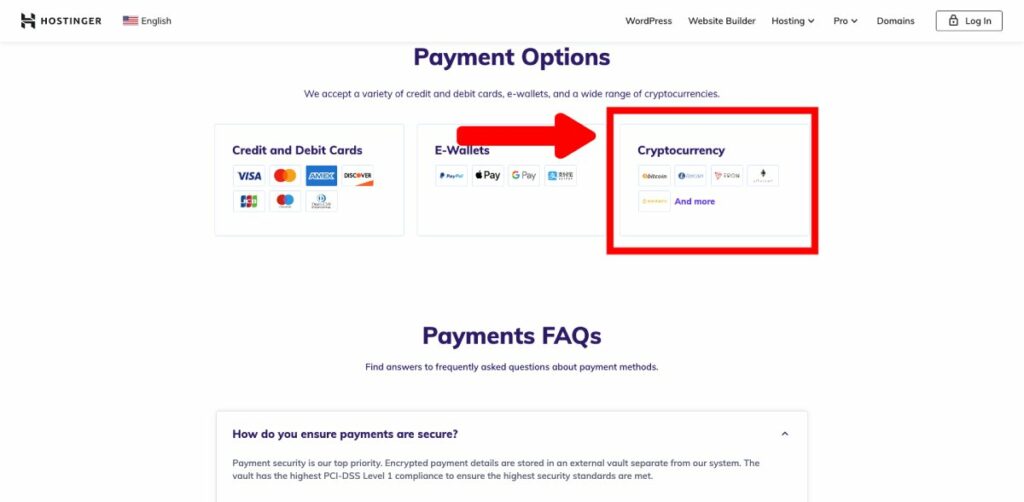 The platform is designed to be user-friendly, making the management of your website straightforward even for newcomers. The inclusion of a free website builder with every plan further establishes Hostinger as a prime choice for small businesses and beginners.
Offering one of the most competitive prices in the industry, their basic plan starts at $2.99 per month. This includes 24/7 customer support, a 99.9% uptime guarantee, and a 30-day money-back guarantee, providing peace of mind alongside their excellent services.
While the basic plan does not include a free domain, and some advanced features require a subscription to their Premium or Business plans, Hostinger offers a solid balance of cost, features, and performance for every kind of user.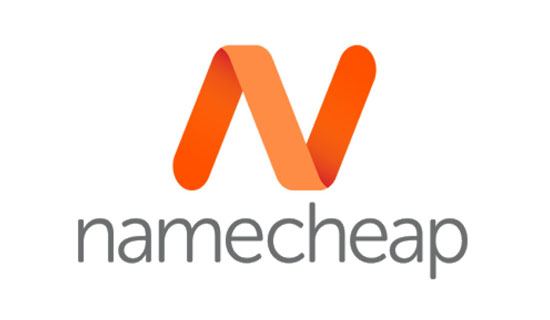 Free domain name and privacy protection
Reliable customer support
Wide range of TLDs available
Accepts Bitcoin and other cryptocurrencies
See Pros & Cons
Pros
Affordable hosting services
Robust security features
User-friendly interface
30-day money-back guarantee
Cons
Some advanced features require higher-tier plans
Namecheap is well-known for offering a vast array of top-level domains at reasonable prices. With the added benefit of accepting Bitcoin and other cryptocurrencies, it's an excellent option for those seeking flexibility in payment options. You add funds with crypto through BTCpay and bitpay and continue with your account balance to purchase your hosting or domains.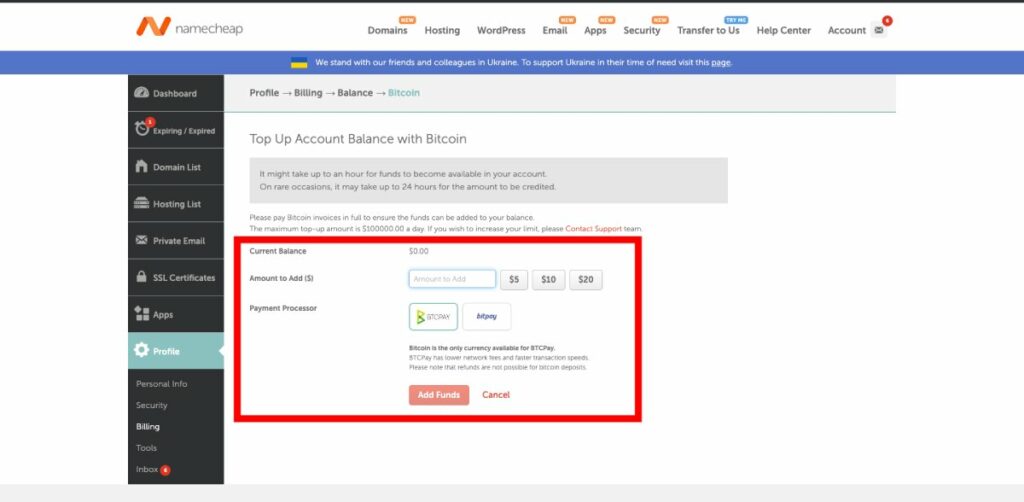 Every hosting plan comes with a free domain name and privacy protection, making it a cost-effective choice for businesses and personal users alike. Its interface is user-friendly, designed to simplify the management of your online presence.
Starting at $1.98 per month, Namecheap's hosting plans are amongst the most affordable in the market. This, coupled with reliable customer support and a 30-day money-back guarantee, gives users confidence in their service.
While they have fewer server locations than some other providers and advanced features may require a premium plan, Namecheap remains a solid choice for those prioritizing affordability, ease of use, and flexible payment options.

Unlimited bandwidth and disk space
Exceptional customer service
Flexible and scalable hosting plans
Accepts Bitcoin and other cryptocurrencies
See Pros & Cons
Pros
99.999% uptime guarantee
Free website migration
60-day money-back guarantee
Excellent VPS hosting options
Cons
No free domain with base plan
Renewal rates can be high
Hostwinds is known for providing flexible and scalable hosting solutions to accommodate all types of websites. They accept Bitcoin and other cryptocurrencies, making them a viable option for those seeking alternative payment methods.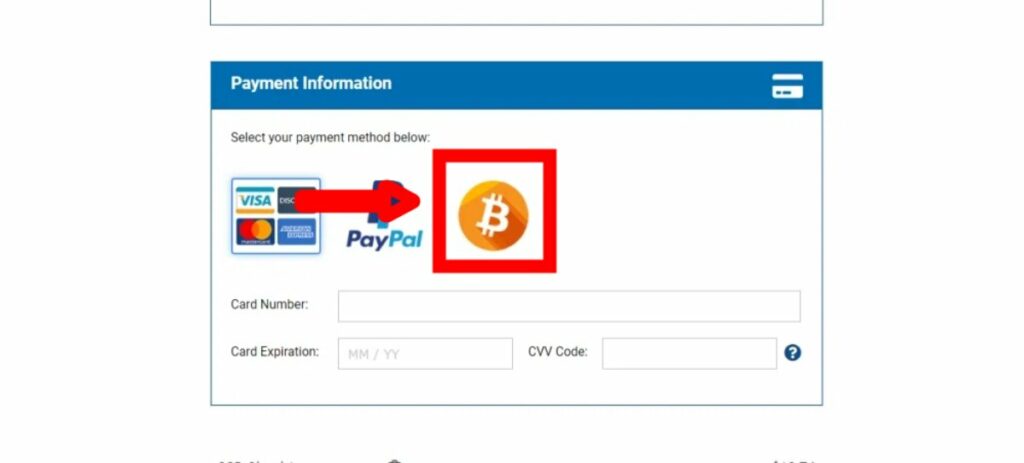 The provider stands out for offering unlimited bandwidth and disk space across all plans, giving businesses room to grow without worrying about these constraints. Plus, with their 99.999% uptime guarantee, your website is assured almost uninterrupted online presence.
Hostwinds offers exceptional customer service, responding swiftly and professionally to queries. They also offer a free website migration service, which is a boon for those looking to switch hosting providers.
Starting at $5.24 per month, their hosting plans are competitive, and the company offers a 60-day money-back guarantee, which is longer than what most providers offer. However, keep in mind that the base plan doesn't include a free domain and that the renewal rates can be higher than the initial promotional rates.
Despite these minor setbacks, Hostwinds remains a strong contender in the hosting space, especially for those looking to pay in Bitcoin or other cryptocurrencies.

Cloud-based hosting solutions
24/7/365 customer support
Highly reliable and secure
Accepts Bitcoin and other cryptocurrencies
See Pros & Cons
Pros
Scalable hosting plans
Free website builder and domain
One-click WordPress installation
30-day money-back guarantee
Cons
Relatively new in the market
Extra cost for some security features
UltaHost is a promising entrant in the hosting space offering cloud solutions and accepting Bitcoin among other cryptocurrencies. Its commitment to round-the-clock customer support and providing highly secure and reliable services make it a strong contender.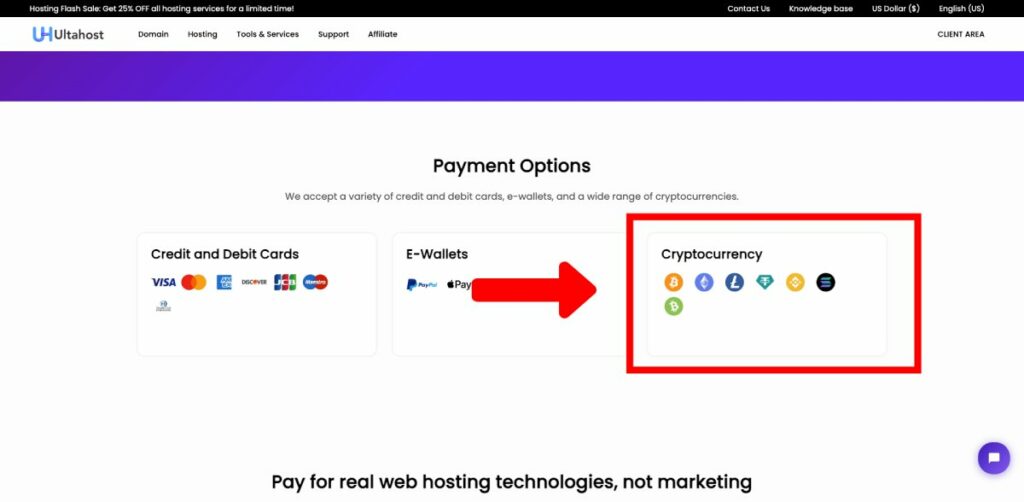 With hosting plans starting at $2.95/month, UltaHost is an affordable option. It offers scalability in its hosting plans, making it suitable for both small businesses and larger enterprises. Users will appreciate the one-click WordPress installation, and the free website builder that comes with each plan.
Despite being relatively new in the market, UltaHost impresses with a 30-day money-back guarantee, demonstrating confidence in their services. A free domain is another benefit users can expect from their hosting plans.
However, users should note that some security features come at an extra cost. Despite this, UltaHost's offering is well-rounded, making them a worthy consideration for those needing a reliable, scalable, and crypto-friendly hosting provider.

Strong commitment to privacy
Offshore hosting options
24/7 technical support
Accepts Bitcoin and other cryptocurrencies
See Pros & Cons
Pros
Flexible hosting plans
Dedicated IP address with each account
30-day money-back guarantee
DDoS protection and SSL certificates included
Cons
Higher price point than some competitors
Extra cost for certain additional features
Shinjiru is a leading hosting provider known for its strong commitment to privacy and its offshore hosting options. Importantly, it accepts Bitcoin and Ethereum, making it a suitable option for those who prefer these payment methods.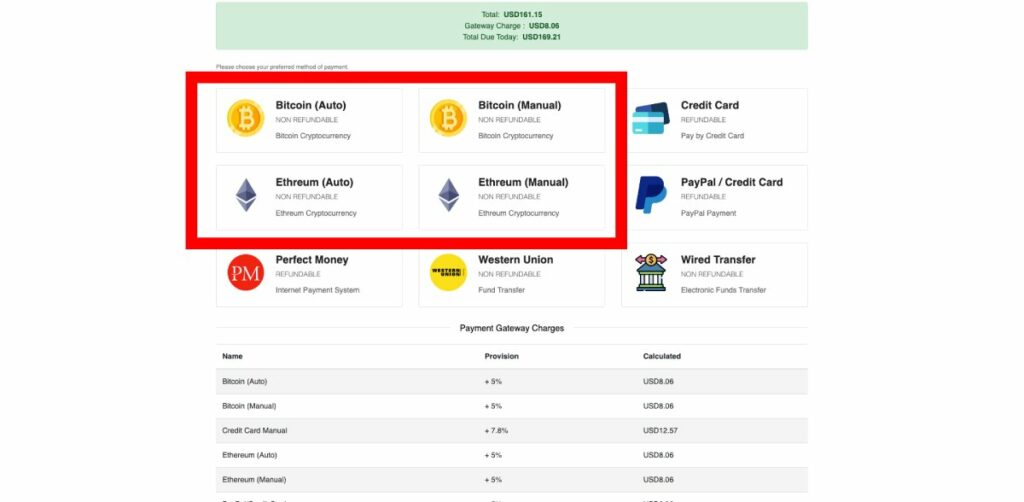 Hosting plans with Shinjiru start at $3.95/month and come with a dedicated IP address, providing enhanced security and control. Their commitment to customer support is seen in their 24/7 technical assistance.
A standout feature of Shinjiru is its robust security measures, which include DDoS protection and SSL certificates. This, coupled with a 30-day money-back guarantee, instills trust and reassurance in their service.
While Shinjiru may have a slightly higher price point compared to some of its competitors and charges extra for some additional features, the premium is justified by its robust privacy measures and comprehensive hosting solutions.
For those prioritizing privacy and security and seeking cryptocurrency-friendly options, Shinjiru is certainly a hosting provider worth considering.
FAQs
What exactly is Bitcoin Hosting?
Bitcoin Hosting is a term we use to describe web hosting services where the providers actually accept Bitcoin as a form of payment. It's quite a modern approach!
Do all hosting providers take Bitcoin then?
Unfortunately, no. It's not an across-the-board kind of thing. While it's becoming more common, not every hosting provider is set up to accept Bitcoin or other cryptocurrencies. Always double-check the payment options on each provider's site.
Why would I want to use Bitcoin to pay for web hosting?
Bitcoin is decentralized, meaning it's not tied to any country's economy. This makes it a really handy option if you're doing business internationally. Plus, it can be a more private way to pay.
Are Bitcoin-friendly hosting providers reliable and secure?
Yes. The providers we've discussed in the article are known for their stellar performance and safety measures. They've been around for years and have earned a lot of trust in the web hosting world.
Are these providers exclusive to Bitcoin?
No. Although these providers accept Bitcoin, most of them also take traditional forms of payment like credit or debit cards and PayPal. Some might even accept other cryptocurrencies.
Will my hosting features be different if I pay with Bitcoin?
No. The hosting plan you get is the same, regardless of how you pay for it. You'll get the same awesome features whether you're paying with Bitcoin or a credit card.
Any downsides to using Bitcoin for web hosting payments?
Well, there could be one thing to keep in mind. Bitcoin value can fluctuate quite a bit. That means the Bitcoin price of your hosting could go up or down over time. Most providers give a set price in your local currency, and that's what gets converted into Bitcoin when you pay. Also some providers take a little extra fee when you operate in Bitcoin which is about 5-8%.
Conclusion
I believe you now have a clear overview of the hosting providers that allow payments through Bitcoin. All the providers listed above are also safe and not spam.
These providers have been selected due to their recognition and good performance they have had in the market for years. Paying with Bitcoin can help maintain your privacy, which is why these types of services have been highly sought after recently.

As one of the co-founders of Codeless, I bring to the table expertise in developing WordPress and web applications, as well as a track record of effectively managing hosting and servers. My passion for acquiring knowledge and my enthusiasm for constructing and testing novel technologies drive me to constantly innovate and improve.
Expertise:
Web Development,
Web Design,
Linux System Administration,
SEO
Experience:
15 years of experience in Web Development by developing and designing some of the most popular WordPress Themes like Specular, Tower, and Folie.
Education:
I have a degree in Engineering Physics and MSC in Material Science and Opto Electronics.