Email marketing services are becoming a huge part of all e-commerce and SaaS businesses. With an increase in the advancements in marketing strategies, email marketing is now not only confined to the newsletter or starting campaigns.
Transactional emails are now an integral part of e-commerce because of their effectiveness. Order confirmation emails from the company are the best way to improve the experience of the customer.
All startups need to use these emails for their services because if these emails are not getting delivered to their customers, their sales will decrease.
These emails are a great way of providing you with an effective marketing strategy for gaining appreciation from customers. These transactional emails need a provider to make sure that emails are reaching the customers on time. For your online business, you need an email service provider to take charge of keeping in contact with the customer through these emails.
If you do not use these services, your customers will feel left out and they will not consider your services reliable. There are many services available for transactional emails.
We have made things easier for you by creating a list of the 9 best transactional services for e-commerce and saas. Their features and pricing plans are all listed to help you decide whatever suits your budget and business.
The Top 9 Best Transactional Email Services with Cheap Plans
For sending these transactional emails, you need to have a transactional email service provider to make sure your emails are reaching the customers.
These email service providers give you the benefit of giving access to webmasters, including SMTP and API. There are also multiple advantages of using these services because they provide a chance of personalization and provide statistics for your business as well.
We are giving the details about the best 9 email transactional services for e-commerce and saas websites. This will help you in choosing the best solution for your business.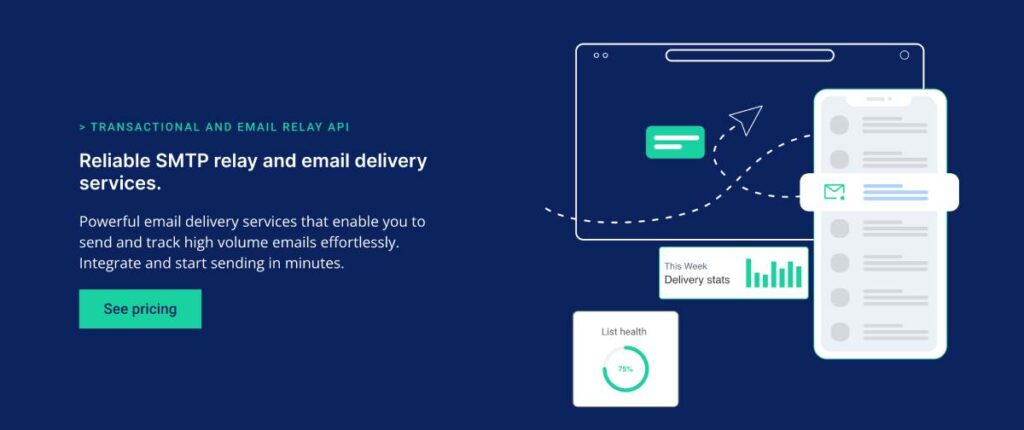 SMTP is one the best solution for transactional emails, they offer an affordable SMTP service and API. On their website, they offer 99.99% Uptime and a delivery rate of 98%. What makes them special is their special system Reputation Defender which controls email lists to safeguard your IP address and domain. Their services are great for scalability and offer you the possibility to send billions of emails per day.
Features:
eCommerce Support
Product Notifications
Billing and Invoice Notifications
Scalable Sending
Easy Integration
Pricing:
Their service is very affordable and starts with the Essential plan which is only $25 you can send about 50.000 emails per month. The second package called Starter cost $80 per month and lets you send 100.000 emails. The Growth plan is the recommended one by their staff and costs $300 and lets you send 500.000 emails. The business plan cost $500 and lets you send 1000.000 per month.
All the packages except the Essential plan offer a Dedicated IP address, Detailed Reporting and Reputation defender.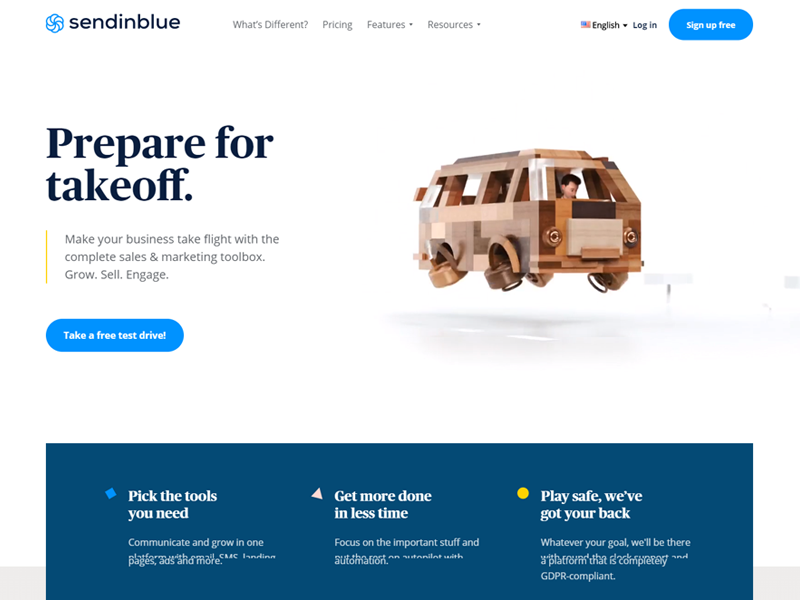 SendinBlue is the cheapest transactional email provider that all businesses can count on. By using this service you can send your users transactional emails along with the ease of accessing the click and bounce rates. The ratings for this service are 5/5 and customers love using it for gaining additional sales.
It is used for SMS marketing and CRM as well and because of these multiple functions; it is the most common service used today.
Features:
The pricing of this service is reasonable and small businesses can also use it.
The interface this service has is very clean, and it provides excellent performance.
The deliverability and the overall result of the sales of this service are amazing.
The documentation and API addresses of this service are extensive.
It provides amazing integration with other platforms as well.
It has a wide range of webhooks to connect your apps with other services.
It also has a drop and drag builder for emails.
A/B testing for your emails is also available.
For email marketing services campaigns, they are offering the option of advanced reporting as well.
Pricing:
You can use this service for sending more than 300 emails for $0. For sending more than 10,000 emails you have to pay $25 per month. For 20,000 emails, this service will cost you around $65. You can opt for the custom enterprise plan as well where you have to tell your requirements only and they will get it done for you.
Mailgun email service provider is considered to be the most effective transactional email delivery system. Famous companies such as Reddit, Github, and Lyft. It is a powerful tool that helps you in keeping eyes on the analytics of your business and provides amazing options for customization as well.
Features:
This service provides access to SMTP and API addresses.
Validation of email addresses and suppression management options are also available in this service.
Optimization of the sending time and placements of tests in the inbox makes it exceptionally powerful.
It also helps in keeping the track of your deliverability and receives email reporting.
You will have a wide range of customization options for sending transactional emails.
Pricing:
The pricing of this service is flexible and you can choose from five different plans. When you are using the flex plan you can send 5000 emails for 3 months at the cost of $0. The foundation plan will cost you $35 per month for sending 50000 emails and $75 per month for sending 100000 emails.
The growth plan will cost $80 per month for sending 1 lakh transactional emails and $650 for sending 1 million emails. To avail of the scale plan, you will have to pay $90 per month for sending 100000 emails, and to send 2.5 million emails, you have to pay 1250 dollars per month.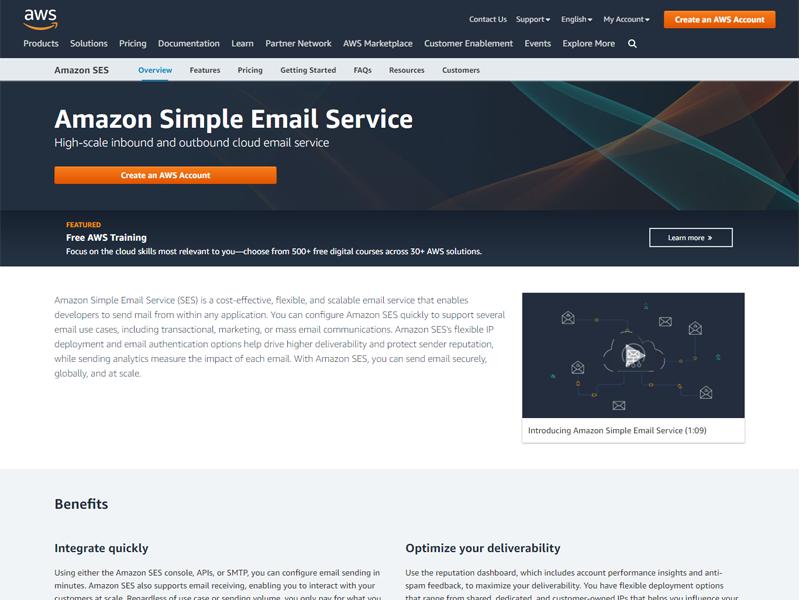 This is one of the most amazing email service providers and it comes with the affiliation of Amazon web services. This email service is based on cloud-based email services. The cloud-based email service is efficient in allowing you to send marketing, notification, and transactional emails. This service is used by many businesses, including HBO, Siemens, and Vodafone. The best thing about this service is that it is cost effective and everyone can get their hands on it.
Features:
This service provides exceptional levels of deliverability.
It gives access to the users for the monitoring of the email activity and the type of content they want to receive.
There are multiple interfaces for sending emails and receiving them flexibly.
Dedicated IP addresses and authentication of ISP are also available on this service.
People who are already using Amazon services can easily integrate this service with the features such as Amazon SNS and Amazon EC2.
This service works on the efficient build-up of Amazon's trustworthy infrastructure.
It is the most cost-effective solution for sending transactional emails.
Pricing:
This service charges $0 for the first 62000 emails each month and charges $0.10 for every 1000 emails sent after that.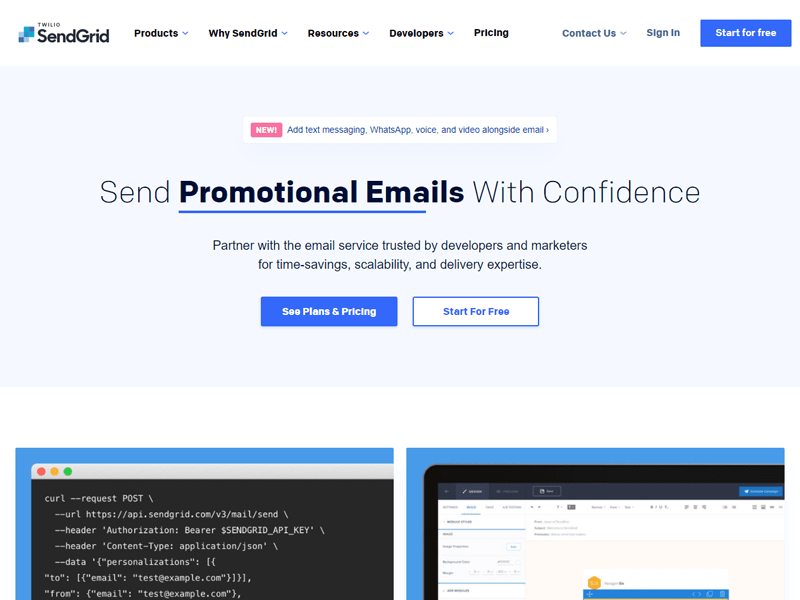 SendGrid is one of the most amazing email sending service providers and it is used by many renowned companies such as Spotify, Uber, Air BnB, Yelp, and Glassdoor. This service is designed by the platform of cloud communication and it is loved by all kinds of businesses, whether big or small.
Features:
By using this platform, you can send high deliverability emails to your customers.
All the domain links and transactional email templates are customizable in SendGrid.
The monitoring of your sent emails is easy by using this service.
You can also easily lookup for your history of the email activity from the last 30 days.
The services of this provider are secured because of the two-factor authentication
API key permissions, teammate permissions, and IP access management services are present
It offers cost-effective solutions and you can choose from multiple plans.
Pricing:
You have to pay $0 for sending 40000 emails for 30 days. To avail of the essential plan, you have to pay $14.95 per month if you want to send 50000 emails to 1 lac emails. To send 100000 emails per month you have to pay $89.5 and for sending free lakh emails you have to pay 249 dollars per month. If you are running a large business and you need to send 700000 emails, then you have to pay 449 dollars per month.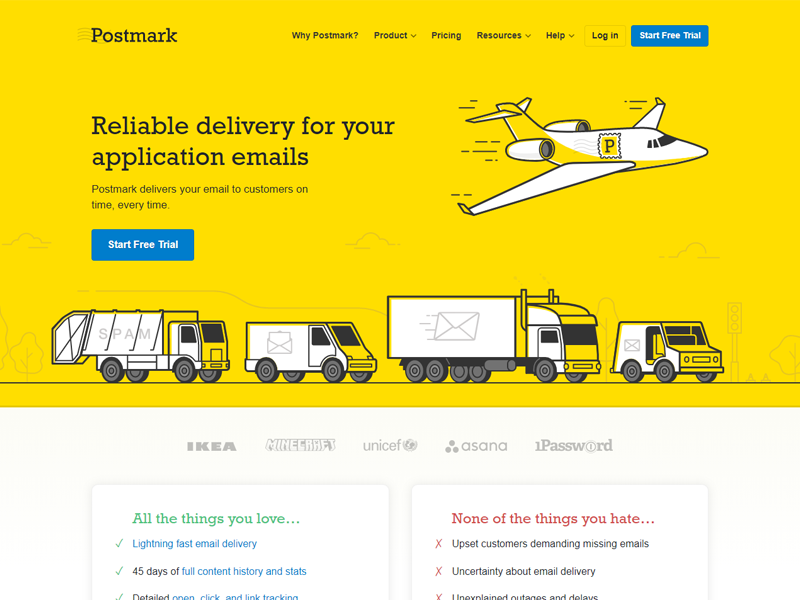 This service is used by the most famous companies in the world, including IKEA, UNICEF, Minecraft, and Moz. This service provider has the simplest services for sending important transactional emails for your businesses. WildBit has made this transactional email service to enhance the visibility of your business and increase the audience.
Features:
it makes sure about the deliverability of your email and the effectiveness of the email
The redundant data center supports the deliverability rates for your email
This service provider also includes IP reputation management and geographic load balancing
You can easily customize your emails because of the built-in templates for email.
High-level analytics and reporting are acceptable in this service.
Email time system and webhook are available on this platform.
The prices for this service provider are relatively low and affordable as compared to others.
Pricing:
You can avail of the free developer plan to send hundred test emails for $0/month. For sending 10,000 emails you have to pay $10/month and for sending 50,000 emails you will pay $50/month. For $100/month, you can send 125,000 emails. You can also send 700,000 emails for $400/month. You have to pay $900 per month to send 3,000,000 emails.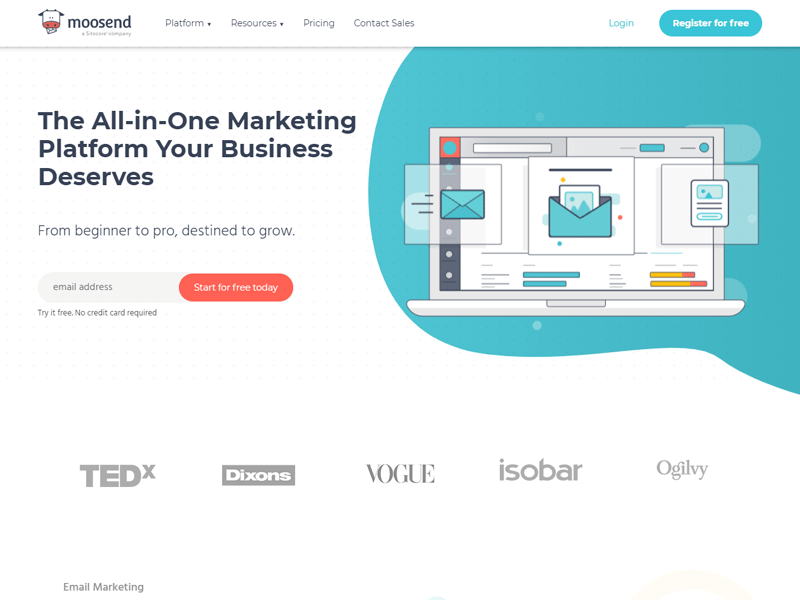 It is known to be the fastest way of getting your business on the top in the market by email marketing. It helps in providing highly personalized emails and increasing the clicking instincts of the customers buying and giving them. It is gaining popularity among small businesses and new startups.
Features:
It provides a drag and drops email builder for the designing of transactional emails.
This platform provides a 98% deliverability rate for emails
it will also allow you to have your analytical report for the transactional emails and the insights.
Email tracking is also available for the history of your purchases.
This platform has the fastest email delivery system as compared to the other ones.
There are many templates for the highest-performing workflows.
You will also have the access to the customization options while using this platform.
Pricing:
This service is free for sending 1000 emails. For the next 1000 emails, you have to pay $8 per month.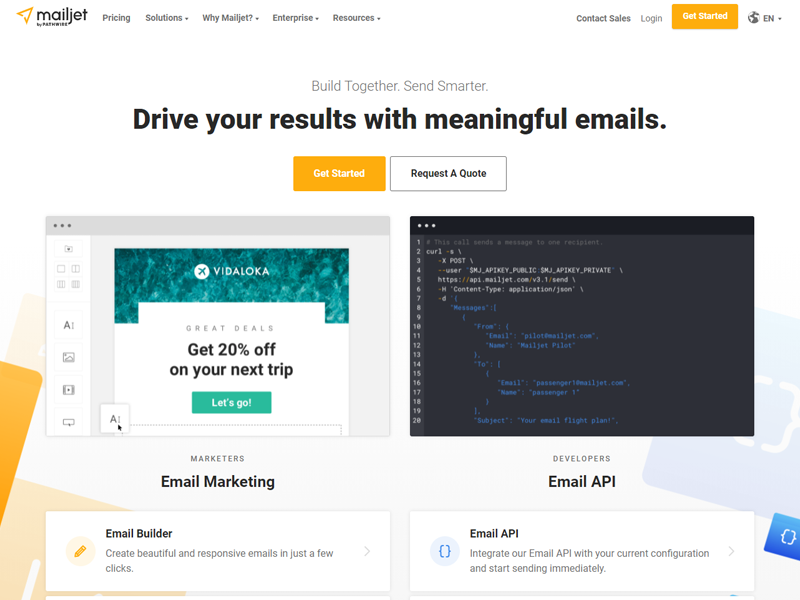 This is an all-in-one email platform that is cloud-based and it was created in Paris. The service offers the best transactional email solutions to businesses, and it is used by famous companies, including Microsoft, Product Hunt, and Honeywell.
Features:
This service can easily customize your transactional emails.
It provides drag and drops email editor choice as well.
You can monitor the performance of your emails and the insights of your reach
Bounce block tracking and monitoring alerts are available here
The support time is always there to help.
Dedicated IPs help in the reaching of your emails within seconds.
This service also offers transactional SMS messaging.
This service provides robust marketing features with the help of the transactional email services
Pricing:
You can use four plans for availing the services of this platform where you can get access to 6000 emails for $0 per month. Global the basic plan you have to pay $9.00 hundred $33 monthly to send 30000 to 9 lac emails.
The premium plan will cost you 2.95 dollars per month to $398 per month for sending 30000 emails to 900000 emails per month. You can also opt for the enterprise plan where you have to tell the service provider about your requirements and they will make the plan for you. Remember that this plan will work for sending more than 900000 emails per month.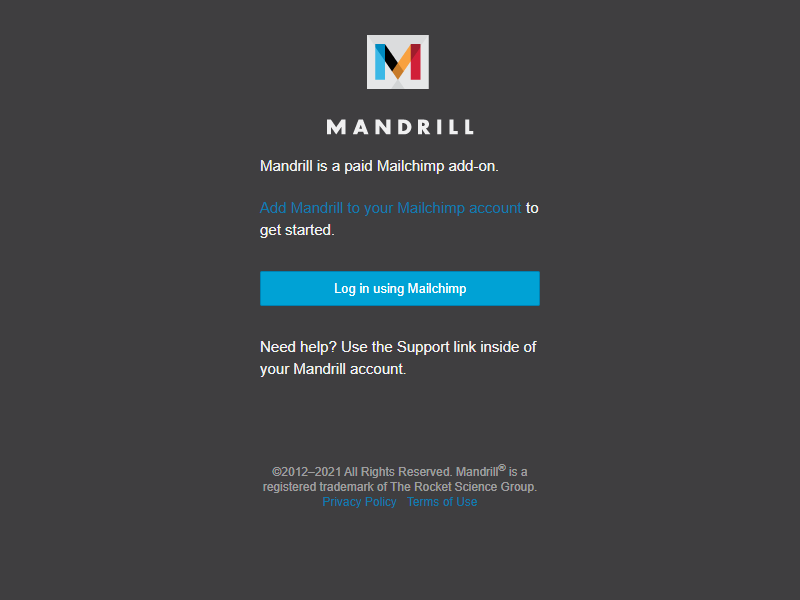 This service is offered by Mailchimp and it is an amazing infrastructure service for sending emails. You can personalize an automated transactional email for your business's theatre customers by using this platform.
Features:
Users have access to the data in the advanced form with the help of an activity log that is searchable.
Custom tagging and split testing are available in this service.
Transactional emails can be customized easily with the help of dynamic HTML content and template.
There are engines and built-in rules available along with the custom tracking domains
If you are using it for your business, you will be amazed by the integration of this platform that allows you to connect your data with different apps.
Pricing:
To avail of the services of a mandrill, you have to get a paid subscription where you have to pay $9 per month to avail of the basic plan you can also pay $25 per month to get access to sending 25,000 emails. For sending 1 million emails it will cost you around $720 per month. There is one important thing that you should remember when the month and your purchased email blocks expire and you have to buy them again.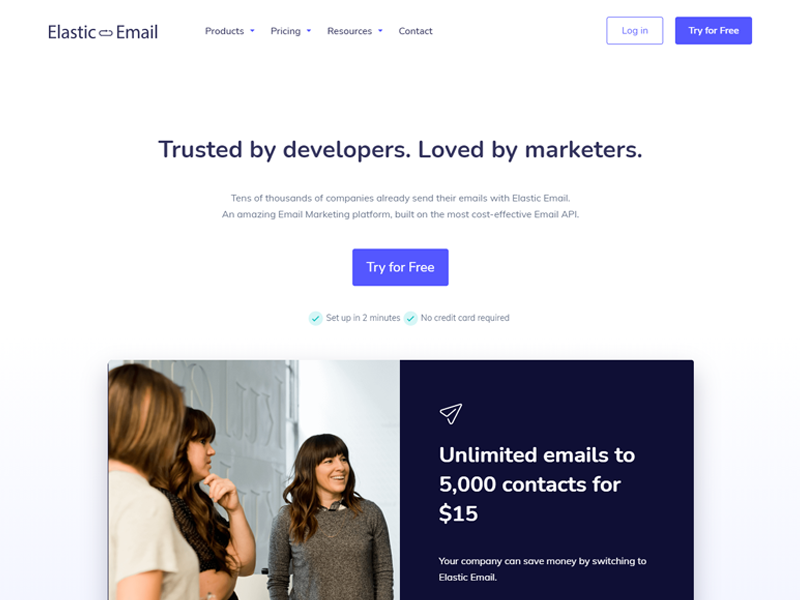 Elastic Email service has a wide range of features, including being a platform for email marketing and email API services as well. Many famous companies such as Adclick, Brightmetrics, and schedule One are using this platform. The extensive features of this platform make it a suitable option for all startups and small businesses to reach the maximum audience.
Features:
The email API plan will give you access to SMTP and HTTP API.
You can track your emails and the unsubscribe management of the emails as well.
GeoLocation tracking and detail tracking of the activity and history of the customers are present.
This service provide the access to unlimited customization options, including domain branding customization and unlimited use of API keys
The options for webhook notifications and email logs that are extended are also present in this platform.
This service will provide you with the options of drag-and-drop design, a template gallery, HTML editor, and dynamic content.
Pricing:
There are three plans available for getting this service. You will have to pay $0 per month to 700 emails a day. For sending 2000 per day you will have to pay 0.09 dollars per month and for the email API Pro plan, you will have to pay one dollar per day.
What is Transactional Email?
Before we move towards the best transactional email services, we will explain what these transactional emails are. You may have observed that every time you make an account or sign up on a website, you immediately receive an email. These emails are known as transactional emails that are sent to you for confirmation.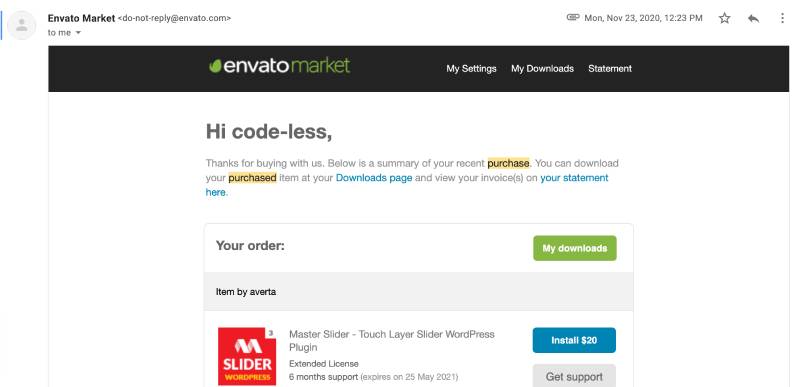 These are usually sent when you create your account on a website or when you are purchasing from a company. The nature of these emails is personalized and every time any customer makes a purchase, they are sent by automation.
Most of the time, these emails are used for confirming the order and providing shipping information as well. Customers are also notified about the tracking number of their order through these emails and invoices, and emails are also sent to them.
If a customer forgets the password or wants to reset it, they can do that by receiving a new link through these emails. These are not exactly marketing emails, but can be used as an opportunity to increase the marketing and promotion of your business.
You can optimize the experience of the customer by using transactional emails which will help you in gaining the trust of customers.
Why You Should Use Transactional Emails
There are many advantages of using transactional emails as they provide you with an efficient approach for providing your customers an excellent service. Following are some of the best reasons why you should use these emails.
Increases the engagement of customers:
When you are using effective, transactional emails, your customers will be happier to buy from you again. Even at the welcoming stage, you can use customized emails to gain their attention. This strategy helps in engaging the customers with your business and helps them in relying on your services.
Once they have received their products, you can still send them engaging emails to keep them hooked on your business.
Helps in building trust:
If you want to gain the trust of your customers, you must use these emails for your online business. When you are sending them transactional emails at every step of the purchase, you are gaining their trust. Customers are often worried about the quality of the services and they are afraid of scams.
You can win their trust by using these services to make them feel secure at every step of purchasing the products. By using these emails, you will not have to deal with the stress of the unlimited questions from the customers because you have already provided them with the links and necessary tracking information through emails.
Enhance brand recognition:
For online businesses who want to leave a long-lasting impression on their customers, transactional emails will provide you an amazing opportunity to do so. When your customers will receive engaging emails they will keep on thinking about your brand and products. They might see a product and think readily about your brand and will buy your product.
Similarly sending emails to your customers about bonuses or promotional offers will stick in their minds and they will search for your business to avail the products.
You can get creative with your transactional emails to make your customers compelled to buy from your business. This strategy will help you in creating a unique identity in the market and your customers will remember you from your exceptional strategies.
They have a massive impact on sales:
If you are looking for ways to improve your relationship with the customer and increase your sales, these emails are the best way to get these two things done for you.
When a customer has purchased a product from your business, sending them an email saying "people have also bought" or "similar to this product" will make them curious about another purchase and your sales will improve. You can also offer bundled shipping services and offers to increase the temptation of your customers.
Conclusion
All the above-mentioned transactional email services are efficient and help in keeping your customers updated about their purchases for your ecommerce business.
If you want to make sure that your customers have a great experience buying your online products, you should use these services. These services help in boosting your sales and increasing the engagement of customers with your products.
These services are a great help to provide you with the tracking of the emails and the history of the purchases. There are multiple pricing plans for availing of these services and you can choose accordingly whatever suits your budget and your business.

Ludjon, who co-founded Codeless, possesses a deep passion for technology and the web. With over a decade of experience in constructing websites and developing widely-used WordPress themes, Ludjon has established himself as an accomplished expert in the field.