Are you looking for the best cheap email marketing services for your digital business? Here's what you need! Email marketing is one of the most significant aspects for running effective promotional campaigns, recruiting more visitors to your setup, and eventually converting them into your regular customers.
A shortlist of the top 5 cheapest email marketing services if you are in hurry:
However, with multiple email marketing options available in the market, it might be challenging to choose the one that perfectly suits your business's demands and budget simultaneously.
Have a look at the 19 cheapest email marketing services and tools currently available in the market, their essential features, and what pricing plans they offer. You will be completely equipped with all the necessary information to decide which provider best suits your business and budget at the end of this article.
Why Trust Codeless.co?
We've spent thousands of hours testing and reviewing email marketing services. We also use these tools for our weekly newsletters and promotions.
Our process consists of reviewing these parameters for each service provider:
Pricing
Delivery Rate
Features
User Rating
Easy of Use
Customer Support
Comparison Cheap Email Marketing Services
| Provider | Cheapest Plan | Free Plan | Contacts | Emails |
| --- | --- | --- | --- | --- |
| SendinBlue | Lite: $25 per month | Yes | Unlimited | 20,000 |
| GetResponse | Basic: $15.58 per month | Yes | 1,000 | Unlimited |
| Constant Contact | Core: $9.99 per month | Yes | 500 | Custom |
| MailJet | Essential: $15 per month | Yes | Unlimited | 15,000 |
| Sender | Standard: $41.75 per month | Yes | 20,000 | 240,000 |
| ActiveCampaign | Lite: $9 per month | No | 500 | Unlimited |
| ConvertKit | Creator: $9 per month | Yes | 300 | Unlimited |
| Aweber | Start pro plan: $16.15 per month | Yes | 500 | Unlimited |
| SendGrid | Essential: $14.95 per month | Yes | — | 6,000 |
| Campaigner | Starter:$50 per month | Trial | 5000 | Unlimited |
| OmniSend | Standard: $16 per month | Yes | 500 | 6,000 |
| SendPulse | Standard: $6.40 per month | Yes | 500 | Unlimited |
| MailChimp | Essentials: $11 per month | Yes | 500 | Unlimited |
| Benchmark | Pro: $10.50 per month | Yes | 500 | Unlimited |
| EmailOctopus | Pro: $25 per month | Yes | 5,000 | 50,000 |
| MailerLite | $10 per month | Yes | 1,000 | Unlimited |
| Sendy | $1 | No | — | 10,000 |
| CakeMail | Growth: $7 per month | Yes | 500 | 6,000 |
| MooSend | Pro: $9 per month | Yes (30-days) | 500 | Unlimited |
| Pabbly | Rookie: $24 per month | Yes | 5,000 | Unlimited |
Detailed Price Comparison
The 19 Best Cheap Email Marketing Services in 2023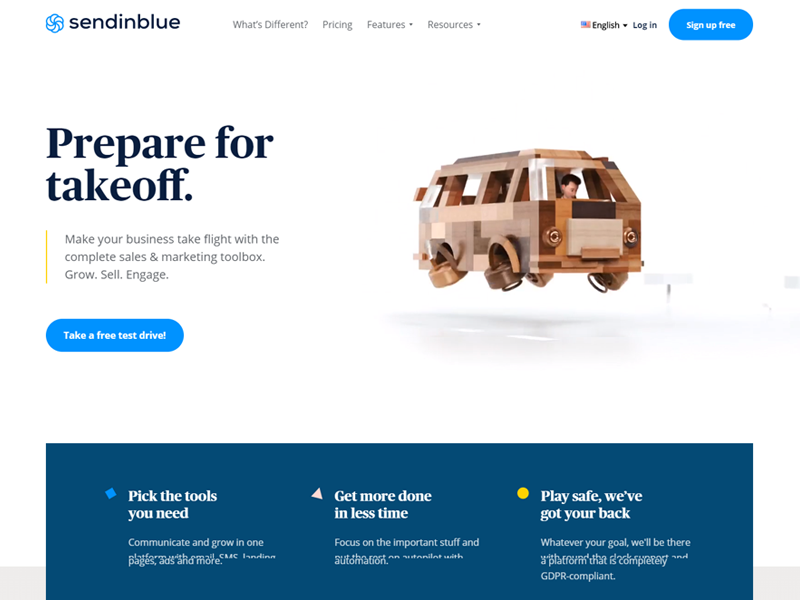 SendinBlue is currently the topmost affordable email service provider available in the market. It gives you the ultimate power of maintaining excellent customer relationships through its long list of features.
These include marketing automation features, email campaigns, SMS marketing, and top-notch A/B testing for high deliverability. It is a perfect platform for small and mid-sized businesses who want to get stress free about running email campaigns to recruit more audiences towards their digital platform.
Features:
Email campaigns
Personalized emails and SMS marketing
A/B testing
No daily limit on email sending
Email template library
Mobile-friendly email creation
Optimized sending time
Landing page creators
Sales CRM
Transactional emails
Workflow editor
Real-time reporting
Email and phone support
Price:
All the pricing plans of SendinBlue come with unlimited capacity to store contacts.
The plans are:
The free plan can store unlimited contacts and send 300 emails per day.
The lite plan starts at $25 per month for 20,000 emails and is a perfect choice for entrepreneurs with newly launched businesses.
The premium plan cost starts at $65 per month for 20,000 emails.
They also have an enterprise plan for large companies with advanced needs to customize it accordingly.
The following image depicts features associated with each of the plans.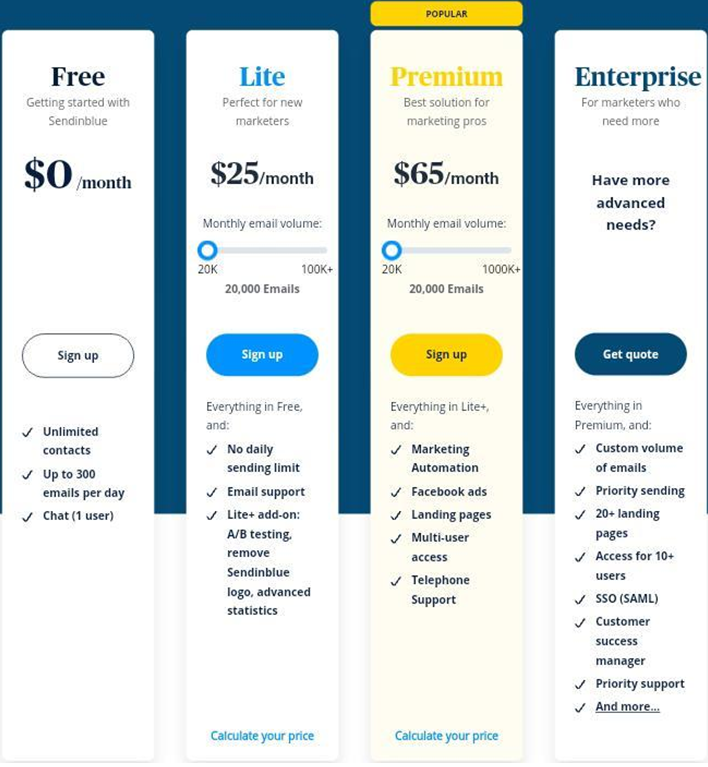 Best for:
Overall best software for email marketing that I used by myself for sending weekly newsletters. Sendinblue comes at an affordable price with maintaining high deliverability rate and a lot of features.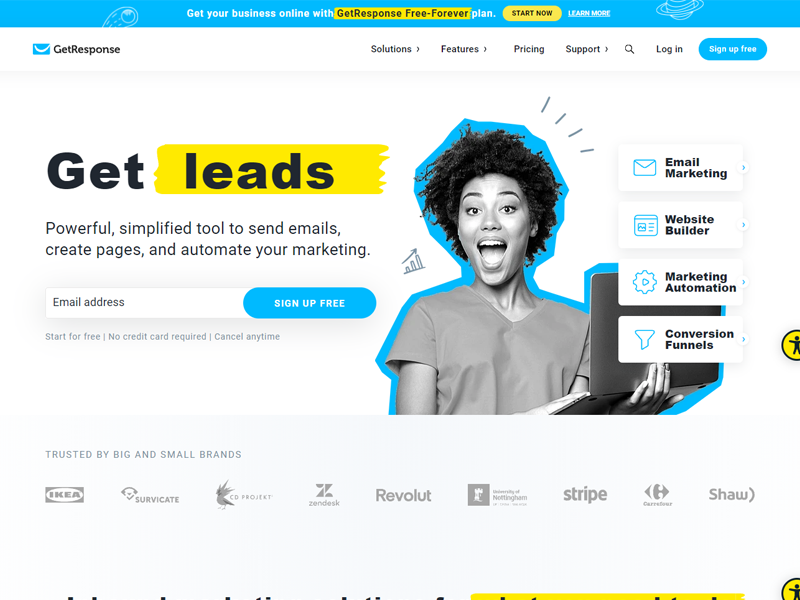 GetResponse is an outright email marketing platform with all the essential features in a single place. The platform has around 30 different tools, all with a single aim of making your marketing tasks easier through email automation.
As a result, their services are guaranteed to provide positive results for improved growth, better customer engagement, boosted sales, and increased revenue.
Top brands like IKEA, Survicate, Zendesk, Stripe Carrefour, etc., trust their online marketing platform. One of the reasons behind their successful digital presence can be attributed to marketing resources provided by GetResponse.
Features:
GetResponse is a collaborative medium of all the critical features needed to run effective email campaigns and lessen the related workload of entrepreneurs are:
Professional easy to manage email templates
Drag and drop email creator
Custom segmentation
Personalized content
Autoresponders
Transactional emails
A/B tested subject lines
Landing pages
Website builder
E-commerce integrated campaigns
Customer behavior tracking
Web push notifications
Dedicated support and IP address
Price:
There is a total of 4 email marketing pricing plans at GetResponse.
The free plan can accommodate up to 500 contacts and send unlimited emails.
The basic plan starts at $15.58 per month for 1,000 contacts.
A higher tier plan than fundamental, namely plus costs $48.38 per month for 1,000 contacts. The pricing increases with an increased number of subscribers.
Finally, the professional plan starts at $97.58 per month for 1,000 contacts.
Have a look at what features each plan has got to offer: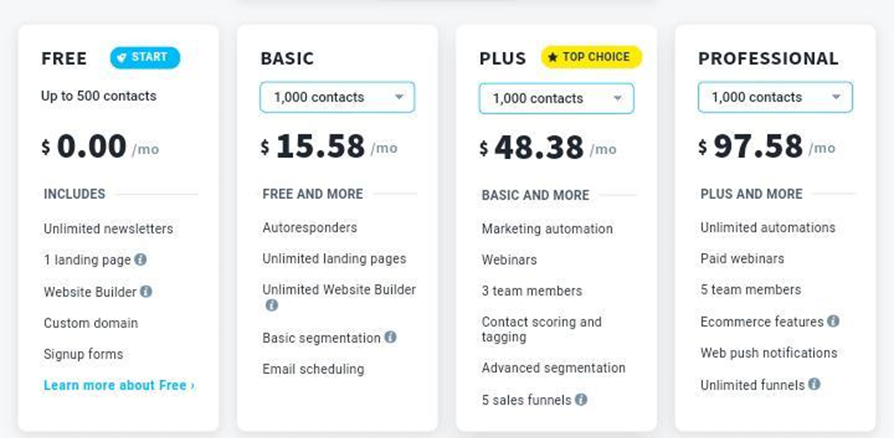 Best for:
Cheap solution with Website Builder and Landing page builder for creating a complete sales funnel.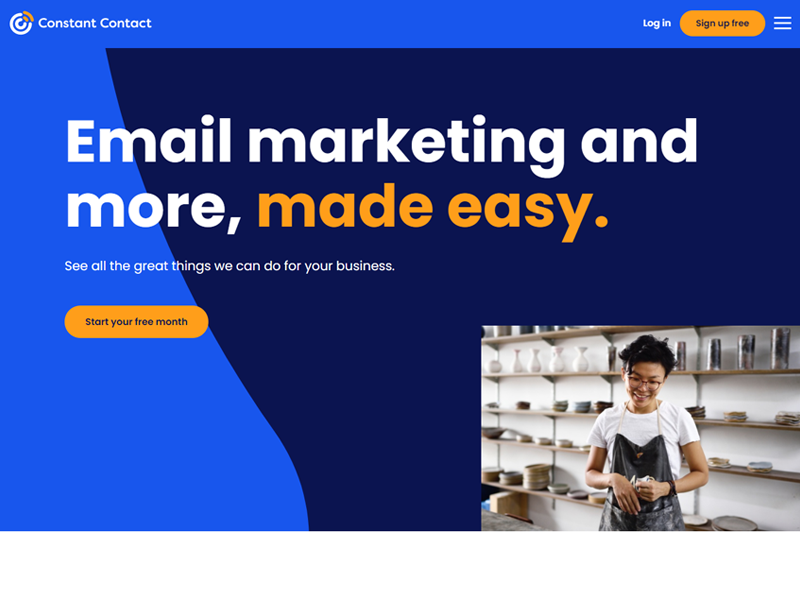 Constant Contact is a feature-packed email marketing platform. Its features are all you need to build and grow customer relationships in your business. The platform aims to provide the utmost ease for you in the marketing area through its automated reviews.
Moreover, you can create professional emails in minutes, post relevant advertisements and make effective sales online at highly reasonable prices offered at Constant Contact.
Features:
The extensive email marketing features of Constant Contact are:
Advanced Reporting
Hundreds of professional email templates
Marketing automation
Customer list management
Facebook, Instagram, and Google ads integration
Website sign-up forms
Text messages marketing
Lead-generating landing pages
Social media posting
Integrations
Surveys and polls
Price:
The pricing plan starts from $9.99 per month and ends at $45 per month.
Constant ContactContact offers two simple pricing plans: core and different prices depending on your subscribers' demand.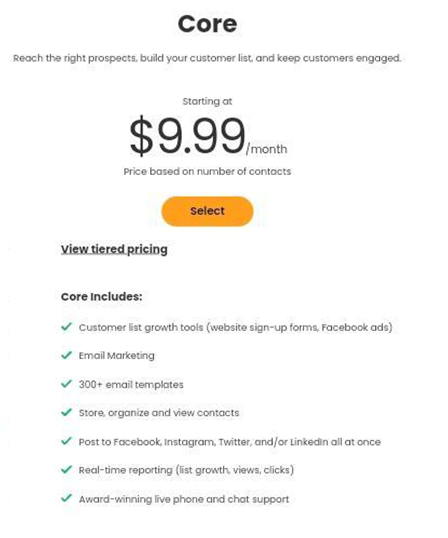 Look at the below image to see what potential each plan holds: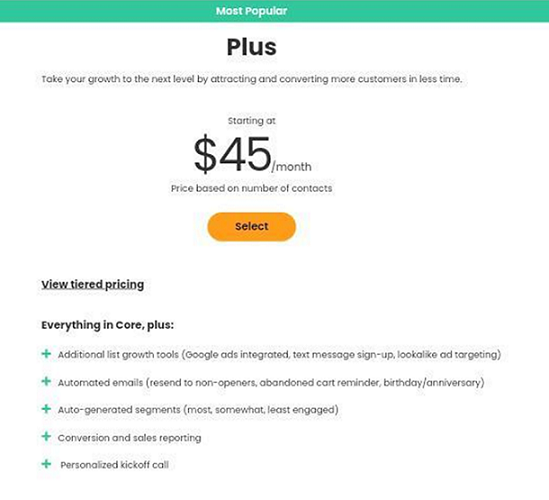 Best for:
It is amazing for those who want a complete marketing tool for sending emails and managing social media and making online sales in one place.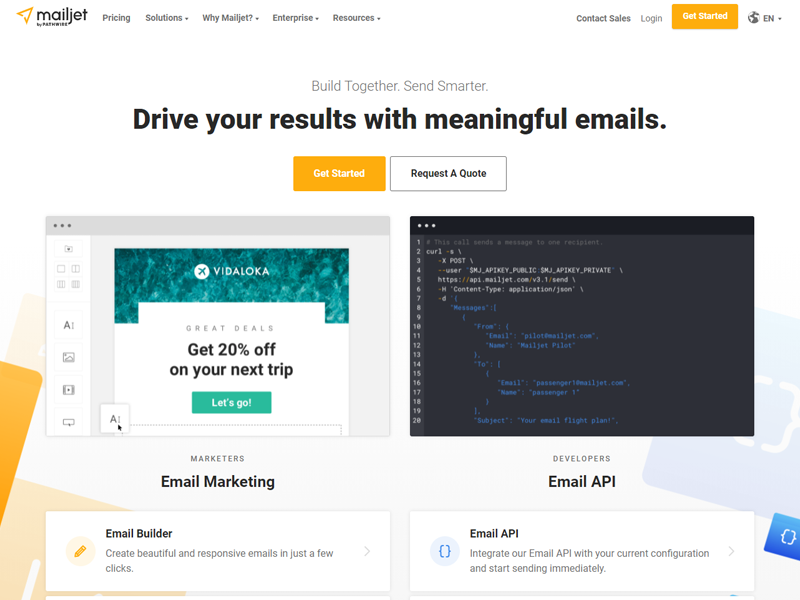 MailJet by sinch is the best email marketing services provider with a motto build together, send smarter. The platform allows excellent sales and revenue generation for your business through email and SMS marketing.
It is an all-in-one email program that allows the creation, editing and sending of bulk emails as part of a marketing campaign at a single application. Save your time with its predefined automated actions and focus on other areas of your business to make it an ultimate success.
Features:
The powerful email marketing tools at MailJet are:
Sub-accounts
User-level access
Stylish email template gallery
Intuitive drag-and-drop email builder and editor
Customized templates
Subscription forms
Automated workflows
Webhooks
SMS API marketing
SMTP relay
Contacts verification
Contact list management
Dedicated IP
Price:
They offer four different plans; you can choose the one according to your business demands.
The free plan can send 6,000 emails per month with a limit of 200 per day.
The essential plan starts at $15 for $15,000 emails with no daily sending limit.
The premium plan starts at $25 with a monthly email limit of 15,000 and advanced features.
You can also customize the plan accordingly.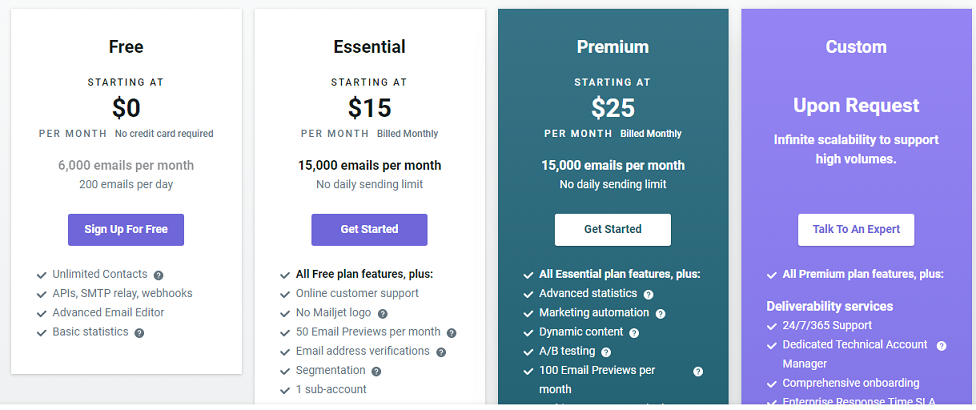 Best for:
Mailjet is the cheapest solution for those who want a dedicated IP address for sending a high volume of emails.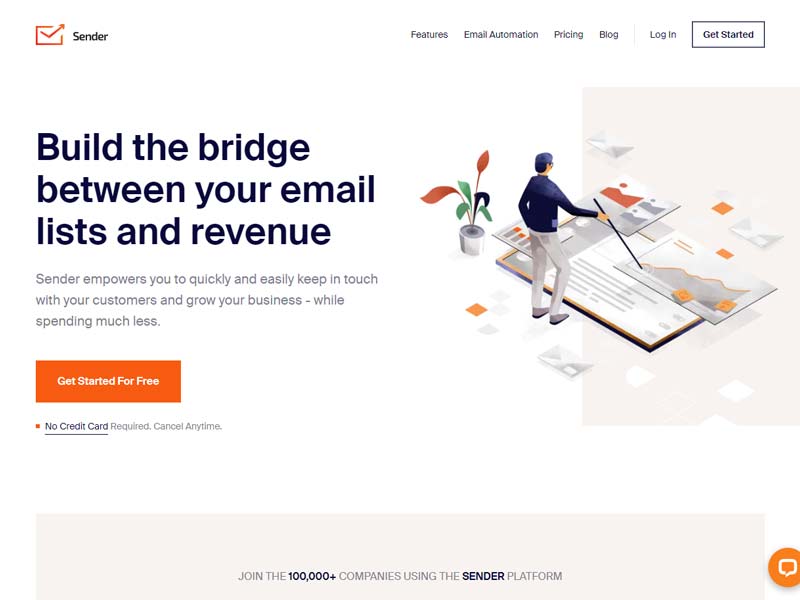 Sender, as promised, acts as an accessible bridge between email marketing and sales productivity. It gives you complete power over your email marketing activities while handling major processes through automated tools.
Moreover, all these services are available at very affordable prices. Moreover, their successful ventures with leading brands like Hager, Honeywell, etc., prove their effectiveness very well. To date, they have successfully served 1000,000 plus satisfied companies.
Features:
Increased email deliverability
Smart automation
Highly responsive team of technical experts
Eye pleasing templates
Personalized emails
Advanced analytic tools
GDPR Compliance
Easy integration
API emails
SMS marketing
Landing pages
Push notifications
Price:
There are a total of 4 pricing plans at Sender
The free plan can store around 2,500 contacts and send up to 15,000 emails per month.
The standard plan can send around 240k emails per month at $41.75.
The professional plan starts at $208 per month for 20k contacts and up to 480k emails/month
The enterprise plan has custom prices and depends on how you want your plan to be.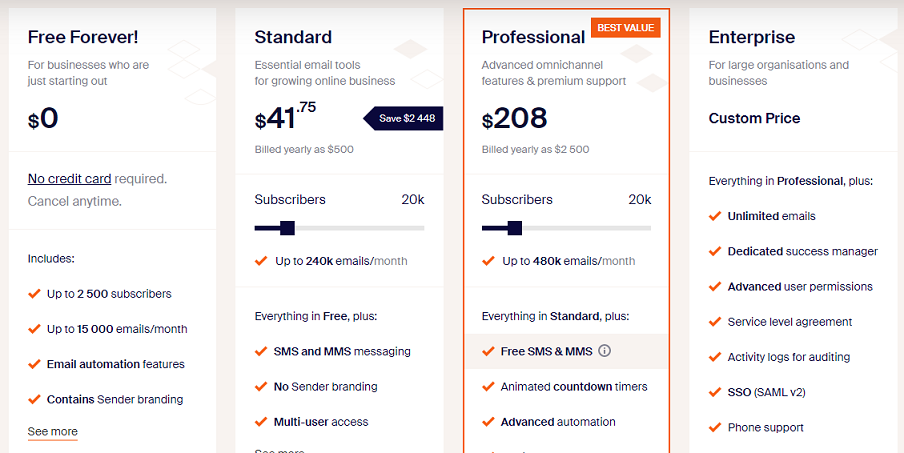 Best for:
Sender is a great choice for those who want to send a lot of emails to a small number of contacts. This service can be perfect for beginners or eCommerce businesses.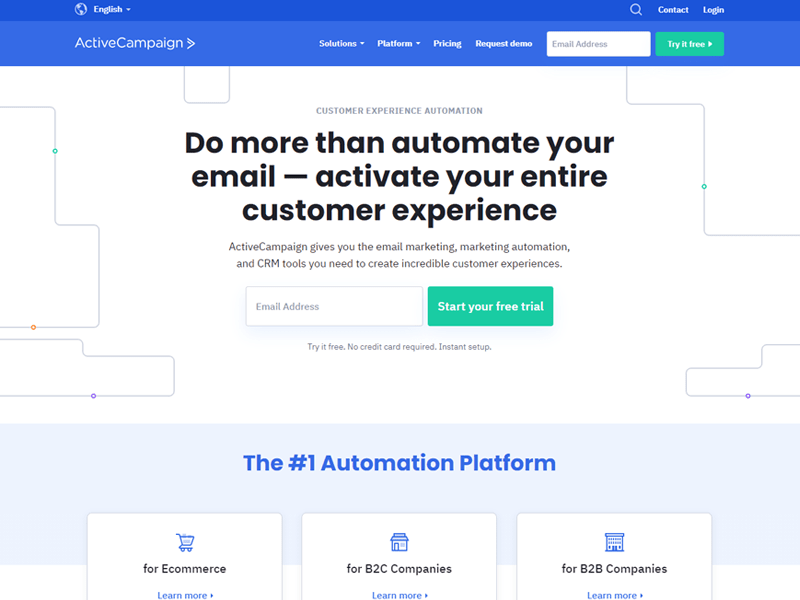 ActiveCampaign is a cloud-based small marketing platform best suited for bulk email sending. They offer to run automated email campaigns on your behalf to save your time in the business's marketing.
Their other areas of excellence are sales automation, professional email templates, marketing automation, and customer relationship management applications.
Features:
The collective features of marketing, sales, and services suite at ActiveCampaign are:
Email Marketing
Unlimited email sending
Landing pages
Drag and drop email builder and editor
125+ email templates
Custom domain
Social data enrichment
Leads importing
Sales emails
Mobile application
Task reporting
Custom email newsletter
In-App messaging
Unlimited access to the online resources library
Price:
There are 4 straightforward pricing plans at ActiveCampaign that charge no setup fee.
The plans are:
Lite: $9 per month
Plus: $49 per month
Professional: $149 per month
Enterprise: $259 per month

Best for:
ActiveCampaign is the best affordable tool for email automation. On the lite plan of $9 you can get all sorts of tools for automating your email sign-up, sales funnels, and even a free strategy session call.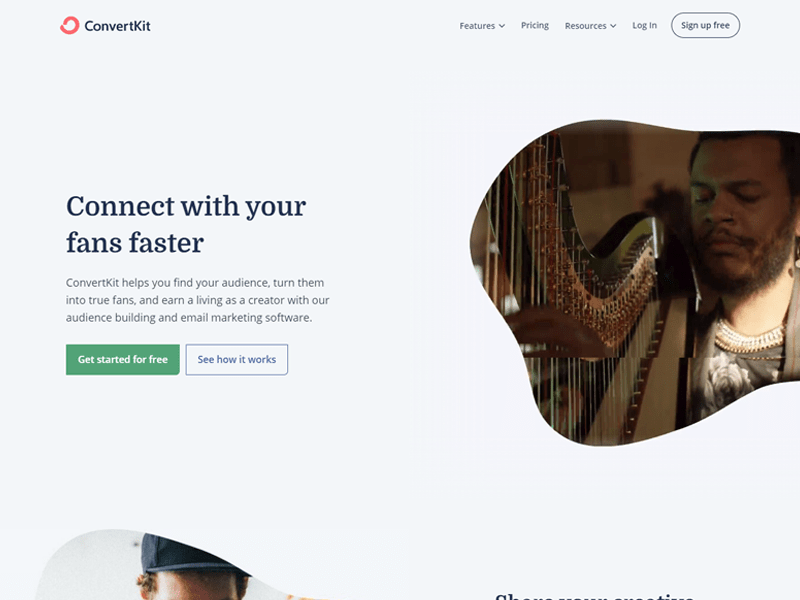 ConvertKit is an email marketing platform with guaranteed standardized deliverability. Created by Nathan Berry, it is a fully complied email service provider. It is growing at the speed of a rocket. But there is no compromise on the quality of their provided services.
These services range from automated email sending capabilities to creating customized landing and sales pages, all aimed at providing a great experience to present customers and recruit more for your business at the same time.
Features:
ConvertKit lives truly by its slogan and spends more time on marketing and creating. The essential features facilitating their primary goal are:
Lead generation through multiple social platforms
Custom landing pages
Free automatic downloads for your site visitors through opt-in forms
Personalized emails
Simply designed email templates
Sales funnel
Sales pages
Automatic delivery of digital products without any unimportant integrations
Time optimized content
Signup forms
Integrations
Price:
The free plan of ConvertKit (no credit card)supports up to 300 contacts with other significant features.
On the other hand, the creator plan that starts at $9 per month also supports 500 subscribers but with some advanced features necessary for your business.
Last but not least, the creator pro plan is billed at $25 for 300 subscribers. Price increases with an increased number of contacts.
Look at the below image to know what features the respective plan offers: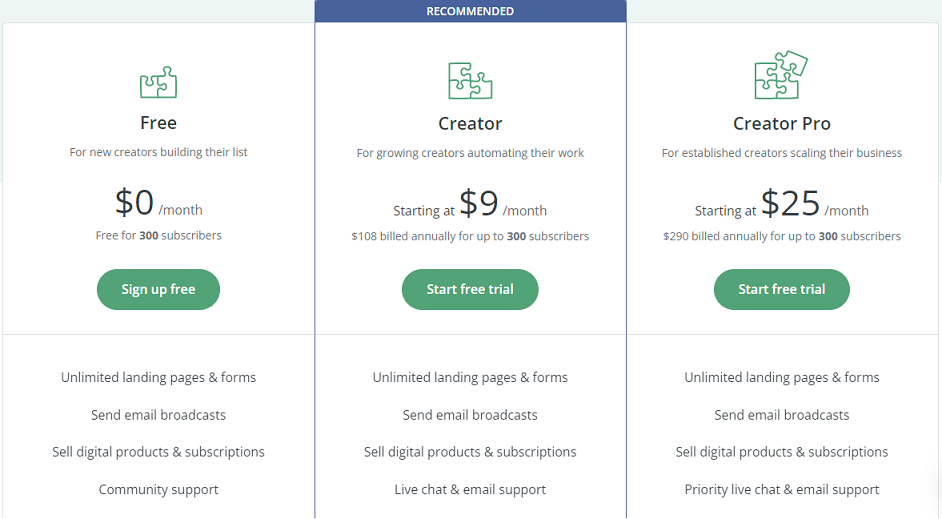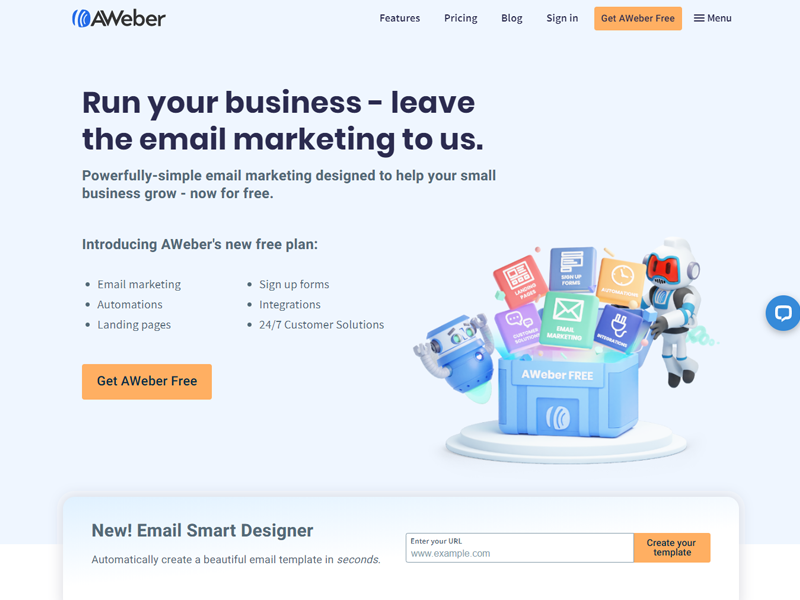 Aweber is an online email software that facilitates relevant procedures like creating contacts lists, accurately capturing data, designing newsletters and emails, and automating other marketing activities.
Their autoresponder feature will decrease your workload to a greater extent while providing a satisfactory experience to your customers at the same time.
Furthermore, with their statistics and analytic capabilities, you can easily judge your past progress and campaigns and make plans with the help of AI with a maximum success guarantee.
Features:
Let's look at essential features offered by Aweber to run successful email marketing campaigns.
Email templates designed on Canva
Creation of professional emails in minutes
Automated campaigns; their slogan is set it and forget it for this feature
Landing pages
Sales funnel
Web push notifications
Subscription forms
Message scheduling
Segmentation
Tagging
Custom emails through drag and drop email editor
Quick email designer
High-quality stock images
Knowledgeable reports and analytics
Automated newsletter
Price:
Aweber has two pricing plans with diversified features; let's look at those.
The free plan can store 500 subscribers per month. Further features of this plan can be seen below image:
The start pro plan starts at $16.15 per month for up to 500 subscribers. Its significant features are: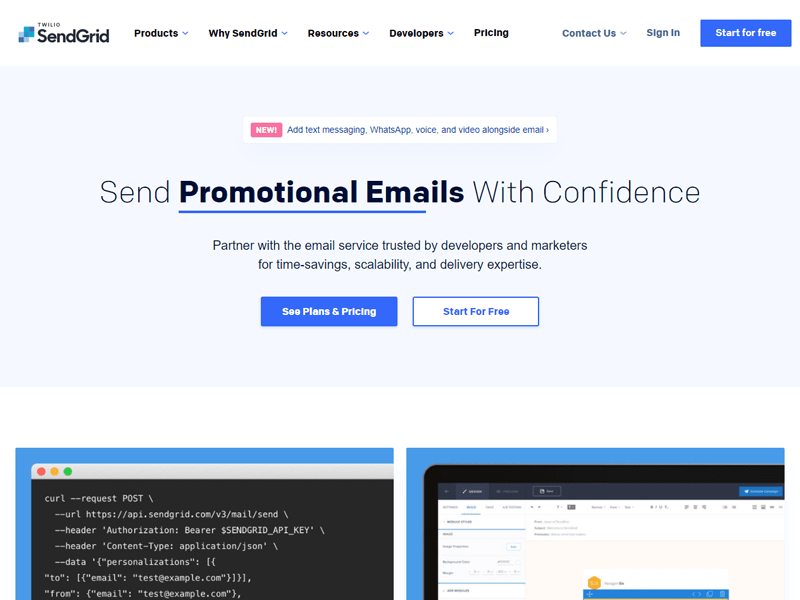 SendGrid is cloud-based simple mail transfer protocol software. It decreases the professional workload of entrepreneurs by allowing them to send and manage emails in single clicks.
In addition, with SendGrid, you would not have to worry about maintaining large servers as everything will be at your fingertips.
They promise improved deliverability and scalability of your business's email marketing campaigns. Besides their extension tools to serve about purpose, their team of experts is also at work 24/7 to solve your queries related to email programs on the spot.
Features:
SendGrid recently introduced 4 new email marketing features. These are:
Parameters for email scheduling
IP warm-up
2-factor authentication
Email clicks and opens tracking enabled through SSL
Other significant features offered by SendGrid that make the lives of entrepreneurs easier are:
Promotional and transactional emails
Pre-built uniform template designs
Global statistics representation
Anti-spam regulations
Manageable recipient preferences
A single support team dedicated to your entire email program
Integrations
Honorable opt-outs
ROI tracking of emails
Dedicated IP pools
Experts support
Cloud-based email program
Price:
Email API plans at SendGrid range from free to custom prices.
The free plan limit email sending capacity to 100 per day.
The essential plan starts at $14.95, the pro plan at $89.95, and the premium plan has custom pricing.
These prices vary with several emails allowed per month.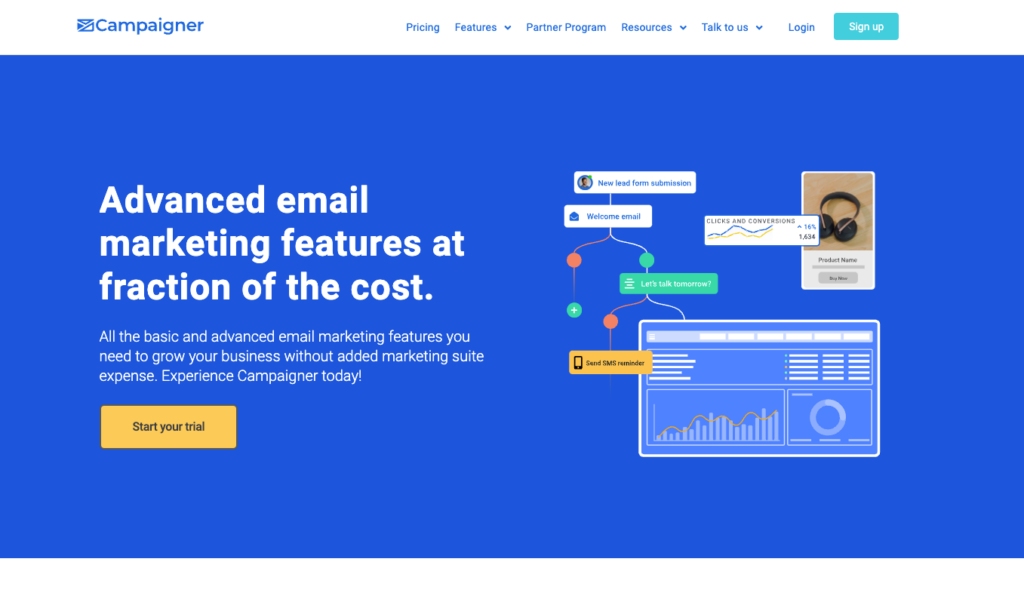 Campaigner is another great tool that comes with advanced features and with good prices. There are very important features like Workflow builder, advanced segmentation, Reputation defender, and Conversion tracking that make it a very good choice.
For sure it is not the cheapest on our list but if you see their starter package that cost only $59/month and offers all the features you can get only with a premium account on other providers.
They offer a 30-day free trial where you can test all the features we talked about above and after that make your decision.
Below you check their pricing table.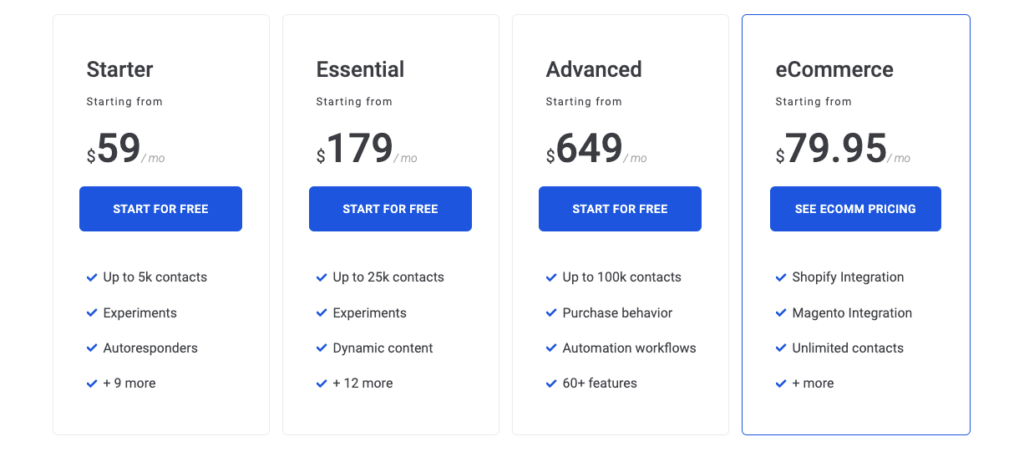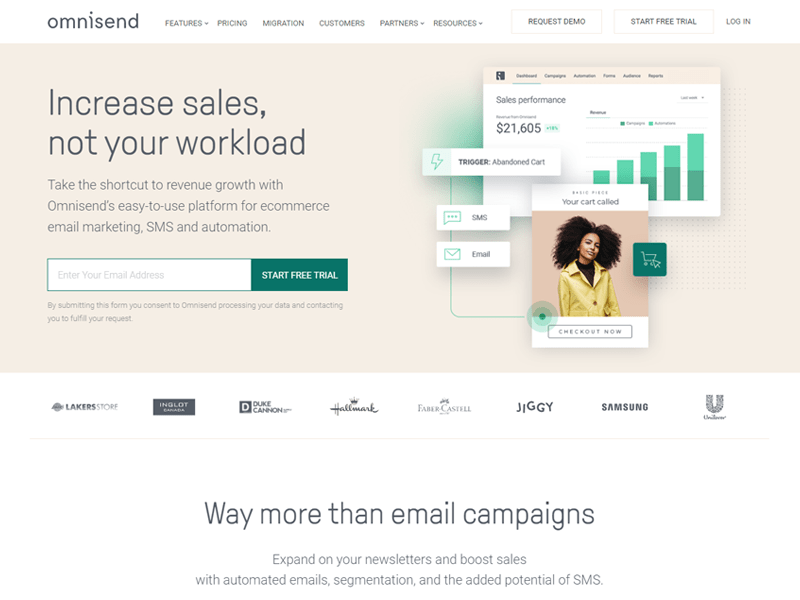 Omnisend stands truly on its slogan of increasing sales, not workload. The name itself indicates the multiple approaches in a single platform for improved customer engagement.
Their dynamic tools make use of every possible medium to market your business; these include SMS, WhatsApp, popups, Facebook ads, Google ads, and similar other ways. It is undoubtedly a one-stop-shop for your business email marketing solution through automated marketing.
Features:
The features that are indeed a shortcut to increased sales and revenue of your business offered by Omnisend are:
E-commerce email marketing
SMS and automated emails
Pre-built stylish and attractive email templates
Drag and drop editor content editor
SMS marketing
Segmentation
Detailed reports
Customer intelligence
Push notifications
Automated workflows
Popups
Google and Facebook synchronization
Price:
The free plan of Omnisend supports up to 250 contacts, 500 emails per month, 60 SMS, and 500 web push.
The standard email plan charges $16 per month for 500 contacts, 6,000 emails, and 60 SMS.
The pro email and SMS plan costs $59 per month and allows storage of up to 500 contacts, sends unlimited emails, and around 3,933 SMS.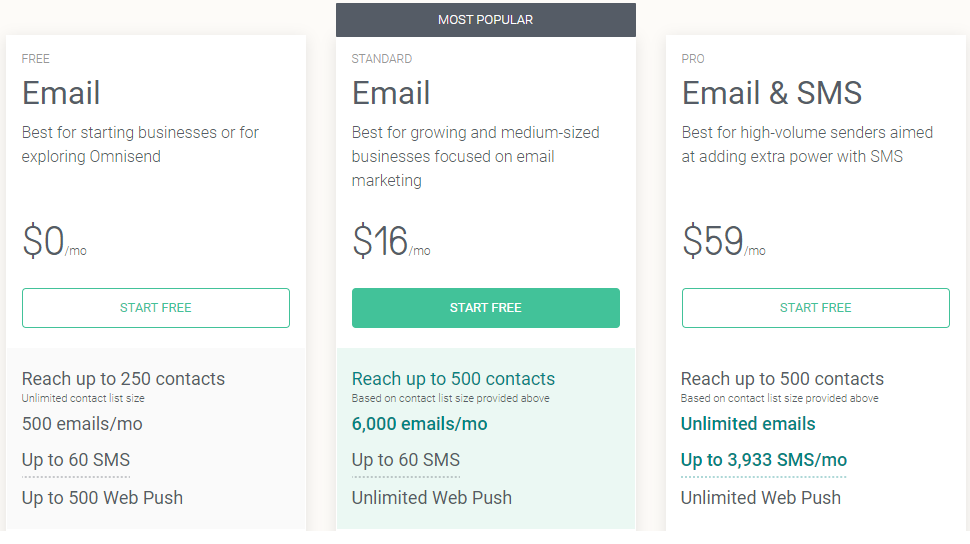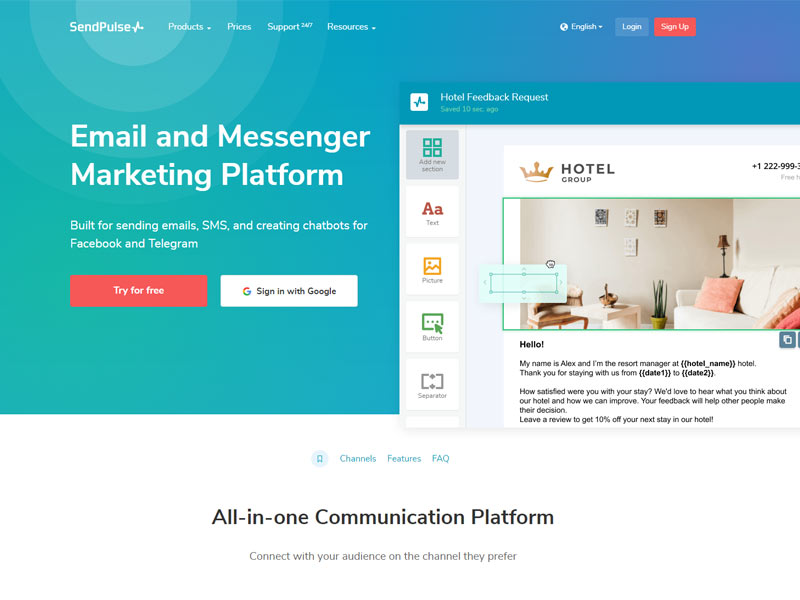 SendPulse is an AI-powered multichannel email marketing software. The platform allows effective collaboration with customers through different means like emails, SMS, web push, Viber, and finally SMTP.
It is straightforward to operate, and their customer support team is also highly responsive if you face any query. Besides direct use, they ensure a hundred percent deliverability and effective communications. As a result, it is regarded as one of the best email marketing tools.
SendPulse has also added another service to help you create chatbots for that reason we had featured it here: Best Chatbot Builders
Features:
The significant email marketing features of SendPulse are:
AI-powered email campaigns
Chatbots
Landing pages
Customer relationship management software
SMS marketing
Web push notifications
Viber marketing
Multiple SMPTs
A/B testing
Detailed statistics and trends of each email relevant activity
Subscribers ratings
User-level access for privacy concerns
Integrated CRM and CMS software
Mobile application
AMP4 email technology
Email verification
Auto-reply flow editor
Price:
The four pricing plans at SendPulse range from $0 to $10.75 or more.
The free plan can store 500 contacts and send up to 15,000 emails.
The standard plan starts at $6.40 per month for 500 contacts. Price increases with increased contacts.
The pro plan charges $7.68 per month for 500 contacts. Price again depends on several contacts needed.
The final plan, enterprise, start at $10.75 for 500 subscribers.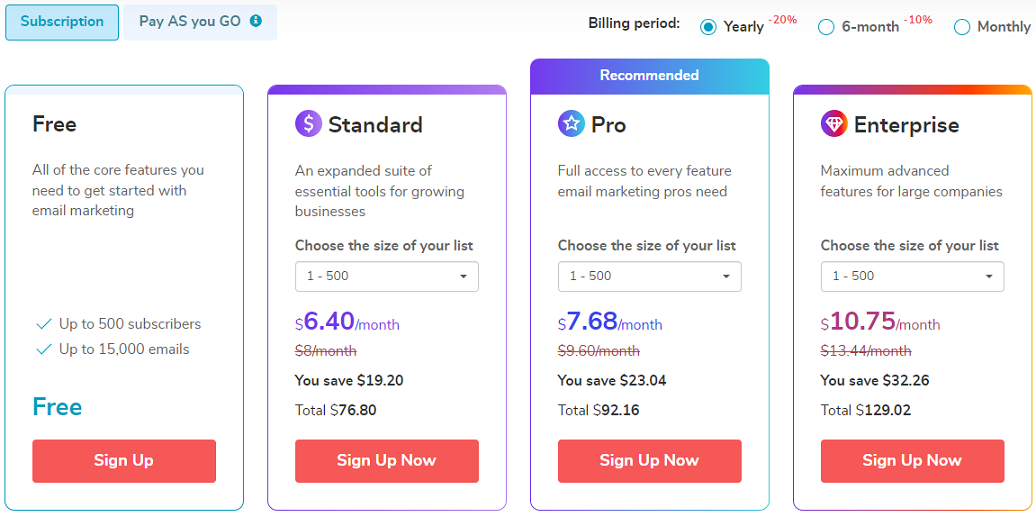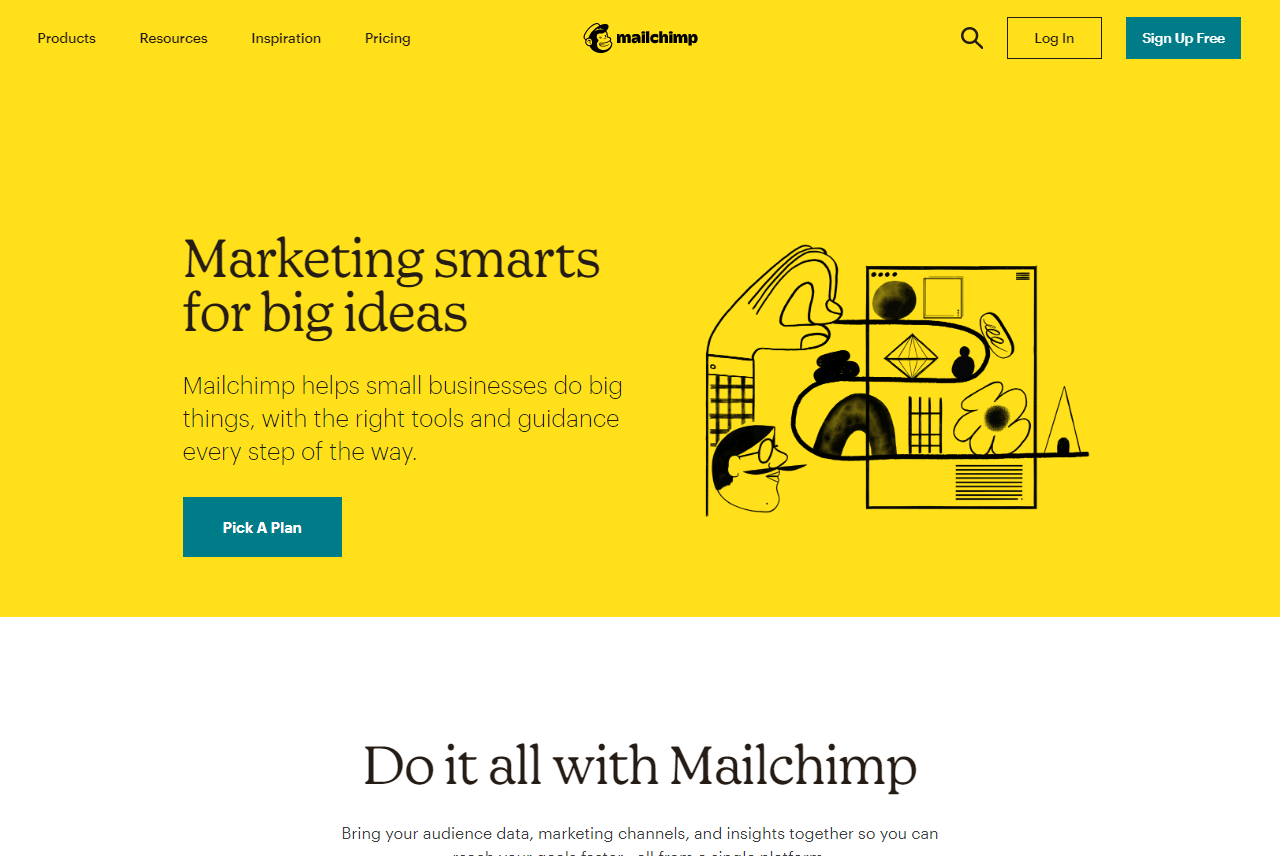 MailChimp is a top-notch email marketing service provider; it helps small, and large businesses reach their target audiences by employing email campaigns. This collaborative platform combines important features like managing contacts lists, creating professional emails, and automating a complete marketing campaign in a single place.
Features:
MailChimp features intending to serve brand new or already established business setups are:
Effective email creations
Integrated ads
Landing pages
Beautiful email templates
Built-in customer management software
Automated features
Integrated campaigns
Social media posting and ads
Postcard creation and sending
Personalized marketing tools
Marketing CRM
Segmentation
Send time email optimization
Mobile application
Price:
They offer 4 plans, starting from a free plan to a premium plan.
The free plan accommodates around 2,000 contacts per month.
Essentials, the second plan costs $11 per month and can handle 500 contacts. It has some advanced features that the free plan lacks.
The standard plan at $17 can again handle 500 contacts but with some extra advanced features.
The final and highly efficient plan, premium, can store 10,000 contacts and costs around $299 per month.
Benchmark is an online marketing platform suited for all types of businesses. They allow effective management of email sending and related procedures like tracking, deliverability, functionality, etc.
Their automated features are directed towards lessening the workload of their customers so that they can give more time to other areas to increase business performance. As a result, your reputation and needs are highly valued at the platform, and effective marketing is achieved at economical open rates.
Features:
Let's briefly look at what features make benchmark a literal benchmark for email marketing.
Subscriber forms for list building alongside websites, polls, and surveys
Updated email checklist
Manageable drag and drop builder
Automated and highly optimized email marketing campaigns
Accurate email metrics
Up to date email tracking and reporting
A/B testing
Price:
The free plan at benchmark can accommodate up to 250 emails per month.
The pro plan costs $10.50 per month and sends unlimited emails.
The enterprise plan is custom, and you would have to consult their sales managing team to purchase the program. Prices vary according to your demand for features.
Look at the below image to get a better outlook on what features these plans provide: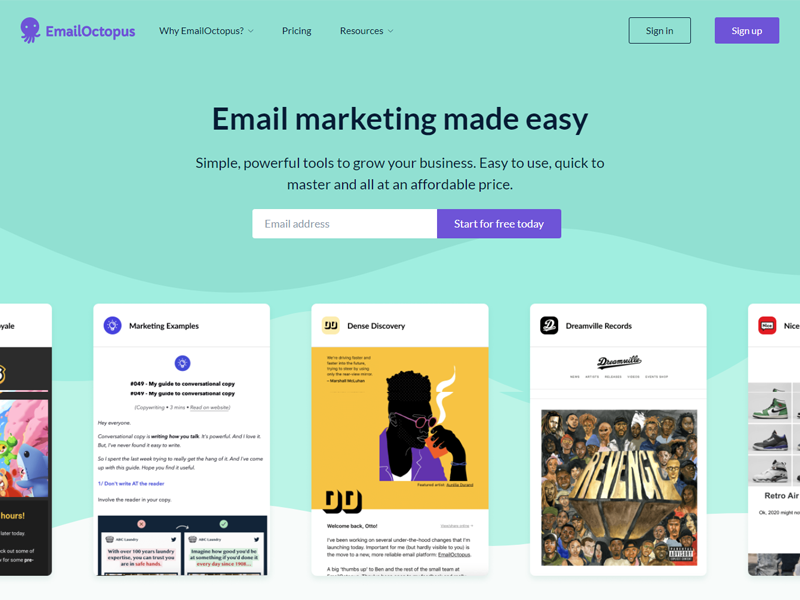 The slogan of EmailOctopus is more accessible and cheaper email marketing. It was founded in 2014 and is since received accolades for its outstanding services.
They provide better value for your money with extensive marketing tools and features at a meager price without compromising the functionality. Furthermore, their simplicity sets them apart as you don't need to have the excellent tech knowledge to operate their platform.
Features:
The marketing tools at Email Octopus are undoubtedly appreciated worthy for their functionality and ease of use. Let's have a look at what they have got to offer:
Pre-developed stylish yet professional email templates
Drag and drop editor to create customized templates that match your brand
Importing of HTML templates from third-party platforms
Automated welcome emails
Automated drip email campaigns
Insights on important developments
Detailed analysis of each email after sending activity
Integration with applications like Shopify, Squarespace, etc.
Excellent customer support services
Developer API
GDPR compliance
Price:
The simple yet effective pricings plans offered at EmailOctopus are:
Their free program caters to up to 2,500 subscribers and 10,000 emails per month.
The pro plan starts at $25 per month and allows 50,000 emails. Prices vary with the number of required subscribers.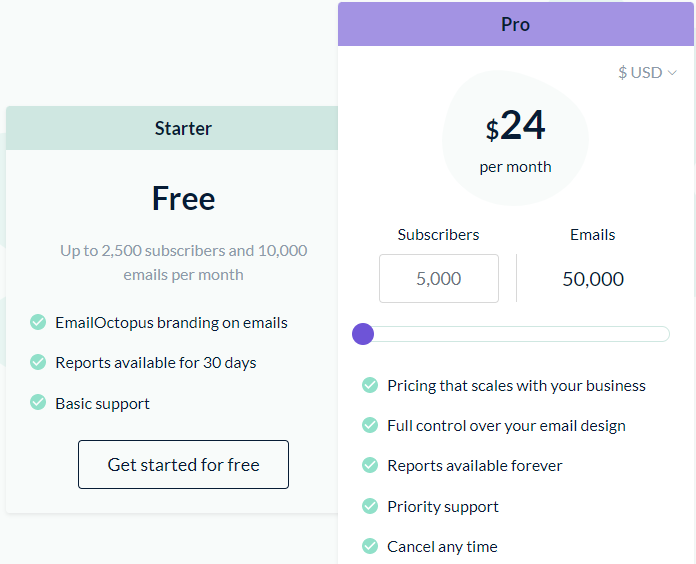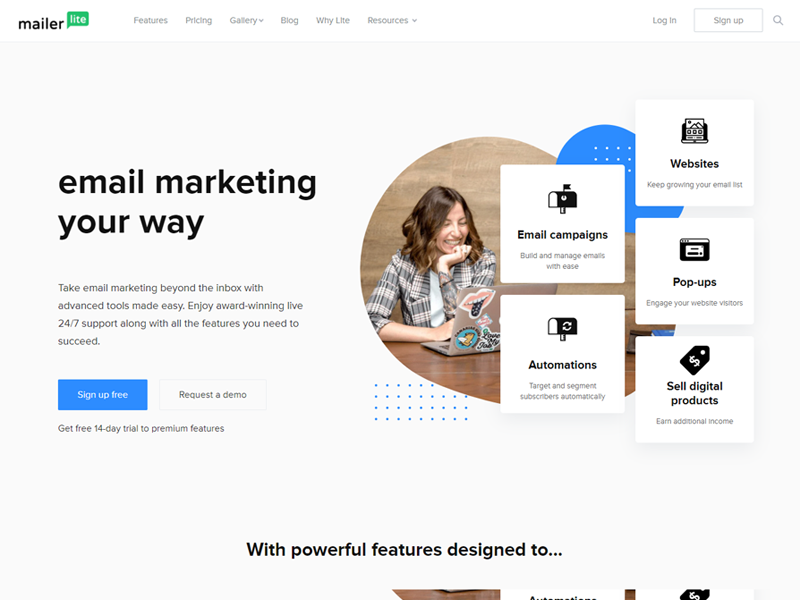 MailerLite is a preferable email marketing tool that simultaneously caters to website building. It is best suited for all businesses irrespective of their size and shape.
The most significant feature of this platform is its straightforward interface. In addition, it has essential tools to implement better marketing skills and resultant sales productivity. Everyone can manage this platform and its relevant features with great ease, from novice to pro users.
Features:
Let's have a brief look at marketing features offered at MailerLite to run effective email campaigns leading to improved business outcomes.
Drag and drop editor
Rich text editor
Custom HTML editor
Pre-designed templates
E-commerce powered campaigns
Website builder
Popups
Embedded forms
Efficient subscriber management
Personalized email campaigns
Advanced segmentation
A/B testing
Transactional email
Dedicated IP
RSS campaigns
Filters and triggers
Price:
You can find 5 different plans on MailerLite depending upon the number of subscribers and emails per month.
The first plan that can accommodate up to 1,000 subscribers with an email limit of 12,000 is free of cost.
If you need unlimited emails per month and have a list of subscribers under 1,000, the relevant plan will cost around $10. Similarly, the further plans can cater to unlimited emails, but their prices vary according to the number of allowed subscribers. Have a look at the following figures to get a better idea:
| | | |
| --- | --- | --- |
| No. Of Subscribers | Emails/month | Monthly cost |
| 1,001-2,500 | Unlimited | $15 |
| 2,501-5,000 | Unlimited | $30 |
| 5,000-10,000 | Unlimited | $50 |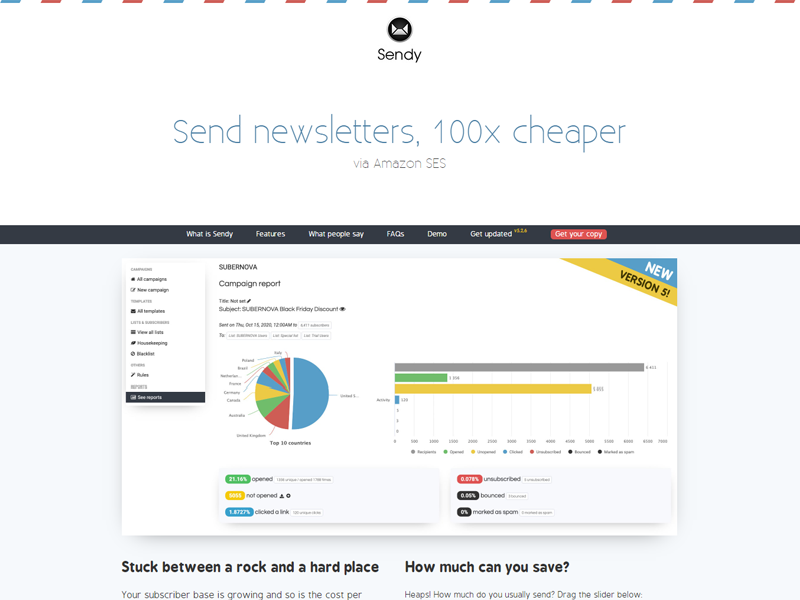 Sendy is a self-hosted application for newsletters working with Amazon Simple Email Service. This collaboration is highly significant and allows sending emails in bulk without compromising quality at a very economical price. The feature that separates Sendy. Co from other similar providers costs only $1 per 10,000 emails.
Features:
A few critical features of Sendy.co with an ultimate goal of increasing sales through email marketing are:
Clear and detailed email reports
White-labeled client accounts
Autoresponders (drip campaigns)
Drip email campaigns
Advanced segmentation
Custom rules setup
Easy list and subscribers management software
Customized fields and tags
Automated bounce, complaint, and unsubscribe management
Custom domains
One-click junk clearance
Multiple third parties and Zapier integrations
Two-factor authentication
Subscription forms
GDPR features
Price:
There are no specific pricing plans on Sendy. Instead, they charge per email, i.e., $1 for 10,000 emails, and subsequently depends on the capacity of emails your business startups demands.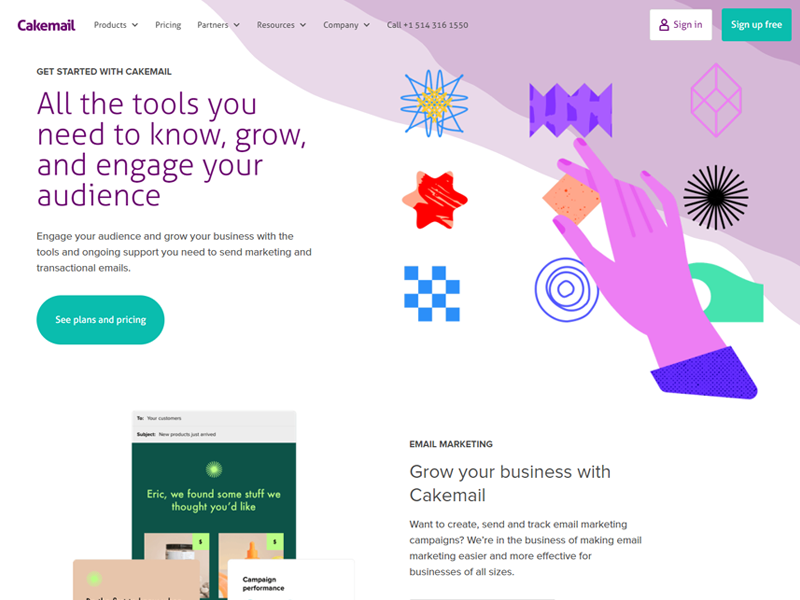 CakeMail is a one-stop-shop of all the tools needed to know and engage with your digital customers. These services, in turn, directly affect your business productivity positively. In addition, it simplifies the process of customer interaction, specifically for small businesses.
With the platform of CakeMail, you can efficiently manage your contacts, create custom emails with the help of pre-designed templates and simply send. All other vital factors are taken care of by CakeMail itself, like fast delivery, insights provision, detailed reporting, and other similar actions.
Features:
The all-in-one email marketing features at CakeMail are:
Mobile-friendly email creation
Pre-designed professional
Personalized campaigns
Insightful analysis about customer's activities
Up to date email deliverability
Email tracking
Simple import of contact list
Highly qualified segmentation
Sign up forms
Automated greeting emails
AI-powered analysis
Consent management
Application programming interface
Integrated business solutions
Transactional emails
Responsive customer support services
These features collectively collaborate to make your business a digital success in less time with less effort.
Price:
CakeMail offers a free plan to manage one contact list, send up to 12 thousand emails and store around 2 thousand contacts.
The first paid plan, growth, at CakeMail starts at $7 per month. You can manage up to 3 contacts list and store 500 or above contacts with the plan. Moreover, it also provides 600 pre-designed professional email templates.
The last but not the least premium plan starts at $199 per month and allows you to manage unlimited contact lists and store 1,000 or more contacts.
Have a look at the following image to better understand what features each plan offers.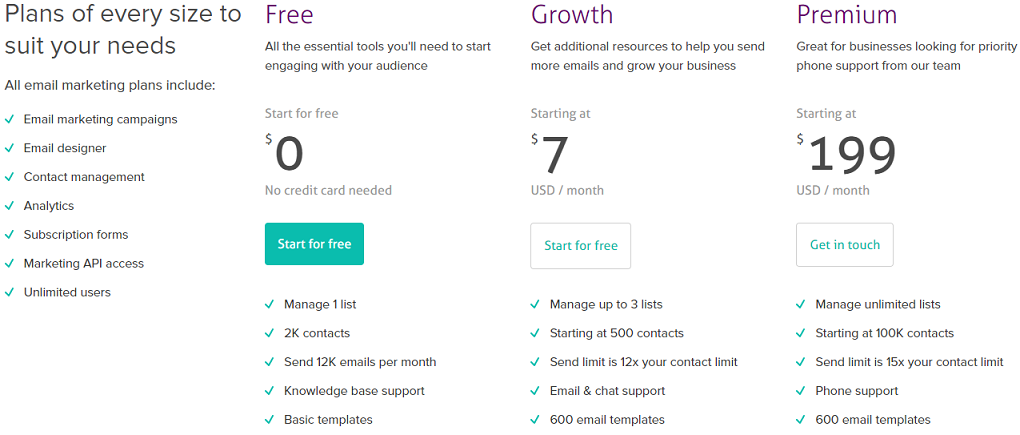 MooSend rightfully fulfills its promise of providing the quickest way to business growth through email marketing. It does not matter whether you own a small or large setup; the MooSend services fit all. In addition, they lessen your workload by applying marketing strategies in a single click.
Features:
Moosend provides highly productive features to make your business successful through effective marketing and sales tools. They are:
Drag and drop editor for emails and newsletters
Automated marketing workflows
Personalized templates to match your brand
Products recommendation based on previous purchases
AI-powered management
Real-time and in-depth email reporting and analysis
Integrations with several applications
Landing pages and subscription forms builder
A/B Testing
Segmentation
Filters and triggers
Email campaign overview
Live Customer support
Price:
They have two pricing plans currently which come with a 30-day money-back guarantee.
The first plan, namely pro starts at $9 for 0-500 beginners subscribers; the pricing is increased with an increased number of subscribers.
The enterprise plan is custom, and prices depend upon the intensity of your chosen features.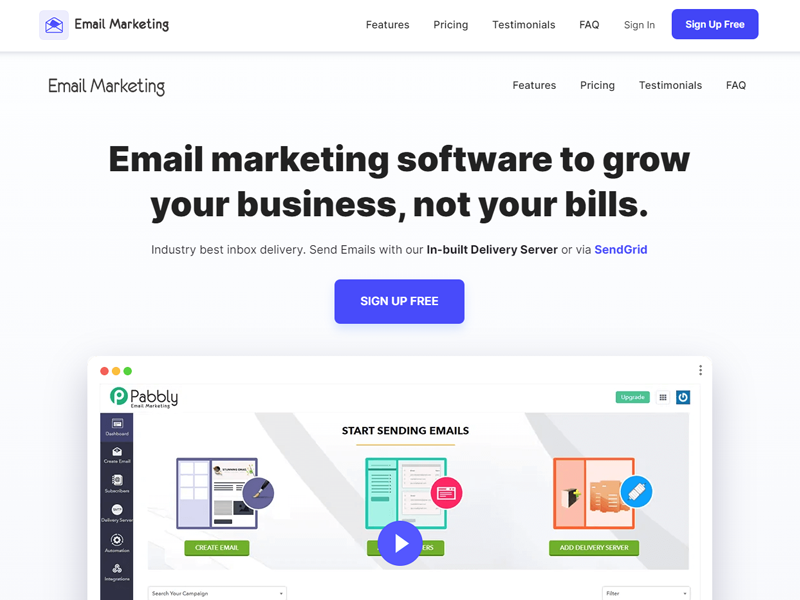 Pabbly is a platform that provides easy access to all the tools and features required for business growth. It allows the creation of custom forms, email marketing, automated marketing, and many more essential items, all at very economical deliverability rates.
It is highly secure to use and requires no technical knowledge to be operated. In addition, Pabbly offers 30 days money-back guarantee if you are not satisfied with their services.
Features:
Pabbly has all the features needed for improved sales productivity through email marketing. It offers comprehensive tools for faster email delivery, better engagement, and increased conversions; all aimed to boost your business.
Such features are:
In-built engine for 98% upbeat email delivery
Connects external SMTP services like Amazon, SendGrid, etc.
Automated workflows
MX cleaner to get rid of spam mails
Drag and drop email builder and editor
Easy contact management capabilities
Email importing
Email tracking
Subscription forms for lead generation
Autoresponders
Affiliate management system
Billing and subscription management software
Price:
The free plan is available for 7 days and allows up to 100 contacts.
The rookie plan costs $24 per month and caters to 5000 subscribers.
The pro plan allows up to 15,000 subscribers and costs around $41 per month.
The advance plan starts at $83 for 50,000 subscribers. Charges vary according to several allowed subscribers as it is a custom plan.
They also have a high volume plan called enterprise, which can accommodate more than 1 million subscribers and purchase them by contacting the sales team.
Pabbly puts no restrictions on features, and you can access all, irrespective of the plan purchased.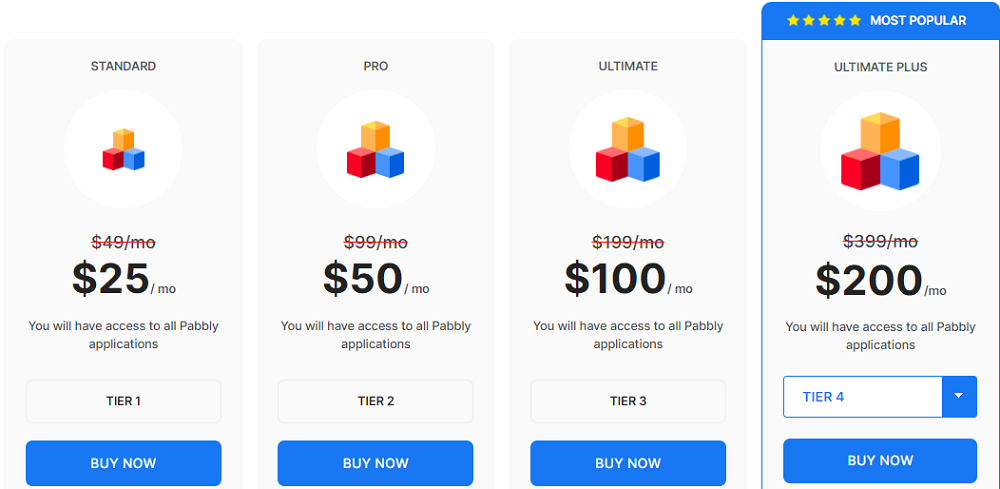 FAQs
What is the best low-cost email marketing tool?
Amongst many email service providers available in the market, most charge hefty prices for extensive features. However, some exceptions don't compromise on the quality of provided features and charge their customers economical rates simultaneously. The top 3 cheap email marketing providers are SendPulse, CakeMail, MooSend and ConvertKit.
How much does it cost for email marketing?
If you own a middle-sized business, your range for email marketing might vary from $9 to $1,000 for self-managed email marketing services. On the other hand, an agency for similar purposes can charge around $300-$500 each month.
Is email marketing low cost?
A digital business already has to bear considerable expenses; hence, putting lots of money on email marketing is terrible. Many cheap and affordable providers are available in the market who provide similar features as expensive ones without compromising quality. Hence, it is better to do proper research and go for the robust yet cheapest email marketing provider for better results.
How many email subscribers do you need to make money?
The number of subscribers does not matter for earning money; many businesses with 100 high-quality subscribers thrive while a few struggle with a high number of subscribers. An engaging audience is what a business demands, no matter how small; they should have a stake in your products, like your setup, and consider you reliable. All these factors combine to help you earn in bulk despite having as little as 500 or even lesser subscribers.
Conclusion
To sum up, you can not deny the importance of email marketing for the success of digital businesses; hence many platforms are serving the purpose; some at high prices and some at low with different quality parameters of the relevant features.
We have thus listed the 19 best cheap email marketing services, their features, and prices so you can have a better idea of which platform will completely suit the needs of your business.

Ludjon, who co-founded Codeless, possesses a deep passion for technology and the web. With over a decade of experience in constructing websites and developing widely-used WordPress themes, Ludjon has established himself as an accomplished expert in the field.