So you're here to find the cheapest Mailchimp alternatives which are not only user-friendly but also offer fantastic features with a chance for your business to grow.
Why would anyone want to look for an alternative? Despite being the most popular email marketing platforms, Mailchimp is a bit too difficult for a growing brand.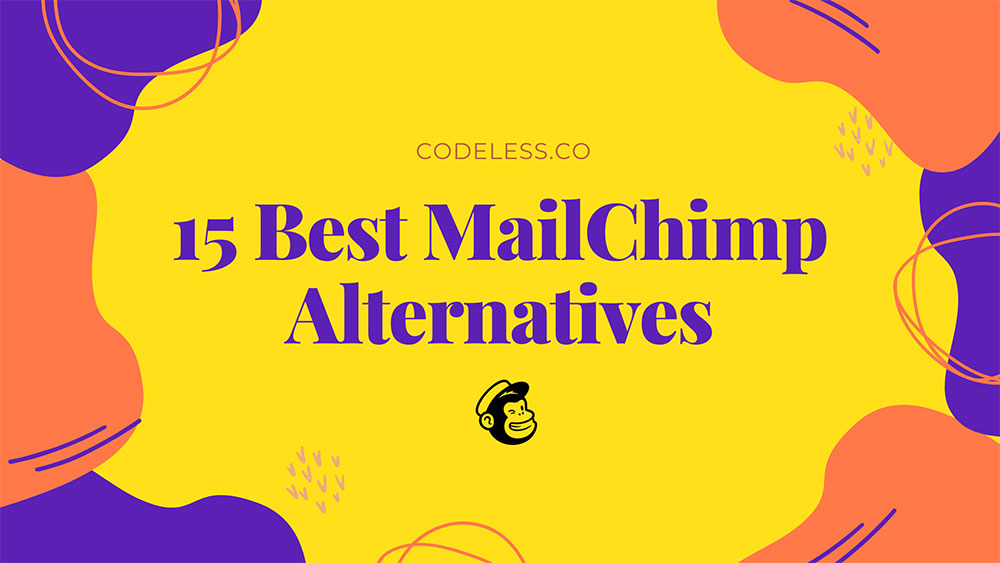 The templates in Mailchimp are quite appealing for small businesses along with the A/B testing and segmentation options but these features do not help in the long run.
Mailchimp has also a lot of strict rules that sometimes made the importation of new contacts very difficult.
You're lucky to find plenty of free and premium Mailchimp alternatives with the best features that may help you more like Mailchimp.
Top 11 Best Mailchimp Alternatives
If you think that Mailchimp can offer you all, remember that it's a little too pricey. So, the following best Mailchimp alternative has your back.
Mailchimp Delivery Rate Is 75.3%
ConvertKit targets creators such as artists, bloggers and course instructors.
The best feature that ConvertKit offers is the segmentation and email automation tool. You can promote any kind of business of your own. All that is needed is the niche.
ConvertKit helps you share ideas, connect with a wider audience, and earning.
You start by creating a landing page where you drop your ideas for the followers/visitors. Creating the landing page is just a matter of a few minutes after you sing up on ConverKit.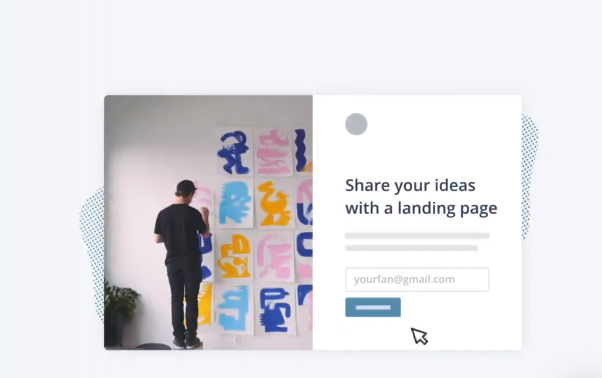 Features
Personalization and segmentation
A/B testning
Landing page builder
Integrated with Ecommerce(Gumroad, Digital Downloads, WooCommerce, and Shopify)
Subscriber centric
Automated emails
Subscriber stats management
Social media lead Ads through Zapier integration
Pricing
ConvertKit offers different prices for every stage of creativity with varied number of email subscribers. Both monthly and yearly packages are available with a free 2 months package in yearly payment plan.

The free plan offers management of 1000 subscribers only while the other two offer for more. If you plan to migrate to another tool, Automate funnel and sequence, social media lead integration then you will need to upgrade to the creator plan.
OmniSend offers an easy-to-use eCommerce platform for automation, SMS ad email marketing. You can easily boost sales and newsletters with the potential SMS, segmentation, and automated emails.
The prebuilt automation help in transactional emails, welcome series, and cart abandonment.
Moreover, segmentation helps you group your targeted customers with texts and emails.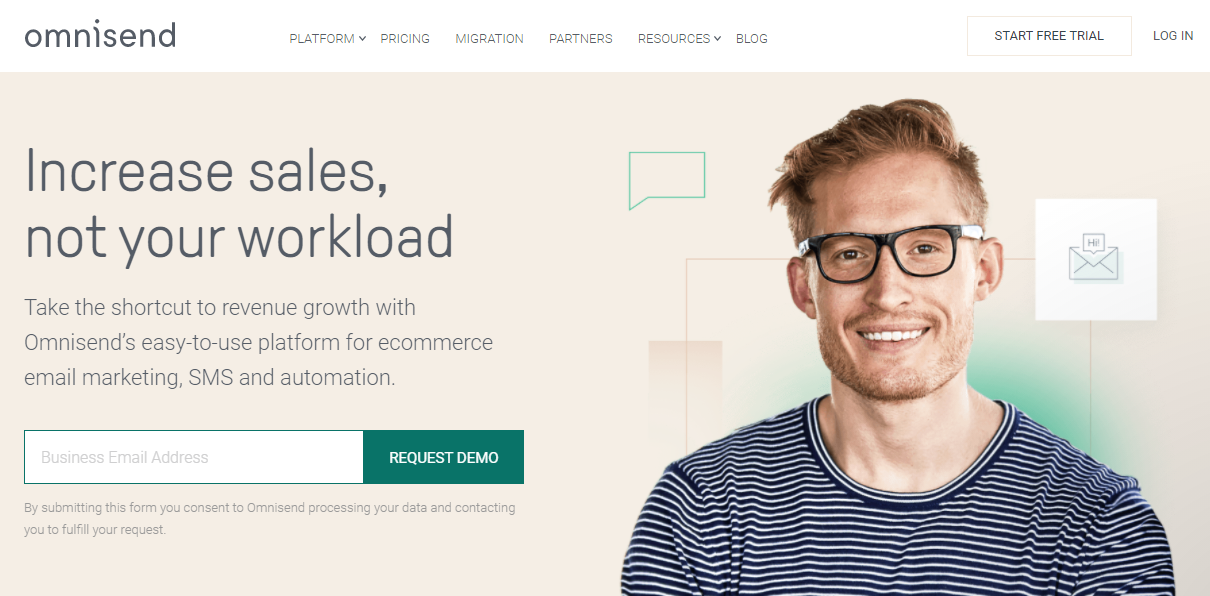 The email marketing tool efficiently integrates ecommerce tools such as Magneto, WooCommerce, BigCommerce, Shopifyplus and Shopify.
Features
Email campaigns
Automation and SMS campaigns
Audience segmentation
WebPush notification
Email account migration
Deliverability support
Pricing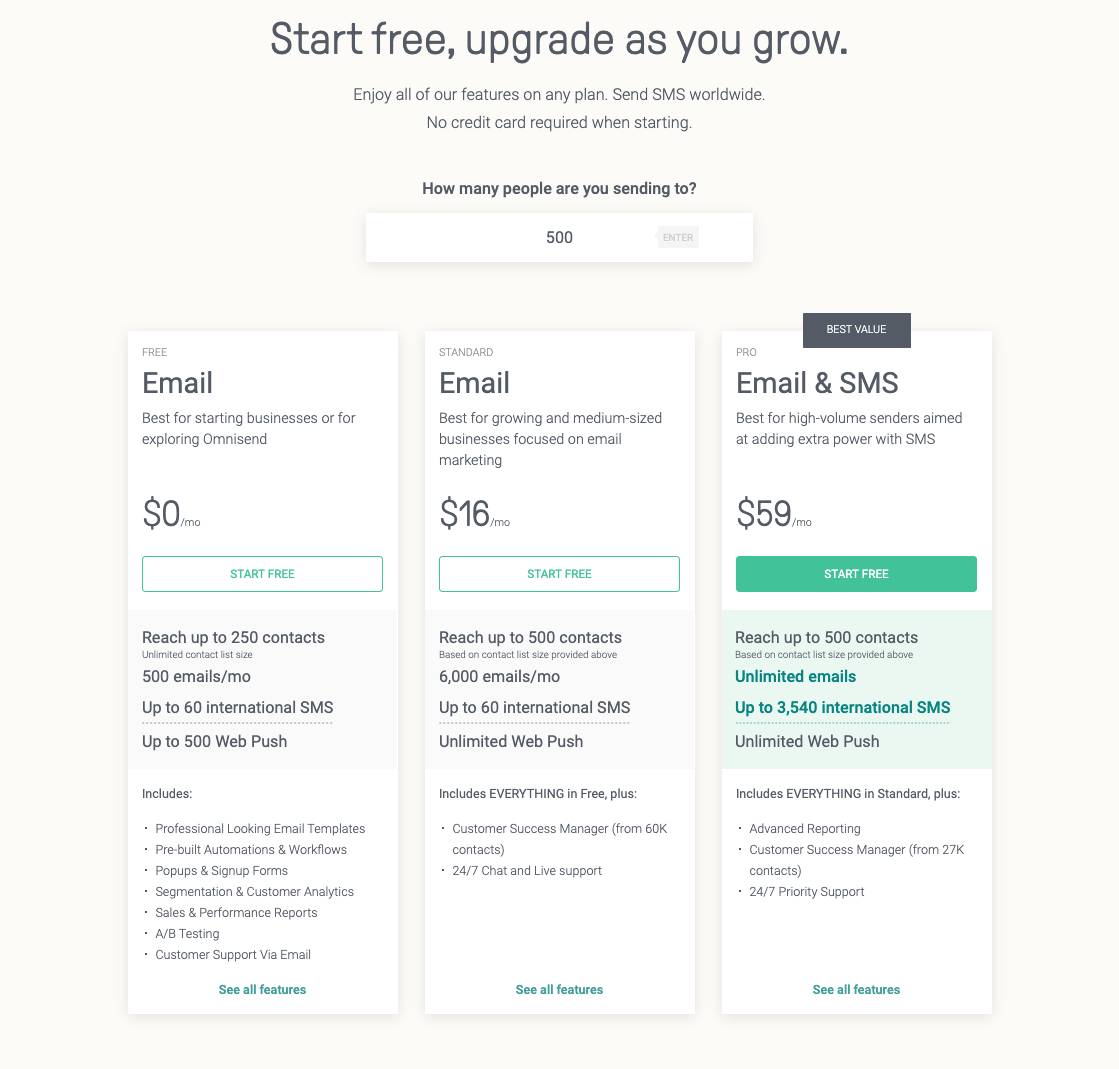 The second in the runner up list is SendinBlue. It is more like a software where you can include multiple aspects of marketing.

It manages numerous actions such as social media ads, CRM tools, SMS messages and email drop campaigns.
It also offers a free plan which has several features common with the premium plans. Nevertheless, it limits the number of daily emails to 300 per day. It makes it least ideal among the other options in the list.
SendinBlue offers multiple integrations, SMS sending and sales CRM, uploading unlimited contact and transactional emails.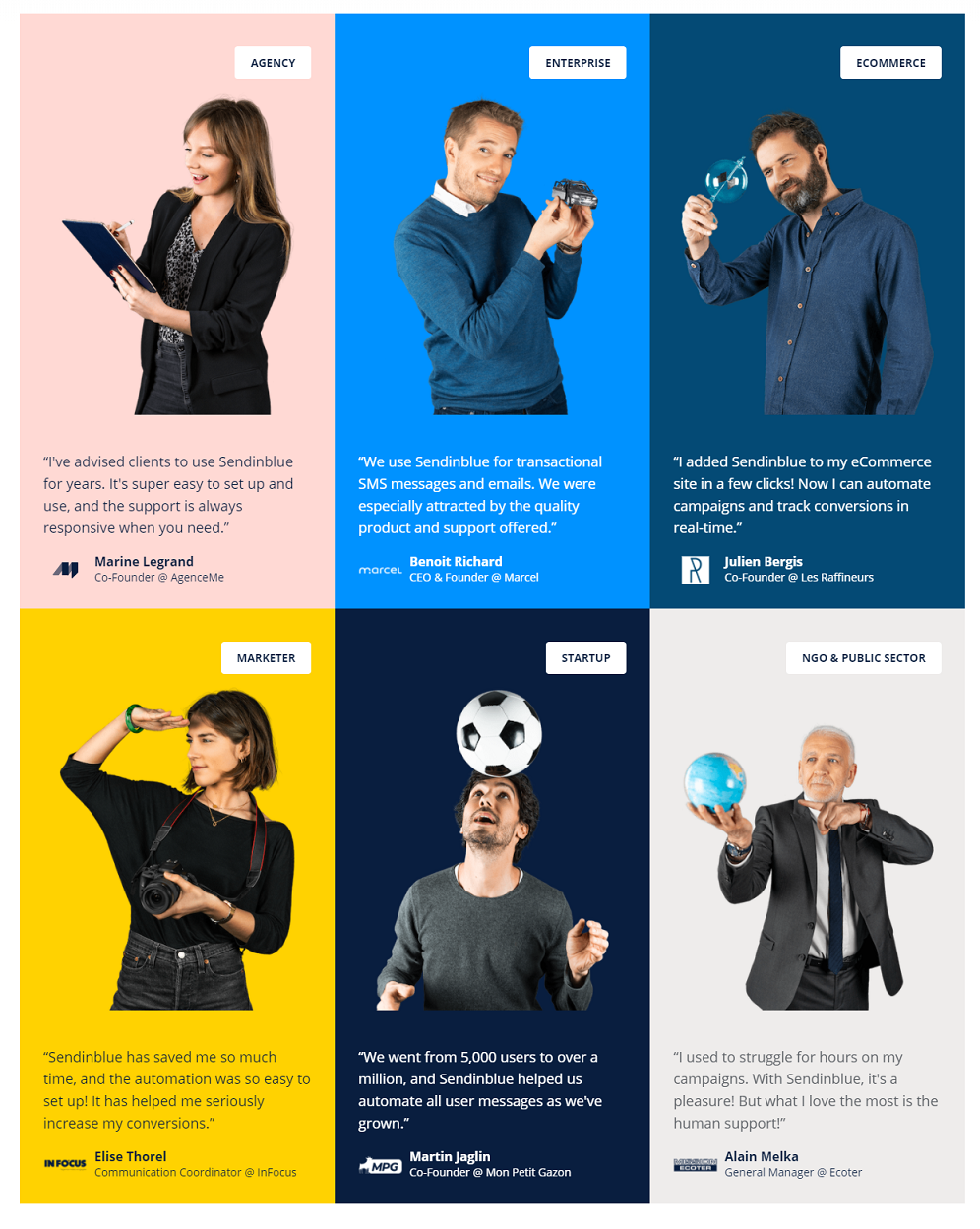 Not only this, the segmentation options are also numerous with real time analytics and reporting, personalized SMS options, free user and emails.
Features
Live chat
SMS marketing
Email marketing
Segmentation, automation and stellar marketing
Transactional emails
Facebook ads
Landing pages and CRM tools
Pricing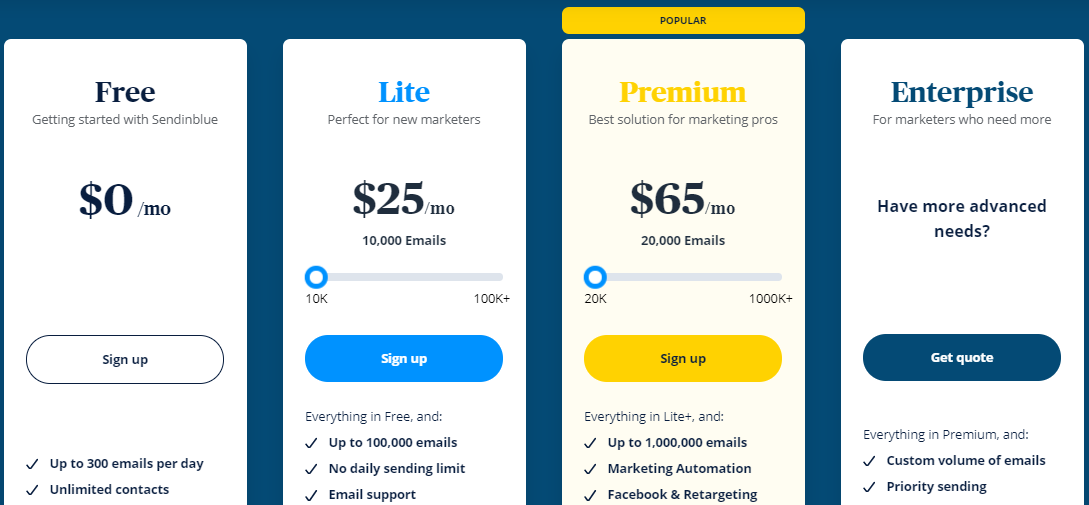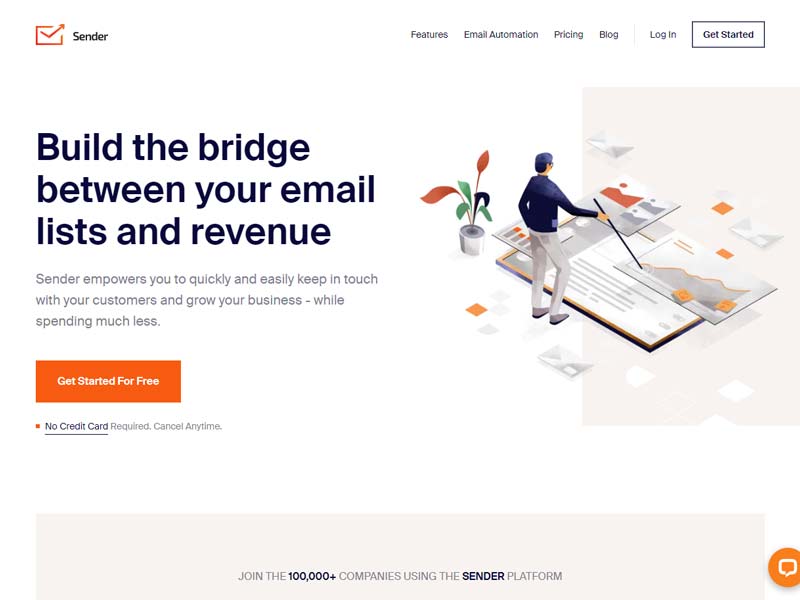 Sender.net is a tool that is suitable for any niche and any size of business. It delivers about 30 million emails a day from more than 100 000 customers around the globe.
Sender offers many great tools which can contribute to a successful email marketing journey, such as segmentation, email automation, integrations, and many more! Besides, Sender also gives an opportunity to design sign-up forms and pop-ups, which are excellent ways to grow the audience and gain more subscribers.
Besides all of the great features, Sender provides 24/7 customer support, so the clients will never have to face their issues alone. The tool is also perfect for starters as it provides many tutorials and blog posts to improve knowledge. Moreover, if the budget is tight, Sender offers a Free Forever plan with all the features included so you can start your email marketing campaigns without worrying about the finances!
You can also read our review here for more: Sender vs. Mailchimp.
Features
Email Automation
Integrations (Magento, WordPress, WooCommerce, PrestaShop, Cloudflare, Zapier)
Drag & Drop Builder
Templates Library
HTML Editor
Detailed Email Analytics
Pricing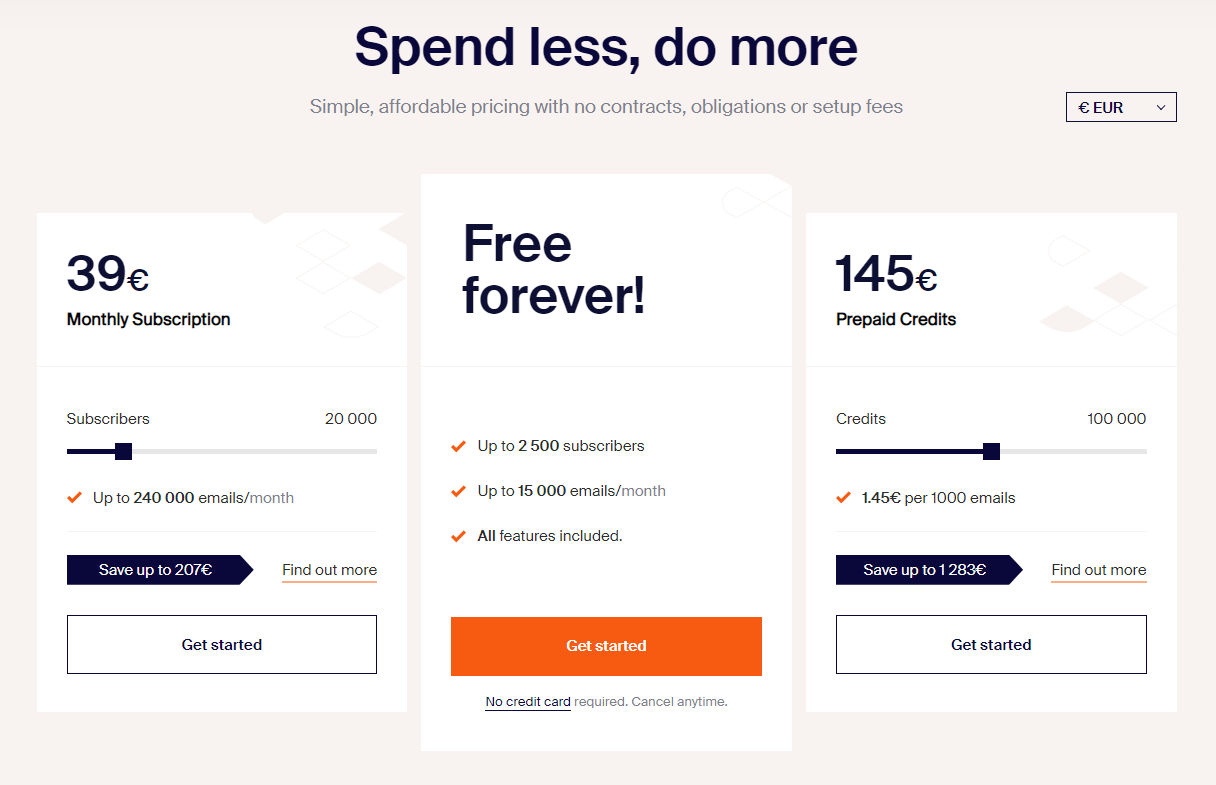 Sender's pricing is very competitive. As mentioned, the tool offers a Free Forever plan for up to 2 500 subscribers and 15 000 emails a month with all the features included! But, if you are looking to get more subscribers and send more emails, monthly subscriptions and prepaid credit tariffs are available (the prices vary depending on the number of subscribers and emails required).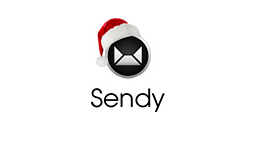 Sendy is the most pocket-friendly of all. That is probably the best thing about it. However, the features it offers are still very important and competitive to the Mailchimp.
Sendy is a self-hosted Mailchimp alternative for email newsletters where you can send trackable emails. It connects you to Amazon Simple Email Service (SES). Therefore, it is very easy to send bulk emails at a low cost and ensuring deliverability.  
You can see the progress of almost all the campaigns in the form of data and charts. Your white labeled accounts can be grouped to ease access for the client to their brands. Moreover, you can adjust the client privileges and set a monthly sending limits.
Sendy is recommended for advanced tech experts like dev-ops because you have to self-host it and also configure AWS mail services.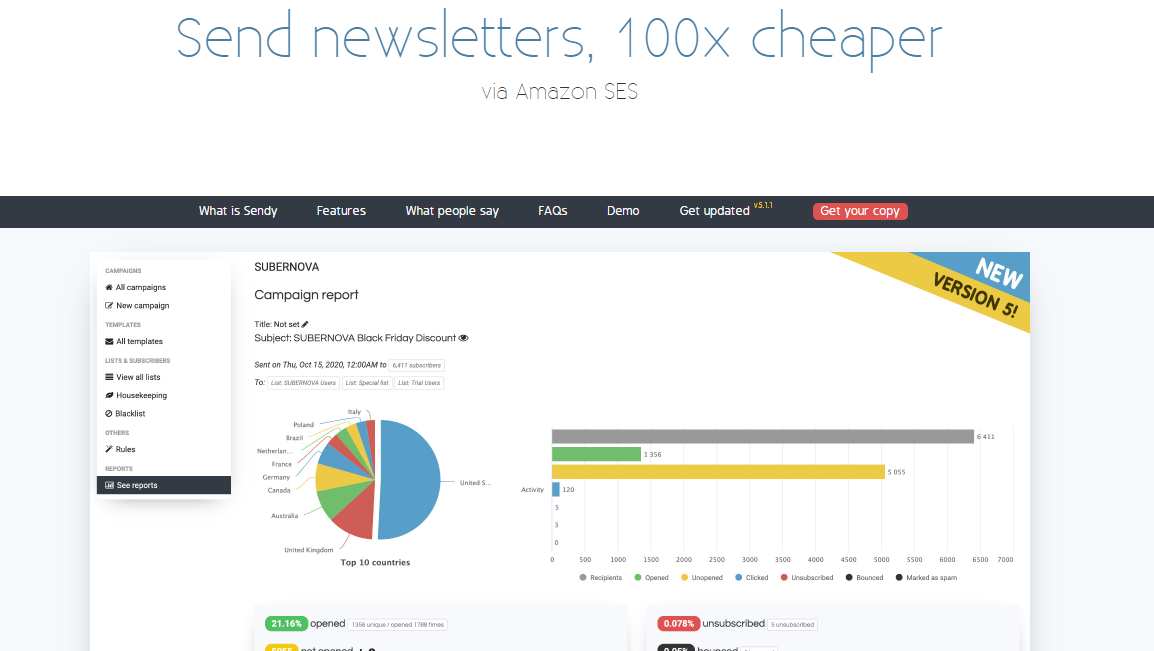 Features
Custom domains
Zapier and other Third party integrations
Unsubscribe, complaint, bounce management
List segmentation
Autoresponders
Send cheaper newsletters
Google reCAPTCHA and analytics support
Two factor authorization
Amazon SES region support
Price
Sendy requires one-time payment of $69. And it's all yours.
Mailpoet is actually a newsletter plugin for WordPress with over 300,000 websites already integrated with it. You can use it for automation email marketing, post notification and newsletter sending for WooCommerce as well.
With the help of MailPoet, you can easily and directly ad images and content in to the media library. It provides onboarding emails with an automated series. So if you have a busy blog, you can use MailPoet to automatically send emails.
You can enjoy plenty of advanced features with design options. Quick preview options give you a view of how your emails look. The stunning templates do not want any designing skills for the user.
So, you can spend more time in developing your ideas instead of styling.

90% of the customers show happiness score for MailPoet.
Features
Organization and list Segmentation
WooCommerce customer list
Last post notification
Drag and drop designer form
Analytics and statistics
Autoresponders
Drag and drop newsletter
Works from the WordPress dashboard
Pricing
The price varies with the number of subscribers.
| | | | |
| --- | --- | --- | --- |
| Plan | 1000 subscribers | 10,000 subscribers | 20,000 subscribers |
| Premium | $13/month | $75/ month | $150/month |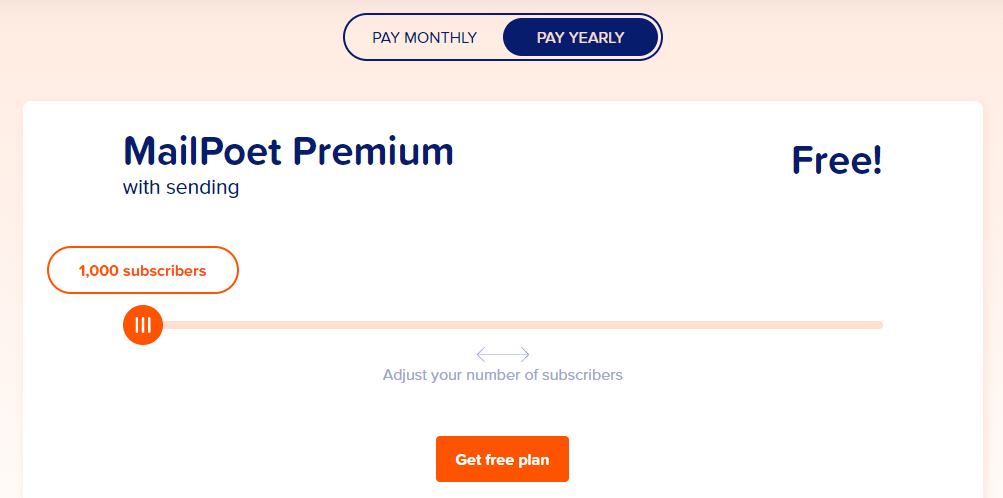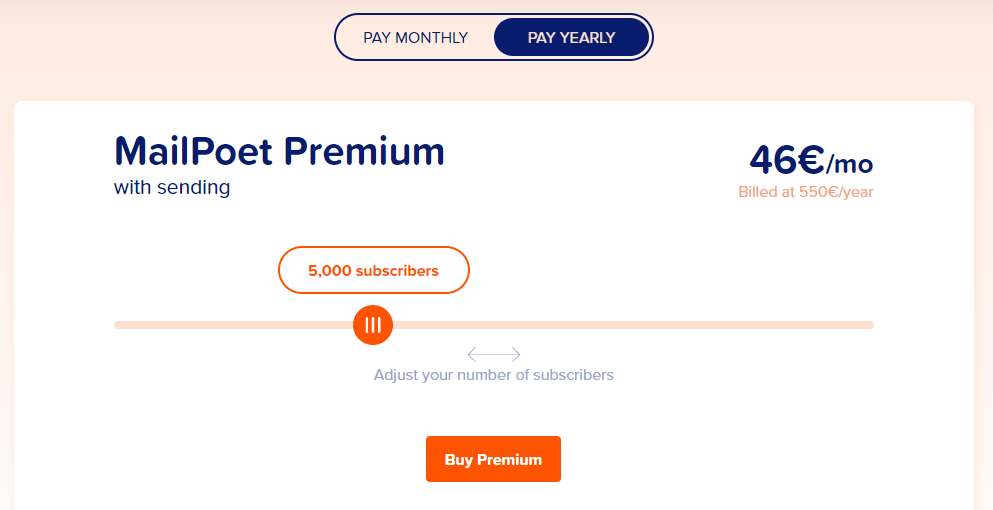 Campaign Monitor offers very straightforward automation tools and email marketing. This is the reason the market of Campaign Monitor is huge comprising over 250,000 businesses with 2 million marketers throughout the globe.
It offers complete customization with precise adjustments of the email with an email builder. Moreover, you can freely customize any design or template to display the ad without any coding.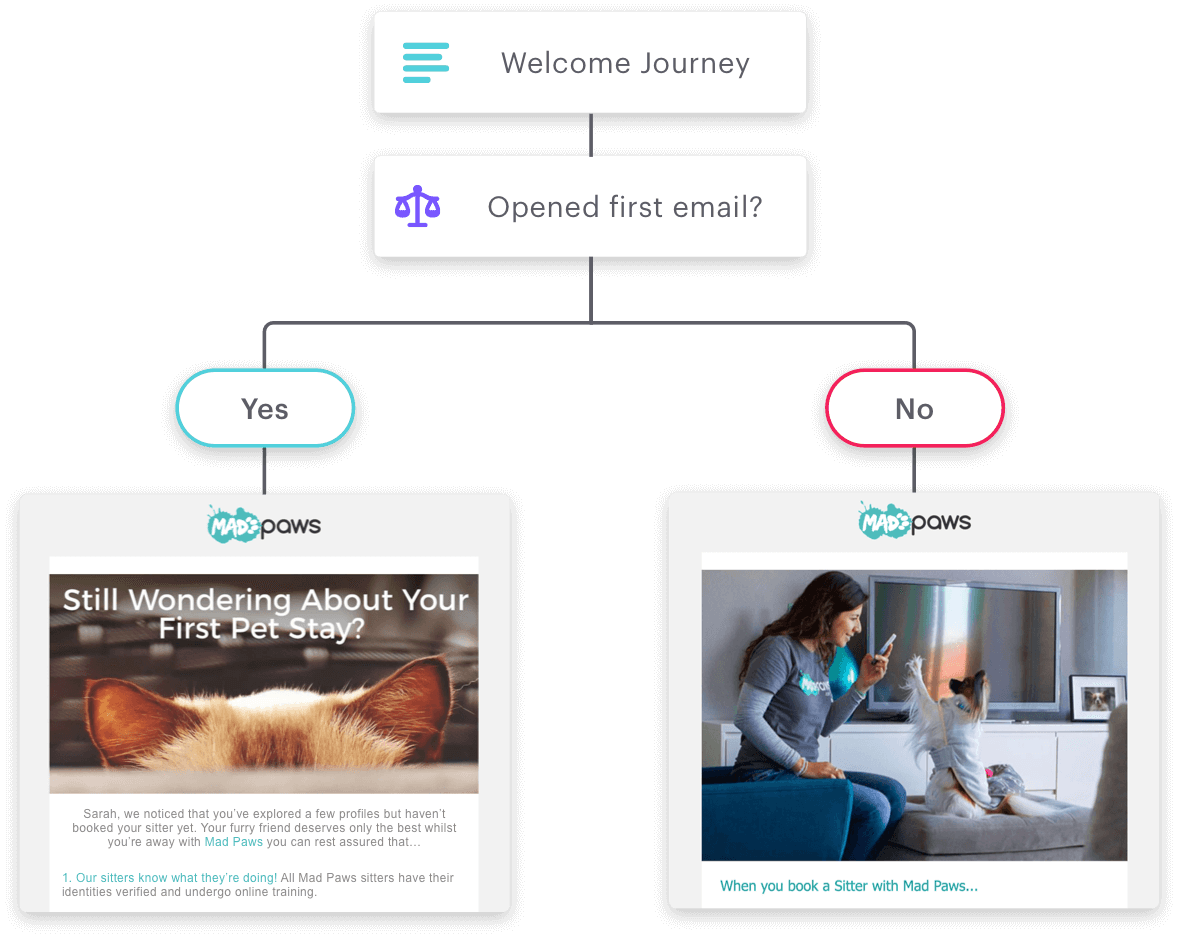 Free templates are also available as a starter. So you can professionally design a template for the targeted audience and preview how it works. Different templates are available for all the related niches of email marketing.
For example, event promotions, newsletters, product announcements, and marketing offers.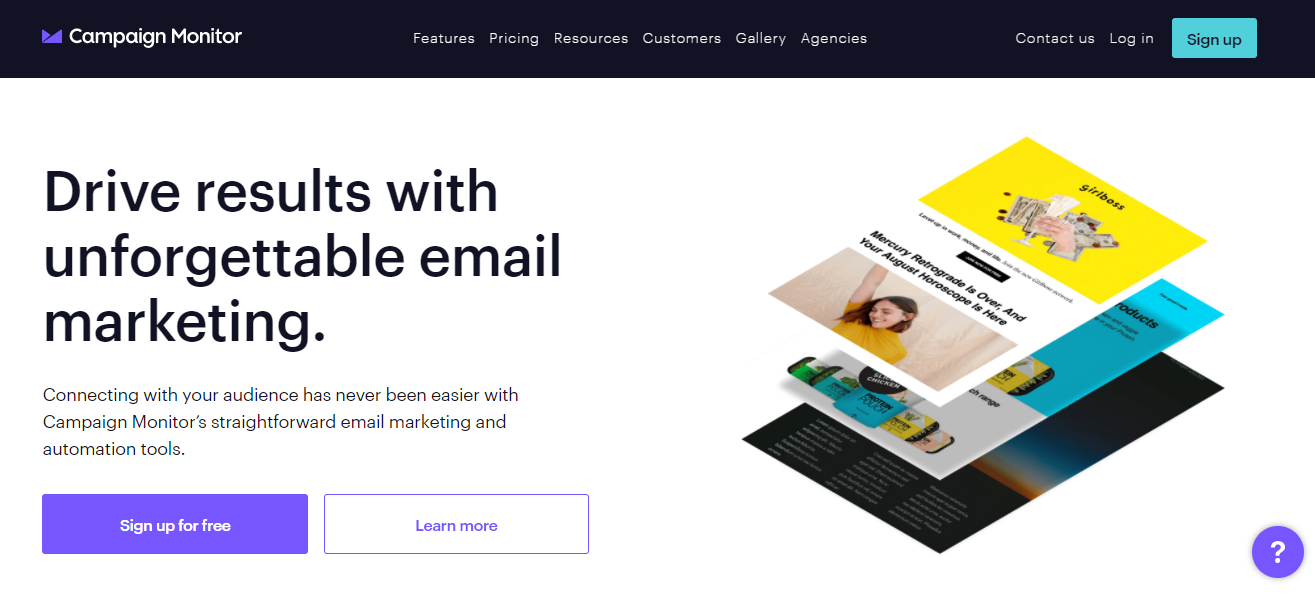 Features
User-generated reviews and content
Premade automation recipes for eCommerce
Commerce-based behavioral targeting
Integrated with Shopify, BigCommerce and WooCommerce
Email analytics
Email templates and builders
Pricing
The price increases with the increased number of contacts. Here is the detail of the plan for 1500, 15,000, and 35,000 emails
| | | | |
| --- | --- | --- | --- |
| Campaign monitor | 1500 email | 15,000 emails | 35,000 emails |
| Basic | $29/month | $129/month | $299/month |
| Unlimited | $59/month | $249/month | $699/month |
| Premier | $149/month | $399/month | $989/month |
TinyLetter is entirely free. It is a sub-project by MailChimp.
TinyLetters is specifically designed for general people to send regular emails about digests, updates and dispatches for personal use.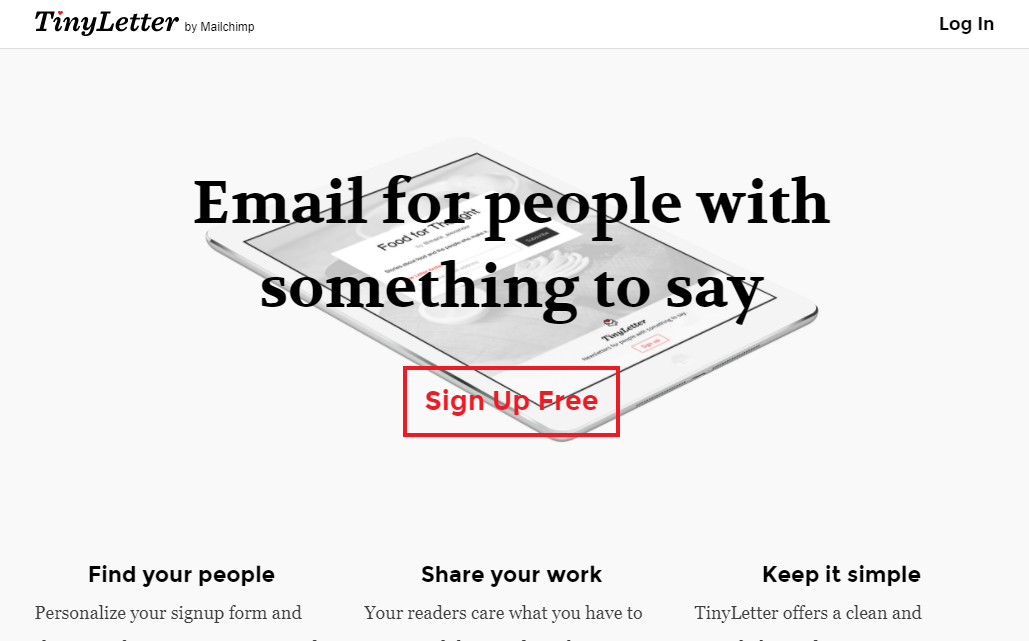 This is the best alternative for people who do not intend to send emails for business purposes.
Features
Straightforward text editor
Personal and simple sign up
Allows Conversation and replies
Pricing
Free
Aweber as alternative is really helpful in terms of its features and integrations. Aweber helps the businesses to personalize the marketing endeavors and audience that you want to target.
Its distinct features help you create long-lasting and sustainable relations with the business prospects such as your customers.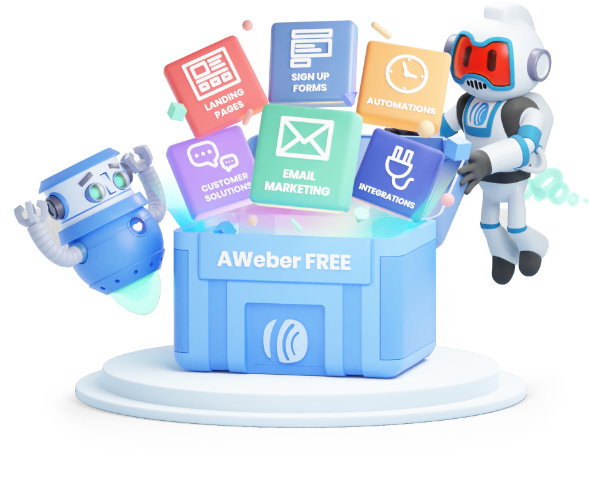 What's more, it offers numerous integrations. The most important one is the ecommerce integration like with Shopify or Magento. Not only this, it also provides testing options.
Above all, the prices are very nice with such a feature-full platform.
Features
Autoresponders
Template library with HTML templates
Email marketing analytics
Mobile app
Bulk email campaigns and segmentation
Tracking options
Pricing

Following are the details of basic features that are different for the two plans.
| | | |
| --- | --- | --- |
| Features | Pro | Free |
| Subscribers | Unlimited | 500 |
| Emails | Unlimited | 3,000/month |
| List profiles | Unlimited | 1 |
We included Mailerlite in the list because it is a featured-packed software. It is specifically designed for small and medium enterprises that strive to grow their email list.
It is very easy to use with simple UI. It offers one of the most reliable customer support and email newsletter template.
It provides a good support to anyone who needs help with implementation and designing of the strategies for email marketing campaign.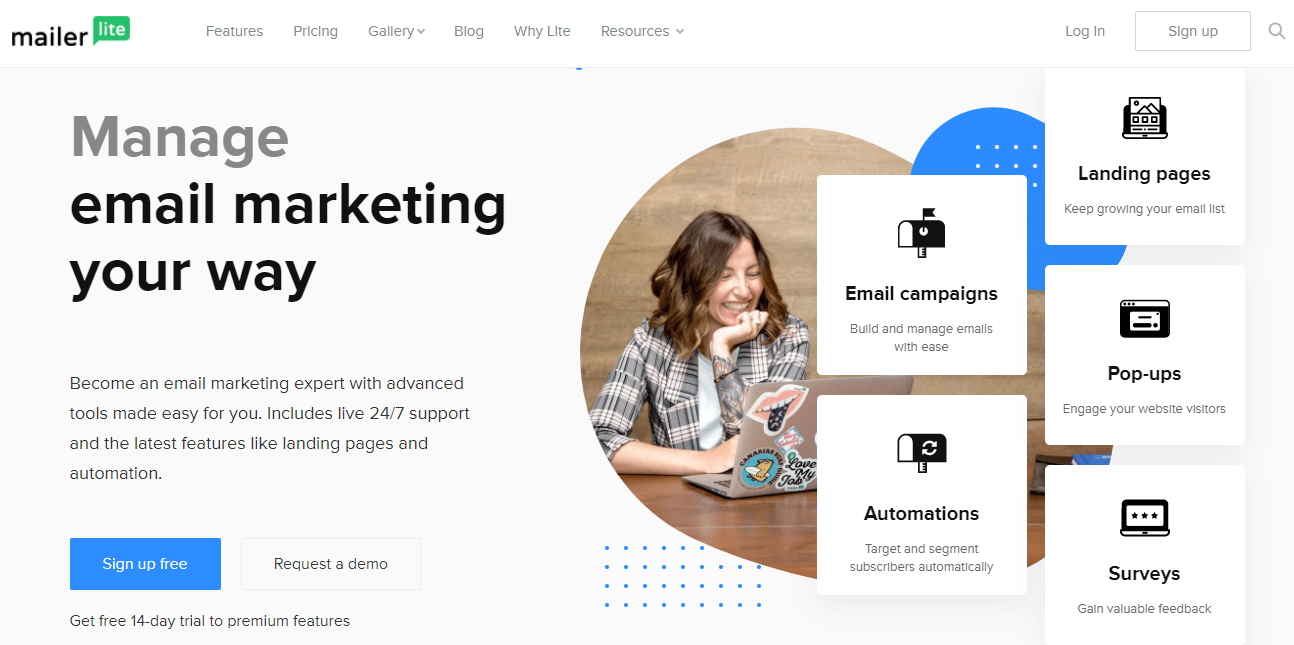 Above all, it creates pdf brochures that are easily shared with customers. With these brochures, you can also enhance your marketing efforts.
Mailerlite is a very good option for all kinds of freelancers including bloggers, designers or writers, and not to mention SMEs.
Features
Embeddable web forms
Pop-ups and landing page builders
Newsletter templates, editor, file manager
Subscription manager
Email automation tools
Integrations
Customer service
Price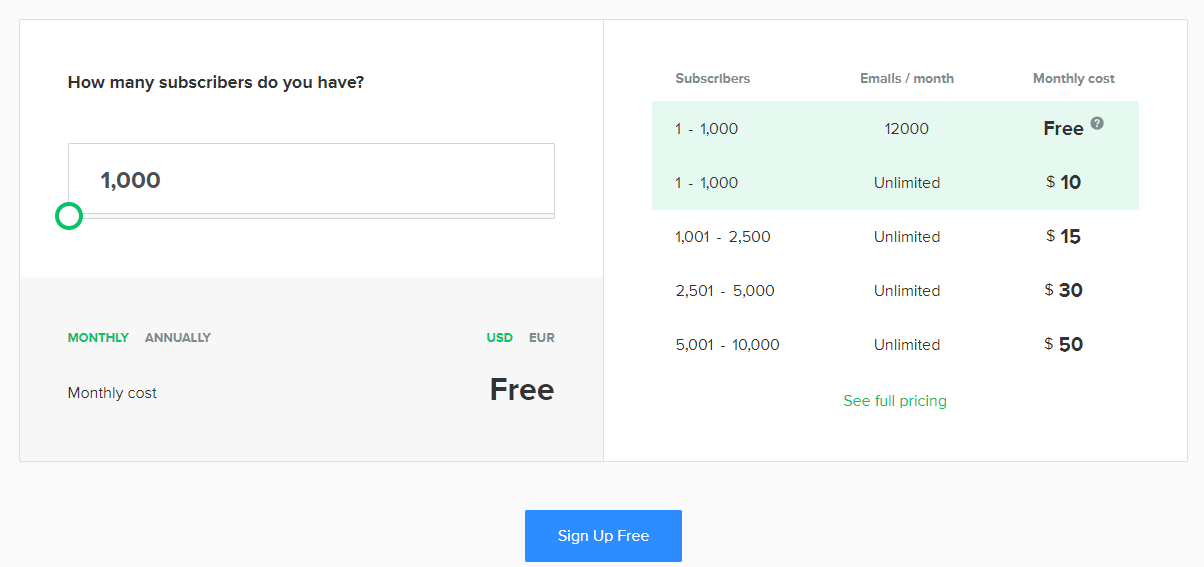 ActiveCampaign gives the best customer experience automation service. It does not only automate the email but also the entire customer experience.
It is best in terms of automation, personalization, segmentation and orchestration.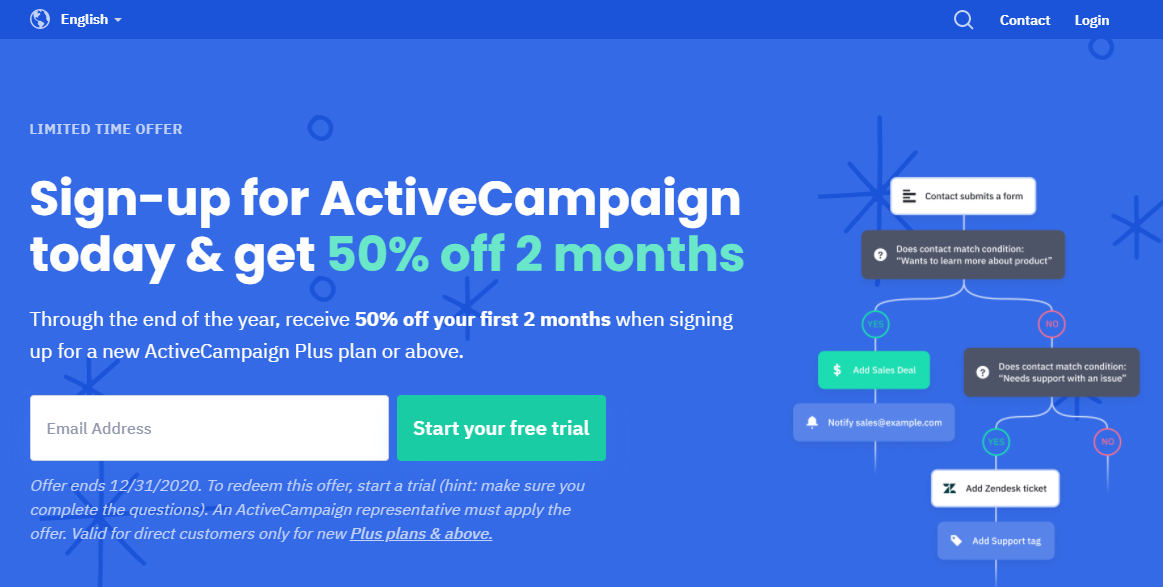 More than 120,000 businesses are using ActiveCampaign for customer engagement. Therefore, it is well-suited for all types of customers. And includes all the enterprises including small and medium.
ActiveCampaign offers easy-to-use, flexible and powerful tools. It has a very advanced automation capability. It allows you to gather customer data in one central place.
Features
Abandoned cart reminder
Shopify email reminder for repurchase
Notification on purchase
Website personalization
Segmentation
Automation map
Free design services
Email autoresponders
Salesforce integration
Pricing

Summary
Mailchimp is indeed a leader in all automation and email marketing platforms. It is, however, the fastest and most pricy of all. It makes the brand look around for a reasonable option.
Good alternatives to Mailchimp are easy to choose from with such a number of alternatives where both premium and free plans are available. These alternatives may perhaps offer more features than Mailchimp.

As one of the co-founders of Codeless, I bring to the table expertise in developing WordPress and web applications, as well as a track record of effectively managing hosting and servers. My passion for acquiring knowledge and my enthusiasm for constructing and testing novel technologies drive me to constantly innovate and improve.
Expertise:
Web Development,
Web Design,
Linux System Administration,
SEO
Experience:
15 years of experience in Web Development by developing and designing some of the most popular WordPress Themes like Specular, Tower, and Folie.
Education:
I have a degree in Engineering Physics and MSC in Material Science and Opto Electronics.