Are you in search of the best free email autoresponder tool? Before I proceed, let me tell you, it is the right place to find one. The best email autoresponder improves the success of the marketing campaign through email for affiliate marketing or online stores.
This article will find you the 13 best free email autoresponders that will enhance the autoresponder leads.
You can create a series of autoresponders and not pay a single dime. So be quick to create your email list and improve the relationship with the leads before monetizing your stuff. You can also use free options of autoresponders.
Autoresponders are the most effective, easiest, and cheapest way of getting your customers. It helps you generate automated abandoned cart messages, birthday messages, and welcome email series.
You will be free of the burden of sending emails with the automated process.
What is an Email Auto Responder?
An email autoresponder is an automated and pre-defined email activated by several conditions and rules. Such as visitors' actions in opening files, link click and page visited. This software work to push messages in emails towards each lead that is more likely to be converted.
Autoresponder emails can also be sent as a single and sequenced email. It depends on your goal and trigger. Such tools allow you to automate your marketing actions in a workflow by outlining a roadmap in an automated way. These activities also include sending SMS messages and email templates. In addition, it segments and organizes the contacts in your contact databases according to their importance and urgency.
Top 13 Best Free Email Autoresponders for Affiliates
Let's have a look at our handpicked list of email autoresponder tools for affiliate marketing or e-commerce businesses. You will find all the details including the pros and cons and the features that fit the goals of your business.
| Provider | Sending limit | Autoresponders available |
| --- | --- | --- |
| ConvertKit | Up to 1000 subscribers in the free plan | It helps you create complex marketing automation and send hyper-personalized content |
| Aweber | Up to 500 subscribers and 3,000 emails per month. | Freemium autoresponder tool with email templates and automated email marketing option |
| Benchmark | Free trial only covers 250 emails per month but the subscribers are unlimited | Email templates, analytics, drip campaigns and list management |
| SendInBlue | 300 emails per day and unlimited contacts | Autoresponder email with a drag and drop interface. Deep analytics to track the campaign. It has features of an email builder, storage for unlimited contacts and an email builder. |
| Sender | 2,500 subscribers and 15,000 emails per month | Advanced autoresponder emails will be the features for free. Such as abandoned cart emails, date-based emails, anniversary emails and welcome emails. |
| SendPulse | The free plan offers over 500 subscribers and 15,000 emails per month | There is an email address verifier. Advanced automation offer date-based and subscriber-based or trigger-based options such as email not opened, clicks and email open details. The autoresponder campaigns can also include SMS |
| GetResponse | 1,000 subscribers on a plan of $15 per month | The smallest plan provides unlimited lead funnels, landing pages, It also offers autoresponders, website builders and email marketing. |
| MailerLite | The free plan offers 1,000 subscribers and 12,000 mails per month | Full-featured email marketing suite with automation editor and drag and drop tool. It creates customized emails, popups and landing pages. It also has a WordPress integration option |
| SendLane | The least paying plan covers 5000 contacts | Reliable and solid reporting with the analytics tools that make it most appealing. Frees up so much of your time with automated email marketing. |
| SendLoop | The lowest paying plan covers 500 subscribers | You get free sign-up, drag and drop email builder and unlimited segments and custom field and subscribers lists. |
| Automizy | The lowest-paid plan provides unlimited user accounts | The software offers affordable plans to implement, generate, organize and observe the campaigns. |
| Moosend | 1000 subscribers and unlimited emails | It provides everything and all sorts of email templates from date-based, anniversary and abandoned cart emails. It is made easy to use with visual editor and drag and drop builder |
| Mailtag | Unlimited emails and 10,000+ users in a 14-day trial period and for the cheapest plan | It gives exact and accurate information about receiving, clicking and performance of your email |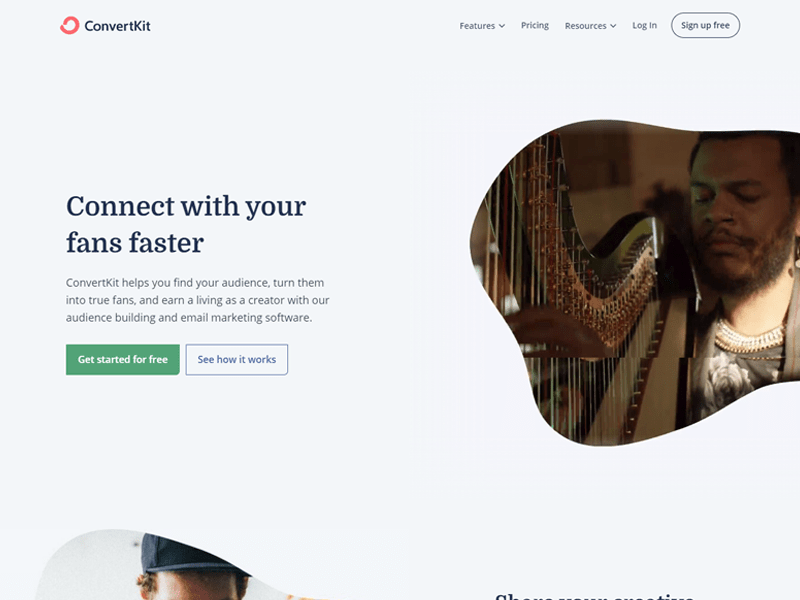 ConvertKit is a popular email autoresponder. It provides an easy feature of automation with a drag and drops tool. It is probably one of the best automation tools to help you send emails according to user behavior.
Moreover, you can further segment all the contacts based on your interaction. Also, you can tag your contacts through your emails. There are options of creating complex marketing automation and sending hyper-personalized content.
ConvertKit is best suited for personal branding, authors and bloggers. They offer integrations from WP Engine, Zapier and Stripe.
Pros
The creation of a free account takes just a few seconds.
Landing page builder available with 30 customizable templates
Provides several options of customer segmentation with an option of tagging customers
CovertKit offers great mechanisms for opt-in incentives that are most suitable for professional bloggers.
Cons
The free plan does not offer automation functionality. But a free trial of 14-day help you try it.
Most of the features require an "invite a friend" option in the free plan.
Price
Its free plan is limited. The cheapest plan costs $29 per month. This plan covers 1000 subscribers. The Creator plan costs $59 per month with up to 3000 subscribers.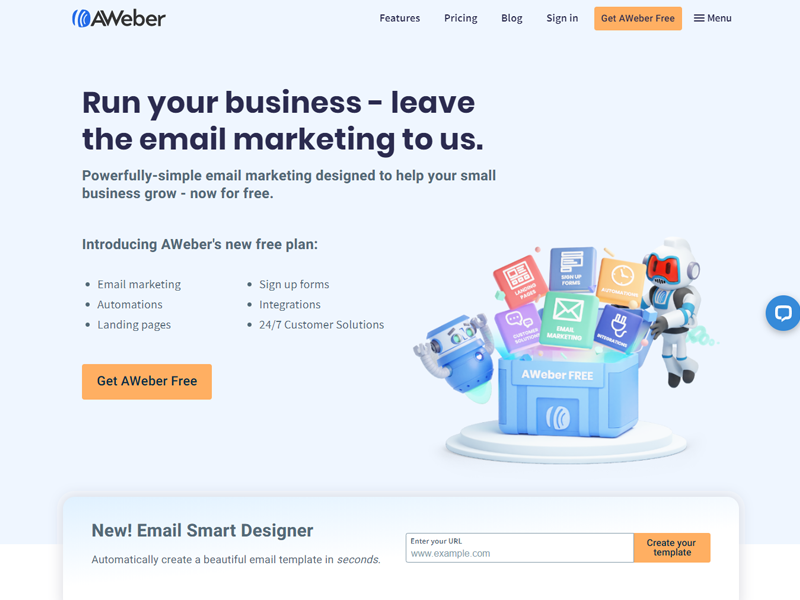 Aweber is a popular and renowned name in the email marketing industry. It provides all the basic marketing tools as well as special features. These features include a powerful template designer and landing page builder.
The drag and drop tool helps to create the emails with ease. The power of AI benefits in creating branded emails for your potential clients. It provides options to build attractive landing pages that target your visitors.
The free tier provides access to features that are excellent for a simple marketing campaign such as a WordPress plugin, drag-and-drop builder, templates and email automation.
Pros
New features are updated regularly with the customers getting access to them
The free plan provides access to all the support material such as live webinars and master class sessions
It can easily be integrated with services such as PayPal, Unbounce, and OptinMonster etc.
The free trial will let you try all the features that you will get in a paid plan
Cons
AWeber provides many features that are common to other autoresponders but at a certain price
It offers only a 30-day trial period. It is not enough period to start monetizing with your email list.
Pricing
The cheapest plan of Aweber is $19 per month and covers only 500 subscribers. Then you will have to pay $29 per month for more subscribers. And if you wish to have over 2,500 subscribers, there is a plan that costs $49 per month.
Benchmark is an email marketing platform and is a streamlined type. It combines all the features with a highly usable and slick design. Moreover, there are options of usual automation tools and email building in addition to lead generation and clear analytics capabilities.
The best aspect of Benchmark is its design. It is highly user-friendly and modern to use. It has the capability of boosting your sales and engaging customers through emails.
You can integrate your marketing emails with more than 1500 platforms and services such as PayPal, Google, and Zapier.
The free tier of Benchmark offers everything you may want to start your automated email marketing. It includes useful templates, analytics, drip campaigns and list management.
Pros
Stunning email templates and streamlined editing experience
Sending simple autoresponders is not a headache such as date-based reminders, birthdays, anniversaries, and welcome.
Cons
You can have an advanced automation option only if you purchase a paid plan
The very low number of emails per month (250) on a free plan.
Absence of dedicated IP
Pricing
The plans offered by Benchmark depend on the number of contacts. All paid plans provide unlimited emails per month. The lowest pricing plan costs $13 per month and provides 500 contacts. You can increase the number of contacts to over tens of thousands but it comes with a price.
The higher plan also unlocks features such as advanced segmentation and reporting.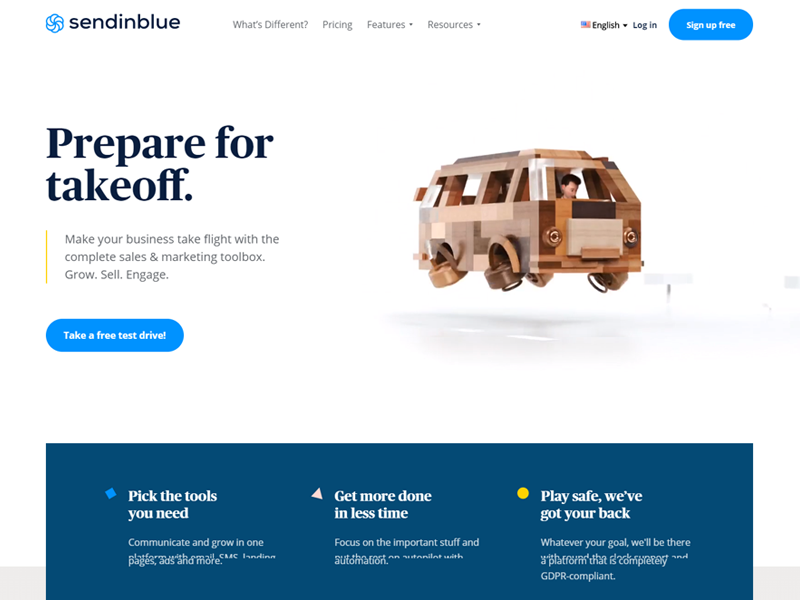 It is one of the most popular names in email marketing. There are reasons for calling it the best and most popular. It provides a wide array of features that help in handling all your email needs including an autoresponder.
However, there are paid plans that will unlock more features for you. The free auto-responder only provides you with 300 emails per day. With Sendinblue you can automate all your emails and quickly customize and create emails using the drag and drop interface. This email service software can also be used as transactional email service
Some templates help you build attractive emails and keep a track of your campaign analytics.
Pros
The free plan provides all the features that a paid plan does
Deep analytics tracks the campaign
Drag and drop interface quickly create emails
Cons
300 emails per day are not enough to start an earning marketing campaign
The paid plans are comparatively expensive
Pricing
The free version of Sendinblue provides storage of unlimited contacts, a template library and an email builder. To add in more features such as landing page builder or A/B testing you need to upgrade to paid plans. The lowest paying plan costs $25 per month for over 10,000 emails.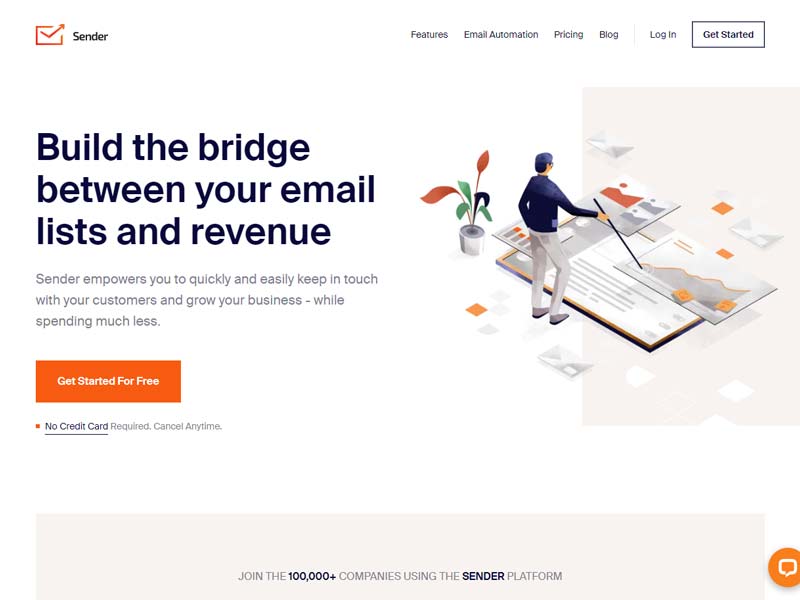 The sender is one of the excellent choices for sending or starting an autoresponder email marketing campaign. The sender offers a generous limit of over 15,000 emails per month with over 2,500 subscribers for free. This limit is not offered in any other email automation tool on our list.
Almost all the features are available for free. With Sender, you can send and create branded and beautiful emails. Multiple templates are professionally designed to suit your business. Also, it does not require coding to work with.
The drag and drop page builder is very easy to use with which you can create newsletters like a pro. The pre-made building block and templates help to create a unique email as well.
Pros
A streamlined automated email is created with a visual builder
The emails can be link-based, anniversary or date-based. The email responders are can also be based on product purchases, email signups and cart abandonment.
Advanced features of autoresponders
Cons
Insufficient knowledge base
No A/B testing
Pricing
It provides 15,000 emails per month and 2,500 subscribers for free. The paid plans provide more features and the lowest paying plan costs $46 per month. This plan covers over 240,000 emails per month with additional features. They offer simple plans at affordable prices.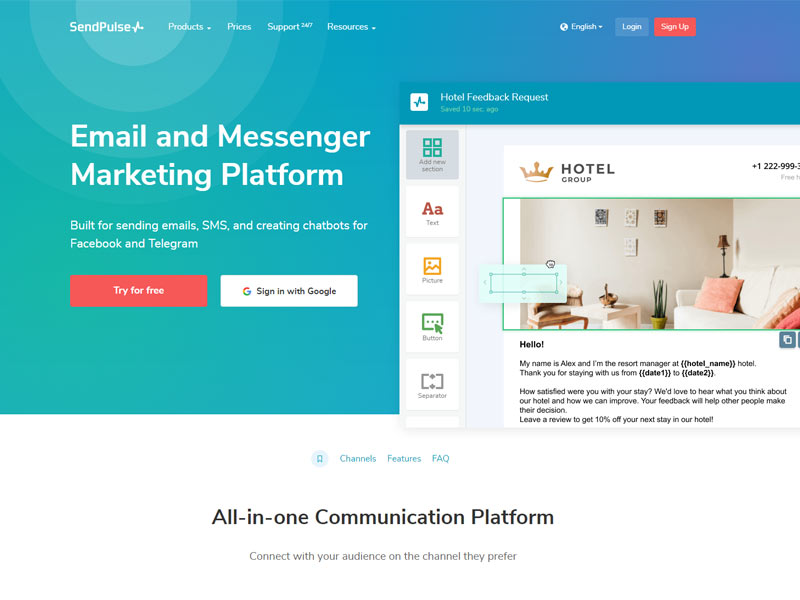 The free plan of SendPulse provides all the basic and essential features. Yet, it limits the automation to 1 event and 5 flows. In addition, it is possible to verify more than 100 email addresses and build a landing page for free.
It is an all-in-one communication channel where you can keep your customers engaged through web push, messenger, SMS and email campaigns. The best email marketing tool provides a suite to create responsive templates, contact information and automated flows.
Moreover, there is a drag and drop editor that helps you create a responsive email without using any HTML knowledge. Thus, it is very easy to build adaptive emails and 130+ free templates that fit according to any promotion or event in less than 10 minutes.
Pros
Email address verifier available
It provides 1 domain and 3 addresses
The free version allows sending over 15,000 emails per month
Cons
No segment saving
500 subscriber limit
The free version does not support tags features
No A/B testing in the free plan
Pricing
SendPulse covers 500 subscribers and 15,000 emails per month in its free plan. The paid plans start from $8 per month which is at a discount of $6.4 per month. It depends on the size of the subscribers' list.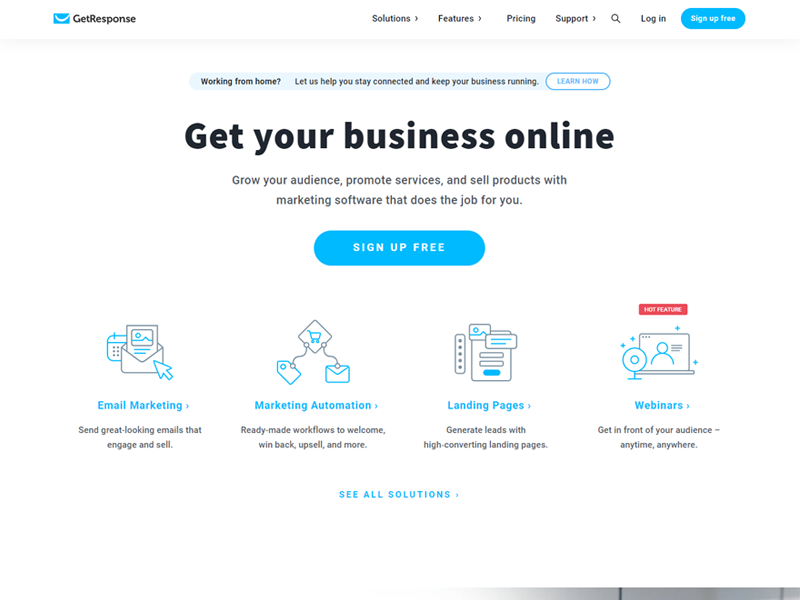 GetResponse is a simplified and powerful tool to automate your online marketing, create pages and send emails. It is an easy and popular email marketing service that targets small businesses. It does not offer a free plan but all the paid plans yet offer a 30-day free trial.
GetResponse provides inbound marketing solutions to grow your audience and engage with customers. It lets to stay in touch with your potential clients and customers with online communication. Also, you can find new customers and generate your email list using the lead generation tool.
GetResponse also provides personalized tools for different niche users. Such as there are unique features for large companies, marketing managers, online marketers, entrepreneurs and as sales funnel software.
Pros
Autoresponders are still usable after the free plan is over
Support service is easily available through email, chat, live and phone.
GetResponse is integrated with several tools such as ClickBank, Shopify, PayPal, and OptinMonster
All free plans are available for 30 days trial period that also allows you to use free webinars. No credit card details are needed.
Cons
Advanced automation features require upgrading to Plus Plan. But if you don't need certain other features, it will be quite expensive for you.
It does not offer a free plan but a trial period for free. This is not enough time to create an email list and run it to earn.
Pricing
Different plans provide different features. Such as the plus plan up provides an automation builder and webinars. The cheapest plan, Basic costs $15 per month and covers 1,000 subscribers.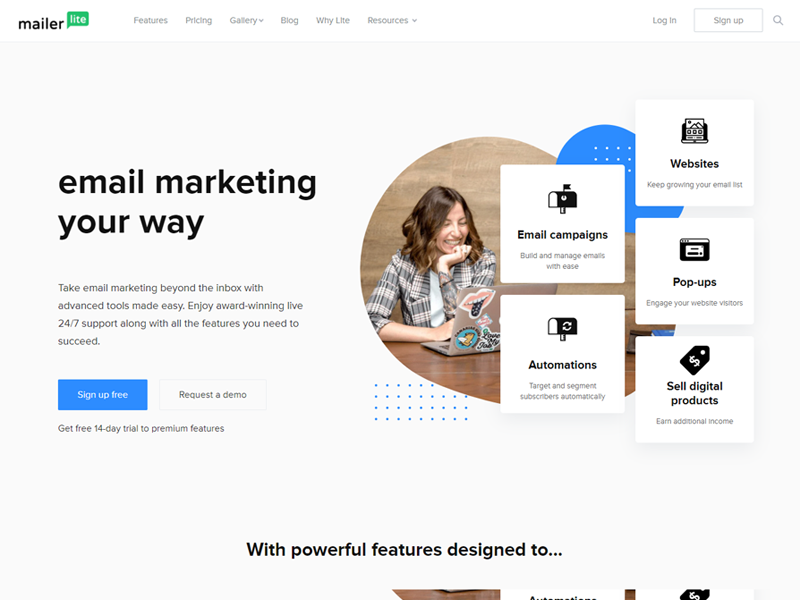 MailerLite provides several useful features in low-priced packages. It is a powerful tool for email marketing and fully featured with the tools to automate your campaign. The most important feature is the automation editor with which you can build your workflows.
The drag and drop interface makes it even smoother to work on email automation. These automation tools are powerful enough to ensure that all the emails in the subscription list get the required email.
Moreover, you can create customized workflows to keep tabs on metrics with analytics. It is also easy to create popups and landing pages to help make more customers and subscribers.
Pros
The drag and drop editor easily creates emails, removes and adds blocks easily while customizing styles and fonts.
The cheapest plan provides an access to all the features of Premium Plans such as delivery by time zone, auto-resend and A/B testing.
You are not restricted to the number of emails in a free plan. The monthly limit is 12,000 emails which is a good number.
The free plan provides several features such as A/B split testing, multi-user accounts and landing pages.
Using advanced segmentation and autoresponders on a free plan is also available without upgrading to a premium plan.
Cons
All emails have the Mailerlite logo. It can't be removed in free plans.
You need to upgrade to a $15 or higher plan if your list grows above 1,000 subscribers
No email templates are available with the free plan. Even the drag and drop builder has a simple default template that has image, header and logo options.
Pricing
Mailerlite offers a free plan where you can enjoy features like 1,000 subscribers and 12,000 emails. The cheapest plan costs $10 per month. If you want to increase the number of subscribers then you need to upgrade your plan to $15 per month or above.
All these paid plans provide the same features. So, the features are enhanced as the number of subscribers are increases.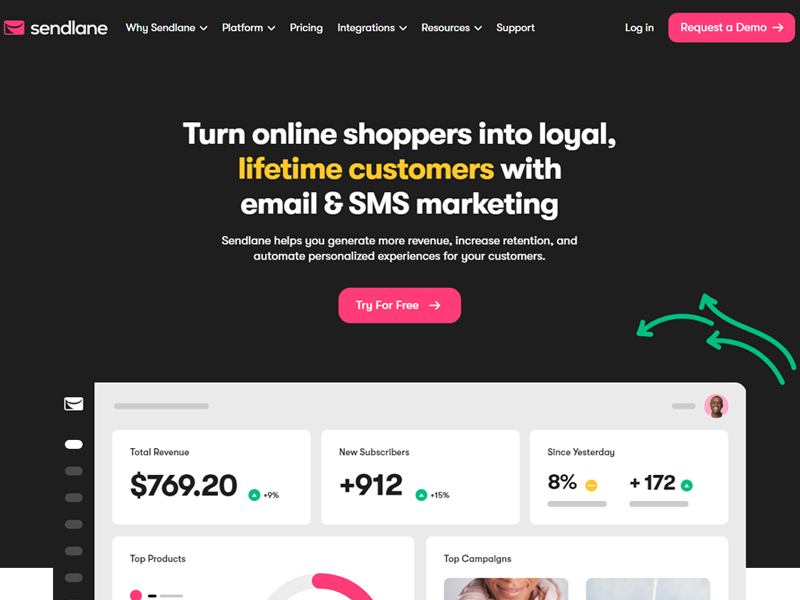 SendLane helps you with SMS and email marketing so you can automate personalized experiences, increase retention, and generate good revenue for your customers. It gives you automation features based on the behavior of your customers. In such a way, your email marketing will turn out to be your business growth engine.
Email marketing with SendLane can boost your revenue to over 30-40%. It provides you with the support and knowledge along with the essential tools that help in monetizing through emails.
The special email marketing features allow you to create high conversion and visually stunning emails using a drag and drop builder. Drive review and spark conversations with personalized SMS messaging. Further, it is easy to drive more sales, reduce abandonment, and capture more emails and design forms through intelligent popups.
Pros
Knowledgeable and quick responding customer service.
It provides wonderful automation. Everything is very easy to set up and automatically looks after all the customers to keep them updated on the business activities.
Reasonable price range
Easy to use for the beginners
Cons
So many features are overwhelming for the new users,
The software seems much pricy because of the updated prices
Pricing
It does not offer a free plan but you can try its 14-day free trial version. This version provides access to almost all the paid features. it allows a limited number of contacts to send in the emails such as 500 and 100. Above all, you don't have to enter your credit card number to test this trial.
If you choose the annual billing, you can enjoy 2 months free trial period.
It offers three price tiers with the lowest plan starts at $99 per month. It provides access to all the features and assisted onboarding support.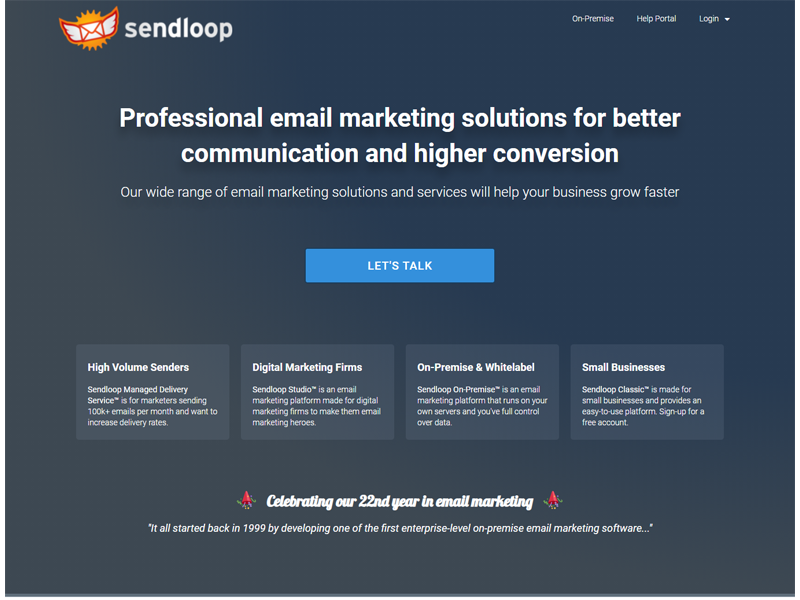 SendLoop provides professional email marketing solutions for higher conversion and better communication. The wide range of services and email marketing solutions will help in boosting your business at a fast pace.
SendLoop is designed with a focus on digital advertising and marketing. It provides plugins, applications, integrations, tools and other advanced features so you can automate email marketing activities.
It provides in-depth analytics to help you monitor your marketing campaigns. It gives an alteration to all automation campaigns. This application offers users to comprehend and calculate their investment in the scenario of marketing automation.
It guides you with all the right channels that enable you efficiently and effectively engage your customers. To upgrade and scale a business's digital value. Also, there is a drag-and-drop email builder and interactive and responsive email templates.
Pros
Easy interface
Excellent integration
Cost-effective packages
Cons
Reports analysis issues
Less training options
Logging out issues
Pricing
SendLoop provides occasional and frequent users for all types of subscribers. The rate is $9 for the users who send every week and every day regardless of the cost concern. The occasional users may find it free forever and only have to pay when they send an email. It costs $10 per thousand emails. The $9 per month provides 500 subscribers and $1645 per month for 350,000 subscribers.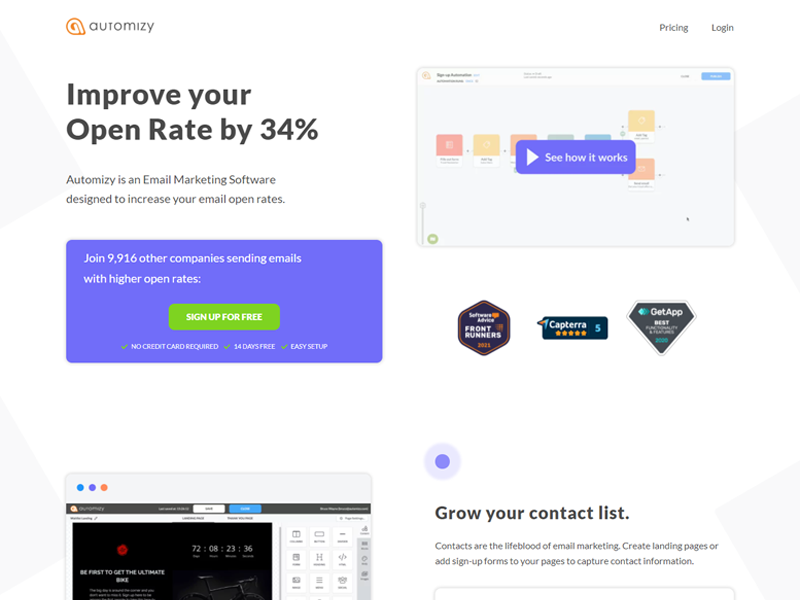 Automizy is an email marketing tool that is designed specifically for the improvement of email opening rates. It increases the email opening rate to over thirty-four percent. Moreover, with Automizy you get affordable plans to help you observe, implement, generate and organize email campaigns.
Automizy is best suited for freelancers and small to medium-sized businesses. It has thirty-six features with all the plans. It may be lesser than its other competitors but these are enough for you to get started for your small business. It works perfectly well for all freelancers, start-ups, blogger,s and small-to-medium-sized businesses.
It provides a drag-and-drop email editing tool in addition to eleven customizable features. It takes only three minutes to implement your email successfully. It is, therefore, very easy to edit everything in your email including shortcuts and images in your social media pages. Above all, you don't need any coding knowledge to work with this email automation tool.
Pros
14-day free trial
Friendly support
Reasonable prices
Unlimited email sends
Easy-to-use interface
Cons
Less variety of email templates
Restricted integrations exclusive to Automizy
A/B testing only supports subject lines in emails
Pricing
Automizy is an inclusive and excellent platform that gives you access to all its features. The only difference in the plans lies in the number of active contacts provides with each plan.
The lowest paying plan costs $9 per month provides you with 200 or fewer active contacts. If you want to increase the number of active contacts it costs you $199.00 per month and covers 8001 to 10,000 active users.
Moosend is an mass email software for bulk email sending. It is easy to serve beginners who intend to use the powerful auto-responding tools. It is both inexpensive and features rich. Moreover, it provides many features from premium plans in their free plans.
In addition, the drag and drop tool help in retaining the automation workflows. It further allows you to work with multiple email conditions. Also, you can share multiple copies of your workflows. It allows you to inspect the workflow stats with a single click.
It attracts customers with its unusual interface included in its extraordinary free plan. Why extraordinary? Because it covers over 1,000 subscribers. Also, it allows sending unlimited emails.
Pros
The email sent through Moosend does not have any logos or branding.
Abandoned cart, loyalty and onboarding features
Upsell and cross-sell customers
It adds a weather-based condition filter for stores to sell weather-based products such as umbrellas and ice creams
The templates, workflows and newsletters are prebuilt
Cons
Data entry needs additional steps that reduce the UX.
Experience and user interface need improvement
Pricing
The free plan of Moosend provides a subscription for 1000 users with unlimited emails. The lowest-paying plan starts at $8 per month.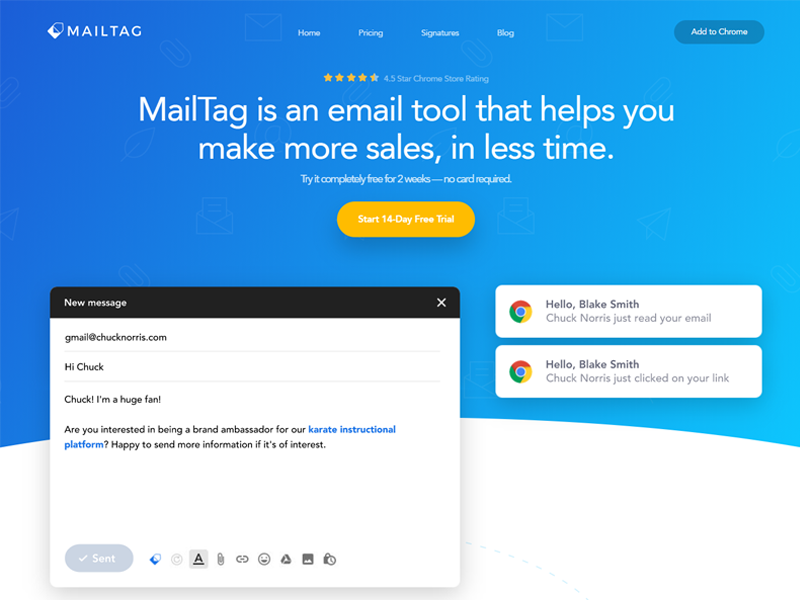 Mailtag is a popular email marketing tool that poses great competition against any other email marketing software such as ClickFunnels, SurveyMonkey, and AWeber. Mailtag is an average-performing brand in this category.
It helps you increase your sales in less time. It gives exact and accurate information about receiving, clicking and performance of your email. You will get all notifications as a dashboard with detailed information, email and desktop notifications.
You can also keep track of your scheduled emails and their performance. Moreover, it increases the open rate by selecting the right time for delivering your emails.
Email automation is another feature of Mailtag that enhances your online marketing performance. It customized all your automatic follow-ups and improves sales by increasing reply rates.
Pros
Notifications of the recipient reading the message through email autoresponder software
Integration of Gmail interface and good timely notifications.
Drag and drop builder
Provides advanced insights into the dashboard
Cons
Poor customer service
If you unsubscribe you have to go through all the bank procedures yourself
There is no option of unsubscribing on their page
Pricing
There is no free plan but it offers a 14-day trial period. In this trial period, you don't have to enter your credit card number. Instead, you can use all the features in this trial.
The least paid plan costs $9.99 per month for 10,000 plus users.
In this plan, you get unlimited email tracking, unlimited scheduling and ping sequences.
Conclusion
A best free email autoresponder is a software or tool that suits the needs of your business in the best possible way. You should select a platform based on your business type and size.
An autoresponder tool for small business owners should be the one that offers free features or more email limits and higher subscribers. Therefore, if you own a small business or just a start-up then you must check the subscriber and email sending limit before picking a service.
In addition, always remember that the limit may reach sooner than you think. Some of the email marketing services do not allow to move data. This is why you need to select a product where paid plans are under your budget line.
So, if the post is clear and not much overwhelming, have you decided on your favorite autoresponder yet?



As one of the co-founders of Codeless, I bring to the table expertise in developing WordPress and web applications, as well as a track record of effectively managing hosting and servers. My passion for acquiring knowledge and my enthusiasm for constructing and testing novel technologies drive me to constantly innovate and improve.
Expertise:
Web Development,
Web Design,
Linux System Administration,
SEO
Experience:
15 years of experience in Web Development by developing and designing some of the most popular WordPress Themes like Specular, Tower, and Folie.
Education:
I have a degree in Engineering Physics and MSC in Material Science and Opto Electronics.