In this article, we will list the best cheap ecommerce hosting services. Living in the modern era demands a lot to live a decent life. Mostly, the people of the present day are surviving on online businesses like e-commerce. For the progress of these businesses, the business owners require different platforms.
If you are new to e-commerce, you must know the need for a medium, but you lack the knowledge of these hosting services. These hosting services play a role as the key to the success of your e-commerce business.
Deciding on choosing the "fair" hosting service is not a simple task to do. You need to keep certain features and aspects in mind. However, most owners forget about these crucial compulsions and jump straight on the cheapest web host. They realize their mistake and repent of it.
Therefore, when searching for the best e-commerce hosting sites, gather all the essential features by extensive research about your requirements. Select the host accordingly because there are specific things that matter a lot. We have done considerable research on it for your ease.
Understanding the characteristics of the host server is significant. The reason for this is that these aspects can assist you in picking the best eCommerce host. Dig into this article as it will mentor you till the end.
How to Pick The Best Ecommerce Hosting?
All of you must have built up your mind regarding the vitality of picking the best and cheap ecommerce host. E-commerce hosts are the pillar that stands your online business up. Choosing an ideal e-commerce host seems to be an easy task, but only when you know the primary elements to keep in mind.
1. Server Speed
When talking about businesses that require a website, our chief concern is the speed of the website. Also, most business holders stress this issue as it acts as a hurdle in the flourishing of their line. Good speed of the website is ultra-important as it offers a glorious experience to the customers while using their services.
The exceptional experience of the clients means happy clients. These cheerful clients will promote your brand to others and will come back to you in the future. Hence, this is a way of building a decent reputation for your brand in the community.
It is hard to tolerate the slow loading website because people of this time value their every second. The speed of the website relates to the SEO ranking. Google is intelligent enough to rank the best sites, and standing higher than your opponents is a pronounced achievement. So, the improved speed of your site makes all the difference, living in the monarchy of e-commerce.
2. Price/Features Balance
Search for those ecommerce hosting sites that can hold your customer traffic and deal with them in the best possible way. It is because these customers matter in the growth and uplifting of your business. Following are the features that need to be highlighted, and you should consider them.
Disk Space and Bandwidth:
Disk space pertains to the storage capacity provided to you by the e-commerce host. This space is significant, and the proportion should be enough to store all the business-related files, data, audios, pictures, client information, etc.
The amount of data allowed to deport between the site, buyer, and the server is known as Bandwidth. The amount of data traffic that enters or leaves your website is an essential feature to examine. Here, enter means the data the user is getting when searching your site. Leave means the information that the user is receiving from your site.
If you are starting your online business, one thing to keep in mind is to select the e-commerce host services that offer you FTP. FTP stands for File Transfer Protocol. It is a pact that proposes the ability to download all your data-related files from the website. Similarly, you can post your files on the site as well. 24/7. Access to FTP is an essential element to acknowledge.
Email, Support, and Uptime:
Your e-commerce host should ensure that they are providing you with email services. In this way, you can set up your email address for convenience for your customers. Further, an approach to POP3 and SMTP can increase your ease by letting you open your emails on your mobile phones.
I prefer those host websites that provide you with telephone services, email setup, and customer care at their best. There are no hosts present in the community of the e-commerce host providers that can guarantee 100% uptime. Uptime includes the solution to problematic conditions like city power outage.
At least, search for them that ensure "just in case" measures to solve these problems. Backup possibility, server auditing, network monitoring, and inessential hardware configuration are some steps that a host should provide just in case.
You need to relate that all the services provided by the host balance with the price they are demanding. If you think they are merely offering you the benefits, it is a big no to that option.
3. Security
The factor that distinguishes different hosting plans is their capability to secure their customers, companies associated with them, information, product-related data, and every other thing that needs security. Therefore, this feature makes you understand well that the rank of all the host providers is not equal.
The hosting services that want to make their credible name in e-commerce spend capital to guarantee their websites and ensure the linked companies. Go for those hosting plans that offer Secure Socket Layer (SSL) Protection because they can provide extra security to your customers.
Opt for HTTPS because they are safer than standard HTTP. The ideal security of the website is necessary as they keep your client's name, credit card information, address, and other data secure and can make your customers realize that they can count on you.
4. Scalability
We can define scalability as how any company manages the audience and works by upgrading the services and resources of their system. With the change in demands and applications, there is an increase or decrease in the website's administration.
Scalability can aid the growth of the website. As any business grows, more and more clients visit the website, which transfers more requests to the server. Above all, if the working of the service is slow and lacks scalability, it cannot deal with all the customers.
The scalability of the website can match the pace of the work and offer excellent services. These opportunities for the customers matter because it builds up a reputable standard of the brand.
The Top 7 Best Cheap Ecommerce Hosting Services in 2022
The Cheapest Ecommerce Hosting Site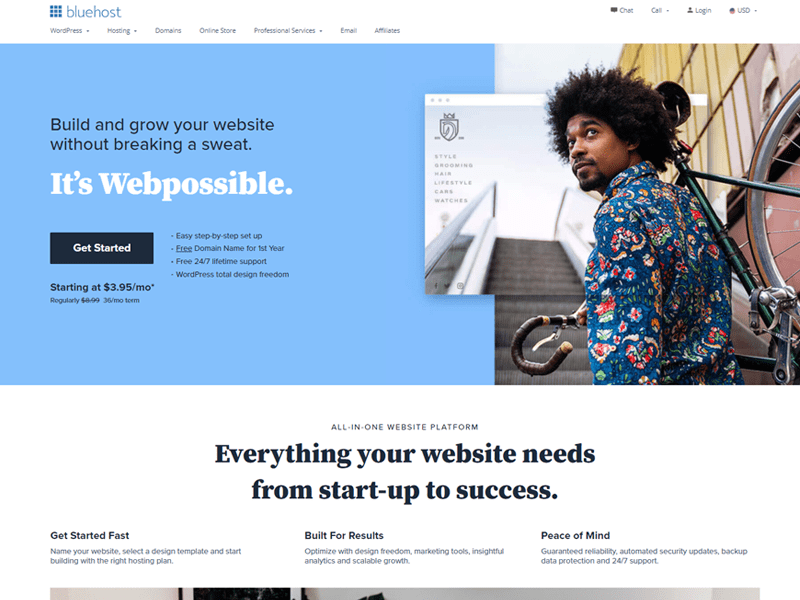 Taking top honor in our list of elite and cheap ecommerce hosting services, Bluehost is a company that is hosting over 2 million domains. In addition, it is one of the 20 most significant providers. Based in Utan and owned by Endurance International Group. They contribute to many hosts, including WordPress hosting, WooCommerce hosting, VPS hosting, and many more.
Association of servers with HTTP/2 and PHP 7 raises their level in the market. It offers such amazing offers to the business owners that they get attracted to it quickly. For running a successful online plan, you can opt for this host with no worry.
Offers and plans from Bluehost are so cheap that anyone can afford them. Therefore, it is notable for being the cheapest ecommerce hosting site. The feature of shared hosting is the main reason that makes it so affordable.
In this feature, they allow the users to share the servers. Bluehost's shared plans start from the price of $2.95 when you subscribe for 36 months. It means they offer this plan with a contract of three years. After these months, refresh the offer by paying $8.99 per month. The entire process of this subscription gives you an initial discount of 63% per month.
Features:
The uptime of Bluehost is 99.98% which is impressive. It means that they have a downtime of only 1 hour and 45 minutes for updating their hosting platform. They offer excellent working time with the crash of a website for very little time annually.
WooCommerce and WordPress Sites:
It stands out by providing WordPress sites. Even though WordPress has also recommended Bluehost for the best site development. They also offer 100% customized websites through the WooCommerce plugin.
Bluehost has attained a good name by providing specific programs for security, including SSL, IPs, and SiteLock Protection.
Free domain-specific email addresses are another significant feature that it can offer. These email addresses provided by the server are profitable enough to serve the client and create convenience for them.
Site Builders and SSL certificates:
Bluehost also provides free site builders and an SSL certificate to the users.
Pros:
Diversity in hosting options
Secure up-gradation
99% uptime
30 days guarantee for all plans
Unified CloudFlare support
Top security.
Cons:
Only annual hosting plans are available
Charge for migrating a site from another to Bluehost
Windows hosting is not available
Pricing:
The price of the plans offered by Bluehost is so affordable. That is why they are known for being the cheapest host. They offer four plans based on features and services.
BASIC— 2.95 per month
PLUS—11.99 per month
CHOICE PLUS-16.99 per month
PRO-26.99 per month
Read More: Best WordPress Hosting Sites
Best Hosted eCommerce Platforms – All-in-One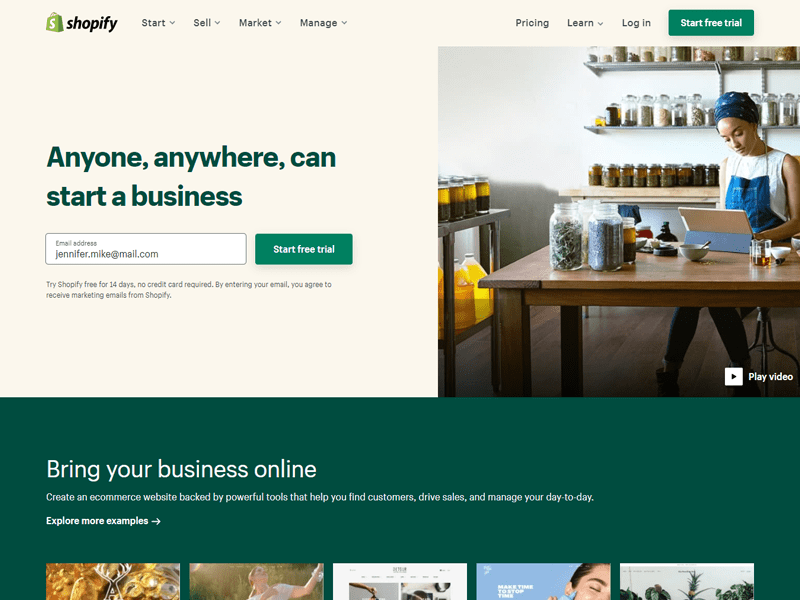 Shopify stands out to be the best platform for ecommerce businesses. It is because of the aspects and features that make running online work handy for people. They have different themes available according to the demand. You can also add more characteristics to make your site powerful and convenient for users.
Shopify is an option to consider if you want to launch an online store with no extra effort. In addition, the excellent point about it is the easy use of the site that makes the customers come and buy again. Its features attract buyers and lead to the expansion of the business.
We can say with no doubt that Shopify is the best ecommerce hosting platform. It contains all the features that any owner can demand. The other utmost thing about it is it can let you form a brilliant website for your online business.
Features:
Professional themes and shopping cart:
You can select any of the 70 professional themes for your customized web. A shopping cart makes it handy to gather all the stuff that the customer wants to order.
Store and inventory management:
They can create customer profiles for those who comment and give reviews on the products. For keeping the record of the product, inventory management is mandatory.
You don't need to worry about the limit of traffic as they offer unlimited Bandwidth. Unlimited Bandwidth is an element that results in the business's success.
You can set your business ideas with no hassle or problem. They ensure the reliability of their customers.
The speed of the server is fast, and the website rarely crashes due to traffic.
Pros:
The highest score for customer satisfaction
Splendid Inventory management
Linked with multiple social media
Protective and safe
Provide backups
Compatible with every skill
Cons:
Demand transaction fee
No content reformatting
Pricing:
They provide free trial services for the first 14 days. Description for paid plans mentioned below:
Monthly services for Shopify Lite are for $9. However, it is handy if you want to add a website to the Facebook page.
By paying $29 per month, you can avail this affordable option for setting up an online store.
For running a growing business, pay $79 a month, and enjoy the non-stop offers because this is the best option for this business type.
For large-scale businesses, subscribe to this deal. The price of this bundle is $299 a month, and the features are brilliant.
Best Ecommerce Hosting for Bandwidth – Unlimited Traffic.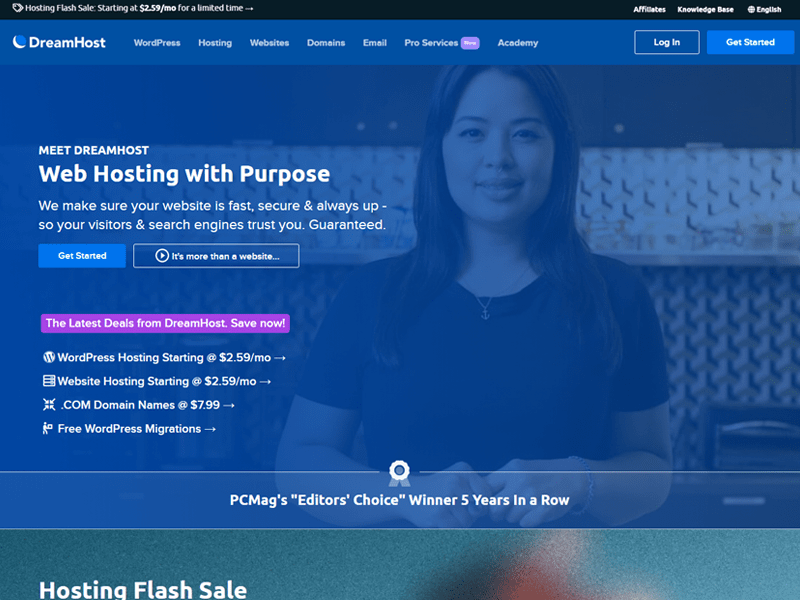 In 1997, DreamHost was a Los Angeles-based e-commerce hosting service provider with over 400,000 customers and incredible services. It provides a platform for all online business holders to thrive. Many business owners have faith in this ecommerce host and depend on it for their online stores.
This is on of the best managed WordPress hosting providers. It is valuable for its innovations and functions. Thus, get this host to start a successful business and conquer the world.
It is the best and cheapest host provider that offers unlimited traffic. You don't have to pay extra if you exceed your Bandwidth. It means that you can advertise your stocks at a fantastic rate and have a great audience. Therefore, it is because they will not punish you for this by adding extra to your payment.
Features:
It offers unlimited traffic to your business site without charging for it. This feature lets small businesses prosper.
Free daily backup is very beneficial for all of you because a single wrong click can cause data loss. This option can save you from this condition.
Free domains for the first year of the offer are in the deal except for the Shared Starter Plan, but you can add by paying $1.67 per month.
Great Option for Beginners:
For powering the new e-commerce store, a shared plan by DreamHost is the best plan to choose. For beginners, I advise you to go for this ecommerce host.
Pros:
Free daily backup
Great storage options
Money-back guarantee
Unrestricted data transfer per month
Brilliant Cloud hosting provider
Useful WordPress hosting features
Cons:
No support for Windows.
Lack of customer care
No shared email
Pricing:
Based on the features and the details of the plans, the organization has classified it into many. Each of them is different based on payments as well. Their price varies from $2.59 to $79.95 per month. You can select any of the below-mentioned bundles that suit you well.
Shared hosting: $2.59 to $10.95 per month.
DreamPress hosting:$16.95 to $79.95 per month
VPS hosting: $10 to $120 per month
Read More: Best Web hosting for Small Business
The Best Choice for Support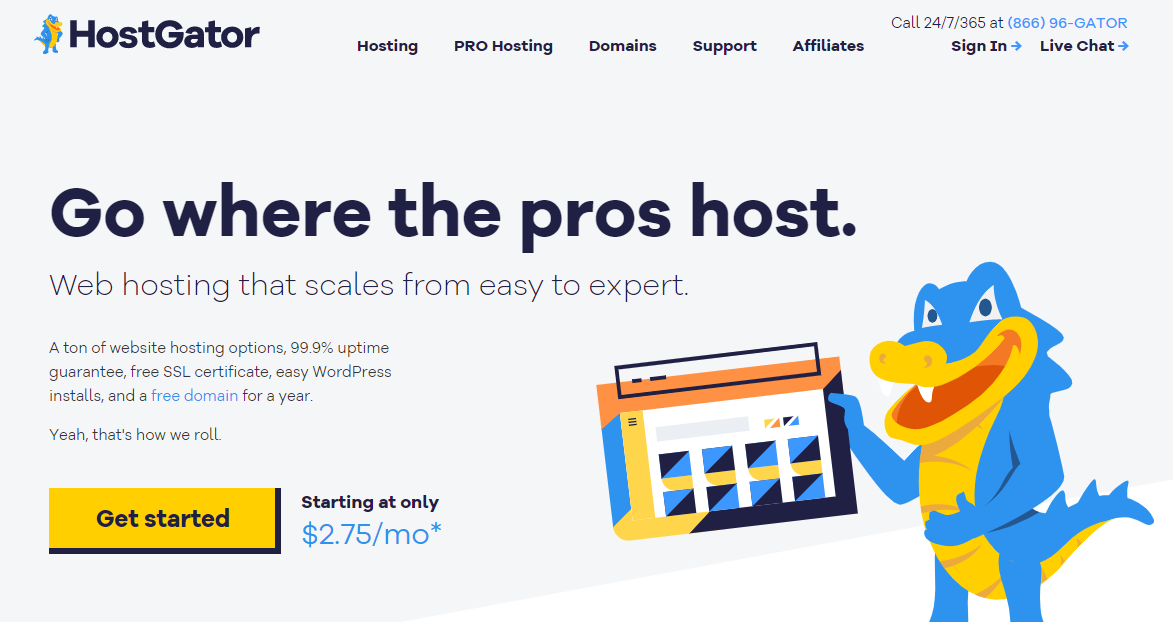 HostGator is a provider of reliable and modest web hosting. Millions of business owners trust them for their services and dealing with their customers. They offer tons of benefits for the prosperity of e-commerce. They provide unlimited ways to grow and reach out to the audience.
It is a Houston-based e-commerce host. People who can never compromise the functionality and quality of action on the website should select this option. This hosting can prove to be an excellent choice for them. Hostgator is also one of the best reseller hosting providers.
For those who are looking for a site renowned for its support services, your answer is here. HostGator helps, and support duties are incredible. It provides 24/7 live chat and call services.
Features:
In every plan, they offer unlimited FTP. You can quickly transfer the files from the site to the computer. Also, you can export the files from the computer to the site.
Immense Bandwidth and traffic can reach your site. You don't need to bother about the extra charges. Domain for the first year is free; however, pay for its renewal next year.
Absolute Email Addresses:
You can have many email addresses at a time for the help of your clients and customers.
Uptime for this host is 99.99%, which means there is a crash of just 1 hour in the entire year. This feature is imposing and allures many people towards it.
Pros:
99.99% uptime
24/7 help and support
Unlimited disk space
45 days of warranty
CPanel interface
Unlimited domains
Cons:
Backups require extra charges
Not so economical option
Not so good site performance in the past
Pricing:
Features and the services of deals categorize them into three. You can subscribe to any of them as per your demand. The prices for these bundles are:
Hatchling Plan- $2.75 per month
Baby Plan- $3.50 per month
Business Plan- $5.25 per month
Best Ecommerce Hosting for Speed and Performance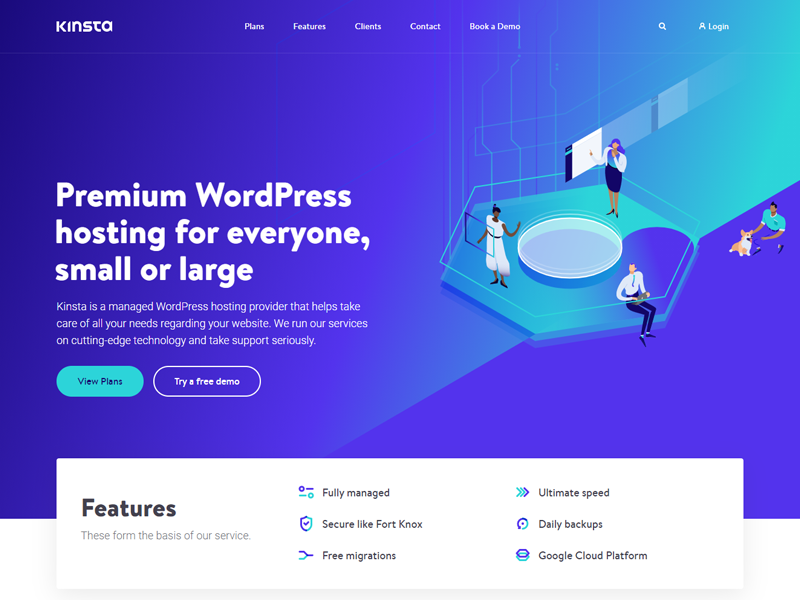 Since 2013, Kinsta has been a WordPress host that has made its name to the elite and cheap ecommerce hosting list. The feature that makes it ace the community of e-commerce hosts is that Google Cloud powers it. Association with Google cloud acts as a bonus to its success.
They also linked the premium tier of Google Cloud to it and offered the highest rank to the customers. It provides the stage for over 20,000 companies to prosper.
For, brilliant performance and speed of the website to load are splendid for this host. These are the characteristics that make them the utmost. You can rely on its feature of speed and performance as they are exceptional. If you are looking for an ultra-fast host in speed and performance, go for this option.
Features:
This eCommerce hosting site provides protection 24/7 by offering SSL, software-based constraints, hardware firewalls, and DDoS.
Speed obsessive architecture:
Use technology like Nginx, PHP 8.0, LXD software containers, optimized VMS, and many others to ensure the website's load.
They have a migration team working efficiently for the migration of your site from another host to Kinsta.
They associate it with the Google cloud and some other data-based companies to ensure the safe transfer of data.
Pros:
Fast speed
Cloud-based infrastructure
Guaranteed 99.9% uptime
Amazing technical support
Handy set up and migration
A good option for traffic
Cons:
No email hosting
Lack of telephone support
Expensive option
Pricing:
You have a wide range of bundles offered by Kinsta based on the difference of features. There is one starter plan that costs $30 and goes up. The Pro plan costs only $60.The spec of Pro Plan significantly balanced the price. There are around four business plans:
Business Plan 1- $100
Business Plan 2- $200
Business Plan 3- $300
Business Plan 4- $400
After business plans, there are two enterprise plans for advanced and upgraded features:
Enterprise 1- $600
Enterprise 2- $900
Read More: Fastest WordPress Hosting
Best for Scalability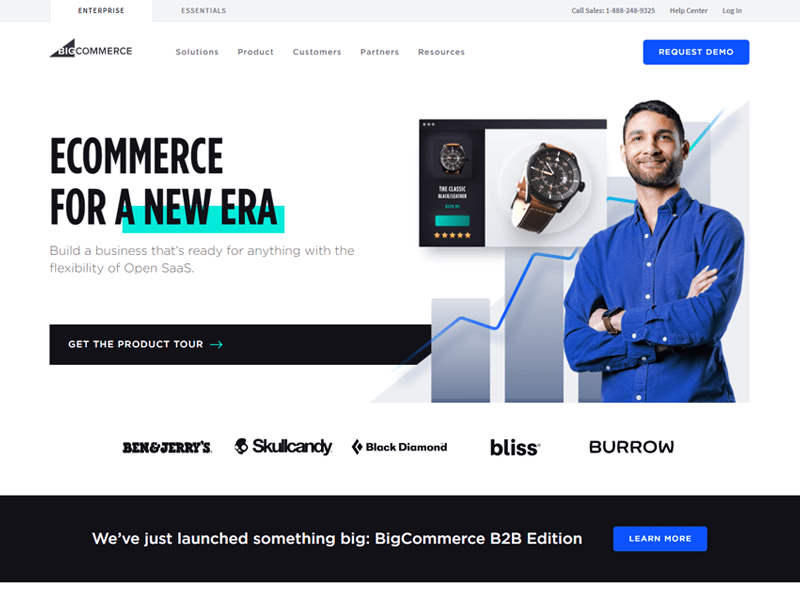 Like other hosting websites, BigCommerce is another host that provides everything you need to set up your online shop to sell your products. The prime point of BigCommerce is that you can retail your digital items with tons of convenient features and efficient management services.
It provides exceptional commerce experiences that make the customers come and buy again. In addition, Bigcommerce offers unlimited ways to grow the business by enhancing international audiences by efficiently using marketing tools. However, the price of the bundles is relatively low than other e-commerce brands, but they never compromise on the excellence and function of your Store.
Bigcommerce is renowned for being the most scalable host for e-commerce. If you want to take your online business to specific heights, Bigcommerce can take you there. Above all, scalability plays an essential role in the growth of the online business. It gathers more audience after some changes. It is convenient to use like Shopify and Wix, but the features are the same.
Features:
Built-in SEO features to enhance organic exposure:
SEO ranking of the product can improve the chances of flourishing online e-commerce businesses, and this host helps to do so by its built-in features.
It offers excellent features on the website to keep you updated regarding several products available on the inventory. Checking payment is also very handy and efficient.
It offers multiple layers of security to satisfy the clients. 24/7 monitoring by the staff keeps the website protected. 99.9% of uptime is excellent for the audience.
They have personalized it in a form that loads the site swiftly. It sustains the heavy traffic of the customers without crashing. Fast loading offers excellent results to the business as the server accepts more customers' requests and deals with them.
Pros:
Reporting and SEO tools access possible
No transaction fee
Offer payment in multiple currencies
Friendly staff to support
Fast load time
99.9% uptime
Cons:
Mobile app needs improvements
Expensive to access the feature of abandoned cart
Pricing:
There are four monthly plans available to access by Bigcommerce, with a free trial of 15 days distinguished from each other based on features, services, and price.
Standard: $29.95 per month
Plus: $79.95 per month
Pro: $299.95 per month
Enterprise: Customized
Best Affordable VPS Hosting for Ecommerce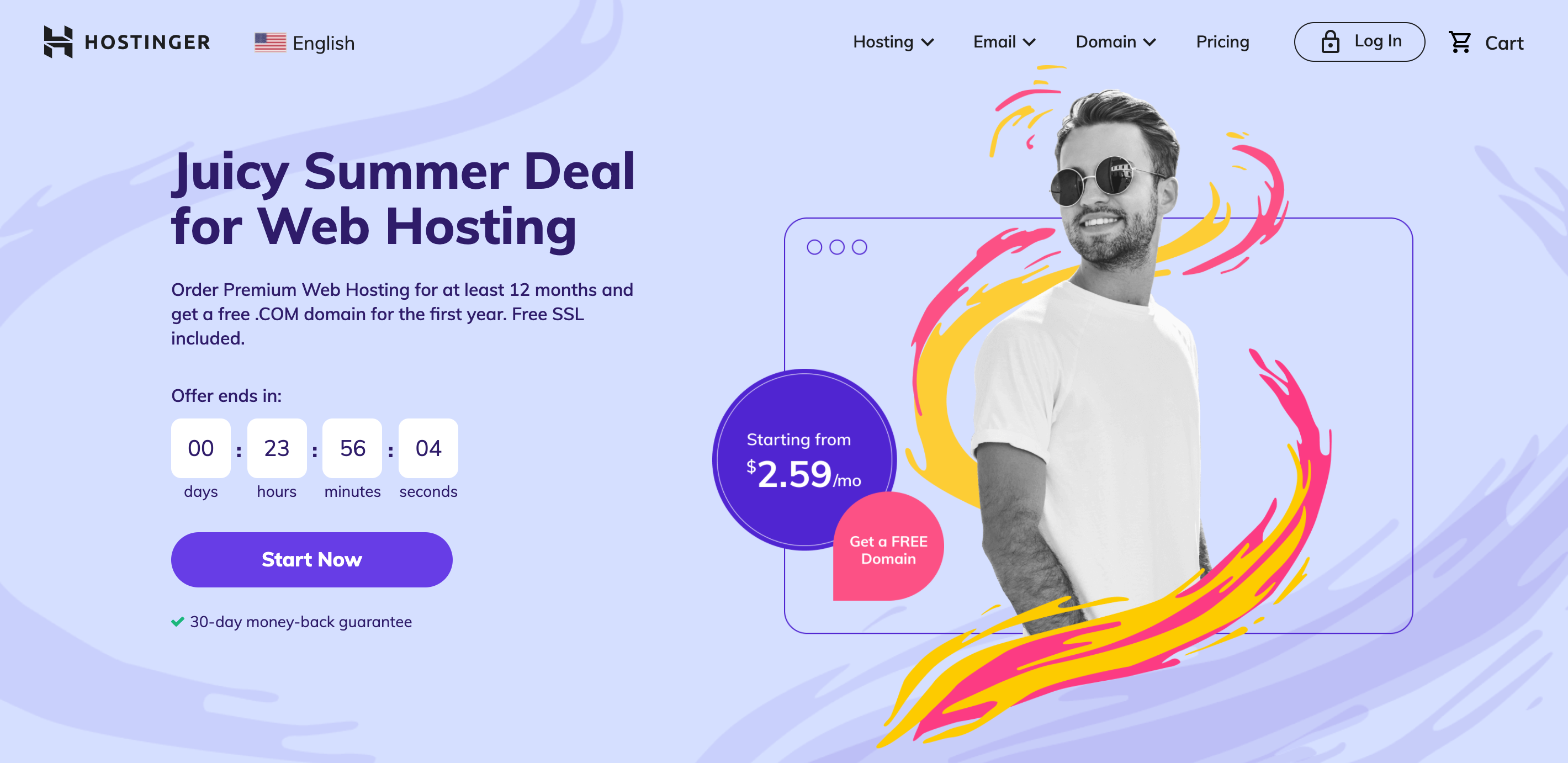 Hostinger has reached the list of the best web hosting for e-commerce. It is because of its features and efficient bundles that grab the attention of people. It offers such layouts that people get captivated and subscribe to them. These layouts have enticed millions of customers toward it.
In recent years, it has outshone other competitors in the market. It provides 7 data servers to the business holders subscribing to the platform. Further, the specs and facilities that we can gain from this hosting site are incredible. It is one of the well nicely balanced hosting platforms out there.
Hostinger launches different bundles for the ease of other online business owners. These bundles make it affordable for everyone.
Features:
Uptime is an important feature to consider when deciding to select a host. It assures an uptime of 99.99%; however, there is a drop at some stages.
It offers regular automatic weekly or daily backups, depending on the type of bundle you have chosen. It prevents the loss of your valuable data.
It provides a speed of 200ms and browses the website quickly.
Pros:
20GB SSD
1TB bandwidth
IPv6 support
Load quick with cache management
Easy to use
Incredible uptime
Responsive support
Cons:
No daily backup
No phone support
Pricing:
Hostinger launches three plans, and we have mentioned their prices below:
Single- $1.39 per month
Premium- $2.59 per month
Business- $3.99 per month
What is Ecommerce Hosting?
After discussing the best e-commerce hosting services, we must know what e-commerce hosting is. Ecommerce hosting refers to a platform that a company provides to other small companies to sell their products and other services all over the map. It serves as a web server for that company to manage all the orders and related tasks. In addition, it offers electronic shopping carts, keeping records of customer's demands, tools to record and supervise inventory, and safe purchases through credit cards.
A company that wants to thrive in its business makes a contract with the e-commerce host. In this deal, the host provides a web server and demands payment as per their bundles. The clients can share this bundle with others when they subscribe to their shared bundle offer.
E-commerce hosting organizations offer many services to grow their business and deal with the audience in the best manner. Above all, they have set their service following the demand of the online business possessor.
Table of Comparision
| | | | | | |
| --- | --- | --- | --- | --- | --- |
| Host | Free Domain | Disk Space / Bandwidth | Price | Load Time | Rating |
| Bluehost | Yes | 50 GB / unmetered | $2.95 | 1.97s | 4.1/5 |
| Shopify | No | Unlimited | $9 | 1.9s | 4.4/5 |
| Dreamhost | Yes | 50 GB / unmetered | $2.59 | 1.39s | 4.0/5 |
| Hostgator | Yes | Unmetered / Unmetered | $2.75 | 1.7s | 3.98/5 |
| Kinsta | No | 10 GB / 25,000 visits | $30 | 1.29s | 3.95/5 |
| BigCommerce | No | Unmetered/Unmetered | $29.95 | 1.93s | 4.2/5 |
| Hostinger | No | 100GB/10000 visits | $1.39 | 2.0s | 3.6/5 |
How much should I spend on e-commerce website hosting?
The amount you have to spend per month on e-commerce hosting depends on the favors and facilities provided by the e-commerce host. If your invested amount favors you with services you are getting from it, you are spending the right amount.
However, you can plan to spend $20 to $250 per month, keeping in mind the help offered by the hosting website.
Conclusion:
In today's era, online e-commerce business has gained immense popularity worldwide. People are investing their money in digital assets, knowing the fact that it is beneficial. However, sometimes, they can face a sudden loss, but the overall rate increases income. People know of starting an online store to sell their services, but they lack the ideas of e-commerce hosting platforms.
This article is the ultimate guide for everyone as it provides you with the details about the prosperity of your online Store. E-commerce hosting platforms have become a very in-demand online business for the past few years. Therefore, opt for those platforms that are efficient and inexpensive.
We have mentioned a handful of cheap but brilliant ecommerce hosting providers. They all offer some impressive specs and features to make your online business reach the bar of victory. However, every host differs from the other. Choose the one that qualifies you the best.