Full call control, reduced communication costs, automation of telephone sales, integration with CRM. There are a thousand and one reasons why businesses get rid of copper telephone wires and switch to virtual numbers and VoIP telephony.
Everyone knows about them, but no one tells you how to make the right choice. The IP telephony market is flooded with hundreds of providers, and each has its own conditions.
So that no one makes mistakes, we have compiled a rating of IP telephony for business from the top 5 companies on the market and tell you how to make a choice.
Read More: Best Cheap VoIP Business Phone Services
The Top 5 Best Virtual Phone System Provides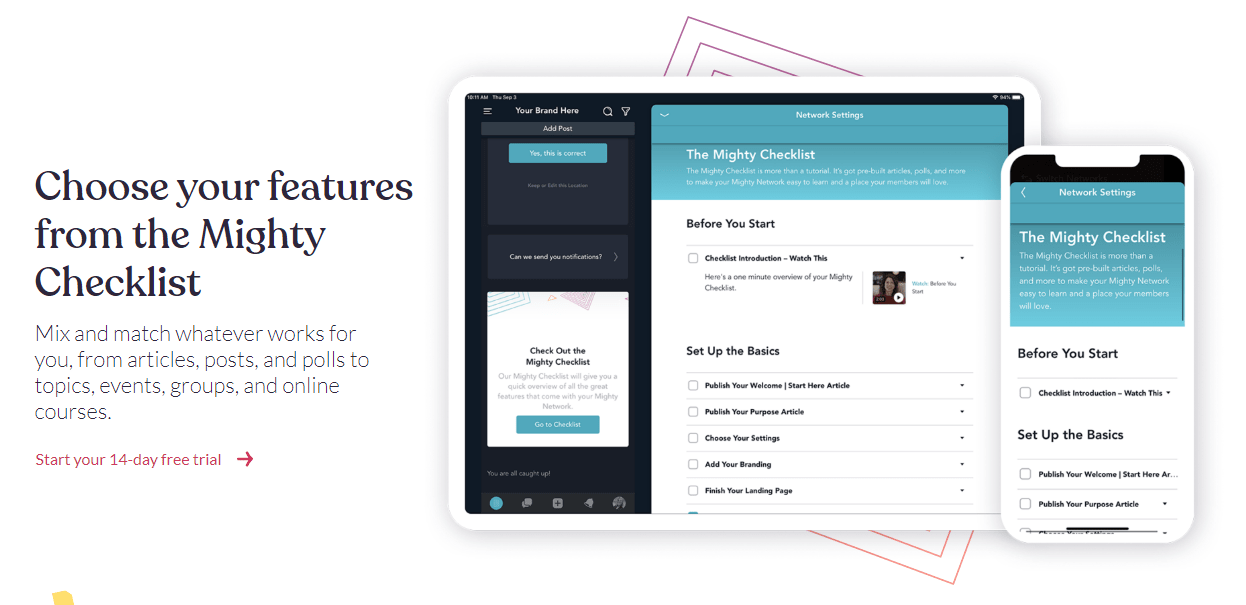 Business communication management should not be a hassle. MightyCall, which was created as a small business phone service, allows you to interact smoothly. Choosing a local or toll-free number, as well as handling calls and text messages, is quite straightforward. The nicest part is that it quickly syncs across all platforms – smartphone or PC. Stay in contact whether you are at work, at home, or on the road.
It is a professional solution for contact center deployment. Intelligent routing in incoming call queues, as well as several chances for automated outbound campaigns.
A suite of apps for all contact center staff responsibilities – a single operator window and a suite of solutions for the supervisor – real-time job monitoring, historical data with a report designer, conversation recording, and quality assessment via evaluation forms. Its entry-level subscription is $15 per user and includes VoIP services like:
international and vanity numbers. A beautiful virtual number represents your company's distinction and credibility, which means you may easily attract numerous partners and consumers to collaborate;
toll-free and local numbers. All received calls are paid for by the company you are calling;
caller ID. A professional phone option that allows the caller to be identified;
VIP & block list call routing. The option to establish custom lists for VIP numbers, each with its own "branch" of the call tree. At the same time, spam calls can be included in the prohibited list and will be instantly dismissed;
automatic call distribution. ACD takes incoming calls, sorts them depending on the requirements stated, and routes them to the appropriate expert;
queue callback. An effective approach to increase customer happiness and experience by letting incoming customers ask for a callback instead of waiting on hold in large call queues and lowering call abandonment rates.;
voice to email/voice to text. An option allowing to immediately convert a voice message into text;
call recording. It is used to record a subscriber's phone conversation;
interactive voice responses (IVR). It is a system for distributing incoming calls to various departments and operators using pre-recorded voice messages.
It can be successfully integrated with the following from the list:
HubSpot;
Salesforce;
Zoho;
Zapier.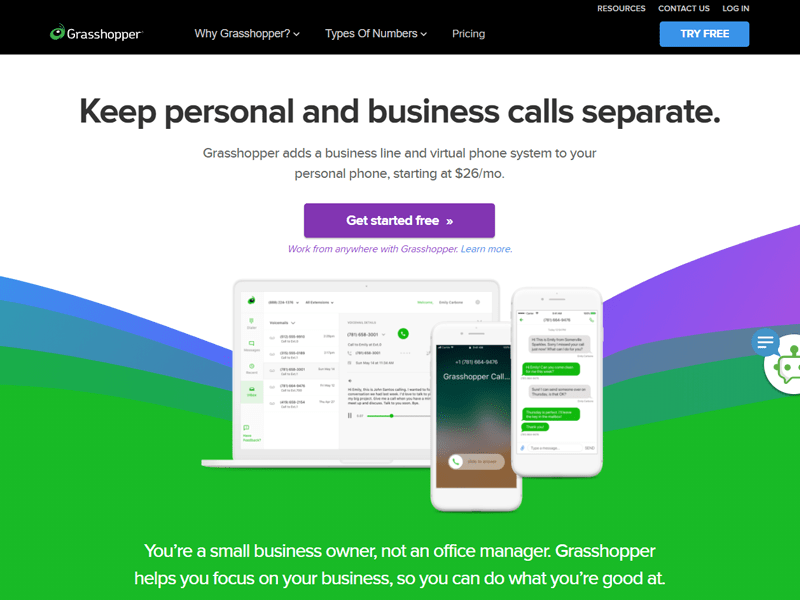 Grasshopper is a virtual telephone system that provides business owners with the opportunity to possess a business phone number with an additional set of functions. The received phone number can be employed on existing stationary or mobile gadgets. At the moment, the company offers local and toll-free numbers for the USA and Canada.
The system will propose a free trial period, and after that, you will have to select one of the tariff plans. The main differences between the plans are the number of extensions and phone numbers you receive. All plans include unlimited call handling and minutes.
The small business plan has a voicemail transcription function. The cost at the time of writing is as follows:
solo – $28/month;
partner – $47/month;
small business – $80/month.
Features of Grasshopper
It is provided in each package of services:
customizable greeting;
unlimited call handling;
redirection;
viewing calls;
incoming fax;
voice mail fax to email;
business text messages;
Wifi calls;
iPhone and Android apps.
When choosing VoIP software, it is important that the software integrates with other applications that are currently used in your business. Grasshopper can be successfully integrated with Skype, LiveChat, Zapier, and Bitium.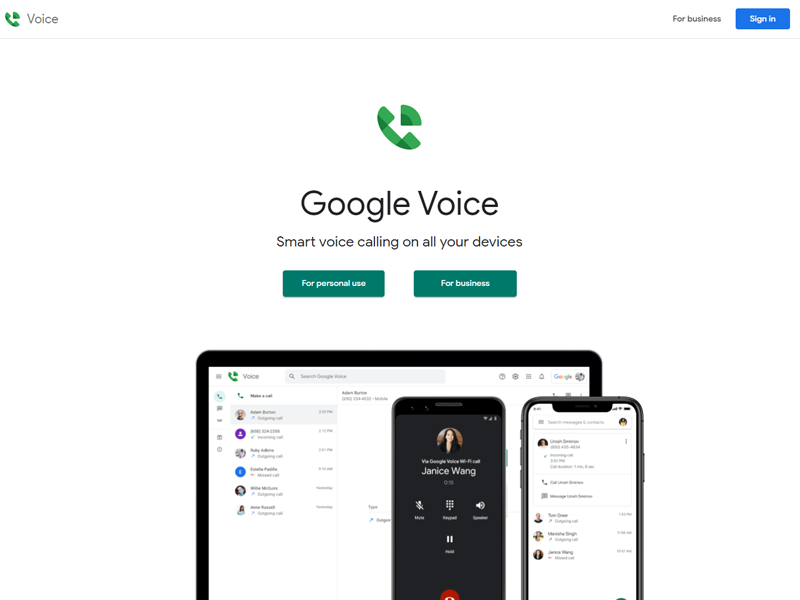 Google's universal service, Google Voice, permits you to initiate free phone calls, exchange free text messages, customize your voicemail greetings, and proceed with call forwarding. If you have several smartphones with several phone numbers, this is the case when the VoIP service is designed just for you.
It is free for all functions except international calls. In other words, you can utilize all the options of Google Voice at the expense of your carrier. But you may be charged a certain amount for an international call.
After registration, you will be given a Google phone number that can be contacted from different gadgets. You may make use of additional fascinating features besides regular services.
Internal calls: With this feature, you may make free calls to anyone, saving on communication.
International calls: You can also make inexpensive international calls. All you have to do is add money to the account and make a payment for the call.
Group messages: The service provides the possibility to send free messages along with photos and MMS features.
Voicemail: Google Voice offers traditional voicemail for free. Using sophisticated algorithms, it can turn your voice message into text and forward it to email.
Call forwarding: When you have multiple numbers, it becomes difficult for you to remember them all. One of the characteristics of this service is the provision of one number to be utilized on different gadgets.
Call recording: This function permits you to save phone conversations.
The capacity to bring together your communication requirements is the finest feature of Google Voice. Conference communication can be carried out simultaneously with the participation of up to 4 people.
Other features include call blocking, call switching, call management, and directory assistance.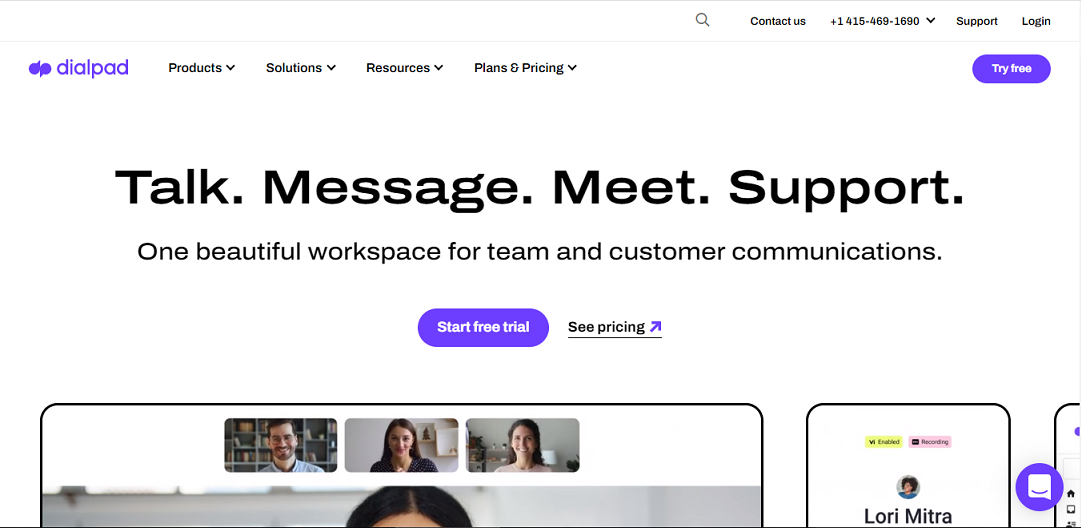 This is a cloud platform and corporate phone system driven by AI which offers businesses the most advanced VoIP telephone technologies to keep employees interconnected and efficient. Dialpad Talk for calling, Dialpad Contact Centre for contact center administration, and Dialpad Sell, a robotic sales dialer, are all part of the platform. Dialpad integrates audio, text, and online conferences into a single platform accessible via any internet-enabled gadget. It incorporates cutting-edge cloud telephony innovations such as WebRTC and the Opus codec to provide unsurpassed VoIP call quality.
Dialpad allows you to manage all of your communication between employees and the outside world from a single, simple platform. From your laptop or mobile gadgets, you can make phone calls, hold video meetings, exchange SMS/MMS messages, and much more.
Dialpad includes desktop and mobile apps that are compatible with all the operational systems. Or, simply log in through a web browser and utilize it there – no downloads required, and ideal for small company use. Your customers and potential clients will also not require downloading anything in order to participate in your conference sessions or online meetings.
Dialpad is distinguished by its patented artificial intelligence, which is incorporated directly into the operating system. It allows you to switch on and off automatic call recordings (if you want to keep track of online discussions or conference sessions) and even provides you with an automated post-call overview email with follow-up topics!
One more distinctive feature of this system is the ability to transcribe voicemails in real time. Are you in a series of appointments and unable to listen to your voice emails? Simply open the app to read them rather.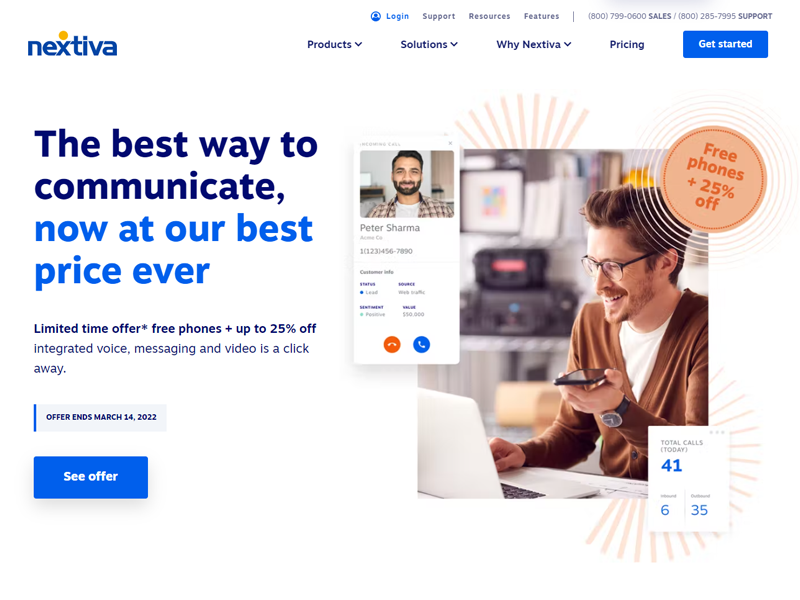 Nextiva is a cloud-based service provider offering advanced call management capabilities, unlimited internal calls, voice messages to email, text messages, online fax, and more. This service can be recommended as one of the best VoIP providers for businesses because we believe it offers the best combination of standard features, industry-leading client support, and pricing.
Advantages
Users who gave Nextiva a positive review talked about how their customers' communication has improved since they subscribed to the service. Many users also appreciated the usefulness of their customer support, as well as constant system updates.
Disadvantages
Users who gave Nextiva a negative review said that they had technical problems, which were also accompanied by problems with the support service. While some users said that the quality of customer service is excellent, others pointed out their lack of responsiveness and said that they did not receive the necessary support.
The price decreases as new users are added. The Pro plan includes the basic functions of the telephone system, like call routing, call forwarding, caller identification, and much more. Higher plans include more conference calls and group call functions.
Features that Nextiva provides:
unlimited outgoing;
conference calls;
instant automatic greeting that allows callers to choose the person they are trying to contact;
software applications and plugins integrate your unified communications system directly with your CRM, billing, reports, and other business applications;
NEXTIVA app. Stay in touch with clients and employees with unified in-app communication services;
IM & PRESENCE. Easy integration of business collaboration instruments like instant messaging, chat, and status sharing from the same interface that you manage your calls and contacts;
unlimited FAX. Instantly send an unlimited number of faxes from email, and applications to a PC or mobile device without connecting a phone line.
The main criteria for choosing Internet telephony for business
So, you have realized, the company needs telephony for business – what to choose? There are only 5 operators in our top, and this is only a small part of the market. How to navigate all this? Here are a few basic criteria.
Number capacity
Each operator has a certain number capacity to allocate virtual numbers to clients. There are numbers:
regional numbers;
numbers of mobile operators in the format "1-800";
international numbers.
Assessing the number capacity, entrepreneurs look at:
geographical coverage;
the cost of connection;
subscription fee.
Multi-channel numbers
All virtual numbers are multi-channel. If the operator is talking to a customer, another customer, instead of short beeps "busy", will hear a polite request to hold online and will queue up. The number of dedicated channels depends on the company and the tariff plan.
Functional
Each operator connects a certain set of business functions to customers along with a virtual PBX: voice menu, call tracking, recording, and analytics of conversations, widgets, statistics, and much more. Usually, their composition depends on the chosen tariff plan – the more features, the more expensive you need to pay. And for some, you will have to pay extra separately. The trick is to find an operator who will connect the functions you need the cheapest.
Rates
IP telephony is connected not only to solve business problems but also to save money. Each operator has its own tariffs. The total cost of telephony consists of a mass of components:
the tariff for communication;
the cost of calls;
the availability and number of free minutes;
the subscription fee for numbers;
the tariff for a virtual PBX;
the cost of additional functions, etc.
The task is to find an operator with the lowest rates for calls in the necessary directions, acceptable tariff plans for communication, subscription fees for numbers, a virtual PBX, and at the same time good functionality.
Technical support
Any self-respecting IP telephony company will provide technical support 24/7 with direct numbers for rapid dialing. It is a must-have. If you have found a service in which support works, for example, 10 am to 7 pm with weekends and holidays, feel free to go by. Unfortunately, problems often arise just after hours.
Basic and additional functions
When comparing telephony for business, entrepreneurs usually look at the ratio and cost of basic and additional functions. The main functions should be presented in full, even in the cheapest plan. The main of them are:
multichannel;
call queue;
statistics and reports;
possibility of integration with CRM;
voice menu.
A nuance is important here: what is considered basic and additional is always decided by the client, starting from the tasks of the business.
Is VoIP so necessary?
VoIP is undoubtedly an indispensable tool for modern business. When choosing a VoIP provider, consider the above criteria to ensure reliable and efficient communication for your company.

As one of the co-founders of Codeless, I bring to the table expertise in developing WordPress and web applications, as well as a track record of effectively managing hosting and servers. My passion for acquiring knowledge and my enthusiasm for constructing and testing novel technologies drive me to constantly innovate and improve.
Expertise:
Web Development,
Web Design,
Linux System Administration,
SEO
Experience:
15 years of experience in Web Development by developing and designing some of the most popular WordPress Themes like Specular, Tower, and Folie.
Education:
I have a degree in Engineering Physics and MSC in Material Science and Opto Electronics.