A cheap VoIP provider should have a list of features ranging from HD-free calls, automated text messages, and detailed analytics reporting capabilities and at the last but not least offer affordable prices.
There are multiple such providers currently available in the market; it might be difficult for you to make the perfect choice with so many options.
Hence to save you time and ensure that you invest your money in the right place, we have gathered and listed the top 10 most affordable VoIPs and discussed their features.
If you are in hurry and want a fast response, I highly recommend using Nextiva as the cheapest VOIP service.
Hopefully, at the end of this guide, you will be able to make the right choice of VoIP provider based on your business needs and budget.
Let's get started on our journey to explore the top 10 best cheap VoIP services for 2023.
Top 10 Cheap VoIP Phone Services for International Calls
| | | | |
| --- | --- | --- | --- |
| Provider | Price | Number of Minutes | Number of SMSes |
| Nextiva | Starts at $11.95/month/user | Unlimited on all plans | Unlimited on all plans |
| Phone | Basic users $10.39/month/user Plus users $15.99/month/user Pro users $23.99/month/user | 300 minutes on basic users plan Unlimited minutes on the plus and pro users plans | 1000 text segments on basic users plan Unlimited business text messages on other plans |
| RingCentral | Starts at $19.99/month/user | Unlimited for US and Canadian calls on all plans | Varies with plans. You can also purchase additional SMS |
| 8×8 | Small business phone system $15/month/user Voice, video, and chats for team $24/month/user | Unlimited domestic calling in former plan and unlimited domestic + international (14 countries) calling in latter plan | Business SMS in latter plan |
| DialPad | Starts at $15/month/user | Unlimited on all plans | Unlimited on all plans |
| Google Voice | Starts at $10/month/user | Unlimited on all plans | Unlimited on all plans |
| VoiceShot | Starts at $12/month/user | Based on plans 400, 1000, 2000, 5000 | Business text messages |
| CallHippo | Starts at $16/month/user | Price applicable per call | Price applicable per SMS |
| Ooma Office | Starts at $19.95/month/usee | Unlimited fot calls in US, Canada, Mexico, Puerto Rico | Price applicable per SMS |
| 800 | Starts at $19/month/usee | 5000 minutes on the basic plan and unlimited on above | Unlimited texting |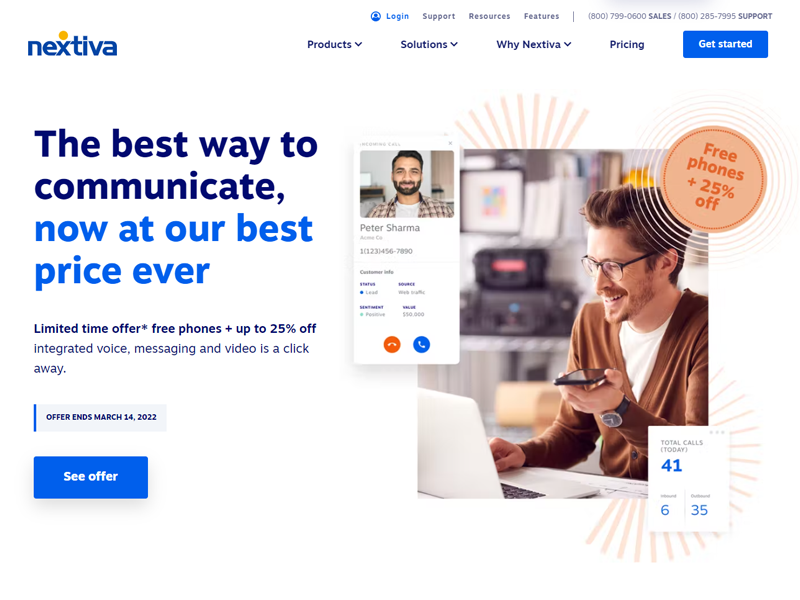 Nextiva is our top choice of the best VoIP service providers. It is secure, reliable, scalable, and can be set up very easily in mere few minutes. Its extensive features are unmatchable without any doubt.
The customer communication services at Nextiva are highly appreciable and contribute greatly to business growth. It is a unified platform for managing customer interactions.
It is well preferred for its 99.999% guaranteed uptime and straightforward management. Nextiva proudly serves 100,000 satisfied customers currently, and more companies are joining its community.
Main Features:
Let's look at what makes this platform an undisputed king of VoIP providers.
High Definition Calls-Nextiva, implicates the approach of HD calls made over the internet. It makes communication fast, clear and the outcome is satisfied customers.
Nextiva Application-Their mobile phone service application makes it possible for you to handle your office calls even on the go.
Unlimited Calls for America-If your clients are based in US or Canada, you can make free-of-low cost calls.
Unlimited text messages-At Nextiva, you can send unlimited business text messages to build effective relations with your clients.
Detailed Analytics-With this feature, you can keep an eye on every activity of your business. This feature lets to predict future opportunities and outcomes depending on earlier progress. It also gives you an idea of the area your business lacks to make necessary improvements. It also records and displays data related to your home phone calls and other interactions with customers.
Additional Features:
Other significant VoIP features at Nextiva are:
Unlimited internet faxing
Unlimited web video conferencing
Team chat
Free existing number porting
Free local and toll-free numbers
Auto-attendant for after-hours callers
Call routing
Voicemail and scheduled greetings
Display of Caller ID
Call recording tools and call quality ratings
Call forwarding
Three-way long distance calling feature for large projects
Call queuing and transfer
Custom notifications
Custom on-hold music
Artificial Intelligence support
Softphone eradicating the need for extra hardware
Pricing Plans:
Nextiva offered VoIP option plans are:
Essential $11.95/month/user
Professional $20.95/month/user
Enterprise $26.95/month/user
Ultimate $65/month/user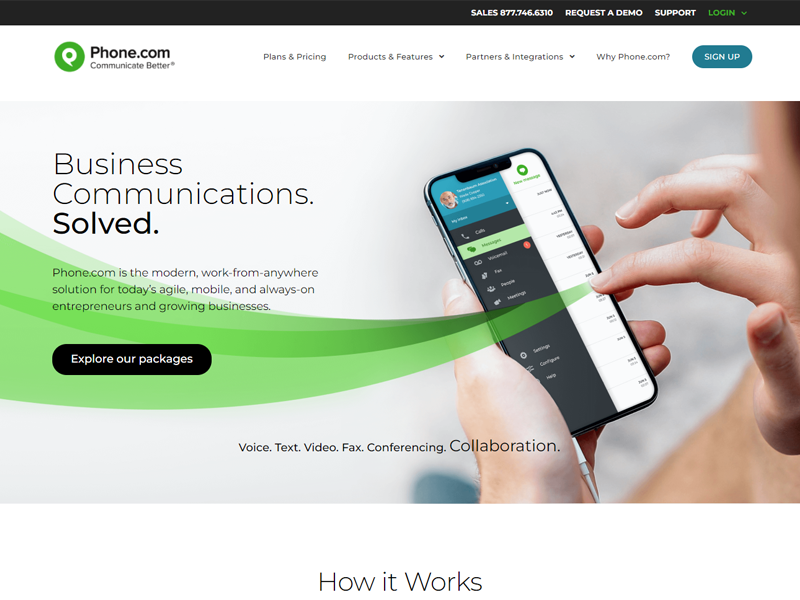 The phone is a platform that will keep you near your business, no matter wherever you are. It lets you handle all the virtual communications with your clients on a single device, be it a mobile phone, a laptop, or an office desktop.
On the phone, you can avail top-notch VoIP features at very low prices. It is a perfect fit for small businesses and large companies for its economical pricing and extensive features.
They also offer integration with many CRM applications to enforce better strategies for your business's growth.
Main Features:
Business Phone Number – Long gone are days when little things like using personal numbers to handle business calls were considered normal. Now, it is necessary to have a separate number to create an everlasting good impression on your clients.
Phone.com offers this feature at your convenience to have better CRM strategies. It offers a free local number, but you can always request a custom toll-free one. The platform's search engine is smart enough to make the right choice for you.
Port Existing Number –If you want to keep using your existing business number Phone.com allows free porting in easy steps.
Call Routing –Phone.com allows the creation of custom rules to route calls to specific locations.
Additional Features:
A few other vital VoIP features at Phone.com are:
Call queuing
Auto-attendant
Scheduled greetings
Internet faxing
Address book
On hold music
Audio conference calling
Mobile application
Up to date notifications
Integrated CRM software
Free number porting
Transcribed voicemail
Pricing Plans:
Phone.com has feasible pricing plans:
Basic users $10.39/month/user
Plus users $15.99/month/user
Pro users $23.99/month/user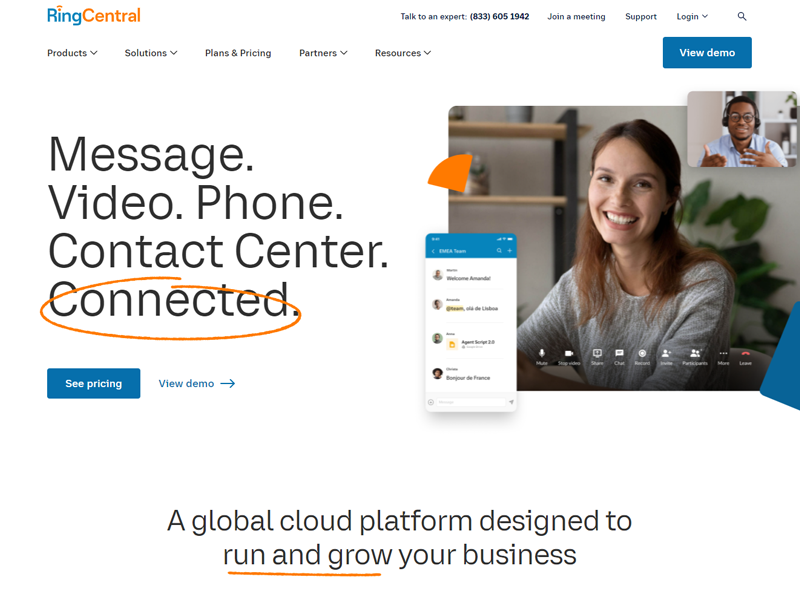 RingCentral is an international platform offering top-notch business phone solutions. They play a vital role in managing customer interactions leaving a positive impression. If your customers are satisfied today, their positive reviews will recruit more clients for you – transforming your business into a hugely successful venture.
Features:
The VoIP features offered by RingCentral are:
Multiple communication mediums to interact with customers (calls, text messages, video calling conferencing)
Highly responsive and 24/7 available technical team of experts
Quick analytical reports about calls made and your personal team's performance in the customer interaction area
A conversation medium for inter-team interactions
Toll-free and local numbers
Faxing through internet connection
Mobile device and desktop application for both android and iOS users
Scheduled greetings
Custom voicemails
Pricing Plans:
RingCentral offers four different plans, which are:
Essentials $19.99/month/user
Standard $27.99/month/user
Premium $34.99/month/user
Ultimate $49.99/month/user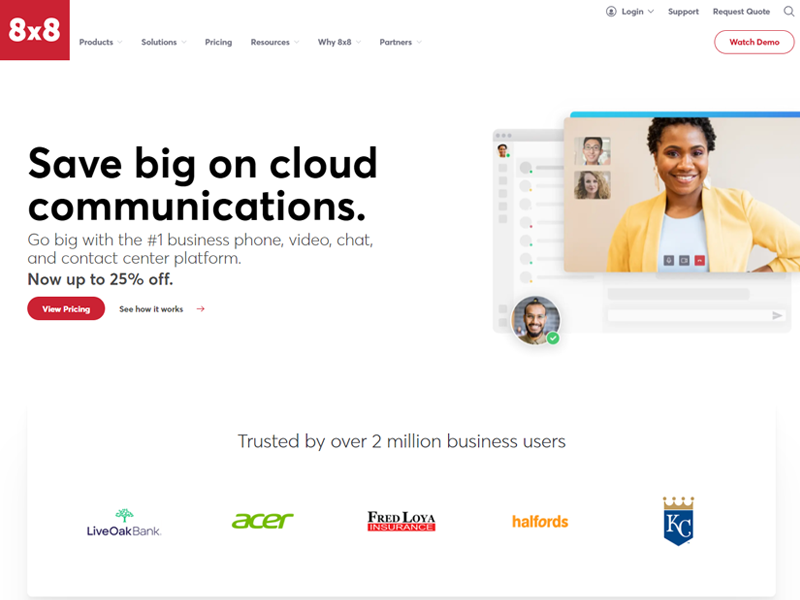 8×8 is a comprehensive cloud-based platform providing efficient VoIP services for years and is considered reliable by almost 2 million businesses from all around the world. They offer high-quality business communication features at very affordable rates.
Their services are greatly secured and can be trusted without threatening your privacy. Moreover, they have an inbuilt artificial intelligence to perform automated functions to make your professional life smooth.
Features:
Some significant VoIP features at 8×8 are:
AI guidance-The artificial intelligence association at 8×8 will benefit your business and provide a satisfactory experience to your customers. AI sponsors each interaction you make with your clients irrespective of the medium at 8×8.
Business Phone Application-The 8×8 application lets you manage local and international calls from a single platform.
High Definition Video Conferences-Besides HD video meetings, 8×8 also manages effective desktop or mobile screen sharing for computerized presentations.
Team Chat –Your business team can also stay connected at a collaborative team chat 8×8 offers. This feature ensures better connectivity and engagement amongst team members, which directly affects business productivity.
Integrations-8×8 has integrations with multiple CRM applications to enhance its already efficient services.
Up To Date Analytics-At 8×8, unified customer interactions and team performances analytics will help your business thrive and shine more. In this way, you can know about your areas of improvement and take important measures.
Additional Features:
Few other features are:
Call recordings
99.999% uptime SLA
35+ cloud-based locations
24/7 customer support services
Training programs
Pricing Plans:
8×8 offers the following pricing plans:
Small business phone system $15/month/user
Voice, video, and chats for team $24/month/user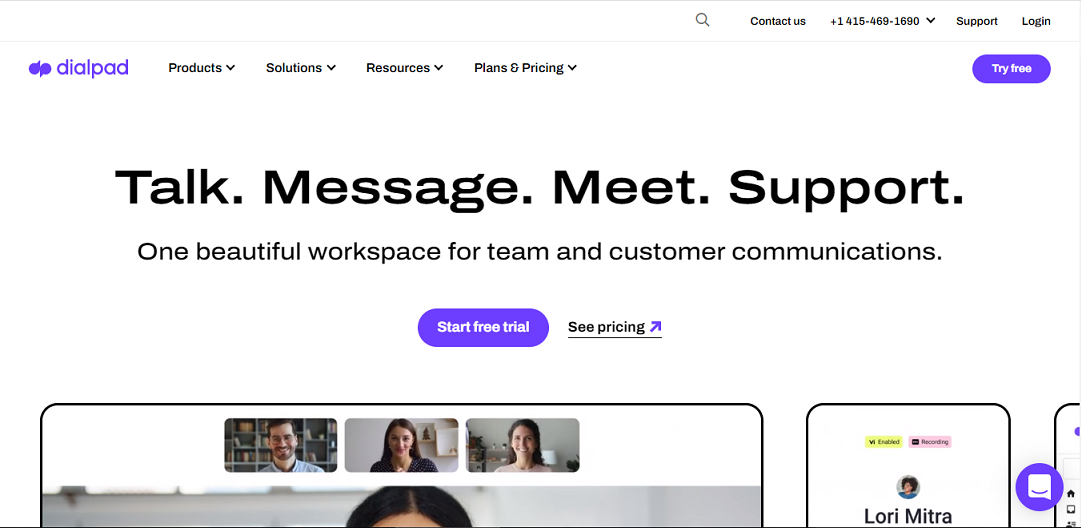 DialPad aims to offer a complete package that handles business calls, texts, voicemails from any device at any corner of the world. Moreover, its tools facilitate chatting, sharing files, forwarding messages for faster networking between your team and valuable clients. They also offer a 14-day free trial on each plan. Precisely, DialPad lessens your work burden by letting you manage business calls, messages, and meetings on a single platform.
Features:
The significant VoIP features at DialPad that make it a consolidated platform for handling business communications are:
Unlimited calls
Unlimited SMS and MMS
Modern-day fax features
Smart call forwarding and transfer
Calls can be muted or put on hold as well
Customized greetings through voicemail
Up to date transcriptions of voicemail
After hours auto attendant
Integration with Office 365 and different customer relationship management software
Highly functional ring groups
Office desk VoIP phone system maintenance
Maximum uptime guarantee with landline service level agreement
Built-in artificial intelligence automatically transcribes calls, display relevant analytics, show communication summary, and performs many such tasks with an automated approach
Analytical details of every call, team's performance, areas of improvement are displayed as easy to understand trends
Pricing Plans:
The plans offered at DialPad are stated below:
Standard $15/month/user
Pro $25/month/user
Enterprise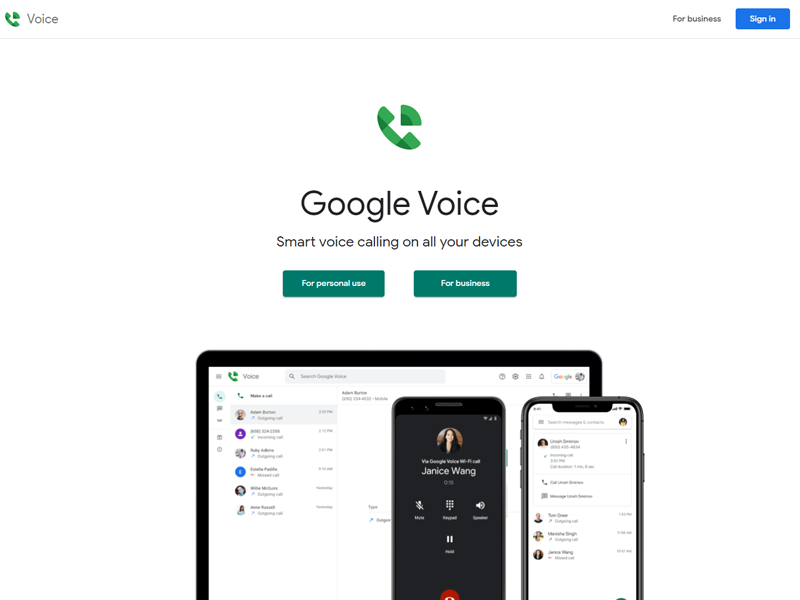 Google Voice is a one-stop solution for business calls. The size of the business setup does not matter as it effectively handles unlimited communications equally at a mini startup and a well-spread enterprise. It is very convenient to use and its smart features packaged with scalable opportunities are unmatchable.

Features:
Handle Communications on The Go-You can use Google Voice features on every medium like mobile phones, laptops, office desktops. It allows you to stay in touch with your customers no matter where you are, at the home, office, or even on vacation. Customers are valuable; hence should never be ignored no matter what.
Workspace Administrative Console – Google Voice's admin console provides ease to their customers in every possible manner. You can customize the features according to your work burden very easily. Moreover, they allow free existing number porting, effective billing procedures, and more to provide a solid customer experience.
Artificial Intelligence-Google's highly functional AI performs automated tasks like blocking spam calls copying out voicemails to text. Moreover, the Voice has integrations with Google calendar and meet application offering a complete package at very reasonable rates.
Multilevel Attributes-You can put Google's voice plan in action in very little less time for local and international purposes. It does not require you to be highly familiar with IT for its administration. Moreover, you can conveniently set up multilevel auto attendants for business voip calls; the ring group is another important feature. Calls are forwarded to all added extensions and the first to pick deals with the customer. This feature ensures that the customer never goes unattended.
Pricing Plans:
Google Voice pricing plans are:
Stater $10/month/user
Standard $20/month/user
Premier $30/month/user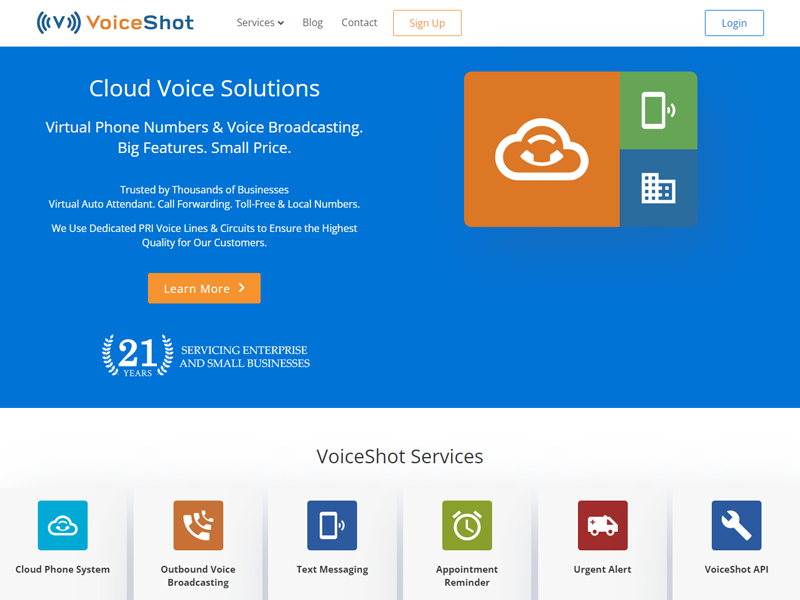 VoiceShot has an automated phone system that can save a lot of your time. Their virtual cloud-based approach lets you manage your business communications from any corner of the world. They indeed provide big features at small prices.

Features:
2 Numbers 1 Phone-This feature allows the inclusion of a new business number to any employee's mobile.
Call Forwarding-You can easily forward incoming calls to the number of your convenience with VoiceShot's voice over internet protocols tools.
Voice Menu-VoiceShot has an inbuilt feature of the voice menu; press 1 for sales, press 2 for any other function, etc. It is highly customizable, and you add extensions and functions accordingly. Moreover, customizations of this voice menu are very easy. You can type the menu or record it and upload an MP3 file. You can upload unlimited menus. They will also send you an immediate email upon every option chosen by the customer from the voice menu.
Custom Messages for Calls made After-Hours-When any caller attempts to call you after business hours, they will be greeted with an automated custom message. Moreover, you can also activate an auto attendant to deal with such callers.
Call Transferring and Queuing –You can easily transfer calls to your team member of the relevant department to strongly impact the customer. Moreover, calls can be queued and transferred to multiple extensions during peak business hours. This feature ensures better collaboration within the office team and a satisfactory customer experience.
Additional Features:
A few other important features are:
30-Days free trial
Activation of phone line system in minutes
United States-based traditional phone and Email customer support services
No hidden charges at purchase or return of packages
Toll-free and local virtual phone numbers
No extra devices to purchase
Unlimited extensions
On hold music
Call blocking
Virtual caller ID
Port your existing business phone number for free
Up to date emails about incoming and outgoing calls
Android and iOS application
Scheduled greetings
Pricing Plans:
Let's have a look at pricings plans at VoiceShot based on allotted minutes.
400 minutes/month: $12/month/user
1000 minutes/month: $19.95/month/user
2000 minutes/month: $24.95/month/user
5000 minutes/month: $79.95/month/user
5000+ minutes (custom plan)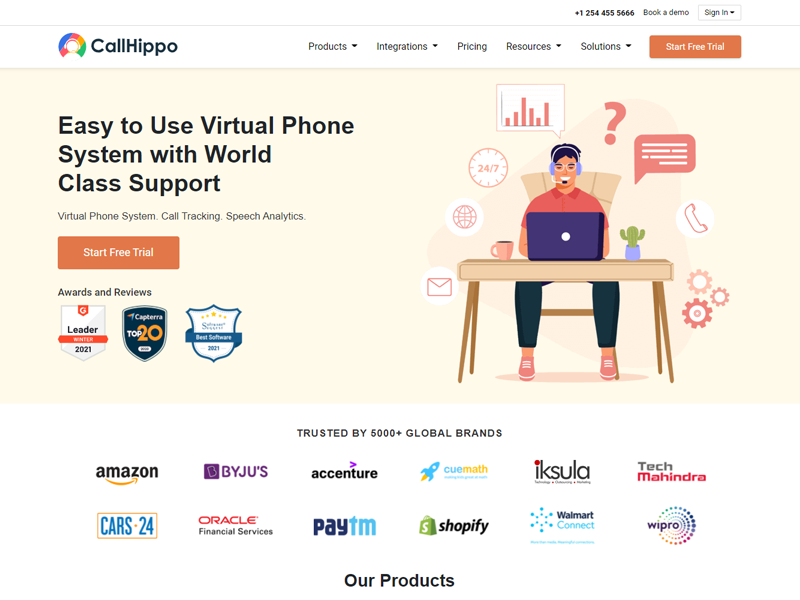 CallHippo provides the quickest VoIP services; You can set up your virtual office phone system in mere 3 minutes. They have solid advanced features, and their all-in-one phone system can provide comprehensive business communication solutions.
Main Features:
Power Dialer-The automated power dialer at CallHippo will save a lot of your time by automatically calling a list of customers to make them aware of your upcoming deals or any other important announcement.
Smart Switch-CallHippo allows you to choose from different ways of communication each time before making a call. This flexibility ensures quick communications and a full stop to connectivity problems.
International Calling –CallHippo displays all the details required for international communication like time zone, date, period of numbers' validity, and other similar data. This feature helps customize calls at the right local time, leading to a better impression on customers.
Smart Call Forwarding and Transfer-CallHippo's VoIP calling tool is smart enough to forward calls to your number when you are away from the office desk – all without any idea to the caller. Moreover, you can also transfer calls to any team member with this tool. It will leave the right impression on the customer when a member of the relevant field deals with him.
Additional Features:
A few other important features availed at CallHippo are:
Audio conferences with your team to ensure collaborative teamwork and better outcomes.
Call queuing at peak hours lets customers know about potential delays through automated messages.
Call barging feature lets you listen to call lives, giving better solutions to the customers.
Calls are recorded with a call recording tool to keep track of developments with the particular client.
Voicemail messages at the start of each call your customer makes play an important role in increasing the brand value.
Call analytics will let you better understand your teams' performance, areas of improvement, number of calls missed, and much more similar trends to contribute to better team performance.
CallHippo also has an exciting feature where callers can listen to music when put on hold.
Pricing Plans:
Let's look at the pricing calling plans CallHippo offers for their clients.
Bronze: $16/month/user
Silver: $24/month/user
Platinum: $40/month/user
Enterprise: $48/month/user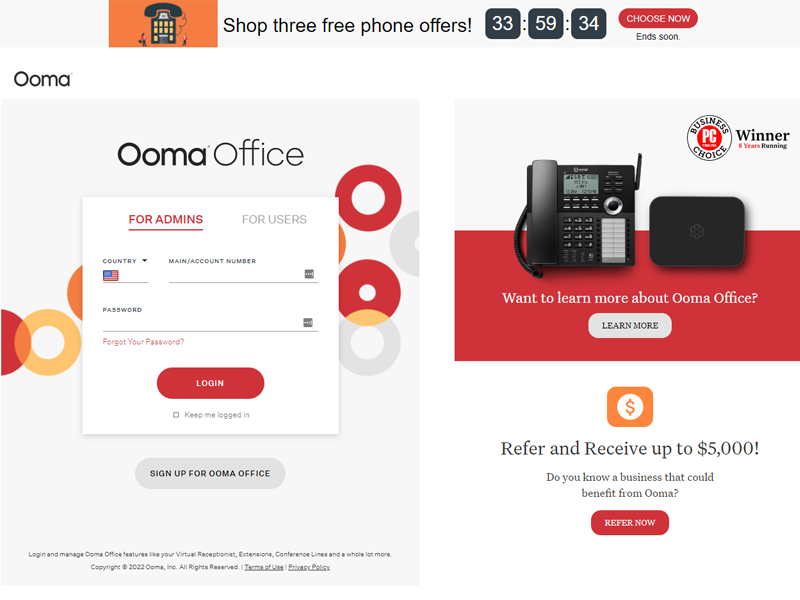 Ooma is a cloud-based platform and offers a list of great features to make entrepreneurs' lives easier. They also have a mobile app where you can handle customer communications even when you are not working; it deflects the value given to the customers. Their software effectively handles all the responsibilities of a receptionist virtually.
Their provided features display the value this platform gives to communications and customizations. They are suitable for businesses ranging from new startups to well-established enterprises. They offer top-notch business VoIP services and call center VOIP solutions designed to meet your business demands smartly. It won't be wrong to say that Ooma lets you stay connected to your customers continuously, and a better customer experience will indirectly affect your business growth.
Features:
Within a small platform of Ooma, you can get every feature to make your business thrive and shine through better relations with your customers. Let's have a look at their VoIP services.
High definition calls
Video conferences with chatting
Automated and custom text messages
Modern faxing
No charges for toll-free and local numbers
Mobile and desktop application; contributing to utmost convenience of use
Call center solutions
Call waiting transfer
Unlimited domestic calling
Special communication features for Microsoft teams
Collaboration with office team through SIP trunking
Drag and drop call flow
Pricing Plans:
Ooma has two different pricing plans to choose the one according to their needs and budget. Moreover, they can easily be updated at any instance.
Ooma office $19.95/month/user
Ooma office pro $24.9/month/user
Ooma enterprise $27.99/month/user
Ooma enterprise call center $49.99/month/user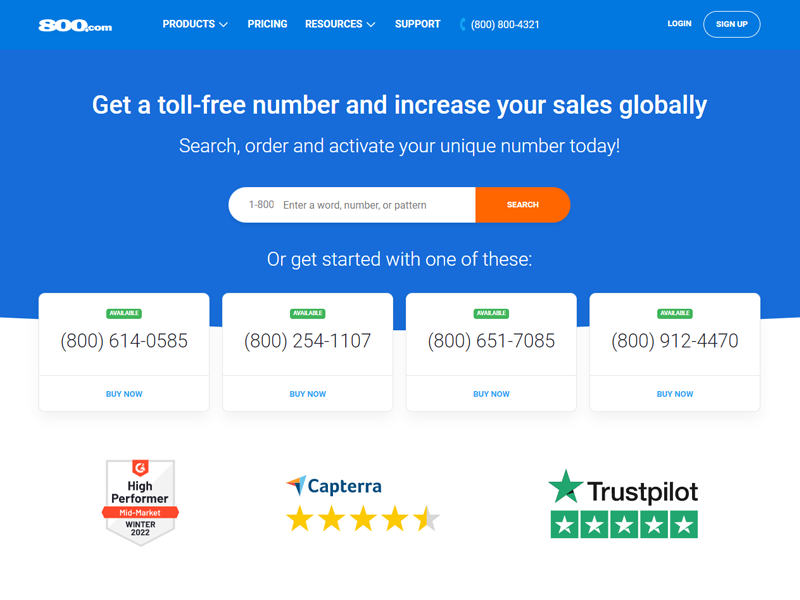 800's VoIP offers two in one service; they let you manage communications effectively for a satisfactory customer experience. At the same time, these services increase your brand's awareness and marketing capabilities.
Their feature of vanity number will greatly enhance your sales not just locally but also internationally. They allow the personalization of business phone numbers, for which you can easily search, order, and activate in mere few minutes.
Features:
800.com offers extensive VoIP features that will make your communications with customers easier.
Attend forwarded calls
You can manage it on the go
Voicemail dependency is minimum
No charges for the customer
Customized vanity phone number (a number that will spell your company's name)
Toll-free number
Call and marketing campaign tracking capabilities
Important leads are also tracked
Clear cut trends of each call (location, time)
Call recording tools
Keywords spotting
Automated and custom messages to announce new events at your platform
Three different APIs (SMS, Webhooks, Provisioning)
Pricing Plans:
Let's have a look at their economical pricing plans.
Personal yearly $19/month/user
Unlimited yearly $49/month/user
Pro Yearly $199/month/user
Note: These prices are to be billed annually. For monthly payments, they charge different and higher prices.
Cheap VoIP Services FAQs
Are there any free VoIP services?
Yes, Google Voice offers free plans for solo entrepreneurs, which come with a single cell phone number for a single user. However, since it is free of cost, it does not come with high-level features like those paid business plan offers. But it is a perfect choice for freelancers or entrepreneurs running small startups who could not afford to pay bucks for availing VoIP services.
How much is VoIP monthly?
Most VoIP providers charge their clients every month on the basis of the number of users. Several different VoIP providers are available in the market, each with multiple pricing plans and structures. Prices might vary if you choose to make annual payments.

For instance, Nextiva charges $35/month for 1-4 users, but upon annual billing, the per month rate is reduced to $33. On average, the pricing is between $20 to $35 per month. It depends upon the number of users and the quality of promised features.
Conclusion
VoIP is an integral part of customer-provider relationship management. It means that whichever service provider you have chosen to invest in must have all the important features required to maintain effective communication strategies and, most importantly, is economical.
We have listed the top 10 providers who provide undoubtedly extraordinary features and are also cheap to suit your likes. You can now decide which platform is perfect for you based on its prices and features.

As one of the co-founders of Codeless, I bring to the table expertise in developing WordPress and web applications, as well as a track record of effectively managing hosting and servers. My passion for acquiring knowledge and my enthusiasm for constructing and testing novel technologies drive me to constantly innovate and improve.
Expertise:
Web Development,
Web Design,
Linux System Administration,
SEO
Experience:
15 years of experience in Web Development by developing and designing some of the most popular WordPress Themes like Specular, Tower, and Folie.
Education:
I have a degree in Engineering Physics and MSC in Material Science and Opto Electronics.