Are you searching for a VPS in the USA? After conducting some research, I have listed some VPS(Virtual Private Server) providers that are genuinely based in the USA with headquarters and data centers.
These providers are also renowned worldwide for the quality of service, support, and security they offer.
The Top 5 Best VPS USA
| Feature / Provider | Bluehost | DigitalOcean | Hostgator | GoDaddy | InterServer |
| --- | --- | --- | --- | --- | --- |
| Starting Price | $29.99/month | $5.00/month | $23.95/month | $9.99/month | $6/month |
| Uptime Guarantee | 99.9% | 99.9% | 99.9% | 99.9% | 99.9% |
| Free Domain | Yes (1st year) | No | Yes (1st year) | Yes (1st year) | No |
| Customer Support | 24/7 | 24/7 | 24/7 | 24/7 | 24/7 |
| Money-back Guarantee | 30 days | 30 days | 45 days | 30 days | 30 days |
| Server Locations | USA, EU, ASIA | USA, EU, ASIA | USA, EU, ASIA | USA, EU, ASIA | USA, EU, ASIA |
| G2 User Rating | 4.3 | 4.6 | 3.6 | 4.1 | 3.9 |

SSD-based VPS hosting
Highly customizable droplets
API and CLI tools available
Active community and tutorials
See Pros & Cons
Pros
Flexible and scalable solutions
Developer-friendly environment
Fast SSD storage
Reliable uptime
Cons
Lacks traditional cPanel
Can be complex for beginners
DigitalOcean is the best VPS in the USA and offers the latest technology like NVMe and SSD storage, load balance, Kubernetes etc.
The provider offers a customizable and scalable solution, allowing users to create droplets that suit their needs precisely.
DigitalOcean emphasizes speed and efficiency, with fast NVme storage and a robust network infrastructure ensuring reliable uptime. Their API and CLI tools make it a versatile choice for developers.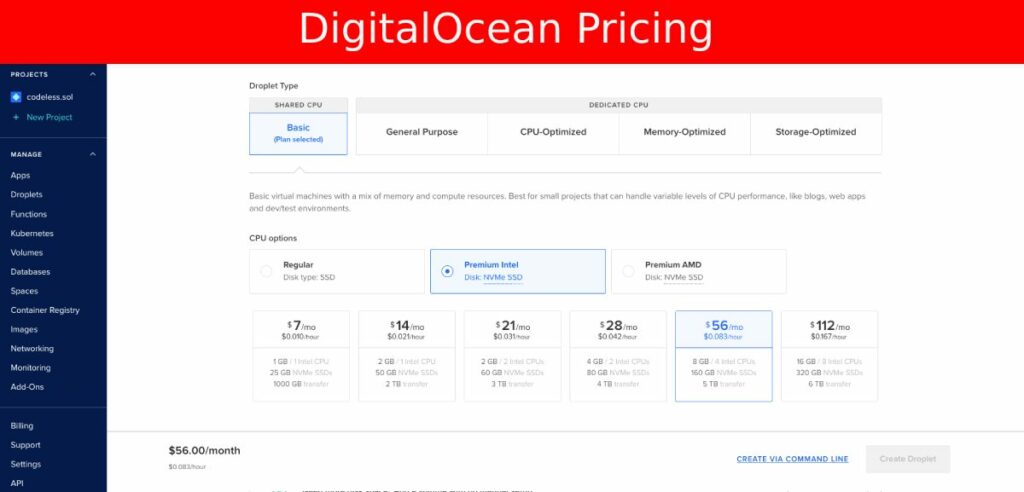 Though it might lack a traditional cPanel, making it a bit complex for beginners, it more than compensates for it with a range of features designed to offer flexibility and control over your hosting environment.
With plans starting at just $5 per month, it offers an affordable solution for those looking to harness the power of cloud hosting. Its active community and a plethora of tutorials make it easier to get acquainted with the service.
Read More: Cheap VPS Providers

45-day money-back guarantee
Free website migration
One-click installations
24/7 customer support
See Pros & Cons
Pros
User-friendly interface
Robust uptime
Flexible plans and pricing
Excellent customer support
Cons
Upselling of add-ons
Renewal rates can be high
Hostgator is one of the most known web hosting providers located in Austin, Texas and they offer shared, Dedicated, and VPS services.
HostGator stands out with its 45-day money-back guarantee, offering users a risk-free opportunity to try their services. Known for its user-friendly interface, it provides an excellent platform for beginners and professionals alike.
The provider offers a range of affordable plans. With one-click installations and 24/7 customer support, it aims to make the web hosting experience as smooth as possible.
Their VPS plans start $23.95 and offer a data center in the USA. Also, their services come with cPanel so are very user-friendly.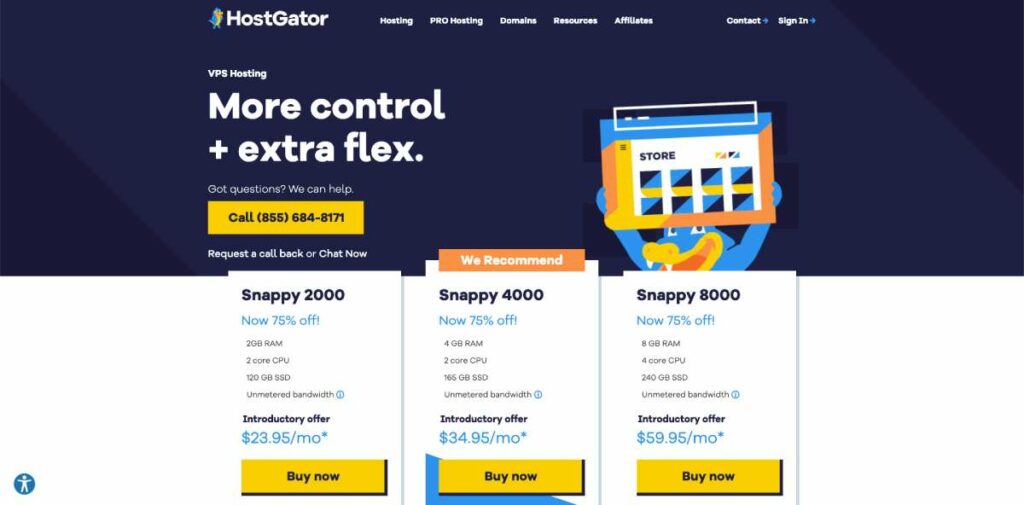 Despite the potential for high renewal rates and the upselling of add-ons, HostGator remains a popular choice due to its robust uptime and flexible pricing and plans, which suit a variety of needs and budgets.

Integrated website builder
Wide range of domain services
24/7 customer support
Reliable uptime
Starting at $9.99/month with 36 months commitment
See Pros & Cons
Pros
Comprehensive service offerings
Good performance and speed
User-friendly website builder
Excellent customer service
Cons
Higher renewal prices
Many services are add-ons with additional costs
GoDaddy, a household name in the domain registration and hosting industry, offers a comprehensive range of services, including a user-friendly website builder and reliable uptime.
They are USA-based in Tempe Arizona, and their VPS has data centers in different parts of the world.
The provider integrates a multitude of features into its platform, ensuring that users have all the necessary tools at their disposal.
Starting at $9.99 per month (3-year term) VPS GoDaddy offers an affordable entry point for many users. Though the renewal prices can be on the higher side, the initial affordability combined with the provider's reliability and customer service make it a popular choice.

The 24/7 customer support ensures that users always have help at hand, making the entire hosting experience smooth and hassle-free. However, users should be cautious of the additional costs that can accrue from the various add-ons and services.

Price lock guarantee
Free migration service
24/7 customer support
99.9% uptime guarantee
See Pros & Cons
Pros
Affordable pricing
Excellent customer support
Reliable performance and uptime
Price lock guarantee
Cons
Site design can be outdated
Limited server locations
InterServer is an affordable hosting provider based in Secaucus, NJ, and data centers also in LA in the USA.
With a 99.9% uptime guarantee, InterServer ensures that your website remains accessible round the clock. Its customer support is available 24/7, helping users resolve issues promptly.

Despite an outdated site design and limited server locations, InterServer's commitment to affordable pricing and reliable performance make it a worthy contender in the hosting industry. The free migration service further adds to the convenience, making the transition to InterServer smooth and hassle-free.

SSD storage for better performance
Free domain name for the first year
24/7 customer support
30-day money-back guarantee
See Pros & Cons
Pros
Robust security features
Fully managed service
Enhanced cPanel for easier management
Excellent customer service
Cons
Can be pricey compared to others
Renewal rates are high
Bluehost host offers VPS and it is based in Jacksonville, Florida, US. Their services are characterized by SSD storage that promises better performance and faster load times, ensuring a seamless user experience.
One of Bluehost's distinctive offerings is the provision of a free domain name for the first year, which eases the initial setup process for new website owners.
Their services are fully managed, meaning they take care of the server management and maintenance, letting you focus on building and growing your website.
Despite being a bit pricey compared to other providers, with plans starting at $18.99 per month, Bluehost offers robust security features and an enhanced cPanel that facilitates easier management of your hosting environment.
Moreover, the 24/7 customer support and a 30-day money-back guarantee add a layer of reliability to their offerings.
While the renewal rates might be on the higher side, Bluehost's excellent customer service and an array of features designed for performance make it a popular choice among businesses and individuals seeking a dependable hosting solution.
Also, Bluehost is one of the recommended providers by WordPress so it is optimized for WordPress Hosting.
FAQs
Why choose a USA-based VPS provider?
Choosing a USA-based VPS provider can offer a range of benefits including faster website load times for users located in the USA, adherence to US data protection laws, and often access to better infrastructure and technology.
Are the listed VPS providers equipped with data centers in the USA?
Yes, the VPS providers mentioned in the article have their headquarters and data centers based in the USA, ensuring optimal service quality and security.
Are VPS services based in the USA more expensive?
The cost of VPS services based in the USA can vary widely depending on a variety of factors including the provider, the resources and features included in the plan, and the specific location of the data centers. In general, VPS services in the USA might be priced slightly higher compared to other regions due to the premium on the infrastructure and technology available in the country. However, it's always best to compare several providers to find a solution that offers the best value for your specific needs and budget.
Conclusion
After conducting tests and drawing from my personal experience, I would always recommend DigitalOcean. However, you must understand that it may not be the solution for everyone. DigitalOcean requires some skills pertaining to Linux systems for configuration. But if you have the ability, DigitalOcean is the most optimal choice offering excellent performance along with full control over the server. You even have the liberty to choose your preferred data center during the setup process.
If you are looking for something simpler to manage, I would advise going with Hostgator, which is quite user-friendly through cPanel and offers satisfactory support.

As one of the co-founders of Codeless, I bring to the table expertise in developing WordPress and web applications, as well as a track record of effectively managing hosting and servers. My passion for acquiring knowledge and my enthusiasm for constructing and testing novel technologies drive me to constantly innovate and improve.
Expertise:
Web Development,
Web Design,
Linux System Administration,
SEO
Experience:
15 years of experience in Web Development by developing and designing some of the most popular WordPress Themes like Specular, Tower, and Folie.
Education:
I have a degree in Engineering Physics and MSC in Material Science and Opto Electronics.