It can be challenging to find the best blog hosting services in these times when there are a lot of possibilities. Using a substandard blog host can make it even more difficult to succeed because you may have to deal with slow loading times, crashes, and even inadequate security.
Here is a short list of the top blog hosting sites:
Your blog may suffer due to a poor web host or even completely stop working.
Making the appropriate hosting platform choice is essential to providing your readers with the best possible user experience.
The top hosting services provide quick site loading times, robust security, and attentive customer support. Additionally, they fit into your budget, which is a crucial factor to take into account for new bloggers who haven't yet begun to earn money.
Buying a hosting plan is the first step in starting a significant blog that attracts a large audience and generates income. Your host is essentially where your blog resides online; for a monthly subscription, you can purchase a domain and create the blog of your dreams. We have evaluated some of the top blog hosting websites to help you start your blog quickly by assisting you in sorting through your possible choices.
The Top 7 Best Blog Hosting Services Providers
Best Overall Blog Hosting Provider

Free SSL certificate
Free Domain
User-friendly interface
WordPress staging
Starting from $2.95/month
See Pros & Cons
Pros
It is reliable with an average of 99.99% uptime.
User-friendly user interface
It has 24/7 fast and competent user support.
It provides very fast hosting services.
Its basic plan comes at a relatively low starting price
Every plan includes a $100 Google Ads credit
It includes a free SSL certificate that protects connections
Cons
It gives less storage on the basic plan as compared to other providers.
Bluehost only costs $3.95 when you sign up for 36 months, and you must pay the entire amount upfront, which could result in higher than anticipated startup costs for your blog.
None of the plans come with a free email address and hence if you want a custom email address for your blog, you'll need to use Google Workspace or Office 365.
It is at the top of the list for a variety of reasons. They have 99.99% uptime and lightning-fast loading times. WordPress officially recommends Bluehost, which hosts over 2 million websites worldwide. Their hosting receives high marks from users for its simplicity and dependability.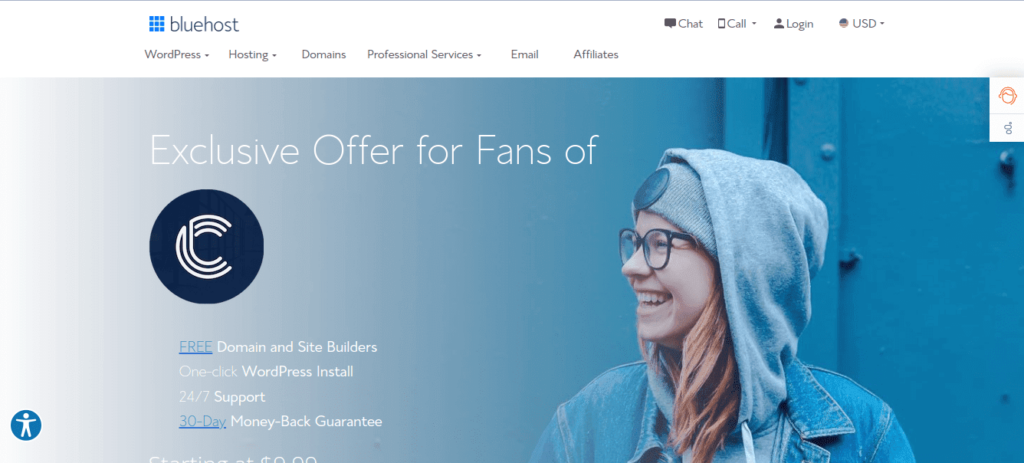 Bluehost provides low-cost hosting as well as a free domain name for a year. The service includes managed WordPress hosting as well as advertising, social networks, and SEO tools including content improvement suggestions, and keyword selection.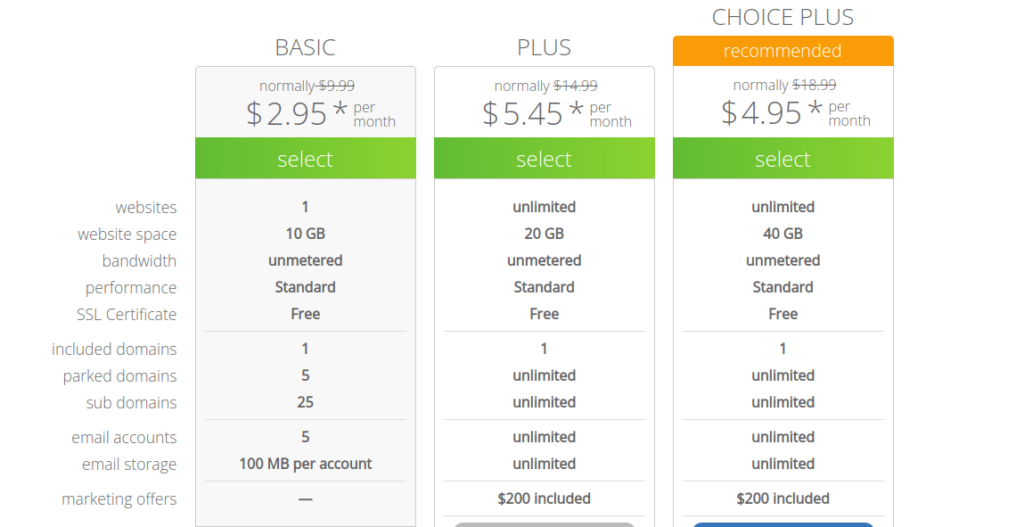 It also provides three types of hosting: shared, dedicated, and virtual private server. Shared hosting means that your blog will share server space with other websites and blogs. If you select Dedicated hosting, the blog will be hosted on a designated private server, ensuring maximum uptime and stability.
With virtual private servers, you're on a shared server but have access to private server space thanks to software that is installed on the physical server. This is a balance for both shared hosting and dedicated hosting.
Bluehost is the best web hosting for small business owners and beginners because of its ease of use and 1-click WordPress installation. Apart from that, Bluehost provides excellent 24/7 customer support and a fantastic support team that is both quick and friendly. If you are switching from another web hosting company, they will also provide you with a free website migration.
Features
| | |
| --- | --- |
| Free SSL certificate | Yes |
| Free domain | Yes |
| User-friendly interface | Yes |
| Reliability | 99.99% uptime |
| Price per month | $2.95 (Basic), $5.45(Plus), $4.95(Choice Plus) |
| Google ads credit | Yes |
| 24/7 customer support | Yes |
| WordPress staging | Yes |
Best for
If you want to commit to a multi-year web hosting plan and you intend to build your website with WordPress, Bluehost is a fantastic choice to take into account.
One of the most comprehensive services for developing WordPress websites, the business has been endorsed by WordPress since 2005. It is also recommended for newbies and novices because of its ease of use on the cPanel.
Cheapest Blog Hosting

Free weekly backup
24/7 customer support
Uptime 99.9%
Starting from $2.59/month
See Pros & Cons
Pros
It provides cheap hosting services.
It provides a free domain and SSL certificate.
It is reliable with an average of 99.90% uptime.
It is fully optimized for WordPress blogs and websites.
Hostinger employs its own management panel called the hPanel. It is intended to be comfortable and simple to use.
Cons
Its most basic shared hosting plan only includes only one email account.
Hostinger's customer service is slightly less remarkable than its features, with no 24/7 channel support and no phone or community center services.
Hostinger is most likely the cheapest blog hosting that provides great results for any type of blog. Its shared hosting plans start at $2.59 per month and include free weekly backups as well as enough bandwidth for 25,000 visitors.
Normally, you must back up your site yourself or pay a fee, but Hostinger provides that peace of mind for free. You'll also receive a free one-year domain name and a free SSL Encryption certificate to help secure your website.
It has a 99.90% uptime guarantee and the provider is heavily focused on WordPress, which makes it ideal for hosting blogs. If you pay for 48 months, Hostinger costs only $1.59 per month. If you're looking for a dependable and cheap web hosting service, look no further than Hostinger.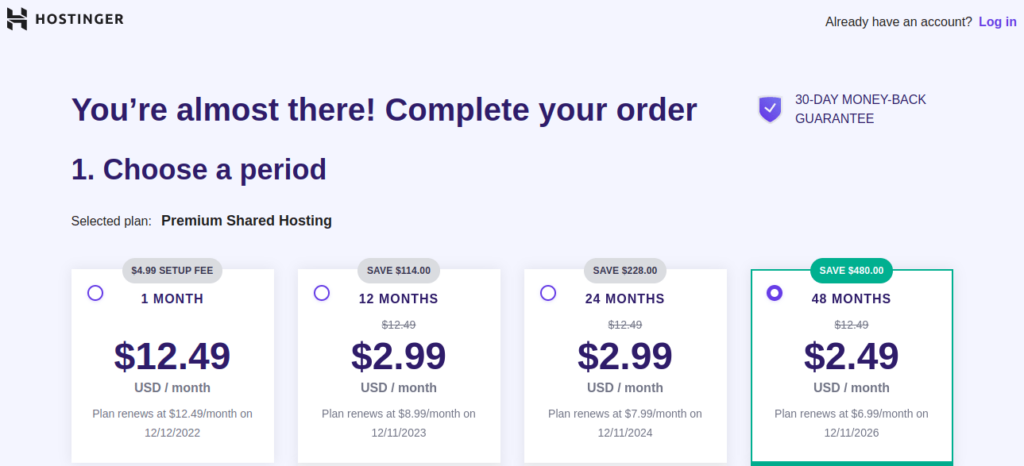 Hostinger has the fastest loading speed because it is pre-installed with caching WP plugins, NGINX and HTTP.
Features
| | |
| --- | --- |
| Free SSL certificate | Yes |
| Free Domain | Yes |
| User-friendly interface | Yes |
| Free weekly backup | Yes |
| Reliability | 99.90% uptime |
| Price per month | $2.49 |
| 24/7 customer support | Yes |
| WordPress staging | Yes |
Best for
For a variety of use cases, we can recommend Hostinger with confidence. It's a fantastic choice for newly launched websites looking for reliable hosting at a reasonable cost. Higher-traffic websites that want to scale without switching providers should consider Hostinger as well.
Best Unlimited Hosting for Blogs

Unlimited Storage
Unlimited Bandwidth
Free SEO Tools
Starting from $2.64/month
See Pros & Cons
Pros
Free domain names and pre-configured SSL.
Email accounts, bandwidth, and storage are all unlimited.
HostGator offers a 1-click WordPress installation.
For managing websites with dashboards and cPanel.
It is reliable with an average of 99.99% uptime.
It offers free site migration.
User-friendly user interface
Cons
High cost of monthly subscriptions.
Similar to Bluehost, a multi-year commitment is required and must be paid in advance, which can be pricey for some bloggers. Your up-front cost for the 36-month Hatchling plan is going to be $99 dollars.
Provides its customers with unlimited bandwidth and storage. They host close to 10 million websites and blogs globally, making them one of the most widely known web hosting services on the globe.
It can be used whether a blog is intended for a small or large audience. Some plans include free SEO tools that can assist the blogs to rank higher in search engine results pages.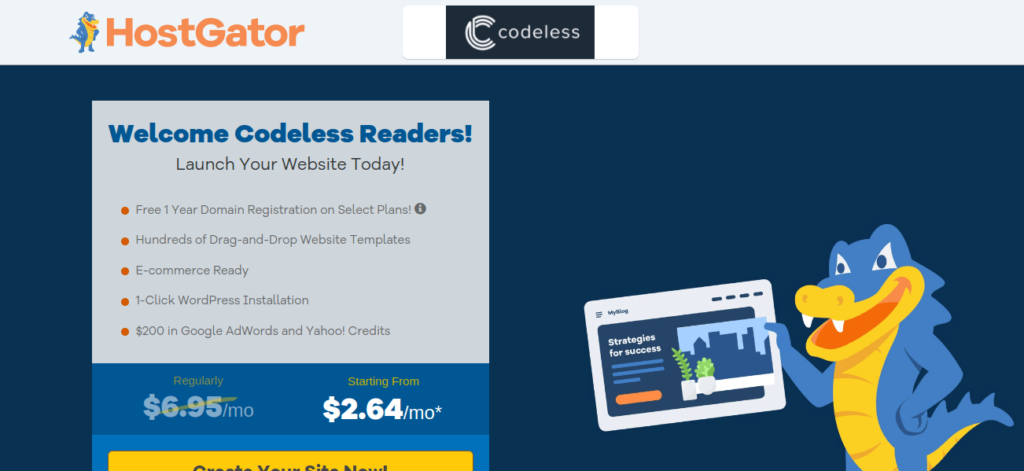 Even in its basic plan, it is one of the few providers that offers unlimited storage, bandwidth, and email accounts. Furthermore, the free domain and SSL make it an all-inclusive option. There are no additional costs. Great resources combined with ease of use make this provider an excellent choice for blog hosting.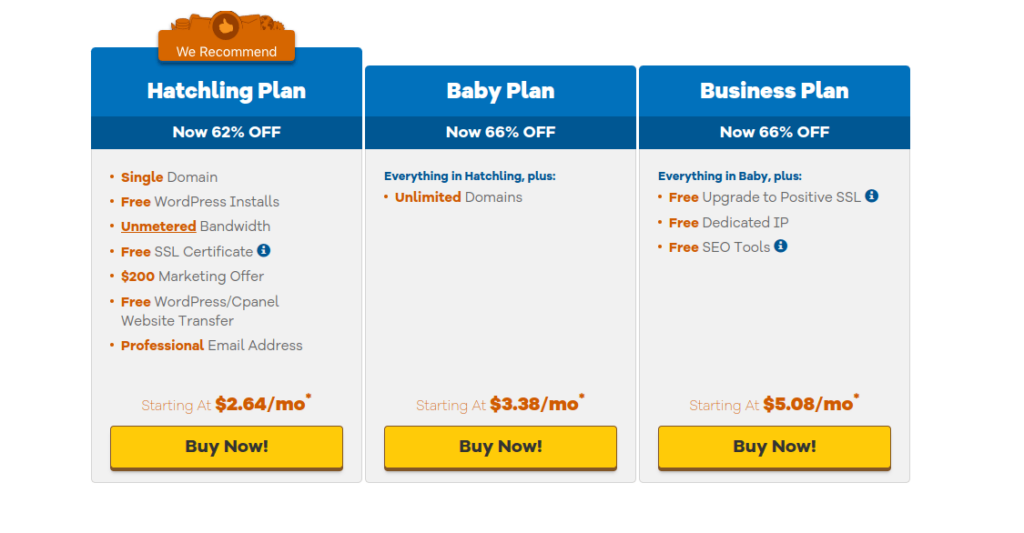 Ultimately, HostGator is a dependable and user-friendly web hosting provider. Its "unlimited" plans and low prices are ideal for bloggers' needs.
Features
| | |
| --- | --- |
| Free SSL certificate | Yes |
| Free domain | Yes |
| User-friendly interface | Yes |
| Free email accounts | Yes |
| Reliability | 99.99% uptime |
| Price per month | $2.64(Hatchling Plan), $3.38(Baby Plan), $5.08(Business Plan) |
| Google and Yahoo ads credit | Yes |
| 24/7 customer support | Yes |
| WordPress staging | Yes |
Best for
The best uptime guarantee available is provided by HostGator at 99.99% and unlimited resources. This implies that the annual downtime for your website will be less than an hour.
HostGator is the best option if you're looking for dependability; this level of consistency is ideal for any site, but it's especially beneficial if you're setting up an e-commerce site.
Best Shared Hosting for Blogs

97 Days Refund Policy
100% Uptime
WordPress Recommended
See Pros & Cons
Pros
DreamHost offer two shared hosting packages, both of which are incredibly affordable given the storage, bandwidth, and security features they come with.
Every plan includes an SSL certificate, giving your blog a more professional appearance and making 
Security is one area in which DreamHost excels. You receive a variety of tools and security options that the majority of providers charge extra for.
DreamHost has an almost 100% uptime guarantee, which makes it very dependable.
You won't have any trouble using the host's native management panel for managing websites.
Cons
All shared website hosting plans do not come with a free domain, but both WordPress hosting plans do.
The basic plans do not include free email
There is no direct telephone support
More than 1.5 million websites can be found on DreamHost. Users trust DreamHost since they offer quick websites in plain language at excellent prices. The business offers a 100% uptime guarantee and will give you compensation if your website is unavailable.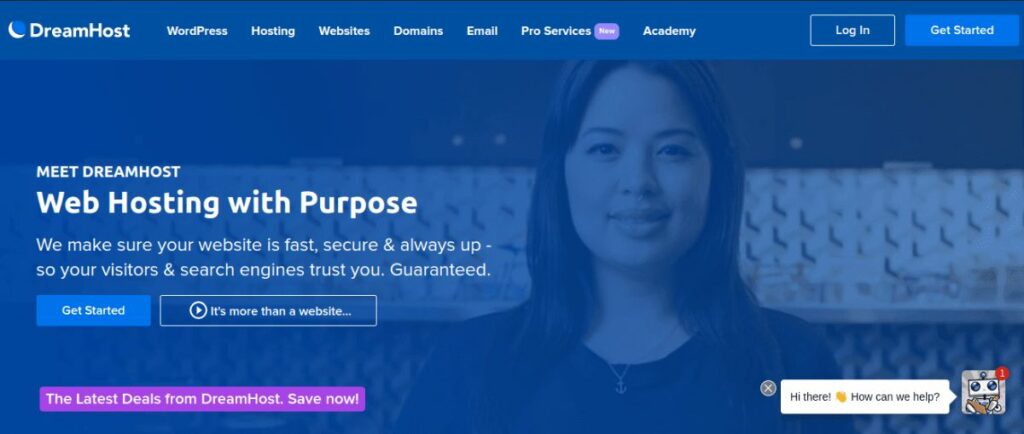 If you decide to cancel after signing up because you are dissatisfied with the performance within the first 97 days, you will get a full refund. There are no surprises; just an easy-to-understand web hosting environment for beginners. Experienced users will be pleased to learn that everything they require can be accessed without upgrading plans.

For its affordable shared hosting plans, Dreamhost is renowned. This blog hosting platform will also appeal to those looking for cheap virtual private server (VPS) and cloud hosting upgrade options, with its entry-level VPS plan starting at just $10 per month.
Features
| | |
| --- | --- |
| Free SSL certificate | Yes |
| User-friendly interface | Yes |
| Reliability | 100% |
| WordPress staging | Yes |
Best for
The most comprehensive shared web hosting service both for blogs and small businesses working on various project sizes is DreamHost. This is due to the fact that it offers the majority of website owners a high enough performance speed, reliable uptime, and customer support.
Whether you work in the blogging or website development fields, DreamHost will provide reliable hosting services at a reasonable cost.
Best Blog Hosting for Security

Firewall
Security Tracking
Backup System
One-Click Data Restauration
Starting from $3.14/month
See Pros & Cons
Pros
 It has an almost 99.97% uptime guarantee.
It provides free Daily Backup services for its customers.
It has 24/7 fast and competent user support.
It offers free one-click migration services for its new customers.
You can start a blog right away that has a professional appearance thanks to the free domain
If you choose the Economy plan, you can add up to 25 subdomains, giving you the flexibility to organize your blog into distinct sections if you intend to cover a wide range of subjects.
Cons
Unless you boost to the Ultimate and Maximum plans, no SSL certificate is included.
The Economy plan only offers 100GB of storage; to get unlimited storage for your blog, you'd need to upgrade to the Deluxe web hosting scheme.
Multi-year agreements with GoDaddy must be paid in full upfront. The upfront cost for the 36-month Economy plan
GoDaddy makes it simple to create a beautiful blog and manage social media accounts for straightforward content sharing. You won't ever have to worry about losing your blog content thanks to the service's regular security tracking, site backup systems, and one-click data restoration.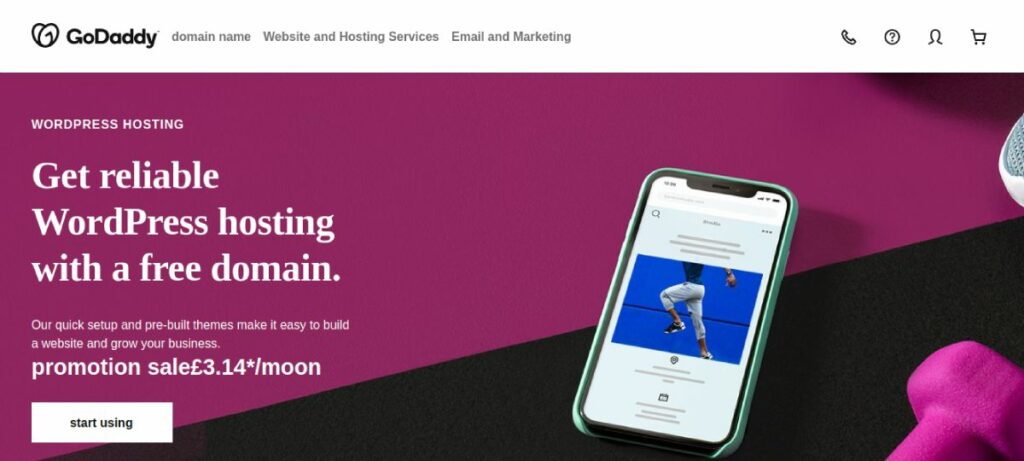 It is among the most well-known companies on our list. They have long been a domain registrar and hosting provider, and they are now the world's largest domain registrar. Furthermore, they have a strong brand presence and are often the first choice of many newcomers to the market.
A year of a free domain name and Office 365 email is included with each of the plans, which come in a variety of price ranges.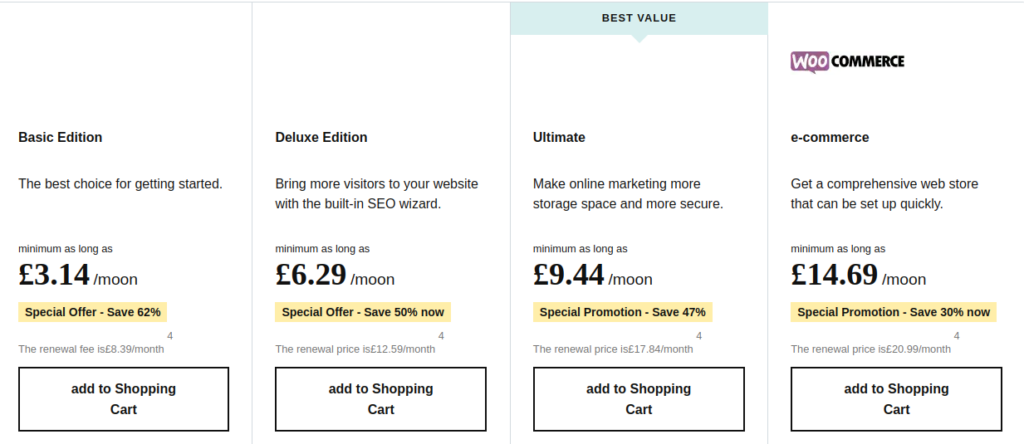 Features
| | |
| --- | --- |
| Free SSL certificate | Yes |
| Free domain | Yes |
| User-friendly interface | Yes |
| Reliability | 99.7% uptime |
| Price per month | £3.14(Basic), £6.29(deluxe), £9.44(Ultimate), £14.69(e-commerce) |
| Free daily backup | Yes |
| 24/7 customer support | Yes |
| WordPress staging | Yes |
Best for
GoDaddy is the place to go if you want to launch a secure blog site in one of the most known providers. People can choose a domain name, sign up for hosting, and start building their personal or business websites very easily and affordably with GoDaddy. Along with its well-known domain, email, and shared hosting services, GoDaddy also offers options for virtual and dedicated servers.
Best WordPress Hosting Sites for Blog

Ultrafast
Recommended by WordPress
Free Email
See Pros & Cons
Pros
In all three plans, your blog's traffic will not be metered; there will be no gatekeeping or performance degradation as you expand.
With all plans, WordPress.org integration is free and simple.
Each plan includes a free SSL, which can improve the SEO of your blog.
Three plans from SiteGround give you extra features as your blog expands, such as more monthly visitors and extra web space in gigabytes.
No matter which plans you select, you'll receive a free email account; an email can make your blog appear more established and professional.
It has an almost 99.98% uptime guarantee, which makes it very dependable.
It has a user-friendly user interface hence easy to navigate even for first-time users.
Cons
The option to stage your site, which would let you view and interact with your blog in a staged environment before publishing it, is not available with the StartUp plan.
If you wanted to launch your blog with other authors, you would need to upgrade to a more expensive plan because you cannot add collaborators to the StartUp plan.
It lacks a 1-click WordPress installation.
This quick and safe hosting company has a sizable number of fans that have left positive reviews all over the internet. Siteground is a top-notch host for intricate websites.
Both consumer websites and large corporations should consider it. WordPress is included in all of its hosting plans, which will please anyone looking to use their website to generate income from blogging.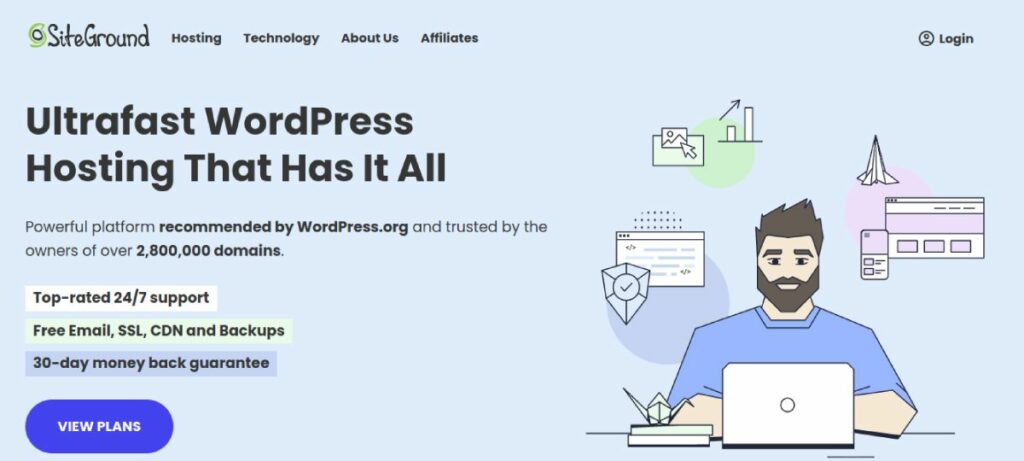 Your shared hosting account with Siteground will benefit from its blazing-fast servers and industry-leading security. Thanks to their knowledgeable technical support staff, who are frequently accessible for live chats with little wait time to address any issues you have, they are a leader in customer service as well.
SiteGround also provides managed WordPress hosting. This means that the service provider will take care of your blog's automatic WordPress and plugin updates, caching, and security procedures.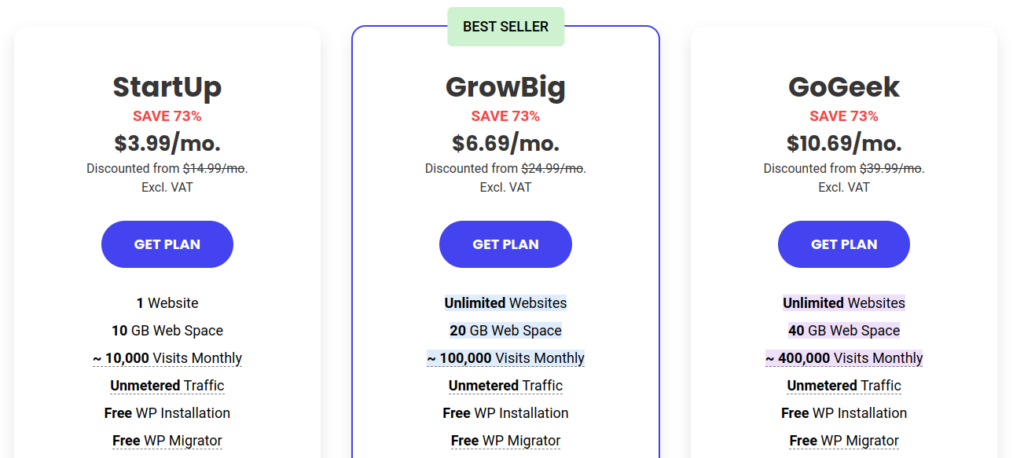 Features
| | |
| --- | --- |
| Free SSL certificate | Yes |
| Free domain | Yes |
| User-friendly interface | Yes |
| Reliability | 99.98% uptime |
| Price per month | $3.99 |
| 24/7 customer support | Yes |
| Regular backup | Yes |
Best for
It is one of the top-recommended WordPress hosting companies. They are renowned for their first-rate hosting plans, dependability, and speed.
They offer everything you'll need to start and grow a successful website or blog, including WordPress-optimized hosting. It is also appropriate for serious projects like online stores, and you can upgrade to one of its premium hosting plans if you need more performance in the future.
Fastest Hosting for Blogs

Free Site Migration
30-Day Full Refund
99% Uptime
Fast Speed
See Pros & Cons
Pros
With a load time of 392ms, it offers the quickest WordPress hosting, and it also offers free migration services.
The performance of the most popular software is enhanced by A2 Hosting.
Security measures are excellent from the provider. All plans come with free access to tools like SSL certificates, DDoS defense, firewalls, and Patchman-enhanced security.
Staging is a part of every plan from A2 Hosting. In this manner, you can play around with your blog's layout without having an effect on the live version.
The provider makes use of a common cPanel for simple site management. The dashboard's simplicity of use makes it suitable for beginners.
Cons
The real value begins with the Turbo plans which imply that the basic plans lack good advanced features.
No plan comes with a free domain name.
In terms of hosting speed, A2 Hosting is a leader in the sector. The loading times of A2 hosting will astound you whether you have a shared plan, a need for a VPS or dedicated host, or both.
A 99.9% uptime guarantee is also provided by this hosting service. Free site migration and simple 1-click installation for CMS blog tools like WordPress, Magneto, and Drupal are features included in all hosting plans from A2.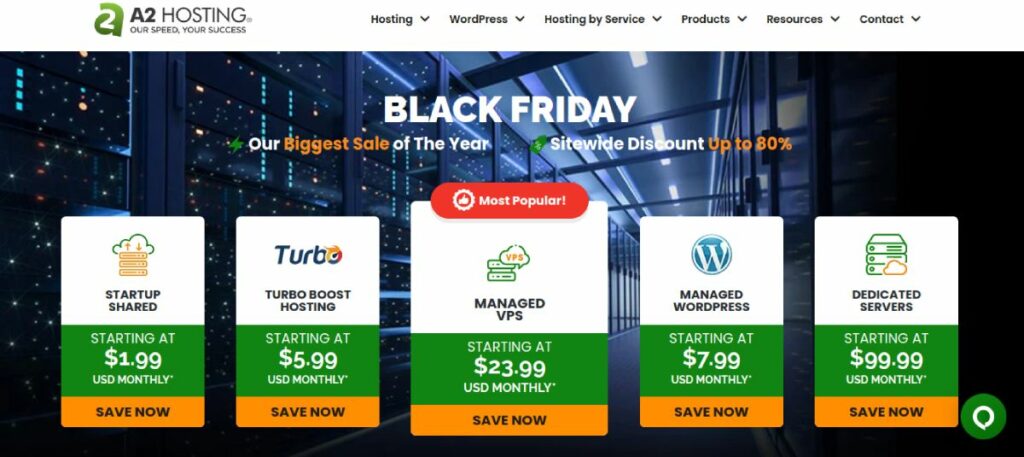 With the purchase of any hosting plan, you'll also get a free domain name and an SSL certificate. Free malware scanning and automatic patch updates are also included in the plans. Some plans consist of routine site backups.
A2 Hosting provides an anytime money-back guarantee in addition to their 30-day money-back guarantee. Within 30 days, you have the option to receive a full refund if you're not completely satisfied with their hosting service. You'll be qualified for a prorated refund for any services that remain unused after 30 days.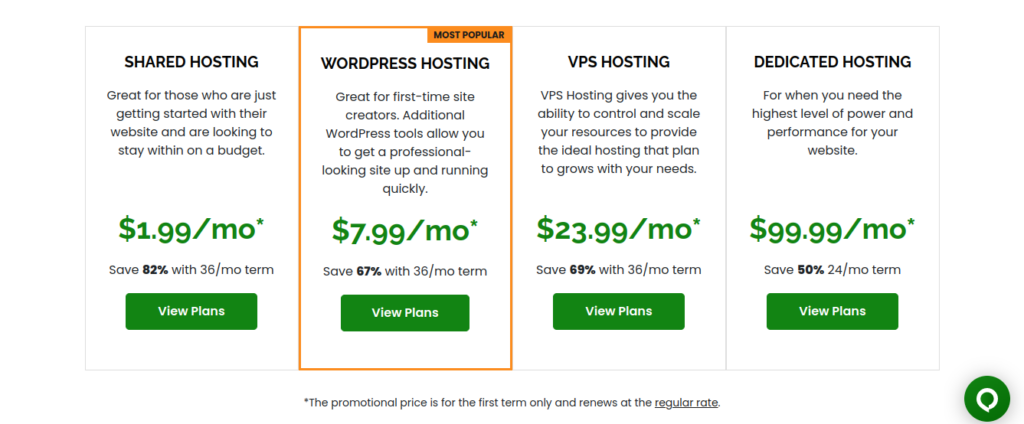 Features
| | |
| --- | --- |
| Free SSL certificate | Yes |
| User-friendly interface | Yes |
| Price per month | $1.99(Startup Shared), $5.99(Turbo), $23.99(managed VPS), $7.99(Managed WordPress). |
| 24/7 customer support | Yes |
| WordPress staging | Yes |
Best for
One of the fastest hosting companies, A2 Hosting has a good plan for any user. It provides affordable shared hosting packages for both small and large businesses. Therefore, it is advised for bloggers, online merchants, start-ups, and larger companies who need high processing power but have a tight budget.
Factors to consider when choosing a blog hosting platform
It can be challenging to select the best blog hosting site because there are so many of them. Fortunately, there are a few distinguishing characteristics between a bad and a good hosting site that you should consider when getting a hosting site for your blog:
Provision of Free Email and SSL Certificates
Never choose a blog hosting plan that only provides the absolute necessities. Additionally, you ought to search for plans that provide welcome bonuses like a cost-free email, domain name, or SSL certificate.
They ought to at least include these options in their premium plans if they don't offer them in their entry-level packages. These bonuses enable you to build a solid blog without having to pay for these crucial add-ons from another supplier.
Speed
If your blog's hosting doesn't load quickly, you risk losing readers and search engine rankings.
Customization
Users ought to have the option to personalize the layout and appearance of their blog and also use templates to handle the formatting automatically.
A subpar hosting service will only provide a limited number of templates with no way to further customize them. Therefore, you should always choose to host companies that offer a variety of customization options.
Allowing for Tracking Scripts installation
It's important to monitor how your blog performs in search engines so that you can observe how your content changes over time. Google Analytics and Google Search Console are two tracking scripts that you may want to install.
You can include both of these in the header tags on your blog site. A "Custom Javascript" text box may even be an option on some blog hosting websites to add it.
Alternatively, your blog hosting site should offer metrics and KPIs that give you information about how your blog is performing if you are unable to install scripts or are not interested in doing so.
User-friendliness
A blog hosting service should be simple to use and not require a developer's knowledge. Since you're starting a blog rather than a business website, an easy-to-use interface should allow the user to easily set up, design, and publicize blog posts.
Allowing for the posting of ads for monetary gain and marketing
Consequently, you ought to have the choice to commercialize your blog. Your site host should provide these options or provide additional features that make monetization possible, whether you choose to do it by running display ads, engaging in affiliate marketing, or selling goods.
Let's take a gander at some of the best blog hosting companies for 2023 now that you know what features to look for, as ascertained by our hosting specialists.
FAQs
Which hosting company is good for blog monetization?
Any of the hosting companies on this list are suitable for monetization. However, Hostinger and Bluehost are the best providers due to their reasonable costs, abundant resources, and effective service.
Which hosting company is the best for beginners?
Bluehost offers a very straightforward and beginner-friendly blog hosting service. The service provider uses a user-friendly combination of native user interface and cPanel for site management in addition to providing a comprehensive guide on how to set up a WordPress website.
Can I host my blog free of charge?
Yes! Most people choose free blog hosting services when they want to try blogging. Blogger, Wix, WordPress.com, Medium, and others are popular examples. After creating a free account, you can begin blogging.
Why spend on a blog hosting account when you can start a blog absolutely free of charge?
A free blog has many limitations, including little room for customization and monetization. Even worse, blogs hosted on free platforms may be removed at any moment without your knowledge.
You have absolute ownership over your site with no limitations when you buy blog hosting.
Conclusion
The top hosting companies provide a range of web hosting services, including managed, shared, cloud, VPS, and managed WordPress hosting. You should also consider aspects like support, site speed, and uptime.
You require a hosting company that can expand your website as your traffic volume increases. This guide will help you whether you're starting a new website or looking to change providers.

As one of the co-founders of Codeless, I bring to the table expertise in developing WordPress and web applications, as well as a track record of effectively managing hosting and servers. My passion for acquiring knowledge and my enthusiasm for constructing and testing novel technologies drive me to constantly innovate and improve.