Web hosting is significant for running any business online; there are multiple hosting companies in the market currently serving the purpose. One such that this review will discuss today is HostGator. It will be an unbiased review of various features of the provider about its user-friendly interface, performance, security, and customer services.
Hostgator is one of the best and cheap hosting providers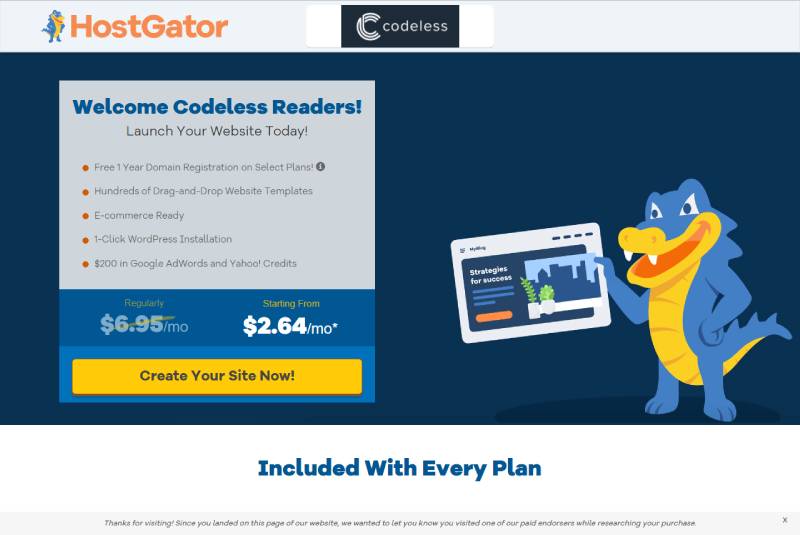 HostGator: The Biggest Host
HostGator is one of the biggest and most famous host service providers today for its affordable plans and extensive features. It has every aspect to give your website an attractive appearance and top-notch performance.
Let's start with the Hostgator review to know whether it is worth your money, its performance numbers, and its multiple features.
Pros
Guaranteed stability and reliability
Quick website loading
Cheap pricing plans; starting from $2.64/month
Free website builder software
Cons
Limited free security tools; you have to pay money to avail more
United States-based location
HostGator Pricing Plans
Hostgator shared hosting plans start at a very affordable price, i.e., $2.64 per month. Have a look at starting prices of their other hosting services.
WordPress hosting – $5.95 per month
Virtual private server hosting – $23.95 per month
Dedicated hosting – $89.98 per month
Note: Above mentioned prices are for the first term; you will have to pay a few more dollars for renewal.
Let's have a look at what purpose fits these plans the best.
A shared hosting plan is for entrepreneurs with small or medium-sized startups.
WordPress hosting makes things easier and is completely optimized to provide faster speed and stable performance. It is also perfect for small and medium business operators.
Virtual Private Server is the best fit for those websites that often experience traffic surges. Moreover, you can also use it to host websites of online stores. A person with technical skills is required to run this hosting service.
With dedicated hosting, you have complete control over your server; full customization of the website is also possible with this type. A tech expert is required to handle dedicated servers. It is the best solution for large enterprises and companies with big projects.
All these plans come with multiple hosting options so customers can choose according to their requirements. Moreover, competitive pricing is also present to keep things positive.
Besides all the hosting services available, the most suitable for almost everyone has to be shared hosting. Small and medium business owners should only use this option to avail extensive features without paying too much.
The shared hosting plans at HostGator has three varieties; each one of them comes with features like:
Free secured socket layers certificate
A domain free for a year
A free website builder
The plans also offer unlimited storage, emails, and bandwidth depending on the tier you plan to invest on.
Let's discuss each plan and its features individually.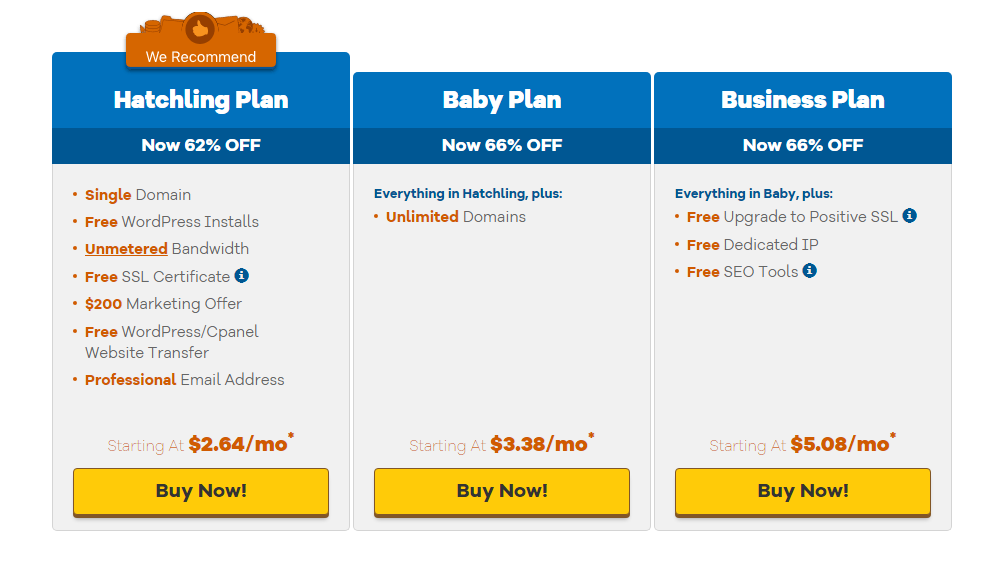 Hatchling plan
The basic shared hosting plan gator by HostGator, hatchling, costs $2.64 per month. If you are running your blog or a portfolio website, this plan is the best fit for you.
Baby plan
The second hosting plan of HostGator costs $3.38 per month. This plan gives you unlimited websites; it is the best fit for small and medium online businesses and blogs.
Pro plan
The cost of this shared hosting plan is $5.08 per month. With this plan, you get a free dedicated IP address, search engine optimization tools, upgrade to positive secure socket layers, and more. This plan will be a perfect choice for those small or medium scaled websites that require increased security for some reason.
The best thing about HostGator is that even their cheapest plan is a complete package; hence requires no extra payments to be made throughout the year.
Even their highest tiered plan is under $5, which is unlikely with most other hosting companies whose high tiered plans close around $10.
But not every plan is the same; the more you pay, the more features you get.
In my honest opinion, business owners should avoid their basic plan hatchling because it only includes a single website domain. For instance, if you need to expand your business or start a new venture, you will have to pay extra bucks for availing of another free domain name.
In this case, the plan baby is a perfect choice to host unlimited websites and is light on your pocket. The pro plan is almost similar to the baby plan with extra features like a dedicated IP address and positive SSL. However, these two items are not generally essential until you need to use them for personal reasons; hence opting for the baby plan is still the best idea.
Moreover, you should know that unlimited bandwidth or storage is just a myth as you can't store unlimited photos on your phone; a sever is identical in this case, especially when hundreds and thousands of people see the content.
Let's discuss how to get a great deal for this plan at HostGator.
Pricing You Need To Know: How to Get the Best Price
HostGator demands advance payment gateways or plugins of their plans before you start using their features. While purchasing the program, the system will add extra features to the shopping cart; remember to delete them. Here you will see the renewal rates, which are a bit high compared to original prices and it is very typical.
Remember that whichever plan you have chosen to purchase, always go for the most prolonged billing period. It means the higher amount you pay in advance, the less it will cost you per month.
Let's take an example of the baby plan; the plan initially costs $3.38 per month if you opt for max three years subscription; it means you have to pay around $125 in total. If you opt for a shorter billing period, the price might increase. Afterward, you will have to pay renewal prices which are high. Again if you choose to pay monthly or annually, the costs will be higher.
You must have realized that first-term payment is costly, but renewal prices might concern your budget. But it's not the case only with HostGator; every hosting company in the world works on similar functions.
Moreover, don't forget to remove every extra item added to your cart with the plan, as HostGator has perfect alternatives that will do the same work for free.
Although HostGator's renewal prices look a bit costly, it's still cheap than its other competitors in the market. You can consider HostGator as the platform that provides excellent value for your money.
Moreover, it offers a 45-day money-back guarantee if you are not satisfied with their services. However, a negative side to this is that they will cut the domain fee, which you can keep with yourself.
Verdict
To conclude, HostGator is currently the cheapest hosting service provider in the market. It provides excellent value for your money as you don't have to make extra expenses to avail required features. Remember to keep an eye on renewal prices and remove additional items from your cart when purchasing. Their shared hosting plans are perfect, with all the essential features available at lower prices.
Hosting Management At HostGator
HostGator has a balanced approach in terms of providing a user-friendly interface. On one side, they have industry standardized CPanel intended to make navigation simpler. But on the other side, multiple things make operating complicated for the user.
HostGator has a customized dashboard alongside an easily manageable CPanel. The simplest and basic actions can be done conveniently through the dashboard, whereas CPanel can apply advanced processes.
Let's have a look at what the HostGator dashboard looks like:

This panel has each option you need assembling on a single page.
You can access the following items here very easily:
Secured socket layers management
Installation of WordPress lite
Email account
Databases
A button that opens CPanel
The overall look of this dashboard is clean and eye-pleasing too.
Let's look at what the control panel (CPanel) at HostGator looks like:
The customer can customize their CPanel very easily. Similar to the dashboard, all the options here are also appropriately assembled and in an elegant way.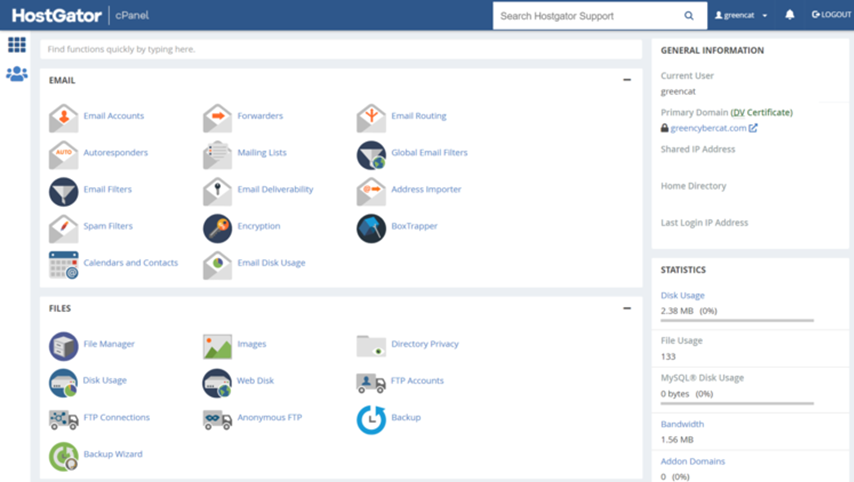 Moreover, most users prefer CPanel hosting provider because it provides a smooth user experience and is very simple to use. You can access website settings from the dashboard, but one needs to use CPanel to applicant more advanced options like the email setup, domain, subdomain management.
They also have Softaculous software that makes installing apps like CMS (content management system) very easy. Although you can install WordPress by following a few steps, it is essential for trying something else.
Verdict
To conclude, HostGator undoubtedly has a straightforward dashboard and CPanel with a wide variety of options and an easy-to-manage interface.
WordPress Installation on HostGator
The installation of WordPress on HostGator is effortless. Follow the below steps to have Bluehost or WP downloaded for your site in minutes.
Log in to access the dashboard.
In the control panel section of the dashboard, you can see an option that says Install WordPress.

Click on that button.
It will demand little information from you; fill out the form and proceed
It will direct you to the Softaculous installer; install WordPress from here
Besides the dashboard, you can also use CPanel to install WordPress. Follow the below steps to do so:
Go to the software section at CPanel.
There you can see the WordPress icon; click on the icon.

You will get redirected to Softaculous installer: finally, install WordPress from there.
You can also access other apps like Joomla and Drupal through the Softaculous installer.
WordPress is undoubtedly the finest CMS provider; there are other options available in the market that you can access with HostGator. In contrast, most hosting companies have their primary focus on WordPress only and put the other nine systems under the lock.
As you have seen, WordPress installation is quite a simple process with HostGator. In case of any error faced, you should try after clearing the cache. Make sure that VPN is on. These things help in almost all the possibilities.
Now when you are finally at the WordPress app download window in Softaculous software, you will see the screen to be something like this: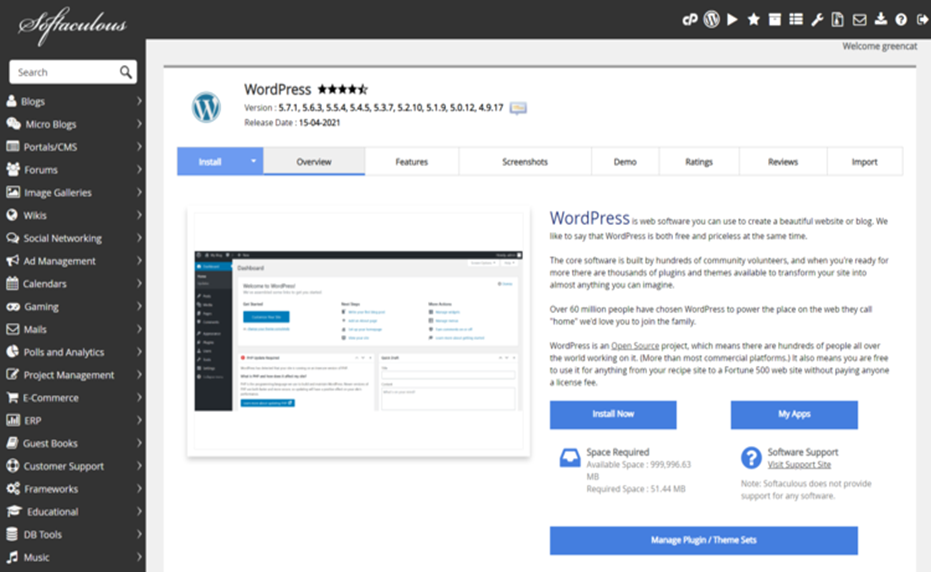 Click on Install Now and fill incomplete information; you have to enter your name, username, password.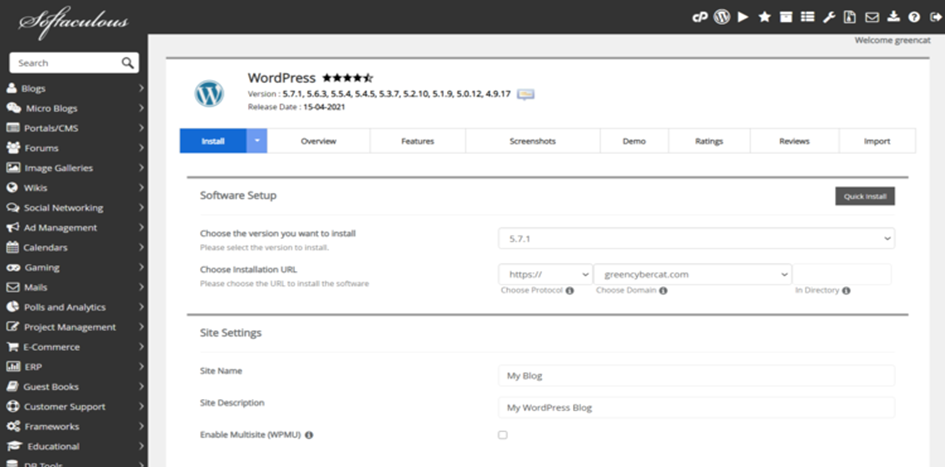 After you have finally added all the required information rest of the process will be done automatically by the installer. The process happens very quickly; your WordPress website will get ready in a few minutes.
Note: If you opt to install WordPress from a one-click feature from the marketplace at HostGator, it will download an outdated version from 2019. Although it is not difficult to update, having the latest version installed directly from the dashboard or control panel is better to save your time.
Verdict
There are two ways to install a WordPress website with HostGator. However, a few issues might arise during the process, but it is not difficult to resolve them. Moreover, with CPanel, you can also explore different content delivery systems.
Automated Activation Of SSL Certificate
With a free domain at HostGator, you get a wholly active and ready-made SSL certificate. But it is essential to check its functions properly before proceeding.
To do so, open your dashboard, there you will see a button for SSL Management. Click on that button, and it will lead you to a page where all your domains and their SSL statuses are displayed. Have a look to get more ideas:

Usually, the certificate is activated automatically with domain registration, but this might fail to happen in some cases. It is when your domain is hosted initially under another registrar; in such a case, HostGator tools might not work correctly for SSL activation.
You can see the certificate status as Pending instead of Active in such a case. But don't worry, the HostGator customer support service can conveniently solve this issue with their team of excellent tech experts.
Verdict
With HostGator setting up and seeing the status of the SSL certificate is not a complicated task. With automated activation and convenient status lists, everything about SSL has become simpler. Moreover, their customer HostGator support team is one click away to solve your query in case of any issue.
Setting Up Professional Email With HostGator
Every hosting plan at HostGator comes with unlimited email accounts irrespective of price. However, setting up a professional email is up to your choice. The process to do so is quite simple. Let's look at the steps of this procedure: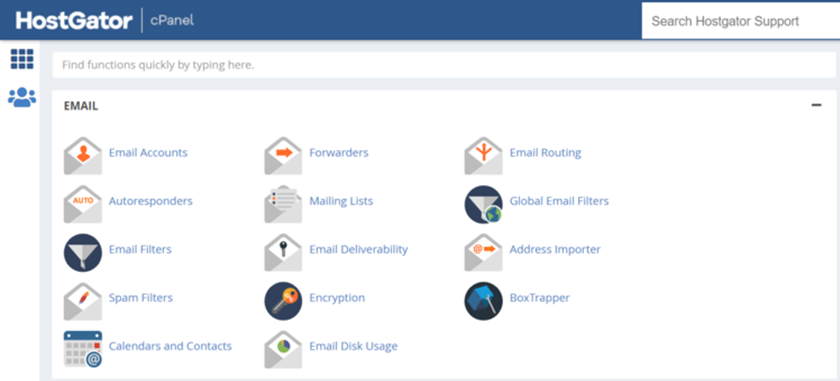 Launch dashboard.
Here you can see a button for Email Accounts; you can also access this button from CPanel through the Email Account icon seen in the Email section.
It will direct you to the email accounts management area through both options.
Press the Create button you see there.
A form like this will soon appear on your screen.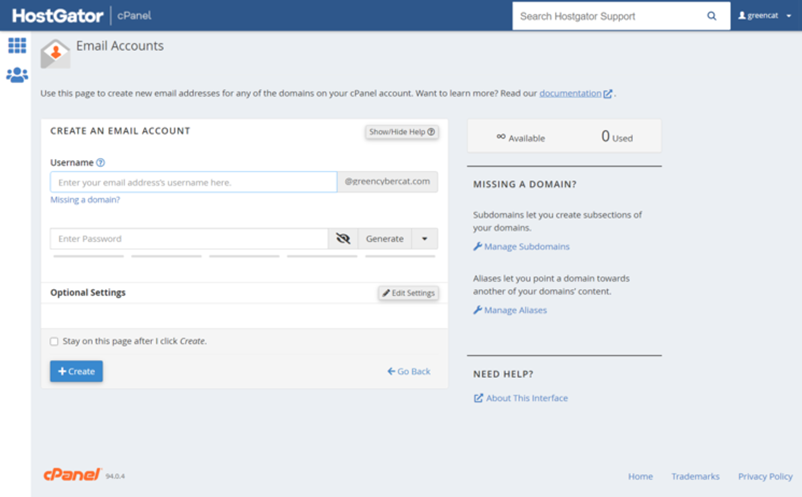 Now fill in the asked information like mailbox name and password. It also allows you to set a storage limit or choose to keep it unlimited.
Finally, your email gets created.
Let's talk about using it; it is not a complicated process. It is the same as using Gmail. Simply log in, keep a check on your mails and log out. You can access this through Webmail from the dashboard.
However, a problem in email hosting review with HostGator arises where you can't send bulk emails at once. They use RoundCube and Horde as their email clients; they work with a similar server as your site. It is suitable for casual mailing, however.
Verdict
To conclude the email-creating capabilities of HostGator, I would say that it is pretty easy to set up a professional email with this hosting provider. You just have to follow a few steps, and everything gets done without any technical complications.
However, it is not the best fit for those who intend to run large email marketing campaigns. You might have to opt for a paid client not hosted within your server for such a purpose.
HostGator Website Builder
The HostGator website builder is quite neat and straightforward to use. With this builder, you can create up to 6 web pages free from a single account.
Let's look at the website builder plans offered by HostGator.
Basic Plan
It is free of cost and essential for building an entire website with much ease of use.
A few features are:
Intelligent site builder
Free Domain
3 email campaigns per month
3 products online store
Free secured socket layer certificate
Pro Plan
You can purchase this plan for $5.99 per month. It is a perfect fit for websites that attract potential traffic and deal with spikes nicely.
A few features are:
Every element of the basic plan
2 additional email campaigns per month
10 products online store
Priority support
Appointment booking
Store Plan
It is perfect for building websites that intend to run medium businesses. It costs around $9.22 per month.
A few features are:
All components of basic and pro plan
Unlimited products online store
No transaction fee
Note: The basic plan is all good for setting up a blog or portfolio website, but monetization of your site might face some issues due to a lack of e-commerce integrations.
If you intend to create a site with advanced options like appointment booking, no transaction fee, or running an online store, you should go for WordPress web builder. You can also purchase any other website builder available in the market according to your needs.
Let's come back to the HostGator website builder plans; all the programs have around 149 pre-designed templates of multiple themes. You can find modern, classic, clean, and many more representations.
You can also access these templates conveniently in mobile screen format.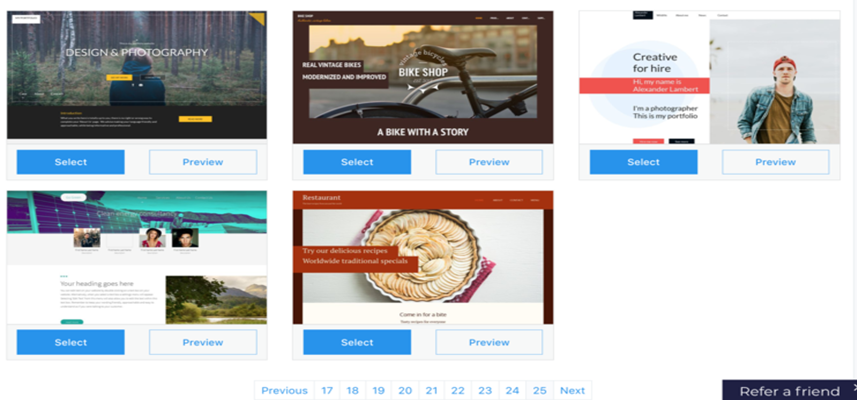 After successfully selecting the template, you can customize it according to your brand; this includes adding various elements to turn templates into something unique and attractive.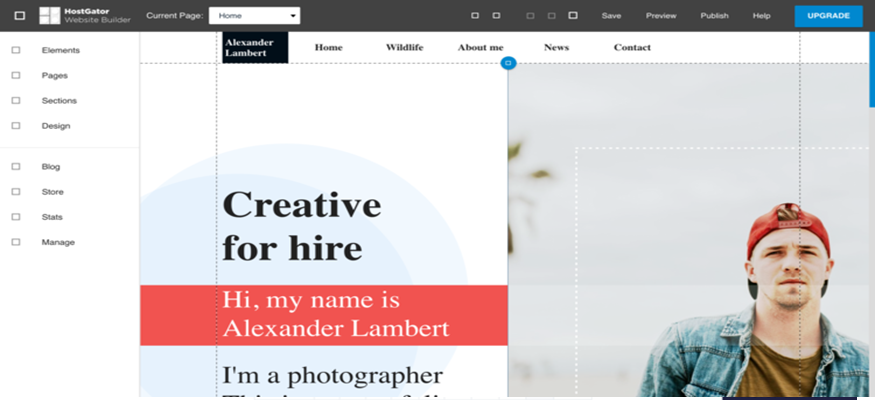 Every single customizable element comes with separated settings, so nothing is mixed up or complicated in the process. However, too many setting options might repel you a bit but trust me, it is not difficult once you get familiar with them.
Verdict
HostGator website builder is entirely straightforward to use. Its inbuilt templates of various varieties make it the perfect choice for basic websites. However, with so many functions displayed on a single page, it might seem confusing at first, but you can manage it well after getting used to it.
The best part is that you get to avail a free website builder with your VPS hosting account, although it is not the best but worth mentioning. However, if your website has advanced features, you might have to choose WordPress or any other website builder accordingly.
HostGator Performance
HostGator hosting program was tested through a few speed and stability performance tests to discover its functionality.
The testing gave the following outcomes:
The hosting package service provider worked with utmost stability throughout the testing period.
The server achieved a better uptime than that which they uptime guarante.
The loading speed of the site was fast as well.
Let's look at these tests and their results in more detail.
HostGator Uptime And Response Time
During a 2.5 months test regime of HostGator's uptime, It experienced only three outages; this means the recorded uptime was around 99.99%.
During a similar testing period, testing recorded a response time of 525ms. These figures are even better than the average of other hosting companies.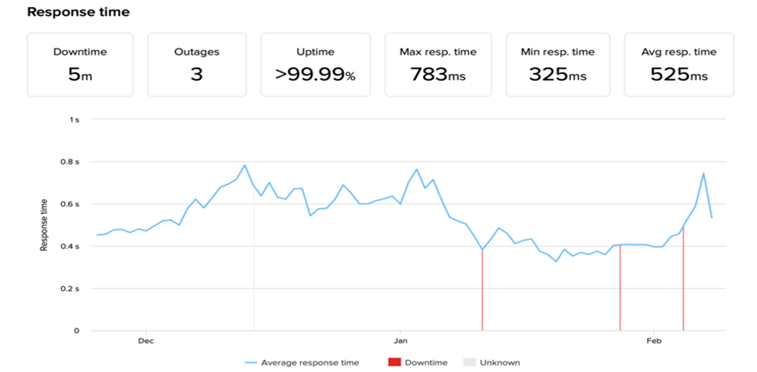 Let's go a bit in detail to understand the story behind these numbers.
The HostGator guaranteed uptime is 99.9%, ideal for hosting companies. These numbers mean that a website would not experience more than 2 hours, 11 minutes, and 29 seconds of downtime. Now when I say that HostGator had surpassed the expectations, the average downtime throughout the testing was just 6 minutes in a single quarter. HostGator impressed me with this fantastic progress.
In contrast, the average response time is not as excellent as uptime, but it is not bad as well. Moreover, the good thing is that the figures are slightly better than the market's average rate.
HostGator Speed
The HostGator speed for US-based subscribers will benefit from the fastest loading time.
The average recorded LCP was around 431ms, which is quite good. The numbers vary according to the location of the server. The far you move from the server, the system record more LCP.
Although the above picture mentions the recording of several categories, the reason behind solely saying the LCP is that it is one of the most used parameters used by search engines to rank websites. Few reports suggest that an LCP lower than 2.5 seconds means a higher ranking at Google. With this standard criteria, the HostGator has fine figures of 431ms even with much distance from the server.
However, when testing a similar parameter with a wholly built website, the time got up to 1.1s, which is also not bad. However, another thing to consider here is the time required for a visitor to visit such a bulky site completely; ideally, it should be under 3s for perfect SEO results and customer satisfaction. With 1.1s LPC in such a case, things are still under control.
Note: HostGator has two centers located in Utah and Texas; hence it provides perfect speed and stability performances for US residents.
HostGator Stress Testing
A test was conducted with HostGator to see if it could handle potential traffic surges. For this reason, virtual 50 visitors were sent to the HostGator hosted website. These visitors and hundreds of thousands of requests might make the server slow or completely overwhelm it.
However, no such fear came true with HostGator, with 50 extra visitors making little to no impact on the website's performance. As you can see in the above image, the grey line (read; the number of visitors) is causing a minimal effect on the blue line (read; response time).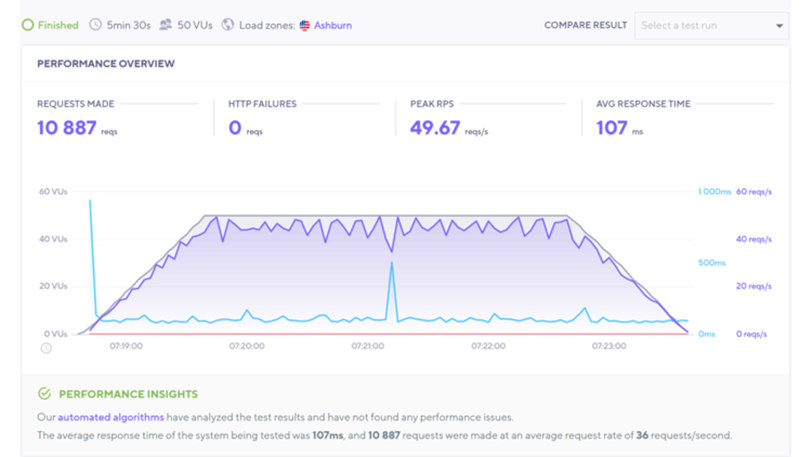 Verdict
While considering all the test outcomes, I can ensure that you won't have to face prolonged downtime, slow speed, or performance issues with HostGator. All tests (uptime, LCP, speed, and stress test) came out with positive results even more than the standard market value; it is essential in running medium-sized online startups that experience frequent traffic spikes.
Security At HostGator
You get only free options like SSL and server-based firewall in this category. The latter is essential in protecting websites from unwanted or harmful traffic. For more security add-ons, you will have to purchase them.
However, all the hosting plans feature SSL, a significant plus point.
You can see a few other major security features. HostGator offers in the image. Remember, you have to pay to buy any of these.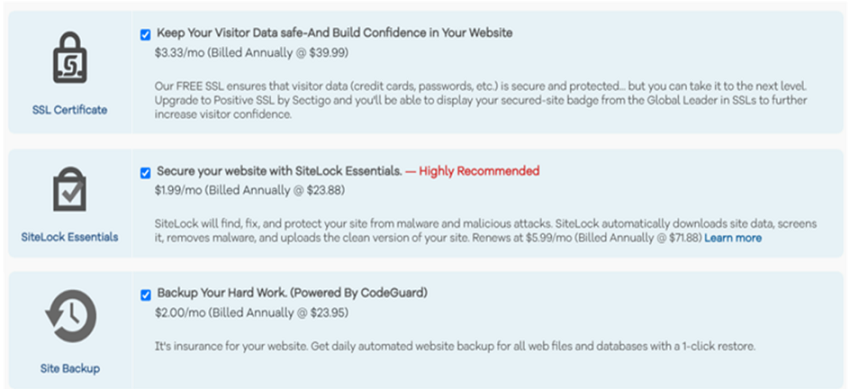 SSL Certificate– This feature is unnecessary as you already get a free SSL with their hosting plan; it is just an upgrade. If your website deals with sensitive data centers and transactions, it is essential to purchase this. It comes free with their business plan. With lower programs, you have to pay $39.99 per year.
SiteLock Essentials – This feature checks for the potential threat of hacking or malware on your website. HostGator costs $23.88 per year; however it comes free with other hosting providers.
Backups – Backups are critical in case of any mishap; hence, you might have to purchase this feature for peace of your mind. It costs $23.95 per year.
Verdict
HostGator did not meet the security standards as they provide just two features for free. All other vital items require you to spend money. It might be crucial that you can't even skip them like backups.
HostGator For Business
You have clicked on the right page to choose the best web hosting services provider for your small business. HostGator has refined scalable capabilities for hosting a successful online business site through its cloud, reseller, and dedicated hosting.
You might require any of the above plans when your website progresses to such a point that shared hosting won't be able to handle the potential traffic or even when you outsource hosting sites for different clients, companies, or agencies.
Let's look at HostGator's cloud hosting, dedicated servers, and reseller hosting plans that will serve your hosting needs just right.
Cloud Hosting
With three different plans in this category, the basic one costs $4.95 per month. Let's look at a few features that make it better than shared hosting:
More affordable
More manageable
Slight more powerful
You can find these plans in the website's footer section as they don't advertise much.
Hatchling Cloud ($4.95/month)
Single free domain
2GB memory
Two core CPU
Free SSL certificate
Baby Cloud ($6.57 per month)
Unlimited domains
4GB memory
Four core CPU
Free SSL certificate
Business Cloud ($9.95 per month)
Unlimited domains
6GB memory
Six core CPU
Free SSL certificate
Free positive SSL upgrade
Free dedicated IP address
Free SEO tools
Moreover, each plan has a free domain for one year, an SSL certificate, integrated caching, and complimentary email accounts.
Cloud hosting plans has much better stability, lesser downtime, and similar ease of use than shared hosting.
The bottom line is that cloud hosting is the perfect choice for running an online store as it is very cheap and handled effectively even by beginners.
Dedicated Hosting
Their dedicated hosting prices are cheap as well, with plans starting from $89.98 per month. These plans include complete management of sever and CPanel integration specifically applicable for large companies.
Let's look at the plans:
Value Server ($89.98 per month)
4 core / 8 thread
Intel Xeon-D CPU
8GB RAM
1 TB HDD
Unlimited bandwidth
Linux or Windows operating system
Power Server ($119.89 per month)
8 core / 16 thread
Intel Xeon-D CPU
16GB RAM
2 TB HDD / 512GB SSD
Unmetered bandwidth
Linux or Windows operating system
Enterprise Server ($139.99 per month)
8 core / 16 thread
Intel Xeon-D CPU
30GB RAM
1 TB SSD
Unmetered bandwidth
Moreover, each plan has additional features like DDoS protection, firewall, and full root access.
Note: No matter what the hosting companies promise you, no such feature as unlimited bandwidth exists; getting fined for using too much of it would not be a problem either as you have bought the dedicated plan.
The bottom line is that HostGator's dedicated plans are perfect for websites with large businesses that require a whole server for themselves. It is essential if business runners want to manage their plans by themselves.
Reseller Hosting
There are three categories of reseller hosting plans, with the basic one starting from $19.95 per month. It is essential to begin a personalized hosting company or host multiple clients and websites as a developer.
Let's have a look at the plans:
Aluminum Plan ($19.95 per month)
60GB disk space
600GB bandwidth
Unlimited websites
Free SSL certificate
Copper Plan ($24.95 per month)
90GB disk space
900GB bandwidth
Unlimited websites
Free SSL certificate
Silver Plan ($24.95 per month)
140GB disk space
1400GB bandwidth
Unlimited websites
Free SSL certificate
Additional features to come with each plan include domain hosting, CPanel, web host manager, billing software, and much more.
The only issue is that they don't mention several accessible CPanel accounts, which might create problems in planning further business growth.
The first-term prices of copper and silver plan are the same, but renewal prices of the latter are much higher.
These reseller hosting plans are complete packages that you can conveniently choose for your business.
Verdict
All in all, every type of plan is available at HostGator at affordable prices – choose according to your needs and business type.
Customer Service At HostGator
There are two main ways of contacting their tech experts team for your queries; 24/7 live chat and phone support.
Moreover, you can also access their guides, video tutorials, and multiple articles with answers to your many questions in detail.

However, they don't incur a default ticket system. It can only get implied in case of significant complications where you can use an open ticket to ask your query, and a senior member will solve it.
In my opinion, their best way for customer support has to be a live chat that you can find easily on the upper right corner of their website.
There is another HostGator knowledge base with hundreds of articles and videos almost on every question. They have organized their knowledge base very nicely; there is a search bar to enter your query directly.
Verdict
HostGator has a friendly and highly responsive customer support team that replies quickly and politely. Moreover, you can also access their knowledge base to find answers to your questions.
Conclusion: Final Verdict
After testing, analyzing and reviewing every aspect of HostGator, I would ultimately approve it. Hostgator provides extensive features at affordable prices with the best performances – all at once. There might be a few setbacks in using this hosting provider, but the solution is there.
Hostgator is the best choice for beginners who don't know much about technical stuff and want something straightforward to host their website. Their plans are perfect with low prices and extensive features. Moreover, Hostgator uptime, speed, and stability are excellent as well. You won't face any issues in running your websites smoothly.

As one of the co-founders of Codeless, I bring to the table expertise in developing WordPress and web applications, as well as a track record of effectively managing hosting and servers. My passion for acquiring knowledge and my enthusiasm for constructing and testing novel technologies drive me to constantly innovate and improve.
Expertise:
Web Development,
Web Design,
Linux System Administration,
SEO
Experience:
15 years of experience in Web Development by developing and designing some of the most popular WordPress Themes like Specular, Tower, and Folie.
Education:
I have a degree in Engineering Physics and MSC in Material Science and Opto Electronics.