We will list the best cheap website builders so you can choose any one of them according to your business website requirements.
Many of us also find it easy to build a website due to the easy website building options. Website development helps to grow more in today's era, and it's also not a big challenge with the growing technology.
Here are some stats on how web design services have grown in recent years: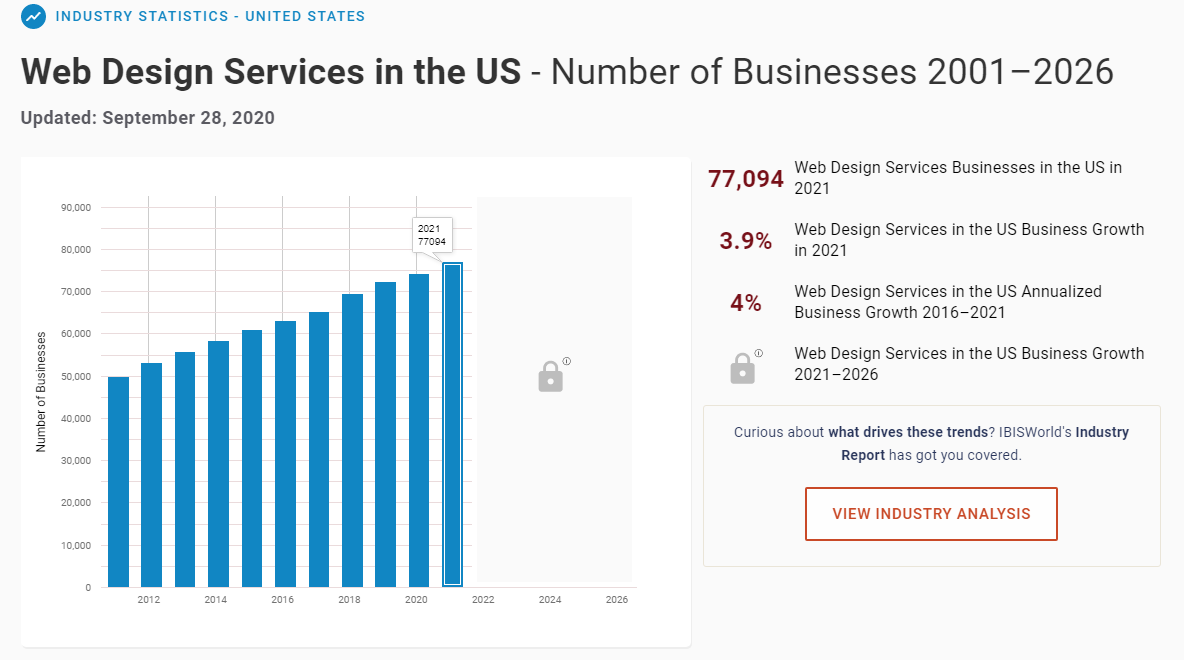 Previously we needed to hire website developers who are experts in coding and relevant fields. But now, the website builders make this process easy.
One of the leading questions among beginners is choosing the best website builder among so many options?
So we are here to hold you back by comparing the website builders to get an idea of their features and price plans. Every website builder has different features, pros, and cons. Now, it is up to you to select the best cheapest website builder according to your requirements.
Table Comparison: Cheapest Website Builders
Moreover, you may find suitable options regarding their features and software. But the price is also a significant factor for beginners. The cost of different plans with variable features will make the selection mission impossible.
So here, we will also share the prices of different website builder plans that you can compare according to the worth of their features.
Beginners are always short of budget, and we can understand it. So we only select the most affordable website builder options that help beginners with favorable features. According to experts, it is also wise to lower the minimum amount in the beginning and focus more on generating content up to the quality mark.
Now the listing below has slicker features, but some also provide advanced functionality. So the one thing is to choose an extremely affordable budget with enough features to run the website.
So let's take the road and start comparing the features, prices, plans, and many more and choose your website builder. Ensure that you set your requirements before comparing the website builders to make an effective decision. Don't only look for the cheapest option and forget to consider the features.
The Top 13 Best Cheap Website Builders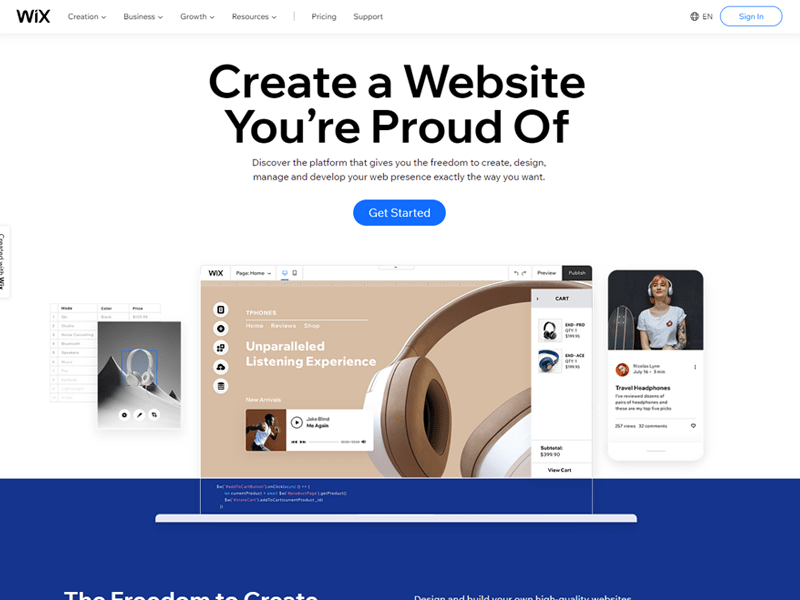 Wix is an exciting website-building tool that offers incredible features at cheap rates. It is a venture capital company that provides opportunities and backs the builders with millions of dollars worth. Wix offers price-worthy features. It has more than 150 million clients all over the world.
These clients give a positive response due to technical and continuous support. Moreover, Wix provides successful commercials with better features.
It has many incredible features that you can choose from in various plans and make your website successful. One of the attractive things about Wix is that it is easy to use.
Ease of Use
Wix is considered the easiest website builder with drag and drops building features. If you are a beginner, it has all the self-explanatory options that you can quickly understand.
There is no need to know about the hardcore coding language. Moreover, you can also say that Wix provides an effortless website-building environment to every user.
It simplifies the task of website building with easy-to-use page structures. It is not easy for developers to build websites through Wix, but potential users also find it easy to use.
It has plenty of free and paid themes or templates that you can use and enhance the visual look of your website.
Features
Here is the list of incredibly amazing Wix features that you can avail yourself of with paid or free access.
Free SSL certificate
Hosting have a free domain name
Hundreds of animations, fonts, media galleries, video backgrounds, and many more.
Customizable templates for blogs, magazines, portfolios, and stores.
Mobile optimization
Drag and drop website builders
Well integrated with web apps and add ons
Mobile optimization
These features collectively make it perfect.
Pricing and Plans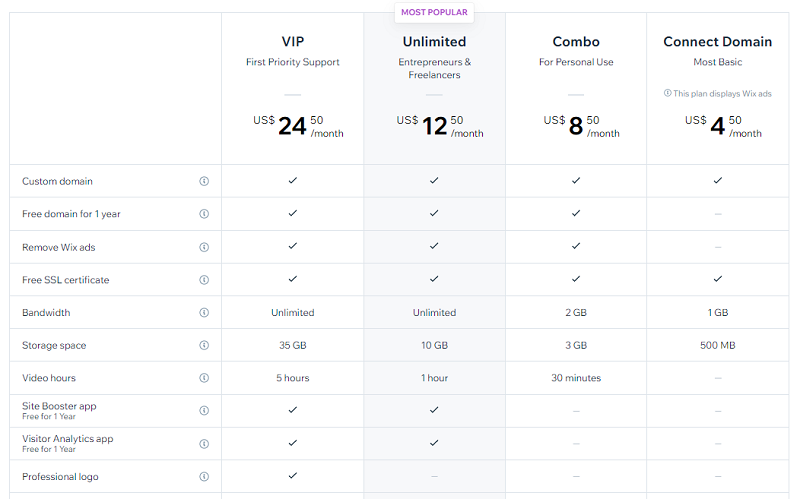 The pricing and plans of the Wix website builder include:
Free
Combo plan in $13.00 per month
Pro plan in $17.00 per month
Connect domain in $5.00 per month
VIP in 39.00 per month
Unlimited is $17.00 per month
Now you also have their free plan that helps the new users to test their skills before investing the money and regret. Once you decide to upgrade your website, you can select the paid plans according to your choice.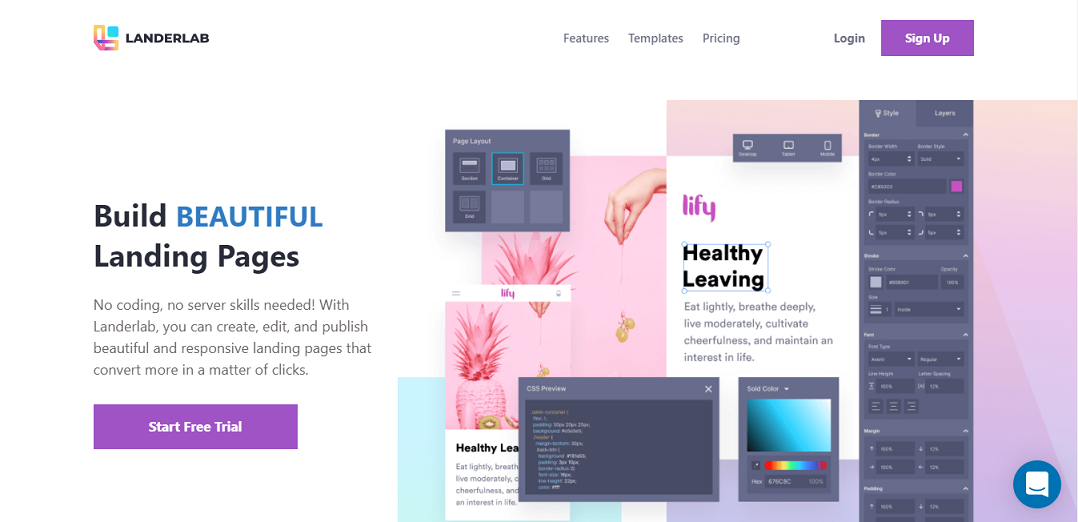 Landerlab is one of the creative website builders that help in developing responsive websites and landing pages. It is easy to use and create unique forms of websites and collect leads.
You can fully control the website by connecting with the lead management. Moreover, the Landerlab helps track the clicks, visits, conversations, and many more.
Features
The landerlab.io is a great landing page builder with incredibly appealing features. you can choose any plan of landerlab.io, and its features include:
Lead capturing widgets
Help in domain management
Hundreds of effective templates
Favourable cleaning and customization services
Quick integration with Advertising Platforms
Ease of Use
It is effortless to use for developing a powerful website. The users can choose their desirable templates and then set them through drag and drop options.
So the beginners can quickly choose the template and set your website. It is not only easy to use for the developers, but also the beginners can also quickly visit due to the comfortable interface. Moreover, if you have any queries, you can contact customer service through live chat or email support.
Pricing and Plans
Here are the cheapest plans of landerlab.io
Free
Starter plan is for $49 per month
Pro plan is for $69 per month
Master plan is for $109 per month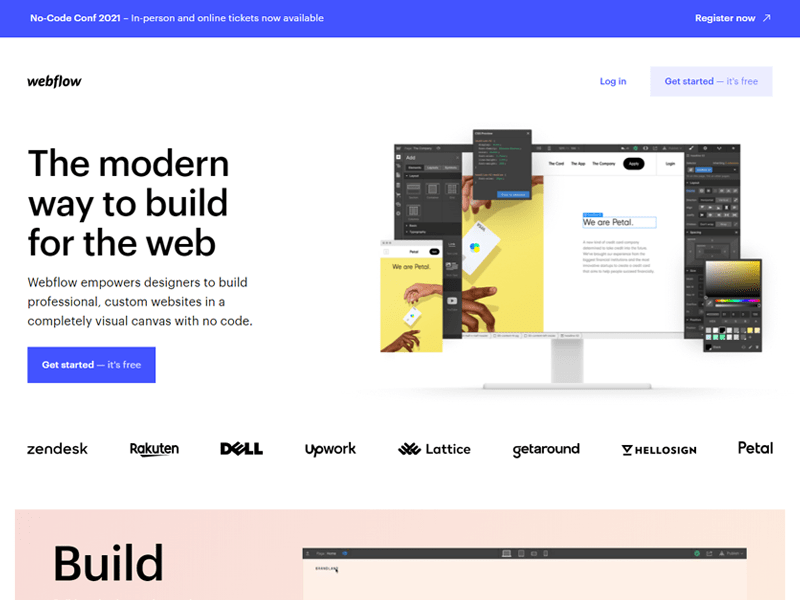 If you are a professional website designer and want the cheapest plan, then Webflow is best for you. It is one of the hybrid website builders that provides easy-to-use functions.
It is the best choice for persons with less technical knowledge and who want to get the best alternative to expensive website builders.
Read More: Full review of Webflow
Features
Webflow is a highly competitive website developer in the market that offers incredible features at such cheap rates.
The features of Webflow include:
Hundreds of professionally designed templates
Customizable designs and templates
Give access to high powers, including CSS. JavaScript and others
Automatic website optimization
Regular customer support through live chat or email
Easy to use with less technical knowledge
Ease of Use
Webflow is considered a straightforward website builder that provides practical support to its users. You can build your powerful website with simple drag and drop options.
The templates are effective in that you can choose according to your niche and customize them according to requirements. So overall, it is one of the easiest ways to develop a professional-level website with Webflow.
Read More: Webflow vs WordPress
Pricing and Plans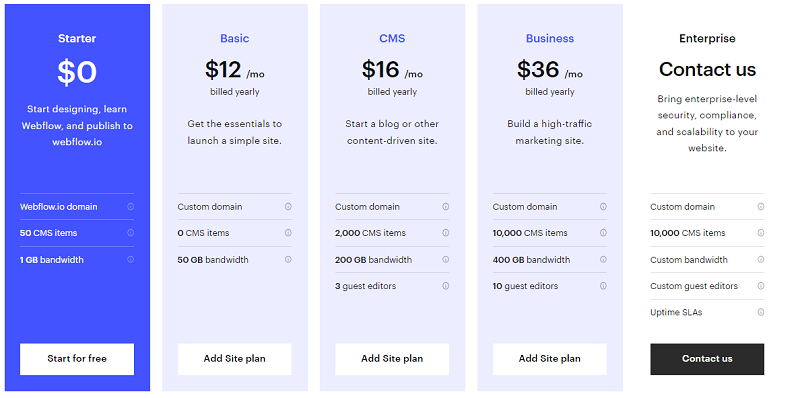 Basic plan is for $12
CMS plan is for $16
Business plan is for $36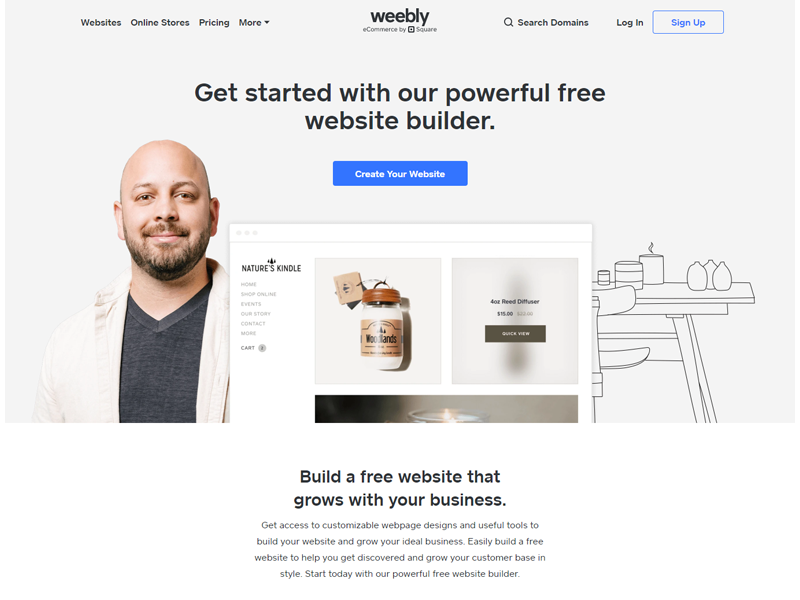 Weebly is the oldest and trending website builder with plenty of features at the cheapest rates. If you want to build an eCommerce website, Weebly can help you better.
It has a rich app library that helps develop the website quickly without any hassle. Moreover, you can build a clean and straightforward interface for your users. It has more than 50 million users worldwide and has expanded more than this range.
As we are here to check the cheapest website builder, Weebly has excellent support in reasonable price tags and wonderful plans. If you are new and want to build a robust website, it should be your first choice.
Read More: Best Free Website Builders.
Features
Here are some primary and incredible features of Weebly that you can avail of at cheap rates.
Custom domain and free SSL security certificate
SEO optimization and well-developed community forums
24/7 customer support through live chat or emails
Help in capturing the leads
Quick website development with drag and drop options
Provide mobile app support to manage the website
Tonnes of professional and free themes
Ease of Use
Weebly provides massive support with an easy-to-use interface. It offers the best support regarding website customization. The drag and drop function of Weebly gives a wind breeze to users for developing their robust website in less time.
You will have the WYSIWYG editor by subscribing to a Weebly cheap website development site. This editor is incredible with its features which means you can edit your website content, theme, and many more in less time.
You have more than 70 themes at Weebly to enhance the visual impact of your pages. All of these templates are appealing, but only some of them are also customizable. So you can use the theme as it is and don't need to do any tweaks.
Pricing and Plans

Weebly cheapest plans for website development includes:
Free
Connect plan in $5 per month
Pro plan in $12 per month
Business plan in $25 per month
Weebly also offers their yearly plans, but these cheap monthly plans are suitable for you if you are a beginner.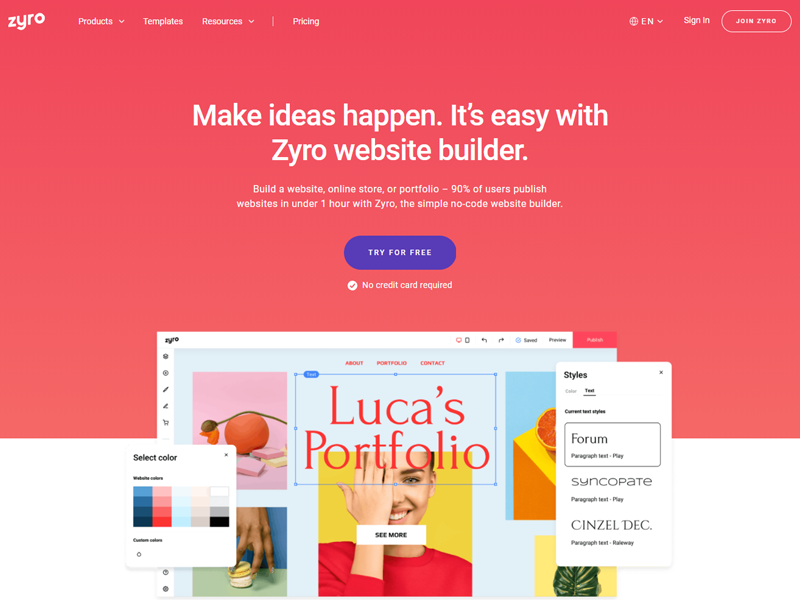 Zyro website builder is best for the AI builder. It is a new but cheap website builder under the tree of hosting. You can use it to build any type of websites like blog or eCommerce websites. It provides the drag and drops editing option powered with AI tools to perform the tasks quickly.
Features
So let's see how it offers support to its users at such low rates. The features of Zyro include:
Offer three main AI tools including AI writer, AI brander, and heat mapper
23/7 customer support through email or live chat
Quick integration
Free and paid templates
Drag and drop website building options
Ease of Use
Zyro is really straightforward to use with its AI features. It is a web-based app that provides an appealing look and feels to users during the web development process. When you enter Zyro platforms after creating the free account, it will show subscription options under the bar or My Websites and My domains. You can choose your desired plan directly by moving through this roadmap.
For an easy-to-build website, everything is labeled and stacked at Zyro, especially for beginners. You can start building your website after making and getting your relevant plan after a few minutes.
Pricing and Plans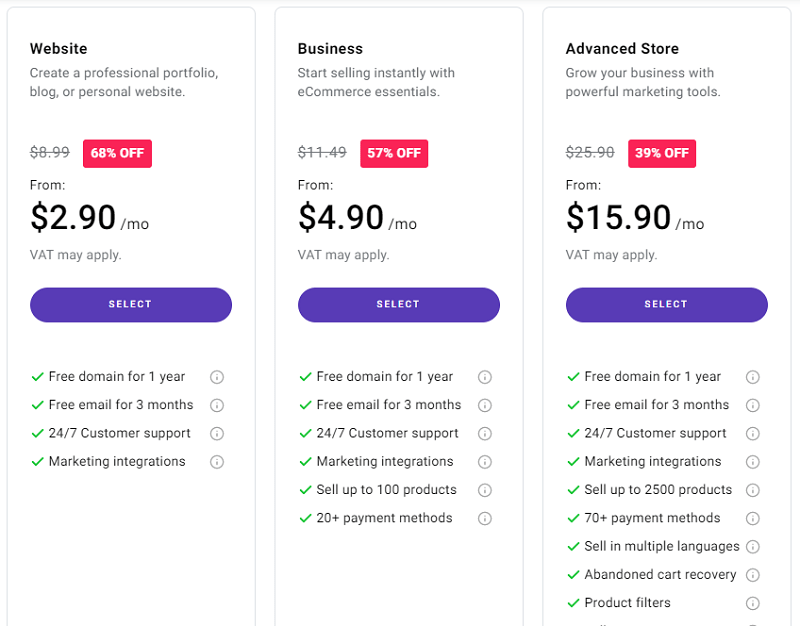 Now Zyro offers four basic plans to their users, and every plan comes with free hosting. the plans include:
Zyro basic – $8.90 per month
Zyro unleashed is for $12.49 per month
Zyro eCommerce is for $24.49 per month
Zyro eCommerce plus is for the $29.99 per month
Pixpa is an easy to use, all-in-one, website builder designed to empower photographers, creators and business owners by helping them build feature-rich, professional websites effortlessly, affordably and without touching a single line of code.
Pixpa's rich range of pixel-perfect, mobile-friendly, and responsive templates and intuitive design tools can help you effortlessly create a custom website to share, sell and deliver your work– all in one place.
Features
Easy to use, no-code website builder.
A beautiful range of modern, minimalist, mobile-optimized and responsive templates.
Full-featured portfolio building platform with multiple gallery options, client proofing tools, social media integrations, print and digital download sales and more.
Built-in eCommerce builder with product and inventory management tools, abandoned cart recovery, easy order processing, shipping rates, discounts and more.
Blogging tools that let you create, edit and publish your blog posts all in one place.
SEO tools available at all pricing tiers.
Built-in marketing features including announcement bar, marketing pop-ups, mailing lists and email marketing services.
24×7 customer support through live chat.
Ease of Use
Pixpa makes website building truly effortless and easy for beginners and experts alike. The platform uses a combination of a drag and drop page building tool and an intuitive visual editor which is available through the Pixpa studio dashboard.
Keeping in mind the needs of first time users, each Pixpa template comes with a dedicated guide which can be a useful tool to help you customize your website to your liking and requirements. If you are an advanced user, you have the option to use custom CSS and HTML code to further personalize your website.
Alongside the extensive help website, Pixpa also offers 24×7 support through live chat to assist users with any issues they might face.
Pricing and Plans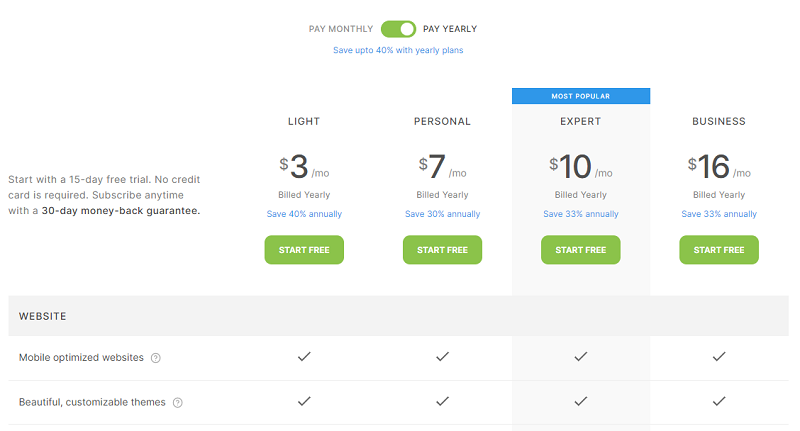 Pixpa offers a full-featured, 15-day free trial for all users. It is a paid service and offers four tiers of affordably priced subscription plans:
Light is $3 per month
Personal is $7 per month
Expert is $10 per month
Business is $16 per month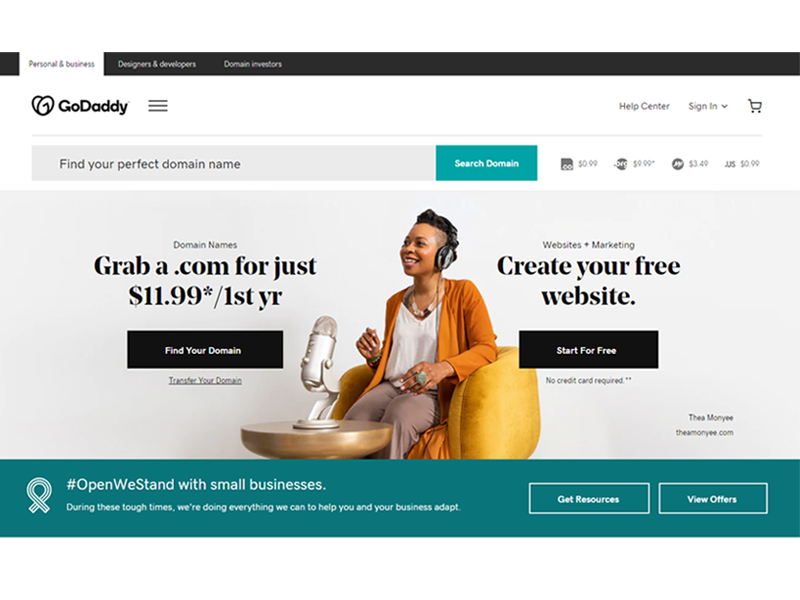 GoDaddy is one of the famous website builders and is popular as a web hosting provider and domain registrar. It has more than 19 million websites and 78 million domain names under its belt. So it is clear that Godaddy offers incredible performance and support in the website development process. It also offers incredibly convenient features at reasonable price tags.
Features
Godaddy features are for all beginner and expert users. You can choose any plans and get the following features at cheap rates.
Quick website launch
Easy to use with drag and drop option
Effective for email marketing
Free SSL certificate
Well known images library in high quality
Free and paid templates with responsive designs
Ease of Use
GoDaddy provides the WYSIWYG web builder that provides easy-to-use drag and drop functions. You can focus on your content more than site creation with this amazing editor. It helps in quickly developing the site pages in less time. You will have a certain number of finely tuned designs that help develop and customize every website page. Moreover, you have plenty of options in design selection.
Pricing and Plans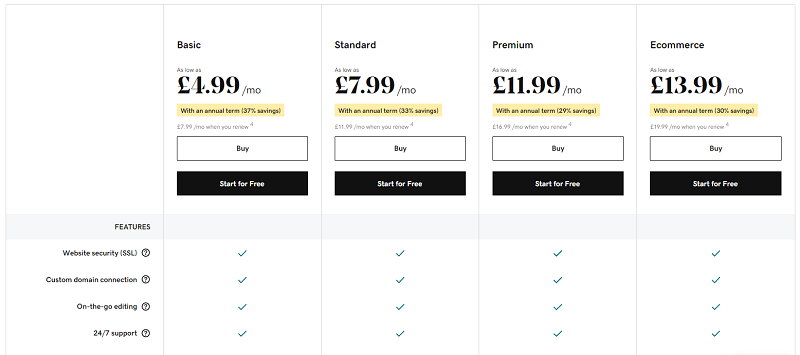 Before selecting the GoDaddy website building plan, you have the availability of a 30-day free plan. So you can test your skills before investing. The plans of GoDaddy include:
Basic — $10.00 per month
Standard — $15.00 per month
Premium — $20.00 per month
Ecommerce — $25.00 per month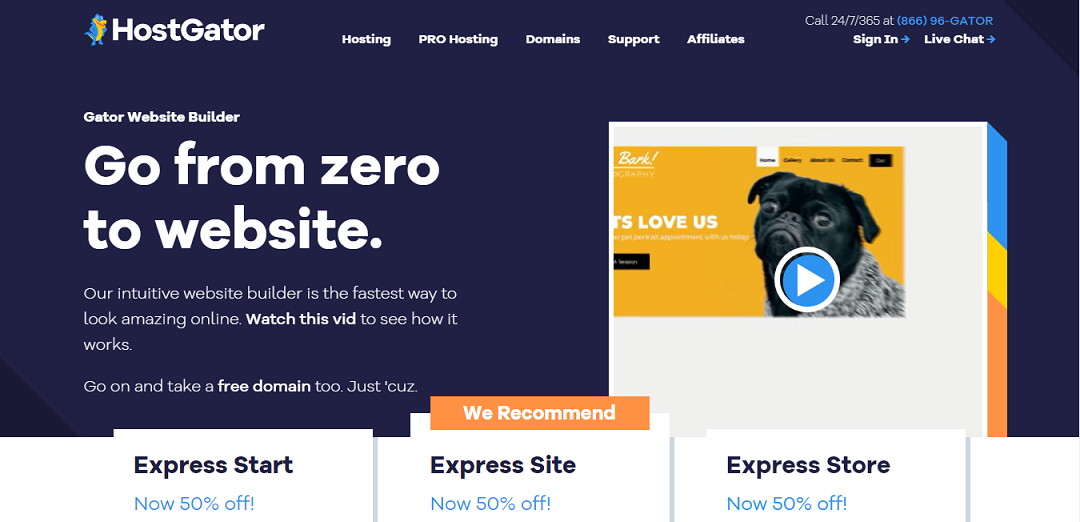 Gator website is famous for its famous blue or yellow grater. It is a website builder from Hostgator that beat the market with its potential.
However, Hostgator offers their shared, VPS, cloud, and dedicated servers to make the website development process quick and easy. Now they also dip their skills in providing the best and cheapest website builder for all sorts of users.
Features
Gator website builders offer their incredible features at the lowest rates. The price worthy features of the gator website builder include:
Provide hosting with the domain name and free SSL certificate
Drag and drop website building features
Details analytics of website for assessment
More the 200 free templates and all are customizable
Free chat support through phone and emails
Provide high-quality stock photos that help in making the appealing interface
Ease of Use
It is elementary with its high-quality features and offers a familiar interface to their users that help in starting building the website at first view. Even the beginner can quickly understand the website building method at gator web builder.
It also offers the drag and drop option for some features like templates. You can choose your desired template according to your business and are good to go for the next process.
Pricing and Plans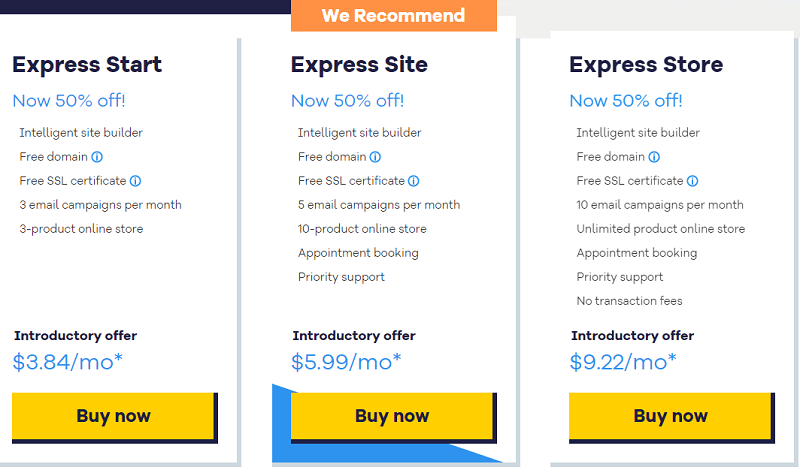 The Hostgator website builder prices and plans are great. Its plans include:
The starter plan is for $3.84 per month
The premium plan is for the $5.99 per month
The eCommerce plan is only for the $9.22 per month
All these plans have various pros and cons for their users. So you can choose it according to your requirement and launch your business quickly.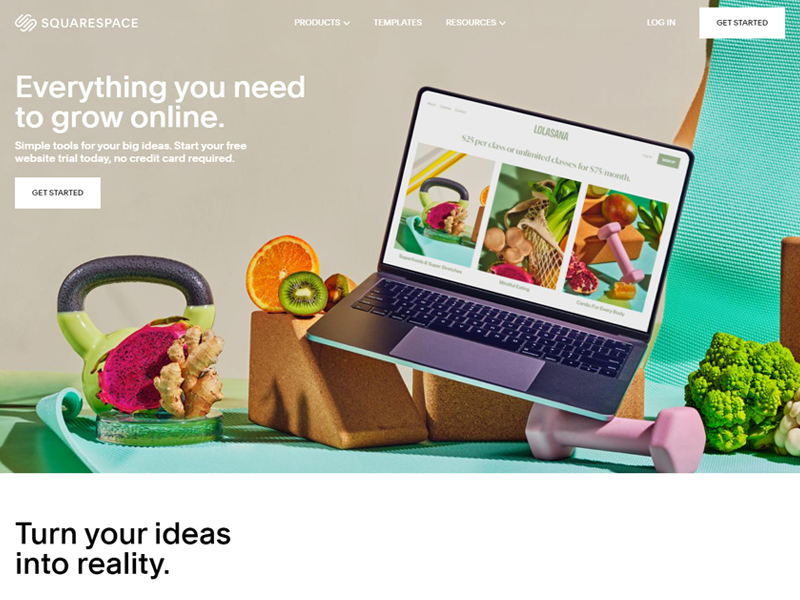 Squarespace is one of the leading website builders that help develop a powerful website with quick management and a working interface. It is helpful to make a portfolio website or one-page web. Moreover, you can also build your small or big websites by using Squarespace. It is included in the robust website builders that also support mobile apps.
Features
Responsive designs
Amazing Templates
User-friendly interface
Compatible with mobile devices and tablets
Help in managing the website images
Effective content importing tools
Quick integrations with third parties
Two weeks free trial
Ease of Use
Squarespace is easy to use with quick integration that provides the drag and drops option that helps in building powerful websites. You can make functional websites that can generate effective leads. It is all in one platform to make your professional blogs, eCommerce sites, and business websites.
Read More: Webflow vs Squarespace.
Pricing and Plans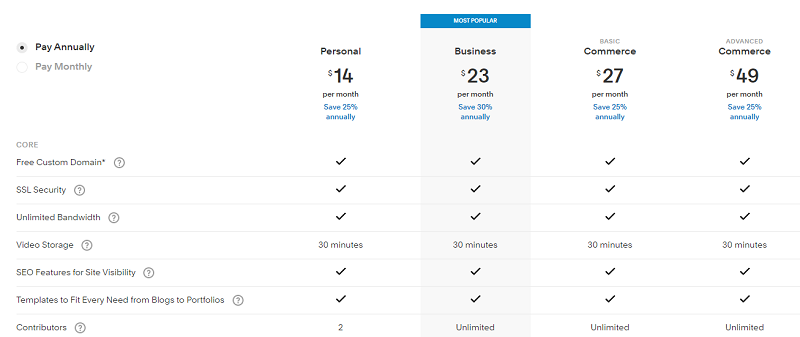 Personal plan is for $12
Business plan is for $18
Basic commerce plan is for $26
Advanced commerce plan is for $40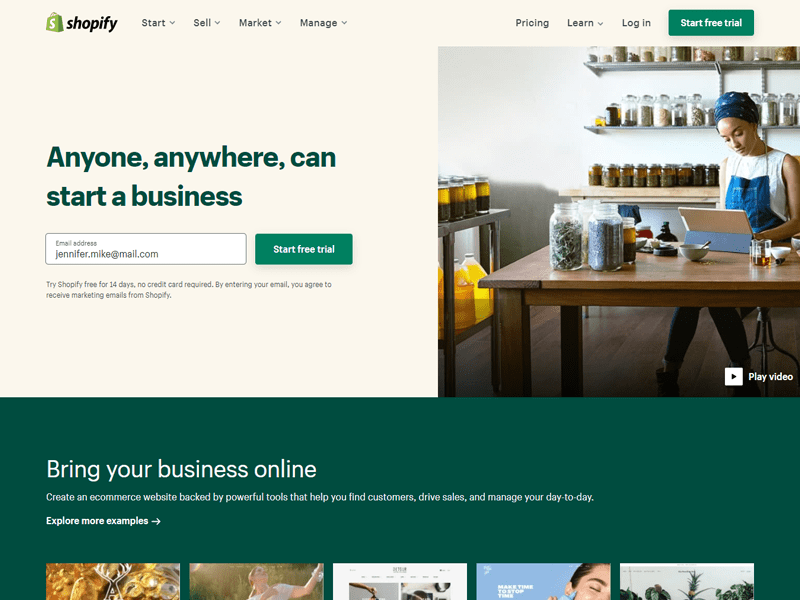 If you want to build your online store, there is no better option than Shopify. It is one of the best eCommerce platforms that help in creating eCommerce websites. Beginners don't have the knowledge to use complex website builders. So Shopify makes it easy for beginners to build their store website and start selling the products.
Features
Shopify is one of the leading eCommerce platforms that offer incredible features at the cheapest price tags. You can get all the support at cheap price tags. The features of Shopify include:
Easy to use
Drag and drop website building features
Tonnes of free website templates
Quick integration
24/7 customer support through live chat and emails
High-quality images
Ease of Use
Many online store website builders don't provide easy-to-use interfaces. But Shopify is an amazing eCommerce platform that provides quick and straightforward website-building platforms. Usually, the beginners know only about WooCommerce or Magento for developing their eCommerce store, but Shopify is easy to use and the best option at cheap rates.
Read More: Ecwid vs Shopify: eCommerce Comparison, Pros & Cons, Integrations
Pricing and Plans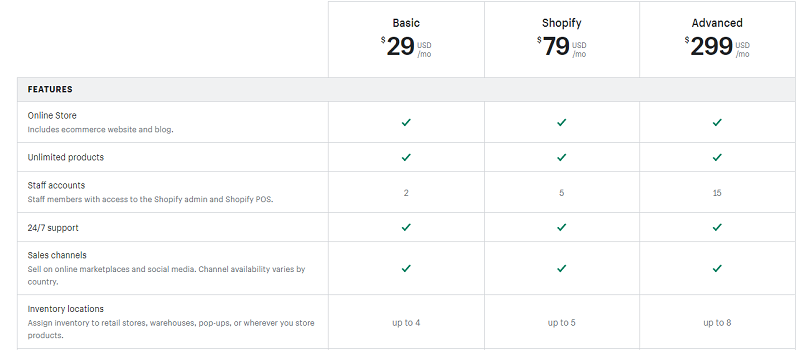 Here are the pricing and plans of Shopify to build the eCommerce website. You can choose any of these cheap plans according to your budget and requirements. So the plans include:
Basic plan in $26 per month
Shopify premium is $71 per month
Advanced plan in $266 per month
You may find these plans more expensive than other website builders on this list. But there are cheap plans among other eCommerce website builders.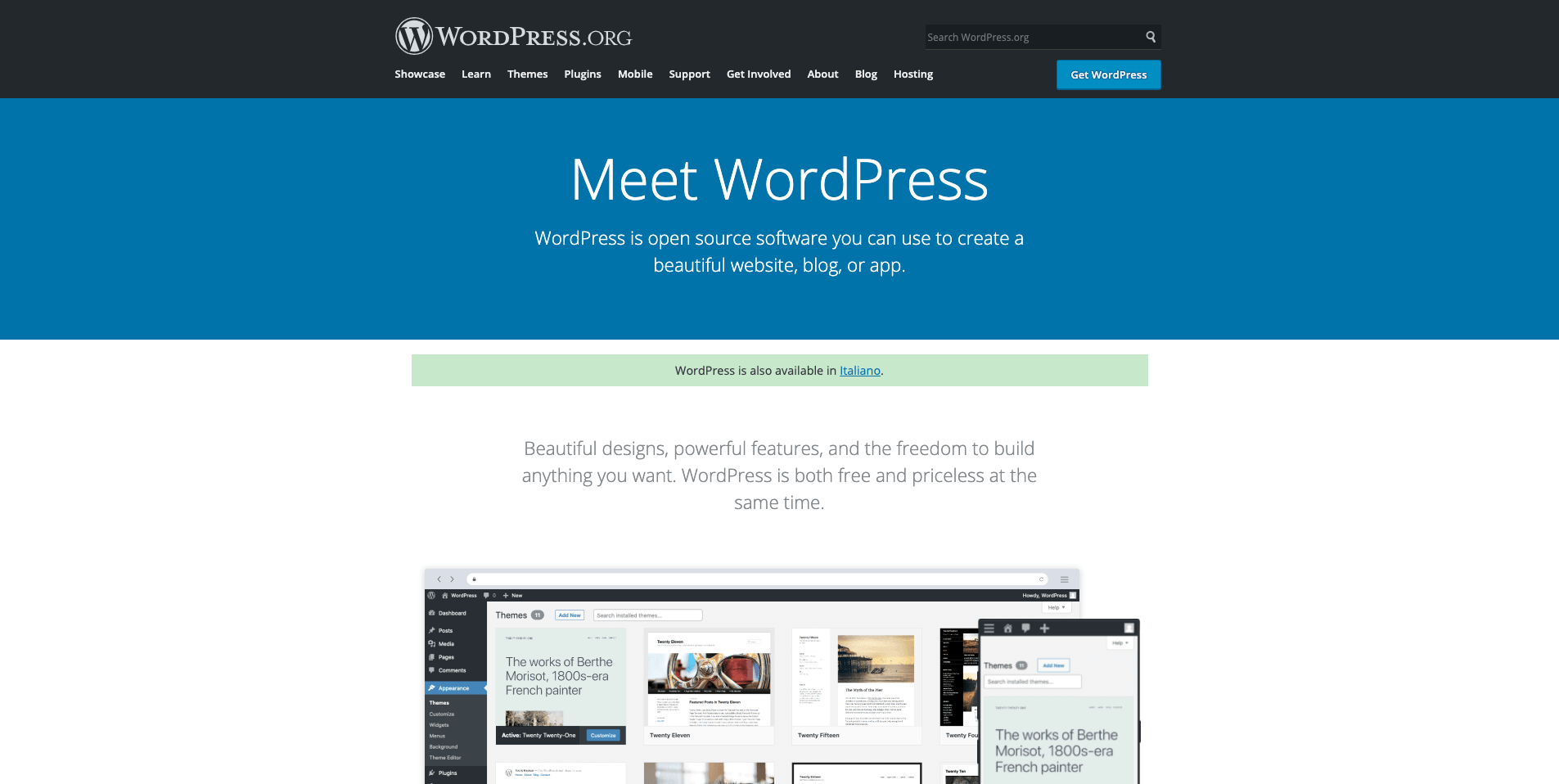 WordPress is one of the most popular website builders among professional writers and bloggers. If you want to market your website by developing an easy-to-use website, WordPress is the best option. It is easy to manage the WordPress site with unique designs and plans. However, it provides full control to the users to customize your website and manage its visual content.
So if you want to build a blog, it's the best option, even for eCommerce stores.
Features
WordPress is one of the most demanding website builders for bloggers and builders. So it is clear that their features are also great. The incredible features of WordPress include:
Hundreds of customizable themes for a variety of niches
Mobile friendly app
Provide WordPress hosting service
Visual and code-based editors
Details states of visitors to analysis the website progress
Full-day custom support through live chat and emails
Help to interact with other writers community through like and share features
Offer free SSL certificates
Ease of Use
Many new beginners and experts already know about WordPress by scrolling here and there to find the best website builder. So yes, it is easy to deal with WordPress with an effective framework, backend, and everything needed to build a powerful website.
If you are new to WordPress, you may find it complicated for some time compared to other website builders in this list. However, once you start working on WordPress, you will find it easy to use and build websites.
Pricing and Plans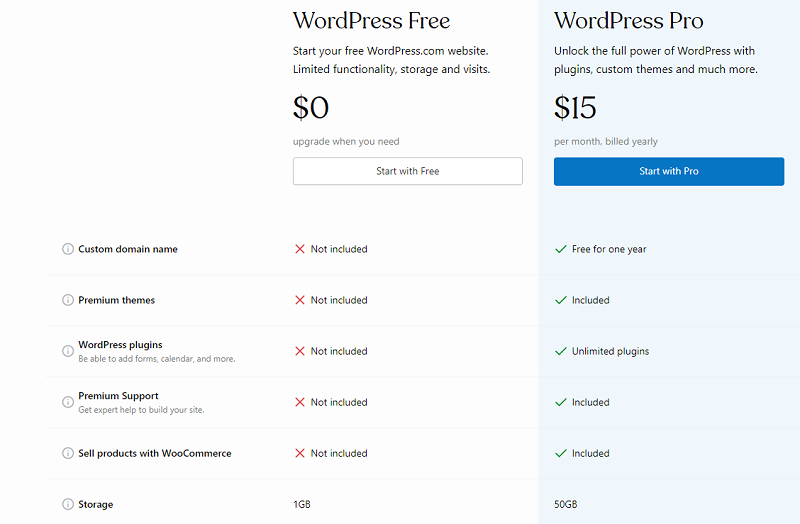 WordPress prices and plans are reasonable and cheap for beginners to start their businesses.
Free
Personal – $4 per month
Premium – $8 per month
Business – $25 per month
eCommerce – $45 per month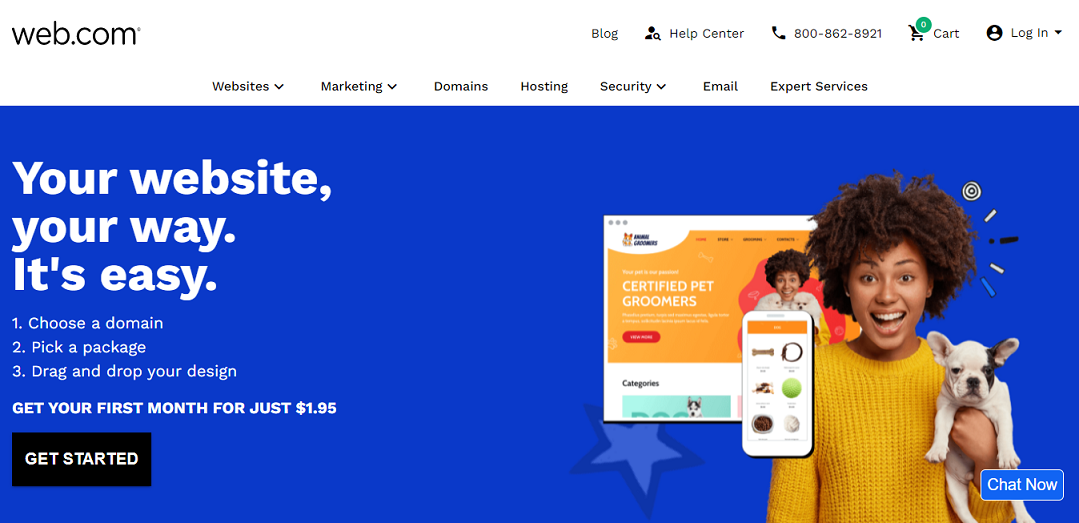 Web.com is one of the established service providers in the website development field. It has millions of customers under its belt in a short time. You may know about it already as it provides many subsidiaries. It is one of the cheapest website builders with the addition of all the latest features.
Features
Web.com's features are a great way to attract users. All these features are available at low rates, so one can build their website quickly and effectively.
So the features of web.com include:
Great responsive designs
100 templates in the free and paid version
Quick integration
Full-width image and video backgrounds
Effective shipping for eCommerce stores
Advanced SEO and marketing tools
Ease of Use
Web.com is user-friendly due to its straightforward interface. If you are a builder and want to get amazing features, web.com is the best option. You will get the core editing features with every template.
Moreover, it is a amazing website builder with massive templates and designs. You will also have the drag and drop option to rebuild your website and resize its alignment. So it will save the builders from the effort of compressing the images before uploading them on your website. It has automatic image optimization that is good to go.
Pricing and Plans

Web.com doesn't have separate site builder plans. You can purchase it with the hosting and build your website in bounce. So it also gives the benefit of hosting services at the same price tag.
Now it has three plans including:
Starter is for $1.95 per month
Marketing plan is for $2.95 per month
eCommerce plan is for $3.95 per month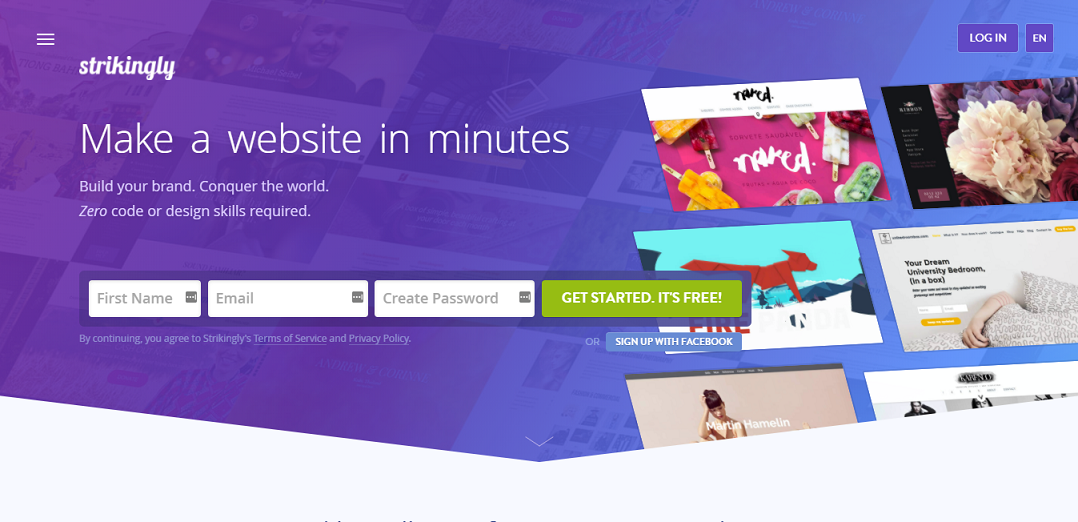 Now there is an incredible innovation in the website building field. Strikingly is also one of the recent website developers that help users start their business in unique ways and cheap plans.
It is a blog builder site that also has mobile technology to make the process easy for users. You can also tailor it with your products to develop the website and run your business online. So if you are new and want to select a fantastic but affordable builder, then this is for you.
Features
Strikingly provides incredible features in less pricey plans. By using the Strikingly features, you can build a powerful website that is also appealing to potential users.
So the features of Strikingly include:
Simple store building solution
Great shopping cart features
Quickly integrate with PayPal
24/7 customer support
100 visually compelling themes and designs
Ease of Use
Strikingly is uncomplicated and lets the builders quickly build a one-page website. It is a fact that every great thing has some downsides. So it may also have some, but if you are a beginner, it provides a newbie-friendly website building environment. You can quickly become a master of developing websites through Strikingly. It provides quickly customizable options so that beginners can make their first website quickly and gain confidence.
Pricing and Plans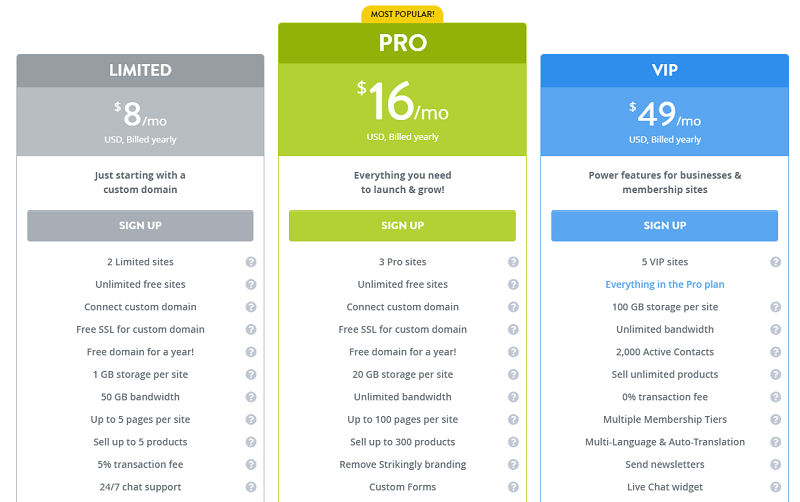 It has four plans for every user to choose and build their website.
Free
Limited is for $8.00 per month
Pro is for $16.00 per month
VIP is for $49.00 per month
It is advisable to initially choose the month-to-month hosting plan as long-term commitments can be risky for you when you have low-level skills.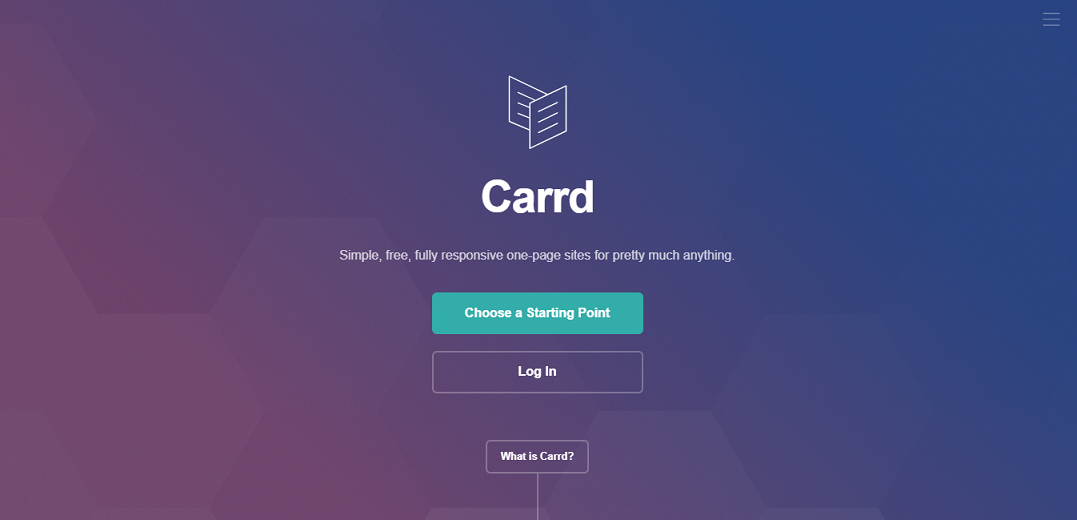 Carrd offers long-term website development plans at cheap rates. It is one of the low rates website builders on our list. So you can get similar features with some ups and downs at cheap rates and start building your website. The carrd is best for building blogs, business cards, portfolios, and app landing pages at limited budget.
Features
The features of carrd include:
Responsive designs in every niche
Effective for one-page website development
Enable to develop of three sites at one account
Premium templates with accessible URLs
Help in using the large images, videos and customizing the icons
Allow integrating with third-party website builders quickly
More than 50 design elements for increasing the visual impact.
Ease of Use
Card helped to create the one-page website quickly. It provides a user-friendly interface and is intuitive for beginners. You can choose your desirable and stylish template from the millions and customize it according to your requirements to make it unique. It also provides clickable elements that help in making quick modifications.
You can make the website publishable in no time and have more than 100 elements on your page. So it is suitable for making both small and big websites.
Pricing and Plans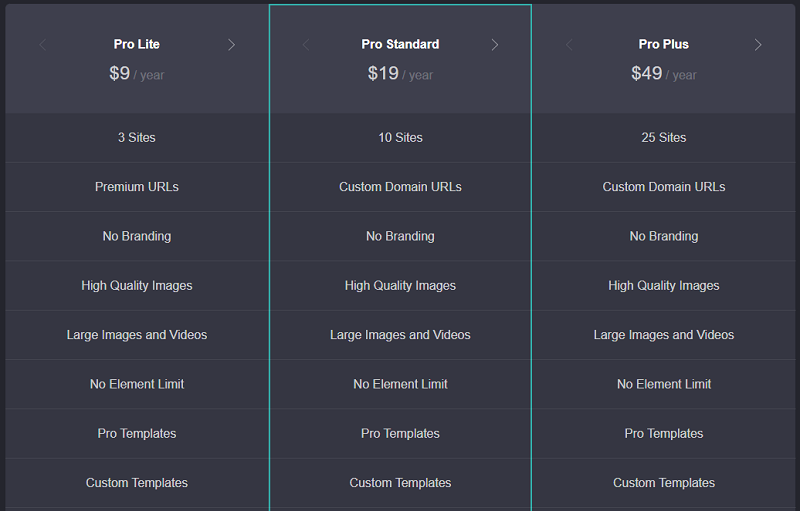 Free.
Pro Lite is for $9 per year.
Pro Standard is for $19 per year.
Pro Plus is for $49 per year.
Final Verdict
So by summing up the list of the above, you have the top cream. Now, it depends on your website requirements and budget to choose the website builder and start your online business. 2023 is the year where we have many incredible website builders with a lot of features at cheap price tags.
Ensure that you know about your requirements and website developing skills before selecting the builder. Moreover, compare the website builders according to your criteria and choose the most effective one. We share all the amazing website builders that help you develop an effective website.
We hope this guide is helpful for you to kickstart your website building process with the cheapest website builders.
Want to Learn More?

As one of the co-founders of Codeless, I bring to the table expertise in developing WordPress and web applications, as well as a track record of effectively managing hosting and servers. My passion for acquiring knowledge and my enthusiasm for constructing and testing novel technologies drive me to constantly innovate and improve.
Expertise:
Web Development,
Web Design,
Linux System Administration,
SEO
Experience:
15 years of experience in Web Development by developing and designing some of the most popular WordPress Themes like Specular, Tower, and Folie.
Education:
I have a degree in Engineering Physics and MSC in Material Science and Opto Electronics.