Let's explore some of the best free website builders on the market for 2023. Websites have become mandatory for running small businesses and large businesses. Whether you are a photographer, artist, content writer, or working through e-commerce, you need a website to hook your audience and generate conversions.
Websites are also a source of confirming your online presence. So, a new start-startup needs a basic or business website for generating contact forms or getting conversions. Creating an essential website is not a big deal with website builders. You can get an SSL certificate, hosting, and domain quickly by using these builders.
Table Comparison
| Provider | Storage | ADS | Domain | Paid Plan Price | Rating |
| --- | --- | --- | --- | --- | --- |
| Wix | 0.5 GB | Logo in footer and Header | Free subdomain | $4.5 – $24 | 4.8 |
| Webflow | 0.1 GB | Logo in footer | Free subdomain | $29 – $74 | 4.1 |
| Weebly | 0.5 GB | Logo & expandable sign-up form in footer | Free subdomain | $5 – $38 | 4.0 |
| Google Sites | 30 GB | logo in footer | free subdomain | $6 – $18 | 4.2 |
| Zyro | 0.5 GB | Logo in footer | Free subdomain | $2.90 – $25.90 | 3.7 |
| Jimdo | 0.5 GB | Logo in footer | Free subdomain | $9 – $39 | 3.7 |
| Site123 | 0.5 GB | Overlay in footer | Free subdomain | $ 10.8 | 3.4 |
| SimpleSite | 0.5 GB | Logo in footer | Free subdomain | $11 – $15 | 4.2 |
| Ucraft | Unlimited storage | Logo button in footer | Free subdomain | $10 – $69 | 4.1 |
| Squarespace | 100 mb space | logo in footer | Free subdomain | $12 – $40 | 4.2 |
| Webnode | 100 GB | logo in footer | Free subdomain | $3.9 – $22.9 | 4.2 |
| Strikingly | Unlimited (10 MB max. file size) | Overlay in footer | Free subdomain | $16 – $49 | 3.4 |
| Duda | unlimited space | logo in footer | Free subdomain | $7 to $49 | 3.7 |
| Godaddy | Unlimited storage | Banner ad at top of page | Free subdomain | $3 | 4.5 |
| Mozello | 0.5 GB | logo in footer | Free subdomain | $9 | 3.4 |
Best Free Website Builders
Let's start now reviewing any platforms in detail and learning about their features, price, pros and cons.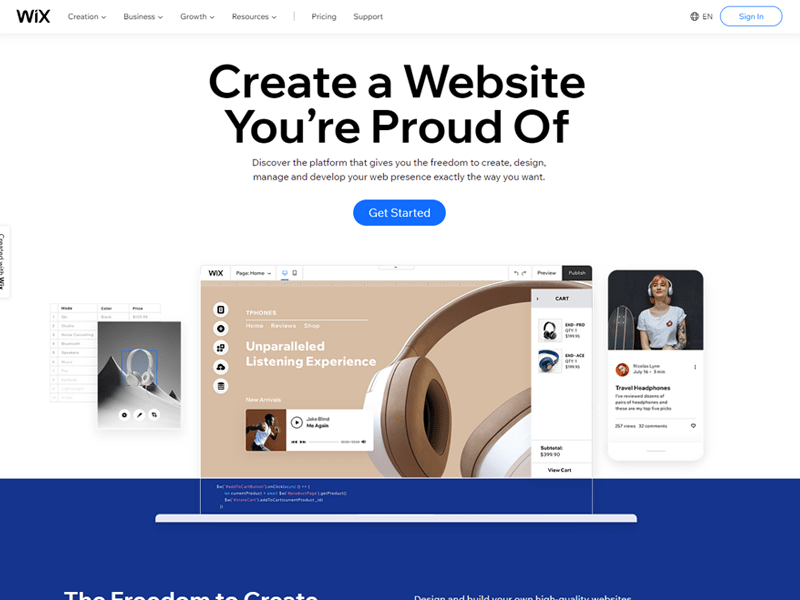 More than 85 percent of customers wander here and there on the internet before purchasing. By taking into account this factor, your dealings need to access a website. You can create your professional website with Wix. You can Avail themes and customize them according to your taste. Other than this, it provides hosting along with domains.
Although the subdomain offered by Wix is not too appealing, it is the best option in a free program. Wix facilitates its users by providing them the opportunity to customize the domain.
It is the plus point of Wix because other websites do not offer domain customization. The image library is another attribute of this builder.
Features
Customizable, attention-grabbing templates
Trustworthy web hosting.
Practical SEO tools
24/7 clients care.
Built-in e-commerce characteristics,
The learning curve shows all your clicks and traffic.
Pros
Vibrant themes.
Multiple wix applications.
Free SEO tools.
Good customization.
Unlimited pages.
Cons
Permanent template (cannot be interchanged)
The free plan offers to lead to Wix branding.
The obligation of the paid plan for tracking and analytics
Obvious ad.
Drag-and-drop site builder bid
Price
You can use it freely, but you have to pay for additional features, but reasonable pricing is demanded. About 800 templates are usable at any time without charge. With these features, it is a cost-effective website developer. Moreover, one can use 500 MB of space for free.
Wix offers four premium plans:
| | | | |
| --- | --- | --- | --- |
| Connect Domain | Combo | Unlimited | VIP |
| $4.50/month | $8.50/month | $12.50/month | $2.50/month |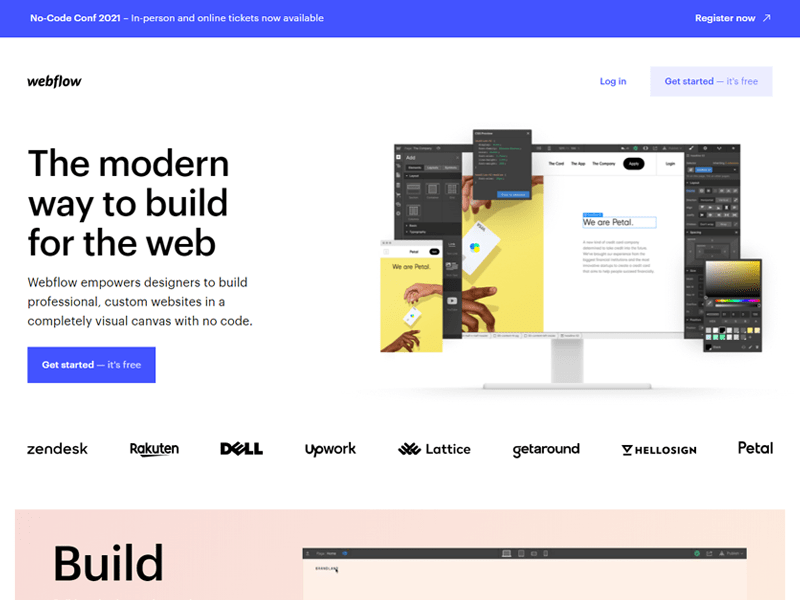 Webflow is famous for offering software and website making and hosting. Headquarters that direct this company relate to San Francisco, California. You can use this for making and launching potential and influential websites without coding.
Webflow has basic designs. So, if you want to use modern techniques, this builder is not for you. Extra creativity is not available in this designer.
However, if you want to make a website for gaining experience or as a hobby, you can go for it. Although it demands a security fee, your data will be highly secure.
Read More: Webflow vs. WordPress Comparison
Features
A 24/7 hours alert website designing system.
Quick to respond features.
Prototyping.
Adorable management.
It does not demand any coding.
Somehow it looks costly, but web hosting, security fee, etc., are covered under one monthly payment. You don't have to pay it separately.
Pros
There is no need for a credit card.
Barely visible ad.
Excellent customer support.
High-end customizability.
Premium quality plugin.
Cons
It is good but not for beginners.
Lack of marketing stores.
Expensive than many other website designing platforms.
Basic design.
Fewer customization options.
Price
One cannot predict if it is good, but Webflow looks like the top trending website in the market. One can publish almost two projects with the free version. So, if you are a newbie, web flow is an excellent option to get experience.
You can go for premium plans to get more benefits.
| | |
| --- | --- |
| Plans | Price $ |
| Basic | 12 |
| CMS | 16 |
| Business | 36 |
| Enterprise | Experts recommend a perfect plan |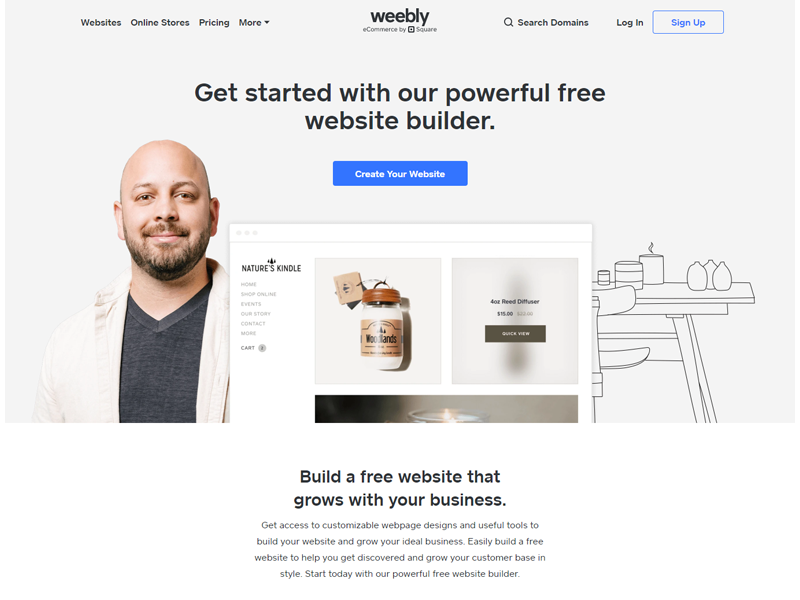 Weebly is another excellent choice for creating simple websites for free. It also provides a perfect marketing tool. David Rusenko, Chris Fanini, & Dan Veltri founded it on the confidence that anyone should have the tackles and ideas to take their business from base to launch and lead today by day development.
Weebly has similarities to Wix in terms of the drag and drops editor. Moreover, other scalable perks make it the first choice of many small businesses. You can use your Weebly site for selling items in the USA. However, it charges a 3 percent transaction fee per sale.
The server response of the builder is slower than other website developers. However, the easy handling of the website and premium quality domain adds to its worth.
Features
Superb for providing the opportunity to develop entrepreneurial ideas.
Cool, stylish and customizable themes.
Users can get help with coding.
Optimization and keywords from SEO guidelines.
Pros
Responsive themes.
SEO customization.
Free storage.
No page limit.
Availability of app center.
Cons
Lack of innovative freedom due to restrictions
Users cannot restore data in case of any emergency.
No choice of artificial design intelligence
Annoying cookie notice.
Interruption with Google analytics.
Price
Beginners can try it for free. However, it has different paid offers for websites and online stores. Connect, Pro, and Business plans are for websites at $5, $12, $25 per month, respectively.
For online stores 3 premium plans are as follows.
Pro plan's price is $12/month.
The Business plan price is $25/month.
Business plus price is $38/month.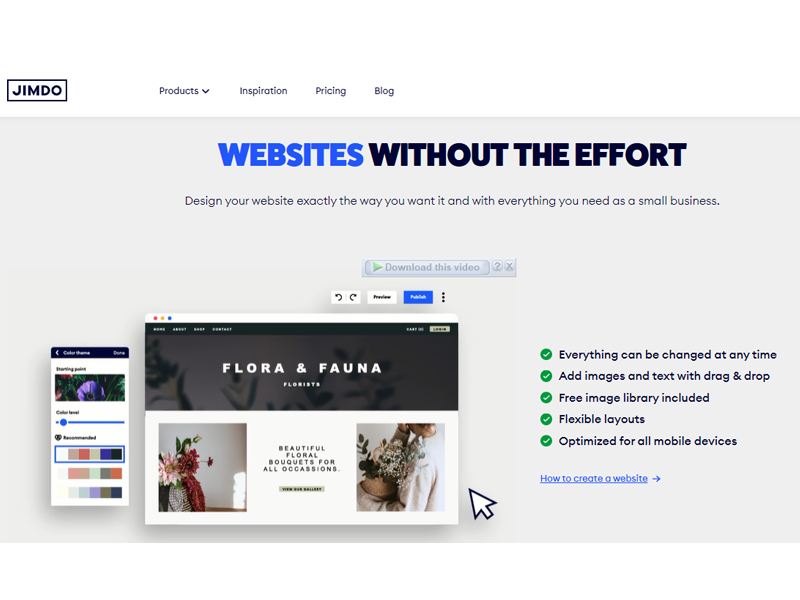 Jimdo website builder has everything a businessman requires to create a professional website. It offers you an online platform aligned with tools to easily do your business without breaking the bank.
No doubt, the most appealing characteristic of Jimdo is ADI (Artificial Design Intelligence). This system provides unbreakable security.
Changing backgrounds and customizing themes according to your requirements is all effortless with this premium website. The ADI editor version of the Jimdo works efficiently and helps create the website in a couple of minutes.
Features
Jimdo offers the cheapest way for advertising.
An easy strategy to use without requiring any coding knowledge.
Jimdo Dolphin adds to its functionality.
Pros
Robust artificial intelligence.
Mobile responsive themes.
Smooth experience.
Cost-effective.
Availability of a proper domain in the free version is beneficial.
Cons
Lack of innovative control
4Limited SEO than other website builders
Lack of fast help and support.
Limited pages.
No blogs are available.
Price
Jimbo offers multiple paid offers along with a free plan called 'play.' You can choose according to your budget and needs. Ad-free websites on an affordable budget are an additional feature.
Jimdo is a cost-effective website developer with plans ranging from $9-$39 in the case of a website. There are three packages for online stores too. Basic, Basic, and VIP plans cost $15, $19, and $39 per month.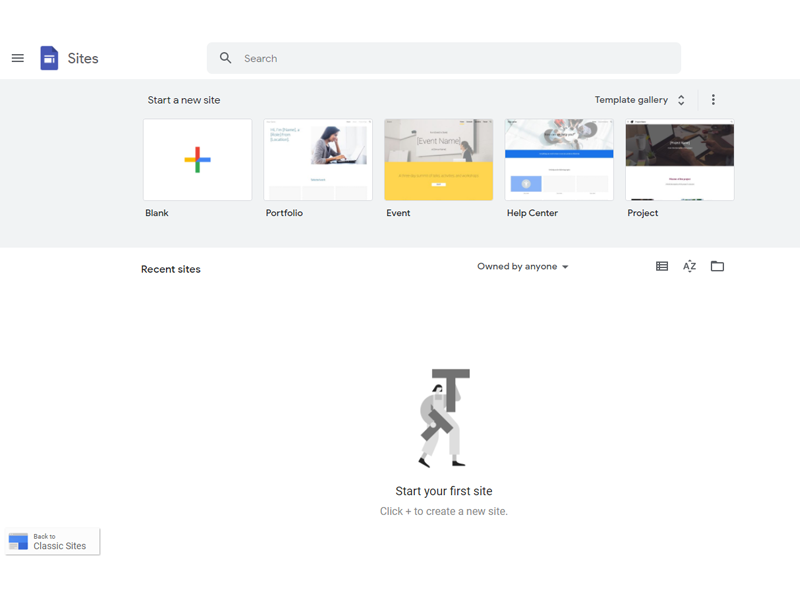 Google sites website builder is a clean and simple platform that does not set hurdles for customers. Consumer reviews and experience reveal that it is best for easy and less complex management and system use.
You can connect it with the Google software, for instance, Google Analytics, etc. No limited bandwidth is only offered if you choose the highest-paid package.
Email marketing is available in this builder. So, if you have an e-commerce store, you can use this to design a top-notch website. Although the number of templates is limited, it is acceptable at such a price.
Features
It connects with every other google product.
Constructive for collecting files, resources, or any other type of documentation related to your business project from any google application.
It can be used for collecting the email addresses of maximum people.
Pros
Ease of use.
Cost-effective.
Exclusive management.
An excellent marketing tool.
Simple processing.
Cons
It is not a fully functional interface for the establishment of any business.
The google site presents only nine or ten templates.
Only valid for tiny scope business.
No creative freedom
Many standard features are not accessible on the google site.
Price
Anyone go for a free trial. Furthermore, it is not very costly. The user needs an investment of 6$-18$ for upgrading to the premium features. However, the free program features are also satisfying. So, a user can work on it without upgrading to the premium level.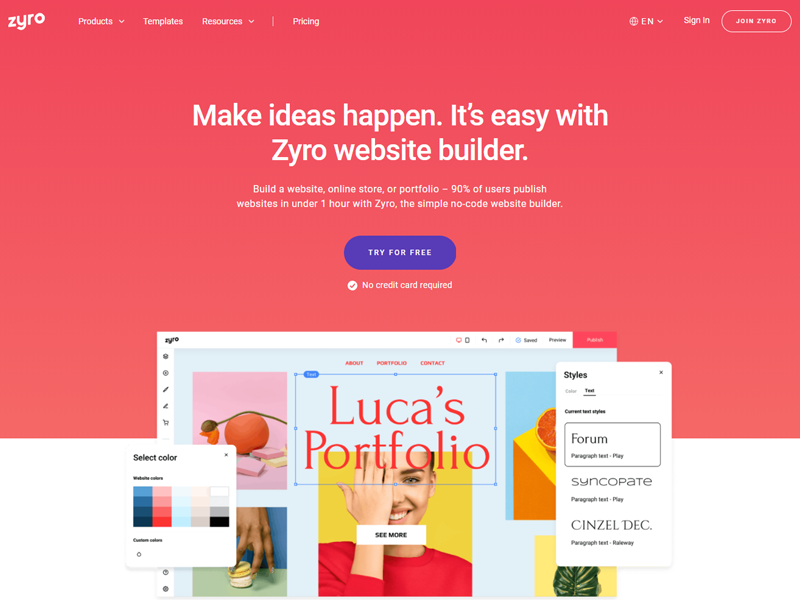 A Diy website builder decorated with all features to set up, administer, and raise your trade online then Zyro is the most preferred choice.
Free web developers minimize their efforts and do all things by themselves. Many characteristics are needed for a successful website platform, but Zyro is the most usable due to unbreakable security.
The free subdomain option is also available in this builder. Moreover, people also recommend it for its built-in marketing tools.
Features
E-commerce functionality with quick launch, response, and shipping.
Free domain and hosting.
Zyro team provides its users with support and guidelines.
Data is safe and secure on a zero website.
Pros
Excellent security.
Free subdomain.
User support system.
How to do guides.
Safe to use.
Cons
Very complicated domain handling.
It restricted customization options.
Slow response to customer queries.
Complicated processing.
Difficult to use.
Price
Zyro takes customer attention because it offers a free trial, and one can pay later on. Moreover, many premium plans with variable costs are available. One can choose the plan according to his needs. The first cost-effective plan is $9.49 per month for websites, but nowadays, this builder is offering a sale price for all premium packages, and for websites now, the price is $2.90/month.
The actual price was $11.49/mo for business but the sale offer is $4.90/mo. $15.90/mo is the price for online stores reduced to $8.90/month now. Zyro charges $25.90/month to advanced stores but it is offering $15.90/mo in the sale.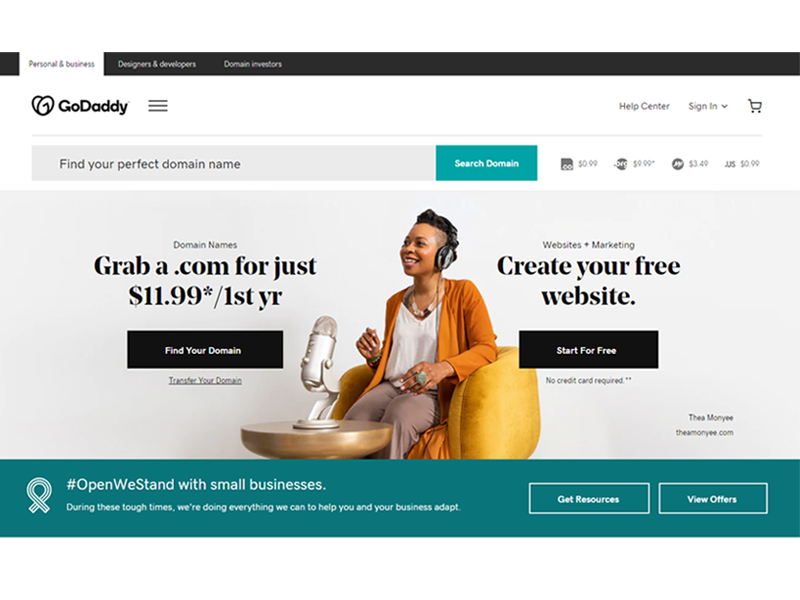 GoDaddy website builder originated in 2014. It is released as a tribute to GoDaddy's famous web hosting service. Original page builder met with positive and negative reviews, but it is now included in one of the most prevailing and potent website building tools.
Godaddy has Remarkable functionality and enables users to build sites in a few clicks. The efficient ADI system has cut a lot of effort and saved users' time. Mobile optimization is also available in GoDaddy.
So, you can set the image resolution and don't size according to your requirement. Call to action buttons are also available in GoDaddy. Moreover, you can also personalize your website with the buttons present at the bottom.
Features
GoDaddy has all those functions that any powerful website builder can have.
The world's leading hosting service has across-board services.
You can take over your business online within an hour by using this.
Management of social media
Optimization of a search engine.
Pros
An excellent marketing tool.
Sturdy built-in features.
Blog availability.
Good for newbies.
Smooth functioning.
Cons
Only basic functions
Expensive.
The bug may appear in SEO customization.
Costly initiative.
Poor editing tool.
Price
This website builder has three different plans. The free plan is not a good option for power users. However, if you are a beginner, you will find it best for your marketing. Moreover, the easy handling and editing in the free version are overwhelming.
You have to pay at least $6.99/mo for the basic plan to start, but you have to pay more to enjoy all the features. Standard plan can be purchased for $10.49/mo and premium package for $13.99 per month.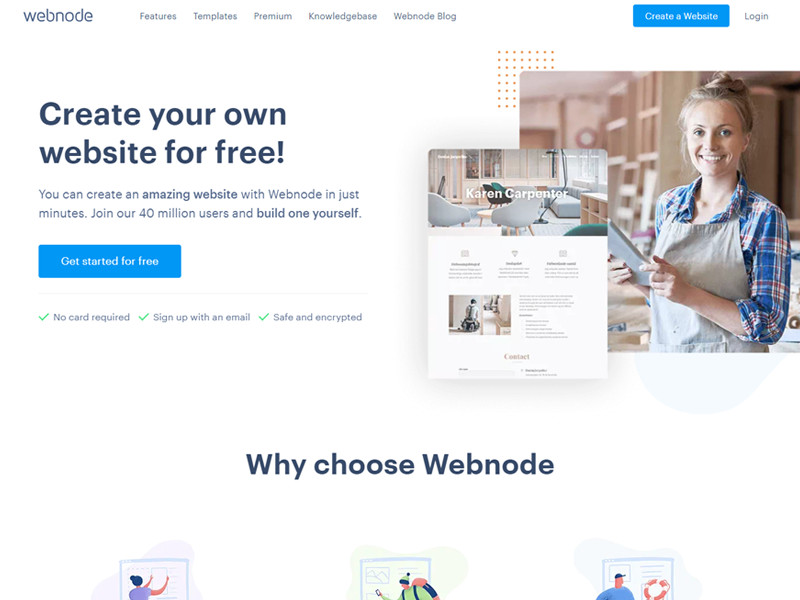 Webnode website builder system adorned with e-commerce features was initially developed by a European company (Brno, Czech Republic). The first version commenced in 2008.
The working of web flow involves padding and sections. Such a format of processing is a bit complex for the newbies. However, the people who are experts can efficiently work on it.
Another plus point of the system is that it accompanies a virtual assistant. This VA helps design the website and cuts the effort and time of users. The navigation on the system is also straightforward.
Features
Drag & drop editing
Easy and simple to use & edit.
No ads will annoy you again and again.
Wide-ranging themes with classic and modern looks.
Complete SEO support
Multiple strategies.
Availability of Google analytics.
Pros
Decent themes.
Outclass SEO tools.
Sturdy built-in system.
Google map integration.
Availability of contact forms.
Cons
Slightly stale templates
Limitation of live chat.
Lack of cell support
Restriction of blogging.
Limited usability of themes.
Price
You can try it for 15 days without paying even a penny. Webnode offers Four plans. The price of Its low-paid version is £2.90 per month. In this basic version, the ad will be visible. Moreover, there is no e-commerce facility in the basic plan. However, it is a good package with limited investment.
Mini, Standard, and Profi are the remaining three paid plans with monthly prices of $7.5/month, $12.9/month, $22.90/month.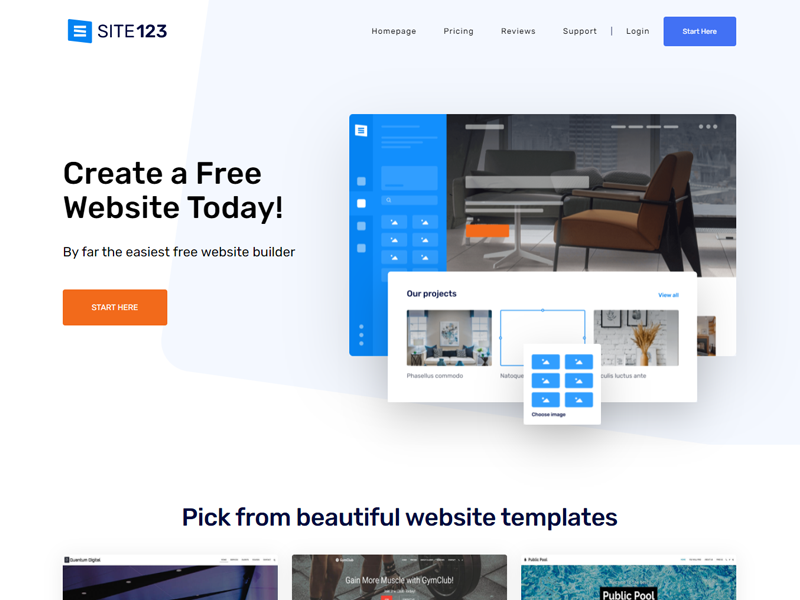 Site123 website came into being in 2015 by the natives of Israel. It is an Israel-related company that presents out of cost and is trouble-free to use. It is so easy that even an individual who has never used and built a website before can utilize it. Multiple languages and basic e-commerce features increase its comprehensiveness.
This intelligent website designer also uses Adi editor for building new websites. The users give it a five-star rating for its excellent user support system. Moreover, you will get 24/7 live assistance and guidance for creating your websites.
Creativity is at no distance with this premium quality developer. All the fonts get pre-arranged, and you can select any color from a boatload of vibrant colors. The striking themes add more worth to the house.
Features
You can build a website with comprehensive features.
Rapid response to all the visitors and consumers.
You can even provide a short link to any helpful google app if you want to be.
Free hosting on a safe and secure server.
Free images, icons, blogs, or other content from different sites.
Pros
Good collection of themes.
SSL certificate.
Good SEO tools.
Availability of multiple pages.
Multiple plugins.
Cons
Lack of code editing
It has restricted choices for themes and templates.
Lengthy processing.
Limited usability.
Lack of customer support.
Price
This website builder offers just two plans. One is a free option, and the second one is paid. The paid version costs $5.80 per month. The cost is really reasonable as per features.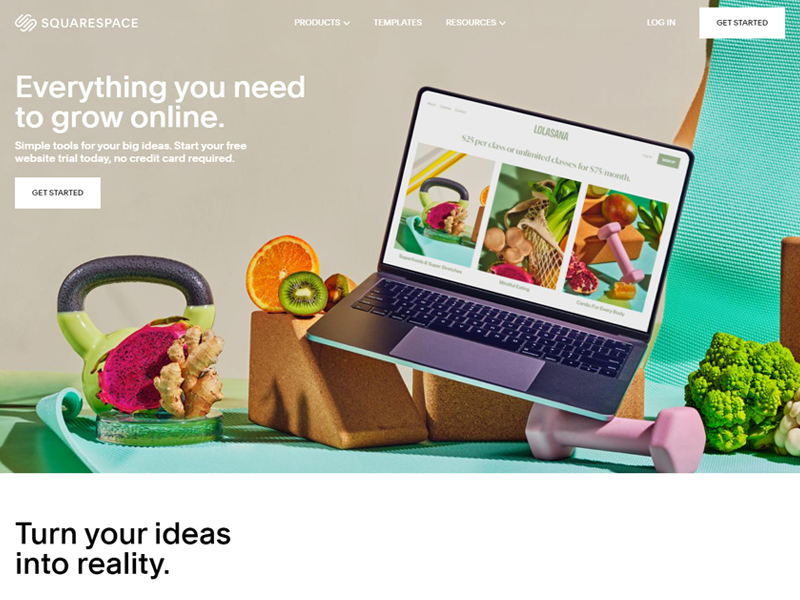 Perhaps Squarespace is the most stout and forceful website builder. A company that originates it invests in it on a large scale. The drag and drop editor integration in this site builder enables people to own websites with premium quality.
The ease of use makes it loveable for both small and large-scale businesses. These unique website builders save your time and money and enable you to create a website according to your needs.
Another remarkable feature is the ideal storage space of the builder. Squarespace features are comparable for personal, professional, and e-commerce websites. It also can be considered as one of the best photography website builders.
Features
No transaction payment is needed for the premium.
Premium tools of Squarespace include integrating with the chief accounting apparatus.
Label printing systems
Inventory administration interfaces.
The cheapest package comprises many pages, encryption, and other standard features.
Applicable for both small and large-scale businesses.
Pros
Premium quality features.
Pre-designed themes.
It is suitable for fashion, dining, cars, etc.
Multiple pages.
Fast editing.
Cons
Very Costly
Few free trials are offered.
Complicated processing.
Demand much credit compared to other website builders.
Poor SSL certificate.
Price
The cost of Squarespace varies according to the plan you buy, but you can save up to 30 percent of the cost by paying annually rather than monthly. Free you can have only a free trial.
| | | | | |
| --- | --- | --- | --- | --- |
| Plan | Personal | Business | Basic Commerce | Advanced Commerce |
| Price $ per month | 16 | 26 | 35 | 34 |
| Price $ Annually | 12 | 18 | 26 | 40 |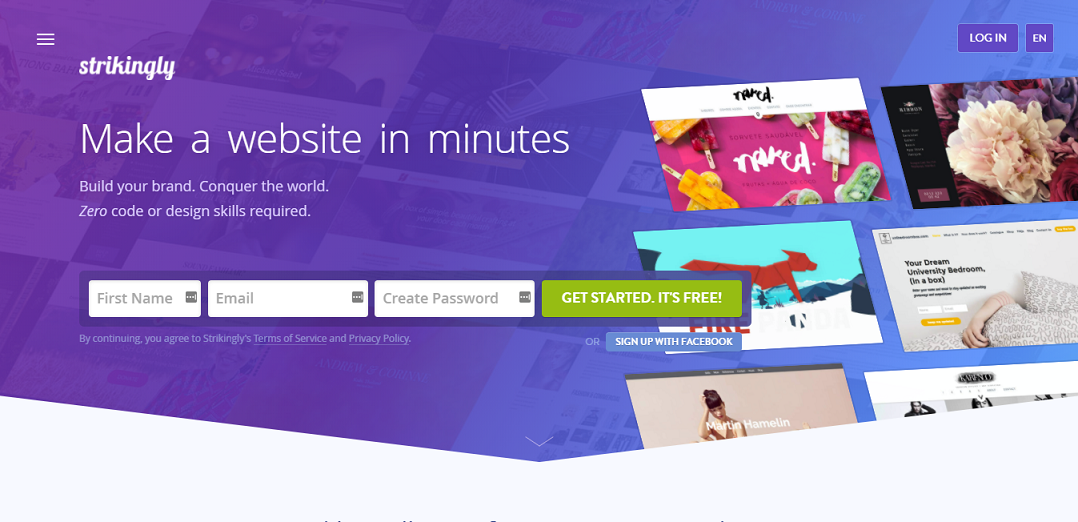 If you want to build a sleek website for your start-startup, you don't need to know professional coding. Several website builders help beginners to design a new website. Strikingly, from California, is also one of the best website developers.
It is another premium site that is good for personal use. This website builder helps in site creation with multiple pages. The onboard editing and barely visible ad in the corner attract many people.
Strikingly is also known for its cheap rates and cost-effective plans. It cuts the coat for users, and that's why some premium features are not available in it. The user may need to compromise on creativity.
Features
An easy process site builder tool.
A one-page website builder.
Suitable for personal use as well as blogging.
Flexible designs
Premium functionality
Modern templates.
Pros
Call to action items.
Premium design.
Excellent customer service.
Android app availability.
Ease of use.
Cons
No re-editing in mobile version
Costly paid packages.
Lack of SSL encryption.
Poor SEO customization.
Lesser number of themes.
Price
It gives a lot of plans like the pro plan, VIP plan, monthly and yearly paid plans. The free program provides multiple design options and is easy to use. However, if you want to get additional features, you must pay 12 dollars for upgrading to a limited plan.
The Pro and VIP plans charge $20 and $59 monthly. The most attractive option is Strikingly offers different discounts like if you pay yearly, it offers you a discount of 448. In the case of 2 years, 3 years, and 5 years, you can save $144, $288, and $528.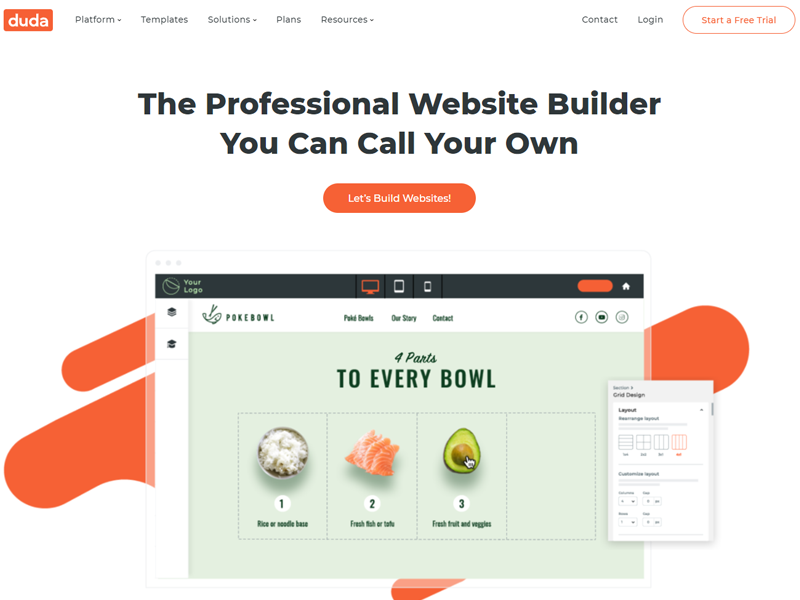 Duda is a modern web tool loved by entrepreneurs. A few months ago, Duda renovated its builder completely. It was for making their editor more advanced. It has unlimited pages.
More than 30 million people use this website to create an initial website design. Duda saves your time by providing a handsome amount of good designs.
The minimalist 90 designs and easiness of processing make it too notch. Another plus point is that the free subdomain available is very professional. Keep in mind that Duda is best for businesses related to event planning.
Features
A plethora of new options is available in the latest edition of duda.
The added features like themes and templates are easy to use and smooth.
It also has average SEO options, but they work correctly and smoothly.
The accessible format and decent templates give a premium feel to the web design.
Pros
It has Compatibility with Mac, Android, and windows.
Ease of use.
Business comparability.
You can work in different languages.
Premium 90 templates.
Cons
Less storage is available in accessible mode
No app store is available
Expensive
Weak SSL encryption.
Poor optimization.
Price
Even its free plan hasn't limited options; you can also connect to an existing web hosting for free.
Duda also has many paid versions. The low-cost ecommerce variant charges only $7.25 per month. The advanced package is $19.25, while the unlimited plan charges $39.
If you want to buy a plan for your website, this website builder gives you four options.
| | | | | |
| --- | --- | --- | --- | --- |
| Plans | Basic | Team | Agency | Custom |
| Price $ | 14 | 22 | 44 | Let's talk |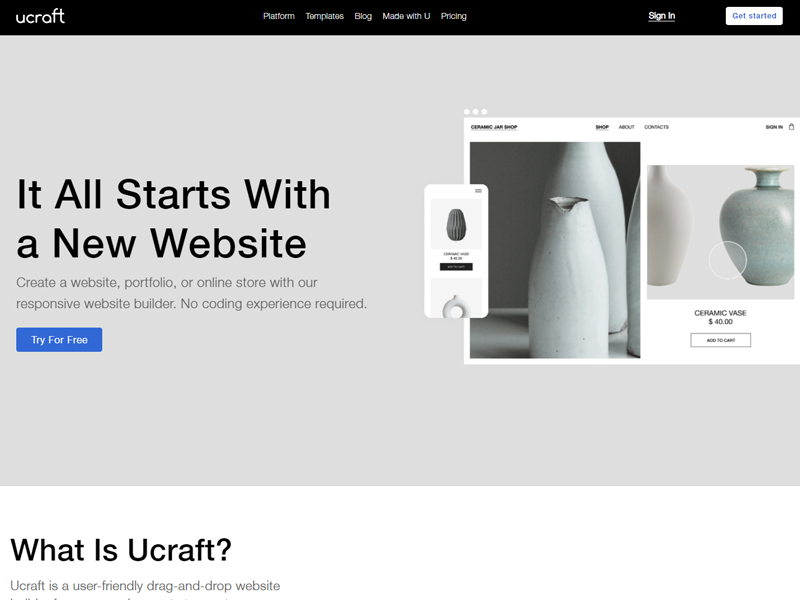 Ucraft is a free domain connector that provides hosting and additional customer support. Its accessible mode has 15 pages capacity, which means a lot. Keep in mind that Landing pages matter a lot in web Designing.
People like craft for its string and attention-seeking designs. The user support system is also very efficient and works with any flaw. One can exquisitely showcase its items using this website.
The premium quality fonts and modern designs attract customers at first glance. The users give it a thumb up for its good aesthetic quality. One shortcoming of the builder is that there is no drag and drop editor available.
Features
A next-generation website builder.
It has almost all advanced features as a site.
It has the latest fonts, colors, and spacing features.
Cool and stylish fonts and plugins for free.
Maximum features available in the free plan
SSL certificate
Pros
SSL is available.
Modern templates.
Unlimited storage space.
Helpful customer service.
Availability of proper domain.
Cons
Slow editor
No SEO option
Little bugs present.
Limited pages.
Lesser free features.
Price
Although its free version is terrific and offers a lot, it also has some premium packages like the pro version. It costs $10 per month. You will be amazed that It is the lowest cost premium plan in Ucraft. It includes more decent tools like the multilingual site option, which is fantastic! This feature is available without any cost and is available in the free version.
Pro shop plan cost $21, and the Unlimited plans cost $69. These plans are offered in case of personal use. If we talk about 'branded,' The plans are different.
| | | | |
| --- | --- | --- | --- |
| Plan | PlayGo 1 | PlayGo 2 | PlayGo 3 |
| Price $ | 39 | 69 | 109 |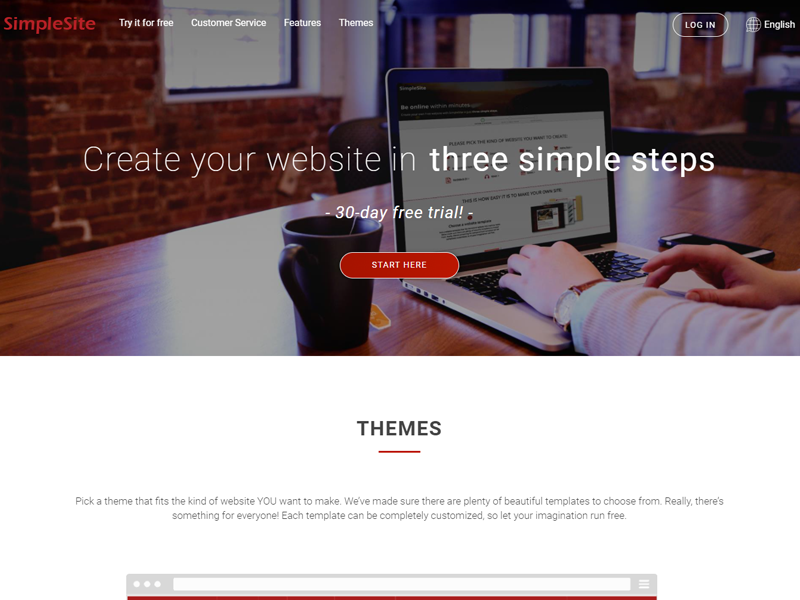 Simplicity is the most accessible web editing tool. It is simple to use for beginners. Because it is elementary to use, anyone with little or no web experience uses it for free.
As the name depicts, this website developer is very simple and basic. The creation of a website with this is not a big deal. However, keep in mind that it helps only create websites that are usable as a hobby.
If you want to create a website for your business, you must go for another website designer. An exciting feature of the website is that an animated block helps the users create the website.
Features
Maximum free features
Specially designed for a person who has opened an E-commerce store and wants to experience web editing tools and other circumstances.
Customer support.
Pros
Easy installation of wizards.
Ad-free.
Professional fonts.
Creative visuals.
Robust processing system.
Cons
Outdated themes
Lesser free options.
Poor control
Non-customizable domain.
Limited customization.
Price
Its free version offers many features, but you have to buy a paid plan to access all features.
The cheapest pro plan of the tool costs $15.49 if you pay monthly, but it is reduced to $11.25 in the case of an annual payment.
If we look at the Ecommerce plan, the price with monthly payment is $30.49 and $26.25 if payment is made yearly.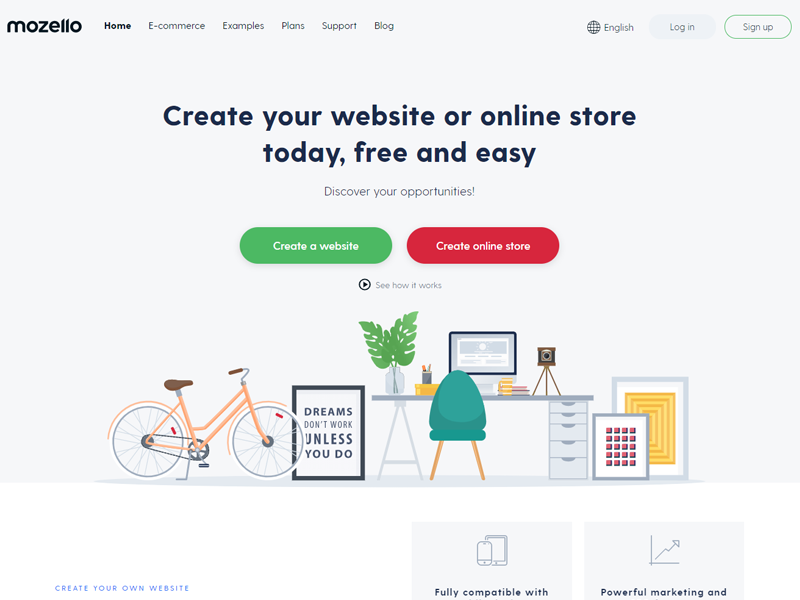 Mozello is famous among people; because it helps create a new website in any language. A plethora of top-notch features is available in this builder. One can do a decent SEO of his website with the help of a few clicks. A premium quality blog is also available in the different versions of Mozello.
The ad program of the website is also barely visible. Mozello displays the ad in the form of a link in the footer. The benefit is that the visitors will hardly notice such a minute ad box. People also like Mozello for its built-in free storage space.
One downside of the developer is that it offers limited features. Moreover, beginners may find it very complicated in terms of SSL encryption. So, the Latvian team must make up for these downsides. Besides these drawbacks, Mozello is a flexible and premium quality design.
Features
Nicer SEO tools for the optimization of websites are available in this builder.
The app store adds flexibility to the designer and attracts several people for website designing.
Multilingual website creation is enjoyable in the free version also.
It displays the ad box in a blurred way that makes it top-notch.
Feeble security protection is also available on the free version.
Pros
Premium quality optimization.
Application store for flexibility.
Flawless customization.
Barely visible ad.
Free storage space.
Cons
Inferior quality SSL certificate.
Slow working editor.
Less security.
Lesser creativity.
Limited templates
Price
In terms of price, it doesn't charge much. It gives you a proper domain in its premium plan for just $8 per month. Premium Plus plan has the extra cost of additional perks, which is $18 per month.
FAQ
Are there any completely free website builders?
Google Sites is the only website builder that is 100% free. They don't even offer paid versions. The Google site is the best option because it connects your site to Google analytics.

You can also use google sites as an E-commerce tool. Email marketing also becomes easy due to different applications provided by Google. The creation of an essential website using Google sites is not complex. The only drawback is that it offers minimum website templates.
Is Wix free?
Wix is the only website builder that is free to use as long as a person wishes. However, if you want to give a professional look to your website and use it for E-commerce, you must go for the premium plan of Wix. This plan will provide you with your domain name. You can select anyone from combo to business VIP for designing a unique website.
Does Google have a free website builder?
A simple website is an essential marketing tool in this age of E-commerce. You can start building your website using a free website developer in a few steps. That is why Google also provides a free website builder (Google Sites) for creating exciting websites.
Are free website builders any good?
Although choosing a free plan for website builders is good, these free-of-cost plans are unsuitable for search engine optimization. A custom domain is not available in these plans, making your website unprofessional. Google cannot find your website in its database because of the absurd domain names and strange absurdities.

The reason is that free web builders add their domain name at the end of your website. It means they commercialize their website builder by providing you with free web Designing.
Conclusion
The endnote is that a simple website is mandatory for running an online store or any other business. So, it would be best to try free tools for web design. If you cannot afford to upgrade, go for the free version to establish your business.
However, don't dodge yourself with the word free because there are certain limitations in the free plan of the website builder. However, make a proper business plan by considering your future requirements and goals. It means that you may need to upgrade your website to a paid plan in the future. So, also look for the features of paid versions before creating your free website.
It is difficult to get someone to change the website provider after some time. Changing the domain provider is a hassling task as you need to start from scratch. The availability of a proper domain name and an ad-free version of the provider are the factors to consider. So, if you have made up your mind about upgrading, check the paid plan features of Wix and Weebly, as they are more advanced and strategic.
Want to Learn More?

Ludjon, who co-founded Codeless, possesses a deep passion for technology and the web. With over a decade of experience in constructing websites and developing widely-used WordPress themes, Ludjon has established himself as an accomplished expert in the field.