Looking for the best website builder for your small business? Having an online presence has become mandatory these days. So, if you want to own a website, several business website builders are available.
Here is a short list of the best website builders for small business:
These website creators offer basic and business plans for creating a website. You can create a small business website with the help of any free website developer.
For example, Wix, Hostgator, and WordPress.org GoDaddy are some open source and small business website builders.
These builders have several customization and design options that help create a scalable website. One needs to consider different factors while choosing a website builder. For example, one must look for Google analytics, customization options, E-commerce platforms, business plans, and website templates.
Comparison of the Best Business Website Builders
| Website Builder | Free Plan | Price | Best for | User Rating |
| --- | --- | --- | --- | --- |
| Wix | Yes | $12 | Website Builder | 9/10 |
| Webflow | Yes | $15 | Best for Designers | 9.6/10 |
| Zyro | No | $2.61 – $14.31 | Speed | 9.5/10 |
| Squarespace | No | $12 – $35 | Ecommerce platform | 9.4/10 |
| Webnode | No | $3.90 – $22.9 | Simple website | 7.8/10 |
| Weebly | Yes | $6 – $29 | for online stores | 8/10 |
| Duda | No | $14 – $59 | for SaaS platform | 8.5/10 |
| Jimdo | No | $9 – $39 | small business owners | 8/10 |
| Strikingly | Yes | $6 – $69 | for beginners | 9.4/10 |
| Bluehost | No | $9.95 – $14.9 | Ecommerce website | 9/10 |
| Godaddy | No | $6.99 – $14.99 | for bloggers | 9.2/10 |
| WordPress.com | Yes | $4 -$59 | complete control | 9/10 |
| Shopify | No | $29 – $289 | Ecommerce platform | 8.5/10 |
The 13 Best Website Builders for Small Business
Here are reviews of the best website builders for small businesses.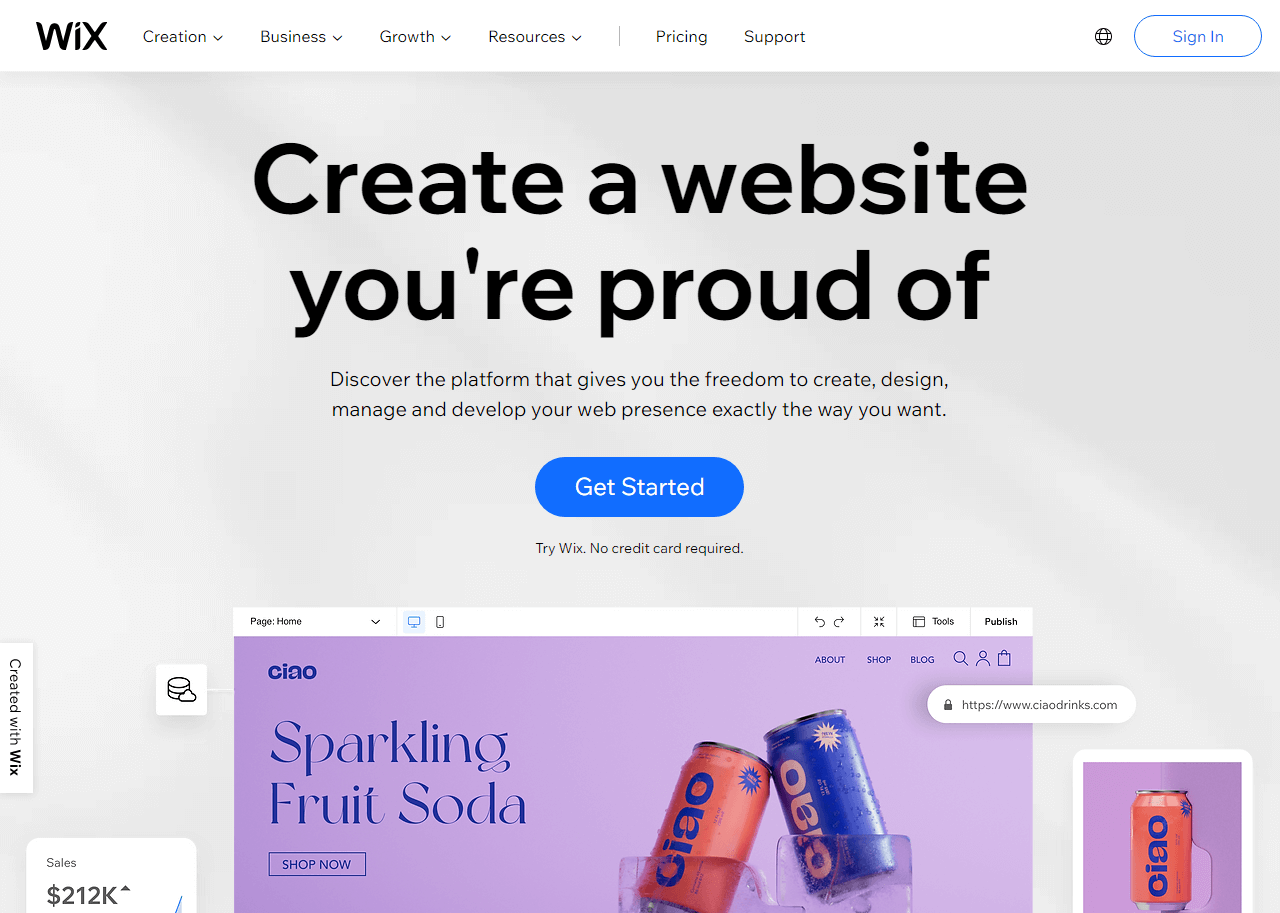 Pros
Endless customization tools.
Extensive availability of apps.
Premium inbuilt images.
Best for a freelancing portfolio
Easy drag and drop option.
Cons
Lack of 24/7 customer service.
Negative reviews by customers.
Lack of custom domain in the free plan.
SEO limitations.
Wix has become the best contender on the list of free website builders for small businesses. The ease of use linked with this developer attracts people to use it.
It is our best pick because Wix provides a complete package of cheap pricing, SEO tools, and premium designs. The utmost customizability in the Wix helps you run your e-commerce store very efficiently.
The usability score for the builder is 5 out of 5 because it offers no learning curve.
If you are a beginner, you can create your website on Wix in less than 50 minutes. Although it is not too fast and lags behind some other free builders, it is satisfying.
You need to know how to drag and drop on the computer. Selecting several elements at a time enables you to design a page in no time.
Each paid plan of the builder gives the ad vouchers worth 300$ that help the small businesses to do online advertising. You can use these vouchers on any local listing, Google or Bing, etc. It is definitely an added bonus to this free builder.
Key Features
Online-store: Wix offers its customers to use an inbuilt online store that adds easiness to it.
SSL security: The SSL security certificate is no more a dream with the classy plans of wix.
Themes and Apps: Wix offers more than 500 themes and about 500 apps to its users.
Payment: credit card payment is doable on wix. So, you don't need to worry about your payments.
Blog: this free website developer also owns a personal blog that is quite interesting and useful for the customers.
Price
| | | | |
| --- | --- | --- | --- |
| Plan | Three-year cost | Annual cost | Month-to-Month cost |
| Wix Free | $0.00/ mo. | $0.00/ mo. | $0.00/ mo. |
| Combo | $10.00/ mo. | $14.00/ mo. | $18.00/mo. |
| Unlimited | $13.00/ mo. | $18.00/ mo. | $23.00/ mo. |
| Pro | $17.00/ mo. | $23.00/ mo. | $28.00/ mo. |
| Business Basic | Not available | $23.00/ mo. | $28.00/ mo. |
| Business unlimited | Not available | $27.00/ mo. | $33.00/ mo. |
| VIP | $31.00/ mo. | $39.00/ mo. | $47.00/ mo. |
| Business VIP | Not available | $49.00/ mo. | $56.00/ mo. |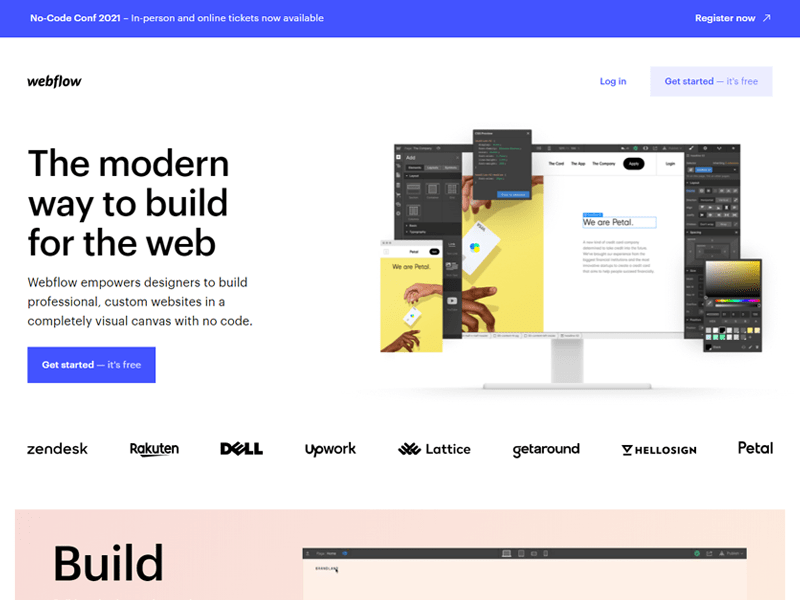 Pros
High-end security.
Premium quality SEO.
No need for coding.
Wide range of templates.
Dynamic content.
End-level customization.
Cons
Difficult to use.
No live chat.
Lack of phone assistance.
Expensive paid plans.
More than 3,500,000 organizations and startups use Webflow for creating exclusive websites. The ultimate power of CSS, HTML, and JavaScript is enjoyable in the webflow site builder.
The top-notch SEO of the Webflow helps tweak your content and rank your website on the first page of Google or Bing.
It is a responsive site builder that remains in touch with its customers. You can expect replies from the Webflow team within 24-48 hours.
The only limitation of Webflow is that it does not offer live chat or phone calls from assistance. You can only seek help through email. So, you can attach screenshots of your actual problem.
The site plans of the Webflow are excellent for the content realtor websites. It enables its users to design websites in a limited time. Keep in mind that it does not lag in terms of E-commerce tools.
Webflow helps its users with multiple payment options and an automatic tax calculation system. You can also cross-sell your products between the website and social media platforms.
Read More: Webflow vs Squarespace
Key Features
Social media integration. Webflow helps its users run small Marketing or advertising campaigns.
Automatic tax calculation. This feature automatically calculates the tax and adds the VAT costs when your customer checks out.
Parallax scrolling. This high-end feature helps you create a modern outlook and designs.
Security encryption. A free SSL certificate is available with web flow that ensures the privacy and security of your data.
Advanced SEO tools. Webflow leads other website developers and offers 301 redirects. You can also generate customizable sitemaps.
Price
| | | |
| --- | --- | --- |
| Plan | Monthly cost | Annual cost |
| Free | $0.00/ mo. | $0.00/ mo. |
| Basic | $15.00/ mo. | $12.00/ mo. |
| CMS | $20.00/ mo. | $16.00/ mo. |
| Business | $45.00/ mo. | $36.00/ mo. |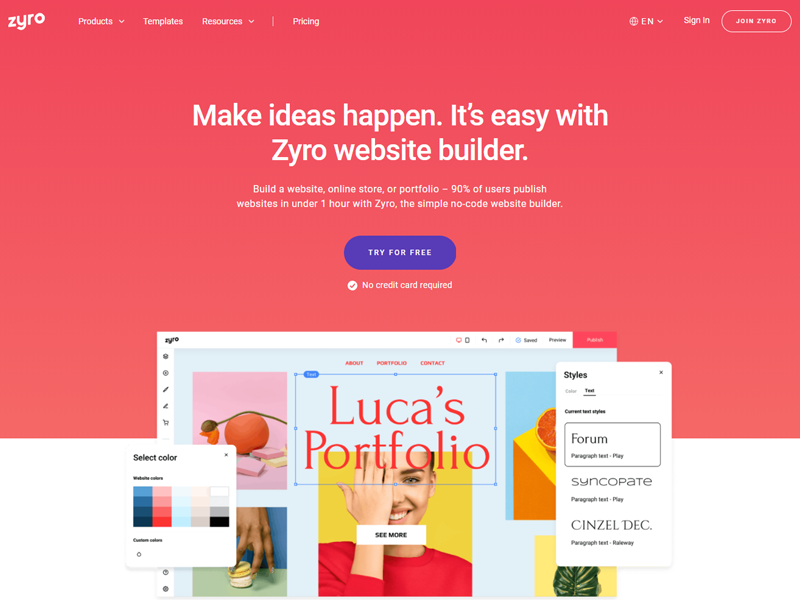 Pros
Easy to use.
130+ stylish templates.
Discounts and free coupons are available.
Ecwid-powered system.
Supportive AI tools.
Affordable pricing.
Cons
No blog post scheduling.
Limited customizability.
Underdeveloped features.
Inferior quality grid editor.
Zyro is a new website builder that brings well-hosted websites. The primary focus of the builder is to develop a website with fast functioning and excellent performance.
Professional templates are available for every type of business niche. So, you can customize your web design with these minimalist designs in a fraction of seconds.
Zyro is also best for search engine optimization. You can supercharge your SEO and rank on Google with this minimalist web designer.
The integrated SEO tools, eCommerce features, premium quality customization, and exclusive UX help you grow speedily.
The marketing tools of Zyro get powered by Facebook, Google tag manager, and analytics. All this helps the customers in instant site-building.
The excellently working AI tools of the website make it safe to use. Moreover, the flawless and speedy processing of the system compels maximum people to use this website for website creation. Zyro proceeds in milliseconds and cuts the effort and time for the processing.
Key Features
Lightning speed. Zyro functions in milliseconds and helps customers design a website in a short time.
Customer support. This website builder is ready 24/7 for the users to provide additional assistance.
Multiple payment methods. You can use PayPal, Visa, or MasterCard for payment on this platform.
Easy Management. The built-in and automatic tools manage the inventory, sales, and taxes.
Excellent compatibility. Zyro is a mobile-friendly builder and helps preview the website on mobile also.
Price
| | |
| --- | --- |
| Plan | Pricing |
| Website | $2.61/ mo. |
| Business | $4.41 /mo. |
| Online store | $8.01 /mo. |
| Advanced store | $14.31 /mo. |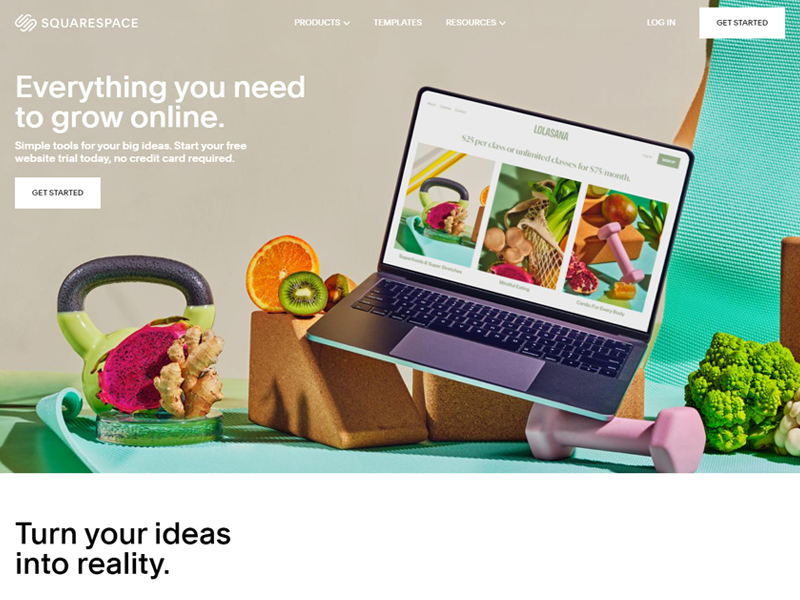 Pros
Excellent support system.
Premium functionality.
Mobile-friendly templates.
Unlimited products.
Availability of discounts and coupons.
Cons
Inferior quality SEO.
Complicated outlook.
No free plan.
If you are a boutique or a pen store owner, Squarespace is the best builder to create your website. There is no free plan in this builder, but it offers you a two-week trial for analysis.
Our research depicts that the outstanding web design, Multiple tools, and drag & drop functionality make it suitable for small e-commerce businesses.
Squarespace possesses customization tools on a distinctive sidebar menu that makes it comfortable for the user. Using the inbuilt designs of Squarespace makes it easily previewable on the mobile versions.
It does not demand tiring efforts and time to design a website. You can upload your content to the website without any hassle.
Although there are multiple features and tools available on Squarespace for use. However, these get hidden by the menu bars, tabs, and sections. It means that a newbie may face a learning curve to get a complete command on Squarespace. However, once you become habitual to the eccentricity of the platform, you will love it the most.
Squarespace is highly recommended for photographers and portfolio websites so we have added it to the list of the best photography website builders.
Key Features
Best designs. Squarespace has no additional charges on premium designs, and they are available for free users also.
Apps and themes. About 28 premium themes and 30 applications are available on Squarespace.
Security encryption. This unique website builder also provides SSL security certificates.
Blog & Online store. Square space also owns an online store and blog for its customers.
24/7 customer support. Full-time customer service makes it more demanding for small businesses.
Price
| | | |
| --- | --- | --- |
| Plans | Annual cost | Month to Month cost |
| Personal | $12.00/ mo. | $16.00/ mo. |
| Business | $18.00/ mo. | $26.00/ mo. |
| Basic commerce | $26.00/ mo. | $35.00/ mo. |
| Advanced commerce | $40.00/ mo. | $54.00/ mo. |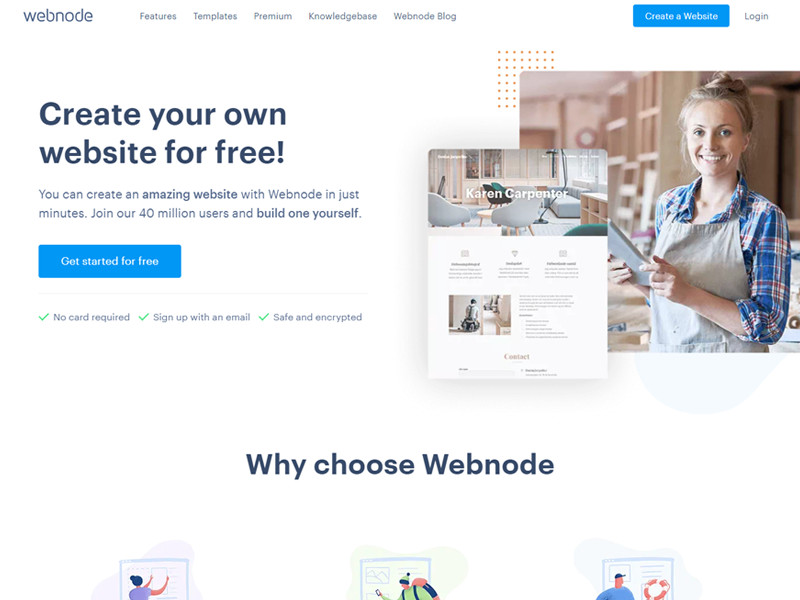 Pros
Unlimited bandwidth.
Customizable domain.
Online visibility.
Unlimited pages.
Niche-specified templates.
Cons
Poor functionality.
Limited features.
Inferior quality graphics
Webnode eliminates the need for a developer to create a website. If you are starting a new venture and need a website, you can use Webnode for this purpose.
You can create a minimalist website on the go with the help of your mobile phone or laptop.
Easily customizable templates and the free domain will help your website stand on the first page of Google. Excellent search engine optimization features are also available on Webnode.
You can develop your online e-commerce store by getting a premium domain. A wide range of local subdomains is available on this web builder.
Predesigned pages are also available on our website that help you in timely creation. You can tailor these available pages as per your requirements and add them to your website.
It means an exclusive and premium quality personalization is available on this platform. Moreover, installing separate software for your website development is not mandatory. You can do it on your browser.
Key Features
Private registration. This feature helps you keep your information hidden from the public by using anonymous domain registration.
Secure hosting. Webnode provides reliable hosting on secure servers.
Unlimited bandwidth. There is extra space available for uploading your content according to your plan.
Multiple email accounts. Webnode also helps you create about 100 email accounts for different roles in your business.
No advertisement. Webnode provides an ad-free program to its users. There will be no banners or videos during site creation.
Price
| | |
| --- | --- |
| Plan | Pricing |
| Profi | $22.90 /Month |
| Standard | $12.90 /Month |
| Mini | $7.50/Month |
| Limited | $3.90 /Month |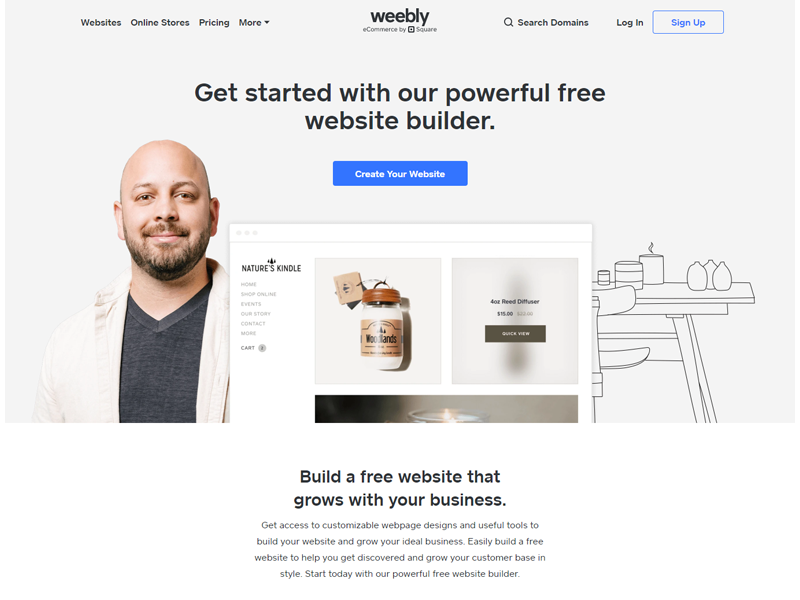 Pros
Premium e-commerce tools.
Easy to use dashboard.
Smooth drag and drop.
Unlimited products.
Easy customization.
Professional outlook.
Cons
Upgrade charges for the e-commerce plan.
Inferior quality blogs.
No extra apps.
Lesser customer support facilities.
Weebly is also another premium quality website builder with a 5-star rating. Like other builders, it also works through the drag and drops features.
So, it becomes easy for the web designer to arrange the elements, text sections, and other content in a professional Overlay. So, if you want to run a simple business and don't want a wide range of features, the free plan of Weebly is the best to go.
The best thing about Weebly that distinguishes it from Squarespace and Shopify is that it provides in-time customization. It does not require clicking on multiple tabs to change the background.
You can click on the section to edit its background color. Although the themes available on Weebly are limited, the number of available apps is far more than that of Squarespace.
The premium quality templates, sleek design, and convenient customization are strengths of this platform. Besides these perks, the blog of this builder has some flaws. However, other extra features such as eCommerce tools and app stores make it the best choice for small companies and startups.
Key Features
Blog. Weebly also offers a blog for its users to stay in touch with them. Although it needs improvement, it is excellent for new ventures.
Basic templates. This website builder provides mobile-friendly templates that are easily usable on mobile versions.
Themes and Apps. Weebly offers 23 themes and about 300 apps.
SSL encryption. Weebly again surprises its customers by offering them an SSL security certificate.
Price
| | | |
| --- | --- | --- |
| Plan | Annual cost | Monthly cost |
| Free | $0.00/ mo. | $0.00/ mo. |
| Personal | $6.00/ mo. | $9.00/ mo. |
| Professional | $12.00/ mo. | $16.00/ mo. |
| Premium | $26.00/ mo. | $29.00/ mo. |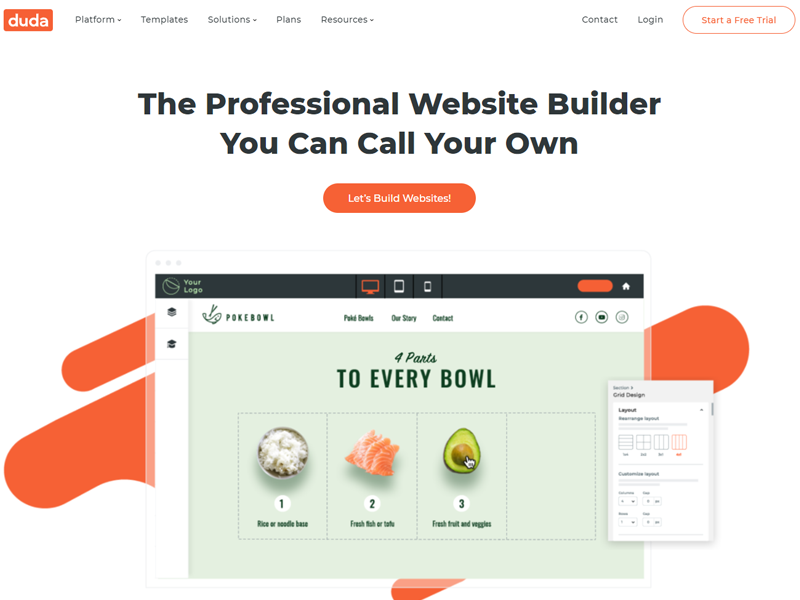 Pros
Cost-effective.
Outclass customer service.
Excellent built-in analytics system.
Intelligent social media integration.
Simple interface.
No additional charges.
Cons
Nonresponsive web builder.
Inferior quality setup.
Complicated processing.
Duda is an ideal builder for new ventures and solo entrepreneurs. More than 15000 agencies and SaaS platforms trust this builder.
Different Duda features get white labeled. For example, you can add dashboards and editor preview screens to your website.
The security checkup of the system is also efficient because it has in-built tools for protection against Dado's attacks. Amazon's CloudFront CDN helps in the loading of Duda features. It provides lightning speed to the process. Hence, new startups and mint ventures can create a website on Duda in minutes.
These free website builders possess duda flex sections that enhance the creativity and Designing of the website. The developer mode of the platforms access the HTML and CSS of the newly created website and adds flexibility to the process. One can edit all the sections and elements on any device, including a computer, tablet, or mobile phone.
Key Features
Availability of Drag-and-drop editor. Duda is also one of those website builders that helps users arrange icons easily.
Automatic site creation. The duda also creates a website automatically from the previous or existing data of customers.
Ready-made white label. You can adorn your website with minimalist logo design and colors on our site.
Great performance. Duda exhibits a flawless performance and cuts the effort of time.
SEO customization options. Alt tags are available within this website builder that helps in the SEO of your website.
Price
| | | |
| --- | --- | --- |
| Plasma | Annual cost | Monthly cost |
| Basic | $14.00/ mo. | $19.00/ mo. |
| Team | $22.00/ mo. | $29.00/ mo. |
| Agency | $44.00/ mo. | $59.00/ mo. |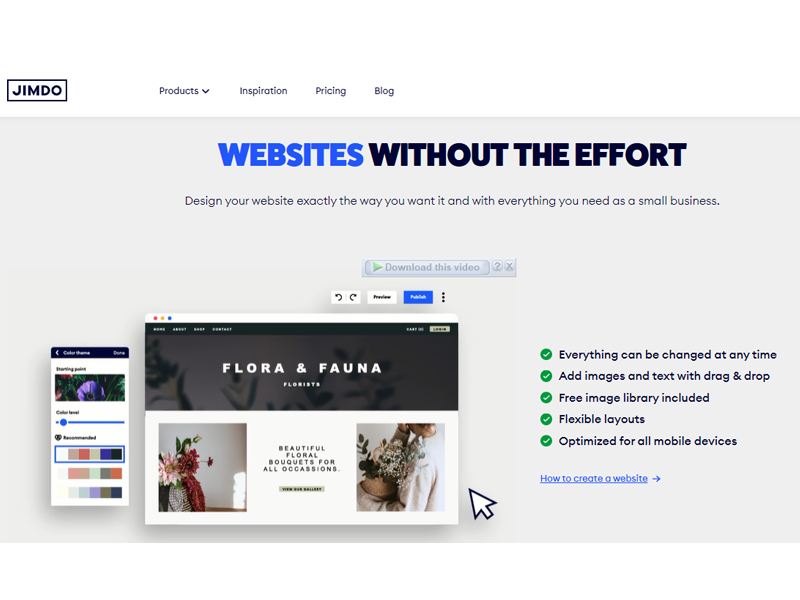 Pros
Flexible designs.
Drag and drop editor availability.
Handy customization.
Free image library.
Optimization for the mobile version.
No Transaction fee.
Cons
No creative customization.
Limited control.
No alt tags.
Poor SEO.
Jimdo is one of the best builders for small-scale businesses. Jimdo guides its customers from scratch. The ADI functionality of the Jimdo asks the amateurs a series of questions.
These questions will let Jimdo know what type of site you want to create. So, in this way, it helps the customers in site creation.
Another exclusive feature of this site builder is that the free plan also offers a mobile editor version. It means you can customize your website for mobile versions also. The ADI functionality makes it the best option for people who need a preliminary website.
It is all one website solution. You can access online stores, books, and logos on it. If you need a logo for representing your brand, you can create it with the help of the logo creator of Jimdo. It means that the Jimdo helps design a website and provides all accessories essential for a small business.
Key Features
Integrations and add-ons. It integrates with the service and different products with an inbuilt code.
eCommerce tools. Shipping and inventory management is available in the jimdo works.
SEO friendly. Search engine optimization helps to rank your new store or website on Google.
Premium quality management. The E-commerce abilities help in listing items' availability. It also supervises the payment methods and tax calculations.
Payment methods. It offers easy payment methods for ease of customer's.
Price
| | |
| --- | --- |
| Plan | Price |
| Start | $ 9.00/ mo. |
| Griw | $ 15.00/ mo. |
| Unlimited | $ 39.00/ mo. |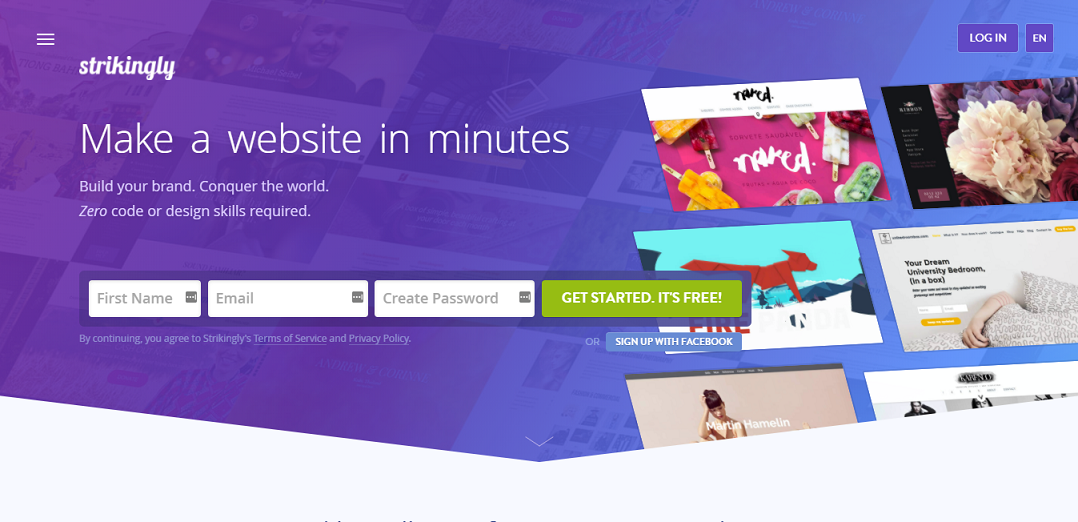 Pros
Free domain name.
25/7 support.
Modern designs.
Easy to use.
Built-in HTTP.
SSL certificate.
Cons
Limited aesthetics.
Poor scaling business tools.
Only one-page website.
Limited E-commerce.
Strikingly is the best website builder that needs no coding. So, the customers can create a simple website in less than 30 minutes. It has built-in eCommerce tools that enable you to connect it with PayPal or stripe.
So, you can execute transactions immediately without any hassle.
It also brings a customized HTML language that provides encryption and unbreakable security. Top-notch search engine optimization is also available with this premium builder.
Another plus point of this platform is that it improves your marketing tactics by providing sign-up forms. If you are commencing a new service or launching a new product, you can add membership forms to your site.
People love this website builder because there are no satellite issues strikingly. You can tailor the themes and templates as per your requirements. Editable video backgrounds and customized colors are also available in this program.
Key Features
Domain name. You can register yourself with new domain names or use your previously assigned domain.
Simple store. It owns an exclusive store that has built-in E-commerce tools. It provides digital goods, codes, and coupons.
Blog. You can update your customers with a simple blogging site.
Analytics. Strikingly also has built-in analytics that helps you supervise the traffic. It has simple charts indicating the visitors.
Social fee. You can present your feed from Facebook, Instagram, and Twitter accounts directly on your striking site.
Price
| | | | | | |
| --- | --- | --- | --- | --- | --- |
| Plan | Monthly | Yearly | 2 years cost | 3 years cost | 5 years cost |
| Free | $0.00/ mo. | $0.00/ mo. | $0.00/ mo. | $0.00/ mo. | $0.00/ mo. |
| Pro | $20.00/ mo. | $16.00/ mo. | $14.00/ mo. | $12.00/ mo. | $11.20/ mo. |
| VIP | $69.00/ mo. | $49.00/ mo. | $43.00/ mo. | $39.00/ mo. | $34.00/ mo. |
| Limited | $12.00/ mo. | $8.00/ mo. | $7.00/ mo. | $6.5/ mo. | $6.00/ mo. |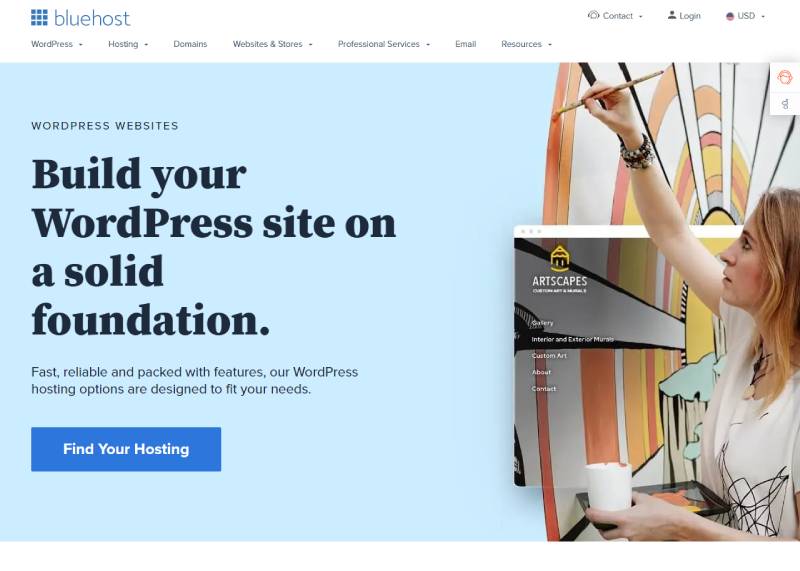 Pros
Multiple Templates.
Affordable pricing.
Outstanding uptime.
Customer support service.
Wide variety of stock photography.
Cons
No free option is available for beginners.
Image edit limitation.
Non Editable themes.
The Bluehost website builder is an excellent website for small businesses. You can access adorable web hosting services on the Bluehost website, and it sweetens your business dealings.
It is a robust content management system that empowers many other websites. If you are a beginner and just about to start your business, then there is a possibility you don't know how to make attractive pages.
Bluehost provides you with the options to manufacture trustworthy pages, abolished with e-commerce preference.
Basic Bluehost website builder offers you boundless templates. A WordPress theme is available for this site creators. A wide range of drag and drop patterns will allow you to endlessly customize your favorite template.
You have also written a full review of Bluehost: BlueHost Review 2022 – Honest Check of Pros & Cons
Key Features
Templates. More than 300 templates you can access just on this website builder.
Visual components. Once you choose a specific theme, you can adjust copious visual components, for instance, fonts, background styles, colors, etc.
Site tools. Bluehost provides two tools for small-level trade and brings about a more modernized way.
E-commerce features. You can access multiple e-commerce options, including listing, analysis by reviews, promotions, pricing, etc.
Price
| | | |
| --- | --- | --- |
| Term | Builder basic | Builder pro |
| Introductory Price – 1 Month | $9.95/mo. | $14.95/mo. |
| Introductory Price – 12 months | $5.95/mo. | $13.95/mo. |
| Introductory Price – 36 Months | $4.95/mo. | $12.95/mo. |
| Renewal Price (Monthly) | $19.99/mo. | $24.99/mo. |
| Renewal Price (Annual +) | $10.99/mo. | $14.99/mo. |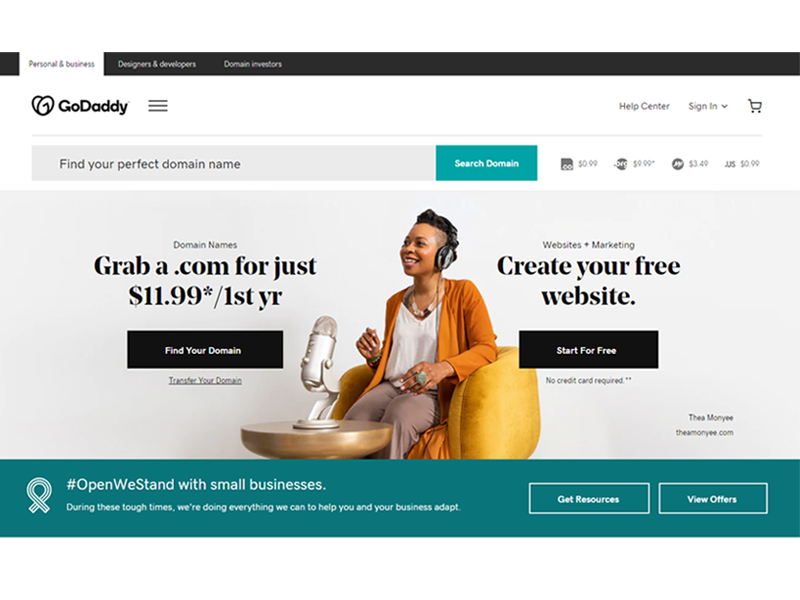 Pros
Mobile phone optimized themes and templates
24/7 customer service
Simple to use
Enhanced blogging element
Email marketing
Absolute way out for marketing
Cons
Restricted SEO elements
Lack of app store
Irreconcilable updates for versions
GoDaddy is an especially friendly website builder for small businesses. Previously, it provided mobile-restricted themes. However, the most recent version intends to make available all-around solutions (predominantly marketing problems).
Discarded cart recovery, while remaining within their means, is also available for E-commerce entrepreneurs. Moreover, the blogging feature and decent email advertising tool make it superb for small businesses.
Go Daddy is the most trustworthy website-building platform for small businesses and new ventures. It is illustrious for domain names along with website hosting. Recently, they have instigated a new version. The latest website builder, GoCentral, is now a certified new builder.
Multiple niche-specified templates are available that help creates a website easily. There is no need for any additional skill or training. It means that the learning intuitive for this platform is negotiable. Another plus point is that it is usable from your smartphone.
Key Features
Content Creator. It offers a content creator that aids in building social media posts.
Pricing. The pricing of GoDaddy falls in a reasonable range, and a free trial is available.
SEO Wizard. Go Daddy features an SEO wizard that facilitates the customer to optimize his site.
E-commerce features. Initiators can enjoy many e-commerce features, including credit card payment.
Layouts. Sleekly designed and minimalist layouts are available on this platform.
Price
| | |
| --- | --- |
| Plan | Annual cost |
| Basic | $ 6.99/ mo. |
| Standard | $ 10.49/ mo. |
| Premium | $ 13.99/ mo. |
| E-commerce | $ 14.99/ mo. |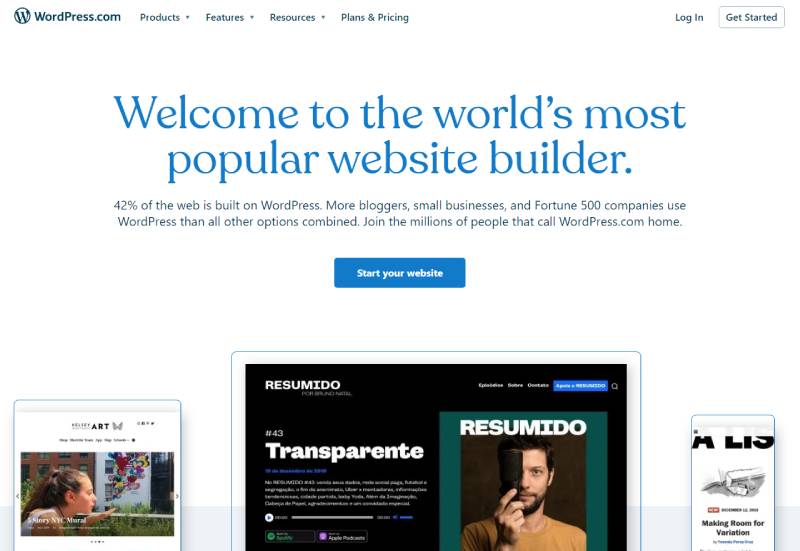 Pros
Permit you to edit and generate content
Unlimited customizability
Great repute & reviews
Dozens of themes
Access to built-in plugins.
Cons
Sharp learning curve.
Inferior quality SEO in the free version.
Limited plugins in the free plan.
Extensive requirement of customization.
WordPress is an exclusive platform that assists customers in modifying and adjusting their site up to their wishes. For small businesses, it is helpful as it recommends an entirely free plan.
If you have enough budget, you must upgrade to any premium plan because many features are missing while using free versions. You don't obtain a domain name, consumer support service, or cascading style sheet.
WordPress has critical features, comprising fundamental SEO, site facts and figures, and social media sharing elements. You can get pleasure from more offers by using the paid plan.
Whether a personal page or any online business management website, it is software with all the features at one stop. Likewise, clients can customize themes with your content and trade name.
However, advanced tools such as Plugins and SEO got restricted to paid plans only. It means free plans have inferior quality search engine optimization. Don't feel any discomfort with embedded photo galleries, photo slideshows, and spreadsheets. It has unlimited bandwidth and storage.
Read More: Webflow vs. WordPress
Key Features
Themes. You can commence with dozens of WordPress templates and designs at no cost.
Storage. 3 GB storage space is helpful to upload along with sharing them smoothly.
CSS customization options. Cascading style sheet customization turns wordpress.com into a unique and prevailing platform.
Plugins. In-built plugins are available on wordpress.com that make your website top-notch.
Price
| | | |
| --- | --- | --- |
| Plans | Annual cost | Monthly cost |
| Free | $ 0.00/ mo. | $ 0.00/ mo. |
| Personal | $ 4.00/ mo. | $ 7.00/ mo. |
| Premium | $ 8.00/ mo. | $ 14.00/ mo. |
| Business | $ 25.00/ mo. | $ 33.00/ mo. |
| E-commerce | $ 45.00/ mo. | $ 59.00/ mo. |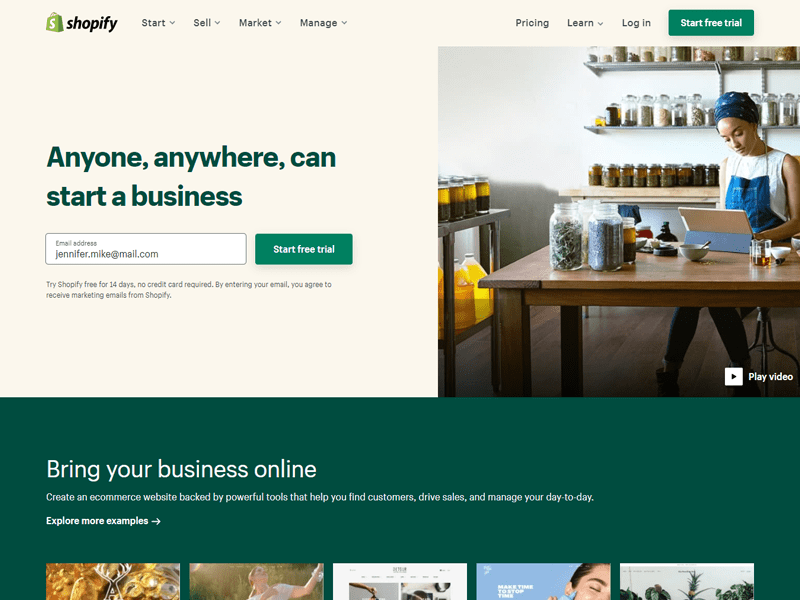 Pros
Outstanding design functionality.
Round-the-clock customer support.
Safe and secure hosting and selling.
Multiple pricing plans.
More than 3000 apps are accessible.
Cons
Not ideal for small business
Not simple to use
Heavy transaction amount
Shopify seems the best option for brand new e-commerce businesses. Moreover, it is also a sales-special platform for small businesses.
Shopify offers lots of tools for new customers, such as the logo–designer, name maker, and stock images that assist you to have your action figure dealing start immediately.
It lets you start up your online store with only a few clicks. Shopify not only features hosting your business but also facilitates its development by offering customization following your taste.
You feel the fear of a website crashing at some point in peak hours by hackers because Shopify recovers all the data. It offers many plans and pricing features.
It offers diligent security with an additional secure socket layer that encrypts data for safety purposes. There is no free plan available on this platform. Moreover, it also costs a tiny amount for the trials of its paid versions.
Shopify is the best website builder because it takes excellent care of everything from payments to transactions and advertisements.
Key Features
Secure payment gateways. Shopify makes sure that hosting and all sales are safe due to secure payment gateways.
Analytics and reports function. You can access wide-ranging tools such as email marketing, analytics, and reports,
Customer support. Excellent customer support service is available all the time that is accessible via mail, phone, or web chats.
Multiple Templates. Shopify brings visually spectacular themes and templates with it
Price
| | |
| --- | --- |
| Plans | Price |
| Basic | $ 29.00/ mo. |
| Shopify | $ 79.00/ mo. |
| Advanced | $299.00/ mo. |
FAQs
Which website builder is best for small businesses?
Many user-friendly website builders are available. Squarespace is also a professional builder that helps you exhibit your online presence. The easy-to-use interface of this developer makes it the priority of many entrepreneurs.
What is the best free website builder for small businesses?
Many user-friendly website builders are available. Squarespace is also a professional builder that helps you exhibit your online presence. The easy-to-use interface of this developer makes it the priority of many entrepreneurs.
Conclusion
We provided a concise website builder Review to inform you about the features of different small business website developers. Some have unlimited storage and landing pages; others may have their domain and customization options. It means that one builder may excel the other indifferent attributes.
So, you can have a complete know-how of all the features and plans. You can choose a basic or business plan according to your needs. Some website creators, such as the GoDaddy website builder, are best for bloggers. Others are good for SaaS platforms. So, analyze all your needs and select the developer accordingly.
Want to Learn More?