Looking for the best website builder for your small business? Having a website for your business is crucial for reaching your target audience and showcasing your products or services. It helps to establish your online presence and credibility, while also generating leads and sales.
With so many website builders available in the market, it can be challenging to find the perfect solution for your business.
In this article, we have handpicked and ranked the best website builders for small businesses in 2023. We have carefully analyzed each platform's features, pricing, pros, and cons to help you make an informed decision and choose the right tool for your needs.
Here is a summary of the best website builders for small business:
Our comprehensive comparison will enable you to select a website builder that not only meets your business requirements but also fits your budget and skillset.
Below you can find a table comparison of the best business website builders:
| Website Builder | Free Plan | Price | Best for |
| --- | --- | --- | --- |
| Wix | Yes | $12 | Overall |
| Webflow | Yes | $15 | No-Code Designers |
| Zyro | No | $2.61 – $14.31 | Speed |
| Squarespace | No | $12 – $35 | Templates quality |
| Weebly | Yes | $6 – $29 | Free plans |
| Bluehost WP | No | $9.95 – $14.9 | Open-source |
| Shopify | No | $29 – $289 | Ecommerce platform |
The Top 9 Best Website Builders for Small Business
Let's start now by reviewing them one-by-one:

Easy-to-use drag and drop editor
Wide range of templates
App Market for additional features
Starting from $4.5/month
Free plan available
See Pros & Cons
Pros
User-friendly interface
Large selection of templates
Excellent e-commerce features
SEO tools
App Market for added functionality
Cons
Not as customizable as other platforms
Limited storage and bandwidth on lower plans
No native blogging tools
Wix is the best website builder for small businesses, as determined by our research, offering a user-friendly and feature-rich platform. With over 800 designer-made templates and handy tools like Velo's open dev platform, Wix empowers businesses to design beautiful, functional websites with ease.
Small businesses can leverage Wix's custom domain name options, secure web hosting, logo maker, and SEO toolset to establish a strong online presence.
Wix users have praised the platform's ease of use and extensive design options, but some have noted that websites built on Wix may not be fully responsive. Additionally, Wix's drag-and-drop editor makes customizing eCommerce websites a breeze, even for novices.
On the other hand, Wix's use of absolute positioning may cause elements not to adjust properly on different screens, affecting both user experience and SEO. Transitioning from Wix to another platform can also be challenging for users.
Despite these drawbacks, Wix excels in providing essential tools for small businesses across a variety of industries, including marketing, advertising, computer software, and non-profit organizations.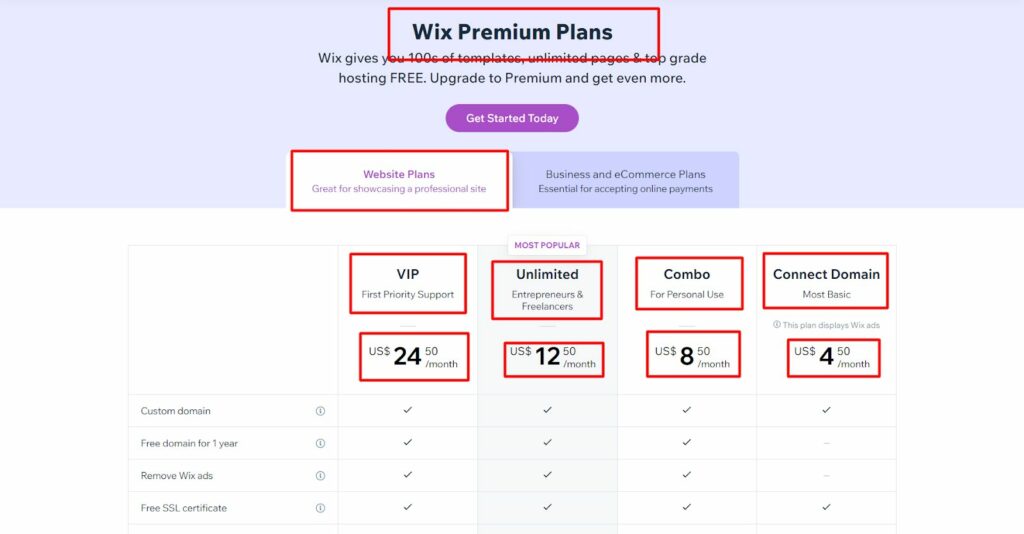 Pricing: Wix offers a range of affordable plans suitable for various needs, starting from $4.5 per month for website plans and $17 per month for business and eCommerce plans. Though some users have experienced pricing changes, the overall value remains competitive.

Easy-to-use interface
Highly customizable
Extensive plugin library
Starting from $2.95/month
See Pros & Cons
Pros
Large community support
SEO-friendly
Regular updates and improvements
Mobile-responsive designs
Thousands of themes and plugins
Cons
Can be resource-intensive
Initial learning curve
Security vulnerabilities due to third-party plugins
WordPress.org continues to be the most popular CMS and website builder, offering robust customization options and powerful features. Its open-source nature makes it a versatile choice, especially for those who value creative freedom and control over their websites.
Nevertheless, it's essential to consider both the benefits and drawbacks of this platform when looking for the best solution.
One of the main strengths of WordPress is the vast library of themes and plugins available, which allow users to tailor their websites to their specific needs.
You can read more here about the best business WordPress themes.
With over 55,000 plugins, businesses can add functionalities ranging from e-commerce capabilities to SEO tools. However, some users report difficulty navigating the platform and occasional plugin conflicts, which might pose challenges for beginners.
As a CMS for small businesses, WordPress affords users the freedom to own their content, design, and data. This sense of ownership is further amplified by the platform's strong support from the open-source community.
WordPress remains a preferred builder and hosting for small businesses across various industries, including marketing, advertising, and IT services.
The platform's advanced SEO tools and integrations with top shipping carriers make it an attractive choice for businesses looking to strengthen their online presence. However, it's vital to be prepared for a steep learning curve and potential maintenance responsibilities when using this platform.

Pricing: WordPress.org itself is free, but opting for a self-hosted solution may incur additional costs for domain registration and hosting. For instance, Bluehost offers web hosting services starting at $2.95 per month, and their WordPress-exclusive website builder.

Visual Design Tool
Responsive Design
eCommerce Integration
See Pros & Cons
Pros
Intuitive drag-and-drop builder
Rich design customization options
Responsive design by default
Powerful CMS system
Smooth eCommerce integration
Cons
Steep learning curve for beginners
No native email marketing tools
Limited third-party app integrations
Webflow is a no-code website builder and hosting platform, specifically designed to cater to the needs of small businesses. With an intuitive visual canvas, Webflow empowers users to build stunning websites without writing a single line of code.
One of the most appealing aspects of Webflow is its seamless content management system, which allows for easy updates and maintenance. Additionally, the platform boasts robust ecommerce capabilities, making it an ideal choice for small businesses looking to sell products or services online.
Webflow caters to a diverse range of industries, including marketing, design, and development. The platform offers collaboration tools, such as an editor for content management, and an API for integration with other tools.
Additionally, users can benefit from integrations with popular marketing tools to optimize campaigns and SEO efforts. Despite these advantages, some users have expressed dissatisfaction with Webflow's support team, citing difficulties in obtaining assistance for their issues.
Webflow's marketplace and library of free lessons further enhance the platform's appeal, offering users access to templates, resources, and expert guidance. These educational resources cover topics such as layout, typography, interactions, and 3D transforms, making it easier than ever for small businesses to build the best website possible.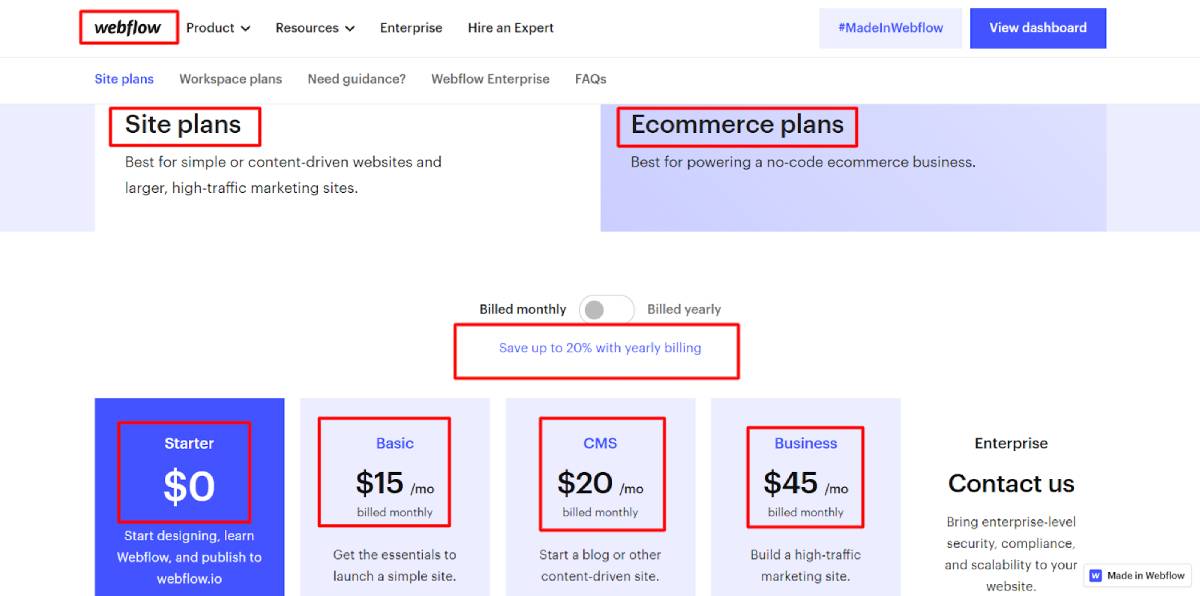 Pricing: Webflow offers a free plan that allows users to build their site at their own pace. For those ready to launch, upgrading to a site plan (starting from $12/mo-billed yearly) unlocks more pages and the ability to use a custom domain.
4. Zyro (Hostinger Builder)

Easy-to-use Website Builder
AI-driven Tools
Responsive Templates
Starting from $2.99/month
See Pros & Cons
Pros
Beginner-friendly interface
Fast website loading speeds
24/7 customer support
Free SSL certificate
SEO and marketing tools
Cons
Limited design customization
No built-in blogging platform
Not suitable for complex websites
Zyro emerges as a fast website builder for small businesses, offering an impressive array of features and affordability. With AI-powered tools and an extensive template selection, Zyro makes it easy to create a unique online store tailored to your business needs.
Small businesses can benefit from Zyro's intuitive eCommerce essentials, allowing for secure online payments, popular shipping options, and the ability to sell up to 500 products.
The Zyro Lite store stands out for its exceptional website speed, an essential factor for businesses that rely on fast-loading pages to attract customers.
Zyro's collection of AI-powered tools, such as AI Writer, AI Background Remover, and AI Slogan Generator, simplifies website creation and enhances the overall user experience.
Zyro is also featured as one of the best AI website builders: 5 Best AI Website Builders (GPT-3)
Moreover, the platform provides valuable resources like a Help Center, eCommerce Guide, and Business Glossary, catering to a wide range of industries.
In terms of SEO and marketing tools, Zyro offers secure, reliable cloud hosting, a free SSL certificate, and trustworthy payment provider integrations. Its Lite store payments are processed through Stripe, supporting over 20 payment gateways like Visa, Mastercard, and Google Pay.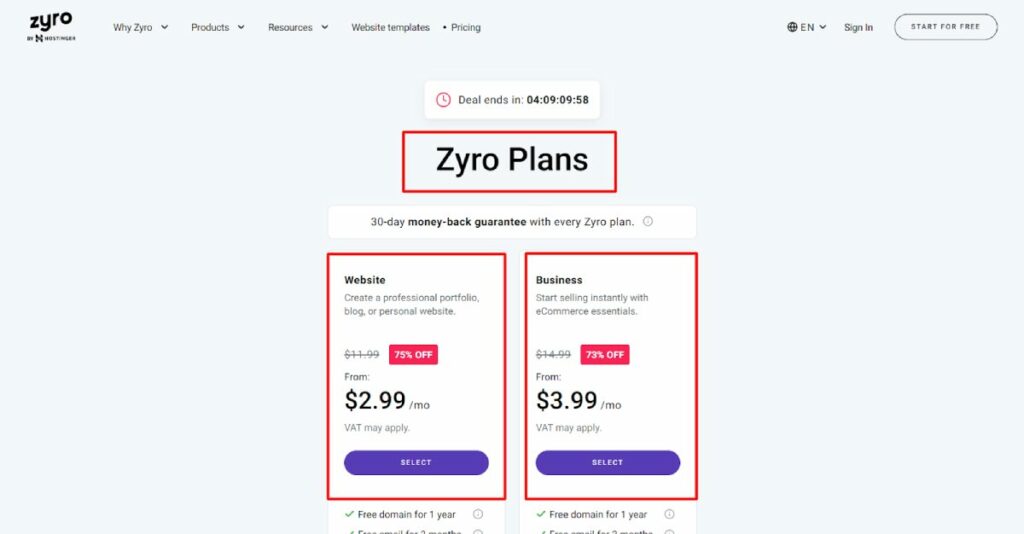 Pricing: At just $3.99 per month, the Zyro Business plan is an affordable solution for small businesses. This plan includes a free domain for one year, free email for three months, 24/7 customer support, 20+ payment methods, and marketing integrations.

All-in-One Platform
Stylish Templates
Integrated E-commerce
See Pros & Cons
Pros
Beautiful and responsive templates
Drag-and-drop website builder
SEO tools built-in
24/7 customer support
Integrated e-commerce features
Cons
Limited customization options
Higher pricing compared to competitors
No native mobile app for editing
Squarespace is a high-quality website builder, known for its visually appealing templates and user-friendly platform. As an all-in-one solution, it offers a range of features that cater to the needs of growing businesses while remaining accessible for users with limited technical knowledge.
One of the key features of Squarespace is its integrated e-commerce capabilities, allowing businesses to sell products, services, and even appointments via their website.
Coupled with diverse payment options such as Stripe, PayPal, Apple Pay, and Afterpay, businesses can provide their customers with a seamless shopping experience. However, its e-commerce features may fall short compared to competitors offering a wider array of plugins and add-ons.
Squarespace also prioritizes SEO and marketing tools to help businesses drive traffic to their website. With integrated email campaigns and social media tools, businesses can effectively engage with their target audience.
While Squarespace is widely used across various industries such as marketing, advertising, design, and photography, some users have reported dissatisfaction with customer support and platform glitches. Despite these potential drawbacks, Squarespace maintains a 4.4/5 rating on G2, indicating overall satisfaction among its users.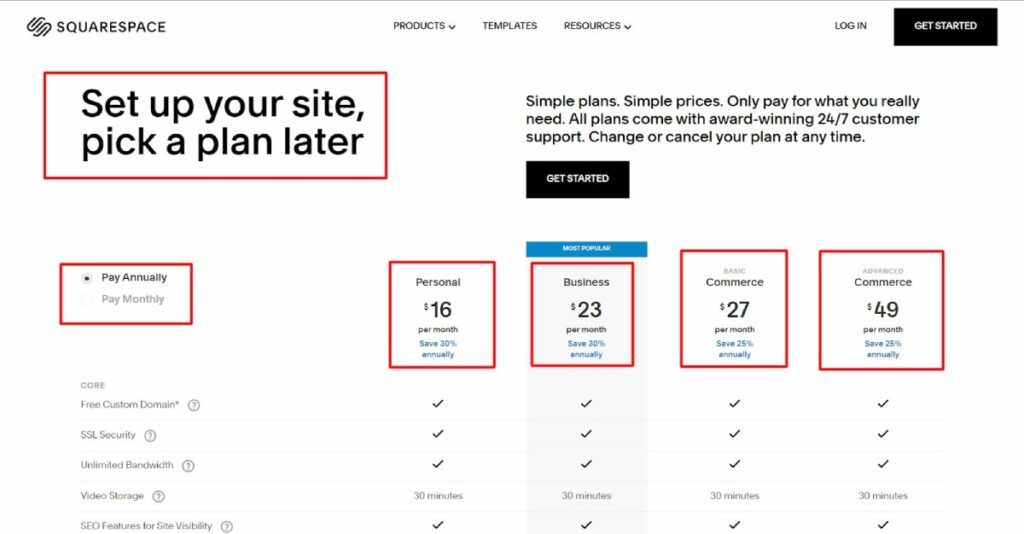 Pricing: Squarespace offers four plans ranging from $16 for the Personal plan to $49 per month for the Advanced Commerce plan.
The Business plan, priced at $23 per month, is a popular choice for small businesses offering unlimited products, inventory management, and accounting features.
In conclusion, Squarespace is a solid choice for small businesses seeking an aesthetically appealing and functional website builder.

Easy-to-use interface
Wide range of themes and apps
24/7 support
See Pros & Cons
Pros
Intuitive e-commerce platform
Powerful sales tools
Large app store
Reliable and fast hosting
Responsive and helpful support
Cons
Can be expensive for advanced features
Transaction fees without using Shopify Payments
Customization can be limited without coding skills
Shopify is a leading ecommerce platform tailored for small businesses, offering a robust set of features to help entrepreneurs create, customize, and manage their online stores. With a vast community of merchants and developers, Shopify is a crucial enabler for entrepreneurs aiming to sell products online, in-person, and globally.
One key aspect of Shopify that small businesses can appreciate is its vast array of customizable templates and an App store featuring apps developed by trusted professionals. However, it's worth noting that the platform offers limited themes, which could be a drawback for businesses seeking a unique look.
Shopify's ease of use can save small businesses significant time and effort, thanks to its centralized business operations, allowing you to manage inventory, payments, and access real-time insights all in one place.
On the downside, if you're looking for heavy customizations, Shopify may not be the ideal choice – open-source platforms like WordPress.org offer more flexibility, but require coding and design skills.
Shopify excels by offering built-in solutions to help businesses reach new customers, engage with existing ones, and expand their audience.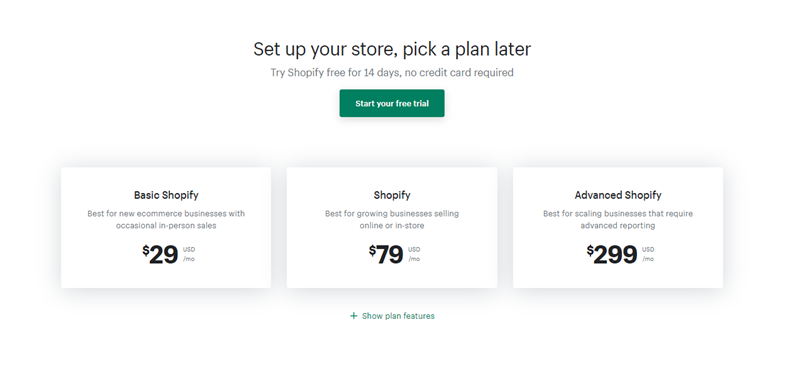 Pricing: While Shopify is perfect for small to medium-sized businesses, it may not be the most cost-effective option for those just starting out, as there are other website builders that provide free or cheaper plans.
Shopify's most popular Basic plan is $29/month billed yearly, which includes basic reports, up to 1,000 inventory locations, and 2 staff accounts.
You can also try Shopify for free for 3 days. As a reference, Shopify is commonly used by industries such as Retail, Apparel & Fashion, Marketing and Advertising, Consumer Goods, and Internet.

Easy to Use
Drag-and-Drop Builder
eCommerce Integration
See Pros & Cons
Pros
User-friendly interface
Responsive themes
SEO tools
App integrations
Free plan available
Cons
Limited customization options
Higher plans can be pricey
No native blogging tools
Weebly is an all-in-one free website builder for small businesses, offering a range of features to create and manage professional websites, online stores, and digital marketing campaigns.
Weebly's responsive themes, designed by top designers, and drag-and-drop builder allows users to create unique websites without technical expertise, while providing security and infrastructure support. Weebly's customizable themes and easy-to-use builder make it a popular choice for small business owners.
Industries using Weebly include marketing and advertising, information technology and services, retail, food & beverages, and real estate. Weebly's platform is available in multiple languages, making it a versatile choice for businesses worldwide.
When it comes to SEO and marketing tools, Weebly falls somewhat short, offering limited capabilities compared to competitors like Wix. Nevertheless, users have access to basic SEO settings, email marketing, and blogging functionality to boost their online presence. Upgrading to a paid plan unlocks more advanced features and enables businesses to use their custom domain.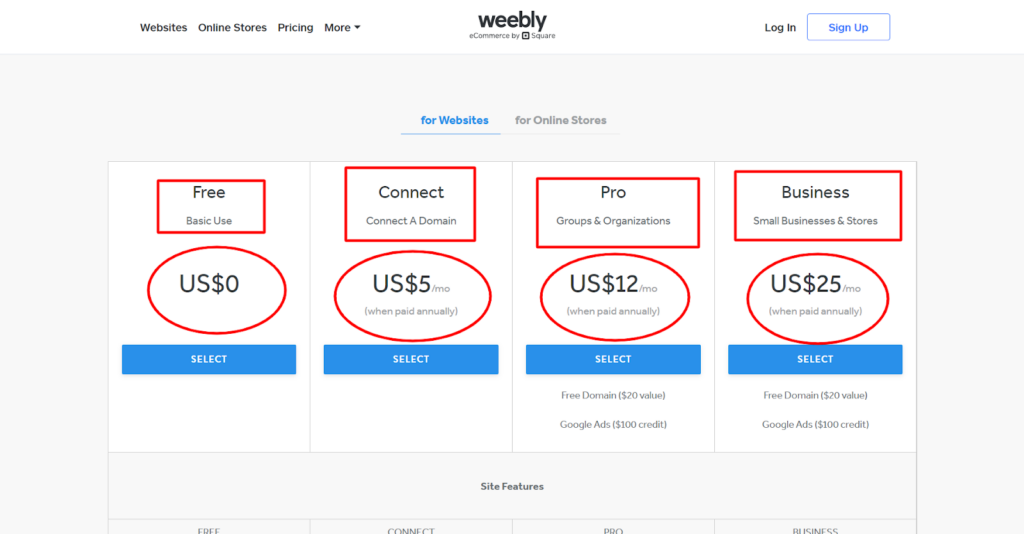 Pricing: Weebly offers various pricing plans to suit different needs. The Personal plan starts at $5 per month, the Professional plan at $12 per month, and the Performance plan at $25 per month.
With the free plan, users can expect a transaction fee of 2.9% + 30¢ per transaction.

Intuitive Design Tool
Interactive Prototyping
Collaboration Features
See Pros & Cons
Pros
Easy-to-use design interface
Wide range of built-in components
Responsive design capabilities
Real-time collaboration
Integration with popular design tools
Cons
Steep learning curve for beginners
Limited animation capabilities
Can be slow with large projects
Framer is a powerful website builder platform specifically designed for startups and small businesses. It enables users to create stunning websites quickly and easily, with no-code.
Notable features of Framer include its ability to map out ideas and convert them into designs, create captivating animations and effects, and integrate with essential plugins for lead generation and analytics.
Its layout adaptability ensures that your website looks great on all devices, while its high-performance hosting guarantees a fast and reliable browsing experience for your visitors.
However, Framer isn't without its drawbacks. Some users have reported bugs and insufficient help text, highlighting the need for improved support and bug fixing. Despite these challenges, Framer remains a popular choice for small businesses, with professionals like Product Designer Josh Puckett predicting it will become the next design unicorn.
Industries that frequently use Framer include marketing and advertising, computer software, information technology and services, financial services, and education management. With its 4.3/5 G2 rating, Framer has proven itself as a reliable website builder for small business.

Pricing: Framer offers a range of pricing plans catering to different business needs. The free plan is suitable for hobby projects and includes a design editor and framer banner. The Mini plan costs $5/mo per site and includes landing pages, home and 404 pages, custom domain, and support for 1,000 visitors/mo.
This makes Framer an affordable option for small businesses looking to establish a professional online presence.

Drag-and-Drop Builder
eCommerce Integration
Responsive Templates
Starting from $3.46/month
See Pros & Cons
Pros
Intuitive website builder
Large library of templates
Quick and helpful support
Free SSL certificate
30-day money-back guarantee
Cons
Limited design customization
Basic plans lack advanced features
Monthly pricing option more expensive
HostGator's Gator Builder is an ideal website builder for small business owners seeking a hassle-free, all-in-one solution for building and hosting their websites. With easy-to-use AI-driven technology, Gator helps users create professional-looking sites effortlessly without any coding knowledge, while offering industry-specific designs and optimized layouts.
Customer reviews praise Gator's remarkable customer support, highlighting their professionalism, friendliness, and efficiency. Unfortunately, a few negative reviews mention billing issues, but these concerns were often resolved by the dedicated support team.
Notable features of Gator Builder include 200+ professional design templates, a built-in stock photo library, and a mobile-responsive design. While Gator lacks advanced features like eCommerce capabilities or extensive site functionality, it's perfect for small businesses looking to launch a simple website quickly.
According to user reviews, Gator Builder is best suited for industries such as marketing and advertising, information technology services, computer software, internet, and consumer goods.
Regarding SEO and marketing tools, Gator's built-in analytics and free SSL certificate help improve site security and search engine optimization.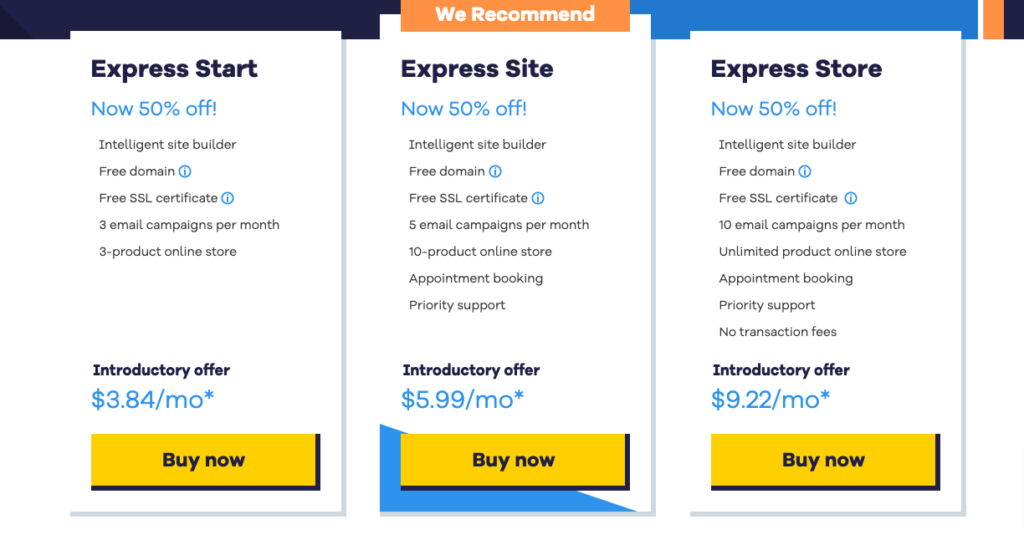 Pricing: Positive aspects of Gator Builder include its affordability, with introductory pricing starting at just $3.84 per month, including a free domain, SSL certificate, and hosting. Additionally, Gator Builder offers a variety of plans catering to diverse needs, such as email campaigns, products, and appointment bookings.
However, it's worth noting that users seeking more design and content flexibility should consider HostGator's other hosting plans or WordPress. We've also featured Hostgator as one of the best web hostings for small businesses.
Conclusion
After thoroughly evaluating each website builder, we have determined that Wix is the best website builder for small businesses. Wix offers an intuitive drag-and-drop editor, a plethora of templates, and a wide range of features that cater to different business needs. Moreover, its pricing plans are affordable and cater to various budgets, making it an ideal choice for small business owners.
Selecting the best website builder is vital for the success of your small business in the online arena. While Wix stands out as the top choice based on our review, it is essential to consider your unique business requirements and preferences before making your decision.
By choosing a website builder that best suits your needs, you can effectively establish your online presence, attract customers, and boost your business growth.
Want to Learn More?

As one of the co-founders of Codeless, I bring to the table expertise in developing WordPress and web applications, as well as a track record of effectively managing hosting and servers. My passion for acquiring knowledge and my enthusiasm for constructing and testing novel technologies drive me to constantly innovate and improve.
Expertise:
Web Development,
Web Design,
Linux System Administration,
SEO
Experience:
15 years of experience in Web Development by developing and designing some of the most popular WordPress Themes like Specular, Tower, and Folie.
Education:
I have a degree in Engineering Physics and MSC in Material Science and Opto Electronics.